AFC North:

2011 Big Question
January, 20, 2011
1/20/11
4:00
PM ET
Will the Pittsburgh Steelers' defense do a better job in the rematch of pressuring New York Jets quarterback Mark Sanchez?
PITTSBURGH -- The Steelers led the NFL in sacks this season with 48. But one of the few off weeks when they were nearly shut out in that category was Week 15, when they lost to the Jets.
[+] Enlarge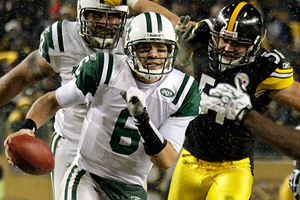 AP Photo/Gene J. PuskarPressuring Jets QB Mark Sanchez will be crucial for Pittsburgh in the AFC Championship Game.
Expect pressure to be a key component for Pittsburgh in the rematch with New York in Sunday's AFC Championship Game. The Steelers recorded just one sack against second-year quarterback Mark Sanchez in a
22-17
defeat in the first meeting.
Sanchez threw for only 170 yards and had a rushing touchdown. But he had great pass protection, throwing 29 times and only getting sacked once in addition to two quarterback hits.
"I don't think our pressures were as well as they could've been," said Pittsburgh linebacker
James Farrior
, who was the only Steeler to record a sack in the first meeting. "That's going to be the key to this game -- getting pressure on [Sanchez], forcing him in third-and-long situations and making him win the game."
In the regular season, Sanchez used a short passing game and got rid of the ball quickly to avoid Pittsburgh's blitz packages. It was similar to the approach the Jets' AFC East rival -- the
New England Patriots
-- used to defeat the Steelers in Week 10.
Without Pro Bowl safety
Troy Polamalu
(Achilles, calf) in the regular-season meeting, Pittsburgh's blitzes were more predictable. Look for Polamalu to help the Steelers mix up their pressures and potentially confuse Sanchez. Pittsburgh was effective in that regard last week against
Baltimore Ravens
quarterback
Joe Flacco
, who was sacked five times and
threw for just 125 yards.
An early lead will be key for both teams. If the Jets score early, they would like to use a ball-control offense, which focuses heavily on their running game and allows Sanchez to make short, safe passes. If the Steelers get a sizable lead, Sanchez will be forced to drop back and try to win the game through the air, which plays right into Pittsburgh's blitzing defense.
January, 19, 2011
1/19/11
4:10
PM ET
How much can the potential return of veteran defensive end Aaron Smith help the Steelers' defense?
PITTSBURGH -- Including the playoffs, Smith has missed the past 11 games of the season following triceps surgery. But Smith has a chance to play for the first time in more than two months in Sunday's AFC title game against the
New York Jets
.
[+] Enlarge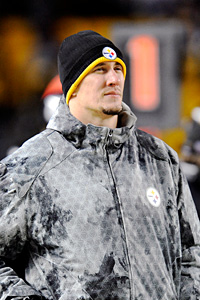 AP Photo/Don WrightAaron Smith, who has been sidelined since Week 7, hopes to play Sunday against the Jets.
Smith is in the process of trying to pull off a "
Rod Woodson
," who injured his knee early in the 1995 season but was kept on the roster and returned for the Super Bowl. Although this injury isn't as severe, Smith had triceps surgery in late October. He's trying to return to help Pittsburgh advance to its third Super Bowl in six years.
How much can Smith contribute? If Smith plays against the Jets, he won't be the starter.
"A snap count is probably going to be part of that discussion," Steelers coach Mike Tomlin said this week. "The guys who have been given the opportunity to replace him, like
Ziggy Hood,
have more than met the standard. They deserve to continue to play, but it will be nice to add that tool to the toolbox."
When healthy, Smith is the prototypical 3-4 defensive end. He's extremely good against the run and also has the ability to fight through double-teams and sack the quarterback on occasion.
The Jets aim to establish the run, so the Steelers will welcome any contribution from Smith. New York was one of two teams to rush for more than 100 total yards against Pittsburgh's defense this season.
For months, it seemed a foregone conclusion that Smith would not play. But this week there seems to be a buzz in Pittsburgh's locker room that it's possible Smith could get playing time.
"No doubt about it, he's a guy who's been here for a long time and we feed off his energy," Steelers captain and linebacker
James Farrior
said. "To have him out there, even if it's just for a few plays, will definitely give our defense a boost."
January, 18, 2011
1/18/11
4:00
PM ET
Will the Pittsburgh Steelers clean up their special-teams gaffes from their regular-season meeting with the New York Jets?
Your resident AFC North blogger asked Steelers coach Mike Tomlin on Tuesday what the Steelers need to do better on special teams in their rematch against the Jets.
[+] Enlarge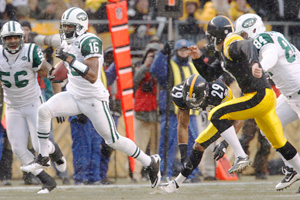 AP Photo/Keith SrakocicBrad Smith's 97-yard kick return for a touchdown was key in the Jets' Week 15 win over Pittsburgh.
"We need to stop
Brad Smith
from going 97 yards," Tomlin said. "That's a good start."
Contrary to popular belief, the Steelers didn't lose to the Jets in Week 15 because of poor offense or poor defense. The Steelers outgained the Jets by 101 yards, and Pittsburgh's offense outscored New York's 17-13.
But hidden yards on special teams and Smith's 97-yard kickoff return for a touchdown proved to be the difference in New York's 22-17 victory. New York gained 177 total yards on kickoff and punt returns, which had an impact on field position and consistently gave the Jets a short field. This will be an area to watch for Pittsburgh in the AFC Championship Game.
Pittsburgh's coverage teams have been an issue in previous seasons, so much so that the Steelers fired former special-teams coach Bob Ligashesky and hired Al Everest this season. Pittsburgh's special teams have made strides in the first year under Everest. But his unit probably had its worst game of the season against the Jets.
Smith missed the Jets' divisional-round victory over the
New England Patriots
on Sunday with a groin injury. His status for this Sunday's game is still to be determined, but the Steelers know the Jets are still dangerous in the third phase of the game.
"They're a very good group," Tomlin said. "It doesn't matter whether Brad Smith is back there or [Antonio] Cromartie is back there. You saw what [Cromartie] did against Indianapolis at a critical time. He's a very capable and dangerous return man, but they have a team of potentially capable return men."