AFC North:

2012 Camp Confidential
August, 19, 2012
8/19/12
12:00
PM ET
LATROBE, Pa. -- The Steelers just completed their 47th training camp at St. Vincent College. Before they arrived, the team reached a contract extension with Mike Tomlin, who is the Steelers' third coach over the past 43 years.

In other words, this organization believes in stability and continuity. That's why changing offensive systems -- switching from Bruce Arians to Todd Haley at coordinator -- has been a different challenge heading into the 2012 season. If the Steelers want to grab hold of their seventh Lombardi Trophy, the players know they have to gain a firm grasp on the new playbook.
No one is saying what Haley's offense will look like. And honestly, you get the feeling that the players really don't know the identity of the Steelers' offense yet.
"I don't, but Todd might," quarterback
Ben Roethlisberger
said without a hint of trying to be coy. "Because a big part is the injuries. We don't know what's going on with all the injuries. So, we don't know yet. Whatever we decide to do, we just want to be the best at what we can be at that."
Training camp has been a series of constant adjustments for the offense.
Mike Wallace
, the Steelers' top wide receiver, remains a holdout because he wants a long-term contract. During my two days at camp,
Isaac Redman
, the projected starting running back, couldn't last one full practice because of a groin injury. On the offensive line, only two starters (center
Maurkice Pouncey
and right guard
David DeCastro
) are at the same spots they started in the preseason opener.
When the Steelers get healthy, some expect the offense to be a run-heavy attack like the one Haley ran with the Chiefs. Steelers president Art Rooney II said he wants the Steelers to run the ball more consistently this season.
Others see the Steelers relying on Roethlisberger's arm and the playmaking ability of Wallace and receiver
Antonio Brown
. Haley directed one of the NFL's top passing attacks a few years ago when he was the coordinator with the Cardinals.
Haley's vision for the Steelers appears to be somewhere in the middle of what he did in Kansas City and Arizona.
"I would think that one of our strengths is versatility," Haley said. "You don't want to do a lot of things just OK. You'd like to do some things real good. I think with some of the ability we have, and if our line continues to jell together and gets better every week, we have a chance to be a pretty versatile group that can hurt you in a number of ways."
Learning a new offense is still a work in progress for the Steelers, although it's not as bad as May, when Roethlisberger referred to Haley's playbook as Rosetta Stone.
After drills, it's not uncommon to see Roethlisberger huddle with his top three receivers (Brown,
Emmanuel Sanders
and
Jerricho Cotchery
) to go over what happened. Roethlisberger also stays after practice to work on routes with his receivers.
"I feel like I got a pretty good grasp," Roethlisberger said of the offense. "If the regular season started tomorrow, I would be a little disappointed because I would want to be even more comfortable. The good thing is I have three more weeks to get to that point where I feel extremely comfortable."
Roethlisberger added, "Now I'm not going to be as comfortable in this offense, even probably in Week 15, as I would be if it was the same offense I've been [in] for nine years. That's common sense. But I feel like every week and every day, you feel more comfortable in this system and what Todd wants."
THREE HOT ISSUES
[+] Enlarge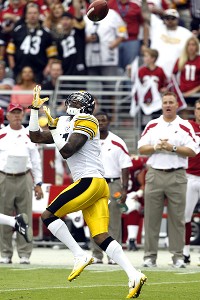 AP Photo/Ross D. FranklinIf and when wideout Mike Wallace ends his holdout with the Steelers, quarterback Ben Roethlisberger will have to spend some extra time getting Wallace used to the new playbook.
1. Mike Wallace's absence
. To protest the fact that he doesn't have a long-term contract, Wallace didn't report to training camp, which officially made his holdout the longest by a Steelers player in 22 years. The Steelers suspended talks on a new contract until Wallace returns to the team and signs his $2.7 million restricted free-agent tender. This stalemate is expected to end over the next couple of weeks, so Wallace can be ready to play in the Sept. 9 regular-season opener. That would also allow the sides some time to reach a deal before the season, which could (but probably won't) happen.
While Wallace isn't the most popular person in Pittsburgh for skipping camp, he remains the top offensive player on the Steelers, outside of Roethlisberger. Only two receivers in the past 30 years have gained more receiving yards and scored more touchdowns during their first three years than Wallace:
Jerry Rice
and
Randy Moss
.
So how long will it take for Wallace to get ready to play after reporting?
"I think it depends on a lot of things," Roethlisberger said. "I think if they bring him in and he's playing one position and he's been looking at what coach has sent him, I think he'll be able to pick it up and be ready to go. He may not be as ready in Week 1 as the rest of the receivers are. But I will spend some extra time with him if he wants out on the field, throwing and doing whatever we have to do to make sure he's caught up to speed."
2. Who's the No. 2 cornerback?
Barring some major developments over the next three preseason games, this spot is expected to go to
Keenan Lewis
, who's been having a strong camp. He's impressed coaches by paying attention to detail and not having busted assignments. Lewis tightened his grip on the starting job when he hurt his shoulder early in camp and put in a full practice two days later. Toughness always catches the eyes of the Steelers.
Cortez Allen
, Lewis' chief competition, has also showed improvement. He's been able to use his athletic ability more this year because he has a better understanding of the defense. Even though he probably won't unseat Lewis as a starter, Allen will get on the field as the team's nickelback.
Curtis Brown
has faded from this competition after giving up two touchdowns in the preseason opener.
With
Ike Taylor
starting at the one cornerback spot, the Steelers expect quarterbacks to go after Lewis and Allen. "They'll get tested every week," secondary coach Carnell Lake said. "But if you enjoy playing this game and especially enjoy your job at corner, that comes with it. Actually, you want the challenge because that's what you do."
3. Injuries at running back
. The Steelers' top three running backs --
Rashard Mendenhall
, Redman and
Jonathan Dwyer
-- have all missed time in camp because of injuries. There have been times when Pittsburgh has been down to two healthy running backs,
Baron Batch
and
Chris Rainey
. It makes you think the Steelers should hold their running back meetings in the trainer's room.
Mendenhall, the team's leading rusher for the past three seasons, was just removed from the physically unable to perform (PUP) list after having ACL surgery in January. Redman is expected to miss Sunday night's preseason game because of a groin injury. And Dwyer came back to practice late last week after being sidelined with a a shoulder injury.
With Mendenhall not expected to play in September, the plan is to go with Redman to start the regular season. An undrafted rookie out of Bowie State in 2009, Redman gained 121 yards in the Steelers' playoff game in Denver. "He's a big, downhill back that's excellent in protection," Haley said. "As a runner, you can't pigeonhole him and say he's strictly a between-the-tackles runner, because I do think he has a little sneaky burst to the edge."
REASON FOR OPTIMISM
The Steelers are once again among the Super Bowl favorites, and it goes beyond defensive end
Brett Keisel
's prediction of sorts. It seems that every time Keisel welcomes a new child, the Steelers go to the Super Bowl. The Keisels welcomed their third child last week. "So, I want that trend to continue," Keisel said.
All joking aside, Pittsburgh is a strong contender this year because its quarterback is entering the prime of his career and its top-ranked defense returns all but two starters. At running back, Redman may end up being a better runner than Mendenhall, who seemed hesitant running between the tackles. And few defenses can match up against Wallace, Brown and Sanders at wide receiver.
"This is probably the most talent I've seen on this team in years," said Taylor, who has been on two of the Steelers' Super Bowl-winning teams.
REASON FOR PESSIMISM
[+] Enlarge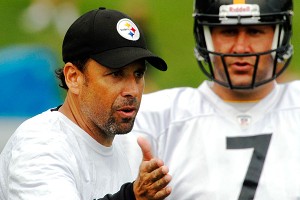 AP Photo/Keith SrakocicThe Steelers offense will depend greatly on how well new offensive coordinator Todd Haley and quarterback Ben Roethlisberger get along.
The Steelers invested their top two picks in the draft (guard David DeCastro and tackle
Mike Adams
) in their offensive line, and this group should be one of the best in a few years. But the concern is that the growing pains on the line could lead to more pain for Roethlisberger, who has endured more sacks and injuries than any other quarterback in recent years. An offensive line that went through a league-high 25 different combinations in the 2011 regular season is already on its second heading into the second preseason game. The Steelers have proved they can win some regular-season games without Roethlisberger, but they won't go far in the postseason unless he's healthy.
While the Steelers have the talent to be a top-10 offense, they need Roethlisberger and Haley to have a solid working relationship to do so. Haley is known for being an in-your-face coach, and Roethlisberger has made it clear that he doesn't need a coach to yell at him. Both also have strong philosophies for offensive success. This is a new situation for Roethlisberger, who was very close with his former coordinator, Bruce Arians. No one truly knows whether the Roethlisberger-Haley pairing will work until the pressure of the regular season arrives.
On defense, the Steelers need to generate more of a pass rush than last year, when they ranked 17th with 35 sacks. Pittsburgh can't allow quarterbacks to have time to target Lewis and Allen in the secondary, which is the weak spot of the defense. The Steelers need a healthy
James Harrison
and
LaMarr Woodley
to produce a more consistent pass rush. Harrison is considered questionable for the season opener after having his knee scoped.
OBSERVATION DECK
The biggest beneficiary of Wallace's holdout has been Antonio Brown. Not only did Brown get a long-term deal, but he has developed better chemistry with Roethlisberger in Wallace's absence. Roethlisberger spends time after practice throwing to Brown, and the extra work has paid off. During one red zone drill, both of Roethlisberger's touchdown passes went to Brown.

Pouncey is moving around great, which is a sign that his ankle problems have been resolved. He's also in the best condition of his three-year NFL career. "I keep joking with him, saying he's lost some of his baby fat because he's so young," Roethlisberger said. "He came back in great shape."

There has been no drop off in going from Casey Hampton to Steve McLendon at nose tackle. McLendon has showed his strength by holding his own in the camp matchup with Pouncey. There's no need to rush back Hampton, who just came off the PUP list after knee surgery in January. Alameda Ta'amu, a rookie fourth-round pick, was originally tabbed as Hampton's eventual replacement, but he has looked like a rookie so far.

Tight end Heath Miller was expected to be featured more in Haley's offense, but that remains to be seen after what happened in camp. Miller didn't get many passes thrown his way, and he wasn't even on the field on a third down in a red zone drill.

One of the challenges of camp is trying to locate Rainey, who moves all around from running back to slot receiver to returner. Because the rookie is being asked to play so many different roles, it's going to take him time to master them. Rainey has shown flashes of being a dangerous playmaker. "He's still got a long way to go," Haley said. "We're not going to start carving the bust yet for Rainey."

Lewis, who is expected to win the No. 2 cornerback job, is making fewer mistakes in this camp than previous ones. But during my two-day visit, Lewis always played 6 or 7 yards off the line. One reason for that is he's playing with a separated shoulder. But there will be times when he has to physically match up against the likes of A.J. Green, Anquan Boldin and Greg Little.

Fullback Will Johnson is more than just a good story. Out of football last year, Johnson is showing he can run with the ball in addition to being a lead blocker. The Steelers need him to step up after David Johnson went down with a season-ending injury in the preseason opener.

Dwyer has slimmed down, and it shows in his burst. Tomlin twice commented on Dwyer's cutting ability during one practice. His improved play could force the Steelers to give him more carries than previously expected this season.

Byron Leftwich has done nothing to change the Steelers' mind about giving him the No. 2 quarterback job. It still amazes me that Leftwich has not changed his throwing motion since being drafted in 2003. His windup delivery is slow and awkward.
August, 17, 2012
8/17/12
11:00
AM ET
OWINGS MILLS, Md. -- No team over the past four years has had more playoff success without reaching the Super Bowl than the Ravens. And no one has to remind the Ravens of that frustrating fact.
The last time the Ravens played a meaningful game was the AFC Championship Game seven months ago, when
Lee Evans
' failed catch with 22 seconds left cost them a trip to the NFL's biggest stage. Although Evans is gone, the question that lingers over this team is this: Can the Ravens get to the Super Bowl?

"It's time for us to get over the hump," running back
Ray Rice
said. "And we've got the pieces to do it."
For the first time in 15 years, those pieces appear to be more in place on the Ravens' offense than their defense. Rice can make the argument that he's the best running back in the NFL after producing an league-best 2,068 total yards. Flacco proved he can put a team in position to go to the Super Bowl (as long as the receiver makes the catch the next time). And Baltimore has a promising playmaker in wide receiver
Torrey Smith
.
There has been more uncertainty this offseason about the Ravens' defense, which is traditionally a lock to rank in the top five each season. It began with the Achilles injury to linebacker
Terrell Suggs
, the NFL Defensive Player of the Year, who is out indefinitely. It continued with safety
Ed Reed
skipping all of the offseason workouts, including the mandatory minicamp. Now, throughout training camp, there have been concerns about defensive tackle
Haloti Ngata
gaining too much weight and linebacker
Ray Lewis
losing too much.
The Ravens remain among the favorites to win the division and contend for a Super Bowl. But "getting over the hump" is easier said than done in the NFL. The last team to reach the Super Bowl the season after losing in the conference championship game was the New England Patriots in 2007.
"You want to talk about 22 seconds left in the AFC Championship Game, that's fine," Ravens coach John Harbaugh said. "We have to get back to 22 seconds left in the AFC Championship Game first, and before that, we have to have a great preseason. But what we're really interested in is a really great practice tomorrow. That's what matters. That's what's important now. That's what we need to take care of."
THREE HOT ISSUES
1. Replacing linebacker Terrell Suggs
.
Paul Kruger
, a second-round pick who has one start and 6.5 career sacks, will step into Suggs' rush linebacker position. The reality is no one player will fill Suggs' void. In addition to his AFC-leading 14 sacks, Suggs was a disruptive force who forced an NFL-high seven fumbles and knocked down seven passes. He struck fear in quarterbacks. Some quarterbacks facing Baltimore this season, such as
Eli Manning
and
Tony Romo
, probably have never heard of Kruger.
Having Suggs in the lineup meant the Ravens didn't have to blitz. He recorded 20 sacks the past two seasons when the Ravens sent four or fewer rushers. Until Suggs returns, which might not happen until December, new defensive coordinator Dean Pees could be forced to blitz more often to generate a consistent pass rush. The loss of Suggs comes in a season when the Ravens play 13 games against Pro Bowl quarterbacks.
"To say we're not going to miss Suggs, who's going to believe that?" Pees said. "The truth of it is other guys have to step up. It's not the first time in the NFL that a good player has gone down. I was in New England when we lost [Tom] Brady and went 11-5 with [Matt] Cassel. We lost [Tedy] Bruschi to a stroke, and we went 12-4. Do you want it to happen? No. I would love to have Terrell Suggs. I don't want to make light of that. At the same time, life goes on."
[+] Enlarge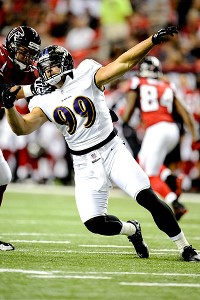 AP Photo/Paul AbellBaltimore's Paul Kruger will be asked to fill in for Terrell Suggs.
2. Deciding on a kicker
. There has been tremendous pressure and scrutiny on
Billy Cundiff
since he hooked a last-minute, 32-yard field goal that would've tied the AFC Championship Game in New England. It was assumed that Cundiff was safe after the Ravens didn't cut him following the miss, and the team didn't sign a veteran kicker as competition. But the kicking battle between Cundiff and undrafted rookie
Justin Tucker
has been closer than expected.
Tucker has outkicked Cundiff in training camp, making 87 of 92 field goal attempts (94.6 percent) in practice. Cundiff has converted 78 of 95 tries (82.1 percent), causing many to wonder whether he's starting to lose his grip on the job. The Ravens are taking a risk with either kicker. Baltimore will go with Cundiff, who has the biggest field goal miss in franchise history looming over him, or Tucker, who has yet to kick in a regular-season game.
The Ravens' coaching staff indicated there would be no apprehension in going with a rookie kicker. "The best player plays," special-teams coordinator Jerry Rosburg said. "That's just the way it is."
3. Flacco's future
. He's entering the final year of his contract despite the sides talking for six months. The trouble is bridging the gap between two tiers of quarterbacks. Flacco is better than the Cardinals' Kevin Kolb (six years, $65 million with $21.5 million guaranteed) and the Bills' Ryan Fitzpatrick (six years, $59 million with $24 million guaranteed). But Flacco isn't on the same level as the Steelers' Ben Roethlisberger (eight years, $102 million) and the Giants' Eli Manning (seven years, $106.9 million).
Asked how this issue ranks as a distraction from 1 to 10, Flacco said, "A one. You might say I'm lying there, and it might not be quite a one. I may be exaggerating a little bit. But there really is no concern. I feel like I'm going to be the quarterback here for a while. It's just a matter of when it happens, it happens."
Flacco is right about not having to worry. The Ravens will either sign him to a long-term deal or put the franchise tag on him, which means Flacco will get paid like a top-five quarterback. The tag for quarterbacks is expected to exceed $15 million in 2013.
REASON FOR OPTIMISM
This is the year when Baltimore's grind-it-out offense can take advantage of Flacco's arm, which ESPN's Ron Jaworski calls the strongest in the NFL. General manager Ozzie Newsome believes that this is
the fastest group of receivers
he has put together.
The Ravens first addressed speed last season when they used a second-round pick on Smith, who is more confident in his second season and is displaying more reliable hands in camp. Baltimore then added
Jacoby Jones
in May after he was cut by Houston. He showed off his speed in the preseason opener, when he sprinted past the entire Falcons secondary.
"I think any time you get guys who are good athletes and get more comfortable and more experience, the better you're going to be on offense," said Flacco, whose 44 completions of more than 20 yards last season ranked 16th in the league. "To add Jacoby and a couple of these young guys, we have a lot of potential."
For the Ravens to throw more downfield, Flacco will need more time to throw. Baltimore's offensive line, which is among the oldest in the league, has to step up its protection.
REASON FOR PESSIMISM
The Ravens own the NFL's longest active streak -- six seasons -- for ranking in the top five in run defense. But this area of strength is a major question mark this season.
There are three new starters in Baltimore's front seven: Kruger, rookie outside linebacker
Courtney Upshaw
and defensive end
Arthur Jones
. Upshaw has the challenge of setting the edge against the run, a thankless job handled by
Jarret Johnson
for the past five seasons.
Suggs' absence hurts the Ravens' run defense just as much as their pass rush. The Ravens allowed 3.4 yards per rush when Suggs was on the field last season, according to ESPN Stats & Information. Baltimore allowed 5.9 yards per rush without Suggs.
[+] Enlarge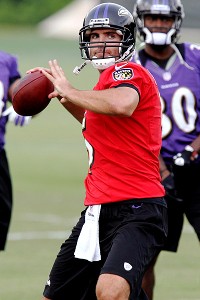 Mitch Stringer/US PRESSWIRERavens coaches continue to put more trust in Joe Flacco.
Ngata expects teams to test the Ravens' run defense this season. "I think we still have some work to do, but we have a lot of young guys that are trying to learn," Ngata said of the run defense. "So, it's just getting those guys together and setting those fronts and getting some camaraderie together out there on the field. I don't think we've really played together well yet, just because it's so new and young."
OBSERVATION DECK
Offensive coordinator Cam Cameron continues to put more trust in Flacco. During one practice, he let Flacco call the entire series, which ended with a touchdown pass to Anquan Boldin. Flacco's influence on the offense is growing.
For all of his talking during the offseason, safety Ed Reed has been extremely quiet and focused this camp. Many predict a big bounce-back year for Reed, whose three interceptions last season were his fewest for a 16-game season.
The Ravens are probably going to stick with Bobbie Williams at left guard to start the season because of his experience. But rookie lineman Kelechi Osemele is better than what the Ravens thought when they used a second-round pick on him in April. His footwork is impressive for a lineman his size, and his wingspan is an asset in pass protection. Osemele could be the starter by the end of the season.
Baltimore still sees Jimmy Smith, a first-round pick from a year ago, as a starting cornerback. He just needs to stay on the field. Smith missed practice time recently because his back tightened up, which was a problem for him in college.
The way Upshaw practices can often get misinterpreted as being lazy. Upshaw is not self-motivated, but he is a hard worker. The team's top pick in this year's draft does whatever the coaching staff asks of him.
The team doesn't know what to make of quarterback Curtis Painter, who is battling Tyrod Taylor to be the top backup. He has looked awful in training camp. At times, he was completing more passes to the defense than his wide receivers. Then, in the first preseason game, Painter threw three touchdown passes.
The Ravens are going to be in trouble if rookie third-round pick Bernard Pierce struggles as the primary backup running back to Rice. The other backs -- Bobby Rainey and Anthony Allen -- aren't ready for that role. Baltimore has high expectations for Pierce, whose one-cut running style reminds the team of Arian Foster.
The dark-horse pick to make the roster is defensive tackle Bryan Hall, who was on the practice squad last season. Known for being a character in the locker room, Hall has impressed the coaches by playing hard and smart. Hall's chances of making the team increased when Ryan McBean needed ankle surgery.
August, 10, 2012
8/10/12
10:15
AM ET
CINCINNATI -- The Bengals' focus this year isn't battling history. They're quite aware of the franchise's failure to put together back-to-back winning seasons since 1981-82, even though only five players on the current roster were alive at that time.

Coming off a surprising 9-7 season and a trip to the playoffs, Cincinnati has its sights set straight ahead. Way ahead. The players walk around the locker room with shirts that read "DNO." It means Destination: New Orleans, the site of this season's Super Bowl.
"Our guys know that there is more beyond just qualifying for the playoffs," coach Marvin Lewis said. "We all experienced the Houston game and knew what the flight back felt like."
Seven months after that playoff loss in Houston, the Bengals have put together one of the best teams in Lewis' 10 years in Cincinnati. Quarterback
Andy Dalton
and wide receiver
A.J. Green
are entering their second seasons as the foundation of the offense. The defense, which ranked No. 1 at one point last season before finishing seventh overall, returns all but two starters.
On paper, this team should produce another winning season, contend for the division title and return to the playoffs. But can this franchise deliver consistency for the first time in three decades?
"I can say all I want to right now. But, to be quite honest, until that first snap on Monday night, we'll never know," said cornerback
Leon Hall
, who was on the 2010 team that finished 4-12 after winning the division the previous season. "I'm confident in the team that we have that we can have back-to-back winning seasons and get to the playoffs. But there are a lot of teams that look like an All-Star team, and they don't do very well. Nobody is walking around like they own everything around here. I think we're still a humble team, and we work pretty hard."
THREE HOT ISSUES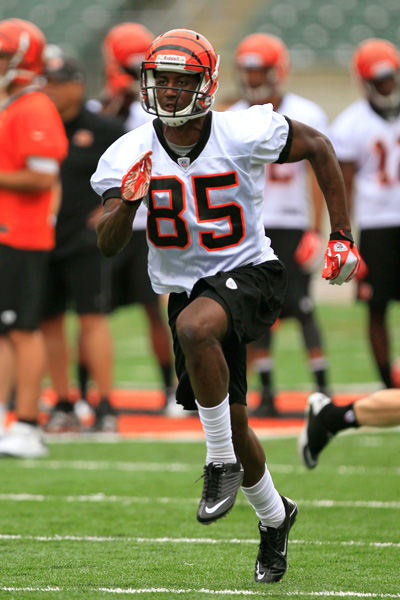 AP Photo/Al BehrmanArmon Binns may not be the most physically gifted receiver on the Bengals' roster, but he could be a starter on opening day.
1. Who's the No. 2 wide receiver?
Dalton doesn't think there will be one receiver who will start opposite Green. He envisions a receiver-by-committee setup with
Brandon Tate
,
Armon Binns
and
Mohamed Sanu
. Tate had an impressive offseason, which is why he's listed atop the depth chart. Binns, a practice squad player from a year ago, has the size at 6-foot-3 and 210 pounds. Sanu, a rookie third-round pick, has the most intriguing upside.
"Right now, the way they've performed, I have no reservation whatsoever of anybody coming in there," offensive coordinator Jay Gruden said. "My play calling won't alter one bit if Sanu, Armon or Tate is out there."
Although Tate has become the early favorite and Sanu is probably the future at this spot, don't be surprised if Binns is the starter for the season opener at Baltimore. Binns lacks the flash of
Jerome Simpson
, last year's No. 2 target, but he's a much more reliable route-runner. Regardless, tight end
Jermaine Gresham
will be the No. 2 target behind Green.
2. Uncertainty in the secondary
. A run of injuries and the unexpected release of strong safety
Chris Crocker
has made the secondary the biggest question mark on a defense that finished ninth in points allowed last season. Only cornerback Leon Hall and free safety
Reggie Nelson
are guaranteed spots. The other starter at cornerback has been determined by who's healthy.
Nate Clements
(abdominal strain),
Dre Kirkpatrick
(leg),
Adam Jones
(hamstring),
Jason Allen
(undisclosed),
Brandon Ghee
(wrist) and
Shaun Prater
(knee) all have missed time in training camp.
The Bengals are trying both
Taylor Mays
and
Jeromy Miles
at strong safety, but neither has distinguished himself in the offseason or training camp. Perhaps that's the reason Cincinnati has given Clements, a 12-year cornerback, some reps at safety. Moving Clements would allow the Bengals to get their top four defensive backs on the field. The Bengals believe
Terence Newman
, who was pushed out of Dallas after nine seasons, still has some productive years left at cornerback. Newman has ties with defensive coordinator Mike Zimmer, who was Newman's coordinator in his first four seasons with the Cowboys.
3. Will Dalton suffer a sophomore slump?
Dalton and
Cam Newton
became the first rookie quarterbacks to reach the Pro Bowl since
Vince Young
in 2006. Young followed up that season with 17 interceptions the next year, causing some to wonder whether Dalton will stumble in his second season as well.
"You definitely hear it. If you turn on the TV, everybody is talking about me and Cam and is there going to be a sophomore slump," Dalton said. "I don't see that happening. For me, I feel like it's the second year and you've got that year of experience. You know what's going on. You should be even better going into Year 2. That's how I'm treating it."
It hasn't been the smoothest offseason for Dalton. He spent most of the spring defending his arm strength and then struggled for the first couple of days in training camp. Dalton has turned it around in camp, where he has been connecting on some deep shots downfield to prove his point. "I wouldn't be a starting quarterback if my arm strength was such an issue," he said.
REASON FOR OPTIMISM
The Bengals are a much better team than the one that shockingly made the playoffs last season. Few teams had a better draft and free-agency period than Cincinnati. Although the Bengals didn't make a big-money splash, they upgraded several key positions.
The biggest improvement should come in the running game, which ranked 27th last season in yards per carry. Instead of re-signing
Cedric Benson
, Cincinnati added former Patriots running back
BenJarvus Green-Ellis
, who provides more dependability (no fumbles in his four-year NFL career) and a much-needed punch in the red zone. (His 24 rushing touchdowns over the past two seasons led New England.) The Bengals addressed the guard position, which was their weakest spot, by drafting
Kevin Zeitler
in the first round and signing Panthers free agent
Travelle Wharton
.
Cincinnati brought in defensive depth by adding four former first-round picks in free agency: Adam Jones, Terence Newman, Jason Allen and
Jamaal Anderson
. "We took opportunity to get good veteran players who fit what we do and fit to our guys," Lewis said. This doesn't even take into account that Dalton and Green enjoyed their first full offseason with the team this year and that defensive end
Carlos Dunlap
is primed for a breakout season.
REASON FOR PESSIMISM
The Bengals went 0-7 against playoff teams last season, which prompted skepticism in their turnaround. Cincinnati has to beat the Ravens and Steelers to win the division, and that's been a major obstacle the past two seasons. The Bengals have lost seven straight to Baltimore and Pittsburgh, scoring a meager 14.1 points per game during that skid.
"Last year, we were in every game we played against them except for that one game against Pittsburgh [a 35-7 loss in December]," Dalton said. "For me, I know I turned the ball over a couple of times that hurt us, but we were close. This is one of the toughest divisions in football. We have to play our best each week."
In four games against Pittsburgh and Baltimore, Dalton had an 0-4 record with four touchdowns and five interceptions. Against the rest of the NFL, he was 9-3 with 16 touchdowns and eight interceptions.
OBSERVATION DECK
AP Photo/Al BehrmanAfter an impressive training camp, Carlos Dunlap could be an every-down player this season.

I've visited (Baltimore, Cleveland and Cincinnati), and Dunlap has been the most dominant defensive player in practice. He spent as much time in the backfield as Cincinnati's running backs. As long as he continues to be this explosive, Dunlap will achieve his goal of being an every-down player this year.

Hall has looked impressive in coming back from a season-ending Achilles injury. He is not hesitant making sudden cuts on the field, which was apparent when he covered the slot receiver. Trusting the Achilles is usually a big mental hurdle to overcome.

When Green-Ellis gets the ball, he rarely cuts to the outside. He thrives on being a tough, inside-the-tackles runner. But the most impressive part of his game has been his pass protection.

Defensive tackle Geno Atkins, aka Geno Sacks in the locker room, was limited this week in camp after limping off the field Tuesday. It's not considered serious, but he's the one player in the front seven that Cincinnati can't afford to lose. Atkins, whose 7.5 sacks were tied for the best among all NFL interior linemen, is special in his ability to collapse the pocket.

The Bengals believe that Rey Maualuga struggled in his first season as an NFL middle linebacker because he wanted to be too much like Dhani Jones. "In Dhani's case, he was so smart. He knew every single person's job," Maualuga said. "[Zimmer] told me that he didn't want me to be Dhani or Ray Lewis. I tend to worry about other people's responsibilities instead of worry about myself."

The Bengals' offensive linemen certainly make an impression when they break the huddle. Every starter is at least 6-foot-3 and 315 pounds.

Backup running back Bernard Scott was expected to be involved in a running back-by-committee situation this season, but he's been sidelined by a hand injury. That will allow special-teamer Cedric Peerman to get a lot of carries in the first couple of preseason games.

Andrew Hawkins, who is the top slot receiver on the team, isn't comfortable being a returner. "I'm a work in progress. I'm new to it," he said. "The more reps you get, the better you get at everything." The safer option seems to be Tate, last year's returner, especially if he comes up short in the battle to be the team's No. 2 wide receiver.

Jordan Shipley, who is behind Hawkins as the slot receiver, doesn't appear to have enough burst to get separation from defenders in man coverage. Coming off season-ending knee surgery, Shipley is best at finding soft spots in zone defenses. He needs a strong preseason to get off the bubble.

The Bengals' coaching staff is extremely high on undrafted rookie linebacker Vontaze Burfict, the one-time first-round prospect. Playing at a much lighter weight than he did at Arizona State, Burfict is always around the ball in camp.
August, 4, 2012
8/04/12
10:00
AM ET
BEREA, Ohio -- Long before the announcement that Jimmy Haslam was buying the Browns, a new era had already begun in Cleveland.

It started with the Browns moving up one spot in the draft to select running back
Trent Richardson
third overall. It continued with taking quarterback
Brandon Weeden
later in the first round. Throw in a couple of second-round picks -- right tackle
Mitchell Schwartz
and wide receiver
Josh Gordon
(supplemental draft) -- and the Browns have the potential to start four rookies on offense this season. The rest of the teams in the AFC North may only start a total of four rookies combined.
This offseason rebuilding project in Cleveland has turned an unwatchable, 29th-ranked offense to the city's best attraction since the Rock and Roll Hall of Fame. Drawing the most fans to camp since they started tracking attendance seven years ago, the Browns watched 4,200 fans show up for the second practice. How impressive is that? The Browns' facility only holds 3,000, which meant more than 1,000 fans waited outside for people to leave so they could get a glimpse of the team's future.
"Offense sells tickets," linebacker
D'Qwell Jackson
said with a smile.
The Browns have certainly generated a buzz. The challenge is keeping fans interested. This franchise has recorded double-digit losses in eight of the past nine seasons, and the Browns are the consensus pick to finish last in the division -- again.
These younger players haven't had to endure the constant losing, but they're just as motivated to prove the skeptics wrong.
"I've dealt with it the last few years when Oklahoma State was picked in the middle of the Big 12," Weeden said. "When we did win the Big 12 championship, it felt good to say, 'What now?' We really don't listen to it too much. If anything, it sparks a little fire and makes us work that much harder."
THREE HOT ISSUES
[+] Enlarge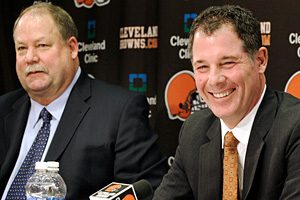 AP Photo/Amy SancettaWith a change in ownership for the Browns, the job security of Mike Holmgren, left, and coach Pat Shurmur is perhaps in question.
1. Change in ownership.
For all the hope surrounding the future, there's an equal amount of uncertainty after Haslam bought the team from Randy Lerner. New owners typically overhaul the decision-makers and put their trusted associates in place. Haslam won't make any changes until he's approved by the NFL owners in either September or October, which makes it seem like everyone is on a one-season audition.
Many predict Holmgren will be gone because Joe Banner, Haslam's unofficial consultant and a former executive for the Eagles, is expected to end up running the organization. General manager Tom Heckert could also be out based on mixed reports of his 10-year relationship with Banner in Philadelphia. And Shurmur might be done if the Browns win a handful of games again this year.
"This thing is headed in the right direction," offensive tackle
Joe Thomas
said. "Sometimes, it's hard not to think what the new guy is going to think. Is he going to see what we see?"
2. Loss of defensive tackle Phil Taylor.
The 2011 first-round pick is on the Physically Unable to Perform (PUP) list after having surgery to repair a torn pectoral muscle in May. The hope is Taylor will be able to return in the first half of the season and perhaps as early as Week 7 at Indianapolis.
While
Scott Paxson
continues to surprisingly fill Taylor's spot in the starting lineup, no one player is going to fill that void. "I would say we're going to have to roll a few people in there," Shurmur said. "That's what we're trying to find, that right mix."
It's really become a defensive line by committee because each player has a particular strength. Paxson and rookie third-round pick
John Hughes
are more stout against the run, and rookie sixth-round pick
Billy Winn
is showing quickness as a pass rusher. Despite this collective effort, it will be hard to replace Taylor.
3. Wide receiver Josh Gordon's impact.
The development of Gordon will determine the success of the Browns' passing game. Cleveland used a second-round pick in the supplemental draft on someone who is on the fast track to becoming the No. 1 receiver on the team.
Gordon's three failed drug tests makes him a risk, but it was a risk that the Browns had to take considering they have one of the worst wide receiver groups in the league. Gordon has the size (6 feet 3) and breakaway speed to be a top target, which prompted one league executive to say he has "
Randy Moss
-like" talents. On one route over the middle, Gordon never broke stride as two defenders bounced off of him. His height will show up on fade routes in the end zone, and his size will benefit him on slant routes.
Expectations have to be tempered by the fact that Gordon is raw. He didn't play last season (although he did practice) after transferring from Baylor to Utah, and he comes from a limited route tree from his days in the Baylor offense. The learning curve might not be as steep because Gordon has proven to be a great notetaker in meetings. He's already working with the first-team offense in three-receiver sets after a handful of practices.
"He's one of those guys that you can tell to correct something, and he corrects it on the next snap," offensive coordinator Brad Childress. "You can say what you want about him off the field. I found him to be a very good student of the game and able to put into play what you ask him to do immediately."
REASON FOR OPTIMISM
The way Richardson loves contact in training camp bodes well for the Browns. Richardson brings a physical identity to an offense that struck no fear in defenses last season. The only way the Browns will be able to compete with the Steelers and Ravens is to have an offensive centerpiece who can match the toughness and intensity of those defenses.
Richardson has the look of being the best back to come out of college since
Adrian Peterson
, only he's stronger. He benches 475 pounds, using that muscle to hold onto the ball (no lost fumbles last season) and break tackles. His success will allow the Browns to shorten games.
Richardson's biggest impact will come around the end zone. The Browns ranked 30th in points scored last season because they lacked punch in the running game. Cleveland scored four rushing touchdowns last season, which was tied for the the second-fewest in the past 15 NFL seasons, according to ESPN Stats & Information. This is why the Browns gave up three picks to move up one spot to get Richardson, one of three players in SEC history to score 20 or more rushing touchdowns in a season.
REASON FOR PESSIMISM
The only thing that has piled up more than losses since the Browns returned to the league is rushing yards. Over the past 13 seasons, the highest the Browns' run defense has ranked is 23rd. Cleveland allowed 147.4 yards rushing per game last season, which ranked 30th in the 32-team NFL. No other team in the division gave up more than 104.7 yards a game on the ground, and no other AFC North team ranked lower than 10th in run defense.
The Browns' defense is giving up some long runs in camp, a sign that this could be another long season for the Cleveland front seven. The Browns upgraded at defensive end by signing free agent
Frostee Rucker
, only to lose Taylor for at least the first six games. Defensive end
Jabaal Sheard
, a menace on the pass rush, has struggled against the run. Another bad sign is three of the Browns' starting front four (Taylor, Rucker and
Ahtyba Rubin
) have missed time because of injuries and there's only been one full week of camp.
"To be successful in this league and in the AFC North, you have to stop the run," Jackson said. "Around November and December and the weather is bad, it's going to be a run day. From looking at last year, that's one thing we're focusing on from Day One, it's stopping the run. It's a quiet confidence you have to build and it starts right here in training camp."
OBSERVATION DECK
[+] Enlarge

David Richard/US PresswireRookie QB Brandon Weeden has shined at times early in training camp.