AFC North:

2012 NFL combine
February, 29, 2012
2/29/12
1:30
PM ET
The cornerback workouts at the NFL combine put the
Cincinnati Bengals
in tough spot.
North Alabama's
Janoris Jenkins
had the
best workout among the corners
, which puts him in the conversation as the second-best corner in the draft. Jenkins posted the sixth-best 40 time (4.46) among defensive backs, and he seemed the most confident, agile, quick-moving corner during drills, according to ESPN's Todd McShay.
[+] Enlarge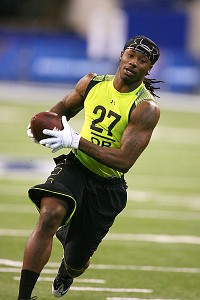 Brian Spurlock/US PresswireIn combine interviews, Janoris Jenkins gave candid answers to questions about his checkered past.
The Bengals, who are expected to take a cornerback with one of their two first-round picks (Nos. 17 and 21), need a player with Jenkins' skills and upside.
Leon Hall
is coming off a season-ending Achilles injury and
Nate Clements
is 32. The only problem: Jenkins is one of the biggest character risks in the first round.
Can the Bengals gamble on a player when it has backfired on them so frequently over the years? You want to say no, until you see his Pro Bowl potential.
Jenkins said he failed one drug test at Florida and was arrested three times -- once for a bar fight and twice for marijuana possession. He was kicked off the team at Florida and finished his college career at North Alabama. He's also 23 and has fathered four children by three different mothers.
To his credit, Jenkins didn't dodge questions like
Ryan Mallett
did last year. His direct approach should preserve his first-round status.
He said he didn't make excuses when teams asked him about those incidents at his NFL combine interviews.
"I was honest, straightforward," Jenkins. "Told them I did it. I admitted to everything. I take full responsibility. I learned from it. It made me a stronger person. How to separate myself from certain guys, certain people. In order to be successful at the next level, I can't do the things that I used to do.''
Asked if he had given up marijuana, Jenkins said, "I'm done. I can't do it. I thought about my mom and my kids. In order for them to have a nice life, I have to put that aside."
Jenkins might have been the top-rated corner in the draft if not for the red flags. Character concerns caused cornerback
Jimmy Smith
to slide to the Ravens at No. 27 in last year's draft.
"I'm pretty sure it will hurt me," Jenkins said. "But I'm moving past that."
February, 28, 2012
2/28/12
10:30
AM ET
Memphis defensive tackle
Dontari Poe
is the perfect fit for the
Pittsburgh Steelers
, who need to find the heir apparent to nose tackle
Casey Hampton
. Most mock drafts agreed, linking Poe to the Steelers' 24th overall pick in the first round.

But Poe won't be there when the Steelers are picking at that point. Not after his
"epic" showing
at the NFL combine.
Poe's numbers produced at the combine compare favorably to the ones recorded by Ravens defensive tackle
Haloti Ngata
. Even though Ngata was a more polished player coming out of college, Poe is projected to go in the middle of the first round (Ngata was taken 12th overall).
Everyone knew Poe was strong. He backed that up when he had 44 repetitions on the 225-pound bench press -- which was 16 above the average for defensive tackles over the past four combines. What really stood out was Poe's speed. He ran a jaw-dropping official time of 4.98 seconds in the 40-yard dash.
You got the feeling that Poe would enjoy getting drafted by the Steelers. He has definitely followed Hampton's career.
"He's aggressive. He's one of the more aggressive defensive tackles this league has seen," Poe said at the combine. "His hand strength. Once he gets his hands on you, he kind of controls you. That's probably what I admire most about him."
Luckily for the Steelers, this is a deep draft for nose tackles. BYU's
Hebron Fangupo
, Washington's
Alameda Ta'amu
(who had the third-slowest 40 time among defensive tackles) and Alabama's
Josh Chapman
are expected to be taken from the second to fourth rounds.
February, 27, 2012
2/27/12
11:00
AM ET
You can argue whether the Browns should trade up to draft Baylor quarterback
Robert Griffin III
. What's not debatable is that RG3 had the most dazzling NFL combine showing of any quarterback in this draft class.
He impressed reporters with an engaging 15-minute interview. He erased any questions over his height when he measured 6-foot-2. And he wowed the NFL world when he ran the 40-yard dash in 4.41 seconds (I put RG3's
speed in perspective
in a weekend blog post) -- one of the fastest ever for a quarterback -- and recorded a 39-inch vertical jump and a 10-foot-3 broad jump.
It's officially now a two-player draft: Stanford quarterback
Andrew Luck
is going No. 1 and RG3 is getting drafted No. 2. But, who is going to trade up to the St. Louis Rams' spot and take the Heisman Trophy winner?
The Browns are in the driver's seat because they can offer the Rams the fourth overall pick. The cost of moving up two spots is very steep.
According to ESPN's
John Clayton
, the Browns would have to trade both first-round picks from this year (Nos. 4 and 21) as well as a significant pick in 2013 (possibly a third-round one or higher). What this means is trading three potential starters for one potential franchise quarterback.
If the Browns decide to draft RG3, he is ready to win the starting quarterback job right away. He would go against
Colt McCoy
, who beat RG3 and Baylor, 45-21, in 2008.
"It'd be fun to compete with Colt," Griffin said at the NFL combine. "I played him one year in college, and he beat us, so maybe I'd like to go out there and beat him. It'd be great; it'd be an honor to go to Cleveland."
If it's RG3 versus McCoy for the Browns' starting job in 2012, RG3 wouldn't be on the losing end this time.
February, 26, 2012
2/26/12
12:17
PM ET
Baylor quarterback
Robert Griffin III
wowed scouts this morning at the NFL combine where he ran the 40-yard dash
in 4.38 seconds
.
If his official time comes in under 4.4, he'll be the only quarterback other than
Michael Vick
to
run that fast at the combine
(Vick was clocked at 4.33 seconds), according to ESPN's Steve Muench. His time is impressive considering the average for quarterbacks over the last four combines was 4.90 and
Cam Newton
clocked 4.59 last year.
Many believe RG3 secured going No. 2 overall in the draft after dazzling everyone with his speed, which will force either the
Cleveland Browns
or
Washington Redskins
to trade up to the
St. Louis Rams
' spot. I don't really think this showing will factor too much in the decision.
My thinking was that RG3 was going No. 2 overall unless he slipped up at the combine. But he only solidified himself in Indianapolis by measuring 6 feet 2, impressing reporters with an engaging interview and running a scintillating time in the 40-yard dash.
When teams like the Browns and Redskins are considering moving up that high in the draft, I don't think they'll be looking back at this 40 time. It's not about how fast a quarterback can run. It's how quickly he can assimilate to the speed of the game. It's about making the fast reads to find the open receiver.
Teams can get a feel for that through talking to the quarterbacks at the combine interview sessions. I would say teams want a fast learner more than a fast quarterback. But it would certainly be a great package if the quarterback is both.
February, 24, 2012
2/24/12
3:30
PM ET
Baylor quarterback
Robert Griffin III
, a potential first-round target of the
Cleveland Browns
, playfully addressed concerns over his height at the NFL combine.
He was
officially measured
at 6 feet 2 3/8 inches tall after rumors circulated that he was closer to 6 feet.
Why is this such a big deal? ESPN's Mel Kiper reveals why in an interesting study.
In looking at the heights of the 32 starting quarterbacks in the NFL last season, 28 of them were 6-2 or taller. There were only four that were shorter than that: the Browns'
Colt McCoy
, the Redskins'
Rex Grossman
, the Saints'
Drew Brees
and the Eagles'
Michael Vick
.
February, 24, 2012
2/24/12
11:37
AM ET
We learned something today about Baylor quarterback
Robert Griffin
III at the NFL combine. He
really
is 6 feet 2 inches tall. Well, to be accurate, RG3 measured in at 6 feet 2, 3/8 inches.
He was listed at 6-2 at Baylor, but there had been talk that he was closer to 6 feet. While quarterbacks like Drew Brees and Michael Vick have overcome the lack of height, there is a stronger track record for taller quarterbacks in the NFL.
Height still matters in this league, and there's not a lot of instances where teams use draft picks on short quarterbacks, especially first-round picks.
So, RG3 passed his first test at the combine. He will interview with teams Friday night, which includes a 15-minue chat with the
Cleveland Browns
. The Browns are in the process of determining whether RG3 is worth trading up from No. 4 in the draft.
Also, now that all the coin flips are complete, here's the
updated first-round order
.
February, 23, 2012
2/23/12
6:00
PM ET
The Steelers are close to being under the salary cap after
restructuring the contract
of quarterback
Ben Roethlisberger
, according to ESPN NFL Insider Adam Schefter.
Pittsburgh clears about $8 million by reworking Roethlisberger's deal. This is the latest in a series of moves the Steelers need to make to get out of their $25 million salary-cap hole, but more work needs to get done if the Steelers want to retain wide receiver
Mike Wallace
.
If Pittsburgh wants to protect Wallace and put the franchise tag on him, the Steelers need to create an additional $9.4 million in salary-cap space. Pittsburgh can do so by restructuring the contract of linebacker
James Harrison
and making additional cuts. The Steelers can free up nearly $10 million by releasing wide receiver
Hines Ward
($4 million), guard
Chris Kemoeatu
($3.8 million) and defensive end
Aaron Smith
($2.1 million).
Pittsburgh would clear another $4 million by cutting nose tackle
Casey Hampton
, but general manager Kevin Colbert was emphatic that Hampton
will be on the team
in 2012, according to the Pittsburgh Post-Gazette.
Still, the Steelers have put themselves in position to put the franchise tag on Wallace if they choose to do so. It's just going to take some more cuts.
February, 23, 2012
2/23/12
9:30
AM ET
As the NFL combine kicks into gear today, here are the hot draft topics involving the AFC North teams:
[+] Enlarge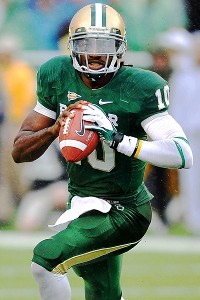 Jerome Miron/US PresswireRobert Griffin III is one player the Browns will be interested in meeting with at the combine.
Will Robert Griffin III fit into the Browns' system?
The Browns say they're still evaluating the Heisman Trophy winner, and they'll ultimately have to determine whether he's worth trading up from the No. 4 overall pick. RG3 plans to run the 40-yard dash (he's targeting sub-4.4 seconds) but he probably won't throw until his pro day on March 21. The biggest question that the Browns have to answer is whether RG3 can convert from the spread offense that he ran at Baylor. That will come during the interview process when Cleveland officials will go through their offense and pick his brain. ESPN's Todd McShay said he would "be surprised if he doesn't floor teams with his intelligence and understanding of the game."
Sticking to standard line
: The Steelers have used their first-round pick on strengthening the offensive or defensive line for the past three years. The trend has a strong chance of continuing this year, and it's not out of habit. The Steelers need to find a potential replacement for nose tackle
Casey Hampton
, who is coming off ACL surgery and has a high cap number. The best fit is Memphis'
Dontari Poe
, a 350-pound powerhouse. There's a chance he could challenge the combine record of 49 reps in the bench press. The Steelers might have to consider moving up from No. 24 if Poe has a strong showing.
Tracking the running backs
: The Browns and Bengals each have two first-round picks, and they both could use one on a running back. The Bengals aren't expected to re-sign
Cedric Benson
, and the Browns could do the same with
Peyton Hillis
. There won't be any on-field evaluation of Alabama's
Trent Richardson
, the No. 1 running back in the draft who
won't participate in drills
after having minor knee surgery. This shouldn't hurt his draft status because Richardson's size, speed and power make him a legitimate top-10 pick. Miami's
Lamar Miller
, who has been linked to the Bengals' second first-round pick, is looking to solidify his standing as the second-best back in the draft by showcasing his speed. He could record the fastest time of any player in the 40-yard dash.
Center of attention
: Not many centers get selected in the first round, and the Ravens have never taken one that high. That could change this year because starter
Matt Birk
isn't expected to return (even if he decides not to retire) and backup
Andre Gurode
is an unrestricted free agent. Wisconsin's
Peter Konz
is trying to remain the top center in this draft. His biggest hurdle is the medical check. Konz was diagnosed with blood clots in his lungs in 2009 and then missed three games in 2011 with a dislocated left ankle (he did return to start the Rose Bowl). Baltimore has taken players off their board in the past (like tight end
Rob Gronkowski
last year) because of medical concerns.
Sorting through the secondary
: The Bengals are in need of a young cornerback and could take one in the first round.
Leon Hall
's status is unknown after suffering a season-ending Achilles injury.
Nate Clements
is entering his 12th season. Plus, top backups
Adam Jones
and
Kelly Jennings
are unrestricted free agents. Cincinnati has no shot at the top cornerback in the draft, LSU's
Morris Claiborne
, who should go in the top five. The Bengals have to figure out who is the second-best corner: Alabama's
Dre Kirkpatrick
or North Alabama's
Janoris Jenkins
.
Disappointing double move
: One potential target for the Browns' fourth overall pick is Oklahoma State's
Justin Blackmon
. Cleveland is in desperate need of a playmaker for an offense that ranked 30th in scoring. Blackmon is considered the top wide receiver in the draft because of his hands and body control. But, if the Browns are going to invest this high of a pick, they have to gauge whether he has the speed to get open. It looks like the Browns will have to wait until Blackmon's March 9 pro day before they can time him. ESPN NFL Insider
Adam Schefter
reports "it doesn't look like" Blackmon will run with the rest of the receivers on Sunday.