AFC North:

2012 NFL preseason Week 3
August, 26, 2012
8/26/12
12:03
AM ET
Ben Roethlisberger
doesn't know the severity of right guard
David DeCastro
's injury, but the Steelers quarterback believes he knows the cause.
Roethlisberger is blaming the playing surface at Buffalo's Ralph Wilson Stadium.
"This is a great field, but it's FieldTurf, and it's just killing guys because they can't get their feet out of the ground," Roethlisberger told the
NFL Network
, "and it's just another reason we should get rid of FieldTurf."
Unfortunately for Roethlisberger and the Steelers, they are going to play half of their eight road games this season on artificial surfaces: Cincinnati (UBU Sports synthetic turf),
New York Giants
(FieldTurf), Baltimore (Sportexe Momentum turf) and Dallas (Matrix RealGrass artificial turf).
The Steelers, though, have lost more players to severe knee injuries on grass in the past year. Running back
Rashard Mendenhall
injured his knee in last regular season's finale in Cleveland. Nose tackle
Casey Hampton
and offensive tackle
Max Starks
hurt their knees in the playoff game in Denver. And fullback
David Johnson
blew out his knee in the preseason opener in Philadelphia.
Maybe it's safer for the Steelers to play on FieldTurf.
Note
: The actual playing surface at Ralph Wilson Stadium isn't FieldTurf. It's a surface called A-Turf, which hadn't been installed at an NFL stadium before the Bills put it in.
August, 25, 2012
8/25/12
10:41
PM ET
Ben Roethlisberger
looked like his old self for the first time this preseason in the Steelers'
38-7 victory
over the
Buffalo Bills
.


It took until the third game of the preseason for it to happen. It also took the Steelers getting backed up to their end zone with under two minutes left in the first half.
Not sure whether he suddenly felt comfortable in Todd Haley's new offense or he just got ticked off after getting penalized for 12 men in the huddle, but Roethlisberger marched Pittsburgh down the field on an 11-play, 98-yard drive that he capped with a six-yard touchdown pass to
Antonio Brown
. He completed seven of eight passes for 92 yards on that drive.
For most of the preseason, it's been a conservative passing attack for Roethlisberger. Even his longest pass of the preseason -- a 57-yard touchdown to Brown -- was the result of a long run after a short throw.
In Buffalo, after a sluggish start that featured four dropped passes, the key play was Roethlisberger throwing a deep back-shoulder toss to running back
Jonathan Dwyer
for 33 yards to convert a third-and-9. He then finished off the marathon drive by hitting Brown with 13 seconds remaining in the first half.
Here are some other thoughts from the Steelers' third preseason game:
Head coach Mike Tomlin called the injury to the right knee of right guard David DeCastro "potentially severe" after the game. He is scheduled for an MRI on Sunday. DeCastro was carted off early in the first quarter after right tackle Marcus Gilbert fell on the leg of the Steelers' first-round pick. Ramon Foster is adequate if you need him to fill in, but he is a marginal starter over an entire season. That's why the Steelers used the 24th overall pick on DeCastro.
The other injury concern is defensive end Brett Keisel, who has a mild high-ankle sprain, according to Tomlin. He is expected to be ready for the season opener. The Steelers have less of a worry at this spot because they have a solid replacement in Cameron Heyward, a 2011 first-round pick.
Other than that long pass to Dwyer, Roethlisberger didn't really try to stretch the field. He went deep one other time, but Emmanuel Sanders dropped the throw down the right sideline. Mike Wallace is reportedly ending his holdout Sunday.
Outside of that final drive in the first half, the Steelers offensive line had problems moving a physical Buffalo defensive front. Foster and left guard Willie Colon got pushed back in pass protection, and there were few running lanes for Isaac Redman (24 yards on 12 carries). On one play, center Maurkice Pouncey got called for holding after he grabbed the left leg of Kyle Williams. Even on Redman's touchdown run, he had to push back two Bills defenders who met him in the hole.
Forcing turnovers has been a priority for the Steelers, who finished last in the NFL last season with 15 takeaways. Pittsburgh came away with three turnovers against the Bills, forcing a fumble and intercepting Bills backup quarterback Vince Young twice. The Steelers converted touchdowns off all three turnovers.
Brown remains the focal point of the Steelers' passing attack, especially with the absence of Wallace. He caught seven passes for 108 yards and two touchdowns, including a 39-yard touchdown from Byron Leftwich. But Brown should've had better numbers than that. He dropped two passes from Roethlisberger early in the game.
The Steelers have to figure out a way to set the edge better in the run game. Bills running back Fred Jackson gained most of his yards by breaking to the outside. He made safety Troy Polamalu look bad in the open field on a 15-yard run. Polamalu, though, rebounded to strip the ball away from Shawn Nelson in the end zone and intercepted Young early in the third quarter.
With James Harrison still out, it was expected that LaMarr Woodley would be the key to the pass rush. On Saturday night, Woodley was more of a presence in pass coverage. He should've intercepted a deflected pass in the first quarter (he dropped it after Bills receiver collided into him) and he later got his hand on a pass while dropping back.
The Steelers backup quarterbacks are making this a tough decision for the coaching staff, although I still see them giving the job to Leftwich. Last week, Charlie Batch was the first to replace Roethlisberger and he completed seven of 10 passes for 84 yards. On Saturday night, Leftwich took over for Roethlisberger and finished 5 of 8 for 105 yards and two touchdowns.
August, 25, 2012
8/25/12
8:12
PM ET
The Steelers have had to use three different starting lineups on the offensive line in the first three preseason games. It looks like they will have to use a different combination next week -- and might have to adjust their plans for the season.
DeCastro
Right guard
David DeCastro
was carted off the field in the first quarter of Saturday night's preseason game at Buffalo. The Steelers announced that DeCastro is out for the game with a right knee injury, but it's not known whether he could be out a couple of weeks or for the entire season.
Pittsburgh selected offensive linemen with its first two picks in the 2012 draft to provide long-term continuity. The Steelers went through 25 different offensive-line combinations last season, which ranked first the the NFL.
Through the first three games, only DeCastro and center
Maurkice Pouncey
are the only Pittsburgh offensive linemen who have started at the same position.
Ramon Foster
replaced DeCastro in the starting lineup, which means the Steelers go from the top guard taken in the 2012 draft to an undrafted player.
UPDATE
: DeCastro's injury is "potentially severe," head coach Mike Tomlin said after the game. DeCastro is scheduled for an MRI on Sunday.
August, 25, 2012
8/25/12
9:30
AM ET
Brandon Weeden
's growing pains are getting painful to watch. In the
Cleveland Browns
' woeful
27-10 preseason loss to the Eagles
on Thursday night, Weeden looked ragged against Philadelphia's pressure and struggled to hold onto the ball again.
Weeden, who was 9 of 20 for 117 yards, will face this same Eagles defense in 16 days in the regular-season opener. The bad news is that defense won't be coming off four days' rest like Friday night.
Like he did in the preseason opener, Weeden started off strong, completing his first four passes for 66 yards. When the Eagles started blowing past Cleveland's shaky offensive line, Weeden's lack of mobility and improvisation showed. He connected on 5 of his last 16 passes. He got sacked three times. He fumbled twice (losing one). Weeden's first fumble occurred in the red zone, when he was sacked after the Browns failed to execute a simple screen pass.


Not all of the blame for the Browns' unsightly performance can be put on Weeden. The offensive line couldn't handle the speed of the Eagles' defense and committed four penalties in the first half (left guard
Jason Pinkston
had false start and holding penalties on the opening drive). Tight end
Jordan Cameron
had a drop, and wide receiver
Greg Little
surprisingly pulled up on a catch over the middle.
In addition to the mistakes of the young Browns' offense, the defense struggled against the Eagles backup quarterback and Cleveland got a punt blocked deep in its own territory.
"I'm not worried, disappointed or concerned. We're going to get it fixed," Shurmur said. "Again, I don't mean to be short. Let's look at it for what it is, we need to play better. I'm encouraged because I got a bunch of guys in there that when I talk to them after the game, I could see their jaws lock and understand what we need to get done. I'm looking forward to them having their day off and getting back to work. I think we have got a crew here that understands the message."
Here are some other thoughts on the Browns' third preseason game:
One of the few bright spots was the improved play of wide receiver Josh Gordon, who had three catches for 50 yards after a good week of practice. He beat three-time Pro Bowl cornerback Nnamdi Asomugha, who had tight coverage, for a 28-yard reception on the first play of the game. The Browns are looking for him to earn the starting job opposite Little.
Colt McCoy either improved his chances of winning the backup quarterback job or increased his trade value. Continuing a strong preseason, McCoy finished 7 of 9 for 74 yards and one touchdown. After McCoy's three-yard touchdown pass to Evan Moore, Seneca Wallace came in and threw an interception on the Browns' next offensive play.
One difference when the Browns play the Eagles in the regular-season opener is they'll face Michael Vick instead of backup Nick Foles, and that could be a good thing based on Friday night. After getting intercepted by Joe Haden on his second throw, he completed 12 of 17 passes for 135 yards and two touchdowns against Cleveland.
Filling in for top pick Trent Richardson (knee) again, running back Montario Hardesty fumbled for the second straight game. He nearly lost the ball on the first drive, too. Hardesty didn't find much running room and managed 12 yards on eight carries.
Poor play wasn't limited to the Browns' offense and defense. Their special teams made it a full-team meltdown when Reggie Hodges got a punt blocked in the first quarter. The Eagles took over at the Browns' three-yard line and scored their second touchdown two plays later.
Rookie linebacker James-Michael Johnson looked like a rookie. He decided to blitz Foles late which freed up tight end Brent Celek for the first touchdown. Johnson's roughing the passer penalty nullified an interception return for a touchdown by David Sims early in the third quarter. He did break up a couple of passes.
Veteran cornerback Sheldon Brown couldn't handle the speed of an undrafted rookie. Brown got beat twice by 5-foot-8 receiver Damaris Johnson for 58 yards. He didn't get any deep help from Eric Hagg on one deep throw. The Browns likely won't have any choice but to start Brown. Haden is reportedly facing a suspension from the league, and Dimitri Patterson is dealing with an ankle injury.
There were 13 Cleveland players scratched from the game, including outside linebacker Scott Fujita (knee) and tight end Ben Watson (undisclosed).
August, 24, 2012
8/24/12
7:30
AM ET
If the Bengals learned anything from their series of breakdowns in
Thursday night's 27-13 preseason loss
to Green Bay, it's that they have to step up their game in the red zone.
Cincinnati's defense failed to contain the quarterback again, allowing
Aaron Rodgers
to run for touchdowns of 12 and 5 yards in the first quarter. Defensive end
Michael Johnson
ran too far upfield to create a lane on the first touchdown, and defensive end
Jamaal Anderson
did the same thing on the second score.


The Bengals' starting offense struggled the entire game, especially when it had first-and-goal from the 1-yard line. Instead of punching the ball into the end zone, Cincinnati lost 11 yards.
Andy Dalton
threw an incompletion on first down (no one was open),
Cedric Peerman
lost 2 yards on second down (center
Kyle Cook
was pushed back to throw off the play) and Dalton was sacked on third down when
Erik Walden
came unblocked from the left side. The Bengals were 26th in red zone offense last season.
The first-team offense managed a first down on five of seven drives. That came against a Green Bay defense that ranked last in the NFL last season.
"I don't think this game defines how we're going to be during the year. It's a preseason game," Dalton said after the game. "We've got to find ways to get motivated and get going. This film will be good to look at and see areas where we need to improve."
Here are some other observations from the Bengals' third preseason game:
Dalton never had a chance to settle into the pocket and had to hurry on nearly every throw. He finished 5-of-17 for 40 yards. On third down, Dalton was 3-of-5 for 20 yards and was sacked twice for minus-17 yards.
Bengals cornerback Leon Hall looked sloppy and had a drive to forget on the second Packers offensive series. He should've been called for pass interference when he knocked into Jordy Nelson before the ball got to the Packers receiver at the Cincinnati 2-yard line. Hall followed that up by allowing a 19-yard catch to Greg Jennings and missed a tackle after an 18-yard reception by Jennings.
Cincinnati wide receiver A.J. Green made no impact after a long touchdown grab a week ago. He caught one of six passes thrown his way, though he didn't have any drops. Dalton should've been picked off when he underthrew Green on a fade route to the end zone in the second quarter.
Jeromy Miles, one of the team's core special-teams players, is making a late push to be the starting strong safety. Competing against Taylor Mays for the spot, Miles broke up two passes from Rodgers including a fourth-down throw to Jennings. This solid effort comes after recording six tackles, a forced fumble and an interception in Atlanta last week.
Former Bengals running back Cedric Benson had a productive return to Paul Brown Stadium. He gained 38 yards on six carries (including an 11-yard run) and caught one pass for 10 yards.
August, 23, 2012
8/23/12
11:39
PM ET
BALTIMORE -- Ravens kicker
Billy Cundiff
said after last week's preseason game that "this is really a competition with myself." In Thursday night's
48-17 preseason victory
by the Ravens, Cundiff realized that he misjudged the kicking battle.
The Ravens let
Justin Tucker
kick the entire game, and the undrafted rookie made an impression by hitting a 53-yard field goal that would have been good from 63 yards. It was the latest interesting turn in the Ravens' kicking battle, where Tucker is trying to unseat Cundiff, a 2010 Pro Bowl kicker who missed a last-minute 32-yard field goal that would have tied last season's AFC championship game.
Cundiff said he was "shocked" when told of the team's decision the night before the game but refused to read too much into being sat down for the entire game. Reciting his statistics over the past two seasons -- making 90 percent of his kicks inside the 50-yard line, going 12 of 13 in the playoffs and recording the most touchbacks over that span -- Cundiff said his track record should speak for itself.
[+] Enlarge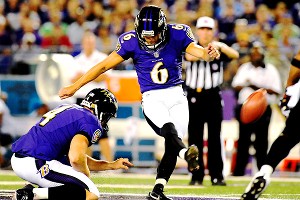 Evan Habeeb/US PresswireWith Billy Cundiff on the bench, rookie Justin Tucker's night included this 53-yard field goal.
"I feel like if that's not good enough, I'll take my services elsewhere to be perfectly honest," he said after the game. "I feel like it's a really solid track record and I'm not here to deal with hypotheticals."
Ravens coach John Harbaugh cautioned everyone not to jump to conclusions.
"Billy's had a great, great camp. He's done really well. I think we know Billy," Harbaugh said. "Billy would've come in here and made every one of those kicks. And when we kicked it deep, he would have kicked every one out of the back of the end zone. Billy's proven. Tuck is not proven. This is something that he needed. We needed to see if he could handle the whole game from beginning to end and having that pressure on him. Obviously, he handled it pretty well."
It's clear that the Ravens are interested in Tucker. The Ravens wouldn't have given him this opportunity if they had already decided to give the job back to Cundiff.
Tucker isn't making any assumptions over whether kicking Thursday night indicates that he has taken the lead in the competition.
"All I can say is that I'm bringing my lunch pail to work," he said. "I come to work every day and try to get better every day and all of that stuff will take care of itself in the end. I'm just happy to have the opportunity and happy to have kicked well."
Cundiff said the team's decision won't affect his confidence going forward.
"Let's be honest. I feel like I've been through enough," he said. "There's not a single thing that somebody could throw at me that I'm not prepared for. My confidence has been high. I know when I came into training camp, a lot of people asked me where my head was at and kind of questioning whether I'd be able to kick. I feel like I proved continually throughout training camp that I came in prepared. And regardless of what's been thrown at me and what the situation is, I'm ready to kick."
Cundiff doesn't know what the team is planning to do in next week's preseason finale. "In this business, you're in a need-to-know basis and they're let you know when you need to know," he said. "This is my ninth team, so you got to understand that I've been through a lot of different situations. When you're on a team, you're on a team. When they don't want you around, they'll let you know really quickly and you'll be out. Until that point, I feel like I've kicked extremely well and I'm going to continue to kick well."
August, 23, 2012
8/23/12
10:36
PM ET
BALTIMORE -- Ravens quarterback
Joe Flacco
has been showing more command of the offense this preseason. In the
48-17 win
over the
Jacksonville Jaguars
, Flacco looked to be in total control.
Orchestrating the team's new no-huddle attack, Flacco completed 27 of 36 passes for 266 yards with two touchdowns and one interception. These numbers are even more impressive considering he didn't play three full quarters.


Flacco continually looked downfield, completing five passes of more than 15 yards. He also connected with nine different receivers.
This isn't to say Flacco was perfect. He could have been picked off on the team's first trip in the red zone, where he forced a pass in between two defenders to get to
Anquan Boldin
. Flacco also misfired on two deep passes, putting too much air to an open
Torrey Smith
and not putting any air to
Jacoby Jones
.
But Flacco came up big in the critical situations. He hit Boldin on third-and-goal for a 5-yard touchdown and sidestepped a pass-rusher to find
Vonta Leach
for an 8-yard touchdown.
Here are other observations from the Ravens' third preseason game:
In a move that will cause many to jump to conclusions, the Ravens allowed undrafted rookie Justin Tucker to handle all the kicking duties and gave Billy Cundiff the night off. Tucker took advantage by hitting a 53-yard field goal in the second quarter.
Ravens cornerbacks Lardarius Webb (team-leading six tackles) and Jimmy Smith played much more physical than the first two preseason games. That's not a surprise since this game was against quarterback Blaine Gabbert and not Matt Ryan or Matthew Stafford. Smith was too aggressive at times and got flagged for pass interference in the third quarter. It was not a particularly good night for cornerback Cary Williams, who got beat on a 27-yard pass to rookie Justin Blackmon.
A big focus for Baltimore this offseason has been improving special teams after allowing three touchdowns off returns last season. The Ravens, though, have a lot of work to do in that area. Former Ravens running back Jalen Parmele returned the first two kickoffs of the second half for 42 and 47 yards.
Wide receiver Torrey Smith is showing no lingering effects from an ankle injury that sidelined him last game. He caught eight passes for 103 yards, continuing what has been an impressive summer for the 2011 second-round pick.
Bryant McKinnie made his first start at left tackle, but Baltimore didn't really have a choice. With Marshal Yanda being held out with an leg injury (not considered serious), the Ravens moved Bobbie Williams from left to right guard and put Kelechi Osemele from right tackle to left guard. That shifted Michael Oher from left to right tackle. Hope you got all of that because there will be a quiz later.
Undrafted rookie running back Bobby Rainey (Western Kentucky) should have secured a spot as the team's third running back. He caught three passes for 73 yards and showed great burst on a 48-yard touchdown. Backup running back Bernard Pierce had a productive night with 10 carries for 35 yards, which included a 20-yard run. He wowed the home crowd by hurdling a defender.
Albert McClellan started at outside linebacker for the third straight preseason game, but rookie second-round pick Courtney Upshaw saw a lot of time with the starters. The Ravens obviously wanted to get an extended look at Upshaw, who recorded his first sack in the second half.
The Ravens put together five touchdown drives of at least 80 yards against Jacksonville. The 48 points are the most the Ravens have ever scored in a preseason.