AFC North:

2013 Black Monday
December, 31, 2013
12/31/13
9:00
AM ET
Just some quick facts on the firing of coaches:
The last four coaches fired in the AFC North have been by the Cleveland Browns.
Since January of 2009, the Browns have fired Romeo Crennel, Eric Mangini, Pat Shurmur, Rob Chudzinski.
That's four coaches fired in five years.
Two of those coaches fired were given two seasons to win, one was given one season.
Mike Tomlin, John Harbaugh and Marvin Davis have all been on the job in Pittsburgh, Baltimore and Cincinnati since before 2009.
The number of coaches in Joe Thomas' seven-year career? Soon to be five.
The number of coaches in Cleveland since the team returned in 1999? Soon to be eight.
Five plus eight equals 13, which is the exact number of games the Browns have won the past three seasons.
The number of coaches fired since January 2012: Two.
The number of coaches hired since January 2012: Soon to be two as well.
The Browns have lost 10 games in a season in 10 of the last 11 seasons.
This season marked the sixth in a row that the Browns have lost more than 11 games. According to Elias, only the Raiders did that for a longer period -- they lost 11 every season from 2003-2009, seven in a row.
The Browns will have a chance to match that mark in 2014. With a new coach, new systems (is there any doubt we'll all be writing and talking about the switch back to the four-three defense?), new coordinators, new quarterback and new running back, the odds would have to favor matching this mark.
Stability.
There's nothing like it.
December, 30, 2013
12/30/13
7:13
PM ET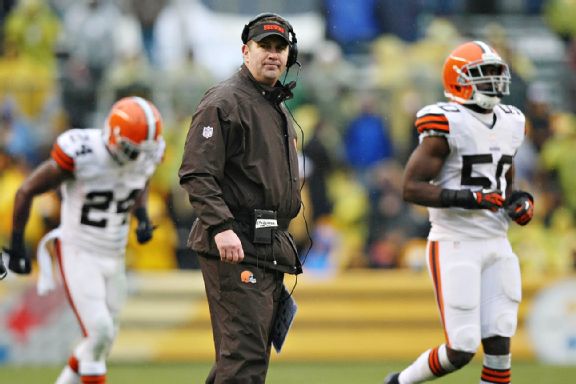 Jason Bridge/USA TODAY SportsRob Chudzinski, who never had the final say on personnel, finished the season on a seven-game losing streak.
Where did it go south for Rob Chudzinski?
The cynical answer is to say when he took the job knowing he was working in a structure where CEO Joe Banner and GM Mike Lombardi had more input or as much input on personnel as he had.
Chudzinski knew the structure when he took the job, but clearly the marriage didn't work.
The cynical view is not the
Cleveland Browns
' view though.
Banner said at a Monday news conference that the working arrangement with Chudzinski, Lombardi and Banner went well, that any disagreements were of the normal kind. He said he was "unequivocal" on that subject.
To Banner and owner Jimmy Haslam, the team simply did not progress or improve. Haslam mentioned he said in July that he would judge the season by whether the team was better in the final three games than the first three. He said he did not see that improvement.
Chudzinski did not finish well. The Browns lost seven in a row to end the season, and dropped 10 of their last 11. A loss to the
Jacksonville Jaguars
was bad, and the effort against the
New York Jets
was worse.
But he was also done in by circumstances that he knew of when he was hired, but probably couldn't fully appreciate until he was in the job.
In the Browns structure, Banner runs football, which means he runs personnel. He discusses consensus but he also is the final say on personnel. He also has a certain operating style. Lombardi evaluates and finds personnel.
The tension between the front office decisions and a coaching staff trying to win immediately seemed to increase as the season wore on. The strain showed in various ways, and Chudzinski would not win that struggle without victories on the field.
Barely a week went by in which offensive coordinator Norv Turner did not -- directly or indirectly -- state that he was making do under less than ideal circumstances.
Chudzinski had five different running backs, three different quarterbacks, a third receiver who missed the final two games and a veteran corner placed on injured reserve who finished the season playing for Miami.
Monday, Tony Grossi of ESPN-Cleveland.com reported the front office wanted to shake up the locker room by cutting a starter -- receiver
Greg Little
or guard
Shawn Lauvao
, and Chudzinski balked.
If that happened, the coach is in a bind. If he disagrees he's not a team player and he doesn't demand accountability. But if he agrees, he loses the locker room and operates out of fear, which has never been Chudzinski's style.
The Browns, incidentally, deny the request/mandate to cut a player ever happened.
Banner also disputed any notion that the team was building for 2014 and not for this season.
"We were one of the most active teams in free agency in the NFL," Banner said. "That's not something geared toward 2014. It's geared toward making progress."
He continued.
"I think it you took the players that we added, and if you took them comprehensively -- undrafted free agents, people we claimed, people we drafted and free agency -- and you look at the teams we played over the last five or six weeks I think we'll stack up OK in terms of who we added in 2013," Banner said.
The flip side: More than $20 million in salary cap space went unused and the starting running back was traded and never replaced with a credible back. Cornerback
Leon McFadden
wound up playing after being drafted in the third round, a round or two ahead of where scouts had him projected. And though first-round pick
Barkevious Mingo
had moments, he did not make a significant impact.
While
Josh Gordon
and
Jordan Cameron
and
Joe Haden
improved, Little did not and
Davone Bess
, one of the front office's offseason acquisitions, wound up AWOL for two games.
A bad game against the Jets led to the decision to fire Chudzinski regardless of what happened against the
Pittsburgh Steelers
.
"It galls me when you all write -- and you have the right to do it, and people have the right to say it -- same old Browns," Haslam said. "It's our single mission to change that."
Except the change has started with two head coaches fired within one day of the final game in consecutive seasons.
December, 30, 2013
12/30/13
4:16
PM ET
BEREA, Ohio -- Rob Chudzinski said a goodbye to his players Monday morning, as he thanked them for their efforts the day after he was fired after one season as
Cleveland Browns
coach.
"He was definitely emotional about it," receiver
Josh Gordon
said of the morning meeting.
Chudzinski released a statement acknowledging he was shocked and disappointed at being fired. That's a sentiment shared around the league, and among the Browns players, who expressed disappointment, anger and dismay at the decision.
"Shocking," said rookie tight end
MarQueis Gray
.
"I didn't even know that was possible," Gordon said of being fired after one year as coach.
"It's a business," said receiver
Josh Cooper
. "They say they want stability, and hopefully we get that in the next few years."
The Browns attributed the decision to fire Chudzinski to the fact the team was worse in the final three games of the season than it was the first three. That indicated the team did not improve, owner Jimmy Haslam said.
Players merely felt bad for their coach, whom they seemed to genuinely like.
"The guys here really bought into him," Gordon said. "The guys loved him. Like anything, it's going to grow on you. You learn to appreciate what he did for us here. The guys needed structure and he brought that here."
But Chudzinski did not bring enough wins. He went 4-12, and as quarterback and running back difficulties mounted, the team struggled. Problems multiplied when the defense failed to hold leads.
The end result was that the Browns won one less game this season than they did a year ago with Pat Shurmur as coach and Brad Childress and Dick Jauron as coordinators.
"Nothing shocks me," said
T.J. Ward
. "I've had three coaches."
Ward was one of several veterans to be called to a private meeting with Haslam and CEO Joe Banner, where the pair explained their thinking to team leaders, including
Joe Thomas
,
D'Qwell Jackson
, Ward,
Joe Haden
,
Alex Mack
and
Jason Campbell
.
Sunday, Thomas and Jackson were strong in lamenting the mere notion that Chudzinski might be fired. Monday, none were in the locker room during the media interview time.
Gordon was, and he said it would be a "huge loss" if offensive coordinator Norv Turner were not retained. Banner said the new coach would have the ability to hire his staff, which does not bode well for Turner or defensive coordinator Ray Horton.
"In Cleveland, people really want to see this team do well," Gordon said. "I know the owner wants to see the team do well. The players want to win. Everybody has the right mindset. It's just so many things snowball right now in the wrong way."
It wasn't up to Gordon to decide if the decision was fair.
"It's the business of the league," Gordon said. "But I thought he would have more time than that."
"One season is one season," rookie first-round pick
Barkevious Mingo
said. "He didn't get the opportunities he wanted but he can't make those decisions. They were made by people above him. We can't make those decisions, obviously, and we have to roll with what happens."
December, 30, 2013
12/30/13
12:18
PM ET
The
Cleveland Browns
released a statement from coach Rob Chudzinski on Monday.
The complete text regarding his thoughts on being fired after one year as coach:
"I was shocked and disappointed to hear the news that I was fired. I am a Cleveland Brown to the core, and always will be. It was an honor to lead our players and coaches, and I appreciate their dedication and sacrifice. I was more excited than ever for this team, as I know we were building a great foundation for future success. While clearly I would have liked to see the long-term vision through to the end, I am very grateful to Jimmy Haslam and the Haslam family for letting me live my dream."
December, 29, 2013
12/29/13
11:26
PM ET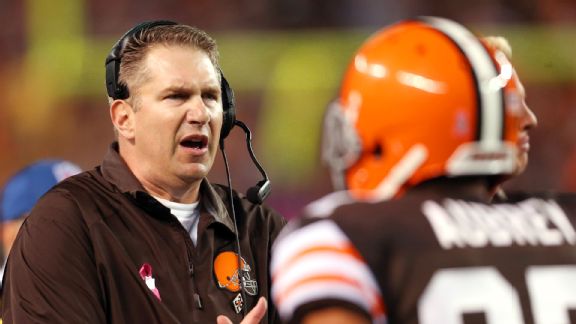 Ron Schwane/USA TODAY SportsPossible replacements for Rob Chudzinski include Ken Whisenhunt, Bill O'Brien and Josh McDaniels.
PITTSBURGH -- The
Cleveland Browns
just blamed the band for the fact that the Titanic sank.
That's the message from management: We'll drive this ship into an iceberg or two, and we'll leave you without lifeboats, but by golly, if you don't keep the inevitable from happening, we'll hold our breath and stomp our feet and then we'll ... we'll ... we'll fire you.
All the best, Rob Chudzinski: the fans hardly knew ya as a head coach. And good luck to whoever is next, because you're walking into a losing environment and losing culture, and you won't have a say in how things go.
That's where the Browns are right now.
Yes, the Browns will hire a coach, and it might be a big name, and they'll talk him up and say he can lead a team to "sustained success," and they'll justify this move to fire a coach who had one year to prove himself.
Because that's what happens.
But that does not mean that many in the NFL are not chuckling at a team that has perfected the term "dysfunction" in so many ways and from so many people.
Names of candidates to replace Chudzinski have surfaced. Some of them are good coaches and would be good hires. Ken Whisenhunt is a good coach, and ESPN's Adam Schefter said the Browns would interview him.
Bill O'Brien of Penn State and Josh McDaniels of the Patriots are on the list as well, according to Schefter.
But when someone is hired, we'll hear things like the new coach is "the best person to lead the Cleveland Browns to the kind of winning format that we want to have." And they'll call him "one of the brightest, if not the brightest young minds in the business."
They said just that when they hired Chudzinski. Just like others said it every other time they hired a coach in Cleveland.
But although teams like Pittsburgh hire a guy and stand by him in down times and share responsibility as an organization, Cleveland jettisons that type of coach with kind words and a big check.
In a quirky way, the Browns are every bit as consistent as the Steelers, except the Steelers (three coaches since 1969) stick with their people. The Browns consistently dump them before asking their fans for more faith and belief.
A new Browns coach will walk into this system: Joe Banner guides football. There's no sense kidding about it; he makes final decisions on personnel. GM Mike Lombardi assesses personnel, and the coach has input. But Banner makes the decisions.
Which is fine, as long as he's making the right decisions.
It's also fine if you're going to set a plan and stick with the plan alongside the guy you hire. The Browns this season clearly were building toward 2014 and beyond. To say they tanked is going too far, but the focus was on the future. Chudzinski bought into it, supported it. But in the end, he didn't get the same support.
But what that system does is eliminate a strong-minded guy or a guy capable of personnel decisions. Because he won't have the say.
It's no coincidence that Chip Kelly went to the Eagles instead of Cleveland. In Philadelphia, he has say over his roster.
That leaves a guy like Whisenhunt, who might not care about roster decisions, or a guy like Chudzinski, who was eager to get a chance.
Or it leaves a guy with a previous relationship with Banner or Lombardi, such as O'Brien or McDaniels. That would bring Belichick Lite to Cleveland, which can work, but didn't the last time the Browns tried it with a guy named Eric Mangini.
The Browns get to hire a new coach who will buy into that system and buy into the faith the front office shows him -- after it fired a guy it gave one year as a coach. This from an organization whose owner's company is the subject of a serious federal investigation fraught with seriously troubling charges and high-level former employees who have already pleaded guilty.
Yes, that has to be in the mind of any new hire.
The Browns will say that it will work out, just like they said a year ago -- and so many years before that.
Trust them, the Browns will say.
And the coach they're interviewing might want to say: Based on what?
Which, at this point, is probably the exact same thing the fans will say.
December, 29, 2013
12/29/13
7:06
PM ET
PITTSBURGH -- Memo from the
Cleveland Browns
to their fans regarding the excitement over the hiring of Rob Chudzinski: Never mind.
Yes, the team that typically grinds up quarterbacks hit the daily double this season: It ground up a quarterback, and now it has ground up and spit out a coach -- after one season.
Good luck selling belief in the new hire.
ESPN's Chris Mortensen at about 6 p.m. ET Sunday
changed the chatter
about Chudzinski's future to hard news when he cited his sources and reported that the team had decided to fire Chudzinski early this week.
After one season.
Browns spokesman Zak Gilbert said the team would not say any more than the statement it released
in the fourth quarter
: "Our focus is on the game today. We will not discuss any evaluation of the season until this upcoming week."
The statement, of course, only led to speculation mushrooming, the logic being that if the Browns were going to stand by Chudzinski, they would have, well, stood by him. Instead, they said they'd talk during the week.
UPDATE:
The Browns
made the firing official
Sunday night.
Speculation will immediately fall on Penn State coach Bill O'Brien and New England offensive coordinator Josh McDaniels as options to be the next coach -- both of whom are close associates of Browns general manager Mike Lombardi.
The Browns' ship went nowhere this season, but to pin the blame on the coach is one of the ultimate scapegoat jobs in Browns history. There were failings up and down the organization.
Chudzinski had to start three quarterbacks. He had no second or third wideouts (
Greg Little
and
Davone Bess
). He had five running backs: The most clever event of the week usually came when offensive coordinator Norv Turner tried to somehow explain the team's running game.
The Browns lost seven in a row, but the same front office that touted this coaching staff as some sort of miracle workers traded draft picks, provided little from the draft and gave Bess a contract extension.
More than $20 million in salary-cap space went unused, as the front-office focus seemed to be on 2014 while the coaches and players tried to win every week. Now it seems that less than a year after Joe Banner told the fans that he had his eye on Chudzinski for years, he decides he's not worthy.
A person really runs out of words to describe the constant schlock the Browns provide their fans.
There are times when a coach should be let go after one season. Chudzinski's 4-12 mark is not good, and so is the seven-game losing streak that ended the season.
But this season's follies can be shared. That they won't be is a sad reality about (alleged) NFL football in Cleveland.
Chudzinski talked about the Browns being his dream job when he was hired. Little did he know how quickly it would turn into the nightmare after Christmas.