AFC North:

2013 Camp Confidential AFC
August, 16, 2013
8/16/13
11:00
AM ET
LATROBE, Pa. -- Nestled in the rolling hills surrounding St. Vincent College, the
Pittsburgh Steelers
seem as though they're isolated from the football world for training camp. But make no mistake, they hear everything.

When it comes to the debate over who's winning the AFC North, the talk is either about the defending Super Bowl champions (
Baltimore Ravens
) or the team on the rise (
Cincinnati Bengals
). The Steelers? They're considered too old on defense and too young on offense.
If you expected the Steelers to make a rebuttal, you'd be wrong. They have embraced the underdog role.
"When you lose
Mike Wallace
,
James Harrison
and
Casey Hampton
on a team that went 8-8, you're supposed to say they're about to fall," linebacker
Larry Foote
said. "If I was a writer, I would write the same thing. But football is not played behind a computer in a nice cozy office. It's played on the field. [General manager] Kevin Colbert doesn't have two Super Bowls for nothing and this organization has six overall. They know what they're doing. As players, we have to take it personally."
One player told me that this team was humbled by last season's 8-8 record, especially the losses to Oakland, Tennessee and Cleveland. The confidence, though, remains.
This defense has finished the past two seasons ranked No. 1. Quarterback
Ben Roethlisberger
had won 17 of 24 starts before suffering a serious rib injury in November. And the Steelers haven't forgotten about beating the eventual Super Bowl champions in December with third-string quarterback
Charlie Batch
.
Just don't expect the Steelers players to promote these facts.
"We got our poker face on," defensive end
Brett Keisel
said. "It's one of those things where we're all aware of the talent we have and we're all aware of what we're capable of. It's a matter of doing it."
History is on the Steelers' side. The last two times the Steelers failed to finish with a winning record, they won the division the next season. After the Steelers went 6-10 in 2003, they rebounded to go 15-1 in 2004. Pittsburgh finished 8-8 in 2006 but came back with a 10-6 record in 2007.
"Playing in Pittsburgh, you don't go 8-8 twice," cornerback
Ike Taylor
said.
So, what would happen if the Steelers ended up 8-8 again this year?
"It'll be a clearance sale," he said. "Everyone must go."
THREE HOT ISSUES
[+] Enlarge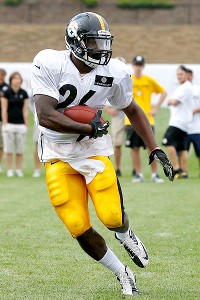 AP Photo/Keith SrakocicThe starting running back job looks to be Le'Veon Bell's to lose -- as long as he can stay healthy.
1. Battle for starting running back job
. The only reason this remains a battle is that
Le'Veon Bell
hasn't been able to stay healthy this summer. It has become clear that the Steelers want the rookie second-round pick to be the starting running back. The team tabbed him as the co-starter with
Isaac Redman
on the depth chart a week after Bell was held out of the preseason opener.
The problem is, Bell can't win the job on the sideline. He aggravated a knee injury from last week on Thursday and looks questionable for Monday's preseason game. Durability wasn't a question with Bell at Michigan State. Despite nagging injuries, he led the nation last year with 383 carries.
The Steelers have high expectations that Bell can revitalize their run game, something Redman and
Jonathan Dwyer
failed to do last season. Bell is the best fit in the Steelers' new outside zone blocking scheme. He has the experience (he ran the stretch play repeatedly in college), patience and footwork to excel in this ground attack, where it's find the hole, make one cut and run.
"We're excited about everything but the fact that he's now had a couple of little nicks," offensive coordinator Todd Haley said.
2. Injuries at tight end
.
Heath Miller
is on the physically unable to perform (PUP) list after ACL surgery seven months ago, and
Matt Spaeth
is out eight to 10 weeks with a foot injury. So, if the Steelers are without their top two tight ends just like the Ravens, why haven't they made any additions like their division rival? It's because of the Steelers' confidence in
David Paulson
, a seventh-round pick from a year ago. He has impressed the coaching staff with his ball skills and sure hands.
"He's playing behind the right guy in Heath," Haley said. "And he's smart enough to follow Heath around and learn every possible thing he can from him. Guys like that have a way of sticking. He's someone that we're all excited about getting more seasoning."
Fullback
Will Johnson
also can be used as a tight end after significantly improving as a receiver. Plus, there's a chance that Miller could be back by the fourth or fifth game of the season if he follows
Rashard Mendenhall
's timetable from last year.
3. A ticked-off defense
. The numbers say the Steelers finished as the No. 1 defense in the NFL last season. The perception is this wasn't the best defense in the NFL.
Pittsburgh allowed the fewest yards in the league last season, and it wasn't even close. The Steelers gave up 15 fewer yards per game than any other team. But this wasn't a playmaking defense. The Steelers forced 20 turnovers last season; only seven teams caused fewer. Pittsburgh also recorded 37 sacks, which was tied for 15th in the NFL.
"I have never heard of a No. 1 defense get talked about so negatively ever," Foote said. "The last two years, we've been No. 1 but we get shots at us. I don't understand. Some organizations have never had a No. 1 defense. They're still throwing stones at us. They want more turnovers and more splash plays. We're going to give them what they want."
REASON FOR OPTIMISM
The keys are a healthy locker room and a healthy Roethlisberger. Five of Pittsburgh's eight losses last season were by a field goal. The players believe repairing a fractured locker room will go a long way in making this team hold up better in close games, especially in the fourth quarter. The other part of the equation is making sure Roethlisberger doesn't get hurt, which has been a major problem the past two seasons. The Steelers were 6-3 before Roethlisberger's rib injury last season, 2-5 after it.
REASON FOR PESSIMISM
There are questions about how the Steelers will fare without linebacker James Harrison and wide receiver Mike Wallace. Although Harrison's play had begun to decline, he was the embodiment of toughness on this defense for years. That's going to be harder to replace than his pass-rush presence, a void that can be filled with first-round pick
Jarvis Jones
. Some wouldn't consider Wallace a major loss because he was such a distraction last year. What people forget is that no one on the Steelers had more receiving yards or touchdown catches than Wallace in each of the past three seasons. Lack of depth also makes the Steelers vulnerable. Injuries to the offensive line and cornerback position would be a crushing blow.
OBSERVATION DECK
[+] Enlarge

Jason Bridge/USA TODAY SportsEmmanuel Sanders could emerge as the No. 1 receiver to replace Mike Wallace.

The assumption is Antonio Brown would take over Wallace's role as the No. 1 receiver. But in my two of days at camp, Emmanuel Sanders was the one who stood out the most. Roethlisberger's best deep throws went to Sanders, and the quarterback was in a better rhythm with Sanders on crossing routes. This is a big year for Sanders, who will be a free agent after the season.
Safety Troy Polamalu has repeatedly said it doesn't matter if you're healthy during the summer. It's the regular season that counts. Still, watching Polamalu at practice, there were flashes of the old Polamalu, the one who bounced all over the field. The key is staying on the field. He hasn't played a full season in five of his past seven years.
All you have to do is watch Bell run one-on-one routes against linebackers and safeties to see why the Steelers are excited about him as a three-down back. He's extremely light on his feet, and no defender could keep up with him. The Steelers haven't had a running back catch more than 26 passes in a season since Mewelde Moore in 2008.
The wide receiver who has impressed the Steelers defensive backs the most is rookie third-round pick Markus Wheaton. He is currently the slot receiver on the second-team offense. It wouldn't surprise me if he gets a chance at taking over for Jerricho Cotchery at the No. 3 receiver spot this year. "He doesn't look like a rookie. He doesn't play like a rookie," Taylor said. "I can't wait to see him playing in the season."
First-round pick Jarvis Jones has a knack for being around the ball and will make an immediate impact as a pass-rusher. After watching him in full-team drills, I wonder how he will hold up against the run. The Steelers can't play him on early downs if he lets runners get to the outside on him.
The hope is that cornerback Cortez Allen (knee) will be ready in time for the season opener. The Steelers can't afford to be without him. I knew there was a major drop-off from Allen to the likes of William Gay, Curtis Brown and Josh Victorian before I made my way to St. Vincent College. But it's an even bigger disparity when you watch them try to match up against Pittsburgh's receivers.
Kicker Shaun Suisham had a career year for the Steelers last season. His 90.3 percent success rate was the second-best in Steelers history, and he tied his career long with a 52-yard field goal. Suisham looked strong in camp, hitting one from 60 yards.
August, 9, 2013
8/09/13
12:00
PM ET
BEREA, Ohio -- The
Cleveland Browns
are the NFL experts when it comes to starting over. But even the Browns haven't had this type of makeover.

The Browns just completed a $5 million renovation to their team facility. The organization has committed to spending at least $100 million on upgrades to FirstEnergy Stadium. This is in addition to hiring a new decision-maker (chief executive officer Joe Banner), general manager (Mike Lombardi) and head coach (Rob Chudzinski) in the past year. Under offensive coordinator Norv Turner, the Browns want to attack more down the field. Under defensive coordinator Ray Horton, they have embraced an attacking mindset.
After you walk around the sleek, new glass offices and watch a couple of practices, it's evident that there's a new look, a new energy and a new philosophy being established.
"The ship has been heading in the same direction with a lot of momentum," Banner said. "So, we really felt like we had to do some -- I almost want to use the word 'radical' -- things to change the direction of the entire franchise, culture and mindset. We've almost created a fresh start, frankly."
If there is a team in desperate need of a fresh start, it's a Browns team that has epitomized futility to a generation of football fans. Since returning to the NFL, the Browns are 73-151 (.326) with one playoff appearance and 11 double-digit-loss seasons. Over the past 14 seasons, the Browns have had four general managers, six head coaches and 18 different starting quarterbacks.
The Browns' players, however, believe this is the time for a reversal of fortune. Despite a fifth straight season of 11 losses or more, Cleveland was 2-5 in games decided by seven points or fewer in 2012.
"One thing at Alabama, they'll teach you how to finish games," said running back
Trent Richardson
, who played for the Crimson Tide. "Last year, we didn't have that, characterwise. This year, it's going to be big on us to finish games."
So, are the Browns closer to being better than what many outside the Dawg Pound believe?
"I think there's going to be a big surprise on everybody's faces," Richardson said. "I think we're going to be a big surprise to the world."
Team officials aren't ready to make such bold announcements yet. Banner said it was "dangerous" for someone in his position to put a timeline on when the Browns would turn the corner.
"I think people will notice very quickly that the team is better this year, the style of play with the physicality and the aggressiveness of it, will be what winning teams do," Banner said. "I also think there is work left to be done in getting those systems in place and continuing to upgrade the talent before it's realistic to think we've reached our goal, which is to be a team that's annually competing with the best teams in the league."
THREE HOT ISSUES
[+] Enlarge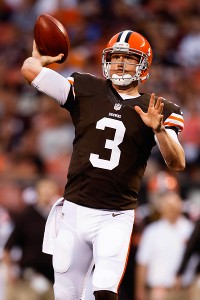 Rick Osentoski/USA TODAY SportsBrandon Weeden got off to a strong start this preseason, connecting on 10 of 13 passes for 112 yards and a TD.
1. Determining whether Brandon Weeden is the quarterback of the future
. Like the rest of the offense, Weeden has had an up-and-down training camp as he learns Turner's system. Weeden acted like he owned the offense in Thursday's preseason opener, completing 10 of 13 passes for 112 yards and one touchdown. Weeden said this week that Turner's system "makes sense" to him. It's an offense that pushes the ball downfield and needs a strong-armed passer like Weeden.
Weeden still has to prove that he can read defenses (his 17 interceptions last season were tied for fifth-most in the NFL) and produce in the most critical parts of the game (third downs, red zone and fourth quarter). The perception is that Weeden has 16 games to convince the new regime he's a franchise quarterback. If not, the organization will have to decide whether to use a first-round pick on the likes of Teddy Bridgewater, Johnny Manziel or Tajh Boyd.
"I think time will answer the question," Banner said. "I'm very lucky having Chud as the head coach and Norv as the coordinator. Those are the two best people to both develop a quarterback and evaluate a quarterback than any team in the league has. I think with the strength of their knowledge and background, we should be able to very clearly know what we need to do or not do."
2. The new look and new attitude on defense
. Knowing that owner Jimmy Haslam was a minority owner in the
Pittsburgh Steelers
for years, it's not a surprise that he believes defenses have to be aggressive to succeed in this league. It's also not a surprise that Haslam wanted Horton, who knows the Steelers' scheme as well as anybody. He played six years under Dick LeBeau in Cincinnati and coached under him for seven years in Pittsburgh.
Last year under coordinator Dick Jauron, the Browns had a read-and-react defense that rarely blitzed and was determined not to give up big plays by playing a deep zone. This year under Horton, the Browns' defense wants to keep offenses on their toes with a high-risk and unpredictable game plan that has one goal: hit the quarterback.
In 2012, when Horton was the defensive coordinator in Arizona, the Cardinals blitzed 42.3 percent of the time, according to ESPN Stats & Information. The only team to send five or more pass-rushers more often in 2012 was the
Houston Texans
(46.9 percent). Compare that to the Browns, who blitzed 26.5 percent of the time last year. That ranked 17th in the NFL.
"This defense has potential to be something really special," said linebacker
Paul Kruger
, who knows something about highly ranked defenses from his days with the
Baltimore Ravens
. "I know people around here are used to hearing that. It's one of those things where, yeah, every year you hear the same thing. From my experience and what I'm watching, we have some guys who can cover in the secondary, we have guys who can rush the passer, we have big, strong guys in the middle. We should be able to pull off some really good games."
3. The uncertain future of Haslam
. The dark cloud hanging over this franchise is the federal investigation into Haslam's family-run Pilot Flying J truck-stop business. Will Haslam be found guilty of any charges? Will he be forced to step down as owner? No one really knows those answers at this point, which puts a major question mark at the top of the organization.
Banner insisted that Haslam's legal issues haven't affected the Browns.
"When Jimmy and I got together, we laid out a plan of what his vision and priorities were and how he wanted the team run on a day-to-day basis," Banner said. "None of that has been any different if nothing had ever happened. I don't think you have to believe me. You just have to look at our ability to function through free agency, the draft and hiring a coaching staff and doing renovation at the facility. But if you're skeptical, I think actions speak louder than words and it's kind of clear."
REASON FOR OPTIMISM
The Browns have assembled one of the top coaching staffs in the league. Turner is an established and successful playcaller, and Horton is an up-and-coming defensive coordinator. It was a smart move to surround a rookie head coach like Chudzinski with a veteran staff that he can lean on for advice.
[+] Enlarge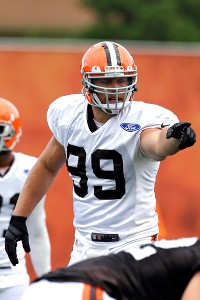 AP Photo/Mark DuncanPaul Kruger has flashed the pass-rushing skills in camp the Browns paid a premium for in free agency.
There is also renewed hope in the offense as well as the defense. Richardson ran for 950 yards and 11 touchdowns when he was battling injuries to his knee and ribs last season. The Browns are excited to see what numbers he can produce if he is at full strength to start the season.
On defense, the Browns invested $35 million in guaranteed money in Kruger and defensive lineman
Desmond Bryant
in free agency. The team used its top two draft picks on defense, including the No. 6 overall choice on pass-rusher
Barkevious Mingo
.
REASON FOR PESSIMISM
Although the Browns did undergo a lot of changes, you can make the argument that they didn't change enough. Despite having the salary-cap room, Cleveland didn't upgrade at tight end, fullback, guard, inside linebacker, cornerback or free safety. As a result, the Browns bring back every starter from an offense that ranked 25th in yards and 24th in points scored last season.
The schedule also does the Browns no favors. Six of the eight teams that Cleveland will face on the road didn't have losing records, including five playoff teams: the Ravens,
Minnesota Vikings
,
Green Bay Packers
,
Cincinnati Bengals
and
New England Patriots
.
OBSERVATION DECK
It didn't take the preseason opener to tell me that Weeden is the starting quarterback of this team. During my two days at camp, it was clear that Weeden is a much better passer than Jason Campbell. Although coaches want Weeden to be more consistent (and have his passes batted down less), he threw the ball where it needed to go more often than Campbell did. Third-stringer Brian Hoyer didn't seem like much of a threat to Campbell's backup job. He struggled repeatedly with his decision-making.
Kruger, the team's top free-agent pickup, looked even better than when he was in Baltimore. During a two-minute drill, he would've recorded four sacks if he were allowed to hit the quarterback. The strong finish to last season has carried over into 2013 for Kruger.
One of the more underrated moves during the draft was the Browns' getting wide receiver Davone Bess from the Miami Dolphins in a trade. Bess won't record 1,000 yards this season and probably will remain the No. 3 receiver once Josh Gordon is done with his two-game suspension. But Bess will come up big in clutch situations. When it was third down in camp, Bess continually found a way to get open and Weeden looked for him.
Joe Haden is primed to be a Pro Bowl cornerback. Even in one-on-one drills, wide receivers had a difficult time getting any separation from Haden. Many believe that he is a man on a mission after last year's four-game suspension for testing positive for Adderall.
Before injuring his foot, Chris Owens was the favorite to start opposite Haden at the other cornerback position. What stood out to me was Owen's physical play against receivers. There's still a sense that the Browns will start Owens and rotate him with rookie third-round pick Leon McFadden during games. Buster Skrine, who had his problems last season, has had a strong camp.
Even before Dion Lewis was named the starting running back for the preseason opener, he was turning heads by making plays in the passing game. Turner compared the diminutive Lewis to Darren Sproles, but that may be stretching it. Lewis has certainly earned more playing time on offense. He was already going to make the team as the kickoff returner.
There's no denying that tight end Jordan Cameron will make big plays on pure athleticism. He finished off one long pass in camp by diving into the end zone. The big question is whether Cameron, who has yet to play a full season in the NFL, is durable enough to handle that position.
In the kicking battle, Shayne Graham is a good bet to win the job over Brandon Bogotay. Graham hit a 53-yarder while I was at camp, and converting beyond 40 yards isn't supposed to be his strength.
July, 31, 2013
7/31/13
10:30
AM ET
CINCINNATI -- The
Cincinnati Bengals
got over one hump only to find a bigger one in front of them this season.

Last season, the Bengals proved they weren't a one-year wonder, reaching the playoffs in back-to-back seasons for the first time since the Reagan administration. Instead of feeling a sense of accomplishment, the Bengals consider it a painful reminder of their shortcomings.
This franchise hasn't won a playoff game since the 1990 season. This 22-year drought is the longest current one in the NFL and the seventh-longest in league history.
All of the hard work the Bengals are putting in this summer, which is being chronicled on HBO's "Hard Knocks," is done with the hopes it pays off in January.
"We made it to the playoffs back-to-back when we were young," defensive end
Carlos Dunlap
said. "Now that we have two years of experience under our belt, we expect to make some noise rather than just making an appearance."
Unlike the
Baltimore Ravens
, the Bengals kept most of their team intact. Cincinnati had to replace one player from the starting lineup in last season's playoff game against Houston. The additions of linebacker
James Harrison
and tight end
Tyler Eifert
have helped make the Bengals the trendy pick to win the AFC North. And, after the Ravens lost tight end
Dennis Pitta
for the season, some may consider the Bengals the favorites.
At a time when the expectations are heightened, coach Marvin Lewis continued his tradition of handing out T-shirts with his theme for that season. This year, the orange letters on the black shirt read: "Success, A lot of little things done well."
"If you go into the season and you're picked first in the division and you work out in the offseason and approach training camp like you're the best, I don't think that will be beneficial," cornerback
Leon Hall
said. "If you approach it with the same mindset like you're supposed to be last, you have that chip on your shoulder. We still have to work hard through the season. We open up in Chicago, and they're not going to lie down for us just because of what people expect out of us."
You could argue that the Bengals are ahead of the curve. It was only two years ago when Cincinnati began the season at the bottom of ESPN.com's NFL Power Rankings. Now, there's talk that the Bengals are better than the defending Super Bowl champions.
Has this turnaround happened more quickly than Lewis anticipated?
"I think the quarterback and the receiver accelerated things," Lewis said, referring to
Andy Dalton
and
A.J. Green
.
THREE HOT ISSUES
[+] Enlarge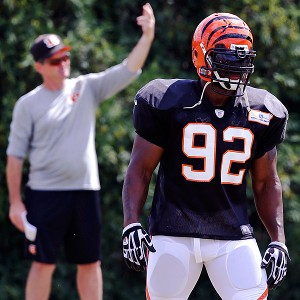 AP Photo/Al BehrmanBengals coordinator Mike Zimmer, rear, said linebacker James Harrison has "exceeded my expectations" in his move to a 4-3 defense from a 3-4.
1. Determine whether Dalton is the team's franchise quarterback
. A former second-round pick, Dalton has exceeded expectations in his first two seasons. He's thrown 47 touchdowns in 32 career games. The only quarterbacks who have passed for more in their first two seasons in the NFL are Dan Marino (68) and
Peyton Manning
(52). There's no question that Dalton is good enough in the regular season to get the Bengals to the playoffs. But there are doubts whether he can take them to that next level.
Dalton is 0-2 in the playoffs and is a major reason for those defeats. He threw three interceptions in his first playoff game in the 2011 postseason (including a crucial pick returned for a touchdown by
J.J. Watt
) and failed to complete half of his throws in his second postseason game in the 2012 playoffs. That's not going to cut it in a division where quarterbacks like
Joe Flacco
and
Ben Roethlisberger
are measured by the postseason.
Judging by his performance in the first week of training camp, Dalton remains a streaky passer. He went from having a rhythm in the first two days to forcing throws into coverage over the next couple of practices. The Bengals, though, remain supportive.
"The way he's commanded the offense, he knows it's his team now," Green said.
2. Harrison's transition to a 4-3 defense
. Harrison insists it's not much of a change going from an outside linebacker in Pittsburgh's 3-4 defense to Cincinnati's 4-3 one. But defensive coordinator Mike Zimmer disagrees.
"I don't think it's overblown because it's a different position," Zimmer said. "He's exceeded my expectations, to be honest with you. Typically, that transition is a little more difficult. Shoot, we're finding a lot of things for him to do. The coverage part was what I was a little worried about. But he's doing things really well. We'll find a lot of ways to use him in all kinds of different packages."
The Steelers rarely asked Harrison to drop into coverage. He didn't have one interception or pass breakup in the past two seasons. What won't change is his ability to rush the passer. While some point out that last season was Harrison's least productive, his six sacks match the total of all of the Bengals' linebackers last year.
The Bengals aren't na´ve. They're not expecting the NFL Defensive Player of the Year from five years ago. The Bengals are certain that Harrison is more of an impact player than
Manny Lawson
, last year's starter. Harrison's biggest contribution won't be measured on the stat sheet. His toughness and leadership alone will elevate a defense that has a lot of talent but has always lacked an edge.
3. Game plan for the running backs
. Offensive coordinator Jay Gruden hinted before training camp began that there could be an equal distribution of carries between
BenJarvus Green-Ellis
, last year's starter, and
Giovani Bernard
, the first running back selected in this year's draft. But, barring injury, this is unlikely to happen. The Bengals have been impressed with Bernard. They're just not ready to reduce Green-Ellis' role. Remember, Green-Ellis averaged 92.8 yards rushing in his final six regular-season games last season.
The Bengals are hoping Bernard will produce big plays, especially in the passing game, and carry the ball enough to keep Green-Ellis fresh late in contests. According to ESPN Stats & Information, Green-Ellis ranked seventh in the NFL in fourth-quarter rushing yards last season. But his per-carry average was a less-than-stellar 3.9 yards. Bernard will eventually become the Bengals' starting running back. It just won't happen this year.
REASON FOR OPTIMISM
The Bengals have one of the top playmakers and top defenses in the NFL. Green can score from anywhere on the field and makes everyone around him better because of the attention that he draws. His 162 catches are the second-most in NFL history for a player in his first two seasons. With an underrated defensive line headlined by
Geno Atkins
, the Bengals defense finished No. 6 last season and should be more dominant this season. This is why Cincinnati is among the dark-horse picks for the Super Bowl this season.
REASON FOR PESSIMISM
How far the Bengals go this season falls on Dalton's play. He's the biggest question mark on a team primed to climb to the level of the Patriots, Broncos and Ravens. In the regular season, he turned the ball over 20 times (16 interceptions, four fumbles) and was one of two starting quarterbacks to complete less than half of his throws on third down. In two postseason games, he has thrown for a paltry 384 yards with no touchdowns and four interceptions. The Bengals have done everything to surround Dalton with playmakers, using their top two picks on Eifert and Bernard. It's up to him to deliver.
OBSERVATION DECK
[+] Enlarge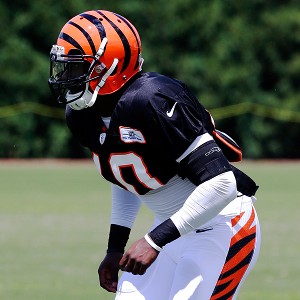 AP Photo/Al BehrmanShawn Williams, a rookie out of Georgia, could start at strong safety for the Bengals.
The front-runner for the strong safety job is rookie third-round pick Shawn Williams. After watching two training-camp practices, it was apparent to me that he has more of a feel for that position than Taylor Mays. On one play, a breakdown in coverage by Mays led to a long touchdown pass. On the very next play, Williams jumped a route and made an interception. "He's got a chance [to start]," Zimmer said of Williams. "He could end up being the guy."
Wide receiver Mohamed Sanu is running very well, and you wouldn't know he had a season-ending foot injury in late November. But the wide receiver who stood out the most was Marvin Jones. A fifth-round pick from a year ago, he has a knack for getting open and can take off after making the catch.
Here's the best stat a local reporter passed along to me: Nine of the 11 linebackers on the Bengals roster were undrafted. One of them is Vontaze Burfict, who is still carrying a large chip on his shoulder after every team passed on him in the 2012 draft. He takes out his frustration with each explosive tackle.
Eifert's position is listed as tight end, but the Bengals are moving him all over the field. To his credit, he's learning everything the team is throwing at him. The Bengals are trying to exploit mismatches with the 6-foot-6 first-round pick, as they did when he pulled down a jump ball in the end zone over Williams, who stands 6-0.
When you enter the locker room where all the defensive linemen stand, you feel like you're covering the NBA, not the NFL. There are three players 6-6 or taller: Dunlap (6-6), Michael Johnson (6-7) and rookie second-round pick Margus Hunt (6-8). "I know they always say they're looking for the next big thing," Dunlap said. "Each year, they keep getting bigger and faster."
July, 29, 2013
7/29/13
11:00
AM ET
OWINGS MILLS, Md. --
Baltimore Ravens
coach John Harbaugh didn't waste any time to set the theme for the defending Super Bowl champions' training camp.

"First post-practice press conference of the 2013 season," Harbaugh told reporters last week, "so I guess that means that 2012 is behind us, right?"
No one in the organization is wearing a Super Bowl ring. The two Lombardi trophies won by the Ravens aren't sitting in the lobby of the team's headquarters. Even two of the most prominent players in franchise history --
Ray Lewis
and
Ed Reed
-- are gone.
This is more than distancing themselves from a Super Bowl hangover. The Ravens have undergone a Super Bowl team makeover. This is a new team with new challenges. In many ways, this is a new era.
When you factor in the season-ending injury to tight end
Dennis Pitta
, the Ravens will take the field in 2013 with 10 different starters from the team that beat the
San Francisco 49ers
in the Super Bowl in February; six on defense, four on offense. How drastic is this change? No previous Super Bowl champion has lost more than five starters the following year.
The Ravens can't say this was part of some grand scheme to be revolutionary. A salary-cap crunch forced some tough decisions and even tougher divorces. Many have counted out the possibility of a Ravens repeat because of these losses. The Ravens, though, believe they remain a title contender because of the players who will replace them, such as pass-rusher
Elvis Dumervil
, defensive lineman
Chris Canty
, safety
Michael Huff
and first-round pick
Matt Elam
.
"Every move we've made is what's best for our football team to be the best team we can. Period. ... We'll just see where that takes us," Harbaugh said. "I'm pretty excited about it. I think we can be a very good football team. But we have to prove it."
THREE HOT ISSUES
1. Figuring out the No. 2 wide receiver
. The one move that the Ravens will second-guess is trading wide receiver
Anquan Boldin
to the 49ers for a sixth-round draft pick because he refused to reduce his $6 million salary. This leaves the Ravens with
Torrey Smith
as the No. 1 wide receiver and a bunch of question marks.
The favorite at this point is
Jacoby Jones
, but team officials won't just hand the job over to him. Jones will have to win it. You get a feeling that the team would like one of its young receivers to take over the No. 2 spot, which would allow Jones to focus on his true strengths. Jones was a difference-maker in the playoffs as a field-stretching No. 3 receiver and a returner. But there's no proven experience beyond Smith and Jones, the only two wide receivers on the Ravens' roster who have caught more than seven passes in a season.
"I will play whatever role they want me to play," Jones said. "If they want me to hand out the water, I will be the best water boy there is."
The other receivers are making an impression early in camp.
Tandon Doss
, who is considered more of a possession receiver since being a fourth-round pick in 2011, looks more explosive.
Deonte Thompson
, who went undrafted a year ago, has the talent to develop into a starting receiver in this league, but he has to be more consistent. And
David Reed
, who has been an afterthought in this competition, has bulked up.
[+] Enlarge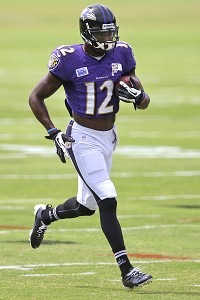 AP Photo/Patrick SemanskyJacoby Jones looks to move up the depth chart following the departure of Anquan Boldin.
All four receivers have rotated into the starting lineup in the first week of camp. "That's exactly the plan," Harbaugh said. "We're rotating those guys by period usually, and we're giving them all a chance to work with the first group and work with Joe [Flacco]."
2. The state of the offensive line
. Most of the players blocking for Flacco right now likely will not do so in the regular-season opener in Denver. Right guard
Marshal Yanda
(offseason shoulder surgery) is on the physically unable to perform list. Left guard
Kelechi Osemele
is sitting out some practices after tweaking his hamstring. And left tackle
Bryant McKinnie
is working himself back into shape.
The only starters in front of Flacco right now are right tackle
Michael Oher
and first-year starting center
Gino Gradkowski
, who has to prove he's strong enough to be a center at this level. As a result, Flacco isn't getting much time in the pocket, not even on his three-step drops. Although none of these injuries is serious, the Ravens need to get this group together as quickly as possible to get their chemistry back.
The reason the Ravens believe this offensive line will be better than last year's group is Juan Castillo. His title is run game coordinator, but make no mistake, he's running this offensive line. Castillo is a respected offensive line coach from his days with the
Philadelphia Eagles
, and he's also one of the more motivated coaches in the league after being fired following two tumultuous seasons as the Eagles' defensive coordinator. Several teams were interested in adding Castillo to their staff, but Harbaugh had an edge. He's known Castillo since he was in fifth grade.
3. Availability of inside linebacker Jameel McClain
. The original prognosis was that McClain would be sidelined for six months after suffering a spinal cord contusion. Nine months later, McClain still hasn't been cleared for football activities. This is a big deal for the Ravens, even though McClain is hardly a big name around the league. While the spotlight has been on Lewis for years, McClain has been an underrated force in the middle for Baltimore.
McClain's slower-than-expected recovery hasn't put the Ravens in a vulnerable position. Already knowing the team had to replace the retired Lewis, Baltimore drafted
Arthur Brown
in the second round, and the team has been impressed with his ability to run sideline to sideline. Then, after the team's first choice at inside linebacker,
Rolando McClain
, abruptly retired, the Ravens signed
Daryl Smith
, a free agent from the
Jacksonville Jaguars
, on June 5.
If McClain is unable to return for the regular season, Smith would start at inside linebacker with Brown. The Ravens had been monitoring Smith throughout the offseason, but they wanted to wait until June to sign him so he wouldn't count against them getting an additional compensatory pick next year.
"Daryl is a very intelligent player," Ravens defensive coordinator Dean Pees said. "You can tell he's a veteran. He plays smooth. He's got heavy hands. He's a tough guy. I really love his personality -- fits right in with our room."
REASON FOR OPTIMISM
[+] Enlarge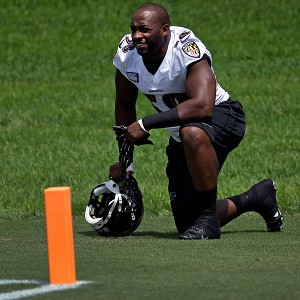 AP Photo/Patrick SemanskyPass-rusher Elvis Dumervil is one of the Ravens' high-profile offseason acquisitions.
On paper, the Ravens have a better defense than a year ago. That's not saying much. A franchise known for stopping the run and picking off quarterbacks, the Ravens finished 17th in the NFL in yards allowed (5,615) last season. Baltimore improved its pass rush by replacing
Paul Kruger
with Dumervil. The Ravens upgraded their defensive line with Canty. They also added two well-rounded safeties in Elam and Huff to fill the void left by Reed, who struggled with tackling, and Pollard, who struggled in pass coverage. Plus, the Ravens get back their best cornerback in
Lardarius Webb
, who suffered a season-ending knee injury in October.
Offensively, the Ravens have the potential to improve if Flacco has truly turned the corner. Last season, after Jim Caldwell took over as offensive coordinator, Flacco averaged 283.8 yards per game with 15 touchdowns and one interception. If Flacco can carry this over in 2013, the Ravens will have a top-10 offense.
REASON FOR PESSIMISM
There are always going to be doubts about Flacco because he hasn't been able to play at a high level for 16 games in the regular season. The pressure will be on Flacco to produce after he signed a $120.6 million contract this offseason. He'll have to validate that contract with not much of a supporting cast this season. He lost his top two targets from a year ago in Boldin and Pitta. They accounted for 36 receptions in the postseason, which was nearly half of Flacco's completions.
Where Flacco will miss Boldin and Pitta the most is in the red zone. The Ravens will be vulnerable if they are scoring field goals instead of touchdowns. There will be little room for error for the Ravens, who have to hold off the upstart Bengals to win the AFC North for a third straight season.
OBSERVATION DECK
One apparent change since Caldwell took over as offensive coordinator was moving Flacco out of the pocket more. It was more of the same in the first couple of practices in camp. Flacco, though, doesn't want to be the next RG III. "You hope that you have some room in there to move around and look for guys," Flacco said. "But I'm not going to make a living doing it. And if I was to do that, I'd probably be out of the game after like four of them and on the sideline for the rest of the season."

Terrell Suggs has never been a workout warrior, but he took his training to another level this offseason. He reported to training camp in the best shape of his 11-year career. Some of the motivation comes from the fact that he wants to reclaim his title as best defender in the league after an Achilles injury slowed him down in 2012. He also wants to prove his worth to the Ravens considering his base salary in 2014 jumps to $7.8 million.

Another veteran who is in much better shape than a year ago is Haloti Ngata, who is working at a new position at nose tackle. The addition of Canty allowed Ngata to move inside, where Ngata is more comfortable and effective. It's clear Ngata is carrying fewer pounds when you see him run down the line and disrupt the stretch running plays.

Let's not write off Ray Rice too quickly. There's been a clamoring in the Ravens' fan base for backup running back Bernard Pierce to get more carries because he had a stronger finish to last season than Rice. Although the Ravens are wise not to overload Rice, he's still the best playmaker at running back. Look at fourth-and-29 in San Diego if you need a reminder. Pierce has shown the ability to get yards on defenses after the Ravens have worn them down. He's not in the same league as Rice yet.

Rookie fullback Kyle Juszczyk has to prove himself as a lead blocker, especially in short-yardage situations. Some have already been calling for the Ravens to re-sign Pro Bowl fullback Vonta Leach. But Juszczyk has been effective as a receiver. One local reporter nicknamed him "Little Pitta."

The natural assumption is that the signing of Dumervil will reduce playing time for outside linebacker Courtney Upshaw. That may not be true. The Ravens like Upshaw's impact on run defense and his ability to set the edge. It wouldn't surprise me if Upshaw played a majority of the early downs, which would keep Dumervil fresh as a pass-rusher.

It was last year at this time when the Ravens were deciding between Justin Tucker and Billy Cundiff at kicker. Harbaugh made the right move in going with Tucker, but it was far from a no-brainer. Tucker was an undrafted rookie and Cundiff was a year removed from being a Pro Bowl kicker. Tucker didn't convincingly win the battle, but it was enough to beat out Cundiff, who had that painful miss in the AFC Championship Game the previous postseason. Tucker converted 30 of 33 field goals (90.9 percent), the second-best success rate for a rookie in NFL history. He made a 58-yard field goal in training camp this year. Cundiff, meanwhile, is with the New York Jets, his third team since getting cut by the Ravens in August 2012.