AFC North:

2013 NFL Week 1 Double Coverage
September, 5, 2013
Sep 5
1:00
PM ET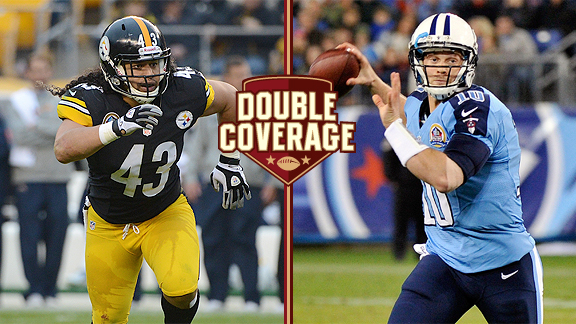 Getty ImagesJake Locker will have to face a fresh Troy Polamalu and one of the league's top defenses.
Pittsburgh is a tough place to play. The
Pittsburgh Steelers
don't often stay down long. The
Tennessee Titans
will bring a lot of unknowns to Heinz Field.
It's an intriguing opening day matchup for two teams looking to bounce back from seasons that didn't meet standards and fell short of expectations.
ESPN.com Steelers' blogger Scott Brown joins me for his first edition of Double Coverage, and I know he'll understand if we skip the pleasantries and dive right in.
The Titans' rebuild is centered around their offensive line. They'll be way more physical with a new interior of
Andy Levitre
,
Rob Turner
and
Chance Warmack
.
Scott, I know the offensive line has been an issue in Pittsburgh, too. What's the status of things there, and how much better can we expect the Steelers to be up front?
Scott Brown:
Paul, that is one of the biggest questions facing the Steelers. The offensive line is one of the youngest and most inexperienced the Steelers have assembled in decades. But the group is athletic and has plenty of what coach Mike Tomlin likes to call "pedigree."
Two of the starters are first-round draft picks. Two others are second-round selections. The Steelers have clearly made a big investment in the offensive line, and they need a major return on that investment for this team to return to the playoffs.
I think the interior of the line with Pro Bowl center
Maurkice Pouncey
and guards
David DeCastro
and
Ramon Foster
has a chance to be really good. I'm not as sold on tackles
Marcus Gilbert
and
Mike Adams
, who will protect
Ben Roethlisberger
's blind side.
The Titans, I'm sure, will test that line with plenty of blitzes, as the first-team offensive line struggled with pass-blocking in the preseason.
Speaking of blitzes, Titans quarterback
Jake Locker
will see his share with the ageless wonder Dick LeBeau still calling defenses in Pittsburgh.
How is Locker progressing, and is he the long-term answer at quarterback in Tennessee?
Paul Kuharsky:
The verdict on whether Locker is the guy for the long haul won't come until after we see this season.
He steadily improved in camp and the preseason and has reason to feel good about the state of things. I don't think he's going to have many games in his career in which he throws for 300 yards, but the Titans aren't built to ask that of him. They'll get him on the move to make simple throws and decisions, especially early, when he often needs to settle down and find a rhythm.
That line will give him time and be far better at creating space for
Chris Johnson
and newcomer
Shonn Greene
. If the Titans run effectively -- and the preseason suggested that's one thing they are definitely good at -- they can build play-action off that and Locker will be in a perfect setting to succeed.
The two big questions are about his accuracy and how he will react to new, unforeseen circumstances. You know, the kind of stuff Lebeau has designed for this game especially for him.
Does LeBeau have the pieces to do the sort of things to confuse a young quarterback?
Brown:
He has one of the most valuable pieces of all in
Troy Polamalu
. The dynamic strong safety allows LeBeau to do so much because he plays all over the field and opposing quarterbacks don't know where he is going to be from snap to snap.
Polamalu missed nine games last season because of a recurring calf injury, but he looked like his old self in training camp and the preseason. In that sense, the timing isn't good for the Titans to play the Steelers because Polamalu is at full strength. Outside linebacker
LaMarr Woodley
also seems poised to bounce back from an injury-plagued season in which he registered just four sacks.
With those two and other players such as inside linebacker
Lawrence Timmons
and rookie outside linebacker
Jarvis Jones
, LeBeau won't hold back -- particularly against a relatively inexperienced quarterback who is still finding his way in the NFL.
Paul, the Steelers have never lost at Heinz Field in September under Tomlin. My question for you is what will it take for the Titans to pull off the upset on Sunday?
Kuharsky:
I think it's possible. They'd have to show poise, withstand the bad moments, minimize mistakes. You know the drill.
This is a team that has been run on by lesser running backs in the recent past, so it can't take
Isaac Redman
lightly, and we'll find out fast if
Sammie Hill
and
Ropati Pitoitua
are going to help answer the run-defense deficiencies.
The Titans must get Roethlisberger to the ground when they have the chance. After an offseason talking of press coverage, they haven't changed at all at cornerback, and I imagine Roethlisberger will find things to attack. He knows Titans strong safety
Bernard Pollard
from his time in Baltimore. I won't be surprised if the Steelers plot to get Pollard in coverage situations they feel they can exploit.
The other big question here, the elephant in the room: Your first game for ESPN.com? You ready?
Brown:
To help myself to some Tomlinisms: This is where the rubber meets the road, but this is not my first rodeo. I believe I have sharpened my pen (does that still apply in the dot.com world?) for battle, but I will have to pay attention to detail. Ultimately, it comes down to making plays (or deadline in this case) inside stadiums with the lights on (yes, I know it is a 1 p.m. start, but gray days in Pittsburgh are as noteworthy as grass on a golf course). Such is life in the National Football League (and ESPN.com), and I embrace the challenge.
September, 5, 2013
Sep 5
1:00
PM ET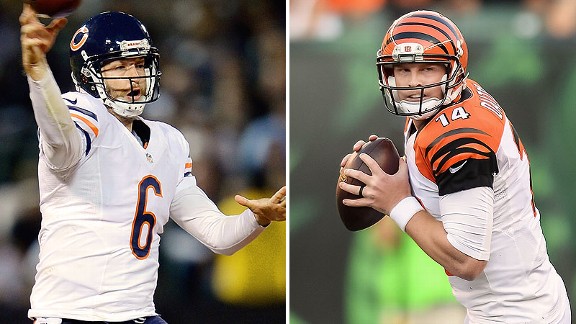 Getty ImagesChicago's Jay Cutler, left, and Cincinnati's Andy Dalton lead their respective offenses against very stingy defenses.
Two strong defensive teams led by highly scrutinized quarterbacks in
Jay Cutler
and
Andy Dalton
set the scene for what should be a hotly-contested matchup between what are expected to be ascending clubs.
Marc Trestman makes his debut as an NFL head coach at Soldier Field on Sunday, leading a Bears team with plenty of roster turnover on offense, including a totally revamped line expected to better protect Cutler as he operates the club's new scheme. That group will be tested by a Bengals defensive line, led by
Geno Atkins
, that accounted for 43 of the team's franchise-record 51 sacks in 2012, and also paved the way for the defense to finish the season ranked No. 6 for fewest yards allowed.
Chicago's defense in 2012 was even better, finishing fifth in net defense, third in scoring defense (17.3 points per game) and No. 2 in turnover differential while leading the NFL in interceptions (24) and total takeaways (44).
While home-field advantage can be key for teams, it's certainly been a factor in this series. The Bengals hold a 4-1 road record against the Bears and own a 6-3 series lead, which includes victories in their last outings (2005 and 2009).
Chicago hasn't beaten the Bengals since 2001.
ESPN.com's Matt Williamson and Bears team reporter Michael C. Wright discuss the matchup.
Wright:
The Bears hope they fixed the offensive line with a combination of scheme (shorter drops for Cutler), beefed up protection with
Jermon Bushrod
at left tackle and a pair of draft picks in
Kyle Long
(first round) and
Jordan Mills
(fifth) at right guard and right tackle, and another weapon for Cutler to find down the middle of the field when he's in trouble. But the inexperience of Long and Mills will be question marks against Cincinnati's active defensive line.
It seems Cincinnati's defense is built around Atkins, but how much of a factor are guys like
Carlos Dunlap
and
Michael Johnson
?
Williamson:
Atkins is the foundation of the defense for sure and everyone thrives off his presence, but the Bengals have a lot invested in the defensive line now in terms of finances and draft picks. This is an extremely deep and talented group that makes the entire defense go. Dunlap might be a little underrated and Johnson a little overrated, but they form an impressive pair of defensive end. These three players, along with the rest of Cincinnati's defensive front, will prove a very steep challenge for Chicago's rebuilt offensive line in Week 1.
What can the Bengals' defense expect from this new Trestman offense?
Wright:
The Bears will utilize zone blocking in the running game, which should allow
Matt Forte
to pick his own holes. That should open up the passing game, where the Bears will use West Coast philosophies such as shorter routes and drops for Cutler so he can get rid of the ball quickly. Look for the Bears to also try to use
Earl Bennett
down the seams to exploit potential matchup problems, especially on traditional running downs where the Bengals might be using base personnel.
Speaking of the Bengals, they've made the playoffs in three of the last four years, but really haven't made much noise. What are the expectations for this team now?
Williamson:
Expectations must go up. They had yet another high-quality offseason and this team has an exceptional young core of players on both sides of the ball. They clearly play in a tough division, but going one-and-done in the playoffs yet again will not be considered a successful season in Cincinnati. I fear they will only go as far as their quarterback will take them. But Bengals fans have a lot to be excited about.
Do you think this Bears defense can defend
A.J. Green
?
Wright:
They should be able to keep him from dominating the game. It's likely the Bears match
Charles Tillman
up against Green, but if the receiver winds up in front of
Tim Jennings
, the team is confident he can get the job done, too. The Bears typically don't double or shade coverage against players such as Detroit's
Calvin Johnson
, so don't count on seeing the Bears try that against Green. Cincinnati's tight ends could be an issue now that they've got two good ones in
Jermaine Gresham
and
Tyler Eifert
.
With such a talented supporting cast, do you see Dalton as just a guy surrounded by weapons, or a blossoming young quarterback?
Williamson:
He shows signs of blossoming into a solid young quarterback, and has been especially adept in the red zone, which is very noteworthy for a young quarterback. But I think he is more of the former. He is a limited passer who lacks great tools, and isn't as accurate or on time with his throws as you would like for someone with his limitations. The Bengals knew this and landed two very "Dalton-friendly" receivers for him in Eifert and
Giovani Bernard
. Eifert should develop into an exceptional target in the middle of the field as well as the red zone, while Bernard provides an easy dump-off option for Dalton. With all the Bengals' resources over the past two offseasons, it really surprises me that Cincinnati didn't do more to challenge Dalton or greatly improve its backup quarterback spot.
September, 5, 2013
Sep 5
12:00
PM ET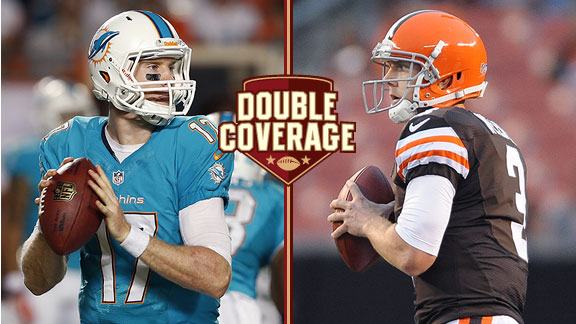 Getty ImagesSecond-year quarterbacks Ryan Tannehill and Brandon Weeden will be worth watching Sunday.
The
Miami Dolphins
and
Cleveland Browns
finished with a combined record of 12-20 last season, so both teams have plenty to prove and are looking for fast starts in 2013.
Cleveland will host the Dolphins on Sunday in an interesting matchup of AFC teams. Both are starting second-year quarterbacks who are looking to take the next step.
Can the Browns utilize their home-field advantage? Will Miami pick up a key road win to start the season? ESPN.com's Matt Williamson and Dolphins team reporter James Walker debate.
James Walker:
Matt, we can't start this debate without examining both second-year quarterbacks in this matchup. Miami's
Ryan Tannehill
and Cleveland's
Brandon Weeden
were forgotten players in the famed 2012 quarterback class. Neither put up numbers or led their teams to the playoffs, like
Andrew Luck
,
Robert Griffin III
and
Russell Wilson
did. Tannehill and Weeden, however, showed flashes at different times throughout their rookie seasons. I've watched Tannehill up close since the day he arrived in Miami. You can see he has all the tools. Tannehill can make every throw and is a solid athlete who can use his feet when needed. Consistency is where he needs to take the next step in Year 2. Tannehill did a lot of good things in the preseason and had a 98.6 passer rating in exhibition games. He is coming into this Cleveland game with momentum, but I still want to see it in the regular season. Matt, what's your take on Weeden entering his second season?
Matt Williamson:
I, too, am high on Tannehill and think this will be the season he puts himself squarely in the conversation with those names you mentioned as young star quarterbacks in this league, for now and the long term. I am also growing fond of Weeden. There wasn't a quarterback and offensive group -- personnel wise -- as miscast as this one in last year's West Coast offense. Weeden, with his big arm, is much better suited to stand in the pocket and make downfield throws -- which is exactly what quarterback guru Norv Turner will have Weeden doing behind an excellent offensive line. While I wish Weeden, 29, was a younger quarterback like Tannehill, I do expect a major step forward from Weeden in Year 2.
Walker:
For Weeden to be successful, it will up to Browns tailback
Trent Richardson
to set the tone and keep Miami's defense honest. I really like this matchup between Cleveland's running game and the front seven of Miami's defense. I'm an old-school guy at heart, and this part of the game will be vintage, tough-man football. I've talked to various defensive players in Miami's locker room this week, and all of them have great things to say about Richardson. The Dolphins' defense prides itself on not allowing 100-yard rushers, and keeping Richardson bottled up will be a challenge. I think the winner of this battle at the line of scrimmage between Miami's defense and Cleveland's running game will heavily impact the outcome of this game. Matt, what is the biggest single matchup you look forward to watching?
Williamson:
James, that is a great one for sure, and let's not overlook what an effective receiving threat Richardson can be as well. But I would say the matchup I most look forward to is Cleveland's top cornerback,
Joe Haden
, against Miami's No. 1 receiver,
Mike Wallace
. These two know one another well from numerous AFC North battles when Wallace played for Pittsburgh. If Haden, who is among the best in the league at his position, can more or less handle Wallace one-on-one, the Browns should be able to bring
T.J. Ward
into the box with regularity to stifle Miami's running game. If that is the case -- and I have my doubts how well the Dolphins will be able to run anyway in this contest -- Miami could be in for a long day trying to generate consistent offense and points.
Walker:
Good point, Matt. I also think home-field advantage could be a factor in this game. If you look on paper, I don't think many can argue against Miami having more talent. But when you consider a young quarterback (Tannehill) going on the road to Cleveland, where the Browns will be hyped up with a rowdy environment for their opener, anything is possible. The Dolphins were 2-6 on the road last year. Miami was competitive in some road games but failed to do the little things and pay attention to detail. I don't know if the Dolphins have matured on the road in one offseason, and that will be one of the under-the-radar storylines to keep an eye on for Miami. Finally, Matt, what under-the-radar element of this game do you consider important?
Williamson:
I am eager to see the play in the trenches on both sides of the ball. I have plenty of questions about Miami's offensive line, and the Browns are stout and powerful up the middle with
Phil Taylor
leading that charge. Cleveland also was highly dedicated to improving its pass rush this offseason and that could pay off immediately in Week 1 against Miami's protection. On the other side of the ball, Cleveland has a great offensive line that doesn't get talked about enough. But
Cameron Wake
should prove to be a massive challenge, and the rest of the Dolphins' defensive front is also quite impressive. The team that wins at the line of scrimmage should win this contest.
September, 4, 2013
Sep 4
8:30
PM ET
It was 236 days ago when
Joe Flacco
threw that fateful, 70-yard touchdown pass to
Jacoby Jones
, leading the
Baltimore Ravens
to a double-overtime playoff win at the
Denver Broncos
. The Ravens went on to win the Super Bowl, and the Broncos were left to think of what might have been. Flacco and the Ravens return to Denver's Sports Authority Stadium on Thursday night to kick off the 2013 season in a rematch of two of the top teams in the AFC.
The stakes are different, and so are the teams. Gone are
Ray Lewis
,
Ed Reed
and
Anquan Boldin
from the Ravens. Baltimore is expected to have 10 different starters from the team that hoisted up the Lombardi trophy, and that doesn't include former Broncos defensive standout
Elvis Dumervil
, who is expected to play in passing situations.
The Broncos won't have Dumervil or
Von Miller
, who has been suspended for six games, rushing after Flacco this time. But
Peyton Manning
is back, along with the addition of
Wes Welker
to an already dangerous wide receiver group.
Broncos team reporter Jeff Legwold and Ravens team reporter Jamison Hensley discuss whether the opener will be a repeat of that memorable AFC divisional playoff game.
Hensley
: Much has been made of the 50-foot Flacco banner hanging at the Broncos' stadium. Flacco has embraced the hate, saying it's not a bad thing for opposing fans to dislike you. The Ravens' focus, as it has been all offseason, has been to move forward. It's the start of a different era in many ways for the Ravens in their first game without Lewis and Reed. But it's easier to move forward when you're the ones sitting on top of the football world. How much will the "revenge factor" play into this game for the Broncos?
Legwold
: Broncos coach John Fox, much like John Harbaugh with his "What's Important Now" mantra to leave the championship season behind, has tried to leave the past in the past. But questions about the kneel-down in the waning seconds despite Manning at quarterback and two timeouts in hand, as well as a third-and-7 running play late in the game, have trailed him all through the offseason. A lot of the Broncos players are willing to say memories of the playoff loss pushed them through the tedium of May and June. But over the past two weeks, they've stuck to the script -- that it's a new year, a new team -- but deep down they all know they let a potential Super Bowl trip, home-field advantage and a seven-point lead with less than a minute to play get away. And Dumervil's departure does add a little spice as well. How has Dumervil fit in and what kind of year do you think he'll have?
Hensley
:
Terrell Suggs
has talked about Dumervil having the right mentality to play for the Ravens, and Harbaugh commented how Dumervil is already taking a leadership role. He really is a perfect fit for the Ravens on the field, too, where they have never had an elite pass-rusher to pair with Suggs. Over the past six seasons, Suggs has had only one teammate record more than seven sacks in a season. And being a pass-rusher is Dumervil's primary role. The Ravens will use
Courtney Upshaw
on early downs to set the edge against the run, which should keep Dumervil's legs fresh in pass-rushing situations. The Ravens have a familiarity with Dumervil because inside linebackers coach Don Martindale was Denver's defensive coordinator in 2010 and was Dumervil's position coach in 2009, when the linebacker-end led the NFL with 17 sacks. Baltimore is catching a break Thursday night with Dumervil now wearing purple and Miller serving his suspension. How are the Broncos going to generate a pass rush on Flacco?
[+] Enlarge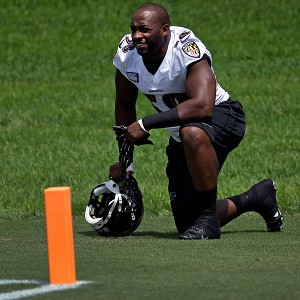 AP Photo/Patrick SemanskyPass-rusher Elvis Dumervil was one of the Ravens' high-profile offseason acquisitions, and has become a leader on the field and off for Baltimore.
Legwold
: That is the $380,687.50 question, which is how much of Miller's base salary he'll surrender during the six-game suspension. But without Miller (18.5 sacks in '12) and Dumervil (11.0 last season), the Broncos will mix and match on a variety of down-and-distances.
Derek Wolfe
is a key player, because of his ability to play inside and outside along the defensive line and still create matchup problems. Jack Del Rio believes Wolfe is ready to take an enormous step in his development, and among the defensive linemen only Dumervil played more snaps up front than Wolfe did as a rookie last year. The Broncos will ask
Shaun Phillips
, who they think has plenty left to give after 9.5 sacks for the struggling Chargers last season, to be a spot rusher. And
Robert Ayers
, who was a first-round pick in 2009, has always said he could put up the sack numbers if given the chance. He's played through four different coordinators -- Del Rio is his first to be on the job for two consecutive seasons -- but has just 6.5 career sacks. Now is his time. On Flacco, how has he dealt with all that comes with a Lombardi trophy and a nine-digit contract?
Hensley
: The money and increased notoriety haven't really affected Flacco. If anything, he's become more vocal. There was a playful trash-talking exchange during training camp between Flacco and Suggs, who told his quarterback that the defense's "swag is on a thousand million." Flacco responded: "Then what's my swag at? I get paid more than you. A lot more!" What has really changed is the wide receiver group around Flacco. This unfamiliarity led to four interceptions in six quarters of work this preseason. His top two receivers from a year ago won't be there Thursday. Boldin was traded to San Francisco, and tight end
Dennis Pitta
is out indefinitely with a dislocated hip. They accounted for 36 receptions in the postseason, which was nearly half of Flacco's completions. That being said, it was
Torrey Smith
and Jones who did the most damage in the playoff game in Denver. The Ravens are hoping wide receiver
Brandon Stokley
can move the chains on third downs and tight end
Ed Dickson
(hamstring) can contribute in the season opener. There has to be more confidence in the Broncos' passing attack with Manning and his bunch of talented receivers.
Legwold
: There is plenty of confidence in what the potential can be with Welker in the mix. The Broncos loved Stokley as a slot receiver, but Welker is younger and offers a bigger upside in terms of production. Welker will also have the best receivers to his outside shoulders in
Eric Decker
and
Demaryius Thomas
, the best combo he's had since the Patriots decided they didn't want
Randy Moss
around any longer. The 229-pound Thomas and the 214-pound Decker make the Broncos a tough matchup for any secondary. In the preseason, teams simply backed off into coverage and took their chances they could allow the catch and make the tackle before too much damage was done. The pace, especially at altitude, is a little something new as well. The Broncos ran 49 plays, excluding penalties, in the first half alone against the Rams in the preseason. They won't always go that fast, but if they get the look they want from a defense, they'll put the pedal to the floor and not allow a substitution. The key issue will be protection: Left tackle
Ryan Clady
missed plenty of the preseason after offseason surgery, and Denver has surrendered pressure in the middle of the field at times. The three-wide look is what the Broncos want their base formation to be on offense, but they can't do it if they can't protect Manning. It has to be a strange thing for a Baltimore defense that has been the franchise's signature for so long to have so many changes.
Hensley
: There were a lot of changes to the Ravens' defense, but there were necessary changes. The Ravens weren't a top-10 defense for the first time since 2002. This defense had slumped to No. 17 in the NFL. It's never easy to part ways with the likes of Lewis and Reed. But the Ravens aren't replacing two Hall of Fame players in their prime. Baltimore had to replace two aging players who weren't the same playmakers from a few years ago. The additions of Dumervil, defensive lineman
Chris Canty
, linebacker
Daryl Smith
and safety
Michael Huff
have made this a stronger and more athletic defense. The Ravens' defense is going to be significantly better in two areas: stopping the run and pressuring the quarterback. The biggest concern, especially when you're starting two new safeties, is the communication in the secondary. One mistake there and Manning will burn you for a touchdown. How is the Broncos' secondary holding up this summer?
Legwold
: The Broncos would feel better if Bailey felt better. Bailey did not practice Sunday or Monday because of a left foot injury he suffered in the preseason loss in Seattle and is still a major question mark for Thursday's game. Bailey has been on the field for practice, but has not participated in any of the drills. The end result means
Dominique Rodgers-Cromartie
would likely line up much of the time in Bailey's left cornerback spot. Rodgers-Cromartie is one of the more athletic sidekicks the Broncos have had for Bailey since Bailey arrived in 2004.
Chris Harris
and
Tony Carter
, the player who gave Jones a free release off the line of scrimmage on the game-tying bomb last January, will play in the nickel and dime as well. But overall the Broncos kept 11 defensive backs -- six corners, five safeties -- and can mix and match for almost every situation. They have flexibility and use it, so every defensive back in uniform Thursday night could see some action in the defense.