AFC North:

2013 NFL Week 13 Double Coverage
November, 29, 2013
11/29/13
12:00
PM ET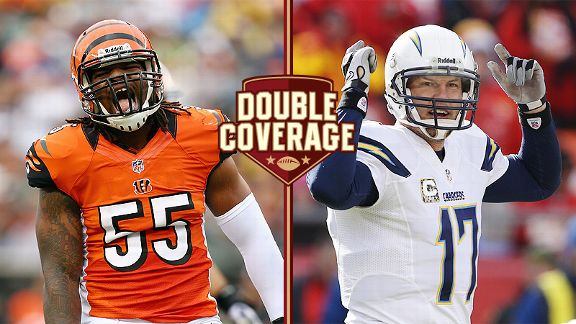 AP PhotoVontaze Burfict and the Benglas travel to face Philip Rivers' Chargers in a game with AFC playoff implications.
The
Cincinnati Bengals
travel to San Diego on the team's longest road trip this season to face a Chargers team that's re-energized after a big win on the road against AFC West rival Kansas City.
The Bengals lead the AFC North at 7-4, but will have to hold off hard-charging division rivals Baltimore and Pittsburgh down the stretch for the division title.
Cincinnati should be well-rested coming out of a bye week. But the Bengals have struggled under coach Marvin Lewis in those situations, posting a 3-6-1 record during his tenure after bye weeks.
At 5-6, San Diego needs a win to stay in the hunt for the final AFC wild-card berth. The Chargers finish with four of their final five games at Qualcomm Stadium.
ESPN.com Chargers reporter Eric D. Williams and Bengals reporter Coley Harvey break down the matchup:
Williams:
Coley, what's going on with
Andy Dalton
? In the past three games, he's thrown eight picks versus just five touchdowns. He's been sacked 10 times during that stretch, posting a nose-pinching passer rating of 55.7. The Bengals are 1-2 in their past three games. Can Cincinnati make a deep playoff run with this guy?
Harvey:
Very good question, Eric. If you pose that question to fans, you'll get a resounding ... well, maybe you don't want to hear their answers. While Dalton has his supporters, the naysayers have all the clout right now and with good reason. His November numbers, particularly when compared to his red-hot October that saw the Bengals win four games before Halloween, have folks here somewhat discouraged when they think about Dalton being behind center when the postseason begins. Dalton has run into a tough combination of awful late-season weather and a slew of blitz-happy teams. Five weeks ago, in arguably his best game of the season, Dalton aired it out for 323 yards and five touchdowns. Receiver and Southern California native
Marvin Jones
was his favorite target. He faced a Jets defense that primarily rushed with its stout defensive line. Since then, the Dolphins, Ravens and Browns have brought pressure from multiple angles. Combined with windy conditions in the latter two games, Dalton just hasn't played like he did a few weeks earlier.
Bengals fans definitely were watching the conclusion of Sunday's Chargers-Chiefs game, and many came away with one question following
Philip Rivers
' impressive comeback drive: Who is this guy? It seems that after a comparatively down season last year, Rivers is enjoying a true renaissance. What explains his play this year? I see his sacks are down. Does improved offensive line play have anything to do with it?
Williams:
It's really been a combination of things. First, coach Mike McCoy and offensive coordinator Ken Whisenhunt tailored the offense to accentuate the strengths of Rivers' skill set -- accuracy on short-to-medium throws and decision-making. Rivers makes more calls at the line of scrimmage this season, and he's getting the ball out quickly. The result has been a career-high 70.8 completion percentage. As you mentioned, the offensive line has done a much better job of protecting Rivers, allowing just 20 sacks this season (No. 4 in the NFL). Tight end
Antonio Gates
is healthy and back to playing at a Pro Bowl level. And running back
Danny Woodhead
, along with receivers
Keenan Allen
and
Eddie Royal
, is good at creating explosive plays with his legs after the catch.
The progress of middle linebacker
Vontaze Burfict
has been interesting to watch from afar. Teams passed on the Arizona State product because of perceived attitude and work ethic issues. But Marvin Lewis took a chance on him as an undrafted rookie free agent in 2011. And Burfict appears to have thrived under Lewis' mentorship. What type of impact has Burfict had on the performance of Cincinnati's defense?
Harvey:
My instinct is to say that Burfict is the Cincinnati defense. With a league-leading 118 tackles and on pace for more than 170, Burfict has been the pacesetter in the heart of one of the NFL's best units. He's the true definition of an enforcer and has become a modified
James Harrison
. He's just as intimidating as Harrison, the Cincinnati strongside linebacker who was signed in the offseason. He's becoming just as feared, too. Asked earlier this week about the league's most feared players, some Bengals wanted to add Burfict to that list. Still, I can't in good conscience say he is the defense because the Bengals have been forced into making a slew of key adjustments throughout the course of the season. Without Pro Bowl tackle
Geno Atkins
, veterans
Leon Hall
and
Robert Geathers
, and the versatile
Taylor Mays
, the Bengals have still maintained their ranking among the league's top 10 defenses.
San Diego has some impressive wins this season. Obviously one of them came last week against the Chiefs, and another against the Colts last month. The Chargers have had some head-scratching losses, too. Dropping games to the Texans and Redskins probably isn't helping their playoff chances. What do you think explains the inconsistency?
Williams:
McCoy is in the process of creating an identity for this team, which has led to some questionable decision-making at times in close games. The most obvious example is San Diego's failure to make what would have been a winning score from a yard out against Washington. After failing to get in on three chances, the Chargers settled for a field goal and lost in overtime. McCoy didn't hand the ball to every-down back
Ryan Mathews
once during that play sequence. The Chargers have struggled to close out games in McCoy's first year. In four of the team's six losses, San Diego has had the ball on the final drive with a chance to tie or win the game in regulation. The Chargers are playing a lot of young guys on both sides of the ball, which leads to inconsistent play.
How have the Bengals made up for the absence of the team's best defensive player in Atkins, who suffered a season-ending ACL knee injury?
Harvey:
In order to absorb the loss of Atkins, the Bengals have moved backup tackle
Brandon Thompson
into the All-Pro's spot. A second-year lineman out of Clemson, Thompson had already been playing well before he was called upon to fill in for Atkins, but he's been even better since moving into the starting lineup, plugging holes and springing linebackers like Burfict and
Vincent Rey
for big tackles and sacks. Along with moving Thompson into a bigger role, the Bengals have plugged in some defensive ends such as
Wallace Gilberry
and rookie
Margus Hunt
into Atkins' position.
This week, though, the Bengals appear to have a little good news on the injury front. Defensive tackle
Devon Still
is expected to return from a dislocated elbow that he suffered against Detroit.
The Bengals can get production from a host of playmakers in their multiple-threat offense. The Chargers seem to have a similar combination of receivers and running backs and, of course, Gates. What does San Diego's offensive identity appear to be? Is it safe to consider it a team set on spreading the ball and points around?
Williams:
I think that's fair. The Chargers run an up-tempo offense predicated on quick throws and getting the ball into the hands of playmakers like Allen, Royal and Woodhead. Like any NFL offense, San Diego wants to find matchups it can win each week, so the player who ends up with the most catches changes from week to week. While San Diego is a pass-first offense, McCoy also wants to create balance, which means using a power running game to complement what the Chargers do in the pass game. This season, San Diego has done that well with Mathews rushing for 731 yards in 11 games, averaging 4.4 yards a carry. Mathews' effectiveness has helped San Diego keep opposing defenses honest.
November, 29, 2013
11/29/13
12:00
PM ET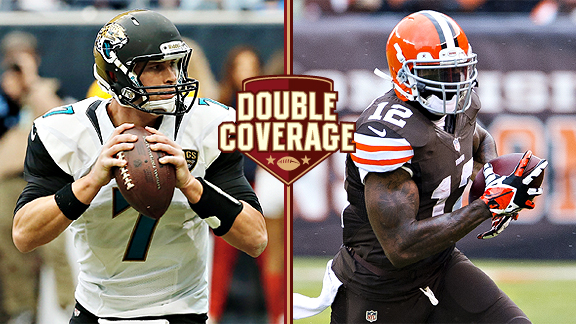 Getty ImagesChad Henne and Josh Gordon lead two struggling franchises still looking for an identity.
Cynics would call Sunday's game a battle for draft pick position. Cynics might be right.
The
Jacksonville Jaguars
started 0-8 before winning two of their past three, and the
Cleveland Browns
have lost five of their last six. Combined, the two teams have six wins and a boatload of problems. Both wonder who will be the long-term answer at quarterback, and both struggle to score points.
For the Jaguars, a win represents another positive step -- which any win is at this point in the season. Jacksonville would love to establish something good heading into 2014, and three wins in four games qualifies as good. The pressure would not seem to be on the Jaguars, because nobody expects them to win, and if they do it's a good thing.
The situation is far different for the Browns, though. Cleveland fans will turn downright nasty if the Browns lose to the Jaguars. Any goodwill built earlier this season would disappear in a cloak of hostility. The Browns are at home, but they absolutely need to win a game like this. It's one thing to lose to Cincinnati and Pittsburgh; it's quite another to lose to Jacksonville.
ESPN.com Jaguars reporter Mike DiRocco and Browns reporter Pat McManamon discussed the game.
Pat McManamon:
Mike, the Browns and their fans checked this game off as a gimme when the season started. They never dreamed they could lose to the Jags. But now Jacksonville has won two of three games while the Browns have lost six of seven. Are the Jaguars playing that much better that they feel they can win a cold-weather game this weekend?
DiRocco:
I'm sure the Titans and Texans felt that way, too, but they also fell to the Jaguars at home. The Jags are playing significantly better run defense than earlier in the season and did a fantastic job against
Andre Johnson
on Sunday, holding the Texans receiver to just two catches for 36 yards. They also ran the ball better than they have all season against the Texans (season-high 118 yards). But the biggest improvement the team has made is eliminating many of the stupid mistakes that had been regular occurrences in the first half -- things like defensive penalties on third downs and offensive penalties that negate big plays.They're still making those mistakes, but they're occurring less frequently. As for winning in Cleveland, the Jaguars are pretty confident. Both of their victories this season have been on the road, against the Titans, who are suddenly a playoff contender, and the Texans, who despite a 2-9 record have a top-10 defense and a pretty talented roster.
Pat,
Trent Richardson
hasn't exactly lit it up since the trade to Indianapolis. Did the Browns know something that the rest of us didn't? The Browns have to feel like they won that one, right?
McManamon:
Sort of. They like it because they got a first-round pick, but they really have done little to solve a run game that is completely inept. The Browns average 81 yards per game rushing, but they've not topped 100 yards as a team in five of the last seven games, and the two they did they gained 102 yards in one game and had a long end-around run in the other. Trent Richardson hasn't been close to good for the Colts, but as a rookie for the Browns he had 950 yards and 11 touchdowns. The Browns would be thrilled to have those numbers now.
Mike, the Browns love to pressure the lesser quarterbacks with a variety of Steeler-like blitzes and rushes. Can the Jaguars hold up under that pressure?
DiRocco:
The offensive line, especially the interior, has struggled in pass protection all season. It hasn't helped that the top two offensive tackles are gone:
Eugene Monroe
was traded to Baltimore earlier in the season and
Luke Joeckel
, the No. 2 overall pick in the 2013 draft, is on injured reserve with a broken ankle. Houston battered
Chad Henne
pretty good last week, sacking him four times and hitting him nine other times. Henne hung in there, though, and that's what he's going to have to do for the rest of the season because teams are going to attack the middle of the line.
Speaking of quarterbacks, where do the Browns stand with their quarterback situation? Is anyone on their roster the long-term solution or will they be looking quarterback in the first round, too.
McManamon:
The only possible long-term solution is recovering from a torn ACL. That would be
Brian Hoyer
, who played very well when he played. Problem is he only played two games, which is far short of a fair indicator of what he can do in the long term. It's highly likely the Browns draft a quarterback at some point, but the goal may well be to let Hoyer have the first chance in 2014 and bring along a young player. That seems wise, at least. But the constant change and flux with this team will not slow down in the next two years. If anything, it will increase -- unless Hoyer proves to be the second coming of
Tom Brady
.
Mike, the Browns have had two winning seasons since 1999 and have won 27 games since 2008. The Jaguars haven't done a whole lot better. Which team do you think is closer to actually becoming relevant in the NFL?
DiRocco:
The Browns have several good, young players around which to build:
Joe Haden
,
Josh Gordon
,
Jordan Cameron
and
Barkevious Mingo
, for example. But like the Jaguars, they've got a first-year coach trying to redirect the franchise and, other than the young guys mentioned before, the roster needs an overhaul. Both teams are also searching for a franchise quarterback. Not trying to weasel out of a direct answer, but the team that finds its quarterback first will become relevant first. If it is indeed Brian Hoyer, than the Browns are ahead of the Jaguars because he already has experience in the offense and is being tutored by Norv Turner, one of the better offensive minds in the game. The Jaguars would be a step behind, even if the QB they draft -- whether it's Teddy Bridgewater, Johnny Manziel or someone else -- turns out to have the kind of impact that
Russell Wilson
had with the Seahawks.
What kind of a season is Joe Haden having? Is he being overlooked because of Cleveland's lack of success?
McManamon:
It's not hidden in Cleveland, and it shouldn't be hidden nationally. Haden is that good. And his stature should not be that tarnished by the touchdown pass
Antonio Brown
had on him a week ago. Haden has matured, he's playing smarter and he's dedicating himself more to being a professional. Barring a run of Brown-like touchdown receptions on him, he should spend several Januarys in Hawaii.
November, 27, 2013
11/27/13
7:00
PM ET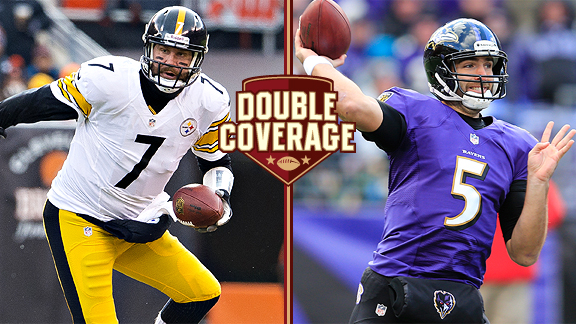 Getty ImagesBen Roethlisberger, left, and Joe Flacco are trying to keep their teams in the playoff hunt.
BALTIMORE -- A few weeks ago, it looked like the
Baltimore Ravens
and
Pittsburgh Steelers
would only be playing for bragging rights on Thanksgiving night. Not so anymore.
There are major playoff implications in the 39th meeting between the AFC North rivals who respect -- but certainly don't like -- each other. The winner of Thursday night's Ravens-Steelers game closes to within 1.5 games of the division-leading
Cincinnati Bengals
and becomes the front-runner for the final playoff spot in a log-jammed AFC wild-card race.
The Steelers (5-6) have rebounded from an 0-for-September start and won three straight, becoming the hottest team in the division. The Ravens (5-6) have won two of their past three and are looking to avoid being swept by Pittsburgh for the first time since 2008.
This is how ESPN.com Steelers team reporter Scott Brown and Ravens team reporter Jamison Hensley see this physical showdown unfolding:
Jamison Hensley
:
Ben Roethlisberger
has been on a tear in the Steelers' three-game winning streak with seven touchdowns and one interception. What began to click for Roethlisberger this month?
Scott Brown
: The Steelers have really put the game in Roethlisberger's hands the past couple of weeks with their use of the no-huddle offense, and I think it is safe to say that approach agrees with them. It's no secret how much Roethlisberger likes running the no-huddle offense, and I'm not sure why it took the Steelers this long to really take the reins off that attack.
Maybe there were concerns about using it extensively with a rookie running back and an offensive line that always seems to have moving parts because of injuries. Maybe Mike Tomlin is wary of exposing the offense too much and making it easier for opponents to devise ways to stop it. I will be very interested in seeing how much they use it against the Ravens in a loud stadium after a short week of practice.
While Roethlisberger is No. 8 in the NFL in passer rating (92.2), the Ravens'
Joe Flacco
is 29th (76.8). What has been his biggest problem this season?
Hensley
: Well, it's been interceptions, interceptions and ... did I happen to mention interceptions? Flacco has never been picked off more than 12 times in the regular season. This season, he has thrown 14, and it's not even December. Only four quarterbacks have been intercepted more than Flacco this season. And honestly, the increased turnovers shouldn't come as a surprise in a year when he hasn't had his top two targets (
Anquan Boldin
was traded and
Dennis Pitta
is on injured reserve-designated for return).
What Flacco has going for him Thursday night is he always plays better at home, and he comes up big late in games against the Steelers. He has two game-winning drives in Pittsburgh, and he tied the Steelers with a late drive last month. In his past six games against Pittsburgh, Flacco has thrown seven touchdowns and one interception.
But a big reason for Flacco's increased turnovers this season is the increased pressure getting to him. What is the state of the Steelers' pass rush?
Brown
: The pass rush has gotten better, but it's still not where it was when
James Harrison
was in peak form and
LaMarr Woodley
was able to actually stay on the field instead of dealing with nagging injuries. Woodley has missed the past two games with a calf issue, but his absence has allowed
Jason Worilds
to really emerge.
Worilds is finally showing why the Steelers drafted him in the second round in 2010, passing on local product
Sean Lee
, among others. Worilds has been extremely disruptive the past two games coming off the left edge, and he is playing so well, I'm wondering if he is the Steelers' best long-term option at left outside linebacker.
The Ravens' pass rush has been a strength of the team. Baltimore is tied for the NFL lead with 37 sacks. Will the Ravens be able to get to Roethlisberger?
Hensley
: History says yes. The Ravens have recorded at least two sacks in 19 straight games, dating back to the 2012 season. It ties the
Philadelphia Eagles
(2003-2004) for the NFL's longest such streak since 1990. Most of the attention is on the pressure the Ravens bring from the edges with
Elvis Dumervil
(9.5 sacks) and
Terrell Suggs
(nine sacks). But defensive tackle
Arthur Jones
(four sacks) and blitzing inside linebacker
Daryl Smith
(3.5 sacks) collapse the middle of the pocket.
That being said, sacks aren't the primary goal with Roethlisberger. The Ravens want to contain him in the pocket as much as possible. They know how dangerous he is when he escapes and finds an open receiver downfield.
Roethlisberger isn't the only concern for the Ravens' defense. One reason why the Ravens lost in Pittsburgh was their inability to stop rookie running back
Le'Veon Bell
, who rushed for a season-high 93 yards that day. Is he one of the X factors for the rematch?
Brown
: I actually forgot Bell came that close to a 100-yard rushing game the last time the Steelers and Ravens played. Bell is having a strange season in that the rookie is averaging just 3.2 yards per carry, yet he has completely stabilized the running game and given it hope for the future. He looks like an NFL back, and his skills allow him to pick up yards in the passing game when running lanes are clogged. He can also grind out the tough yards, and he has shown enough flashes as a runner that I think it's only a matter of time before he becomes a really good back.
Mike Tomlin talked about the success
Ray Rice
has had in recent weeks, and since he takes lavishing praise on the opponent to another level, I figured you would provide more of a straight answer. Is Rice hitting his stride or is he still struggling and looking like a back who might have lost his burst?
Hensley
: It's easy to sum up the past two weeks for Rice. When he played against the NFL's worst run defense (
Chicago Bears
), he ran for 131 yards. When he went against the best run defense (
New York Jets
), he was held to 30 yards. Rice has certainly been a more determined runner the past couple of weeks. He just hasn't been the same playmaker this season.
But this isn't the same Steelers run defense from previous seasons, either. Pittsburgh ranks 23rd in the league in stopping the run. Six running backs have gained at least 70 yards against the Steelers this season. Could Rice be the next one to do this?
.

AFC NORTH SCOREBOARD
Thursday, 9/11
Sunday, 9/14