AFC North:

2013 NFL Week 14 Double Coverage
December, 6, 2013
12/06/13
12:00
PM ET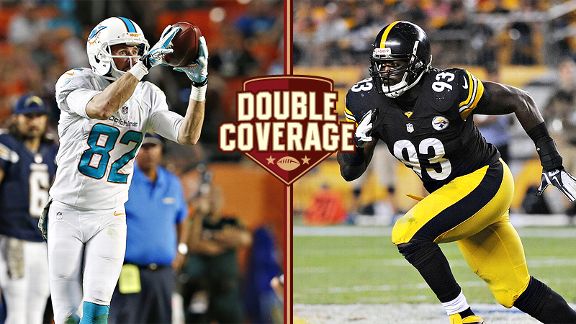 Getty ImagesBrian Hartline, left, and Miami face Jason Worilds and Pittsburgh in a game with playoff implications.
The postseason has started early for several teams around the NFL. The
Miami Dolphins
(6-6) and
Pittsburgh Steelers
(5-7) are two of those clubs, and they will meet Sunday at Heinz Field in what could amount to a playoff eliminator.
Miami and Pittsburgh are fighting for the final wild-card spot in the AFC, which is currently held by the
Baltimore Ravens
(6-6). The winner of Sunday's game will remain firmly in the playoff hunt, while the loser falls behind the pack.
ESPN.com's Dolphins reporter James Walker and Steelers reporter Scott Brown weigh in on who will prevail in this important game.
Walker:
Scott, I think much of this game will be determined by the matchup between Miami's ninth-ranked pass defense against Pittsburgh's eight-ranked passing offense. This is a strength vs. strength clash. The Dolphins are very wary of Pittsburgh quarterback
Ben Roethlisberger
. Miami defensive coordinator Kevin Coyle knows Roethlisberger well from his days with the
Cincinnati Bengals
and has a healthy respect for "Big Ben." He's unlike any quarterback Miami has faced this season because of his ability to extend plays to throw deep, not necessarily to run for extra yards. There is a lot of pressure on Miami's cornerbacks and safeties to maintain their coverage longer than usual to prevent big gains on broken plays.
Speaking of which, Steelers receiver
Antonio Brown
is Pittsburgh's best playmaker, and leads the NFL in receptions. What makes him so dangerous?
Brown:
It's funny that Brown still doesn't get his due as a No. 1 wide receiver, even from some media types in Pittsburgh, despite the phenomenal numbers he has put up this season. Brown might not have the size associated with No. 1 receivers, and he does not have blazing speed, but he has excellent quickness, is a superb route runner, and Roethlisberger has said he's never seen a receiver who is able to adjust to a ball while it's in the air the way Brown regularly does. Above all, Brown works at it. I mean really works at it. He is maniacal about training, and it's not uncommon for Brown to hit the gym for a workout after spending all day at Steelers' headquarters.
James, you have been immersed in one the biggest stories of the season, and I'm sure Steelers' fans would appreciate your take on how the Dolphins have dealt with the turmoil and distractions caused by the
Jonathan Martin
bullying allegations. Have the Dolphins settled into any semblance of normalcy, or is their a new normal in Miami?
Walker:
Things have been as close to normal this week as it's been since Martin left the team Oct. 28. There was a huge dark cloud hanging over the Dolphins, and things intensified and became very uptight the week NFL lead investigator Ted Wells visited the team. I expect things to be relatively calm for a couple more weeks until Wells completes the report and releases his findings. After that, all bets are off. There will be no winners in this complex situation. I don't expect
Richie Incognito
or Martin to return to Miami. So the Dolphins have already taken a hit. More heads could roll if others are found culpable.
Scott, one Dolphin who is excited about this matchup is former Steelers receiver
Mike Wallace
. What type of reception do you think he will receive, and how will Pittsburgh's secondary defend Wallace?
Brown:
I think Wallace will hear his share of boos. I think he is perceived, fair or not, by a lot of Steelers fans as selfish and a player who did not produce enough last season or help the team chemistry because of his contract situation. I'm real interested to see how the Steelers try to defend Wallace. His speed is going to be a problem for a defensive backfield that has lost a collective step given the age of its starting safeties, not to mention top cornerback
Ike Taylor
.
Taylor usually draws the assignment of shadowing the opposing team's No. 1 wide receiver, but I'm not sure the Steelers will do that with Wallace, since coach Mike Tomlin has a lot of respect for
Brian Hartline
as well. Whoever draws Wallace will get help from a safety, but he could have a big game at Heinz Field. The Steelers have given up seven passing plays of at least 50 yards this season, and I'm sure Wallace would love nothing more than to add to his former team's total.
James, what are the early reviews on Wallace? It doesn't seem like the Dolphins are getting the return from the investment they made in him, though I know it's early.
Walker:
It's still a work in progress, Scott. Wallace hasn't put up the production many in Miami expected, but there is plenty of blame to go around. Starting with Wallace, the drops are on him. Wallace had too many drops early in the season, although he's gotten better in the second half of the year. But other factors such as scheme and quarterback
Ryan Tannehill
's inability to throw a consistent deep ball has made it tough for Wallace to make the same plays he made in Pittsburgh. Tannehill doesn't have Roethlisberger's arm strength or ability to extend plays. Wallace thrived off broken plays that Roethlisberger created. Tannehill doesn't have near the same elusiveness and ability to out-throw the coverage. Wallace is getting open, but many of Tannehill's deep balls have been underthrown, which allows defenders to recover. There are some things involved that Wallace cannot control. But he does have momentum coming into this game. Wallace has totaled 12 catches for 209 yards and two touchdowns in his past two games. I expect him to be amped for Sunday.
Finally, Scott, what do you think of Pittsburgh's playoff chances, and how it relates to this game?
Brown:
In spite of the latest wave of injuries to hit the offensive line, I actually think the Steelers have a chance to win their final four games and make the playoffs -- if they get the help they are going to need with the Ravens. My outlook probably changes if
Aaron Rodgers
is playing quarterback in the Steelers' Dec. 22 game at Green Bay. But if the Packers drop out of playoff contention, does Rodgers play against the Steelers? That is a big if as of right now.
Green Bay is the only remaining road game for the Steelers, so the schedule sets up favorably, especially given Rodgers' uncertain status. Roethlisberger is really locked in right now, and I think he is capable of carrying the Steelers and masking a lot of problems assuming an offensive line that is held together by duct tape can do a reasonable job of protecting him.
.
December, 5, 2013
12/05/13
10:00
AM ET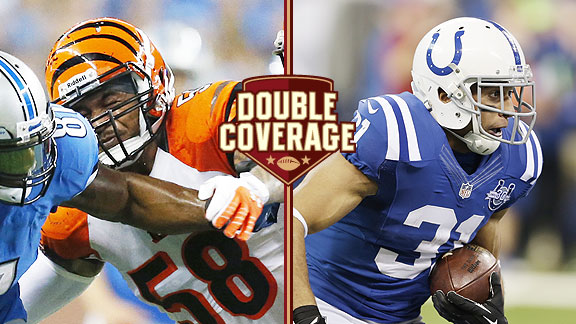 AP PhotoRey Maualuga and the Cincinnati Bengals know the Indianapolis Colts will try to establish the running game with Donald Brown.
After holding off the
Tennessee Titans
and
San Diego Chargers
last weekend, respectively, the
Indianapolis Colts
and
Cincinnati Bengals
come into this Sunday's showdown with one another knowing the stakes have been raised.
Whichever division leader emerges victorious from Paul Brown Stadium will have the No. 3 playoff seeding, and most likely will retain it, barring a complete collapse across the final three weeks of the season. The only other reason they wouldn't retain the No. 3 seed? Because they would have the No. 2 seed. Currently, the
New England Patriots
have that.
Cincinnati could claim that this weekend with a win and a Patriots loss. The Bengals have a tiebreaker over New England after beating the Patriots in October.
Like Sunday's game, that one was in Cincinnati. The Bengals are 5-0 at home, providing an added layer of difficulty for the Colts. Why have the Bengals been so good there? How can the Colts prevent losing their No. 3 seed? ESPN NFL Nation Bengals reporter Coley Harvey and Colts reporter Mike Wells have the answers to those questions and more.
Coley Harvey:
Mike, there are so many different places I could go with this first question, but I really want to ask about the Colts' rushing game. Bengals fans certainly were intrigued when the
Trent Richardson
trade deal went down earlier this season because they knew their team still had to face him this year, even if he was no longer playing for the division-rival Browns. He's had a rough go of it in Indy, prompting
Donald Brown
's start this past Sunday. Does Indianapolis believe Brown really is the back who will lead it through the postseason?
Mike Wells:
The Colts hope the demotion will turn out to be a good thing for Richardson. I know that sounds crazy considering the Colts gave up a first-round pick to acquire Richardson. Not starting should ease some of the pressure on Richardson because he's had a problem of overthinking since he joined the team. Brown may be the starter now, but coach Chuck Pagano will go with the hot hand during the game. So all it takes is a few big runs by Richardson and he'll be back in the mix. The trade so far is completely in Cleveland's favor, but this setback doesn't mean the Colts are throwing in the towel on Richardson. They really can't afford to when you think about all they gave up to acquire him. The Bengals have excelled at playing at home. What makes them a dangerous team there?
Harvey:
That's a good question. I'd say the weather has made them dangerous. The crowd has made them pretty dangerous, too. The reason I say the weather has made them dangerous is because twice this season, coach Marvin Lewis has been accurate in his prediction of what the weather would do. Back in early October, he smartly told his players to expect a sudden rain shower late in a game against the Patriots. A fourth-quarter monsoon came right when New England got the football for the last time and attempted a comeback drive.
Tom Brady
couldn't complete a pass. The rains were too hard. Eventually,
Adam Jones
intercepted Brady with 16 seconds remaining, clinching a big early-season Cincinnati win. Against the Browns three weeks ago, Lewis also told his players not to worry about the possibility of a delay that some weathermen had predicted. He was right. The game went along mostly smoothly, and about an hour after play, a line of strong storms moved through the area.
In addition to the advantage "meteorologist" Marvin gives them, the Bengals have had a great lift from their fans. Every game has been a sellout, and has had some moment in it that sent the crowd into a frenzy that's barely been seen since the team moved from the old Riverfront Stadium. The Bengals are confident they'll keep getting that energy the rest of the season.
Andrew Luck
has played in some meaningful games already in his young career. Most notably this season, he gutted out a win during
Peyton Manning
's return to Indianapolis. Because of what's at stake in Sunday's game, how much confidence do you think Luck's big-game play gives the Colts, Mike?
Wells:
Luck will have to carry the Colts if they expect to go into Cincy and get the victory. The former No. 1 overall pick doesn't have much to work with on offense now that veteran receiver
Reggie Wayne
is out for the season with the torn ACL. Opponents have found a way to slow
T.Y. Hilton
down lately by sending help over the top. Tight end
Coby Fleener
is doing what he can to help Luck out. I'm not even going to talk about receiver
Darrius Heyward-Bey
. The running game can't gain any traction and the offensive line has struggled this season. That leaves Luck having to improvise and do what he can to make things work. That won't be an easy task since the Bengals have the sixth-best defense in the league. The Bengals probably like their chances at being able to sack Luck. He's been sacked 29 times this season.
Speaking of quarterbacks, there seemed to be different stories floating around earlier this season that questioned whether
Andy Dalton
could win big games. Do you think he has the ability to take the Bengals to the next level?
Harvey:
In all honesty, it's tough to say, Mike. Dalton has been so inconsistent this season that it's tough to actually believe he'll be able to put this team on his back and be as successful as Luck has proven to be. That said, it looks like the Bengals learned something about Dalton and the rest of their offense in San Diego this past weekend. They discovered that with a little help from a solid running game, their passing game can actually produce big, explosive plays.
For a four-game stretch in October, Dalton looked like he would be able to make the Bengals an unbeatable force come the postseason. But since then, he hasn't been as efficient and he hasn't had the same type of prolific passing numbers. After throwing for more than 300 yards in four straight games in October, Dalton has hit the 200-yard mark just once since. Two games ago, against Cleveland, he didn't even reach 100. If the Bengals are going to make noise in the playoffs, it's probably not going to be because of Dalton. It most likely will be because of their defense.
Speaking of defenses, tell us about the Colts' defense. What has contributed to its struggles this year, particularly against the run?
Wells:
The Colts have struggled to stop the run all season -- 28
th
in the league -- and things may get worse for them. Defensive tackle
Ricky Jean Francois
is out two to four weeks with a partial tear of his plantar fascia.
Fili Moala
will start in his place. Stopping the run is just one problem for Indianapolis. The secondary has also had a difficult time stopping teams from passing on them. It all started when cornerback
Greg Toler
went down five games ago with a groin injury. But the defense stepped up by forcing four turnovers, including three interceptions, against Tennessee on Sunday. And there's a chance Toler will be back in the lineup this weekend. The rest of the secondary feeds off of Toler's energy. It's a perfect time for Toler to return because the Colts can use his help to try to slow down receiver
A.J. Green
, who is averaging 91.9 yards a game receiving.
Like Pagano, Marvin Lewis is a defensive coach. What makes the Bengals' defense so successful?
Harvey:
It starts with the combination of Lewis' background and defensive coordinator Mike Zimmer. The pair of defensive gurus have established quite the formidable two-headed monster for the Bengals, coming up with a slew of adjustments and lineup tweaks that has made the unit one of the best in the league, even when it maybe shouldn't be. Injuries have ravaged the Bengals' defense, most notably at defensive tackle (
Geno Atkins
) and cornerback (
Leon Hall
). The fact Will linebacker
Vontaze Burfict
has come on and had an unbelievably strong sophomore season has helped, too. The former undrafted free agent leads the NFL in tackles and played last week on a bad ankle. Because of his near-reckless style of play and the fact Zimmer's scheme has produced results, the Bengals believe in their system and that has made them successful.
December, 5, 2013
12/05/13
10:00
AM ET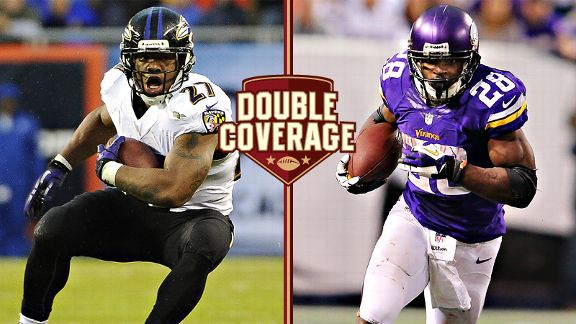 Getty ImagesRay Rice and the Ravens have struggled running the ball while Adrian Peterson leads the NFL.
The
Baltimore Ravens
are looking to continue their push for a sixth consecutive playoff berth Sunday when they play the
Minnesota Vikings
at M&T Bank Stadium.
The Ravens (6-6) have won two straight to take control of the last playoff spot in the AFC and are coming off an emotional victory over the rival
Pittsburgh Steelers
. What Baltimore can't afford is a letdown against the last-place Vikings (3-8-1).
The Vikings are quietly playing their best football of a disappointing season, rallying from a 10-point deficit in the fourth quarter to beat the
Chicago Bears
on Sunday. And while the Ravens are playing for their playoff lives, coach Leslie Frazier and the Vikings players are equally desperate because their jobs could be on the line in the final month of the regular season.
This is how ESPN.com Vikings reporter Ben Goessling and Ravens reporter Jamison Hensley see the fifth meeting between these teams unfolding:
Jamison Hensley
: The Vikings have only lost once in their past four games. What's been the biggest difference with the Vikings recently?
Ben Goessling
: The biggest constant in the two wins (and the tie against Green Bay) has been their quarterback play; it still hasn't been great, and probably won't be at any point this year, but
Christian Ponder
(or
Matt Cassel
last week) has been able to keep the offense moving without turning the ball over as frequently as the Vikings' QBs were earlier this season. In their three wins and one tie, the Vikings have a combined four turnovers. With
Adrian Peterson
coming off his two best games of the season, the rest of the offense doesn't have to be great. It merely has to hang on to the ball, keep drives moving and let Peterson do his work.
What's been the problem with the Ravens' running game?
Ray Rice
was never the most efficient back, in terms of yards per carry, but it's been stunning to see how limited he's been. What's going on there?
Jamison Hensley
: The Ravens' running game has been the biggest weakness on offense all season. Ray Rice doesn't have the same burst, and the offensive line isn't creating any space for him. Rice, who is averaging 2.9 yards per carry, can't shoulder all the blame. Backup
Bernard Pierce
is gaining 2.8 yards per carry. The Ravens haven't totally abandoned the running game, they're just not relying on it. Rice has only carried the ball more than 20 times once in the past seven games. Baltimore could test the Vikings' run defense, which ranks 23rd, just like it did against the Bears last month. But this has been a pass-heavy offense for most of the year.
It's a totally different story with the Vikings. Peterson is leading the NFL with 1,208 yards rushing, which is 235 more than the Ravens have totaled as a team. How does he continue to be effective when defenses are always focused on stopping him?
Goessling
: That's the remarkable thing about him -- he does all this when everybody knows he's getting the ball. And right now, he's doing it with a strained groin that has robbed him of some of his breakaway speed. He had 211 yards on Sunday, but probably could have pushed toward 250 if he'd been able to extend a couple of runs the way he normally does. Peterson is the best in the business at a lot of things, but chief among them might be his ability to find cutback lanes and isolate himself on one defender. Once he does that, your odds of bringing him down aren't very good; if he doesn't have his top speed, he'll just run you over.
It seems like the Ravens' defense is finally hitting its stride with all of its new pieces after a rough start to the season. What has led to that, and do you think the Vikings will be able to run effectively on the Ravens with Peterson?
Hensley
: The Ravens knew their defense was going to be a work-in-progress, especially in the first half of the season. Baltimore had to replace six players who started on defense in the Super Bowl. As expected,
Terrell Suggs
and
Elvis Dumervil
have provided pressure off the edge. The surprising part has been the play in the middle of the defense with defensive lineman
Art Jones
, middle linebacker
Daryl Smith
and safety
James Ihedigbo
. The run defense ranks No. 6 in the NFL, although I wouldn't describe the Ravens as dominant in this area. The Ravens can't expect to shut down Peterson. The key is containing him and keeping him under 120 yards.
While the focus is undoubtedly on Peterson, the other storyline is the Vikings' starting quarterback position, which has been in flux all season and remains up in the air for Sunday. Is there a drop-off if Matt Cassel has to replace Christian Ponder against the Ravens?
Goessling
: I really don't think so; the Vikings' passing game, in some ways, has functioned better with Cassel than it has with anyone else all season. He's still the only Vikings quarterback to throw for more than 240 yards in a game, and he just looks more assertive commanding the offense than Ponder does.
Greg Jennings
has his only three touchdown catches from Cassel, and part of that, I think, is that Cassel gets the ball out quickly and finds Jennings in stride better than Ponder can. Jennings needs a quarterback who will give him room to run after the catch, and Cassel has done that effectively. If he starts, there's no reason he can't be as productive or more productive than Ponder.
After winning a Super Bowl and getting his big contract,
Joe Flacco
doesn't look the part of an elite quarterback right now. Can he turn it around against a Minnesota pass defense that's been pretty inept all year?
Hensley
: Flacco has been slowly turning around his season lately, and he could be on the verge of a big game against the Vikings. One of the reasons why the Ravens have won their past two games is Flacco's ability to stretch the field again. Baltimore's offensive line has been giving Flacco a safer pocket, which has allowed him time to find the likes of
Torrey Smith
and
Jacoby Jones
deep downfield. Flacco has to like what he saw on tape from last Sunday's game, when
Josh McCown
threw for 355 yards and two touchdowns against Minnesota.
December, 5, 2013
12/05/13
10:00
AM ET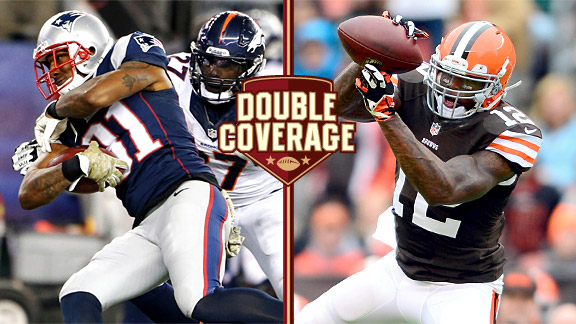 USA TODAY SportsJosh Gordon is one player Aqib Talib and the New England defense need to keep an eye on.
FOXBOROUGH, Mass. -- The last time the
New England Patriots
faced the
Cleveland Browns
, it wasn't pretty. The Browns posted a resounding 34-14 win.
Eric Mangini was the Browns' coach at the time, Mike Holmgren was the president and Patriots tight end
Rob Gronkowski
was a still-learning-the-ropes rookie whose miscue in attempting to field a kickoff contributed to a forgettable on-the-road disaster for New England.
The year was 2010, and that game turned out to be a high point for Mangini before he ultimately was fired at the end of the season. The Browns later hired Pat Shurmur as coach, but he was let go after two seasons, in part because of a change in ownership and front-office structure.
The new Browns regime, led by CEO Joe Banner and general manager Mike Lombardi, has since talked about building a sustainable team with the long haul in mind. One model it'd be happy to emulate is that of the Patriots, who just clinched their 13th straight winning season, three shy of the post-NFL-merger record set by the Cowboys and 49ers.
Here to break down the matchup are ESPN.com NFL Nation reporters Mike Reiss (Patriots) and Pat McManamon (Browns):
Reiss:
Pat, let's open it up with a big-picture look at the Browns. Lombardi worked under Bill Belichick with the Browns in the early-to-mid 1990s, and that connection has been well documented. I often enjoyed reading and listening to Lombardi's media-based analysis, and now he's back in the team-building business. How would you describe his first year on the job and how the Browns are positioning themselves for sustainability?
McManamon:
Well, Mike, the short term is pretty gruesome. Last weekend's loss to Jacksonville was as bad as any since 1999, and the team is an emotional mess. Cleveland actually believed it could and would take a step forward this season, but in all likelihood the Browns are headed for their sixth season in a row with four or five wins. How's that for consistency and sustainability? The only thing the Browns confirmed this season is they'd rather not have
Brandon Weeden
at quarterback next season. Other than that, they're as muddled today as they were when training camp started. The drafted players have not helped, there is no run game, there is no second receiver and the defense let
Chad Henne
go 80 yards for a game-winning drive on Sunday. Other than that, Mrs. Lincoln ...
Mike, as you say, the Patriots are a model of sustainability. Part of that reason is they hit on
Tom Brady
in the sixth round of the 2000 draft. How much of their sustained success is due to Brady and how much is due to other factors? And can you say what those factors are that the Browns might be lacking?
Reiss:
Brady is a huge factor in what the Patriots have accomplished, as his excellence helps mask other deficiencies. At the same time, it was no fluke that in the one year he tore his ACL on the 15th offensive play of the season (2008), the Patriots finished with an 11-5 record. That accomplishment continues to look better as the years go by, especially when looking at a team like the 2013 Packers and how they are struggling without injured starter
Aaron Rodgers
in recent weeks.
Belichick has built a strong program from top to bottom, and one of the key parts of it is depth. Many teams talk about building a roster that is strong from 1 to 61 (53-man roster plus eight-man practice squad), but it takes discipline to follow through on it. Some unpopular decisions have to be made at times for clubs that take that approach. This year is a good example, as the Patriots have lost some big-time players on defense (
Vince Wilfork
,
Jerod Mayo
) to season-ending injuries, but it hasn't sunk their season. This is an exceptionally well-coached team, and the players, for the most part, buy in to the team concept.
So, no doubt, it's huge to have someone like Brady to build around. And that's a position that I'd expect, from this faraway view, the Browns to target in 2014. That said, quarterback
Brian Hoyer
was the backup in New England from 2009 to 2011, and it looked like he created a spark for the Browns before tearing his ACL. What do you think his future looks like in Cleveland?
McManamon:
He did create a spark, and at this moment he probably heads into 2014 as the Browns' starter. Hoyer is recovering and rehabbing aggressively from his surgery, to the point that no limp or sign of the injury is visible when he walks. Hoyer played with smarts and savvy, and played well. But the problem is that he played only two games, which is hardly a fair sample size. So Hoyer should expect competition, whether it's another veteran free agent, whether it's
Jason Campbell
returning or whether it's a drafted player. Hoyer will be back, but he'll have to prove himself again.
Mike,
Josh Gordon
is the Browns' lone bright spot. His 498 receiving yards over the past two games is an NFL record. He's also the first to have more than 200 yards in a season. Am I correct in assuming that
Aqib Talib
will cover him, and what do you think Belichick will do to disrupt Gordon's route running? The guy is so big and strong that it's extremely hard to rough him up at the line the way Belichick likes to do.
Reiss:
One thing Belichick often says is that if a defense decides it's going to take away something from an offense, it usually can. It's just a matter of how many resources the defense wants to devote to do so because it will weaken itself in other areas. Several times this season, we've seen Talib match up against the opponent's top receiver, and outside of one game, Nov. 18 at Carolina against
Steve Smith
, he has been excellent. So it makes sense to think that would be a matchup the Patriots consider, in addition to devoting safety help to Gordon's side of the field, if they feel that strongly about Gordon's big-play ability. It doesn't look like the Browns have many other top weapons that could make that type of plan hurt.
Pat,
if we go back to our early-season predictions
, which show that the term "expert" should be taken lightly in my case, I picked the Browns as a surprise playoff team in part because I thought their defense would carry them. Call it my mistake by the Lake. Even as they are building with 2014 in mind, which seemed to be the plan from the get-go, I thought they'd be further along this year. So why the struggles?
McManamon:
Pretty simple -- they were overrated. The Browns have some decent players, and one guy pushing to be great (
Joe Haden
), but they don't have a great player yet. Combine that with learning a new system and an offense that has turned the ball over 11 times the past three games, and struggles will follow. Defensive coordinator Ray Horton has backed up his claims about his guys with numbers, but at some point the old adage "stats are for losers" comes into play. No defense that gives up an 80-yard touchdown drive to the 32nd-ranked offense can call itself great, or even good.
Mike, on paper, this is a huge mismatch. Do you see any way Brady or Belichick kicks this away and lets the Browns steal this game?
Reiss:
I don't, Pat, but let's toss out a scenario that could give the Browns their best chance. They would have to possess the ball, playing keep-away from Brady, and somehow come up with a "bonus" score on either defense or special teams. The Patriots' defense has looked vulnerable the past two games, so it's not like this is an invincible unit that can't be exploited in certain areas. But given the quarterback questions the Browns have entering this one, and their general struggles overall, it's just hard for me to see how they can escape Gillette Stadium -- traditionally one of the toughest places to win at this time of year -- with a victory unless Belichick decided to give his pal Lombardi an early holiday gift to take some of the pressure off him.