AFC North:

2013 NFL Week 16 Double Coverage
December, 20, 2013
12/20/13
10:00
AM ET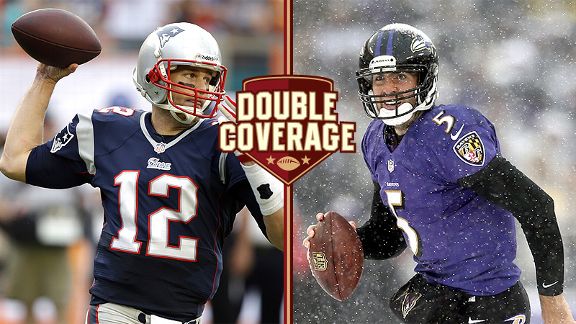 AP PhotoSunday's matchup between the Patriots and Ravens has playoff implications for both teams.
Whenever the
New England Patriots
and the
Baltimore Ravens
meet, there is always something at stake. Sunday's clash at Baltimore's M&T Bank Stadium, a rematch of the past two AFC Championship Games, is no different.
The Patriots (10-4), winners of three of their past four games, can clinch their fifth straight AFC East title with a win or a tie. The Ravens (8-6) can move one step closer to earning their sixth straight playoff berth with a victory, or they could watch their postseason hopes take a severe hit with a loss.
New England is the NFL's best team in December, winning 17 of its past 19 games in that month. The Ravens, however, are one of the best teams at home, posting a 39-8 record (.830) at M&T Bank Stadium since 2008.
ESPN.com NFL reporters Mike Reiss (Patriots) and Jamison Hensley (Ravens) break down the showdown between these AFC powers:
Jamison Hensley
: Mike, everyone knows the impact the loss of
Rob Gronkowski
has had on the Patriots' red zone offense. How will
Tom Brady
and the Patriots turn it around inside the 20-yard line?
Mike Reiss
: Jamison, they were 1-for-4 in the red zone against the Dolphins, and now they go up against one of the NFL's best red zone defenses. That's not a great formula. One way to look at it is that if rookie receiver
Josh Boyce
holds on to one makeable catch in the end zone on third down in the first quarter, and the Patriots cap off the comeback like they had in prior weeks with
Danny Amendola
making a tough catch in the end zone on the final drive, we wouldn't even be talking about this. Instead, we'd be talking about their late-game magic. Then again, if tight end
Michael Hoomanawanui
didn't make a remarkable one-handed grab in the end zone for a 13-yard score, they might have been 0-for-4. So it's just a reminder that the margin for error is thin, which is also what the red zone is all about.
As for the Ravens, how are they doing it? To go from possibly out of the playoffs to a chance to win the AFC North with two wins to close out the season? Give us a feel for how this has happened.
Hensley
: The Ravens have been riding a strong defense, kicker
Justin Tucker
and
Joe Flacco
's late-game heroics to get back into the playoff race. To be honest, I had written off the Ravens after they lost at Cleveland in the beginning of November. But this team has fought back to win four straight and are playing with more confidence than at any point this season. There has been a lot of criticism that Flacco hasn't lived up to his $120.6 million contract. While he'll never put up the elite quarterback numbers, he finds ways to win. His four game-winning drives in the fourth quarter or overtime this season is second only to Brady. And Flacco has led a game-winning drive the past two games. He is banged up right now after taking a hit to his knee in Detroit on "Monday Night Football."
This could lead the Ravens to run the ball more with
Ray Rice
. He has struggled all season but has shown some signs of being more productive over the past two games. The Ravens might want to try to attack the NFL's 31st-ranked run defense as well. What's been the biggest problem for the Patriots in stopping the run this year?
Reiss
: A strong run defense is usually a staple of a Bill Belichick-coached team, but this year is different. A significant factor has been season-ending injuries to starting defensive tackles
Vince Wilfork
(Sept. 29, Achilles) and
Tommy Kelly
(Oct. 6, knee) and every-down linebacker
Jerod Mayo
(Oct. 13, pectoral muscle). That's a direct hit at the heart of a run defense, right up the middle, sort of like a baseball team losing its top pitcher, catcher and shortstop. Since that point, they've had to scheme around things; this staff has been coaching its tails off and the players have been doing their best while sometimes being asked to do things outside of their comfort zone. The other part of it is situational. For example, against
Peyton Manning
and the Broncos on Nov. 24, they played a sub defense the entire game and Denver was content to run against it and put up big numbers. That was a case where the Patriots gave up something (run defense) to gain something (better pass defense), which is what they've had to do this year because of the key losses.
Let's get back to Tucker a little bit, because I think it's a fascinating story. Patriots fans obviously remember
Billy Cundiff
from the AFC Championship in the 2011 season. Tell us more about Tucker and what he's done to become such an integral part of the team in replacing Cundiff the last two years. His postgame interview on "Monday Night Football" was one of the classics.
Hensley
: Tucker has been the Ravens' Most Valuable Player. When you're saying a kicker is the MVP, you're usually not talking about a team contending for the playoffs. And the Ravens wouldn't have the hottest kicker in the NFL right now if not for that memorable -- or is that forgettable? -- miss by Cundiff in the AFC Championship Game. That led the Ravens to have an open competition at training camp the following year. Tucker clearly won the battle and hasn't tailed off since. What separates Tucker from other young kickers is his ability to convert in the clutch. He has six game-winning kicks in 30 career games. His confidence borders on being cocky, and he isn't afraid to show off swagger. Not too many kickers dance after making field goals. But that confidence has been big for the Ravens. Before that 61-yarder on "Monday Night Football," he went up to coach John Harbaugh and said: "I got this."
Speaking of confidence, what's the state of mind for these Patriots compared to past Pats teams at this time of the year? The Patriots are still fighting for a top seed, but there seems to be a lot of doubt nationally because of the close calls with Houston and Cleveland in addition to the loss at Miami.
Reiss
: This Patriots team isn't short on confidence, but as Brady said, it's a club that doesn't have a lot of margin for error. They can beat anyone in the NFL, but also lose to any team in the NFL. To sum it up, this is a resilient team that has been hit hard by injuries to key players, and they fight and claw for 60 minutes, so if a team is going to beat them it's going to have to be a knockout. With two weeks remaining in the season, the Patriots are still in play for a first-round bye but also could face a Week 17 scenario where they need to win to even qualify for the playoffs. That's reflective of how this season has unfolded for them -- a lot of close calls that could have gone either way.
With the amount of turnover on defense, how have the Ravens been able to sustain on that side of the ball?
Hensley
: The defense has been very good this season, ranking in the top 10 in yards allowed (ninth), points given up (seventh), third downs (third) and red zone (fourth). Without
Ray Lewis
and
Ed Reed
, this is a different defense but not an inexperienced one.
Daryl Smith
has played better than Lewis did last season, making an impact against the pass as well as the run. Outside linebacker
Elvis Dumervil
has been an upgrade over
Paul Kruger
. Cornerback
Jimmy Smith
has gone from a first-round disappointment to the team's best defensive back. If this defense wants to be great, it has to find a way to finish better. Over the past three games, the Ravens have allowed four touchdowns in the final three minutes. That challenge is heightened when going against Brady, one of the NFL's best comeback kings.
December, 20, 2013
12/20/13
10:00
AM ET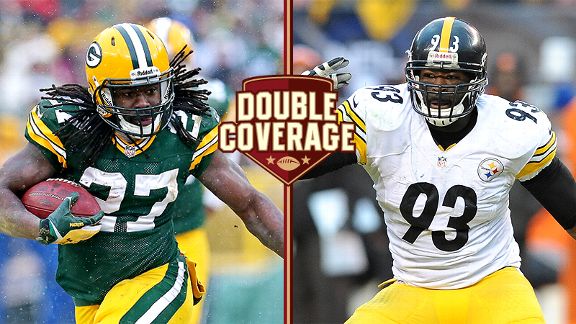 Getty ImagesJason Worilds and the Steelers will have to stop Eddie Lacy -- one of the league's best running backs this season.
The last time the
Green Bay Packers
and
Pittsburgh Steelers
met, the Lombardi trophy was on the line.
In Green Bay, the memories of Super Bowl XLV are alive and well.
In Pittsburgh, all Steelers quarterback
Ben Roethlisberger
said he remembers from that game is one thing: "We lost," he said this week.
The stakes are much different heading into Sunday's game at Lambeau Field. The Steelers (6-8) are in the midst of disappointing season, while the Packers (7-6-1) are fighting for their playoff lives.
Packers reporter Rob Demovsky and Steelers reporter Scott Brown discuss the rematch:
Rob Demovsky:
Let's start with this question. Steelers coach Mike Tomlin said this week that he doesn't regret passing on
Eddie Lacy
in favor of drafting running back
Le'Veon Bell
. Right now, Lacy looks like the better pick, but it's still too early in their careers to say anything definitive. How has Bell fit into the Steelers offense and what's the biggest reason he's only averaging 3.3 yards per carry?
Scott Brown:
Bell has become a big part of the offense and he has added another dimension to it with his pass-catching abilities. He is fourth on the team in receiving, and the Steelers don't just throw screen passes or checkdowns to Bell but also use him as a receiver. Bell is still finding his way as a runner and I'd say his low rushing average is a combination of playing behind a line that is better at pass blocking as well as the adjustment he is making to the speed of the game at this level. Bell has shown flashes, such as when he hurdles a cornerback or plants a defensive end with a stiff-arm, two things he did Sunday night against the Bengals.
Rob, are you surprised at all at the success Lacy has had so early in his career and what has his emergence meant to the Packers offense?
Demovsky
: The only thing that has surprised me about Lacy has been his durability. As everyone around the Steelers knows, there were major questions about his injury history coming out of Alabama. Then, early on his conditioning looked a little off -- although it was not as bad as that unflattering picture of him that was circulating during training camp. Then, he sustained a concussion and missed a game and as half. But ever since he has returned from that, there haven't been any major issues. He's managed to play through a sprained ankle the past two weeks. Whenever they get quarterback
Aaron Rodgers
back, they'll be tough to stop because defenses will have to respect both the run and the pass. That's something Rodgers hasn't really had since he's been the starter.
I've heard a lot of people say they think the Steelers got old in a hurry, especially on defense. Even Roethlisberger looks like an old 31. What do you see in that regard and how much, if at all, has that impacted what's happened to the Steelers this season?
Brown
: Age has certainly been a factor in the decline of the defense this season, but I think it's a bit of a misconception that the Steelers' problems stem from them getting old in a hurry. There is still age on the defense, most notably in the secondary, but the Steelers have quietly gotten younger on that side of the ball -- and will continue to do so after the season. What made the Steelers consistently good before this current stretch is they always seemed to have younger players ready to step in for starters who had passed their prime. Perhaps the best example of this is
James Harrison
and the kind of player he turned into after the Steelers released
Joey Porter
following the 2006 season.
The Steelers are actually pretty young on offense and while Roethlisberger is 31, he has played every snap this season. I think the offense will step to the forefront in the coming seasons while the Steelers retool the defense and Bell and the offensive line get better.
Rob,
Matt Flynn
had trouble sticking with a team before he returned to Green Bay. Is it too strong to say that he saved the season -- or at least prevented the Packers from dropping out of playoff contention after Rodgers went down with the broken collarbone?
Demovsky:
I'm not sure if Flynn saved their season as much as the Detroit Lions' ineptitude saved their season. Same with the
Dallas Cowboys
and
Atlanta Falcons
. It's not exactly like Flynn lit up a couple of defensive juggernauts. That said, it's obvious Flynn has a comfort level with the Packers offense that he did not have in Seattle or Oakland. How else can you explain why he has performed reasonably well here and so poorly in those places?
This is obviously the first meeting between these two teams since Super Bowl XLV. Roethlisberger said this week on a conference call with reporters at Lambeau Field that the only thing he remembers about that game is that his team lost. Given that the Steelers don't have the playoffs to play for this season, does avenging that Super Bowl loss give the Steelers any extra motivation this week?
Brown
: They can say that it doesn't, but I'm sure they would love a little payback for that loss even if a win by the Steelers on Sunday would come on a considerably smaller stage. I have been impressed with how the Steelers have remained focused even though they only have a sliver of hope of sneaking into the playoffs -- and that's if they manage to win their final two games. The Steelers, in fact, could already be eliminated from postseason contention before kickoff Sunday depending on what happens in the 1 p.m. ET games.
If their showing against the Bengals is a guide, the Packers will get the Steelers' best effort no matter what transpires in the early games. The Steelers seemingly had nothing to play for last Sunday night and they jumped all over the Bengals and cruised to a 30-20 win. It was their most impressive win of the season as much for the circumstances under which it came as for the opponent.
Rob, the Steelers offense has really been on the rise since offensive coordinator Todd Haley removed the reins from the no-huddle attack. Given some of the difficulties Green Bay has had on defense do you think it will need to score a lot of points to beat the Steelers?
Demovsky
: The Packers defense gave up 332 yards in the first half alone last Sunday against the Cowboys. They couldn't stop the run -- they haven't really done so since early in the season -- and they seem to have costly coverage breakdowns. When their defense has been at its best is when it has created turnovers. Those two fourth-quarter interceptions of
Tony Romo
sure made up for a lot of defensive mistakes. The same thing happened when they pitched a shutout in the second half against the Falcons the previous week. If Roethlisberger & Co. take care of the ball, then I expect the Steelers will force the Packers to match them in a shootout type of game.
December, 19, 2013
12/19/13
10:00
AM ET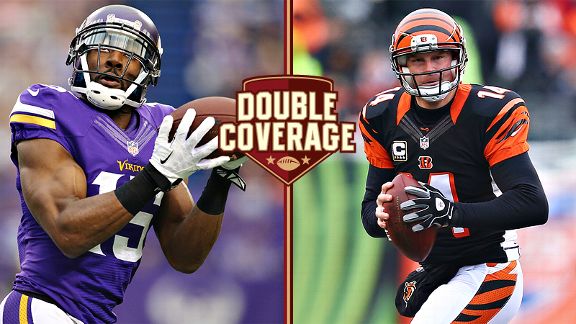 Getty ImagesCan Greg Jennings and the Vikings help spoil the playoff hopes of Andy Dalton and the Bengals?
The
Minnesota Vikings
and
Cincinnati Bengals
are two teams headed in completely opposite directions.
For the Vikings, the 2013 season has been a difficult one, defined mostly by a quarterbacking carousel and the lack of wins because of it. As for the Bengals, the year has been a mostly good one. With home wins over the Packers and Patriots, and road victories against the Lions and Chargers, the Bengals have looked for much of the year like a team poised for a longer postseason run than the past two years. Cincinnati's 2011 and 2012 seasons ended with first-round playoff losses.
If the 9-5 Bengals are even going to get to this postseason this year, though, they first have to bounce back from a Sunday night loss at Pittsburgh and beat the four-win Vikings. Such a win isn't a guarantee. Minnesota has embraced the role of postseason spoiler, rolling NFC East-leading Philadelphia last weekend.
To break down the contest, ESPN.com Vikings reporter Ben Goessling and Bengals reporter Coley Harvey teamed up for this edition of Double Coverage. As this week's visitor, we'll start with Ben:
Ben Goessling:
Andy Dalton
was one of the Vikings' options at QB when they drafted
Christian Ponder
in 2011. The Vikings seem to have given up on Ponder, and while Dalton has been better, it's hard to tell whether he's going to be the answer in Cincinnati long-term. How do the Bengals feel about his progress?
Coley Harvey:
It certainly appears that for now the Bengals feel comfortable with Dalton moving forward. Despite calls at times this season from some groups of angry fans, the Bengals have remained firm in their support of him. No matter how poorly Dalton played, they weren't shopping for another quarterback, and they weren't trying to give backup
Josh Johnson
any shared playing time. In short, they were committed to seeing Dalton through the year. And why not? Although he has had some struggles this season, Dalton has still shown that he can handle the duties of being a starting quarterback. He was the AFC's offensive player of the month for October, and had three consecutive 300-yard passing games during one stretch. If Dalton can't get the Bengals past the first round of the playoffs, it will be interesting to see whether the sides discuss a contract extension, with the 2014 season his last on his current contract.
To your broader point, Ben, that 2011 quarterback class certainly hasn't been all that amazing.
Speaking of progressing quarterbacks, it seems like
Matt Cassel
has given the Vikings some semblance of offensive success in games he's appeared in this season. Why didn't Minnesota stick with him sooner?
Goessling:
That's been the big question all season here, and on Sunday, coach Leslie Frazier finally gave those of us in the media a hint of what we'd expected all along. He said the Vikings always liked Cassel, but had to go through the "process" a little bit, and unfortunately weren't able to win games in the meantime. The "process" I believe he's referring to is the act of evaluating Christian Ponder to a point where the Vikings could be absolutely sure he wasn't the answer at the position. When
Josh Freeman
got inserted into the mix -- and both Frazier and general manager Rick Spielman said the Vikings planned to play Freeman soon -- that complicated things even more. The biggest thing Cassel had working against him was his age (31), and the Vikings didn't necessarily see him as the long-term guy. The question will be whether the quarterback tryouts wind up costing Frazier his job, but now that Cassel's starting, maybe Frazier will be able to make a case to keep his job by showing he can win when he has a competent quarterback.
The Vikings have struggled all year with small, shifty running backs. How do you expect
Giovani Bernard
to fare against them Sunday?
Harvey:
If the Vikings have struggled with those types of backs, then they could be in serious trouble Sunday, Ben. Bernard has been the five-tool player the Bengals thought they were drafting earlier this year and more. Not only can he hit the edge hard on pitches and outside runs, but he has enough power in his smaller body to hit the middle of a defensive line hard and keep going. His most important trait, though, may be what he's able to do as a receiver. You'll see the Bengals use him fairly regularly in the screen game. If the blocking sets up right on those plays, he won't just go for 5 or 6 additional yards. He typically will break off another 10, 15, 20 or more yards after the catch. Once the rookie gets in space, it's like he hits a fourth and fifth gear.
Having said all of that, I do believe he and the more between-the-tackles running
BenJarvus Green-Ellis
will be keys to the game. If they get going, the Bengals have a chance to showcase the balanced offense that has been coming on of late.
Minnesota has obviously had one of the NFL's best rushing attacks the past seven seasons because of
Adrian Peterson
.
Matt Asiata
did a great job of getting to the end zone last week. What kind of challenge do you think he poses the Bengals if he ends up playing in place of Peterson?
Goessling:
Not much of one, based on what we saw last week. Asiata averaged less than 2 yards a carry, and while he runs hard between the tackles, he doesn't offer much else; he doesn't break tackles the way
Toby Gerhart
can, and Peterson's gifts are obviously on a different level from either of those guys. I think Peterson will play, though; he wanted it known last week that he could have gone, and Frazier said after the game that he expected Peterson would be back. The guy prides himself on his pain tolerance, and as hard as he pushed to play last week, I'd be really surprised if he's not in there Sunday.
Assuming he plays, how tough a matchup is this for Peterson? The Bengals have been one of the NFL's best teams against the run this year. What's made them so effective there?
Harvey:
It won't be an easy one for Peterson. This Bengals' defense prides itself on playing physically, emotionally and flowing quickly to the football, particularly when it's on the ground. If this were a normal week, I might contend that as good as Cincinnati's run defense has been that Peterson might still end up surprising them and have a big day. This isn't a normal week, though. The Bengals are coming off a loss that had many questioning their heart and attitude, and they also happen to be playing this game at home. There's something about Paul Brown Stadium this season. Opponents have struggled, and the Bengals have fed off the crowd's energy. Cincinnati is 6-0 at home this season, and the defense is a big reason. If linebacker
James Harrison
(concussion) doesn't play, that could take away a key piece of the Bengals' run defense.
Cincinnati lost punter
Kevin Huber
to a season-ending injury last week and is bringing along his replacement,
Shawn Powell
, this week. He'll be kicking to Minnesota's
Marcus Sherels
. How dynamic is Sherels, Ben? His numbers seem so-so for most of the season, but he does have a return for touchdown.
Goessling:
I think you summed it up nicely there, Coley. Sherels did have the punt return touchdown, but his numbers otherwise have been just OK. The thing the Vikings like about him is that he doesn't make mistakes. He fumbled a punt earlier this year, but he's typically very sure-handed and makes good decisions about when to call for a fair catch. He doesn't get them in trouble by taking unnecessary chances, and special-teams coordinator Mike Priefer is a big fan of his partly because of his decision-making skills. But watch out, though. The Vikings are trying to find ways to get
Cordarrelle Patterson
the ball now that teams have stopped kicking to him, and Frazier mentioned they could give him a look on punt returns. If that happens, the Vikings will have a completely different kind of threat back there on punts.
December, 19, 2013
12/19/13
10:00
AM ET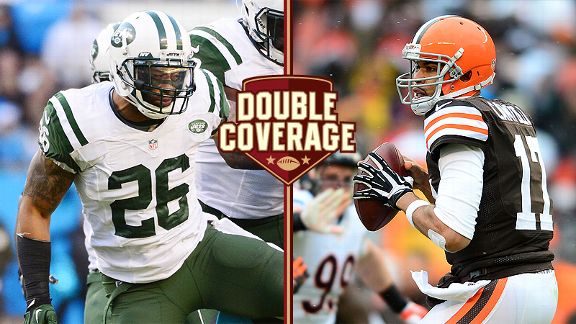 USA TODAY SportsDawan Landry's Jets and Jason Campbell's Browns are a combined 1-9 since the teams' Week 10 bye.
The
New York Jets
(6-8) play their final home game Sunday, facing the
Cleveland Browns
(4-10) in what could be Rex Ryan's MetLife Stadium farewell.
No, this isn't the sexiest game on the Week 16 schedule. In fact, the two teams are a combined 1-9 since Week 10, both crashing back to reality after promising starts. They've struggled for different reasons. The Browns, losers of five straight, can throw the ball but can't run. The Jets can run but can't throw. A half-empty stadium should see quite a matchup.
ESPN.com Jets team reporter Rich Cimini and Browns reporter Pat McManamon break it all down.
Cimini
: The Browns are a lot like the Jets in that they've bottomed out after the bye week. What has gone wrong?
McManamon
: Short answer: different quarterbacks, no run game, one true playmaker and a defense that is adept at blowing late leads. Add in that the Browns were grossly overrated at 4-5 and it probably shouldn't be surprising this has happened.
The Browns have started three different quarterbacks. They traded
Trent Richardson
, and their leading rusher has less than 400 yards. The defense might be the most disappointing part of the equation, because in the offseason, the Browns made a lot of noise and spent a lot of money improving it. The numbers show things are working, but the crunch-time performance shows there is a long way to go.
Bottom line -- the Browns aren't that good. If Bill Parcells is right, and you are your record, then the Browns are a 4-10 team with only a hope of winning six.
This is the third season in a row the Jets will not make the playoffs. Has Ryan's time run its course, or are players still hearing his message?
Cimini:
This three-year drought is the franchise's longest since the dark ages of the mid-1990s, when they went six seasons without a postseason appearance. Ah, memories. Frankly, I think Ryan has done a good job this season, considering the paucity of talent on offense. They played hard last week against the
Carolina Panthers
-- it was a three-point game before they collapsed in the fourth quarter -- so it's not like they've tuned him out.
This is a rebuilding season and, although management never called it that, owner Woody Johnson asked the fans before the season to be patient. The team has overachieved, but the problem for Ryan is that first-year general manager John Idzik might want to hire his own guy, presumably an offensive mind to help rebuild their offense.
At least the Browns can score points, Pat. I know the
Chicago Bears
did a good job of containing
Josh Gordon
, but his eyes will light up when he sees the Jets' secondary. I'm guessing the Browns are glad they didn't trade him, right?
McManamon
: Sort of like they're glad Paul Brown took the job way back when. In truth, Rich, the Browns never really planned to trade Gordon unless they got an offer that knocked their proverbial socks off. That didn't stop them from answering the phone, which they did, which started the "trade talks" rumors. But the Browns' starting point for Gordon was always a first-round pick, and no team was willing to do that given he's one mistake from a one-year suspension. The Browns are thrilled he's with the team, but they also hold their breath about what could happen.
As for the Jets' secondary, of course he's eager to face it. On paper, he should have a huge game, but the same was true last Sunday against Chicago's secondary, and for whatever reason, the Browns didn't get him the ball enough, especially early. In the first half, he was targeted one time. That number has to increase this weekend.
Rich, there was some talk at last year's draft that the Browns should take
Geno Smith
with their first-round pick. Has Smith shown enough to justify the selection as the Jets' future quarterback?
Cimini
: Absolutely not. The Jets will end this season in the same position they did last season -- not knowing their starting quarterback. Smith has the physical tools, but he has been wildly inconsistent. I could throw out a bunch of negative stats, but I'll just say this: He has had only two turnover-free games.
Like a lot of rookie quarterbacks, he'll lock on to his No. 1 read, drawing safeties into the play. He has to do a better job of finding his checkdown options and reading blitzes, a huge problem. The kid can sling it and he's durable, but he hasn't done enough for the decision-makers to say, "He's our guy." They will draft another quarterback and make it an open competition or acquire a proven veteran to take the No. 1 job.
Mark Sanchez
figures to be a goner.
So, Pat, it's hard to find a lot of positives in a 4-10 record, but have you seen enough to believe coach Rob Chudzinski can be "the guy"?
McManamon
: I've seen enough to believe he deserves a fairer chance. No coach that has three different starting quarterbacks and four different starting running backs can win a lot. That Chudzinski had the team at 4-5 at the bye is pretty amazing. That he lost five in a row since the bye is disappointing but shouldn't be surprising.
Chudzinski has brought an aggressive attitude to the Browns, and he has handled himself well. There have been mistakes -- taking a timeout when the clock was stopped before New England's game-winning touchdown was an egregious mistake that considerably hurt the Browns' chances to win -- but also some good moments. He has handled the quarterbacks properly, shown patience with players who needed it and helped bring along
Jordan Cameron
and Gordon. Chudzinski looks like he could and should be the answer, but he sure deserves a fuller deck than the one he was given this season.
Old friend of the Browns
Kellen Winslow
spent this season in New York. Has he made any major contributions?
Cimini
: Well, he made a few headlines but not for his work on the field. He got off to a decent start -- the team's leading receiver through five games -- but he was slapped with a four-game PED suspension. (He blamed it on an allergy medication, which caused some eyes to roll.) Since his return, his role has diminished. He plays only 20 to 25 snaps a game, prompting him to publicly wonder about his lack of playing time. I don't think the Jets' Thought Police appreciated the comments, so now all he does is speak in clichés.
He also didn't win any friends when he recently predicted via Twitter a Patriots-Broncos championship game -- even though the Jets were still alive. Get the picture? Winslow can still catch, but his surgically repaired knee is shot and he can't stay on the field for long stretches.