AFC North:

2013 NFL Week 2 Double Coverage
September, 13, 2013
9/13/13
12:00
PM ET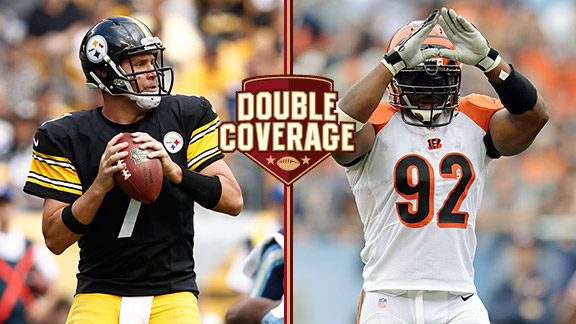 AP Photo/Greg TrottBen Roethlisberger must prepare to face former teammate James Harrison for the first time since college.
Season-opening losses by the
Cincinnati Bengals
and
Pittsburgh Steelers
may have taken a little shine off their "Monday Night Football" clash in Cincinnati, but they actually added to the game's importance.
Teams that start a season 0-2 usually don't make the playoffs and neither team wants to go down that path. The Steelers have never done it during Mike Tomlin's tenure as head coach, and they don't want to start now, especially coming off an 8-8 season and a brutal loss to the Titans last Sunday.
They will be decided underdogs, and neither I nor ESPN Steelers reporter Scott Brown can remember the last time they have entered a game in Cincinnati in that role.
Scott joins me for Double Coverage this week. We'll give him the nod to ask the first question.
Scott Brown:
Coley, everything seems to favor the Bengals in this matchup. They are at home and the Bengals defensive line could have its way with an offensive line that is replacing a Pro Bowler at center (
Maurkice Pouncey
) with a player who will make his first start at the position in (
Kelvin Beachum
).
How much of a potential mismatch is there up front, and what should worry the Bengals about the Steelers?
Coley Harvey:
Yeah, Scott, this is really setting up to be a potential nightmare scenario for Big Ben and the rest of Pittsburgh's offense. If Steelers fans thought they kept seeing Ben Roethlisberger's career flash before their eyes every time he dropped back against the Titans after Pouncey's injury, then who knows what they'll be thinking this week. Tennessee a year ago averaged 2.4 sacks per game. The Bengals averaged 3.2. Cincinnati's entire defensive line is back and arguably better than ever.
To their credit, though, the Bengals are taking Beachum's insertion into the lineup seriously. They know that he will be that much more motivated to prove that he belongs and to prove to Roethlisberger that he is more than capable of protecting him against a front that includes Pro Bowl tackle
Geno Atkins
, veteran tackle
Domata Peko
and young, up-and-coming ends
Michael Johnson
and
Carlos Dunlap
. To understand the motivations of a young backup offensive lineman, the Bengals actually don't need to look any further than their own reserve tackle,
Anthony Collins
. Actually, speaking of Collins, are the Steelers aware of how the backup left tackle kept Chicago's all-world defensive end,
Julius Peppers
, in check last weekend?
Brown:
Wow, yet another thing that doesn't bode well for the Steelers bouncing back in the second week of the season. The Steelers have to put consistent pressure on Bengals quarterback
Andy Dalton
or it could be a long night for
Ike Taylor
. The veteran Steelers cornerback gets the, ahem, privilege of shadowing Bengals wide receiver
A.J. Green
, who had a monster game in the opener and is arguably as good as any wideout this side of
Calvin Johnson
. Nothing would help Taylor more than if the Steelers get to Dalton early and often.
As well as the defense played in the opener, it allowed Titans quarterback
Jake Locker
to complete some clutch third-down throws. It also didn't force any turnovers. The Steelers must win the turnover battle if they are to beat the Bengals, and the defense has to do its part there.
Speaking of disruptive forces, we should probably get around to talking about
James Harrison
, as he is playing against the Steelers for the first time, which is a major storyline leading up to the game. Harrison is playing in a different scheme from the one he thrived in for years in Pittsburgh. How has he adjusted and how much of an impact do you see him making Monday night and beyond?
Harvey
: James Harrison is still James Harrison. The guy who was a terror on the field in Pittsburgh and who was a real social butterfly in the Steelers locker room has brought his whole persona with him to Cincinnati. (Even Tomlin shared a good laugh with reporters in Cincinnati earlier this week when he realized on a conference call that we had met the sociable Harrison.) After his finger-flicking, camera-dodging antics on HBO's "Hard Knocks," Bengals fans were completely won over. They may have hated the guy while he was in Pittsburgh, but now he's one of their favorites. When it comes to the locker room, Harrison's teammates respect him and believe in him. They are very optimistic that his presence will be a tremendous benefit to what was already a strong defense.
Now that it has been six months since Harrison was roaming the halls at Steelers headquarters, what are the folks in Pittsburgh saying about him? How much are people anticipating seeing him face his old club? Oh, and do you think the Steelers' skill guys like Roethlisberger are ready to feel the hard-hitting justice Harrison used to dole out for them?
Brown:
Harrison will always hold a special place in Steelers history. His ferocious style of play is one thing that linked the recent Steelers teams to the ones that dominated the 1970s and set a new course for a franchise that had once been synonymous with futility. Fans loved him. His teammates loved him. His coaches loved him.
I'm sure there will be plenty of pleasantries exchanged between Harrison and the Steelers players and coaches before the game and maybe after it. It will be all business between the lines. The Steelers know what they are up against in Harrison, and are very aware how motivated he will be to show his former team it made a mistake by releasing him.
Roethlisberger actually played against Harrison when the two were in college so that won't be totally unfamiliar for the Steelers quarterback. One thing the Steelers have stressed is they can't be too preoccupied with Harrison as there are plenty of other Bengals who can get to the quarterback. Geno Atkins, anyone?
OK, Coley, here is my final question: Do you see a scenario in which the Bengals don't win Monday night?
Harvey
: First off, great point about the former Miami (Ohio) and Kent State guys going at it like in their old college days. That'll be another reason TVs across the Buckeye State will be tuned to ESPN on Monday.
As for your question -- yes. I do see a scenario in which the Bengals lose. One of two things can happen in the game, right? I'll admit, it's a pretty far-fetched scenario, but it definitely exists. Many of us did, after all, go into Cincinnati's last game expecting the Bengals to roll to a one- or two-score win over the Bears. That didn't happen. If the Bengals were to lose this week, it would likely be because of a scenario similar to what happened last week at Soldier Field: The opposing quarterback plays out of his mind.
Jay Cutler
did things against the Bengals last Sunday that he didn't do all last season. And we all know Roethlisberger has the ability to put this team on his shoulders at any time. It would take a truly special performance, but if Big Ben can overcome the center issue, the Bengals' D-line issue and that whole playing on the road on a Monday night issue, then the Steelers can snatch away a big division win. If not, count this one a win for Cincinnati.
September, 12, 2013
9/12/13
12:00
PM ET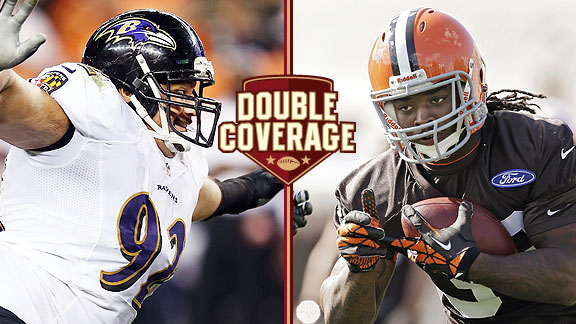 AP PhotoThe Browns need to get Trent Richardson the ball but Haloti Ngata and the Ravens will be waiting.
The
Baltimore Ravens
and
Cleveland Browns
have different levels of expectations for the season, but these two AFC North teams find themselves with the same 0-1 record. In their season-opening losses, the Ravens and Browns had some of the same problems. Their quarterbacks threw multiple interceptions. Their defenses wore down in the second half. Penalties were a problem again. And their commitment to the running game was lacking.
The Ravens are looking to get back on track against a Browns team they have dominated. John Harbaugh and
Joe Flacco
have never lost to Cleveland, beating the Browns 10 straight times. Under first-year coach Rob Chudzinski, the Browns are trying to avoid an 0-2 start for the fifth time in six years.
ESPN.com's Matt Williamson and Ravens team reporter Jamison Hensley discuss whether or not these streaks will continue or end.
Hensley
: The one area of defense where the Ravens excelled in Denver was stopping the run. Baltimore held the Broncos to 2.8 yards per carry and didn't allow a run over 9 yards. But a big storyline in Cleveland right now is how the Browns ignored running back
Trent Richardson
in the season opener. He only received 13 carries and only ran the ball five times in the second half. So, does Richardson get over 20 carries on Sunday in Baltimore?
Williamson
: I am not sure that Richardson gets more than 20 carries against the Ravens, but he certainly should have more than 20 total touches, as he is an excellent dump-off option out of the backfield. It was a crime for Cleveland's coaching staff to give their star runner just 13 carries while asking the struggling
Brandon Weeden
to throw the ball 53 times. That is a losing formula. However, clearly the best way to attack Baltimore's defense right now is through the air, so look for Weeden to target Baltimore's safety corps, specifically with
Jordan Cameron
. The Ravens had all sorts of problems with Denver tight end
Julius Thomas
, and the Browns could be looking to exploit the same weakness with budding star Cameron, a similar athlete and body-type player.
So, along those lines, obviously facing Weeden is a much easier assignment than doing battle with
Peyton Manning
and his extreme wealth of weapons in Denver, but the Ravens coaching staff should be concerned about their second half collapse against Denver's great passing game. Do you see any changes in this department on the horizon for Week 2?
Hensley
: The Ravens acknowledge that it's tough to shut down Manning. The problem the coaching staff had is that the Ravens secondary made it too easy for him. There were miscommunications that left targets wide open in the red zone. There were cornerbacks, namely
Corey Graham
and
Jimmy Smith
, who flat-out got beat. And there were too many missed tackles, especially from safety
Michael Huff
.
I don't see the Ravens making any major changes to personnel for a couple of reasons: They're not going to panic after one game and they don't have many options.
Lardarius Webb
was the only defensive back who played well, and he's 11 months removed from ACL surgery. Graham and Smith are struggling at the other cornerback spot, and the Ravens don't have the confidence in
Chykie Brown
to bench someone. Baltimore will likely stick with Huff and
James Ihedigbo
at safety right now because of their experience, although rookie first-round pick
Matt Elam
will eventually be the starter this year.
What this secondary really needs is a strong pass rush on Weeden. And pass protection is a big storyline for both teams considering the injuries along the offensive line. The Browns have only sacked Joe Flacco 14 times in 10 meetings. Can the Browns get more pressure on Flacco this time?
Williamson
: Mike Lombardi and company made it a huge offseason priority to improve their pass rush. And I think they very much accomplished that goal by signing
Paul Kruger
and
Desmond Bryant
, who was a real force rushing the passer from the interior last week, as well as using a high first round pick on the ultra-talented
Barkevious Mingo
. I expect Flacco to be under duress quite a bit in this contest when the Browns chose to bring just four, but with
Joe Haden
possibly locking down
Torrey Smith
(as he did last week to similar wide receiver in
Mike Wallace
), I could see Cleveland defensive coordinator Ray Horton dialing up a lot of additional blitzes, which goes back to his roots learning from Dick LeBeau in Pittsburgh.
The Browns have an exceptional young offensive line, but the Miami defensive line, led by
Cameron Wake
, dominated this group in all facets last week. The right guard position is particularly weak right now for Cleveland, but that performance against the Dolphins was rather shocking. The Ravens feature a very deep and talented defensive front. Could they wreak the same havoc up front?
Hensley
: The Ravens know all about the Browns' struggling right guard.
Oniel Cousins
was a third-round pick of the Ravens in 2008. Coincidentally, that's the same draft that produced Flacco and
Ray Rice
for Baltimore. Defensive tackle
Haloti Ngata
lined up over the right guard for most of the game in Denver. He's healthy after playing last season all dinged up, and he has more explosion coming off the line. This is the game's biggest mismatch.
As you pointed out, right tackle
Mitchell Schwartz
had a rough time with Wake, and his assignment won't be any easier Sunday. In passing situations,
Elvis Dumervil
will be coming off the Browns' right edge. In his Ravens' debut, Dumervil had one sack and three quarterback hurries. Even with the Browns' No. 1 wide receiver
Josh Gordon
out, the Browns can't let Weeden have too much time in the pocket.
The biggest matchup that favors the Browns is at returner. The Ravens won't have Pro Bowl returner
Jacoby Jones
for another month after he sprained his knee. The Ravens, who have had lapses in their return game, have to contain
Travis Benjamin
. What are your thoughts on the Browns returner? And what other matchup could the Browns exploit?
Williamson
: Benjamin isn't nearly as big or physical with the ball in his hands as
Josh Cribbs
, his predecessor, but Benjamin is flat out fast. He can change the game in a heartbeat and he doesn't need a lot of room to explode through. To me, as alluded to above, the Browns' pass defense against the Ravens' passing offense is what favors Cleveland the most in this contest. The Browns' secondary is very much a work in progress but if Haden eliminates Smith, which I think is quite possible, the Ravens really have very few other options in terms of wide receivers or tight ends to threaten the defense. Also, Baltimore's pass protection could be a liability against this revamped pass rush. Still, this will be an uphill climb against the defending Super Bowl Champions who were embarrassed on national television last week and has an extra long week to prepare.