AFC North:

2013 NFL Week 6 Double Coverage
July, 31, 2014
Jul 31
4:59
PM ET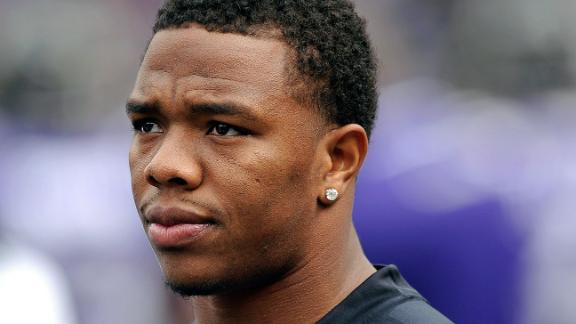 OWINGS MILLS, Md. -- In stark contrast to
Ray Rice
's awkward news conference in May, the
Baltimore Ravens
running back showed Thursday that he finally understood the weight of his actions from the alleged altercation with his then-fiancée in February.
He delivered the correct message, one the NFL failed to do last week with the two-game suspension, by not only apologizing to his wife, Janay Palmer, but also expressing a desire to become an advocate for domestic-violence causes.
Rice was compelling in his contrition, calling it the biggest mistake of his life. He stood in front of the microphone alone, without his wife standing by his side, and took full responsibility for the incident. Perhaps more importantly, Rice actually said the words "domestic violence," which weren't heard in his statement two months ago.
"My actions were inexcusable," Rice said. "That's something I have to live with the rest of my life."
Before anyone pats Rice on the back, this is what he should have said the first time when he broke his silence in May. Instead, Rice nervously fumbled through notes on his phone and apologized to team officials and his sponsors. That debacle of a news conference came across as damage control to his image.
His 17-minute news conference Thursday hit the right tones. He apologized to all women affected by domestic violence. He accepted the blame for losing the respect of fans. Rice came across as genuinely sorry.
"I let my wife down, I let my daughter down, I let my wife's parents down, I let the whole Baltimore community down," Rice said.
Rice's biggest misstep was not talking about what happened in the elevator. He was asked twice about it and declined to answer both times. His stance against domestic violence would have resonated stronger if he had explained his transgressions.
"I'll be honest: Like I said, I own my actions," Rice said. "I just don't want to keep reliving the incident. It doesn't bring any good to me. I'm just trying to move forward from it. I don't condone it. I take full responsibility for my actions. What happened that night is something that I'm going to pay for the rest of my life."
The only way Rice can move forward from this incident and show he's truly sincere is through his actions. It's not by his words. It's not by a hefty donation, which is merely a gesture. It's by proving this will remain a "one-time incident" and by supporting domestic-violence causes.
Thursday represented a small step forward for Rice. But it was an important one.
October, 11, 2013
10/11/13
12:00
PM ET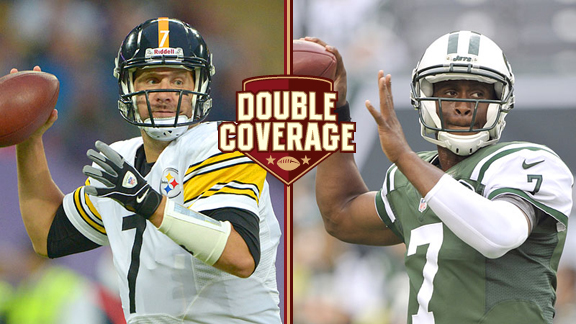 USA TODAY SportsBen Roethlisberger and the 0-4 Steelers take on Geno Smith and the surprising Jets.
Things you didn't expect to see in the standings when the NFL released the schedule last April: The
New York Jets
at 3-2, the
Pittsburgh Steelers
at 0-4.
The rebuilding Jets were supposed to struggle under a coach who already was being called a lame duck, and the Steelers ... well, they were supposed to be the Steelers, a model of consistency.
The two teams meet up Sunday at MetLife Stadium. The Steelers are off to their worst start since 1968, the year of the Jets' only Super Bowl season. If the Steelers lose this game, they're pretty much done in terms of playoff aspirations. The Jets played a similarly desperate team Monday night, and that didn't seem to faze them, as they stunned the
Atlanta Falcons
on the road. The Steelers should be well-rested coming off a bye week.
ESPN.com Jets team reporter Rich Cimini and Steelers reporter Scott Brown break down the matchup:
Cimini
: Scott, I look down the Steelers' roster and I still see a lot of those familiar names --
Ben Roethlisberger
,
Antonio Brown
,
Troy Polamalu
,
LaMarr Woodley
, etc. It's hard to imagine how the Steelers could be this bad. I'm sure you could write 5,000 words on why they're 0-4, but how 'bout a few thoughts on what has gone wrong?
Brown
: Rich, I think I have written triple that amount on everything that has gone wrong, but yes, who would have thought the winless Steelers would be playing the 3-2 Jets even just a couple of weeks ago? Turnovers have been the biggest problem for the Steelers, and that is on both sides of the ball. The Steelers have committed 11 of them with six coming in the last two games by Roethlisberger alone, and they are still without a takeaway, which is unbelievable when you think about it.
Playing from behind has a lot to do with the Steelers' turnover problem, especially on defense. The defense is at its best when it puts opposing quarterbacks in obvious passing situations and forces them into the kind of mistakes that lead to turnovers. Would you believe the Steelers have had exactly two leads this season and those were 2-0 and 3-0 in the season opener against the Titans and in the second game at Cincinnati, respectively?
Rich, this defense usually confuses and frustrates rookie quarterbacks, but
Geno Smith
has hardly played like a first-year signal caller. Has his play surprised you, and is it sustainable?
Cimini
: I was surprised by how well he played Monday night in Atlanta because he had been a turnover machine -- 11 in his first four games. All of a sudden, something clicked. I don't know if it was a one-game thing or the start of a trend.
I know the Steelers' defense isn't what it used to be, but Dick LeBeau will have had two weeks to cook up something to confuse the kid. How he responds to new looks from the defense will decide this game. The Jets leaned a bit more on the running game last week, taking some pressure off Smith, and I suspect they'll take a similar approach on Sunday. Blitz pick-up will be a key, as will the receivers' ability to gain separation. I remember the Steelers were very aggressive last season in Week 2 with the Jets' wideouts. While on the subject of quarterback play, how would you assess Big Ben's play to this point?
Brown
: It has been fine other than the turnovers, and I think it will get better with tight end
Heath Miller
back and running back
Le'Veon Bell
giving the Steelers a legitimate threat in the ground game. Roethlisberger is on pace to throw for almost 5,000 yards this season, which would obliterate his career-high of 4,328 yards (2009). But Roethlisberger is also averaging just over 40 pass attempts per game. That number is way too high, especially given how leaky the Steelers' offensive line has been through the first quarter of the season.
The emergence of Bell should restore balance to the Steelers' offense. My question for you is whether or not such balance will have to wait a week? The Jets' defensive line looks awfully physical, and it is hard to envision that Steelers having much luck running the ball against it.
Cimini
: You're right, Scott, the Jets have been very good against the run. They've faced some good backs --
Chris Johnson
,
C.J. Spiller
,
Doug Martin
-- and they're allowing only 76.2 yards per game and 3.0 per carry. I'd be surprised if the Steelers have much success on the ground.
The Jets' front seven is much improved from last season. They added more athleticism at nose tackle (
Damon Harrison
), tackle (
Sheldon Richardson
), weak inside linebacker (
DeMario Davis
) and rush linebacker (
Quinton Coples
). They're no longer vulnerable on the perimeter, as they were last season. I think they will make the Steelers one-dimensional, which should allow them to get good pressure on Roethlisberger. Speaking of pressure ... four sacks for the mighty Steelers? What happened to that defense?
Brown:
Man, depends on who you ask. The easy answer is to say that age has finally collared a once fearsome defense, but that is not entirely accurate. Defensive end
Brett Keisel
, strong safety Polamalu and cornerback
Ike Taylor
are among the most tenured Steelers, and they have played well this season.
Age has caught up with the Steelers a little bit, and the defense needs to get more out of younger players such as cornerback
Cortez Allen
and outside linebacker
Jarvis Jones
. Jones, the Steelers' No. 1 pick last April, is going to be really good, but he has not made much of an impact as a pass-rusher. The Steelers desperately need Jones to emerge opposite Woodley, who has three of the Steelers' four sacks.
.
October, 10, 2013
10/10/13
12:00
PM ET
One of the biggest games of the week features two of the highest-paid quarterbacks in the NFL.
The
Baltimore Ravens
'
Joe Flacco
signed a six-year, $120.6 million contract just a few months after being named the Super Bowl Most Valuable Player. About seven weeks later, the
Green Bay Packers
'
Aaron Rodgers
agreed to a seven-year, $130.75 million deal.
Over the previous four seasons, Flacco and Rodgers are the only NFL quarterbacks to pass for at least 3,600 yards and 20 touchdowns each season while throwing 12 interceptions or fewer.
But the big-money contracts have been the only similarities between these two quarterbacks this season. Flacco has yet to break out because of inexperienced targets and a struggling offensive line. Rodgers, meanwhile, is on pace for another 5,000-yard passing season.
Will these trends continue for both quarterbacks this Sunday in Baltimore? Here's how Packers team reporter Rob Demovsky and Ravens team reporter Jamison Hensley see the game unfolding.
Jamison
Hensley
: Rob, it wasn't even 20 minutes after the Ravens had beaten the Dolphins and
Terrell Suggs
was already bringing up Rodgers' name. It's clear that he is already on the minds of the Ravens' defense, which has been riding the strength of its pass rush. Suggs is having a career year with seven sacks in five games and
Elvis Dumervil
has three sacks. Will the Ravens be able to get to Rodgers on Sunday?
Rob
Demovsky
: The Lions couldn't get to Rodgers last Sunday, but their pass rush typically comes from the interior. The Ravens, particularly with Suggs rushing from the outside, present an entirely different challenge. You better believe he will have Rodgers' attention. This might be one of those games in which he relies on a lot of short and intermediate routes to get the ball out of his hands quickly and take some pressure off his tackles. He trusts that his receivers will get yards after the catch if he gets them the ball quickly.
Are there signs Flacco and the Ravens' offense will get things rolling, or is this going to be an issue all season?
Hensley
: There have been signs of life from the Ravens' running game, but as we saw in the playoffs, the Ravens will only go as far as Flacco takes them. His numbers -- 57.7 percent completion rate, five touchdowns, eight interceptions -- have been extremely disappointing, although it's not all his fault. If the Ravens want to get their offense rolling, they need the players around Flacco to step up. Flacco's wide receivers are inexperienced outside of
Torrey Smith
, and the Ravens' pass protection has been awful this season. Flacco has been sacked 14 times (only seven quarterbacks have been sacked more) and has been hit 18 times the past two weeks. Baltimore is hoping the addition of left tackle
Eugene Monroe
, who is expected to make his Ravens debut Sunday, will solidify Flacco's blind side.
It seems like the Ravens have caught a break with
Clay Matthews
being out. How will the Packers do in his absence?
Demovsky
: Losing their $66 million linebacker is a blow, no question about it. He's one of only a couple of difference-makers the Packers have on defense. But they appear better equipped to play without Matthews than they were last season, when he missed four games with a hamstring injury. That's largely because of the emergence of
Mike Neal
, a former defensive end who converted to outside linebacker in the offseason. Neal had his best career game, with six tackles and a sack, on Sunday against the Lions. He gave Lions left tackle
Riley Reiff
all kinds of problems, so Monroe will have has hands full. The Packers also have seen some signs of life from last year's first-round pick, outside linebacker
Nick Perry
. He had his first career two-sack game against the Lions.
However, without Matthews, defensive coordinator Dom Capers might have to send more blitzers in order to pressure Flacco. How have the Ravens handled the blitz?
Hensley
: The Ravens are having problems with any type of pressure this season, whether it's blitzes or four-man rushes. The problem has been the lack of productivity on first downs. The inability to consistently run the ball has put the Ravens in second-and-long and third-and-long too often, which makes it very predictable that the Ravens are going to have to throw the ball. Running backs
Ray Rice
and
Bernard Pierce
are both averaging fewer than 3 yards per carry. Rice looked better last Sunday, but his longest run is 14 yards this season. The Ravens are going to remain committed to the run. Their hope is it starts paying off more in the form of big plays.
Speaking of running games, what's been the key to the Packers's ground game this season?
Demovsky
: Coach Mike McCarthy said last week that he believes a running back who makes the right reads and decision is the key to the running game, so that would lead you to believe the improvement has come largely from the running back position. To be sure, rookie
Eddie Lacy
, who rushed for 99 yards against the Lions, is a big part of that. He's a much more powerful runner than they've had in recent years. However, when you consider that they've had two other running backs go over 100 yards --
James Starks
with 132 against the Redskins in Week 2 and rookie
Johnathan Franklin
with 103 in Week 3 against the Bengals -- I'm not sure how you can't give props to the offensive line, too. That group has made major strides.
What kind of a run defense will the Packers be facing Sunday?
Hensley
: It really depends on which run defense shows up for the Ravens. Two weeks ago, the Ravens gave up 203 yards rushing to the
Buffalo Bills
. Last Sunday, Baltimore held the Dolphins to 22 yards on the ground, which is the fourth-fewest rushing yards allowed in a game in Ravens' history. The Ravens were so dominant that Miami just abandoned the run game. You couldn't have two bigger extremes, but the Buffalo game appears to be a temporary lapse. Baltimore is strong up the middle with
Haloti Ngata
and
Chris Canty
and is tough on the edges with Suggs, who is an underrated run-stopper, and
Courtney Upshaw
. Inside linebacker
Daryl Smith
has been the biggest surprise of the defense this season with his ability to anticipate where the ball is going.
The Ravens' secondary, though, is the area of the defense that has struggled the most. The Ravens gave up three 40-yard passes to Miami's
Ryan Tannehill
. Out of all those talented wide receivers, who should the Ravens fear the most?
Demovsky
: All three receivers are dangerous in their own way.
Randall Cobb
works from the slot and is perfect for that role. He runs those short-to-intermediate routes precisely, much the same way
Greg Jennings
and
Donald Driver
used to. Rodgers loves to hit Cobb on the run in the middle of the field, and that attracts a lot of attention from the safeties. That often means either
Jordy Nelson
or
James Jones
could have single coverage on the outside. Nelson works the sidelines like few I've seen. He's already made two catches this year where it didn't look like there was any way he'd be able to stay in bounds, yet he got both feet in before falling out of bounds. Jones is surprisingly effective going deep. For a guy who supposedly doesn't have top-end speed, he rarely gets caught from behind.
The Packers' run defense has made significant improvements over last season and currently rank fifth in the league in rushing yards allowed. How big of a test will Ray Rice be?
Hensley
: Rice hasn't been the same playmaking running back. He hasn't broken a run longer than 14 yards. He's fumbled twice. Some of the blame can go on the offensive line failing to open holes. Rice has also been dealing with a hip injury the past two weeks. But the Ravens need big plays from Rice and it starts with him breaking tackles. There were signs of Rice bouncing back to form last Sunday in Miami. If the Ravens are going to keep up with the Packers on the scoreboard, they're going to need big plays from Rice.
What has been the biggest improvement in the Packers run defense?
Demovsky
: The Packers got bigger across the front line with the return of defensive tackle
Johnny Jolly
from his three-year suspension. When Jolly last played for the Packers in 2009, they led the NFL in rushing defense. With Jolly back, defensive coordinator Dom Capers has used him along with
Ryan Pickett
and
B.J. Raji
up front in obvious running situations to form a massive front in their 3-4 package. Matthews plays a big part in their run defense, too. He's an underrated run defender, so his absence could be a factor there, too.
.
October, 10, 2013
10/10/13
12:00
PM ET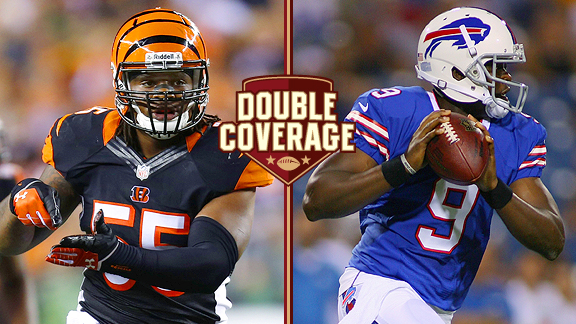 Getty ImagesThad Lewis, right, will be making just his second career start against Vontaze Burfict and the eighth-ranked Bengals defense.
The
Buffalo Bills
might not have played Sunday after their 37-24 loss to the
Cleveland Browns
last Thursday, but it was still a busy weekend for the Bills (2-3), who sit at the bottom of the AFC East.
With
EJ Manuel
out several weeks with a knee injury, head coach Doug Marrone made the decision early Monday morning to sign
Thad Lewis
off the practice squad and start him Sunday against the
Cincinnati Bengals
.
It won't be an easy task for Lewis, who will be making his second career start. The Bengals (3-2) are coming off a rain-soaked home win over the
New England Patriots
. They'll now look for their first road win of the season.
ESPN.com Bills team reporter Mike Rodak and ESPN.com Bengals team reporter Coley Harvey break down the matchup:
Mike Rodak:
Coley, we saw something Sunday that we haven't seen in more than three seasons: Patriots quarterback
Tom Brady
did not throw a touchdown pass, the product of a stingy Bengals defense that held the Patriots to just six points. While they might have received some help from a timely late-game monsoon, it was an impressive showing by Cincinnati despite injuries to some key starters on defense. Is this unit the strength of the Bengals this season, and are they licking their chops to play against a Lewis-led Bills offense this Sunday?
Coley Harvey:
I don't know about licking their chops, Mike. Two weeks ago in Cleveland, the defense was in a similar situation when
Brian Hoyer
received his second straight start in place of
Brandon Weeden
. All week, the talk was about the big, bad Bengals defense and the fact that it was going up against a longtime backup quarterback in Hoyer. Well, so much for that talk. Hoyer led the Browns to a pair of 90-yard drives for touchdowns en route to their 17-6 win.
Still, Cincinnati is very pleased with its defense this season. After the way the unit manhandled
Pittsburgh
,
Green Bay
, New England, and, to a lesser extent,
Chicago
, it's safe to say it is the strength of this team. That might remain the case through Week 17 (and perhaps beyond). The Bengals should get back at least one of those injured starters -- cornerback
Leon Hall
-- this week. In all honesty, though, like you mentioned, the Bengals haven't missed him much.
Adam Jones
and
Chris Crocker
have done a better-than-admirable job filling Hall's shoes.
Speaking of injuries, we have to ask about the big one on the Bills' roster. With Manuel out for the foreseeable future, how confident is Buffalo's coaching staff that Lewis is the man for the interim quarterback job?
Rodak:
I don't think they are very confident, Coley. Marrone said Monday they'll look at the position on a week-to-week basis, hardly a vote of confidence that Lewis will be their quarterback beyond Sunday. I think the Bills simply explored all options and felt Lewis was their best option, but that might not be saying much. Rarely do you see a team promote a quarterback from the practice squad and start him that very next weekend.
The expectation is that Manuel will miss several weeks, perhaps more than a month, with this injury. If he can come back a little sooner than expected, the Bills don't have to worry as much about who their Plan B is after Lewis if he struggles. But if Manuel has any setbacks (would they consider shutting him down for the season if it gets too late and they're out of the hunt?), they will be in a tight spot.
Coley, I've been hearing a lot about
Giovani Bernard
lately. How is his role increasing in the Bengals' offense, and how much do you expect
BenJarvus Green-Ellis
to contribute going forward?
Harvey:
The whole injury situation is a bummer for Manuel. I guess for me, too. Before starting this beat, I covered football at Florida State. I got to know EJ,
Dustin Hopkins
,
Shawn Powell
and
Nigel Bradham
very well over the years. All good dudes. When the season started, part of me was really looking forward to seeing how each of them played at the professional level. Guess it's all on Nigel now!
When it comes to Cincinnati's ground game, it looks like we're finally starting to see that perfect balance between the two rushers. All season, the media has been asking coach Marvin Lewis about giving more carries to Bernard. The rookie has shown every game since Week 2 that he has big-play potential. Against New England on Sunday, he ripped off a key 28-yard run late in the game. Green-Ellis finally appears to be showing up on the stat sheet. After some dismal performances early in the season, the veteran rushed 19 times for 67 yards and the game's only touchdown last week against the Patriots. Bernard wasn't so bad, either, rushing 13 times for 62 yards. I'd expect to see a lot of both this weekend as the Bengals continue to try to better balance their offense.
That seems like a perfect segue into a question about Buffalo's rushing attack. How exactly does the Bills' three-man running back rotation work? Obviously,
Fred Jackson
gets the bulk of the carries, but how complementary will the other two be now that
C.J. Spiller
is back?
Rodak:
Coley, I think the Bills would ideally still like to give more carries to Spiller. He is the more explosive back and is also significantly younger than Jackson. The problem is twofold. First, Spiller can't stay healthy. He said his frustration level is sky-high, and rightfully so. He's been injured twice in the past three games and has struggled with negative runs at points this season. Credit to him, though, for toughing it out last Thursday night and limping his way to a 54-yard touchdown. Second, Jackson has been one of the NFL's best all-around running backs this season. He is 12th in the NFL with 4.75 yards per carry and second in the league (behind only
Ben Tate
) in yards after contact with 2.40 per carry. He is also a factor in the passing game, ranking 15th in the NFL in total offensive yards.
Going forward, I think Spiller's contributions will depend mostly on his health. If he can get back to full strength, then the Bills probably want to ease Jackson's workload down the stretch. If he can't, then it's almost a lost season for the former first-round pick.
Coley, what's going on with
A.J. Green
? He has 31 catches for 361 yards and 3 touchdowns through five games. Those are numbers that a lot of receivers would like to put up, but Green isn't just any receiver. He is supposed to be one of the best in the NFL. He ranks 76th in the NFL in yards per reception. What's going wrong?
Harvey:
It's a mix of things, really. For starters, Green and quarterback
Andy Dalton
haven't been on the same page for part of the season. There have been a few instances when Dalton expected Green to cut short a route and, instead, he went long. There have been moments when Dalton has had Green wide open and he's overthrown or underthrown him trying to be too fine with the football. If the pair could just get in sync -- you'd imagine that after three years together they finally would be -- then they have a chance to be a much better duo.
In addition to all of that, the Bengals have started realizing they have several other weapons in addition to Green. There's Green-Ellis, who became a factor last week; Bernard who, like we mentioned before, has been good in space; and there's the tight end tandem of
Tyler Eifert
and
Jermaine Gresham
. Add all of those guys with Green and the rest of the receivers and you have the perfect scenario in which the Bengals could decide to pass to anyone but him. Still, you're right. Green has to be more productive with the passes he does catch. Once he figures a way past the double-teams he's been getting, and once teams start paying more attention to the other playmakers, he'll come along.
Last question, Mike. The Bills were torched a few times by
Travis Benjamin
in the punt return game last week. How do you think they plan to stop Jones, a similarly dynamic returner?
Rodak:
Well, the Bills made a change at punter this week, bringing back
Brian Moorman
, who played his first 12 seasons in Buffalo and holds several franchise records. They also made some changes on the back end of their roster, swapping special-teams contributors
Marcus Dowtin
and
Johnny Adams
for two others,
Ty Powell
and
Brandon Smith
. The Bills were upset with Shawn Powell's hang time in recent weeks and waived him last Friday, so their hope, obviously, is that Moorman can do better in that area.
.