AFC North:

2013 NFL Week 7 Double Coverage
October, 18, 2013
10/18/13
12:00
PM ET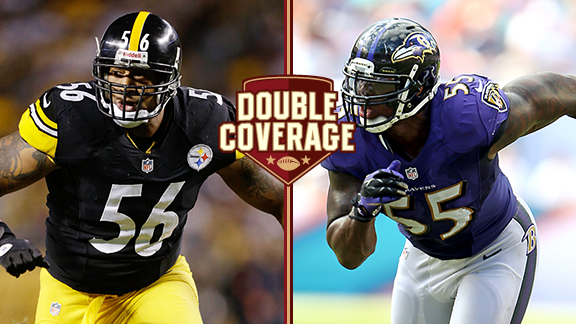 AP PhotosRecords matter little when LaMarr Woodley and the Steelers meet Terrell Suggs and the Ravens.
.
The
Baltimore Ravens
and the
Pittsburgh Steelers
renew their storied rivalry Sunday at Heinz Field, and both teams are badly in need of a win. That should only increase the intensity, which is never an issue anyway when these teams meet.
What is a bit unfamiliar, however, is how both teams have struggled this season. The 1-4 Steelers went winless in September. The defending Super Bowl champion Ravens are just 3-3 and have issues on both sides of the ball.
ESPN.com Ravens reporter Jamison Hensley joins me for Double Coverage, and, Jamison, one thing I have wondered is whether this rivalry has lost some of its luster. Forget that the teams are a combined 4-7 and simply consider some of the faces of the rivalry who are either retired or playing elsewhere.
When I think of Ravens-Steelers, I see
Ray Lewis
ending
Rashard Mendenhall
's rookie season with a devastating hit, and
Ed Reed
covering all kinds of ground in the secondary. I see
Hines Ward
infuriating
Bart Scott
to the point that Scott threatened to kill him, and
James Harrison
's breakout game against Baltimore in his first season as a starter.
Game-winning drives engineered by
Ben Roethlisberger
and
Joe Flacco
have been a constant in this rivalry since 2008, but I'm wondering if raw emotion and animosity are still as much a part of this game as in years past.
Jamison, you have seen your share of alley brawls masquerading as football games between the Steelers and Ravens. What is your take on where the rivalry is with their first meeting of the 2013 season just days away?
Hensley:
I agree with you that the "bad blood" between these teams is significantly lower these days.
Daryl Smith
, who replaced Ray Lewis, isn't a trash-talker. He isn't a talker, period. And
Antonio Brown
isn't going to knock a cornerback down on a running play. This is what got under the players' skin.
The only player on the Ravens who will carry the emotional torch is linebacker
Terrell Suggs
. He once wore a shirt in training camp that had a cartoon Raven flashing a certain finger at the Steelers' logo. Suggs has never hidden the fact that he has an extreme dislike for Pittsburgh, which is why he probably plays so well against the Steelers. Honestly, rivalries are only as good as the stakes involved. The Ravens and Steelers are usually playing for first place in the division or in the playoffs. With neither team holding a winning record, the aura of Sunday's meeting isn't the same as previous years.
This rivalry is also considered one of the most physical in all of sports. These two franchises were built on running the ball and pushing defenders off the line. But the days of
Jamal Lewis
and
Jerome Bettis
are long gone. The Ravens have the NFL's 27th-ranked run game and the Steelers are 31st in rushing yards per game. What's been the biggest problem with the Steelers' ground attack this season?
Brown:
The biggest issue is that the Steelers' plans for the running game were blown up when
Le'Veon Bell
went down with a mid-foot sprain in the second preseason contest. The Steelers simply don't have a viable No. 1 back behind him, and problems with the running game were compounded when Pro Bowl center
Maurkice Pouncey
went down in the opener with a season-ending knee injury.
The Steelers haven't rushed for 100 yards in a game since the last time they played the Ravens at Heinz Field, and that was almost a year ago. Despite that and despite the fact the Steelers are averaging a feeble 61 rushing yards per game, the arrow for the running back, to paraphrase coach Mike Tomlin, is pointing up.
Bell has two NFL starts under his belt, and while his numbers haven't been great, he looks the part of a No. 1 back, and he has impressed the Steelers with his physical running style. He is only going to get better with experience, and it looks like the Ravens are vulnerable against the run this season.
As you mentioned earlier, the Ravens aren't exactly putting on clinics when it comes to running the ball, and it is shocking, at least from this end, to see how pedestrian
Ray Rice
has looked. He is one of the few backs who had success against the Steelers when they were one of the top run defenses in the NFL. Is this the kind of opponent, the kind of game that he needs to get back on track?
Hensley:
Rice certainly hopes so. He has gained more than 36 yards rushing just once this season, and has not averaged more than 3.4 yards a carry in any of his five games. After being limited to 34 yards on the ground last Sunday, Rice acknowledged that he's "a little frustrated."
Unlike in previous seasons, Rice has been more hesitant when running to the line. Some of it can be traced back to poor blocking by the offensive line. Coach John Harbaugh said the team is changing its run scheme because the Ravens can't keep allowing their running backs to get hit behind the line of scrimmage. But Rice is partly to blame as well. He lacks the same explosiveness and power. He's broken only three tackles this season, and is averaging 1.1 yards after contact (39th in the NFL). The Ravens are still committed to the run, but Rice can't keep getting stopped for just a couple of yards.
The offensive line has been a problem in pass protection, too. This is why the Ravens traded multiple draft picks to Jacksonville for
Eugene Monroe
, who replaced
Bryant McKinnie
in the starting lineup Sunday. Flacco has been sacked 19 times this season; only three quarterbacks have been dropped more. Is there any chance the Ravens can keep a safe pocket against the Steelers?
Brown:
The Steelers' pass rush hasn't been great this season, and they had just four sacks before dropping
Geno Smith
three times in their win over the Jets last Sunday. Rookie
Jarvis Jones
is still adjusting to the NFL game, sharing time at right outside linebacker with
Jason Worilds
.
The Steelers have been getting pressure from their defensive ends, and
Cameron Heyward
could be one to watch Sunday. He has overtaken
Ziggy Hood
as a starter and really seems to be coming into his own in his third season. I will be interested to see how frequently the Steelers blitz Flacco. Other than
Torrey Smith
, no one in the Ravens' receiving corps really scares you, and that could allow the Steelers to leave their defensive backs in single coverage a lot and really go after Flacco.
That leads me to my final question: Are Flacco's early struggles related to his supporting cast more than anything else?
Hensley:
Flacco would be the first to tell you that he hasn't performed as well as the Ravens need him to. But he really has become a victim of circumstance. It starts with the run game, which has struggled to get yards on first and second downs. That leads to third-and-long situations, where Flacco has become a piņata at times because of the pass-protection problems. Plus, Flacco's top two targets from last season --
Anquan Boldin
(traded) and
Dennis Pitta
(injured reserve-designated for return) -- are gone. Two of his wide receivers (
Marlon Brown
and
Deonte Thompson
) are undrafted players, and another (
Tandon Doss
) had been cut before the regular season started.
Some of Flacco's mistakes have come when he's tried to throw into tight windows like he used to do with Boldin and Pitta. The result has been interceptions. Of all the quarterbacks who have thrown for more than 1,500 yards this season, only three have more interceptions than touchdowns: Flacco,
Matt Schaub
and
Eli Manning
. Flacco has had most of his trouble on the road this season, but he has won his last three regular-season games at Heinz Field. Before Flacco, the Ravens had won four times in their 13 trips to Pittsburgh.
How would you rate the play of the other Super Bowl-winning quarterback in the division. How much has Big Ben factored into the slow start?
Brown:
Roethlisberger has played reasonably well, especially considering how handcuffed he was in the first two games because of injuries. The only loss you can put on him is the one against the Bears, when he committed four turnovers, and those games are few and far between for him.
Roethlisberger has played really well since then, nearly bringing back the Steelers from a 17-point deficit against the Vikings in London, and then playing turnover-free ball against the Jets last Sunday while also completing nearly 77 percent of his passes.
I think the Steelers win if they protect Roethlisberger reasonably well. The games in which they have really struggled against the Ravens were when Roethlisberger had no chance against Baltimore's pass rush.
.
October, 18, 2013
10/18/13
12:00
PM ET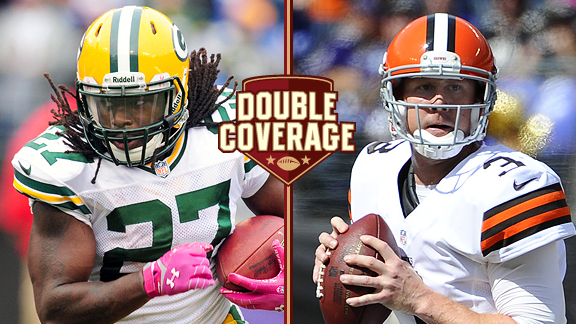 USA TODAY SportsThe Packers may have to rely more on their run game, while Browns QB Brandon Weeden seeks to recover from a forgettable outing.
The
Green Bay Packers
have made it past a difficult stretch in which they played four playoff teams from last season in their first five games.
And they came out of it with a respectable 3-2 record.
The
Cleveland Browns
, despite going from
Brandon Weeden
to
Brian Hoyer
and now back to Weeden at quarterback, also aren't out of anything yet at 3-3.
ESPN.com Packers reporter Rob Demovsky and Browns reporter Pat McManamon break down the matchup:
McManamon:
Rob, what will Green Bay do at receiver with all those injuries, and how much will it affect the offense?
Demovsky:
It's bound to have a significant impact.
Randall Cobb
more or less became the focal point of the passing game last season and if anything, that intensified this season. Sure, he's only a slot receiver and the Packers still have the deep threat of
Jordy Nelson
on the outside. But in this offense, a lot of those quick-hit passes -- especially against teams that blitz -- are directed to the inside. No team used more three-receiver sets than the Packers had until Cobb went down last week against the Ravens. They had used a three-receiver set on 90 percent of their snaps. That number likely will go down beginning this week against the Browns. They might have to rely on their new-found running game more than ever. But with fewer threats in the passing game, teams might be able to load up to stop running back
Eddie Lacy
.
The Browns have offensive issues of their own, Pat. Brandon Weeden's turnovers in the loss to the Lions looked like killers, especially that backhanded, underhand flip. How can they get him to play smarter?
McManamon:
That backhanded, underhand flip will live for a long time in the annals of Cleveland Browns misplays since 1999, Rob. A lengthy list just got longer. As for getting him to play smarter, that's the challenge. And the challenge has gone on for 18 starts. Weeden actually started fairly well as a 29-year-old rookie, but he struggled the end of last season and this season he's played in fits and starts. Which of course won't be good enough against Green Bay. With Brian Hoyer injured, the Browns have few other options -- it's not like
Tom Brady
is on the streets waiting for a job -- so they will stick with Weeden. But you have to wonder whether the Browns aren't coming to the conclusion that what they see is what he'll be when it comes to this 30-year-old quarterback.
Rob, Weeden does not read the rush well and does not move well. The Packers are ninth in the league in sacks. Is that yet another bad recipe for Weeden and the Browns offense?
Demovsky
: It remains to be seen whether they can keep up their sack pace. They did it without
Clay Matthews
last week, getting five sacks at Baltimore, but now they're going to be without another outside rusher,
Nick Perry
. Matthews and Perry each have three sacks on the season, which ties
A.J. Hawk
for the team lead. At some point, those injuries have to slow down their pass rush. The one thing that's helping them is they're playing the run very well, probably the best they have since they led the league in rushing defense in 2009. After shutting down
Ray Rice
last week, they're up to third in the NFL in rushing yards allowed per game (78.2). That's putting teams in a lot of third-and-long situations, which allows defensive coordinator Dom Capers to blitz. That's how Hawk got all three of his sacks against the Ravens.
Perhaps the Browns can help protect Weeden if they run the ball effectively to keep the Packers from rushing like crazy. What are their prospects for doing that?
McManamon:
Running the ball would protect Weeden. But it helps to have a ... well ... a running game. At present, the Browns are in make-do mode with the running game, and as the season continues that will more and more become a problem. Since the trade of
Trent Richardson
the Browns have relied on aging
Willis McGahee
, young
Bobby Rainey
and fullback
Chris Ogbonnaya
. These guys give effort, but there's only so much they can give. McGahee can't run outside, Rainey is inexperienced and Ogbonnaya is what he is. The Browns rank 22nd in the league by running for 86.8 yards per game -- though they are averaging 3.9 yards per carry. If the Browns want to run, they will have to commit to it and pound it out, something I am not sure they can do.
Rob, the Browns have had 19 starting quarterbacks since 1999 -- and it appears next year or soon after that number will hit 20. Do the Packers and their fans realize just how fortunate they have been these many years to have
Brett Favre
and
Aaron Rodgers
?
Demovsky:
They should. There are only a handful of organizations who can say they've had the kind of quarterback transition that the Packers had. The 49ers with
Joe Montana
to
Steve Young
come to mind. Maybe the Colts have that now with
Andrew Luck
following
Peyton Manning
. Not only was Favre a great quarterback, but he was there week in and week out. Rodgers is pretty much the same way. Those guys rarely get injured and when they do, they still play.
Most Packers fans here are still fond of Mike Holmgren, for leading them to the Super Bowl XXXI title. His tenure with as a Browns executive was much shorter. What impact, if any, did he have on the organization?
McManamon
: Let's just say the feelings for Holmgren are a lot warmer in Green Bay -- odd as that sounds -- than in Cleveland. Many fans feel Holmgren's epitaph with the Browns should be "As a president, he was a great coach." A lot of that is frustration at constant losing. Some is frustration at the job title and salary scale Randy Lerner gave Holmgren. More still that Holmgren never took on the coaching duties himself. On balance, Holmgren's tenure was no worse than many, and better than some. He and GM Tom Heckert brought in some good players who are helping the team win now. But with any regime change comes more change, and Joe Banner has gotten rid of some of Holmgren's guys -- notably Richardson. Holmgren's biggest gamble was selecting a quarterback in the first round a year ago who is now 30. But Weeden clearly would have been helped by more continuity in the front office.
.
October, 17, 2013
10/17/13
12:00
PM ET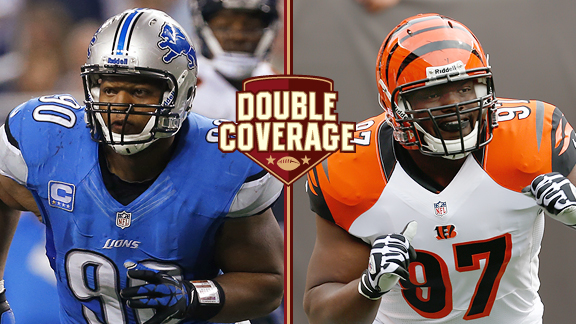 AP PhotoNdamukong Suh and Geno Atkins lead two of the league's best front fours.
The
Detroit Lions
have a chance to solidify themselves for a playoff push. So do the
Cincinnati Bengals
. They may be in different conferences, but this game should be a good test for both teams as to where they stand in the larger picture of the NFL.
Both teams lead their divisions, and both won on the road last week. And in the wacky world of the NFL, Detroit has beaten both teams Cincinnati has lost to (Chicago and Cleveland) while the Bengals have beaten one of the two teams the Lions lost to (Green Bay).
As for this week's game, Bengals reporter Coley Harvey and Lions reporter Michael Rothstein break down what should be an interesting matchup.
Rothstein:
Detroit's cornerbacks continue to either be banged up (starters
Chris Houston
and
Rashean Mathis
) or really young (rookie
Darius Slay
). How much of a problem is
A.J. Green
going to pose in this situation? Does he feast on these matchups?
Harvey:
Given the Lions' lack of experience and consistency at cornerback, that could be a problem for Detroit this weekend. Or maybe it will be a good thing. Here's what I mean: Green does well when he's going one-on-one against particular defensive backs, and he seems to relish having opportunities to expose both really good and really poor corners. Against Buffalo's
Leodis McKelvin
on Sunday, Green caught six passes for 103 yards and a touchdown. He was targeted 11 times as the Bengals went more to their receivers than they had the week before. As good as McKelvin is, though, he's no
Charles Tillman
, whom Green caught nine passes against in Week 1. He also isn't
Joe Haden
, who allowed Green to catch seven balls but held him to just 51 yards in Cleveland three weeks ago. So Detroit having a revolving door at corner could be problematic since Green has had his opportunities against some of the league's best this season.
As far as the inexperience and inconsistency at the position being a good thing for the Lions, I say that because that might prompt Detroit to double-team Green. As we've seen this season, Green struggles when safeties are able to come over the top and help out in coverage against him. If double coverage ends up being a cornerstone of the Lions' game plan, Green could have a tough day.
We'll stick with receivers, and I'll ask you, Michael, about
Calvin Johnson
. We know he's hobbled a bit with that knee injury, but how much do you think he's looking forward to squaring off with a guy like Green, who also is considered one of the game's best receivers?
Rothstein:
Johnson seems to enjoy seeing other top receivers on the field, but he gets more excited to see topflight opposing cornerbacks like
Patrick Peterson
. For instance, he and Peterson swapped jerseys after their Week 2 game.
His knee is a concern. He didn't quite look like himself against Cleveland on Sunday, dropping a couple of passes and not being his typical deep threat. But when he is out there, teams still have to pay extra attention to him because he is the top receiver in the game.
Johnson's presence changes a lot, even if he can't go deep. Detroit can still use him on underneath routes, and he's still likely to draw the double-team or added attention, especially in the red zone. As long as he can do some things and run some routes, Johnson will be out there and making a difference.
That leads me to this question -- how will Cincinnati's defense handle both the questionable health of Johnson combined with everything else Detroit's offense has to offer?
Harvey:
Cincinnati's top corner,
Leon Hall
, likely will draw the bulk of reps against Johnson, even though, at 5-foot-11, he stands some six inches shorter than his 6-5 counterpart. It'll be interesting to see how Hall and the other defensive backs handle the threat of the deep ball, assuming Johnson can run better and get underneath those passes this week. If he's forced to go underneath, the Bengals feel confident their cover linebackers --
Rey Maualuga
,
Vontaze Burfict
and
Michael Boley
-- and cover safety
Taylor Mays
can disrupt short- to intermediate-range passes.
When it comes to stopping
Reggie Bush
in the run game, the Bengals have the type of defensive front that will make such a matchup intriguing. Last week, against the No. 3 rushing offense in the NFL, they gave up 130 yards on the ground but limited
Fred Jackson
to just 35 yards on 10 carries. With fewer big-play threats in the Lions backfield, the Bengals have to be glad they're keying primarily on one running back this week. That said, it'll be interesting to see what they do with linebacker
James Harrison
. He factored heavily in the run defense last week, but with the passing threat Detroit possesses, he likely won't be on the field as much this week.
Speaking of defensive players,
Ndamukong Suh
continues to be a disruptive force in the Lions' interior. Statistically speaking, though, it seems he wasn't very productive last week. Any idea what happened there, Michael?
Rothstein:
That hasn't been unusual. His numbers have not been astronomical, but he picks up double-teams on almost every play, it seems. So just the attention he draws assists everyone. There have been hurries that have led to interceptions as well. He is playing extremely well and very consistent.
Has
Andy Dalton
said anything about Suh this week? They had a prior run-in, and a hit on
Brandon Weeden
last week is being looked at by the league.
Harvey:
Dalton was asked about the body slam Suh gave him during the 2011 preseason opener. But being the polite politician that he is, the quarterback didn't show any ill will toward Suh. Quite the contrary, actually. Like several of his offensive linemen, Dalton simply called Suh a good player and credited the way he passionately plays the game. Though few linemen wanted to make the Dalton-Suh incident a storyline this week, they will have that play in the back of their minds, rest assured.
Oh, and is there a week when the league isn't looking at one of his hits?
Final question for you, Michael. Why does Bush have only one rushing touchdown this year? Is that a function of being part of a good passing offense or something else?
Rothstein:
It's a misleading number, Coley. He would have had two rushing touchdowns in Week 1, but both were reviewed and taken away at the 1-yard line.
Joique Bell
rushed both of them in instead. And he has two receiving touchdowns, so he is finding the end zone. Detroit is more of a passing team that likes to employ screens with its running backs, so that could be why those numbers look strange. But Bush is having a good season, no doubt.