AFC North:

2013 NFL Week 8 Double Coverage
October, 25, 2013
10/25/13
12:30
PM ET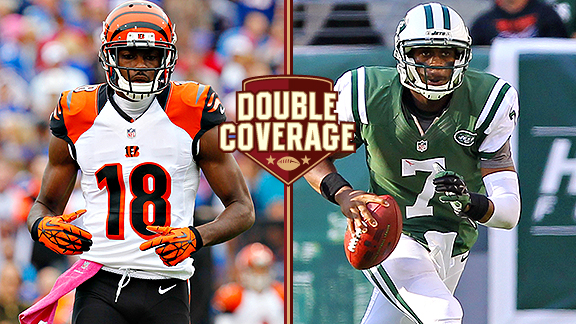 USA TODAY SportsA.J. Green, left, and the Bengals hope to stay hot against Geno Smith and the surprising Jets.
Rookie quarterbacks have caused the
Cincinnati Bengals
problems in recent seasons, as their 7-8 record against them since 2008 attests. On Sunday afternoon in the familiar confines of Paul Brown Stadium, they hope to pull that record even when
Geno Smith
and the
New York Jets
come to town.
Just like the Bengals' own young quarterback, Smith has found the winning formula the past five weeks, winning three games in that span. All four of the wins he has engineered this season have become victories because of game-winning drives he has led. While there might be other factors at play that are contributing more to New York's 4-3 record, there isn't much denying that Smith has had some hand in it, too.
As they interrupt a four-cities-in-five-weeks road tour with this home game, the Bengals are looking to extend their winning streak to four. In this edition of Double Coverage, ESPN.com Bengals reporter Coley Harvey and Jets reporter Rich Cimini look at what could contribute to that happening or to Cincinnati losing and dropping to 5-3.
Coley Harvey:
So Rich, Sunday's game will feature two of the three players in the league named Geno. Bengals defensive tackle
Geno Atkins
and Jets quarterback Geno Smith have earned rather impressive headlines this season. In Atkins' case, it was for signing his $55 million contract extension five days before the season opener. Recently, Smith's headlines have come from the four game-winning drives he's led. Both are good young players, but something will have to give. How confident are Smith and the Jets that they'll be able to keep Atkins and the rest of Cincinnati's defensive line out of their backfield?
Rich Cimini:
You just hit on one of the keys to the game, Coley. The Jets have allowed a lot of sacks (25), but I think many of those can be attributed to Smith, who tends to hold the ball too long. That said, the line needs to do a better job, especially the left side. Tackle
D'Brickashaw Ferguson
and rookie guard
Brian Winters
allowed two sacks apiece last week, bringing their totals to four and three, respectively. That's not a good number for Winters, who has started only three games. I don't see how he handles Atkins; he's simply not ready for that kind of challenge this soon. There are some tough matchups across the board for the Jets. The coaches will have to game plan ways for Smith to get the ball out quickly. I see
Andy Dalton
is coming off a big game. Is the Bengals' offense for real?
Harvey:
It's tough to really answer that question, Rich. One week the Bengals' offense looks for real, the next, it looks like a cheap imitation of its former self. Thankfully for the Bengals, though, the ineptitude they have shown offensively at times this season hasn't shown up in the past three weeks. You could say Dalton is a big reason why. He is, after all, coming off back-to-back 300-yard passing performances. The more likely reason this offense has started taking off, though, lies in something Pro Bowl left tackle
Andrew Whitworth
talks about often: the apparent "matchup problems" the Bengals create. In addition to receiver
A.J. Green
, the Bengals have quality second- and third-tier receivers in
Mohamed Sanu
and
Marvin Jones
, a pair of ball-seeking tight ends in
Jermaine Gresham
and
Tyler Eifert
and a balanced rushing attack led by
BenJarvus Green-Ellis
and the shifty
Giovani Bernard
. Cincinnati has finally figured out how to use all these weapons, and it's paying off.
The Bengals' offensive line has been a group of unsung heroes of sorts, too. They had a fairly easy challenge last week preparing for Detroit's line-first pass rush. Just how complex are the looks the Jets' multiple defensive fronts give teams this season? Could the Jets' defense be a key to this game?
Cimini:
Definitely. The Jets are ranked fourth in total defense, due largely to the line. We're witnessing the emergence of something special. The linemen are all good, and they're all young, starting with
Muhammad Wilkerson
, who is on his way to his first Pro Bowl. The next-best is rookie
Sheldon Richardson
, a high-energy player who shows up in the running game and the passing game.
Quinton Coples
is listed as a rush linebacker, but he's often in a three-point stance. He's coming off his best game of the season. This is what happens when you draft a defensive lineman in each of the past three first rounds. The Jets will control the Bengals' running game, and they will get after Dalton on obvious passing downs, but they're vulnerable to quick, short passes. That's how you neutralize the Jets' big fellas.
The Jets did a good job last week against the Patriots'
Rob Gronkowski
, but now they face a double threat at tight end with Gresham and Eifert. How are they being utilized?
Harvey:
So that's the way to neutralize the Jets' front, huh? Bad news for Gang Green: Short, quick passes are the Bengals' forte. Dalton has thrived throwing them all season. On passes that have traveled 5 yards or less, he has the league's highest completion percentage at 76.7 percent. On 66 completions from that range, he has thrown for 500 yards. Of those, 316 have come after the catch.
Eifert and Gresham certainly are major contributors to that short-passing game, grabbing balls off flare screens and slants across the middle. Last week, though, Eifert caught his first touchdown pass of the season when he ran a seam route deep into the Lions' secondary for a 32-yard reception. While they are tight ends and do their share of pass blocking and run blocking, Eifert and Gresham are true threats in the Bengals' passing game, too.
Going back to Geno Smith for a moment. What has been the trick the past few weeks to him leading these game-winning drives?
Cimini:
The trick? I go back to something Rex Ryan said a few weeks ago. I asked him what he learned from his first experience with a rookie quarterback (
Mark Sanchez
, 2009), and he said, "Make sure you have a great defense." So, yes, Smith has enjoyed some dramatic moments, but they're 4-3 because of the defense. But since you asked about Smith ...
He became the first rookie since the merger in 1970 to register four game-winning drives in the fourth quarter or overtime in his first seven games. Clearly, his signature drive came against the Falcons, when he drove them to the winning field goal in the final two minutes. In the other three game-winning drives, he attempted a total of five passes, including a 69-yard touchdown strike. Obviously, we're not talking about a lot of passing shows. But he never gets visibly rattled, he always seems in control -- good qualities to have. Do you think Smith could have some success against the
Leon Hall
-less secondary? The Lions'
Matthew Stafford
picked them apart for 357 yards.
Harvey:
It's certainly possible. The Bengals are going to be bringing in one of their own young players, second-year cornerback
Dre Kirkpatrick
to perform some of the responsibilities that had been Hall's. Kirkpatrick will be playing some in the slot, he'll be playing some outside. You'll see recently signed veteran
Chris Crocker
taking some of Hall's snaps.
Adam Jones
will be getting some, as well. And assuming he's healthy enough to play,
Terence Newman
will be getting his share of opportunities to lock down the Jets' receivers. In short, without Hall, it'll be a cornerback-by-committee setup for the Bengals. It's worked before, most notably against the Patriots in Week 5, when Hall was out with a hamstring injury. The week before, the Bengals still held the Browns in check defensively, even though they ended up losing that game 17-6.
Cincinnati's main concern, judging from last week's Jets-Patriots game, seems to be stopping New York's running game. A lot of people here this week have been comparing the Jets to the Bills with respect to the potency of their multi-back running game. As someone who will see the Bills twice this season, do you think that's a fair comparison to make for a defense that's used to facing truer pass-first offenses?
Cimini:
The Jets use a two-man committee,
Bilal Powell
and
Chris Ivory
. In that sense, they compare to the Bills. In terms of ability, they're not as potent as the Bills. The Jets don't have a
C.J. Spiller
-type, meaning a home-run threat. They are the ultimate grind-it-out rushing attack. Their most explosive back,
Mike Goodson
, blew out his knee two weeks ago, so he's done for the seaosn -- and they will miss his ability to threaten the perimeter. Powell and Ivory are a nice tandem, each capable of a 100-yard rushing day on any given Sunday, but I wouldn't say either one possesses special qualities. Powell is more of a slasher than Ivory, who reminds me of a poor man's
Marshawn Lynch
. In other words, he runs with some nasty. You won't see them running too often outside the tackles. They also mix in some Wildcat and read-option, maybe five to 10 plays a game. Recently signed
Josh Cribbs
, no stranger to the AFC North, got a couple of reps last week in the Wildcat. I wouldn't sleep on him if I were the Bengals.
There was a lot of chatter in New York before the draft about the possibility of picking Bernard. What has he brought to the Bengals' offense?
Harvey:
Yeah, I don't think anybody in Cincinnati is going to sleep on Cribbs. They know better than most teams just what he can do. With respect to the Jets' overall rushing game, it was kind of surprising to hear Bengals linebacker
Vontaze Burfict
almost nonchalantly dismiss it this week. He said he didn't think the Bengals would have much issue stopping it, saying that after "15, 20 plays" the Jets would realize it wouldn't work. Big, bold talk from the NFL's leading tackler. Then again, Burfict is the one who was scolded this training camp for bringing Bernard to the ground during a practice drill, so maybe he really can talk that talk.
Bernard really is a special player, Rich. New York had good reason to be excited about possibly drafting him. He's quick, shifty, has great acceleration and is a home run threat. His two receiving touchdowns have come on short screen passes that ended up becoming longer gains. Both scores were caught at the line of scrimmage and resulted in 20- and 27-yard touchdowns, respectively. He certainly brings a unique dimension to the passing game.
This game features a pair of head coaches who know one another quite well. When Bengals fans, like most people outside New York, think Rex Ryan, they think of his hijinks with the media and his always-second-guessed decisions. Who is Rex the coach, in your opinion?
Cimini:
Ryan has changed this season, Coley. He's not the walking sound bite he was in his first few years. A few reasons for that, I think: First, he has a new boss, general manager John Idzik, an old-school, buttoned-down guy who doesn't care for all the yapping. Obviously, Ryan is coaching for his job, so in the interest of self-preservation, he has conformed to fit Idzik's head-coaching model. Second, I think Ryan realized before the season this was going to be a very young team. He knew he wouldn't be doing the players any favors by making bold predictions. Maybe you can do that with a veteran team, as he did in 2009 and 2010, but it doesn't make sense to put that kind of pressure on kids. He also has taken on more of a teaching role, running the defense on a day-to-day basis. So far, it's all working out. I don't think there's any doubt that, through seven games, he's on his way to a contract extension.
.
October, 25, 2013
10/25/13
12:00
PM ET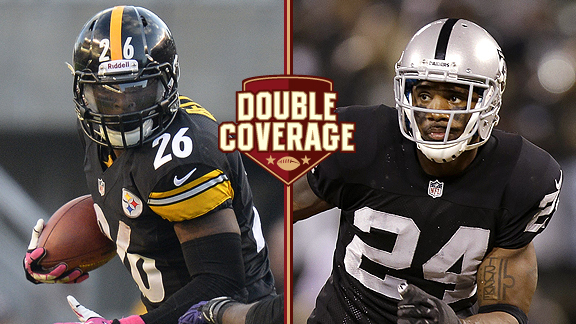 AP PhotoLe'Veon Bell has given the Steelers a running game while Charles Woodson and the secondary will need to try to generate some turnovers.
A cross-country rivalry as heated as it is old school is renewed between the
Oakland Raiders
and
Pittsburgh Steelers
on Sunday at the O.co Coliseum.
The Raiders (2-4) are coming off a much-needed bye week in which they were able to address their numerous injuries, while the Steelers (2-4) seem to have righted their ship with two straight wins after an 0-4 start.
ESPN.com Raiders reporter Paul Gutierrez and Steelers reporter Scott Brown break down the matchup:
Gutierrez
: Hey, Scott, there are several obvious storylines between these two old rivals -- the Immaculate DE-ception, as it's called in the streets of Silver and Blackdom, the Criminal Element, as Chuck Noll put it to George Atkinson and the Soul Patrol, the Raiders beating Cliff Stoudt to send Terry Bradshaw into retirement, etc. But now there seems to be another focal point rising: the emergence of Raiders quarterback
Terrelle Pryor
, a Steel City kid who grew up in nearby Jeannette and is a huge fan of the Steelers. He told me he was a big fan of
Ben Roethlisberger
and would have to tuck away his boyhood fandom feelings when facing the Steelers. So my question is this -- while we know Pryor is seen as a sort of tainted figure in Columbus, Ohio, how is he perceived in Pittsburgh? Remember, he initially committed to play college hoops at Pitt for Jamie Dixon.
Brown
: Wow, that seems like ages ago that Pryor was a Pitt basketball recruit, but he sure could play. His basketball and football exploits at Jeannette make Pryor one of the greatest athletes ever to come out of Western Pennsylvania. There are still a ton of people here rooting for him -- in almost every other game. Pryor's ties to the Steelers go beyond cheering for Roethlisberger. Pryor's mentor in high school was Roethlisberger's longtime backup,
Charlie Batch
, and the Steelers gave Pryor a look before the 2011 supplemental draft.
Pryor represents a completely different challenge than Baltimore's
Joe Flacco
-- whom the Steelers faced last weekend -- because of his athleticism. Pryor certainly isn't the passer Flacco is, but his running ability will tax the Steelers' defense like no quarterback they faced to this point. Pryor seems to be going through the normal ups and downs for a first-year starter at quarterback, and that leads me to two questions: Have the Raiders finally found a quarterback to build around, and what does Pryor need to do to beat the Steelers?
Gutierrez
: I've said it before and I'll say it again: If Pryor is not Mr. Right for the Raiders, he is most definitely Mr. Right Now. The Raiders have gone all-in with the man fans call TP2 -- even changing the offense to become more of a zone-read scheme to take advantage of his skill set. Quarterback coach John DeFilippo told me he actually wants Pryor to run more to take advantage of his natural gifts. And yet, there is no doubt the Raiders would love to have the prototypical pocket passer going forward. Pryor, it should be noted, is working hard to become that quarterback, which is one of the reasons he's been working with quarterback guru Tom House on his passing mechanics. If Pryor becomes a quarterback who can run, rather than a running quarterback who can pass, then yes, Pryor is the man for the Raiders going forward. To beat the Steelers, Pryor has to keep their defense off balance, and not get rattled like he did in Kansas City. Then again, much of that was because of his offensive line getting liquefied.
As such, it seems the Steelers have found themselves and gotten their legs under themselves with two straight wins. They get their groove back, or is it a lot of fool's gold?
Brown
: It is fool's gold if they don't find a way to solve the Raiders in Oakland. When the Steelers have been good they have always found a way to win games such as this one. That's not taking anything away from the Raiders, either. I think their defense has played well, Pryor has a ton of promise and the Coliseum is a tough place to visit. But the Steelers should have the clear edge in quarterback, and a veteran defense should be able to contain Pryor and force the first-year starter into a turnover or two. The Steelers have won their last two games because they have been able to run the ball, stay away from turnovers and not lean too heavily on Roethlisberger. Defensively, they have not given up the big play and have forced teams to kick field goals after they have driven into Steelers territory. I need to see the Steelers employ that same formula for another week before I am ready to say they have found their groove. The Raiders have been coming up with their share of takeaways, and my question is: Why have they been so successful in generating turnovers? Do they need to win the turnover battle by a decisive margin to beat the Steelers?
Gutierrez
: To quote Blackstreet, no diggity, no doubt (I know that's No. 1 on your iPod, right?). Here's the funny thing about the Raiders and takeaways -- they did not have a single interception until Week 5, against San Diego, when they picked off
Philip Rivers
three times. Oakland has not had one since (granted it has played only one game since, at Kansas City, and then enjoyed the bye). In fact, the Raiders have a turnover differential of zero, with nine takeaways and nine turnovers. Even coach Dennis Allen stressed this week to the media that the turnover battle was going to be huge. And really, it always is. But when you have little depth and are one injury away from catastrophe on the offensive line, turnovers can be that proverbial straw.
Speaking of which, the relationship between Roethlisberger and Todd Haley seemed to teeter on the brink last year. Now, in their second year working together, have quarterback and offensive coordinator found common ground?
Brown
: I'm not ready to say the two are golfing buddies yet, even though they would make a heck of a team in a better-ball event. But there appears to be a whole lot more trust and give and take between the two this year. Roethlisberger talked about it earlier this week when he successfully lobbied for the shovel pass that the Steelers installed for the Ravens game to go to tight end
Heath Miller
instead of a wide receiver. He said Haley has been receptive to those kinds of "tweaks," as Roethlisberger has been when Haley has wanted to make a change to a play. The best thing for their working relationship is if the Steelers continue to win, and I think we're finally seeing what Haley can do when he doesn't have one arm tied behind his back as a playcaller. That was the case at the beginning of the season because of injuries.
Darren McFadden
had a big game against the Steelers last year. Does he have another one in him or do the Raiders have too many issues up front to run the ball effectively against the Steelers?
Gutierrez
: Here's the thing about McFadden: He still has home run potential, but there are far too many O-fers mixed in there. Yes, he had a big day against the Steelers last year, rushing for 113 yards on 18 carries. But 64 of those yards came on one run, a play then-quarterback
Carson Palmer
audibled into and McFadden did not realize, and if you take out that one run, his career-low 3.3 yards per carry for the entire 2012 season drops to 2.9 yards. It's the same this season as 108 of his 267 rushing yards have come on four long runs against Jacksonville. Remove those bursts, and he's averaging 2.4 yards per carry. Unfair? Maybe. Small sample size? Yup. But you can make numbers do whatever you want, and with McFadden, who is in a contract year, he needs to be put in space to make plays. It's really that simple. A beat-up O-line is not going to help him, either.
.
October, 25, 2013
10/25/13
12:00
PM ET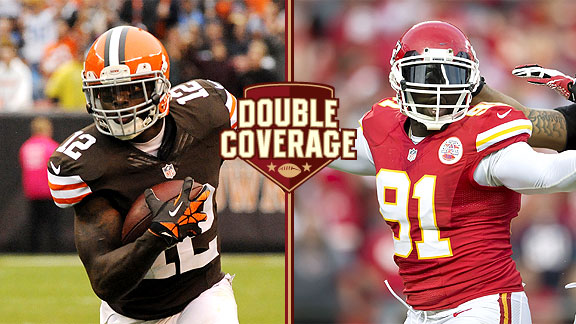 Getty ImagesJosh Gordon and the Cleveland offense have their work cut out for them against Tamba Hali and the undefeated Chiefs.
The 7-0
Kansas City Chiefs
are the NFL's last remaining unbeaten team and could use a victory over the
Cleveland Browns
on Sunday at Arrowhead Stadium. The Chiefs are one game ahead of the
Denver Broncos
in the AFC West race, and following a Nov. 3 game against the Bills in Buffalo, their schedule takes a decidedly more difficult turn.
The Browns rallied from an 0-2 start to win three consecutive games, but after losing quarterback
Brian Hoyer
for the season with a knee injury, they've lost two straight, allowing 31 points in each loss.
ESPN Chiefs reporter Adam Teicher and Browns reporter Pat McManamon discuss Sunday's game.
Teicher:
Browns coach Rob Chudzinski announced Wednesday
Jason Campbell
will take over for
Brandon Weeden
at quarterback. This is the third time in four weeks that the Chiefs will face an opponent starting a different quarterback than the week before. Against an aggressive defense that gets after the passer and creates turnovers like Kansas City's, will the Browns benefit from a change to Campbell?
McManamon:
In this case, the Browns might be better off pondering the single wing, because neither Campbell nor Weeden is especially adept at avoiding the rush. In many ways, this is the worst possible matchup for the Browns' quarterbacks. One hasn't played, and the other's confidence is lacking in a big way. Campbell is probably a little more mobile than Weeden, but that's because Weeden is more like the Statue of Liberty. The way the Browns are at quarterback, there's no reason to think the Chiefs won't add significantly to their sack total.
While we're discussing sacks and the Chiefs' defense, Adam, what is the key to that sacking onslaught this season? Is it players, new players, new scheme, speed, a combination of all or something different? Did you see this coming?
Teicher:
I can't say I saw this coming, but they had the pieces to have a strong pass rush. They just needed better direction, and they're getting that from Bob Sutton, their new defensive coordinator. They're creative with their blitzes but are getting pressure even when they send four or fewer players after the quarterback. The Chiefs have 35 sacks, and 24 have come when rushing four or fewer players. The key is nose tackle
Dontari Poe
, who is generating a nice, consistent push up the middle.
Tamba Hali
and
Justin Houston
are good edge pass-rushers, but the Chiefs have a lot of other guys capable of putting pressure on the quarterback. Neither inside linebacker
Derrick Johnson
nor strong safety
Eric Berry
blitz a lot, but they're effective when they do.
Statistically, the Browns look like they're playing good defense -- solid against the rush, opposing quarterbacks not lighting it up against them. So how is it they're allowing a little under 30 points over their past three games?
McManamon:
File this under the old "numbers can be deceiving" category. It's tough to say a team that has given up 24, 31 and 31 points in the past three weeks is playing good defense because points allowed is the single most important defensive statistic. The Browns' main problem is third downs. They can't get off the field. Overall, the Browns are tied with Seattle for the league lead in yards per play (4.5), but they are 29th in third downs (opponents converting 45.3 percent). Because of that, the Browns have 492 defensive snaps, fourth highest in the league. That's what happens when a team's offense is struggling and its defense can't get off the field.
Speaking of deceiving,
Alex Smith
completes 58 percent of his throws, 28th in the league. His yards per attempt ranks 29th (6.28). How are the Chiefs undefeated at this point with their quarterback so low in these important numbers?
Teicher:
That speaks to the strength of their defense. Defense has carried the Chiefs through these seven games, and offense has just been along for the ride. But for the Chiefs to remain undefeated much longer or go deep into the playoffs, those numbers have to improve. That's where the potential growth in Kansas City's offense lies, particularly with Smith's completion percentage. Smith doesn't throw a lot of passes way beyond the line of scrimmage, so his percentage should be much higher. He's certainly capable. He completed 70 percent for the
San Francisco 49ers
last year. Receivers aren't dropping a high percentage of passes. Protection has been a problem at times. He has had to unload before he's ready on a number of attempts. Another problem has been the inability of receivers to consistently get open.
Willis McGahee
leads the Browns in rushing but is averaging only 2.9 yards per carry. Does he have anything left at this point in his career, and can the Browns take some pressure off their quarterback Sunday by having a consistent running game against a defense that, despite the numbers, has played well against the run?
McManamon:
Not really on both counts. McGahee gives what he has, but there's a reason he was available to sign when the Browns traded
Trent Richardson
. McGahee has little speed; Norv Turner joked he could go outside as long as he starts inside. But he can burrow for 3 or 4 yards if he has to. The problem is how much he can play. He had 26 carries against Buffalo but just 21 the past two games combined. He hasn't averaged more than 3.7 yards per carry in a game this season. The other options are stretches:
Chris Ogbonnaya
's value is in pass protection, and
Fozzy Whittaker
is ... well ... Fozzy Whittaker. The Browns had their reasons for trading Richardson, but their lack of a legitimate running game will cost them as the season continues.
The Browns have had a revolving door with their coach. Why do you think Andy Reid's voice is being heard so well in Kansas City?
Teicher:
He walked in the door with some impressive credentials, better than those of any Chiefs coach since Dick Vermeil and just two players remain from Vermeil's time in Kansas City. So Reid immediately had everyone's attention. The other thing was that so many of the players were ready to be led in a positive direction. They were tired of losing and tired of people within the organization having different agendas and pulling in different directions. They were ready to buy into something positive. It helped Reid that the Chiefs had an easy early-season schedule and took advantage of it. I wonder how this would have gone had the Chiefs started losing games to some lousy teams right away.
AFC NORTH SCOREBOARD
Sunday, 12/21
Monday, 12/22