AFC North:

2013 Week 12 NYJ at BAL
November, 24, 2013
11/24/13
8:45
PM ET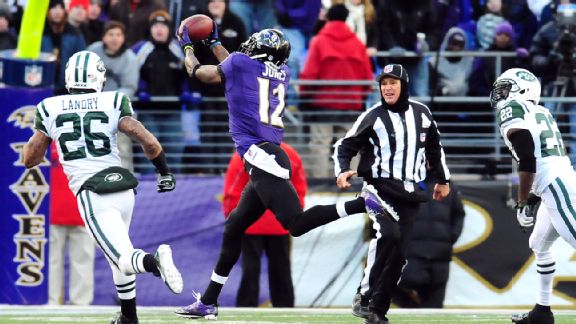 Evan Habeeb/USA TODAY SportsJacoby Jones' 66-yard score marked the return of the big play in Baltimore.
BALTIMORE -- While the buzz was about backup quarterback
Tyrod Taylor
's increased role in the offense, it was starting quarterback
Joe Flacco
who delivered the play of the game.
His 66-yard touchdown pass to
Jacoby Jones
in the final seconds of the third quarter put away the
New York Jets
in a
19-3 victory
and added a dimension to the offense that has been sorely lacking.
For 10 games, Flacco and the
Baltimore Ravens
awaited the return of their deep passing game. It came back on a windswept day at M&T Bank Stadium and came at the expense of one of the greatest players in franchise history:
Ed Reed
.
"It was probably the play of the game for us," coach John Harbaugh said. "The ball got up there and got caught in the wind. If you saw it, it was being pushed that way. I thought once it got up in the air and the wind got it, I didn't think Jacoby was going to be able to get it. He shifted into another gear and he went and got that ball -- just an amazing play. And then for him to reach out and catch it and keep his balance, just a tremendous, athletic play."
Flacco completed 2 of 3 passes deeper than 30 yards downfield for 126 yards and a touchdown against the Jets, according to ESPN Stats & Information. Entering this game, he was 4-of-17 with an interception on those throws this season.
After the completion to Jones -- which was Flacco's first touchdown on a pass more than 20 yards this season -- the quarterback leapt in the air for a celebratory bump with Taylor and screamed with excitement with guard
Marshal Yanda
.
Asked if the celebration was the result of waiting for a completion like that all season, Flacco said, "I don't think it was that kind of feeling. It was just like 'Yes, we got a touchdown.' It wasn't anything like 'Oh, I've been looking for that,' or 'We haven't done that in a while.' That wasn't why. That didn't creep in at all. It was really just excitement because it was a tight game, we hadn't put the ball in the end zone yet, and we were able to do it right there."
The Ravens' second longest pass play of the season was the result of Jones beating Reed, who played his second game in Baltimore after 11 seasons with the Ravens. With rookie cornerback
Dee Milliner
playing off the line, Jones had a free release and blew past Reed in the center of the field. Jones caught the ball at the Jets' 15-yard line and beat Reed to the end zone.
It was redemption for Jones, who didn't hold onto the ball in the end zone after taking a hit from Reed earlier in the game.
"To play against Ed and to be able to do that, that's one of the greatest safeties to play the game, and to get respect from him … It's a good feeling," Jones said.
Jets coach Rex Ryan said no one should point the finger at Reed.
"I'm not going to pin it on any individual, certainly not on one guy, certainly not Ed Reed," Ryan said. "He'd probably be third on that list, if you want all honesty."
Five years ago, Reed would've picked off a pass like that and ran it back for a touchdown. He just doesn't have the same recovery speed at 35 years old.
"We knew they were going to take a shot. They had the wind at their backs," Reed said. "So we knew they were going to throw deep. Jacoby made a play. He adjusted to the ball really well. I probably should have grabbed him and took the penalty, but he was the one that made the play."
Two of Flacco's passes accounted for nearly half of his 273 yards passing against New York. In addition to his touchdown toss to Jones, he hit
Torrey Smith
for a 66-yard completion in the third quarter.
The throw to Smith was Flacco's best of the game because it hit Smith in stride when he had a step on cornerback
Antonio Cromartie
. It was also different from his touchdown pass because Jones was Flacco's first read.
"[Smith] wasn't necessarily my first guy, but I thought I'd give him a quick peak before I got into my actual progression because he was pressed," said Flacco, who was 17-of-26 with one touchdown and one interception. "I thought I could get a good look to see if Torrey beat him [his defender] off the ball. I thought he beat him off the ball, so I just gave him a chance, and Torrey made a nice catch on that one. It worked out well."
If the Ravens can continue to have success throwing the ball deep, this offense will finally strike some fear in opposing defenses.
November, 24, 2013
11/24/13
7:55
PM ET
Baltimore Ravens
are one of six teams who have a 5-6 record and are technically tied for the final wild-card spot in the AFC.
Where do the Ravens find themselves in this logjam? If the season ended today -- and, yes, it's never ended before Thanksgiving -- the
Tennessee Titans
would take the No. 6 seed. The Ravens sit behind the Titans and
Pittsburgh Steelers
.
If you want a full breakdown of how this all sorts out, you can click on
ESPN.com's playoff standings
.
Basically, the Ravens gets eliminated because of their loss at the Steelers last month. Baltimore can split the season series with Pittsburgh with a win on Thanksgiving night.
The Ravens win the head-to-head tiebreaker with two 5-6 teams,
Miami Dolphins
and
New York Jets
.
The
November, 24, 2013
11/24/13
6:51
PM ET
BALTIMORE -- Running back
Ray Rice
described the
Baltimore Ravens
'
19-3 win
over the
New York Jets
as a "very good team win." Not exactly.
The Ravens remained in the thick of the AFC's playoff picture (or is it the race of mediocrity?) because of their defense. With all due respect to
Joe Flacco
's two long passes and
Justin Tucker
's four field goals, the most dominant group on the field was a Ravens defense that was on a mission.
[+] Enlarge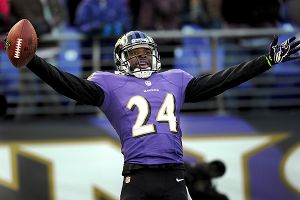 AP Photo/Nick WassCorey Graham intercepted two passes and the Ravens allowed a season-low 220 yards.
All week, the Ravens heard about how the Jets had a fearsome front seven, the NFL's best run-stoppers and a top-10 defense. By the end of the day, the defense everyone was talking about belonged to the Ravens.
Baltimore allowed a season-low 220 yards and gave up three points, its fewest in four years. The Ravens forced three turnovers and held New York scoreless for the final 51 minutes, 52 seconds.
"We always want to be the best defense on the field," said cornerback
Corey Graham
, who tied a career high with two interceptions. "We knew they've got a pretty good front seven, and they play good ball. But when it came down to it, we wanted to be a dominant defense, and that's what we were able to do today."
The Ravens' defense has been the most consistent part of the team. This was the seventh time this season that the defense allowed one or no touchdowns in a game.
The problem has been finishing off teams. Two weeks ago, it was a Hail Mary pass by the
Cincinnati Bengals
. Last Sunday, it was a 43-yard completion to tight end
Martellus Bennett
that set up the
Chicago Bears
' winning field goal in overtime.
On Sunday, when the Jets drove into Ravens' territory in the fourth quarter, it was a different story. Graham picked off rookie quarterback
Geno Smith
in the end zone to squash the Jets' last true scoring opportunity.
"That was a point of emphasis by our coaches, that we need to find a way to finish, not just drives but games," Graham said. "They made some plays, but when it came down to it, we made the bigger plays."
Where the Ravens made their stand throughout the game was on third down: Baltimore stopped the Jets from converting on 11 of 12 chances. This is what the Ravens did on third down:
Haloti Ngata
stuffed running back
Chris Ivory
for no gain when he needed 1 yard, Graham picked off his first pass,
Chris Canty
batted down a pass and
Pernell McPhee
recorded his second sack of the season. In total, Smith was 0-for-6 on third down.
"That's just a great accomplishment," Ravens coach John Harbaugh said. "We blitzed a little bit, but I think it was four-man pressure, and that's usually the result of good coverage, too. Our guys did a good job of taking away the first read or two [and] gave our guys a chance to get there."
Some may downgrade the Ravens because this effort came against a struggling rookie quarterback. But the Ravens have had their troubles with less-than-established quarterbacks this month (
Jason Campbell
and
Josh McCown
).
For the Ravens, it wasn't about playing Geno Smith. It was about reuniting with Jets coach Rex Ryan, who was the Ravens' defensive coordinator from 2005 to 2008. In the Ravens' three games against Ryan, their defense hasn't allowed a touchdown. It's not a coincidence.
"There's always a little something added when we're playing Rex," linebacker
Terrell Suggs
said. "[Ravens defensive coordinator] Dean Pees called a great game and put us in the beset opportunities to make plays as a defense. We're proud of the fact that we didn't give up a touchdown."
November, 24, 2013
11/24/13
5:08
PM ET
BALTIMORE -- In Sunday's 19-3 win over the
New York Jets
, the
Baltimore Ravens
added a wrinkle to a struggling offense by using backup quarterback
Tyrod Taylor
in a wildcat attack. It drew cheers from the fans at M&T Bank Stadium, but not from quarterback
Joe Flacco
.
Asked about the wildcat, Flacco said, "It's good and fun for a little bit. But that's about it."
A reporter then asked Flacco if he enjoys lining up at wide receiver in the wildcat.
"I don't want to be lining up at Z and X (wide receiver spots)," Flacco said. "I want to line up behind center."
No one should be surprised by Flacco making his opinion known. All you had to do is watch Flacco line up at wide receiver. He was so disinterested that he kept his hands in his front pouch and barely moved off the line after the ball was snapped.
It's easy to see why Flacco feels this is a slap in the face. The Ravens paid him $120.6 million to throw the ball and not split out wide. But he shouldn't be too offended. Even the
Pittsburgh Steelers
ran the wildcat with
Ben Roethlisberger
and he's won two Super Bowls.
Taylor lined up at quarterback for five of the Ravens' 62 plays and generated excitement early until the Jets dropped him for losses of six and seven yards on his final two carries. He finished with seven yards on four carries and didn't complete his only pass attempt.
"We've talked about getting Tyrod more involved," coach John Harbaugh said. "He's a special athlete. He happens to play quarterback. He's a quarterback -- I want to emphasize that. But he's also got other skills that he can help us with."
Will the Ravens use the wildcat more in the future?
"I can't tell you," Harbaugh said. "I can't comment on that, as you all know. We'll see."
If you ask the reigning Super Bowl Most Valuable Player, the Ravens wouldn't use it again.
November, 24, 2013
11/24/13
3:56
PM ET
BALTIMORE -- A few thoughts on the
Baltimore Ravens
'
19-3 win
over the
New York Jets
.

What it means:
On a cold and blustery afternoon, the Ravens (5-6) stayed alive in the AFC playoff race with their eighth straight win over the Jets. Baltimore cut the gap with the AFC North-leading
Cincinnati Bengals
(7-4) to two games and remain in the thick of the wild-card picture. The Ravens improved to 10-1 at home in November since 2008, the second-best mark in the NFL.
Stock watch:
Rising:
Justin Tucker
. The kicker supplied the Ravens' first 12 points with four field goals from 30, 26, 33 and 53 yards. He's becoming the Ravens' most valuable player this season, hitting 22 consecutive field goals in some windy and bad-weather games.
Dominating defense:
The Ravens were relentless against struggling rookie quarterback
Geno Smith
. Baltimore held the Jets out of the end zone, shut them out for the final 51 minutes and forced three turnovers (cornerback
Corey Graham
's two interceptions tied a career high). The Ravens silenced the New York offense, limiting the Jets to 220 total yards, 12 first downs and a 1-of-12 conversion rate on third down.
Return of the deep pass:
Joe Flacco
rediscovered his touch on the downfield passes, and his 66-yard touchdown pass to
Jacoby Jones
late in the third quarter essentially put away the Jets. It was Flacco's first touchdown this season on a pass that traveled at least 20 yards in the air, and it was completed right in front of former Ravens safety
Ed Reed
. Flacco also had a 60-yard pass to
Torrey Smith
earlier in the game.
What's next:
The Ravens play the rival
Pittsburgh Steelers
on Thanksgiving night. Baltimore has lost two of its last three games to Pittsburgh at M&T Bank Stadium.