AFC North:

2013 Week 14 Upon Further Review AFC
December, 9, 2013
12/09/13
9:00
AM ET
CINCINNATI -- An examination of four hot issues from the
Cincinnati Bengals
'
42-28 win
over the Indianapolis Colts:
Whit's move should stick:
Offensive lineman
Andrew Whitworth
proved Sunday afternoon that his move from left tackle to left guard should stick. Naturally, when you ask him about the switch, Whitworth just grins and says he's out to do what's best for the team. If offensive coordinator Jay Gruden wants to leave him on the line's interior, then so be it. If Gruden watched the same left-side blocking display that the rest of America witnessed, he'd be smart to keep his Pro Bowl left tackle at the new spot. Since sliding into the line's interior last week after left guard
Clint Boling
was lost for the season with an ACL tear, Whitworth has been part of two of the Bengals' best rushing performances of the year. Against the Chargers last week, they rushed for 164 yards. Against the Colts, they hit 155, paced by rookie running back
Giovani Bernard
's 99.
Bernard
Burfict
'Shifty dude' strikes:
After one of his four catches that resulted in a weaving, winding 22-yard scamper, Bernard overheard an Indianapolis defender call him "a shifty dude." It has been a while since the "shifty dude" has had as productive a day as he did Sunday. He collected more than 100 total yards of offense for only the third time this season. The last time was when he went for 104 in the overtime loss at Miami on Halloween. Against the Colts, Bernard had a career-high 148 yards of offense, rushing for 99 yards and catching passes for 49.
Second-year defensive stars:
Linebacker
Vontaze Burfict
once again led the Bengals in tackles. He has done that in all but one game this season. This time around, though, the tackle totals were relatively down. According to postgame stats given to media, he recorded eight. That's a little below his double-digit average of 10.7 tackles per game. Still, it's a sign that the second-year, former undrafted free agent was around the ball. Another class of 2012 signee who contributed greatly in the win was cornerback
Dre Kirkpatrick
. The onetime backup continues making strides in the secondary as he gets awarded more playing opportunities. With another second-year player, safety
George Iloka
, as well as veteran corner
Terence Newman
going down with injuries, Kirkpatrick's role could increase if either is lost for any time.
Tate's returns:
It can be easy for a return specialist's statistics to get lost in the shuffle in a two-possession game in which his team scored 40 points. (Quick side note: This is the first time in franchise history the Bengals have scored 40 or more points in three straight home games. They had done that in back-to-back home games four previous times.) Still,
Brandon Tate
was quite effective on the punt return team. His 18.3 yards per return average was his highest this season for games in which he has had multiple punt returns. His four returns also generated an average starting goal-to-go position of 63 yards, meaning the Bengals, on average, started at their own 37 after his returns. His previous season-best in a multi-return game was 61 yards -- the Bengals' 39.
December, 9, 2013
12/09/13
8:00
AM ET
PITTSBURGH -- A review of four hot issues from the
Pittsburgh Steelers
'
34-28 loss
to the
Miami Dolphins
:
[+] Enlarge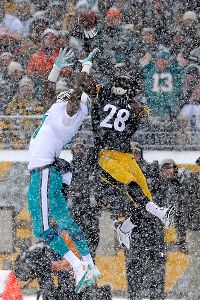 AP Photo/Tom E. PuskarCortez Allen held Mike Wallace in check, but he missed a tackle on the game's crucial touchdown.
Unlikely heroes foil Steelers:
The Steelers (5-8) let a backup running back and a tight end who became a starter because of a preseason injury beat them, and that might be most galling thing about their defensive performance against the Dolphins.
Charles Clay
had two touchdowns and nearly 100 yards receiving, and a 55-yard run by
Daniel Thomas
set up Clay's game-winning score. Thomas, subbing for the injured
Lamar Thomas
, had only the second 100-yard rushing game of his career and his first since his rookie season in 2011. On the play of the game, Thomas flashed through a huge opening on the left side, and
William Gay
didn't bring him down until he had rumbled all the way to the Steelers' 16-yard line. The Dolphins blocked
Troy Polamalu
, who was playing linebacker, but he blamed himself for not getting to his gap in time.
Ryan Clark
said he would have been in a better position to provide run support, but that he was playing deep because the Steelers were worried about the Dolphins trying to beat them over the top.
Wasted timeout:
Coach Mike Tomlin will receive his share of criticism for game management near the end of the fourth quarter. Tomlin decided to go for it on fourth-and-10 from the Steelers' 10-yard line with 2:33 left in the game. Before that play, the Steelers used a precious timeout, their second one, even though the clock had been stopped by an incomplete pass on third down. "We didn't have enough communication to get the type of call that we were comfortable with right there," Tomlin said. "We decided to [use a timeout] in effort to get a good call in to win that down. None of the things that transpired after that were going to matter unless we got a good call and made every effort to win that down." Since crowd noise wasn't a problem, the communication issues signal that the Steelers weren't prepared for the fourth-down play, and that ultimately falls on the head coach.
Polamalu, Allen take loss hard:
Polamalu punctuated an interception return for a touchdown by leaping into the corner of the end zone. But he also dropped a sure interception early in the game, couldn't get off a block on Thomas' 55-yard run and didn't get Clay on the ground as the Dolphins tight end shed two tacklers on the way to his game-winning touchdown.
Cortez Allen
, like Polamalu, couldn't make the tackle on Clay, and he took little solace after the game about the job he did on
Mike Wallace
. Allen held Wallace to two catches for 19 yards and was credited with two passes defended. "I've got to play a complete game," Allen said. "Personally, I felt like I could have played better." Polamalu, who made an ill-fated attempt to strip the ball from Clay before the final touchdown, felt the same way. When asked about his interception return for a score, he said, "What does it matter? We lost."
Injury update:
It doesn't matter much now, but the Steelers came out of the game relatively intact. They didn't sustain any significant injuries even though cornerback
Ike Taylor
took a nasty shot from Clark early in the third quarter when the two tackled Dolphins wideout
Brian Hartline
after a 15-yard pass play. Taylor stayed down a while before getting up and jogging off the field. He returned to the game. "I don't know what happened," Taylor said. "I just couldn't breathe at all. It felt like someone was just holding it for me."
LaMarr Woodley
alternated with
Jarvis Jones
at right outside linebacker as the Steelers eased him back into action following a three-game absence because of a calf injury. Woodley moved to the right side so
Jason Worilds
could stay at left outside linebacker, and the latter had another monster game with a pair of sacks, eight tackles, including three for a loss, and two quarterback hurries. "The right side was the right side, just going out there and playing football," Woodley said. "I think I did a good job on the right side, and Jason's been playing good. No problem with the switch at all."
December, 9, 2013
12/09/13
8:00
AM ET
A review of four hot issues from the
Baltimore Ravens
' 29-26
win
over the
Minnesota Vikings
:
Improbable hat trick
: The Ravens came back to beat the Vikings by scoring three touchdowns in the final 2 minutes, 5 seconds. How unlikely was that? Consider this: The Ravens hadn't scored three touchdowns in an entire game since Week 3 (Sept. 22) and they reached the end zone a total of two times in their previous two games. Baltimore entered the game as the 25th-ranked scoring team, averaging 20.8 points per game. On Sunday, the Ravens scored 22 points in the fourth quarter alone.
[+] Enlarge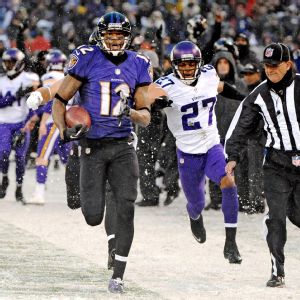 Kenneth K. Lam/Baltimore Sun/MCT via Getty ImagesThe Ravens' Jacoby Jones burned the Vikings with a 77-yard kickoff return for a TD late in the fourth quarter last Sunday.
Running it back
:
Jacoby Jones
continues to create a spark as the Ravens' kickoff returner. His 77-yard return for a touchdown put the Ravens ahead 22-19 with 1:16 left in the game. It marked Jones' fifth career touchdown off a kickoff return and his fourth in two seasons with the Ravens, including the playoffs. Jones' five kickoff returns for touchdowns since 2009 are tied with
Percy Harvin
for the most in the NFL (regular season and playoffs), according to ESPN Stats & Information. After suffering a knee injury in the season opener, Jones has proved he's back to full strength. Over the past two games, Jones has averaged 42.7 yards on kickoff returns. He may have had a touchdown in his last game, but
Pittsburgh Steelers
coach Mike Tomlin stepped on the field and interfered with him. When Jones scored Sunday, he ran up the Ravens' sideline.
Lacking finishing touch
: The Ravens' defense is among the league's best when it comes to the first three quarters. It's the fourth quarter that has been the problem. The inability to get the other offense off the field nearly cost the Ravens on Sunday, when the Vikings scored three touchdowns in the fourth quarter. In the past five games, the Ravens have allowed 54 points in the fourth quarter. Only three teams -- the
Detroit Lions
,
Cleveland Browns
and Minnesota Vikings -- have allowed more in the fourth quarter during that span. It's a bizarre trend for a defense that has given up a total of 32 points in the first three quarters of those five games.
Perfect end zone target
: The Ravens' best rookie is an undrafted one. Wide receiver
Marlon Brown
scored the game-winning touchdown when he caught a 9-yard pass in the back of the end zone with four seconds left in the game. Brown has not only been the Ravens' top red zone target, but he's also been No. 1 in the end zone. Joe Flacco is now 4-of-4 targeting Brown in the end zone this season, according to ESPN Stats & Information. No other Ravens receiver has more than three end zone receptions. Brown's six touchdowns this season are the second-most by a rookie in Ravens history and are one away from tying
Torrey Smith
's team record (he had seven in 2011). Not bad for a player who wasn't among the 28 wide receivers selected in the 2013 draft.
December, 9, 2013
12/09/13
8:00
AM ET
An examination of four hot issues from the
Cleveland Browns
'
27-26 loss
to the
New England Patriots
:
Morgan
What they said:
The two penalty flags thrown against the Browns late in Sunday's loss drew a lot of ire from the fans, and some grumbling from the team.
Paul Kruger
said both calls were "terrible," and coach Rob Chudzinski said he disagreed but added: "At the end of the day, it doesn't really matter what I think." Of the hit on
Julian Edelman
in the back of the end zone,
Jordan Poyer
said he hit Edelman shoulder to shoulder and added, "Any time the refs see the defender go high, I guess they're going to throw the flag." Of the 29-yard pass interference call that set up New England's game-winning score,
Leon McFadden
simply said, "I thought it wasn't pass interference."
Onside kick:
The Patriots also were able to recover an onside kick with one minute left when
Fozzy Whittaker
hit the ball first and didn't recover it. Whittaker said he wasn't trying to recover the ball, just block kicker
Stephen Gostkowski
so one of his teammates could get to the ball. Whittaker thought Gostkowski touched the ball before it went 10 yards. "We were outnumbered on that play and so really it was just going in there trying to hit somebody off so we could still have a shot to get it," Whittaker said. "I wasn't trying to field it or anything like that. I was just trying to get other people out of the way. The referee saw, I guess it hit me ... I don't know."
Strong showing:
Lost in the loss was another huge game from
Josh Gordon
and perhaps a more impressive game from
Jason Campbell
, who had a 116.8 rating after throwing for 391 yards and three touchdowns -- after he practiced at full speed just one day. He also picked up yards on the ground, reconfirming he didn't run against Cincinnati because of his injured ribs. Campbell's game was reminiscent of the way he played against Baltimore and Kansas City.
Cundiff short:
Campbell also got the Browns into position to at least try a long field goal to win. Campbell drove the Browns 30 yards in 30 seconds, and
Billy Cundiff
tried a 57-yard field goal on a play that started with one second on the clock. His range pregame was 52 or 53, so the kick was a long shot. It was on target, but just short. "If I could have that ball the rest of the year for every kick, I would be happy," Cundiff said.