AFC North:

2013 Week 14 wild finishes
December, 8, 2013
12/08/13
8:50
PM ET
BALTIMORE -- After the
Baltimore Ravens
came from behind for a
29-26 win
against the
Minnesota Vikings
, Ravens cornerback
Jimmy Smith
ran out of the field and shouted: "Do you believe in miracles?"
The more appropriate question is this: Do you finally believe in quarterback
Joe Flacco
and the Baltimore Ravens? If you watched the final minutes of Sunday's unforgettable comeback, it's difficult to say no.
And, honestly, it doesn't matter what you or I think about the Ravens. What's important is this team is starting to believe. A teetering 4-6 team a month ago has turned into a confident 7-6 one.
[+] Enlarge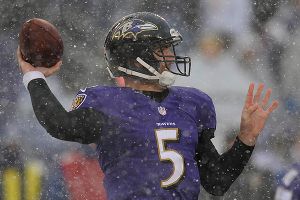 AP Photo/Nick WassJoe Flacco has made big plays when the Ravens have needed them most this season.
This is what happens when the Ravens rip back the lead every time it seemed like the Vikings had pulled off the upset. The defending Super Bowl champions refused to fold, scoring three touchdowns on their final eight plays of the game.
It's officially time to stop counting out Flacco and the Ravens. How many "miracles" need to happen before you're convinced? There's no disputing this is a team with flaws. But this is also a team that plays its best when the odds are stacked against it. All you have to do is google "Hey diddle diddle,
Ray Rice
up the middle" and "Mile High Miracle."
Sure, a blowout victory over a last-place team that played without the NFL's leading rusher would've been more of a statement. But there is something to be said for a team to experience something like this -- again.
"It probably makes you tough. It probably makes you resilient," coach John Harbaugh said. "It probably puts a lot of callouses all over your psyche and your character. When you've got callouses on your character, that's probably a good thing in the end."
No one is anointing the Ravens as a Super Bowl contender, but for the first time, they're showing playoff mettle. The Ravens have won three straight games and are finding out how to pull out close games again.
There are still season-long problems like Flacco's interceptions and the defense's inability to get the other team off the field late in games. The Ravens are winning now because they're finding ways to overcome their mistakes.
After throwing three interceptions, Flacco completed 7 of his final 10 passes for 62 yards and two touchdowns. Down 26-22 with 45 seconds left, Flacco marched the Ravens 80 yards on five plays. Flacco's nine-yard touchdown pass to
Marlon Brown
with four seconds left marked his 18th career game-winning drive in the fourth quarter or overtime, and his third of this season.
If you didn't think Flacco and the Ravens had that final drive in them, you're not alone.
"[The Vikings] probably thought it was over, and I'm not going to lie, part of me thought it was over at that point, too," Jimmy Smith said. "For Joe Flacco and the offense to go back down and score the way they did, it just says a lot about them."
What's confounding about Flacco is he can look so pedestrian for most of the game and so brilliant late in it. His second interception of the game, a low-lining pass that should've been thrown out of bounds, resulted in a touchdown for the Vikings. But, when the game was on the line, Flacco throws his best pass of the game, putting the ball only where Brown could leap up and get it.
"This game was crazy and we could've lost it, but we're a confident football team," Flacco said. "We're starting to get healthier. We're starting to put it together as a team. We just need to start putting it together for a full 60 minutes and see where it takes us."
Of all of the Ravens' comebacks, this one made you doubt them the most. In the final 125 seconds, the Ravens needed touchdowns from a fourth-and-goal pass to tight end
Dennis Pitta
, a 77-yard kickoff return by
Jacoby Jones
and a last-second toss to Brown in the back of the end zone to keep control of their playoff fate. There were seven lead changes in the game, including five in the final 2 minutes, 5 seconds.
Was this game crazier than the Mile High Miracle? That was last season's AFC divisional playoff game in Denver when Flacco thew a high-arcing 70-yard pass to Jacoby Jones with 31 seconds remaining to send the game into overtime.
"I think this is probably crazier," Flacco said. "That one was probably a little more exciting, just because of what was on the line. But when you look at this, similar things were on the line, just not at the same time of year. In the time period that Jacoby [Jones] scored that touchdown in the Denver game, I think we probably scored three touchdowns in this game."
The Ravens finish out the season with three games against division leaders: the
Detroit Lions
(7-6),
New England Patriots
(10-3) and
Cincinnati Bengals
(9-4). It would be easy to doubt whether the Ravens can make the playoffs with such a brutal stretch. And, based on Sunday, that's probably how the Ravens would like it anyway.
December, 8, 2013
12/08/13
7:10
PM ET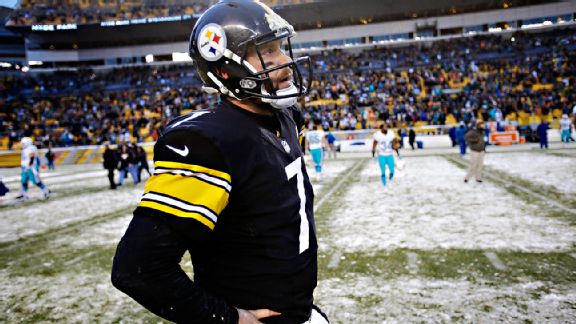 AP Photo/Tom E. PuskarInches from victory, Ben Roethlisberger and the Steelers suffered an agonizing loss to Miami.
PITTSBURGH -- A play that came within inches of going down in Steelers lore with the "Immaculate Reception" instead stands as a microcosm for a season that all but ended on a day when Heinz Field turned into a snow globe -- and a couple of unlikely players turned an expected defensive struggle into a shootout.
The Steelers came up just 12 yards short of a touchdown that would have been even more miraculous than the one Franco Harris scored more than 25 years ago in a playoff game that helped launch the dynastic Steelers teams that ruled the 1970s.
Sideline footwork promises to again be one of the topics of discussion following the Steelers 34-28 come-from-ahead loss to the Dolphins. The footwork in question happened far away from coach Mike Tomlin, but had field judge Scott Edwards not ruled that
Antonio Brown
stepped out of bounds the Steelers would have won a game that they deserved to lose.
They also would have saved their season with the mulligan to end all mulligans, and the Steelers were so excited by the reprieve they appeared to receive for inexcusable defensive breakdowns that their sidelines erupted along with the fans who had braved Sunday's winter weather until the bitter end.
"I really thought he scored," Steelers strong safety
Troy Polamalu
said.
"I thought we scored obviously," Steelers quarterback
Ben Roethlisberger
said.
"I thought I had it clean," Brown said.
Brown came within inches of scoring on the final play of the game and handing the Dolphins a defeat that might have crushed them for the rest of the season. It started when Roethlisberger threw a 20-yard pass that
Emmanuel Sanders
caught at the Steelers' 46-yard line.
Sanders touched off a series of laterals when he tossed the ball to
Jerricho Cotchery
.
Cotchery quickly flipped it back to
Le'Veon Bell
, who threw a backward pass to right tackle
Marcus Gilbert
.
Gilbert pitched the ball to Roethlisberger, and it completely reversed field when the veteran quarterback tossed the ball to Brown as he was getting tackled.
Brown split a pair of defenders, beat safety
Reshad Jones
to the sidelines and appeared to be off to the races. Only the Dolphins' sideline saved Miami as Brown also beat the last line of defense,
Chris Clemons
, on the way to the end zone.
"I thought he was in, but obviously I didn't have the perspective of whether or not he stepped out of bounds," Tomlin said after the loss that assured his second non-winning season in as many years.
Edwards had a clear view of the most spectacular play in Steelers history that almost was, and he didn't hesitate to make the call. That is why Tomlin didn't get as excited as his players when Brown reached the end zone.
"He was very definitive and very clear about what he saw over there, so there was no emotional roller coaster ride of any kinds," Tomlin said.
Ryan Clark
perhaps offered the best take on the final play.
"It looked like a touchdown, but obviously we're not on that side of the field. If you're a Steeler or a Steelers fan, you'd like for them to let the play go through," Clark said. "Call it a touchdown, because it's going to be reviewed anyway. He made the call and that's what you live with. When you put yourself in that position, when you're banking on Marcus Gilbert handling the ball for you to win the game, that means you haven't done what you were supposed to do earlier."
Clark is spot-on with his final take on the play.
The Steelers never should have put themselves in position to need a play like that to win the game.
They looked like they might take control of a game they had to win early, but then the offense got sloppy. They turned a 10-point deficit into a four-point lead in a span of about three minutes, but they squandered those gains with the defensive breakdowns that have plagued the Steelers all season.
After backup running back
Daniel Thomas
, widely considered a bust, had gashed them for 105 yards and tight end
Charles Clay
had scored the second of his two touchdowns by shrugging off a pair of tacklers on the way to the end zone, the Steelers knew they had no business winning the game.
Even if Brown nearly saved them with a nifty 55-yard run at the end on a play that worked so well it looked like the Steelers had practiced it, even though Roethlisberger later said it was completely improvised.
"It was almost one of the greatest plays the game has seen," Cotchery said. "We just came up short. That's kind of how it's been, you know? We keep coming up short."
That is the epitaph for the Steelers' season, one that has already been cemented even if there are three games left to play.
December, 8, 2013
12/08/13
6:55
PM ET
BALTIMORE -- The
Baltimore Ravens
knew Sunday's game against the
Minnesota Vikings
was a must-win in terms of their playoff hopes. They just didn't know they would have to win it three times in the final 2 minutes, 5 seconds of the game.
The Ravens took late-fourth-quarter leads on touchdowns from tight end
Dennis Pitta
and kickoff returner
Jacoby Jones
, but it wasn't until
Joe Flacco
hit
Marlon Brown
in the back of the end zone with four seconds remaining that Baltimore could finally breathe a sigh of relief.
[+] Enlarge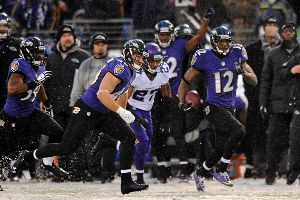 AP Photo/Gail BurtonJacoby Jones returned a kickoff for one of five touchdowns in the final 2:05 of Sunday's game.
By the time the dust cleared -- actually, it was a few inches of snow at M&T Bank Stadium that needed to be cleared-- the Ravens had won
29-26
and held onto the No. 6 and final seed in the AFC by coming out on top in a fourth quarter that featured 42 points and six lead changes.
"Will we ever see another game like that again?" Ravens coach John Harbaugh asked after the game.
It's going to be hard to top a finish that included five touchdowns in the final 125 seconds:
With 2:05 remaining, the Ravens went ahead 15-12 on a 1-yard pass from Flacco to Pitta (in his first game back since dislocating his hip) on fourth-and-goal.
After the Vikings took the lead back on a 41-yard touchdown run by Toby Gerhart, Jones returned the ensuing kickoff 77 yards down the Ravens' sideline (Steelers coach Mike Tomlin was not here to interfere this time) to put Baltimore up 22-19.
Minnesota rebounded with a spectacular 79-yard catch-and-run by Cordarrelle Patterson to jump back ahead, but Flacco marched the Ravens 80 yards on five plays in the final 45 seconds of the game. His 9-yard pass to a leaping Brown sealed a victory that had often proved elusive.
"I don't know if there has ever been a crazier minute-and-40-some seconds ever," Flacco said.
The day began with both teams struggling to move the ball because players had trouble with footing on a snowy field. The conditions got so bad that a plow got stuck at the 20-yard line because too much snow had accumulated.
"This was just a really crazy game under really crazy conditions," defensive tackle
Haloti Ngata
said.
The Ravens (7-6) needed this win if they were to have any hope of winning the AFC North or capturing a wild-card berth because the
Cincinnati Bengals
(9-4) and
Miami Dolphins
(7-6) had both won. That just heightened the drama of what became a one-of-a-kind, back-and-forth finish for the Ravens.
"You couldn't even really get emotional," said Jones, who scored his first touchdown off a return since the Super Bowl. "It was too confusing."
The Ravens have had memorable finishes in 2013. There was the Mile High Miracle in the AFC divisional playoff game in Denver and the late fourth-down stand in the Super Bowl against the
San Francisco 49ers
.
"I've never seen a game like that before," outside linebacker
Terrell Suggs
said. "Besides the Super Bowl, that's probably the most special win I've ever been a part of."
While the finish was scintillating, the final score shouldn't come as a surprise. This was the Ravens' eighth game decided by three or fewer points this season, and the Ravens have now won four of them.
"That was like playing 'Madden,'" wide receiver
Torrey Smith
said. "If you have a heart condition, you can't watch the Ravens."