AFC North:

2013 Week 15 CIN at PIT
December, 16, 2013
12/16/13
3:10
AM ET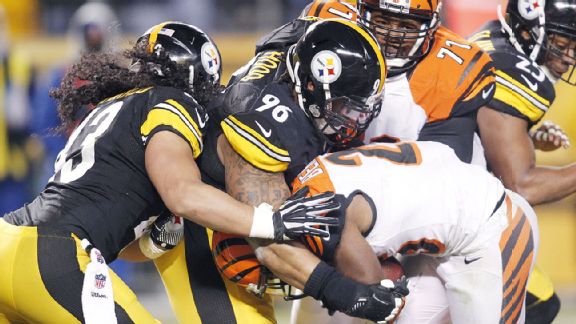 Charles LeClaire/USA TODAY SportsThe Steelers outmuscled Gio Bernard and the Bengals, who fell to 1-2 in prime time this season.
PITTSBURGH -- It was exactly what the
Cincinnati Bengals
wanted.
With a national television audience watching, the scenario they were presented Sunday night at Heinz Field was precisely the one they requested at the end of November, back when they first started expressing desires about closing out the regular season on a five-game winning streak. Desperate to convince anyone outside their locker room that they were legitimate playoff contenders, the Bengals knew an undefeated December and a win on the Sunday night stage would turn some heads.
Some heads are currently turning, all right. But not in the direction the Bengals really want. Instead of continuing to turn out of curiosity, those heads are starting to turn away. Days after becoming the talk of the AFC, rightful skepticism about the Bengals will start settling in.
Are the Bengals who we thought they were? Are they really ready for prime time?
You can blame two groups for that: the
Pittsburgh Steelers
and the Bengals themselves.
In an effort to restore some order to an AFC North that had been flipped upside down through the first 14 weeks of the regular season, the Steelers turned into Week 15 bullies Sunday, physically and savagely imposing their will during their
30-20 win
against an outmatched Bengals team that looked out of place and out of sorts, despite a valiant comeback bid.
Yet again, in another big game, the Bengals appeared to fold.
"It depends on what your definition of a big game is," Bengals receiver
Andrew Hawkins
said. "Is it a big game because it's on TV? Because I don't think any of us think that. We've been playing on TV our whole lives."
Well, OK. Maybe a big game doesn't just mean the bright lights of national television. Maybe prime time doesn't fully equate to games played on Sunday, Thursday or Monday nights (even though the Bengals are now 1-2 on games played those nights this season). But division games certainly are part of the big-game mix. And the playoffs are, too. In recent years, the Bengals haven't been great at either one of those.
The Bengals are now 7-10 in divisions games the past three seasons and 2-3 in games played on Monday, Thursday or Sunday nights in unopposed time slots. Two of those three night losses were against the Steelers. The latter two of those three -- Sunday's and another against the Dolphins earlier this season -- came on the road.
Why is any of that important? Because again, the playoffs, that end-of-year, single-elimination stretch of must-win games, are a concept one generation of Bengals fans don't fully understand. No Bengals team since 1990 has advanced out of the first round of the playoffs, and this year's group looks like the franchise's best chance to reverse that trend.
The high-stakes nature of playoff games make them the ultimate prime-time, pressure-packed scenarios. When they occur on the road, it all increases that much more.
For those reasons, when teams, particularly those as talented and deep as the Bengals, have opportunities to practice winning such ballgames in the regular season, they have to win them.
Against the Steelers, though, Cincinnati didn't really have much of a shot.
A bobbled first-quarter punt snap that ended up giving Pittsburgh the ball on the Bengals' 1, which was followed by a long Bengals kick return that was called back because of a fair-catch wave that raised debate, began a series of unfortunate events for Cincinnati. When punter
Kevin Huber
was knocked from the game late in the first quarter by a hard, blindside hit that broke his jaw, the snowball swelled.
"It was like, 'Man, one thing after another,'" cornerback
Chris Crocker
said. "It's just disappointing how this game got away from us so early. That was the most disappointing thing. We were just fighting to save our face and get back into it."
On the same play Huber was knocked out of the game, Steelers punt returner
Antonio Brown
sprinted nearly untouched for a 67-yard score that pushed Pittsburgh's lead to 21-0.
From there, Cincinnati's defense buckled down and allowed only nine points, and the offense rallied. But it was all too little, too late.
"We didn't make anything happen," Bengals coach Marvin Lewis said. "If you don't play good, you're going to get beat. If you don't make things happen, you're going to lose the football game. That's what happened."
Some of his players felt they didn't come out early with the same fire they had by the end of the game. Pittsburgh had the edge on intensity and energy and didn't give it up, they felt.
Hours before the game, one would have imagined the teams to be in a different state. With nothing else to do early in the day, many Bengals watched as the
Miami Dolphins
held on to beat the
New England Patriots
. That result meant Cincinnati, with a win, could take over the No. 2 AFC seeding position from the Patriots. If the Bengals had won, they would have fully controlled their playoff seeding fate. Now they need help to claim a first-round bye.
But if you hear them tell it, that's not what's important.
"Was it a [lost opportunity] to get to where we want to go? No. Lose an opportunity to put ourselves in a better position? Yeah," Hawkins said. "All our goals are still intact. We didn't come into this season as a goal to be a 2-seed. We came in wanting to win a Super Bowl. As long as we can win a Super Bowl, we're in good shape."
That helps explain their continued optimism on the remainder of the season.
"We lost the football game," defensive end
Michael Johnson
said. "But now we're going to come back and win two in a row at home and go into these playoffs and wreak havoc."
In that case, the Bengals better hope prime time in the postseason goes much differently than it has in the regular season.
December, 16, 2013
12/16/13
2:35
AM ET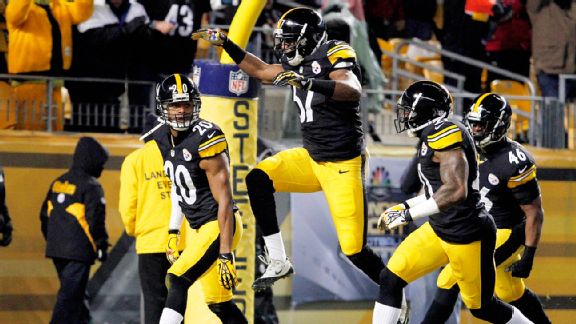 Justin K. Aller/Getty ImagesWill Allen (left) helped set up the Steelers' first touchdown during a 21-point first quarter.
PITTSBURGH -- The
Pittsburgh Steelers
' odds of making the playoffs were of the hit-the-lottery variety even before play started Sunday. They only increased after the Miami Dolphins held off a late rally to beat the New England Patriots and lengthen the list of what needs to happen for the Steelers to sneak into the playoffs, a list that is now longer than
Troy Polamalu
's hair.
Against this backdrop and on a frigid night when an angry wind cut like a bad breakup, the Steelers seemed ripe for anything but what transpired at half-empty Heinz Field.
But in a season that has made little sense, it made perfect sense that the Steelers turned in their most inspired performance of 2013.
They clobbered the
Cincinnati Bengals
early and owned a quarter in which they had all too often been dominated this season. The Steelers, who had scored 43 points in the first quarter in 13 previous games, put up nearly half that total in the first 15 minutes Sunday night.
They dazed the Bengals with a three-touchdown barrage, and looked like the team playing for a first-round bye in the playoffs, not the one that is guaranteed back-to-back non-winning seasons for the first time since the late 1990s.
Cincinnati never recovered from the role reversal that left the Steelers with a sense of satisfaction, if not at all closer to the playoffs, following a
30-20 win
.
"When you get the question a lot during the week -- 'What do you have to play for?' -- I think people are kind of looking for you to maybe have an opportunity to come out flat, and we didn't do that and I'm excited about that for this team," Steelers free safety
Ryan Clark
said. "I'm excited about that for the leaders and also for the young guys. To see the people come out and compete the way that they did when seemingly to the outside world we had nothing to play for, it was good for us."
It also had to leave the Steelers wondering what might have been had they put together more all-around performances like the one they used to flatten the Bengals.
Five of the Steelers' eight losses this season were by a touchdown or less. Their two most recent setbacks were by a combined eight points.
As much as injuries decimated the offensive line and breakdowns unmasked a once-fearsome defense, the Steelers are only a handful of plays from being 9-5 instead of 6-8. Among the what-ifs for the Steelers this season:
What if they hadn't forgotten how to tackle against the Minnesota Vikings in London?

What if Shaun Suisham, who has been as automatic as a kicker can be, hadn't missed a pair of chip shots in a three-point loss in Oakland?

What if Emmanuel Sanders had hung onto the two-point conversion pass in Baltimore?

What if the defense had protected a fourth-quarter lead against Miami instead of yielding a late 55-yard run to a backup running back who was playing on a bad knee?
"We can't woulda, coulda, shoulda," veteran cornerback
Ike Taylor
said.
Clark delivered a similar message after the Steelers improved to 6-8 by building the early 21-point lead and then holding off the Bengals.
"The NFL won't give us an opportunity to go back and play those games over," Clark said. "You don't get the
Tennessee Titans
game back. You don't get the
Oakland Raiders
game back, games that you feel like you should have won going in and also could have made plays to win the game."
Clark talked in front of his locker, still clad in his entire uniform save for the helmet. Maybe the 12-year veteran wanted to bask in the win as long as possible, as it came in what could be his penultimate game in a Steelers uniform at Heinz Field.
Clark will be an unrestricted free agent after this season, and he is one of a handful of veterans who are viable candidates to be playing their last game with the Steelers on Dec. 29.
Maybe that reality, the likelihood that more turnover is coming to a team that had been able to resist it for so long, is why Steelers players did not collectively look too deep into the win against the Bengals. They simply wanted to enjoy the respite from what has been an incredibly frustrating season.
Perhaps they didn't want to think about how much they had squandered before putting together their most complete performance of the season.
There will be plenty of time for that after the season is over. The Steelers showed Sunday night that they are serious about finishing strong, even if 8-8 is unlikely to get them anything beyond the distinction of a non-losing season.
"I've said for a bunch of weeks now that there's going to be no quit from me. I think tonight was a good example of that," Steelers quarterback
Ben Roethlisberger
said. "Everyone fought hard from start to finish. We just wanted to come out and show we're going to give it everything we've got to the end."
December, 15, 2013
12/15/13
11:40
PM ET
PITTSBURGH – A few thoughts on the
Pittsburgh Steelers
'
30-20 win
over the
Cincinnati Bengals
at Heinz Field.

What it means:
The Steelers stayed mathematically alive for the postseason, albeit barely. Unless a ton of things come to pass, the Steelers' most impressive win of the season will have come too late for them to avoid missing the playoffs in back-to-back seasons for the first time in their seven years under coach Mike Tomlin. The Steelers dominated from the outset, quickly answering any questions about how they would play with the postseason all but out of their reach. They erupted for 21 points in the first 15 minutes, dominating a quarter in which they too often had been owned this season. The Steelers had been outscored 77-43 in the first quarter before their final primetime game of the season. They didn't allow a point against the Bengals.
Stock watch:
The defense looked anything but old or a group that was just playing out the string, limiting the Bengals to 91 yards in the first half. But a pair of special-teams plays shaped the second meeting of the season between the AFC North rivals -- and helped Pittsburgh avoid a season sweep by the Bengals for the first time since 2009. A bobbled snap by
Kevin Huber
resulted in the Bengals punter getting tackled on Cincinnati's 1-yard line, and two plays later Steelers running back
Le'Veon Bell
scored the first touchdown of the game. Huber's night got much worse near the end of the quarter.
Terence Garvin
obliterated Huber on one of the blocks that helped spring
Antonio Brown
for a 67-yard punt return for a touchdown. The block left Huber with a fractured jaw, and it could lead to a fine if the NFL determines Garvin violated the Hines Ward Rule, which prohibits a blocker from using his shoulder, forearm or helmet to hit a player from behind or the side.
Woodley sidelined again:
LaMarr Woodley
can't seem to stay healthy, and it's fair to wonder if the Dec. 29 regular-season finale against the Browns will be his final one at Heinz Field in a Steelers uniform. Woodley hasn't been the same player since injuring his hamstring more than two years ago, and the Steelers can't justify the contract that makes Woodley the highest-paid defensive player in franchise history. Woodley, who signed a six-year, $61.5 million deal in 2011, aggravated the calf injury that sidelined him for three games earlier this season. And he is not even the best pass-rusher on the Steelers when healthy. If the Steelers have to choose between keeping Woodley or signing
Jason Worilds
after the season, the decision looks like a no-brainer.
Tough sledding for Bell:
Bell averaged just 2.4 yards per carry and seemed to be a little too indecisive while rushing for 57 yards. But he also caught five passes for 50 yards and again showed glimpses of what kind of runner he can be at this level. He stopped Bengals defensive end
Michael Johnson
in his tracks with a withering stiff arm on the way to one of his more productive runs of the night. An earlier run, in which Bell hurdled Bengals cornerback
Dre Kirkpatrick
, was brought back because of a holding penalty on tight end
Matt Spaeth
. Bell joined Franco Harris and Bam Morris as the only rookie running backs in franchise history to gain at least 1,000 yards from scrimmage.
What's next:
The Steelers play the
Green Bay Packers
next Sunday at Lambeau Field. The game could mark the return of Packers quarterback
Aaron Rodgers
, who has been out since early November with a broken collarbone. The Packers remained in playoff contention Sunday with a come-from-behind win at Dallas, increasing the chances that Rodgers will play against the Steelers.
December, 15, 2013
12/15/13
11:38
PM ET
PITTSBURGH -- A few thoughts on the
Cincinnati Bengals
'
30-20 loss
to the
Pittsburgh Steelers
.

What it means:
Much of the Bengals' focus this season had to do with proving themselves to the rest of the football universe. As a team that has spent much of its history in the lower tier of the AFC, the Bengals entered this season with the belief that many others doubt them, and they even carried that thought with them into this week when a third straight postseason berth was on the line. But in actuality, there were few who doubted the Bengals this past week. There was an overwhelming belief by pundits that they might actually be a force once the postseason began. When the
New England Patriots
lost to the
Miami Dolphins
earlier in the day, it seemed a foregone conclusion that Cincinnati would win and retain the No. 2 seeding the Patriots' loss was about to give them. All the Bengals had to do was win. But that didn't happen. They didn't even show up at Heinz Field, and now, like before, the Bengals still have to rely on help from others in order to script their postseason story. With a win, they would have fully controlled their fate.
Stock watch:
Offensive line -- falling. Cincinnati's offensive line has been rather solid all season, consistently ranking among the best in the league, according to Pro Football Focus. The group didn't look quite as strong Sunday, as the Steelers were getting consistent pressure on quarterback
Andy Dalton
. Most of the pressure came in the first two quarters. It eased a bit in the second half as Pittsburgh was trying to protect the lead and wasn't rushing Dalton quite as regularly. What also helped Dalton was the fact he and his receivers became more committed to running quick-strike screen and slant routes that didn't give the pass rush much time to develop. The early pressure led to Dalton being sacked in the first half for the first time since Nov. 10 at Baltimore. It was the only sack the Bengals' line allowed.
Injuries pile up:
Injuries have ravaged the Bengals all year, and they hit them even harder in this game. With
Dre Kirkpatrick
starting at cornerback in place of veteran
Terence Newman
, the Bengals already were down one of their top defenders. Late in the first half, though, they also lost linebacker
James Harrison
. The former Steeler was run from the game with a concussion in the same quarter that Cincinnati punter
Kevin Huber
left with a fractured jaw.
Green short of 100:
Bengals receiver
A.J. Green
was seven yards short of 100. He hasn't gone beyond the 100-yard mark since that same Nov. 10 game when Dalton was previously sacked. He had a chance to do that on the Bengals' last drive, though, but he didn't catch up to a Dalton deep pass.
What's next?
The Bengals will try to get back on track next weekend when they return home and host the
Minnesota Vikings
in the first of two regular-season games left at Paul Brown Stadium. Minnesota blew past Philadelphia on Sunday, 48-30.