AFC North:

2013 Week 2 PIT at CIN
September, 17, 2013
9/17/13
3:30
AM ET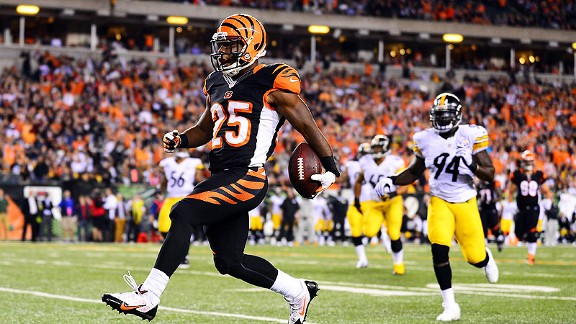 Andrew Weber/USA TODAY SportsRookie Giovani Bernard notched his first two career touchdowns Monday in Cincinnati.
CINCINNATI -- It started as a low roar and built into something more.
As
Cincinnati Bengals
quarterback
Andy Dalton
called for the snap to start a new set of downs, most of the 64,585-strong Paul Brown Stadium crowd was relatively quiet, to allow the hometown offense to continue plowing its way downfield.
Once Dalton fielded the shotgun snap and dropped back, the comparative silence would cease.
A split-second after his three receivers and one running back took off on respective routes, Dalton lobbed the ball some five yards past the line of scrimmage to his pass-catching tailback. At that exact moment, the roar began to grow in intensity. It heightened further as soon as the back turned his shoulders forward and started sprinting into the defensive secondary. With each blurred step his speedy feet took from there on, the volume increased.
Somewhere in the mass of orange, yellow and black humanity, surely some Bengals fan had to be yelling: "Go, go. Go, Gio, go!"
If Bengals fans weren't shouting it before, they certainly will every time the do-everything back touches the ball now.
By the time
Giovani Bernard
high-stepped across the goal line 27 yards later and slowed his gait in the back of the end zone, the noisy stadium had reached a deafening fever pitch.
It was the sound of a star being born. It was the sound of a go-ahead touchdown. It was the sound of a collective
Aha!
moment, as spectators and coaches finally got on the same page. At long last, they were speaking the same loud language.
If the Bengals want to replicate wins like Monday night's
20-10 victory
over the rival
Pittsburgh Steelers
, they will need to keep the conversation going.
To do that, they'll need to keep Gio going, too.
"It's not too many opportunities you get like that, and not many chances you get like that," said Bernard, a rookie, who had a pair of touchdowns. "Once you get that chance and they bust coverage, or whatever it is, you've just got to take advantage of it."
Go, go. Go, Gio, go.
Cincinnati made the North Carolina running back the first ball carrier taken in April's NFL draft, and Bernard took full advantage of the nine touches he was given against the Steelers. One week after being given four handoffs and getting passed to once, the young player was a key contributor in an overall offensive performance that was the Bengals' best since last November, and one of its best against the Steelers in the past decade and a half. In all, seven players caught passes for Cincinnati and four had carries in what Dalton considered a true team win.
"Everybody did a real good job," Dalton said. "The tight ends did a good job of getting open. … The line did a really good job blocking up front and we ran the ball well. It didn't really matter. We never knew what exact play was going to be called, run or pass, but I felt we could come out and execute."
One of the nine passes Bengals tight ends caught helped set up Bernard's other score, a 7-yard first-quarter run that gave them their first lead of the tight divisional game. The sprint prominently featured the 5-foot-9 rusher's quickness, elusiveness and ability to pop through the tiniest of holes.
[+] Enlarge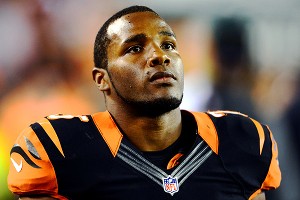 Andrew Weber/USA TODAY SportsGiovani Bernard "did the things that we expect him to continue to do," Bengals coach Marvin Lewis said.
Runs like it helped offset the power-running, contact-seeking style of veteran tailback
BenJarvus Green-Ellis
.
"Bennie's kind of the tone-setter and the guy that runs really physical, but then Gio, man, he gets in there and they can't find him," left offensive tackle
Andrew Whitworth
said.
Bernard finished with 38 yards rushing on eight carries, a clip of 4.8 yards per carry. Green-Ellis, the sixth-year running back out of Ole Miss, amassed 75 yards on 22 carries. His runs included one for 14 yards, and eight straight carries on a late-fourth-quarter drive that saw the Bengals convert a pair of first downs and drain enough time to make the Steelers' desperate, last-second comeback fail.
Total, the Green-Ellis and Bernard tandem supplied 113 of the Bengals' 127 yards on the ground.
Asked if the ground game's balance was a little closer to what he had drawn up in his mind in the offseason, coach Marvin Lewis coyly nodded his head: "Yes, it is."
"[Bernard] did the things that we expect him to continue to do. He had the great catch-and-run. He had a big run earlier," Lewis continued. "And then Bennie comes back and finishes it off. It was a good job by the two of them."
Go, go. Go, Gio, go.
Cincinnati's ground production came one week after the Bengals' pair couldn't crack 50 yards in a game that left fans scratching their heads about the rushing offense and wondering if it would exist at future points this season. Even offensive coordinator Jay Gruden told reporters a day after the season-opening loss at Chicago that he wouldn't be averse to making this a pass-first offense if the run game woes continued in that direction.
He'll be glad to know that, thanks to his more balanced two-man approach at tailback this week, he won't be needing to make those plans anytime soon.
It's a good thing, too, because now that Bernard has burst onto the scene and fulfilled every expectation Bengals fans had for him, don't expect them to keep quiet when it comes to discussing their ideal plans for scenarios that involve playing him. Lewis, Gruden & Co. will still want to ease the rookie into the flow of the offense, but it may be time they ease up on the reigns.
If this offense is going to continue to go, it's going to need more Gio.
September, 17, 2013
9/17/13
2:28
AM ET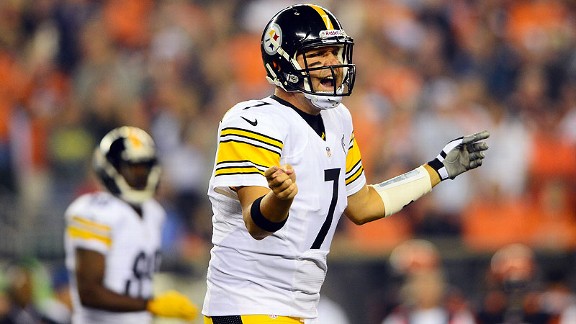 Andrew Weber/USA TODAY SportsMonday was frustrating for Ben Roethlisberger, who got little help from his backs and receivers.
CINCINNATI -- This is it, right? There is no fixing it, not now, not in a matter of weeks or even months. The team the
Pittsburgh Steelers
put on the field Monday night looked old, slow and -- blasphemous as it might seem in the Iron City -- a little soft. Shut down and manhandled in a
20-10 loss
to the
Cincinnati Bengals
, the Steelers did nothing to contradict the notion that their well-worn nucleus is in decline.
A "Monday Night Football" audience witnessed what close observers have suspected for some time: The Steelers' offense is punchless, and their defense, while still stout at times, no longer can be counted on to make big plays. These roster-wide symptoms have left the Steelers 0-2 for the first time in the seven-year Mike Tomlin era, and they have the potential to take this franchise to unprecedented places.
"If we don't shore something up," safety
Ryan Clark
said, "if we don't play better than we did tonight, we won't win a game. Period. Point blank."
We should acknowledge that the Bengals played a role in what we saw Monday night. They are a good team and could be the best the AFC North has to offer, but to me the Bengals' performance only accentuated the Steelers' step back.
We saw Bengals running back
Giovani Bernard
darting through the Steelers' defense, averaging 7.2 yards every time he touched the ball, while the Steelers' crew of grinders slogged to 44 yards on 16 carries.
Every time we looked up, it seemed, a Steelers ball carrier was being tackled at the line of scrimmage. Most egregious: Receiver
Jerricho Cotchery
was dragged down for a 5-yard loss on an ill-fated reverse. In all, the Steelers ran 16 plays in the first three quarters that netted 3 or fewer yards.
Meanwhile, quarterback
Ben Roethlisberger
had one of the worst games of his career as a downfield passer. He overthrew nine passes, which, according to ESPN Stats & Information, was the highest total of his career. Was Roethlibserger that off? I don't think so. Watching with an amateur eye, it didn't look like he had much room to squeeze in the ball to receivers who got little separation.
Everything that I'm used to seeing from -- and thinking about -- the Steelers was missing Monday night. They didn't run well. None of their pass-catchers enhanced a play beyond what the scheme called for. Their defense still hasn't forced a turnover this season. Indeed, the Bengals averaged a modest 5.2 yards per play, but they managed to run 79 of them because the Steelers couldn't get them off the field.
"We weren't good enough tonight," said Tomlin, who lost for the first time as a head coach when taking the field with a losing record. "We have to accept that. But I emphasize tonight, like I just emphasized to our group, there's a certain amount that we need to swallow and rightfully so, but we've got to maintain our way."
I didn't expect the Steelers to give up on their season after this loss, but other than Clark's pointed statement, I found a staunch refusal to process the evidence that played out Monday night.
Roethlisberger, in fact, suggested that Steelers receivers lost balls in the lights at Paul Brown Stadium. As well, Tomlin and every player I listened to mentioned a debatable tripping call that negated a 33-yard pass to receiver
Antonio Brown
in the third quarter. The play was a significant turning point, but it wasn't insurmountable. In fact, the Steelers were within seven points in this game until midway through the fourth quarter.
"That's part of the game," receiver
Emmanuel Sanders
said. "Sometimes we connect. Sometimes we don't. But I think we still made enough plays. Some plays got called back, and sometimes we didn't execute to the best of our ability."
Again, the Steelers have 14 games left to play, and presumably plenty of time to change their identity. The return of tight end
Heath Miller
would help, and Tomlin promised that speedy receiver
Markus Wheaton
could get involved.
But a 30-year-old tight end and a rookie receiver aren't going to rescue this team. The Steelers' roster can't change substantively during the season. Perhaps they can find a way to grind out victories without splash plays on offense and regular turnovers on defense, but that path offers no margin for error.
My lasting impression of this team, at least for now, will be of the final play Monday night. With 16 seconds left, Roethlisberger completed an 18-yard pass over the middle to Brown. The Steelers rushed to the line of scrimmage, and Roethlisberger motioned as if he wanted to spike the ball for one final play.
Players lined up, the clock ticked down and center
Fernando Velasco
-- starting one week after the Steelers signed him to replace the injured
Maurkice Pouncey
-- snapped the ball with one second left.
Roethlisberger spiked it, looked up and saw no seconds remaining. He and the rest of the team were just a step slow. Is this it for this group of Steelers? Watching Monday night, it sure looked like it.
September, 17, 2013
9/17/13
1:04
AM ET
CINCINNATI – Observed in the locker room after the
Cincinnati Bengals
'
20-10
win over the
Pittsburgh Steelers
:
Bernard
Staying humble:
Rookie running back
Giovani Bernard
burst onto the national stage Monday night with his two-touchdown effort in the victory. Both scores -- one rushing, one receiving -- were career firsts. After the game, he wasn't in the mood to talk about milestones. "It was whatever, but the biggest thing is that we won. I've always been that way. As long as we win, I'm happy."
Sloppy win:
As joyous as the Bengals were over Monday's win -- at one point while interviews with reporters were ending, Frankie Beverly and Maze's "Joy and Pain" blared over the locker room's speakers -- they weren't fully satisfied with the performance. Between now and Sunday's visit from the
Green Bay Packers
, there is much to be fixed. "We kind of considered it a little bit of a sloppy effort and not as good as we'd like it to be," offensive tackle
Andrew Whitworth
said, "but it was still a really good win."
Same old Harrison:
While being interviewed at his Bengals locker, former Steelers linebacker
James Harrison
shrugged off talk about playing his old team: "It was no more of a game than it was any other game."
September, 16, 2013
9/16/13
11:51
PM ET
A few thoughts on the
Cincinnati Bengals
'
20-10 win
over the
Pittsburgh Steelers
:
What it means:
We're only two weeks into the regular season, but already the AFC North race is beginning to take the shape that most anticipated during the offseason. With the Steelers and Browns now both sitting at 0-2, the Bengals and Ravens are beginning to look like the division's true leaders. Monday night's game was important for both teams involved, but it could arguably be considered an even bigger deal for the Bengals, a team eager to legitimize itself and to prove the preseason chatter wasn't really all "Hard Knocks"-fueled hype.

Stock watch:
Falling --
Andy Dalton
. OK, so a week ago, he was the King of the Queen City after posting a blistering 78.8 percent completion in the Bengals' three-point loss at Chicago. The stock meter was trending positively for the third-year offensive leader who displayed a high aptitude for getting the ball out of his hand quickly and throwing successfully into tight spaces during the opener. He wasn't anywhere near as sharp Monday night, even with what appeared to be more time to pass. More times than not, his incompletions were high and well beyond his receivers' reach. On 45 attempts, he completed just 56 percent of his passes. There still are 14 games to go in the regular season, though, so Dalton has plenty of time to prove his Week 1 showing was no fluke.
Rookie impact:
First-year running back
Giovani Bernard
had his Cincinnati coming-out party Monday night, rushing for a 7-yard touchdown in the first half and weaving his way back into the end zone in the third quarter on a 27-yard touchdown reception. The fans who had been pleading with head coach Marvin Lewis and offensive coordinator Jay Gruden for greater involvement out of the speedy Bernard got their wish. In all, he touched the ball nine times (eight runs, one catch). In last week's loss, Bernard rushed four times and caught one pass.
What's next:
Cincinnati (1-1) has a big test this Sunday when it hosts Green Bay (1-1) in a nonconference showdown at Paul Brown Stadium. A win over the Packers would go a long way toward convincing critics that Cincinnati is to be taken seriously in the league this season.
September, 16, 2013
9/16/13
11:50
PM ET
CINCINNATI – A few thoughts on the
Pittsburgh Steelers
'
20-10 loss
to the
Cincinnati Bengals
at Paul Brown Stadium:

What it means:
The Steelers played better Monday night than they did in a season-opening loss to the
Tennessee Titans
, but it will still be a quiet plane ride back to Pittsburgh. The Steelers are 0-2 for the first time under seventh-year coach Mike Tomlin, and the offense hasn't looked this challenged since 2003, when Pittsburgh went 6-10.
The defense again played well enough, but it will have to dominate games for the Steelers to beat playoff-caliber teams this season. Through two games, the Steelers have not forced any turnovers, and they have notched one quarterback sack.
Stock watch:
The offense produced a few spasms of productivity, and it actually looked like a legitimate NFL unit late in the second quarter when quarterback
Ben Roethlisberger
led a five-play, 65-yard touchdown drive.
But even when Roethlisberger completed a pass, he had to fit the ball into a tight window, and the Steelers again got very little from their running game.
Felix Jones
led the way with 37 yards on 10 carries -- and that was a marked improvement from what Steelers running backs did the previous week. Yikes.
Offensive coordinator Todd Haley provided more fodder for frustrated Steelers fans with some of his play calls. A reverse to a 31-year-old possession receiver (
Jerricho Cotchery
)? Really?
Spike it, will ya?
What were the Steelers thinking after tight end
David Paulson
got stripped at the end of a 34-yard catch-and-run in the first quarter? The Steelers took their time getting to the line of scrimmage when they should have been hurrying to snap the ball, since Paulson had been ruled down before he fumbled.
The dawdling gave Bengals coach Marvin Lewis enough time to watch a replay and throw the challenge flag. The call was reversed, and Cincinnati needed just five plays to cover 87 yards and score the first touchdown of the game after the turnover.
What's next:
The Steelers play another prime-time game when they host the 2-0
Chicago Bears
on Sunday night, and it is not too early to call it a must-win situation for Pittsburgh. The team has missed the playoffs all three times it has started a season 0-3 since 1970.
The Bears couldn't give a hoot about the Steelers' problems, and their opportunistic defense will be able to take its share of chances against an offense that simply doesn't have enough playmakers.
September, 16, 2013
9/16/13
7:17
PM ET
CINCINNATI -- There will be a moment of silence just before Monday night's game between the
Pittsburgh Steelers
and
Cincinnati Bengals
to honor the victims of Monday morning's shooting in Washington.
It will come just after the national anthem and before the coin toss. The game will be broadcast by ESPN, starting at 8:30 p.m.
Cincinnati firefighter John Winfrey is scheduled to sing the anthem. He often performs at major sporting events in the city.
According to reports, 13 people were killed and many others wounded during a shooting at the Washington Navy Yard, a naval base located near the Washington Nationals Park. The alleged gunman was among those who were killed.
Monday night's Nationals-Braves game was affected by the shooting. It was postponed until Tuesday when it will be part of a day-night doubleheader.
September, 16, 2013
9/16/13
2:15
PM ET
CINCINNATI -- Few stages in professional sports compare to the ones that exist inside NFL venues on Monday nights in the fall. Just ask
Cincinnati Bengals
defensive tackle
Domata Peko
.
"There's nothing like Monday night," the eight-year veteran said. "It's electrifying out there."
The atmosphere on the Riverfront certainly will be charged later in the day when the Bengals host their first home game of the season and welcome a familiar foe to their stomping grounds. Actually, "stomping" is an appropriate word for this matchup. It has been used far too often against Cincinnati in this rivalry, with the Steelers coming out victorious in 13 of the last 14 games played in the Queen City. Pittsburgh also has won five of the last six meetings overall.
Cincinnati's most recent series victory came in December on a game-winning field goal that put the Bengals in the playoffs for a second straight season.
To get you set for this latest installment in the longtime AFC North rivalry, which begins at 8:30 p.m. on ESPN, here are four things to watch for:
1. Taking advantage.
With center
Maurkice Pouncey
's season-ending injury that came just eight plays into last week's game against Tennessee, the Steelers scrambled all week to find an adequate backup. Although there has not been a formal announcement, it appears
Fernando Velasco
will play in place of Pouncey, making just the 20th start of his five-year career. Until last week, he was a free agent who started all 16 games at center and left guard for the Titans last season.
With so much change at the crucial position, the Bengals will want to take advantage by crashing their physical and athletic defensive line into the interior of Pittsburgh's offensive line often. As good as Velasco may be, the difficulty he faces is understanding as many of the Steelers' play calls and protections as possible. It might behoove the Bengals to blitz from the inside and send multiple stunts early just to see how he reacts.
Roethlisberger
2. Keeping up with the receivers.
Whatever struggles Velasco may have could be negated by
Ben Roethlisberger
. The veteran quarterback has demonstrated an ability to put the Steelers' offense on his shoulders and will it to victory, regardless of all of the challenges that exist. Expect him to try to do the same Monday night. In doing that, he will be roaming around the backfield, looking for as long as it takes for as many open receivers as he can.
Like we wrote on the
ESPN NFL Nation Bengals blog
earlier, among quarterbacks who had four to six seconds to attempt a pass last season, Roethlisberger ranked first in QBR. He also led the league in touchdowns and passer rating in similar situations. How was he able to have so much time to pass? Well, he had an offensive line that blocked well enough for him, and he had receivers who kept routes alive even as Roethlisberger stumbled in and out of sack attempts and avoided rushers. Cincinnati will need to be sure its defensive backs don't lose coverage, and it will need to stay relentless on the rush in order to prevent Big Ben from taking over.
3. Cleaner game?
Will the Bengals play a cleaner game this week compared to what they showed in Chicago last Sunday? We shall see. If they don't and lose their composure often, retaliate with punches and shoves after the whistle and let the trash talk get inside their heads, they could be in for a repeat result. Coaches contend that they spent part of the week impressing upon players the need for avoiding useless penalties like the unsportsmanlike and personal-foul calls that were a product of retaliatory behavior last week.
A clean game also is one with few clock-management issues. Thanks to personnel problems that arose not even halfway through the fourth quarter last week, the Bengals burned their last two timeouts. With a divisional game that could go to the wire, they have to make sure those challenges also are behind them.
4. Battle of run games.
Neither team's running game looked good in their respective openers. The Steelers rushed for just 31 yards. The Bengals amassed 63. In order to combat its rushing woes, Pittsburgh re-signed the once-waived
Jonathan Dwyer
. Last year in Cincinnati, Dwyer rushed for 122 yards in one of the last games in which the Steelers went beyond the 100-yard rushing plateau as a team.
Bengals offensive coordinator Jay Gruden says he'll make Cincinnati's offense one predicated on passing if that's what is needed to win, but he wants to establish a semblance of offensive balance. To that end, look for
Giovani Bernard
to get more than four carries this week. Against the Bears, his four carries totaled 22 yards.