AFC North:

2013 Week 3 GNB at CIN Rapid Reaction
July, 31, 2014
Jul 31
4:59
PM ET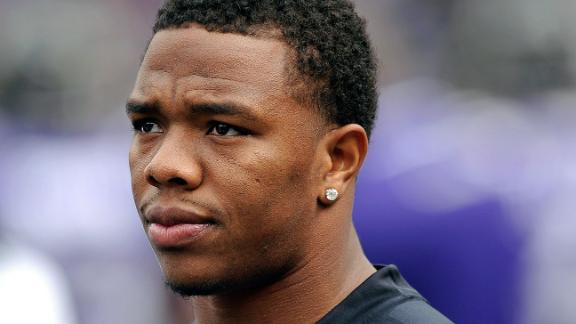 OWINGS MILLS, Md. -- In stark contrast to
Ray Rice
's awkward news conference in May, the
Baltimore Ravens
running back showed Thursday that he finally understood the weight of his actions from the alleged altercation with his then-fiancée in February.
He delivered the correct message, one the NFL failed to do last week with the two-game suspension, by not only apologizing to his wife, Janay Palmer, but also expressing a desire to become an advocate for domestic-violence causes.
Rice was compelling in his contrition, calling it the biggest mistake of his life. He stood in front of the microphone alone, without his wife standing by his side, and took full responsibility for the incident. Perhaps more importantly, Rice actually said the words "domestic violence," which weren't heard in his statement two months ago.
"My actions were inexcusable," Rice said. "That's something I have to live with the rest of my life."
Before anyone pats Rice on the back, this is what he should have said the first time when he broke his silence in May. Instead, Rice nervously fumbled through notes on his phone and apologized to team officials and his sponsors. That debacle of a news conference came across as damage control to his image.
His 17-minute news conference Thursday hit the right tones. He apologized to all women affected by domestic violence. He accepted the blame for losing the respect of fans. Rice came across as genuinely sorry.
"I let my wife down, I let my daughter down, I let my wife's parents down, I let the whole Baltimore community down," Rice said.
Rice's biggest misstep was not talking about what happened in the elevator. He was asked twice about it and declined to answer both times. His stance against domestic violence would have resonated stronger if he had explained his transgressions.
"I'll be honest: Like I said, I own my actions," Rice said. "I just don't want to keep reliving the incident. It doesn't bring any good to me. I'm just trying to move forward from it. I don't condone it. I take full responsibility for my actions. What happened that night is something that I'm going to pay for the rest of my life."
The only way Rice can move forward from this incident and show he's truly sincere is through his actions. It's not by his words. It's not by a hefty donation, which is merely a gesture. It's by proving this will remain a "one-time incident" and by supporting domestic-violence causes.
Thursday represented a small step forward for Rice. But it was an important one.
September, 22, 2013
9/22/13
4:21
PM ET
CINCINNATI -- A few thoughts on the
Cincinnati Bengals
'
34-30 win
over the
Green Bay Packers
:
What it means:
With the win, Cincinnati improves to 2-1 ahead of next week's division game at Cleveland. As the Bengals step back into AFC North play, the victory gives them much-needed momentum. It also should serve as a real confidence boost. One week after tying offensive franchise records in its win over Washington, Green Bay was mostly held in check by a Bengals defense that, despite numerous adverse situations, had another strong showing Sunday. After giving up 30 unanswered points in the second and third quarters, the unit played a key role in the Bengals' charging back for the four-point victory.

Stock watch:
Cincinnati's defense wasn't handed very many favors by its offense, as turnovers and poor starting field position backed the unit into its own end zone often. Three times the Bengals had to turn to their goal-line setup. Twice, they held the Packers to field goals. The other goal-line situation resulted in a Green Bay touchdown. In addition to mostly remaining firm deep in its own territory, Cincinnati's defense also recorded two interceptions en route to keeping a quarterback under 300 yards for an active league-record 17th straight game. Last week, Packers quarterback
Aaron Rodgers
tied a franchise record with a 480-yard performance. On Sunday,
Terence Newman
jumped a route for the Bengals' first interception.
Leon Hall
was in perfect position to catch another deep in Bengals territory.
Hurting themselves?
Entering Sunday's game, the Bengals' biggest miscues always seemed to be the product of penalties. But for the first time this season, turnovers became a major issue, and nearly cost them the game. Yes, the Bengals threw a pair of interceptions in their season-opening loss at Chicago two weeks ago, but at least those turnovers were spread throughout the game. The penalties primarily led to that loss. During one seven-minute stretch, Cincinnati lost two fumbles and threw an interception. In one late 20-second stretch, though, the Bengals recovered the game's biggest fumble on Newman's 58-yard touchdown return.
What's Next:
Cincinnati returns to action next week when it travels to Cleveland for its second AFC North game of the season. After beating Pittsburgh 20-10 on Monday night, the Bengals will be looking to prove they can be consistent in the division. The last trip to Cleveland didn't go well for the Bengals. They lost 34-24.