AFC North:

2013 Week 3 HOU at BAL
September, 22, 2013
9/22/13
8:33
PM ET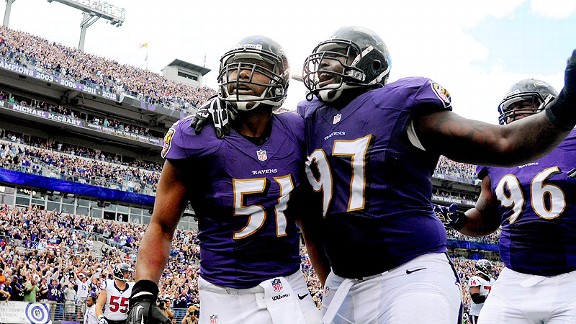 Evan Habeeb/USA TODAY SportsBaltimore's defense hasn't allowed a touchdown since the opening-week meltdown in Denver.
BALTIMORE -- It's a nice story to say the
Baltimore Ravens
looked like their old selves on defense on the day
Ray Lewis
and
Ed Reed
returned to Baltimore. The real story is the Ravens defense wants to establish its own identity, and this hard-hitting, quarterback-harrassing group made its boldest statement yet in a 30-9 win over the
Houston Texans
on Sunday.
The Ravens defense wasn't motivated by Lewis' induction into the Ring of Honor or Reed coming back with the Texans. The history that fuels the Ravens is getting ripped for seven touchdowns by
Peyton Manning
in the season opener.
Sure, linebacker
Daryl Smith
looked like Lewis when he scored on that game-changing 37-yard interception return. And
James Ihedigbo
looked more like Reed than Reed himself with those drive-killing plays.
[+] Enlarge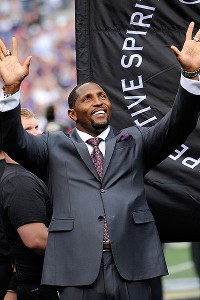 AP Photo/Nick WassWhile Ravens fans saluted Ray Lewis' inclusion into the Ring of Honor, the players were motivated by the desire to keep improving.
But here's the bottom line: Since that Week 1 embarrassment in Denver, the Ravens haven't allowed a touchdown and have given up a total of 15 points in two games. It's too early to say the Ravens' defense is back. But this defense, which has seven new starters from the Super Bowl-winning unit, is certainly coming together with big plays, a ferocious pass rush and a defiance in the red zone.
"We feel like we can be a great defense," coach John Harbaugh said. "We're still working towards that. We talked about this last night. We do feel like we're as far along as we could possibly be right now with this group."
It's respectable when the Ravens hold the
Cleveland Browns
without a touchdown. It's impressive when they hold the Texans out of the end zone. The Texans have running back
Arian Foster
, wide receiver
Andre Johnson
(albeit beat up) and tight end
Owen Daniels
. Houston scored 30 or more points in its first two games.
The turning point for the Ravens came in Houston's first drive, when they had too many players on the field for a field goal attempt. It gave Houston a first down on the Ravens' 18-yard line, but in the prevailing theme, the defense saved the day. Ihedigbo's physical coverage on Daniels on third-and-goal forced a field goal.
"Once again, at the top of our goals on our board is no touchdowns," Ihedigbo said. "We're going against a high-powered offense like this [and] when you do that, it means a lot."
Take away Houston's opening 69-yard drive and the Ravens held the Texans to 195 yards the rest of the game. In the final eight drives, the Texans never got close enough to sniff the end zone, coming only as close as the Ravens' 29-yard line.
Have these back-to-back impressive performances been a response to allowing a franchise-worst 49 points in Denver?
"We're not talking about Denver anymore," Ihedigbo said. "We're done talking about that."
[+] Enlarge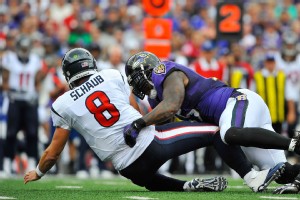 Larry French/Getty ImagesSeven Ravens got a hit on Matt Schaub, including Terrell Suggs with a sack.
Said defensive lineman
Marcus Spears
: "We knew that wasn't really us, man."
What has changed since Denver? The Ravens benched safety
Michael Huff
and cornerback
Corey Graham
. Baltimore went with two first-round picks in safety
Matt Elam
and cornerback
Jimmy Smith
.
What really changed was shutting down the big plays. Manning completed nine passes of 23 yards or longer against Baltimore. The Ravens haven't given up a pass over 23 yards in the past 67 pass attempts. Texans quarterback
Matt Schaub
didn't throw a pass longer than 18 yards.
Some of this success goes to the Ravens' pass rush, which didn't give Schaub any time to look downfield. The Ravens can crash the edges with
Terrell Suggs
and
Elvis Dumervil
. They can collapse the middle with
Haloti Ngata
and
Art Jones
. Baltimore came from all angles, with seven players getting a hit on Schaub.
The bigger factor has been the improved coverage. Smith is getting his hands on passes, and Ihedigbo is a difference-maker. He finished with nine tackles, including two for loss, two passes defended (one on fourth down in the fourth quarter) and a hard hit on Schaub.
Ihedigbo was the best safety on the field on the day many were focused on Reed. "I don't know about that," Ihedigbo said.
The Ravens have needed the defense to play dominant because, as quarterback
Joe Flacco
said, the offense is going through growing pains. The Ravens are without their top tight end (
Dennis Pitta
is on injured reserve), No. 2 receiver (
Jacoby Jones
is out at least another couple of weeks with a knee injury) and their Pro Bowl running back (
Ray Rice
could be sidelined another week with a hip injury).
When Smith's interception return put the Ravens ahead 10-6 in the second half, the offense had 65 total yards. The Ravens finished with 236 yards.
"Give a lot of credit to those [defensive] guys," said Flacco, who was 16-of-24 for 171 yards. "They've played two weeks now where they haven't given up a touchdown. You're going to have a tough time losing when that happens."
The Ravens won't see Reed again in the regular season, and there are no more planned reunions with Lewis again this year. But the Ravens proved they're in good hands with newcomers like Smith, Ihedigbo and Dumervil.
If this defense needs inspiration, the players won't think back to the Ravens' glory days. They'll look back at the Denver debacle and see how far they've come.
"You don't ever want to have a performance like that," said Smith, who led the Ravens with 10 tackles. "Each week, we want to concentrate on getting better, and that's what we've been doing. And each week, we'll grow together, we'll gain more chemistry, we'll learn to trust each other more. I think we've done that the last two weeks, and we have to continue to do that."
September, 22, 2013
9/22/13
5:35
PM ET
Observed in the locker room after the
Baltimore Ravens
' 30-9
win
over the
Houston Texans
:
Growing pains
: The Ravens only managed 236 total yards, including 10 in the first half, but there is no sense of panic on offense. "I keep saying it, we're a young team and we got a lot of new guys over there and we're real slim at the running back position today," said quarterback
Joe Flacco
, who didn't have running back
Ray Rice
(hip) in the backfield. "So, we're going to have some growing pains throughout the first couple of weeks. I said all along the biggest thing is: Can we win games while we have those? So far, the last two weeks, we haven't been great but we've managed to win football games. I think that's a sign of a pretty good football team."
Reed
Cleaning up penalties
: Something was said at halftime, presumably directed at the offensive line, after the Ravens were flagged eight times in the first half. The Ravens committed just two penalties after halftime. Most of the problems were with the offensive line, and offensive tackle
Bryant McKinnie
had two facemask penalties. "Sometimes against a good front, that stuff comes up but we don't need to do that," coach John Harbaugh said. "Our offensive line is tood good to have to resort to those techniques. The guys did a good job of cleaning it up."
Paying no attention to Reed
: The return of
Ed Reed
to Baltimore was a big storyline heading into the game. But he was a non-factor in the game and in the minds of the Ravens. "We broke the huddle on the first play of the game and I saw him," Flacco said. "And from then on out, I didn't pay too much attention to him. On a couple of plays, I tried to give him a double couple look offs. I purposely, though, didn't pay too much attention to him after that first play."
September, 22, 2013
9/22/13
4:11
PM ET
BALTIMORE -- A few thoughts on the
Baltimore Ravens
' 30-9
win
against the
Houston Texans
:

What it means
: The Ravens reasserted themselves as a team to watch in the AFC just two weeks after being embarrassed in Denver. On the strength of defense and special teams, the Ravens handed the Texans their first loss of the season and avenged a 30-point loss in Houston from a year ago. The Ravens remain in first place in the AFC North by improving to 2-1 this season.
Stock Watch
:
Rising:
James Ihedigbo
. He was the best safety on the field on the day
Ed Reed
returned to Baltimore. Ihedigbo had nine tackles, including two for losses, two passes defensed (including one on fourth down) and one quarterback hit. Ihedigbo was supposed to be holding the starting spot until rookie
Matt Elam
was ready, but he has been one of the pleasant surprises for this defense.
Falling:
Discipline in the first half. The Ravens were flagged eight times in the first 22 1/2 minutes of the game. The Ravens had too many players on the field on a field-goal attempt, which gave the Texans a first down, and left tackle
Bryant McKinnie
was called for a facemask penalty twice. But, to the Ravens' credit, they finished with nine.
Replacing Ray
: On the day the Ravens inducted Ray Lewis into the Ring of Honor, his replacement made the game-changing play of the game.
Daryl Smith
jumped a pass to
Owen Daniels
to pick off
Matt Schaub
and ran it back 37 yards for the score. Smith's first career interception return for a touchdown put the Ravens, who had struggled on offense, ahead 10-6 late in the second quarter.
Birthday boy
: Less than two minutes after Smith's score,
Tandon Doss
celebrated his 24th birthday with a 82-yard punt return for a touchdown. It was the fifth-longest punt return in Ravens history. Not bad for a player who was cut three weeks ago and was only re-signed when returner
Jacoby Jones
injured his knee. This capped a spurt in which the Ravens scored 17 points in three minutes, 26 seconds.
What's next:
The Ravens (2-1) go on the road with a couple of AFC East trips, at Buffalo on Sunday and at Miami the next week.