AFC North:

2013 Week 3 Upon Further Review AFC
September, 23, 2013
9/23/13
3:00
PM ET
A review of four hot issues from the
Pittsburgh Steelers
' 40-23 loss to the
Chicago Bears
.
[+] Enlarge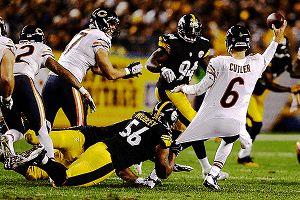 AP Photo/Gene J. PuskarLaMarr Woodley and the Steelers weren't able to make enough key plays on defense in the fourth quarter to rally past the Bears.
Change coming on O-line:
The Steelers used a three-man rotation at offensive tackle Sunday night, and
Kelvin Beachum
could get a chance to unseat
Marcus Gilbert
or
Mike Adams
. "We're going to turn the stones over in an effort to find a winning formula," Steelers coach Mike Tomlin said, "and we're not going to be bashful about that. Kelvin Beachum has earned the right to play in the rotation." The bookends of the offensive line have struggled, raising both short-term and long-term questions, particularly about Adams at left tackle. The second-year man does not look like the answer there, and his future may ultimately be at right tackle.
Falling down the depth chart:
Isaac Redman
opened the season as a starter but he could be the odd man out in the Steelers backfield when rookie
Le'Veon Bell
returns from a mid-foot sprain. Redman barely saw the field Sunday night and did not get a carry against the Bears. The fourth-year veteran has 12 yards on 10 carries this season. Take away an 8-yard run and Redman has 4 yards on his nine other carries, and his lost fumble on the Steelers' first possession of the season set the tone for an offense that has struggled. Bell, the highly touted rookie, could return Sunday against the Vikings. Barring a setback he is at least on track to suit up Oct. 13 against the Jets following the Steelers' bye week. The running game showed improvement against the Bears but it still has a long way to go. The Steelers have rushed for fewer than 100 yards in nine consecutive games dating back to last season.
Get off the field:
The lack of turnovers forced by the Steelers defense has been well documented. Just as costly against the Bears was the defense's inability to get off the field after whittling a deficit that had twice been 17 points down to four. The Steelers allowed Chicago to convert on third-and-10 and third-and-12 in the fourth quarter when the Bears were on their side of the field and clinging to a 27-23 lead. Credit
Jay Cutler
for using his legs to pick up the first down on third-and-10 and then for making a big-time throw three plays later on third-and-12. The 41-yard pass to
Brandon Marshall
led to a Bears touchdown, and Chicago was 3-for-3 on third down during that critical scoring drive. "We had them in a third-down situation and we gave up a big play and allowed them to score a touchdown at the end," outside linbebacker
LaMarr Woodley
said, "so that was on us as a defense."
Not all is bad:
The Steelers special teams, thought to be a question mark heading into the season, have been one of the few bright spots during the 0-3 start. The Steelers rendered return specialist
Devin Hester
a nonfactor the week after he piled up a Bears record 247 yards in kickoff returns. Hester managed just 26 yards on two kickoff returns, and the Bears' average field position after those returns was their 11-yard line. Steelers punter
Zoltan Mesko
drew a roughing the kicker penalty that gave the offense a new set of downs and new life in the second quarter. The Steelers turned that miscue into a touchdown that pulled them to within 24-10. Kicker
Shaun Suisham
drilled all three of his field goal attempts, and he is a perfect 4-for-4 this season.
September, 23, 2013
9/23/13
12:30
PM ET
An examination of four hot issues from the
Baltimore Ravens
' 30-9 win over the
Houston Texans
:
Defensive streak
: The Ravens haven't allowed a touchdown since surrendering seven in the season opener in Denver. It's the first time the Ravens have stopped teams from reaching the end zone in back-to-back games since the start of the 2010 season. Baltimore has not allowed a touchdown in 25 straight drives, a span of 124 minutes, 30 seconds. And while holding teams without a touchdown, the Ravens' defense has scored itself on linebacker
Daryl Smith
's interception return. Equally as impressive is the fact the Texans had scored touchdowns on all seven of their red zone trips entering Sunday's game. But Baltimore held Houston to field goals on both of its drives inside the 20-yard line.
[+] Enlarge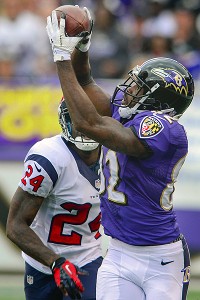 Doug Kapustin/MCT via Getty ImagesTorrey Smith played a big role Sunday in the success of Baltimore's offense.
Second-half charge
: Sluggish start, effective finish. That has been the storyline for the Ravens' work-in-progress offense the past two weeks. In the first half against the Browns and Texans, Baltimore converted only three of 14 third downs (21.4 percent). In the second half, the Ravens have converted 13 of their 18 third-down chances (72.2 percent). It wasn't the same formula. Against the Browns, the Ravens moved the chains when
Joe Flacco
started to get wide receivers
Marlon Brown
and
Brandon Stokley
more involved. Against the Texans, Baltimore picked up first downs by throwing more to
Torrey Smith
. The Ravens defense has been just as strong on third downs. The Texans were 1-for-4 on third downs in the second half Sunday.
Running on empty
: The Ravens were held to less than 3 yards per carry for a third straight game. Flacco mentioned after the game that the Ravens believed they could run the ball against the Texans, but they averaged 2.4 yards per carry. The Ravens didn't have
Ray Rice
(hip), although they weren't effective when he played the first two games. Backup
Bernard Pierce
had little running room and didn't break many tackles. Take away his 25-yard run and Pierce managed 40 yards on his other 23 carries, a 1.7-yard average. The Ravens are averaging 2.6 yards per carry this season. Only the
Jacksonville Jaguars
(2.4 yards per carry) have been worse.
Offense-minded defense
: Smith's 37-yard interception return was the first pick-six of his 10-year career and the 42nd in Ravens history. The Ravens' 30 touchdowns off interception returns since 2003 are the most in the NFL and two more than anyone else in the league (the
Chicago Bears
and
Green Bay Packers
each have 28). Since 1996, the Ravens' defense has recorded 53 touchdowns, scoring at least one in each of the franchise's 18 years of existence. Baltimore is 42-7 (.857) when scoring a defensive touchdown.
September, 23, 2013
9/23/13
12:30
PM ET
An examination of four hot issues from the
Cleveland Browns
' 31-27 win at the
Minnesota Vikings
:
[+] Enlarge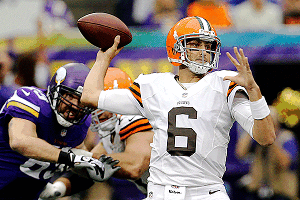 AP Photo/Ann HeisenfeltBrian Hoyer exploited Minnesota's poor pass defense in the Browns' win on Sunday.
Hometown hero
: Quarterback
Brian Hoyer
, a Cleveland native, made a historic first impression for his hometown team. According to the Elias Sports Bureau, Hoyer became the first quarterback in Browns history to throw for at least 300 yards in his debut with the team. He completed 30 of 54 passes for 321 yards with three touchdowns and three interceptions, exploiting the 25th-ranked pass defense in the league. In his five-year career, Hoyer had one previous start and threw two touchdown passes. He passed for 330 yards all of last season.
Busy day
:
Spencer Lanning
is typically the Browns' punter and holder on kicks. He had a few more responsibilities Sunday. He threw a touchdown pass to tight end
Jordan Cameron
on a fake field goal attempt in the second quarter and later kicked the extra point because
Billy Cundiff
injured his quadriceps. According to the NFL, Lanning is the first player since Philadelphia's Sam Baker in 1968 to have a punt, an extra point and a touchdown pass in the same game.
Can't run them over
: The Browns made a commitment to upgrade their pass rush. Not many expected such an improvement out of their run defense. The Browns made their biggest stand of the season against Vikings running back
Adrian Peterson
. Cleveland limited the All-Pro running back to 88 yards on 25 carries, a 3.5 average. His longest run was 9 yards. The Browns ranked 19th in the NFL last season in run defense. They're No. 8 in the league after three games this season.
Who needs to run the ball?
In their first game since trading running back
Trent Richardson
, the Browns didn't even attempt to establish the run. Of the Browns' 75 plays, they handed the ball off to a running back 14 times. That's 18 percent of the time. The biggest runs were gained by safety
Josh Aubrey
off a fake punt (34 yards), wide receiver
Josh Gordon
(22 yards) and fullback
Chris Ogbonnaya
(22 yards). Cleveland's tailbacks --
Willis McGahee
and
Bobby Rainey
-- combined for 26 yards on 12 carries.
September, 23, 2013
9/23/13
12:30
PM ET
An examination of four hot issues from the Bengals' 34-30 win over the Packers:
1. Lewis is ready for respect.
Cincinnati coach Marvin Lewis made it clear after Sunday's win that he felt his team was slighted in the days leading up to the contest. Too much attention was paid to the Packers and their talent, and not the other way around, he said. "You guys ... we're a good football team," Lewis said to reporters during his postgame news conference. "You guys make too much of others. We've got good players here, too."
Perhaps it's been so hard for national media and NFL fans alike to accept that as fact because for the past two years in particular, the Bengals' talent hasn't equated to postseason success. Until they get past the first round of the playoffs, many still won't believe in this year's team. It's a shame, too, because it might be time for people to pay attention to Cincinnati. When a defense holds a passer as prolific as
Aaron Rodgers
to 244 yards and sacks him four times, it ought to turn heads.
[+] Enlarge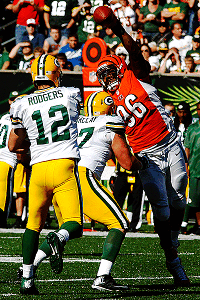 AP Photo/David KohlCarlos Dunlap and the Bengals defensive line played a significant role in Sunday's victory over the Packers.
2. All hands up.
One of the biggest reasons Cincinnati's defense stymied Rodgers was its push at the line of scrimmage. Defensive ends
Michael Johnson
,
Carlos Dunlap
and
Wallace Gilberry
, and tackle
Domata Peko
each recorded sacks. When Johnson and Dunlap weren't getting to Rodgers, they batted away passes. They got their hands on three passes total, including Rodgers' desperate attempt on Green Bay's last offensive play of the game. On fourth-and-5, Johnson knocked down a pass that could have put the Packers in goal-line territory had it been converted. This was the first time in five years that Rodgers had at least three passes knocked down in a game.
3. Suffocating coverage.
Cornerback
Adam Jones
was among those who used the words "team win" to describe how the Bengals pulled out the game. Just look at the overall defense to see why he felt they played that way. As a result of the intense pass rush by the Bengals' defensive line, the defensive backs were better able to stay with receivers. "If you get a good jam [on a receiver] and you get that good technique at the line, you don't have to cover for that long," Jones said. The combination of suffocating coverage and relentless pressure up front led to two interceptions.
4. Gio continues to go.
Quarterback
Andy Dalton
may have struggled during the second and third quarters, but he knew whom to turn to with the game on the line. In need of getting out of his own end zone, Dalton began the Bengals' final offensive scoring drive by looking left and finding rookie rusher
Giovani Bernard
. Using his speed, Bernard sprinted up the sideline for 31 yards, kicking off a seven-play, 95-yard drive that resulted in a key late score. Bernard had 14 total touches, rushing 10 times for 50 yards and catching four passes for 49. He scored once and also had key gains of 17 and 31 yards.
September, 17, 2013
9/17/13
3:00
PM ET
An examination of four hot issues from the Bengals'
20-10
win over the Steelers:
[+] Enlarge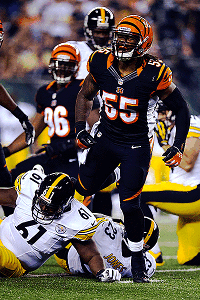 Greg Bartram/USA TODAY SportsThe Bengals' Vontaze Burfict didn't let a thigh injury stop him from producing on Monday night.
1. Burfict blew up.
After he suffered a thigh injury during a Week 1 loss at Chicago, there were questions as to whether
Cincinnati Bengals
linebacker
Vontaze Burfict
would be able to play eight days later when the
Pittsburgh Steelers
came to Paul Brown Stadium.
Not only did he play, but he silenced any doubters with a dominating performance. He finished with a team-high nine tackles and was among those who not only helped get consistent pressure on Steelers quarterback
Ben Roethlisberger
but also dropped back in coverage and assisted in giving Roethlisberger his share of passing woes.
2. Peko plows 'em.
As the Bengals tried to shore up their Week 1 rushing woes and figure out a way to get more lanes for tailbacks
BenJarvus Green-Ellis
and
Giovani Bernard
to run through, they tinkered in practices last week with a Jumbo offensive set that featured one of the biggest players on the roster. With plans to shelve H-back
Orson Charles
, Cincinnati turned to 307-pound defensive tackle
Domata Peko
. On Monday night, the Bengals occasionally used him as a lead blocker in the running game.
The Bengals didn't have a single negative rush when they ran behind him. Looks like it's time they keep letting Peko plow the defensive line.
3. Emotional Whitworth.
Andrew Whitworth
went through an offensive lineman's nightmare this preseason. After taking time in the offseason to have surgery to repair a bum knee, he was forced months later to have another procedure on the same leg weeks before his eighth NFL season was set to begin. Around the same time as the second procedure, the Pro Bowler was going through added difficulties with his other knee. It was as if anything that could to go wrong for the veteran did.
And then Monday night came. At long last, after missing the season opener due to a slow-moving rehab process, he was back on the field. His emotions were high. They almost got the best of him, as twice near the end of the game he was involved in altercations with the Steelers. That's not a bad thing. Said quarterback
Andy Dalton
: "Whit's a passionate guy. I love his heart, and it's good for him to be back out there."
4. TEs still get it done.
Cincinnati's tight ends are still getting the job done in the pass-catching game. One week after hauling in a combined 10 receptions, they grabbed nine in the Week 2 victory.
Jermaine Gresham
and
Tyler Eifert
continue to show how important it is for the Bengals to have such big and athletic players who can play in space. Two of the biggest catches they had Monday helped set up both Cincinnati touchdowns. Eifert's wide-open, 61-yard grab in the middle of the field came two plays before Bernard's 7-yard touchdown run. One play before Bernard's 27-yard touchdown reception, Gresham got the Bengals a first down when he flashed open on a screen just as Dalton was getting hit by an intense blitz.