AFC North:

2013 Week 4 CIN at CLE
September, 29, 2013
9/29/13
8:45
PM ET
CLEVELAND -- In the world of social media GMs and fantasy football owners,
Andy Dalton
was benched, traded and released thousands of times Sunday afternoon, all before the real-life version stepped off the plane at home in Cincinnati.
The multitude of fictitious transactions were knee-jerk responses to an outing that even Dalton admitted was among the worst of his career.
"It's one of them," the
Cincinnati Bengals
' third-year starting quarterback said, minutes after his team lost on the road 17-6 to division rival Cleveland.
[+] Enlarge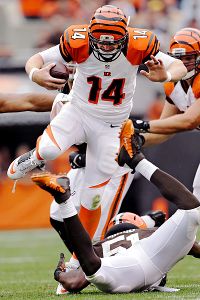 AP Photo/Mark DuncanThe Browns limited Andy Dalton to just 206 yards on 23-of-42 throwing.
For the first time all season, Dalton passed for fewer than 230 yards. In fact, he barely crossed the 200-yard plateau, picking up just enough yards on his final drive to settle at 206. The loss also marked the first time since January's first-round playoff defeat at Houston that he hadn't led a touchdown drive.
It's not like the opportunities for the Bengals to score didn't present themselves. They were there and they just didn't materialize. Much the same way the Bengals' Super Bowl hopes won't be materializing if their offense keeps sputtering.
"We had a lot of chances and we didn't take advantage of them," Dalton said. "That's the thing that's frustrating. We have all the ability in the world on this team and we just didn't get it done."
Since getting drafted 35th overall in 2011, Dalton has been considered among the most able-bodied players on a team that's chock-full of talent. With a career passer rating in the mid-80s and 12 more passing touchdowns than the average NFL quarterback has had in the past three seasons, he has proven himself to be a worthy member of the NFL's signal-calling club.
But, as the social media GMs and fantasy owners are quick to point out, he hasn't done anything to yet make himself considered among the league's passing elite.
There's one way to fix that: Be an elite passer.
"I've got to be better, I've got to put this team in a better position to win this game," Dalton said. "I didn't get that done [Sunday]."
If Cincinnati's offense is to become the well-oiled machine it appeared to turn into after Week 2's win over Pittsburgh, it will need Dalton to propel his game to the level he knows he can.
That's right. He's the big fix to the Bengals' offensive woes. That fix won't come in benching him for talented backup
Josh Johnson
. It won't come in requesting owner Mike Brown meet Tampa Bay quarterback
Josh Freeman
's reported trade wishes. It won't come in conjuring out of thin air an unnecessary quarterback controversy.
It will come, quite simply, with better play from Dalton.
Even though Cincinnati also lost during its season opener at Chicago, the Bengals quarterback was much better that day. He completed 78.8 percent of his passes and threw for 282 yards and two touchdowns. Aside from his two interceptions, it could be argued it was his best outing of the season. Even though the Bengals defense played a key role in the loss, take one of Dalton's interceptions out of the equation and Cincinnati probably would have won that game.
Forget the defense this time around, though. Sunday's defeat fell at the feet of the Bengals' offense.
"This is not a defensive issue. The defense came to play," Bengals offensive tackle
Andrew Whitworth
said. "We couldn't figure out a way to get in the end zone and they (the Browns) finally found a way. They call it a team game, but the truth is, offensively, we're not playing well."
After passing for 280 yards or more through the first two weeks of the season, Dalton posted just 235 yards last week in a turnover-filled game. The Bengals were fortunate to catch a couple breaks defensively, and a glimmer of Good Dalton showed up on an otherwise bad day. When the Bengals needed their offense the most, they got it. A short screen to running back
Giovani Bernard
turned into a 31-yard reception. The play jump-started a 95-yard drive that resulted in one of Cincinnati's final scores ahead of the eventual 34-30 win over the Packers.
When the Bengals needed a similar spark against the Browns, they couldn't get it. They had dropped passes, overthrown routes, underthrown routes and an uncommon general arrhythmia.
"It got real loud and we had a play where we had a couple options and it just seemed like a lack of communication," Whitworth said.
On that play, the Bengals were in goal line territory on a second-quarter fourth-and-1.
When the Bengals came to the line, some of them noticed a Browns linebacker drop into the A-gap. Cleveland was clearly expecting a run. Not all of the Bengals saw him.
"Half the people were thinking one play and the other half ... it was just a cluster, basically," Whitworth said.
Running back
BenJarvus Green-Ellis
, who ended up getting handed the ball and driven back two yards, said an audible may have been necessary.
"We just had to get another player [on the linebacker] or hopefully we can get another play called or get a timeout or whatever," Green-Ellis said.
The quarterback has to not only see that possible switch, but he also has to check his team into a different play and be authoritative enough that his teammates hear him. For whatever reason, that didn't happen. Instead, the Bengals were stuffed.
Cincinnati didn't get that close to the end zone the rest of the game.
One of the players who Dalton seemed most out of sync with Sunday, receiver
A.J. Green
, sounded confident his quarterback will bounce back. In order for that to happen, Green, who had nine catches out of 13 chances in the opener and 17 out of 38 tries since, will have to allow consistently showcase his talent.
"The plays are there. We just got to connect," Green said. "Whether it's me digging more, him putting the ball in a better spot. It's both of us.
"All I can do is continue to work and continue to work with Andy and hope we get better together."
As Bengals fans take a deep breath and back away from their computer screens, they're hoping that happens. Deep down, they know Dalton is their best offensive fix. A better Dalton makes a better Green. A better Dalton and Green makes a better Bengals team.
September, 29, 2013
9/29/13
4:15
PM ET
CLEVELAND -- A few thoughts on the
Cleveland Browns
'
17-6 win
over the
Cincinnati Bengals
.


What it means:
The Browns' win means we all of a sudden have a three-team race in the AFC North. While Pittsburgh continues its difficult slide to start the season, Cincinnati's loss triggered a race that now includes Cleveland and Baltimore. The Browns, a team the entire sports media universe was willing to write off two weeks ago, suddenly has a chance to really compete for the postseason. The Bengals are in need of some serious offensive help if they want to keep their Super Bowl hopes alive.
Dark hour for Dalton:
Bengals quarterback
Andy Dalton
has had his share of successes in the three years he has worn a Bengals uniform, but he also has compiled his share of moments to remember for vastly different reasons. Sunday afternoon, he had one of the latter. After throwing at least one touchdown in each of his first three starts this season, he didn't have one. He also threw for only 206 yards. The problem, it seemed, was that he never looked comfortable at any point in the game. He and his receivers appeared to be on different pages. Once, in the second half, Dalton threw a comeback route to
A.J. Green
, who was sprinting downfield on a straight fly route. Other times, his throws were too high, too low or too far behind his receivers.
Hoyer homecoming:
Dalton might have had a day to forget, but hometown kid and Browns quarterback
Brian Hoyer
will remember it for the rest of his life. Not only was the Cleveland native making his first professional start in the stadium where he attended games as a teenager, but he had the type of showing that made Browns fans believe he could be their starting quarterback for the long haul. Hoyer replaced
Brandon Weeden
two weeks ago and looks to continue starting after passing for 269 yards and two touchdowns.
Penalty problem:
The only real issue the Browns had Sunday was their apparent penchant for penalties. They had five in the game for 80 yards. Two of the penalties that came in what appeared to be pivotal situations in the second and third quarters were called on defensive back
Buster Skrine
. He made up for them, but the Browns will want to clean those up as they move forward.
Stock watch:
In the wake of the
Trent Richardson
trade and their decision to name Hoyer the starting quarterback, the Browns have been dominating headlines because of their offense. After the defense's performance in Sunday's win, it deserves some attention, too. The unit entered the game ranked third in the NFL in sacks with 12 and continued the pressure against Dalton. The Browns sacked him twice and held the Bengals to a season-low 266 yards of total offense. Despite being called for two penalties in the second and third quarters, Skrine had an otherwise strong performance, intercepting a pass and breaking up three more.
D'Qwell Jackson
led the Browns with 10 tackles.
What's next:
Cincinnati (2-2) will have one of its biggest conference games of the season next Sunday when New England makes a trip to Paul Brown Stadium. The Browns (2-2) look to build upon their momentum when they host Buffalo on Thursday night in the second game of a three-game homestand.