AFC North:

2013 Week 8 NYJ at CIN
October, 28, 2013
10/28/13
12:18
AM ET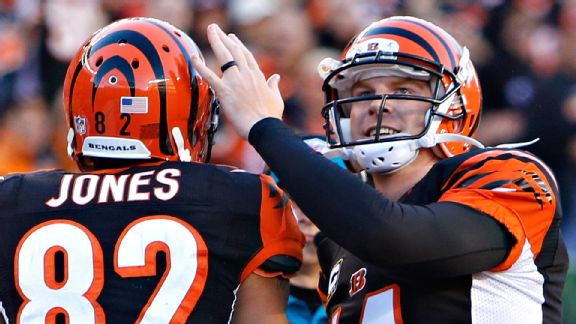 AP Photo/David KohlMarvin Jones caught four touchdown passes, benefiting from Andy Dalton's more varied distribution.
.
CINCINNATI -- When
Marvin Jones
was in college, he played with six different quarterbacks. None of them could do with him what the
Cincinnati Bengals
'
Andy Dalton
did Sunday.
For the first time since he was a kid who only saw the letters "NFL" in his dreams and had trouble fathoming they could become his reality, Jones reached the end zone more than twice in a game. In fact, in Sunday's
49-9 win
over the
New York Jets
, he did it four times.
"It's fun when the offense is clicking," Jones said. "Andy did a great job distributing the ball, and it was great play calling."
It was so great that often it appeared there was only one team on the field. The Jets, in their white and green uniforms, were just an extension of the turf the Bengals chopped up for much of the day. One of the chief choppers was Jones, whose eight-catch, 122-yard performance allowed some risk-taking fantasy football GMs to go to bed with smiles on their faces Sunday night. (If you started the player who is effectively the Bengals' third receiver, kudos to you.)
That wouldn't have been the day's only smart decision. Dalton's eight decisions to throw to Jones weren't too shabby, either.
The success the two enjoyed -- the quarterback became only the third Bengal to throw for five touchdowns in a game, and for the third game in a row he had more than 300 yards passing and three TDs -- was an extension of the confidence they have built in one another in recent weeks.
"He definitely trusts us," Jones said of Dalton, "and it shows in the distribution."
Since targeting
A.J. Green
15 times against Cleveland four weeks ago, Dalton has learned a valuable lesson: get others involved in the offense. As valuable as Green can be to the offense, he can't do much good when defenses know that he's the player Dalton is trying to hit time and time again. But when opponents don't know where he's going with his passes, Dalton and his offense have proven they can be quite difficult to stop.
"Everybody around Andy is doing things. He has to continue to allow the play to work based on the defense," coach Marvin Lewis said. "As long as he does that and doesn't worry about how many catches 18 [Green] has, at the end of the day, we'll be fine. These other guys are getting to the spots and making the plays while they're there. A.J. is going to get his, he's so doggone good."
Jones said Dalton has been spending extra practice time and film study with him and the other receivers, in an effort to deepen their chemistry and trust. The more Dalton shows them he trusts them, the better their collective confidence can be, Jones said.
[+] Enlarge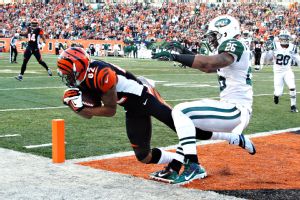 John Grieshop/Getty Images"He definitely trusts us," Marvin Jones said of Andy Dalton, "and it shows in the distribution."
"Sometimes on Thursdays, Saturdays and on Fridays, we have extra meets just with us; the quarterbacks, receivers, running backs and tight ends," Jones said. "It's just having that extra time to see the game through each other's eyes that can get us really confident and comfortable in what the plan is and what we have to do. That's big, and that's something that Andy's been doing a good job of, and getting us all-in and all ready to go."
It took realizing how talented the team is at the skill positions for Dalton to realize that all he had to do was let his playmakers make their plays.
"The personnel that we have, and the different looks that we're getting with formations and the different things that we're doing, a bunch of guys are going to get involved in this offense," Dalton said. "That's big for us. Everybody's going to know where A.J. is, but these other guys have to step up and make plays, and that's what they've done. It's been a lot of fun for me, just to be able to spread the ball around and have trust and confidence in the guys that they're going to be in the right spots."
Through the first five games of the season, Dalton completed 65.1 percent of his passes, throwing for 1,215 yards and five touchdowns. In the last three games -- all wins -- he has completed 66.3 percent of his passes for 1,034 yards and 11 touchdowns.
"I'm not sure the guy can play much better than he's played the last three weeks," left tackle
Andrew Whitworth
said. "I've said all along that we believe in him and we're going to continue to find ways to put him in a position to win. And he continues to rise to the occasion."
October, 27, 2013
10/27/13
8:20
PM ET
CINCINNATI -- Observed in the locker room after the
Cincinnati Bengals
' 49-9
victory
against the
New York Jets
:
Pacman keeps cool:
While
Adam Jones
relished his fourth-quarter pick-6 that gave the Bengals their final touchdown, he also was quick to point out something that angered him. According to the cornerback, Jets receiver
David Nelson
"played dirty the whole game." Jones said Nelson cut him about five times away from various plays. "It took everything in my willpower to keep my cool," Jones added. "I'm happy I did. He caught me on one of my better days."
Crocker
Football tossed:
Following his own interception return for touchdown -- his first since 2004 -- Bengals cornerback
Chris Crocker
threw the football into the crowd. He said he got caught in an emotional moment. "What a better feeling than to get in that end zone after what, nine years?" he said. "Nine years? That's a long time to get back in the end zone. Bless the person whoever caught the ball. Hopefully it was a kid."
Footballs kept:
Bengals receiver
Marvin Jones
, who set a franchise record with four touchdown receptions, told reporters he wasn't tossing any of those balls away. He always keeps his touchdown balls. "Now I've got four more," he said.
October, 27, 2013
10/27/13
7:06
PM ET
CINCINNATI -- A few thoughts on the
Cincinnati Bengals
' 49-9
win
against the
New York Jets
.

What it means:
Are there any words that can define what Sunday's blowout means for the Bengals? Not really. About the only thing I can think to say after the type of dominating performance that had to make the Oregon Ducks and Florida State Seminoles envious is the following: If you haven't already, wake up, NFL fans and turn your attention to Cincinnati. The football team here certainly looks for real. Although the Bengals have had wins in which they seemed to control every facet of their game, none this season have been as complete as Sunday's. They put their foot on the proverbial gas and, for the first time, didn't let up.
Stock watch:
Training room -- falling. For the second straight week, injuries were a problem for Cincinnati. With a short week that includes a trip to South Florida, they could swell into something significant, too. Before the teams even returned to their locker rooms for halftime, linebacker
Rey Maualuga
, offensive tackle
Andrew Whitworth
and defensive back
Taylor Mays
had been lost to injuries. None of them returned to the game. Neither did receiver
Mohamed Sanu
. Maualuga's and Mays' injuries looked serious at the time. Maualuga was one of several Bengals who missed action at the end of last week's game in Detroit, too, when the injury bug first settled into the organization's camp. Cornerback
Leon Hall
was lost for the season during that game. Just two weeks ago, injuries didn't appear to be an issue at all for the Bengals, who were remarkably healthy.
Dalton-to-Jones:
Andy Dalton
and
Marvin Jones
formed quite the duo in the blowout, setting a pair of career highs. Dalton's five touchdowns were the most of his three years in Cincinnati, and Jones' four touchdown receptions were the most in franchise history. The memory of Dalton's 203-yard showing at Cleveland five weeks ago is so distant, some of the young quarterback's biggest detractors are even forgetting about it. Over the past three games, he has thrown for more than 300 yards and three touchdowns. He is the ninth quarterback since 2001 to have such showings in three consecutive single-season games. Jones finished the day with eight catches for 122 yards.
What's next?
The Bengals travel to Miami on Thursday night for their final game against an AFC East team this season. If they can get past the Dolphins, they'll be 7-2 and virtually playing for home-field advantage.