AFC North:

2013 Week 9 PIT at NE Rapid Reaction
July, 31, 2014
Jul 31
4:59
PM ET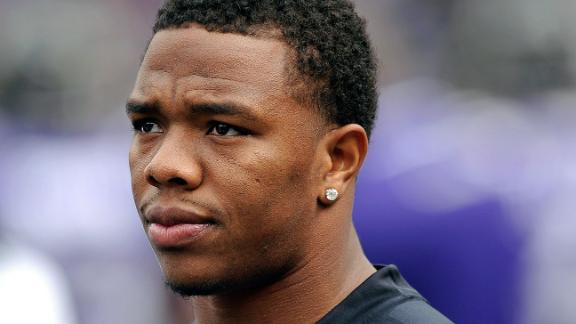 OWINGS MILLS, Md. -- In stark contrast to
Ray Rice
's awkward news conference in May, the
Baltimore Ravens
running back showed Thursday that he finally understood the weight of his actions from the alleged altercation with his then-fiancée in February.
He delivered the correct message, one the NFL failed to do last week with the two-game suspension, by not only apologizing to his wife, Janay Palmer, but also expressing a desire to become an advocate for domestic-violence causes.
Rice was compelling in his contrition, calling it the biggest mistake of his life. He stood in front of the microphone alone, without his wife standing by his side, and took full responsibility for the incident. Perhaps more importantly, Rice actually said the words "domestic violence," which weren't heard in his statement two months ago.
"My actions were inexcusable," Rice said. "That's something I have to live with the rest of my life."
Before anyone pats Rice on the back, this is what he should have said the first time when he broke his silence in May. Instead, Rice nervously fumbled through notes on his phone and apologized to team officials and his sponsors. That debacle of a news conference came across as damage control to his image.
His 17-minute news conference Thursday hit the right tones. He apologized to all women affected by domestic violence. He accepted the blame for losing the respect of fans. Rice came across as genuinely sorry.
"I let my wife down, I let my daughter down, I let my wife's parents down, I let the whole Baltimore community down," Rice said.
Rice's biggest misstep was not talking about what happened in the elevator. He was asked twice about it and declined to answer both times. His stance against domestic violence would have resonated stronger if he had explained his transgressions.
"I'll be honest: Like I said, I own my actions," Rice said. "I just don't want to keep reliving the incident. It doesn't bring any good to me. I'm just trying to move forward from it. I don't condone it. I take full responsibility for my actions. What happened that night is something that I'm going to pay for the rest of my life."
The only way Rice can move forward from this incident and show he's truly sincere is through his actions. It's not by his words. It's not by a hefty donation, which is merely a gesture. It's by proving this will remain a "one-time incident" and by supporting domestic-violence causes.
Thursday represented a small step forward for Rice. But it was an important one.
November, 3, 2013
11/03/13
7:54
PM ET
FOXBOROUGH, Mass. -- A few observations from the
Pittsburgh Steelers
'
55-31 loss
to the
New England Patriots
.

What it means:
There shouldn't be any playoff talk around the Steelers' locker room after the team lost six of its first eight games for just the fourth time since 1970. This team would have to win seven of its final eight games to have any chance of making the playoffs, and the Steelers haven't shown that they can string more than two wins together at a time. Focus now will turn to bigger-picture issues such as what younger players the Steelers should play over veterans in the second half of the season and who will take the fall for what is sure to be Mike Tomlin's first losing season in Pittsburgh.
Stock watch:
A complete and utter collapse by the defense has left that proud unit in tatters. The Steelers allowed
Tom Brady
to throw for 400 or more yards for the fifth time in his career and also yielded 100-yard games to three Patriots receivers, including rookie
Aaron Dobson
. New England was also quite effective running the ball, as evidenced by the 610 yards of offense it rolled up against a defense that had allowed the fewest total yards in each of the past two seasons. The Steelers have scoffed for several years now at the perception that their defense has gotten old. Brady, who threw for 116 yards last Sunday, made the Steelers' defense look ancient.
Gronk effect:
The Steelers had done a good job of holding opposing tight ends in check save for a 61-yard reception allowed to the Bengals'
Tyler Eifert
in the second game of the season. That changed Sunday, when
Rob Gronkowski
announced that he is back from forearm and back injuries in a big way. He and Brady exploited the Steelers' lack of speed at the back of their defense as the two hooked up seven times for 119 yards and a touchdown in the first half alone. Gronkowski, who graduated from Woodland Hills High School in Pittsburgh, finished with a career-high nine receptions for 143 yards and a touchdown. He also drew a pass-interference penalty in the end zone late in the first half that set up a Patriots touchdown. Gronkowski has four touchdowns in three games against the Steelers.
Next up:
The Steelers return home next Sunday to play the 3-6 Bills. It will be interesting to see the reception the Steelers get from their fans -- and how many empty seats there will be at Heinz Field. The last time fans saw the Steelers in person the team had just beaten the Ravens on a field goal as time expired to breathe new life into their season. Now the Steelers have little hope of turning their season around after deflating losses at Oakland and New England. The boo birds could be out in full force as the unthinkable in Pittsburgh has happened: the Pirates played meaningful games in October, while the Steelers won't play any meaningful games after October.