AFC North:

2014 NFL preseason
August, 15, 2014
Aug 15
4:15
PM ET
CINCINNATI -- It was a simple message.
"Let's go."
When
Cincinnati Bengals
offensive coordinator Hue Jackson met with receiver
Mohamed Sanu
in the days after the team first learned it would be without
Marvin Jones
, those were the only two words he said to the young player.
Sanu, once the No. 3 receiver on the roster, knew exactly what they meant. With Jones injured until October and out of the receiving rotation, Sanu's time had come to attempt to be the best pass-catcher on the team.
The best? Yes.
"I get surprised where people reacted after I made the statement I wanted Marvin to surpass A.J. [Green] a while ago, but it's because they all need to compete," Jackson said. "I wanted Sanu to surpass Marvin, too."
Jackson's philosophy: Keep the pressure high on his top skill players and they'll compete better than they did before. He doesn't just say "no one's job is safe." He actually believes it.
Apparently, the philosophy has been working. Sanu has taken advantage of Jones' absence this preseason, working almost exclusively as the No. 2 receiver in practice alongside Green, the player who continues to get his usual No. 1 receiver reps and looks. In addition to catching, Sanu has been impressive passing and running both on reverses off the edge and out of the backfield as a Wildcat quarterback. Cincinnati won't be looking for him to solely run gadget plays this season, but the Bengals are hopeful he'll continue turning heads when they do.
"He's been all over the place -- outside, inside, moving around -- and he's really done a good job for us," quarterback
Andy Dalton
said.
Sanu told Jackson when the offseason began that he wanted to come back a different player. In Jackson's eyes, "he's done that."
"It's just the consistency of production in the way he plays," Jackson said. "He plays like a true starter. Not that he didn't a year ago. I just know what I expect our guys to do, and see just what he's done. He blocks, he catches, he runs, he can do it all. We'll try to use some of his vast skills and let him showcase his talents and abilities this year."
The Bengals will get another chance to see those talents and abilities in a live game scenario when they take on the Jets on Saturday night at Paul Brown Stadium.
"I'm going to step up that much more to fill Marvin's shows," Sanu said. "That's to just keep doing what I'm doing. Keep playing and keep being consistent. That's pretty much it. I can't see what's going on in the future, but I know what I can handle and I know what I can control, and that's putting my effort in and doing whatever I can to make this team better."
He won't be alone, he adds.
As the Bengals have been saying all week, with Jones now sidelined through the first three regular-season games because of foot surgery, it's time receivers like
Brandon Tate
,
Dane Sanzenbacher
and
James Wright
fill the void left by the player who was the second-leading receiver last year.
"It's a 'next man up' mentality," receivers coach James Urban said. "That's what we've always had. ... You push them out there and see if we can get the best guys out there that can help us win football games."
You do all that, Jackson said, and then add, "Let's go."
August, 15, 2014
Aug 15
9:15
AM ET
CINCINNATI -- In no particular order, the following are five
Cincinnati Bengals
you'll want to pay attention to on the offensive side of the ball during Saturday night's preseason home opener against the
New York Jets
(7 ET).
Be on the lookout for five defensive players to watch in the Bengals' second preseason game, coming soon.
Scott
1. QB Matt Scott.
One week after dominating the headlines in the Bengals'
Week 1 preseason loss
at Kansas City, Scott has a chance to turn more heads this weekend when he likely receives more playing time. With No. 2 backup
Jason Campbell
still nursing an elbow bruise, the Bengals will turn to Scott a little earlier than they did last week. Against the Chiefs, Scott jogged onto the field midway through the third quarter after Campbell's throwing arm was struck by a defender's helmet. Scott went on to pass for 66 yards and two touchdowns, and rush for a game-high 68 yards. It was what he considered the combination of a pre-game sinus infection, high humidity and exhaustion that turned him into an unexpected Internet star last week. On multiple occasions during a fourth-quarter drive, he vomited a la Willie Beamen, the fictional quarterback in the movie "Any Given Sunday." The
clip made its rounds on the Web
in the days that followed. Scott, who will be playing through a sore shoulder, hopes he'll be remembered more for his play this week.
2. QB Tyler Wilson.
Since Scott does have a minor injury that could affect his throwing, the Bengals might have to turn to Wilson a little earlier than perhaps they would have anticipated, too. Starter
Andy Dalton
probably won't go any deeper than the two first-quarter series before Scott enters the game. From there, Scott probably won't make it all the way to the fourth quarter. Whenever Wilson does come in, watch for how well he connects with the existing receivers still in the game. If
Cobi Hamilton
is still playing, the two could be a good combination to watch. Hamilton was one of Wilson's top targets in college when they both played at Arkansas. Otherwise, Wilson will be intriguing to watch because he's playing after only one week of practices with the Bengals, and he's playing for his professional career.
Burkhead
3. RB Rex Burkhead.
You may be noticing a trend here. We're focusing on reserve players in this week's "Bengals to watch," primarily because we are arriving at that point in camp when players down on the depth chart are truly fighting for roster spots. Burkhead is among those running backs involved in arguably the team's most interesting position battle. He's gotten his share of touches with the second-team offense in recent weeks and probably will see some opportunities with a mix of that group Saturday night. Be on the lookout for how often Burkhead carries the ball in what could be a ground-and-pound kind of preseason contest. The Jets have already said they expect a physical game. With the Bengals in a bit of a quarterback quandary, there are compelling reasons for them to give New York the physical showdown it is anticipating.
4. WR Dane Sanzenbacher.
The position battle at receiver is another one to keep an eye on. Much like running back where the first two positions appear set, the top three spots are squared away on the Bengals' depth chart at receiver. Sanzenbacher is among a group of wideouts trying to crack the bottom portion of the pass-catching roster. With his versatility and wealth of playmaking opportunities both on offense and special teams, he will have his share of chances to prove he belongs in these next three games. After having a few long punt and kick returns in last week's game and catching a 26-yard touchdown pass that ended when he dove for a pylon, Sanzenbacher made a strong case for being included on the 53-man roster. Watch to see if he impresses Saturday.
5. H-back Ryan Hewitt.
This will be the second straight week we've listed Hewitt among the Bengals to watch, and with good reason. Earlier this week, coach Marvin Lewis lauded the undrafted rookie free agent for how well he has played throughout this camp. Hewitt has brought his own measure of versatility to the backfield by being used as a blocker, flanking off the line as a tight end and catching passes. It certainly appears he has won the position battle over
Orson Charles
, the former tight end who was converted to H-back last preseason. Hewitt caught two passes last week. Look for how much he gets involved in the passing game this week.
August, 14, 2014
Aug 14
7:00
PM ET
CINCINNATI -- There's a certain edge, a type of nastiness that good pass-rushers must possess when it comes to keeping quarterbacks in their place.
Margus Hunt
is well aware of that.
His coaches are also aware that Hunt has to start applying it better on game day. Once he starts doing that, he will greatly surpass the high expectations many around the team have long had for him.
"There's some violence to playing that spot and some recklessness that needs to occur," head coach Marvin Lewis said of the defensive end position. "It's OK to have that recklessness when it's live out there [in games], but we don't want to quite have that recklessness when it's here [in practices]."
[+] Enlarge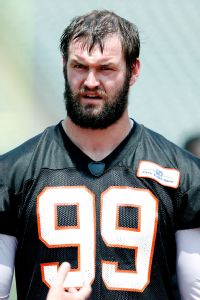 Joe Robbins/Getty ImagesMargus Hunt has struggled a bit with the transition from practice, where you don't hit the QB, to games, where you do.
It's been the balance of continuing to push through plays in games versus pulling up in practices that has tripped Hunt a bit in the little live action he has received these last two years. After getting it virtually branded onto his brain that he can't come anywhere close to the tackling the quarterback in practices, he's had some difficulty rejecting that idea when he's been in live-game scenarios.
Although he had one sack in last Thursday's preseason opener at Kansas City, Hunt felt like he could have had more had he not been so subconsciously quick to slow down at the end of a couple other pass rushes.
"Finishing was the issue a couple of times," Hunt said. "I had one opportunity to get another sack and I just ran past the guy. That was a missed opportunity."
Remember, that was Hunt's first game since January, and it was the most defensive snaps he saw in a game since last October when he played 30 downs in the 49-9 home blowout win over the Jets. While he isn't likely to see 30 snaps Saturday when the New York Jets come to town for the second time in 10 months, Hunt still hopes to take better advantage of the repetitions he will have than he did with the 22 he had last week.
As Lewis said, Hunt just has to continue realizing he's chasing down
Geno Smith
and
Michael Vick
, and not
Andy Dalton
or
Matt Scott
.
"It's hard to have defensive guys working at their craft out here when they need to stay away from the quarterback," Lewis said.
To prevent injury to the team's signal-callers, teams often ask rushers to peel off or stop their rush altogether in practices, even when it appears they might actually have a sack.
"You just have to learn how to do it in practice where you're not getting into Andy's feet or whoever's in there and get into their way and possibly hurt them," Hunt said.
While finishing may still be an issue in Hunt's eyes, his beginnings have gotten dramatically better.
Coaches spent all last season working with him on developing moves and counter moves that might make him better suited for getting by the offensive tackles and tight ends he'll see on a regular basis at end. Hunt also worked on developing a series of moves to get by centers and guards for those times when he'll be lined up in the line's interior as a rushing defensive tackle in the nickel defense.
Perhaps the rush technique he's getting down best is the bull-rush. At 6-foot-8 and more than 280 pounds, it makes the most sense for him to come off the line by simply manhandling his blocker with his hulking size and strength.
"The picking up techniques part, it's not really that difficult," Hunt said. "It's just the fact of learning how to use them. Now, it's just more about the reaction and learning how to be quicker to react to the blocker."
Defensive coordinator Paul Guenther has seen Hunt developing tactics beyond the bull-rush.
"He's working on everything," Guenther said. "You've got to have more than just the bull-rush or guys are going to anchor down on us. So he has to have the ability to come under a tackle or long-arm them."
So far, Lewis likes what he sees out of Hunt. Even with the minor finishing issues aside, Lewis seems happy with the overall player. Along with Hunt's size and ability to power past blockers, the young lineman has other traits the coach adores.
"We're going to keep pressing him and keep giving him opportunities to do those things and keep growing," Lewis said. "Coming on as a rusher is important for us as he continues to take positive steps."
August, 14, 2014
Aug 14
9:30
AM ET
One of the toughest balancing acts for a coaching staff at an NFL training camp is determining how much contact will be allowed in practices -- and how hard the contact can be.
As the
Cincinnati Bengals
wind down their training camp portion of the preseason Thursday, we can safely say the team had as good a mix of hitting and non-live activity as you're probably going to find in the league these days.
They never did formally tackle live in practices, but some defenders made just enough contact with various offensive skill players -- primarily rookies and young free agents -- that it caught some attention. It was common for linebacker
Vontaze Burfict
to give rookie running back
James Wilder Jr
. a firm thud on a screen across the middle of the field. Burfict did the same thing to the since-released
Jeremy Johnson
when he'd catch passes in his area.
On Wednesday, safety
George Iloka
got in on the popping action, delivering a couple of hard forearms to first-year receiver
Colin Lockett
. Like some of Burfict's hits, those came in a practice that saw the Bengals wearing only shoulder pads and helmets. One of the forearms to Lockett's back came after players all took their pads off in favor of finishing the practice in only their jerseys and helmets.
"We're not playing against the Bengals, they're not on our schedule, but some things happen in practice," defensive coordinator Paul Guenther said. "You can't tell a dog not to eat red meat."
Still, Bengals coaches hope their defensive dogs know that for now, they only want them nibbling on the offensive prey that are in their way. When they suit up Saturday and the following Sunday and the Thursday after that, then they can deliver whatever hard blows they want to deal.
"We've just got to take care of our guys and continue to be aggressive," Guenther added.
So considering how bad some of the collisions were, should Guenther and his assistants rein in their players?
No.
Again, the group wasn't out to maliciously hurt anyone during this camp. They were primarily out to test the toughness of some of the newest members of the team. If Burfict could hit Wilder or one of the young receivers like Lockett hard enough and they could bounce right up, a message was sent to the locker room that the struck player could match the toughness the rest of the team believed it had.
Not to mention, sometimes, the hitters were just following orders.
"Sometimes I'll tell a guy that if I don't think practice is going the way we want it, to get some stuff going," Guenther said. "It gets everybody into the practice a little bit."
That means there will be no reining in of defenders going on in practices any time soon. Besides, before too long they'll be into the regular-season mode of practicing, meaning their in-practice contact will soon decrease dramatically.
Wilson will play:
Bengals coach Marvin Lewis said during his news conference Wednesday that backup quarterback
Tyler Wilson
will end up playing at some point Saturday against the Jets, despite having less than a week of practices.
Wilson was signed last Saturday after brief stints with Oakland and Tennessee. He's excited for this opportunity, and hopes that by the end of camp he can prove he belongs on an NFL roster.
It's tough right now seeing him on the Bengals' roster in three weeks. He's currently the No. 4 quarterback on a team that signed him in response to No. 2 quarterback
Jason Campbell
's elbow injury that occurred a week ago Thursday. The former Arkansas standout has at least one familiar face in the Bengals' locker room:
Cobi Hamilton
was his go-to receiver in college.
"When you've been sitting on the street, you learn fast," Lewis said of Wilson.
The coach didn't say how much he might use Wilson this weekend. But with backup
Matt Scott
working through a sore shoulder and starter
Andy Dalton
likely limited to 15-25 early snaps, Wilson could see his fair share of action.
"He's been able to learn things to go out and operate," Lewis said. "He handled the verbiage and the terminology well and the adjustments he needed to make. He did a good job."
August, 13, 2014
Aug 13
2:45
PM ET
CINCINNATI -- Preseason games are usually boring, uninteresting, uneventful and, aside from perhaps five plays in the first quarter, are mostly lacking in entertainment value.
That might not be the case in Cincinnati this weekend. If
New York Jets
defensive tackle
Sheldon Richardson
gets his way, there ought to be a few fireworks going off inside Paul Brown Stadium on Saturday night.
Five days after Richardson told his team's website that he felt the Jets needed retribution this weekend for last season's
49-9 regular-season defeat
against the
Cincinnati Bengals
, two Bengals players embraced the comments, saying they will be glad to see an opponent who doesn't plan on taking them lightly.
[+] Enlarge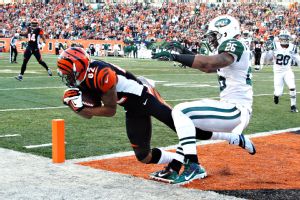 John Grieshop/Getty ImagesThe Jets surrendered four TD catches to Marvin Jones in a 49-9 loss against the Bengals in October.
"That's good," Bengals Pro Bowl left tackle
Andrew Whitworth
said. "We want their best. Sometimes for older guys -- especially myself, who have played as much as I have -- it's kind of disheartening when you go out there and guys are playing, but not really playing. You want people to bring their best. You want to get better. That's what [the preseason] is for."
Whitworth was responding to comments Richardson made Saturday when,
according to the Jets' website
, he said, "We owe them one. We owe them one big time."
Richardson continued, adding: "That was pretty much the only team that dog-walked this defense like that."
The Bengals dominated both sides of the ball that October afternoon. Receiver
Marvin Jones
, who won't be playing Saturday because of a foot injury, caught a franchise-record four touchdown passes in the game. Quarterback
Andy Dalton
completed just 19 passes, but he threw for 325 yards and the Bengals racked up 402 total yards. Cincinnati's offense was so strong in the red zone that it converted five of its six series that made it there into touchdowns. The defense was so stout that it didn't allow the Jets a red-zone possession.
"That game got really out of hand at one point," Bengals defensive end
Margus Hunt
remembered Wednesday.
It was the ugliness of the game that had Whitworth unfazed by Richardson's comments.
He knows teams often remember the bad more than they remember the good.
"You remember the last time you played a team and how it went. It sticks in the back of your mind," Whitworth said. "It doesn't mean they're going to come out and do something cheap or something different. It just means they remember that, 'Hey, last time these guys got the best of us and this time we plan on reversing it.'"
Even though it is the preseason and he doesn't anticipate Richardson to play for long, Hunt still is glad to hear the emotion coming from his fellow defender.
"We need that," Hunt said. "We need to be physical and we need to match their physicality or set the physicality first and foremost. We need to be the aggressors and we need to set the tempo."
Despite knowing they will only see New York's first-team units for a few plays in the first half, the Bengals hope to still match the intensity they had last October. The trick, Whitworth added, will be maintaining it all game with the second- and third-team groups seeing action.
"For these young guys it'll be a good opportunity to get in there and play against a [good] group -- [Jets head coach] Rex Ryan's D-lines are always going to be some of the best you're going to play," Whitworth said. "They're excellent with their hands, they're physical. Every year they're a great-run defense, and it'll be no different this year."
August, 12, 2014
Aug 12
6:40
PM ET
CINCINNATI -- A daily review of the hot topics coming out of
Cincinnati Bengals
training camp:
Marvin Jones' broken foot has dominated the headlines in Cincinnati this week. There have been questions about when he will return, how healthy he will return and how the Bengals will get by in his absence. On Tuesday afternoon, they got a bit of an answer to the latter inquiry. One day after the Bengals practiced an hour away at West Carrollton High School just outside Dayton, Ohio, tight end Jermaine Gresham was the star Tuesday. He was used in the seam, he was put into his typical tight end drags, and he even went up for fades in the end zone as part of a goal-line passing play. Unofficially, I recorded him with having six catches during the practice. It's possible he caught one more I didn't see. Following one of the six I observed -- a 15-yard touchdown reception near the right pylon in a red-zone segment -- Gresham got immediate kudos from his quarterback, Andy Dalton. "I like it, Jermaine!" Dalton shouted before jogging over and giving the tight end a high five.
That touchdown completion wasn't the only pass caught from Dalton's right hand. In all, the starting signal-caller was 23-for-34 passing in one of his most prolific passing practices of training camp. The loss of Jason Campbell to an elbow injury (he still isn't yet practicing) in the preseason opener last Thursday may have had a slight impact. While backups Matt Scott and Tyler Wilson still got their practice reps in, Dalton seemed to be used a little more than he has been in practices before Campbell's injury. Another part of Dalton's extended work had to do with the fact the Bengals were in full pads for only the fourth time this camp. They hadn't worn the full attire since the Saturday before last.
Among the work the Bengals got in offensively and defensively were situational drills that pertained to third downs, no-huddle, red zone and goal-line opportunities. The offense owned certain situations. The defense won its share of battles, too. It seemed like the defense was best in one of the red-zone situations, while the offense got into a rhythm on third downs. One of the highlights of the day came when cornerback Leon Hall slipped underneath A.J. Green in a 7-on-7 drill and jumped right in front of a Dalton pass, making a one-handed grab to intercept it. Dalton's eyes appeared to follow Green throughout the route, telegraphing his pass to the defensive player. It was Dalton's worst passing read of camp to this point. After the play, Hall was seen shaking his hand. He may have had difficulty handling the velocity of the short pass. Dalton got his payback, connecting perfectly with Green on two well-placed balls his next two tries. Another pass later in the practice was thrown just ahead of Hall, who couldn't catch receiver Dane Sanzenbacher for a would-be touchdown. The wideout had a step on Hall.
Tuesday's injury update: Domata Peko (concussion), Wallace Gilberry (leg) and Andre Smith (concussion) all returned from injuries but were limited. None participated in 11-on-11 drills. Dre Kirkpatrick (hip), Geno Atkins (knee), Brandon Thompson (illness), Sean Porter (knee), Campbell (elbow), AJ McCarron (shoulder) and Jones (foot) didn't practice. Kirkpatrick told me he expects to play Saturday against the Jets. At the end of Tuesday's practice, offensive tackle Marshall Newhouse was carted off. Coach Marvin Lewis wasn't immediately sure what happened.
Up next: The Bengals are back on the practice fields Wednesday for a 3 p.m. ET practice. It will be their penultimate open session for the season.
August, 9, 2014
Aug 9
8:30
PM ET
CINCINNATI -- Very rarely does the third-string quarterback create more buzz in a game than the starting quarterback -- even in the preseason.
But that's exactly what happened all day Friday as websites from the most obscure to the most read turned
Cincinnati Bengals
backup
Matt Scott
into an Internet star.
He wished they focused on his 66 yards passing and 68 yards rushing, but he knew from the moment cameras caught him vomiting three times while walking on the field late in Thursday night's preseason opener at Kansas City that he was going to be remembered this weekend for a far different reason.
"The way social media is nowadays, it's kind of expected, I guess," Scott said Saturday.
Technically, this isn't the first time he's gotten attention for having what his teammates instantly began calling a "Willie Beamen moment." Beamen was the fictitious star quarterback in the football movie "Any Given Sunday" who threw up inside a huddle because of first-game nerves.
[+] Enlarge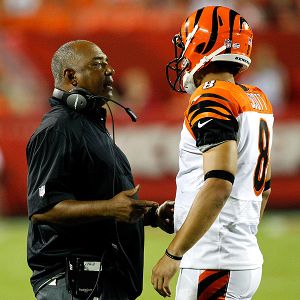 AP Photo/Colin E. BraleyCincinnati Bengals coach Marvin Lewis praised the effort of quarterback Matt Scott against the Chiefs.
Scott has thrown up on the field before, but for what seem to be much more serious reasons. The Bengals certainly hope Scott's pattern of potential concussion-related college instances of vomiting have nothing to do with this latest episode.
This incident came during a hopeful comeback drive against the Chiefs that ultimately resulted in a touchdown and two-point conversion that Scott ran in himself. The drive cut a double-digit lead to two, and had the Bengals feeling inspired late.
"We wanted to come back in that game. That's the objective," Scott said. "Especially going in with the threes at the end of the game with the team down. That's what you want to show the coaches, that you're willing to get in there and claw your way back up."
Coach Marvin Lewis said Saturday that the sequence was one all his players ought to pay attention to.
"He taught the whole football team a very valuable lesson of a guy busting his tail to make a football team," Lewis said. "When you get an opportunity to go out there, you've got to play your tail off, play your very best football every chance you get, because that earns the next opportunity. He proved that."
Exactly how did he?
One play after the Bengals were forced into taking a timeout to see about Scott's condition, he settled under center and fired a strike to the since-waived
Conner Vernon
on a 12-yard touchdown pass that preceded the two-point conversion. The vomiting seemed to barely faze Scott.
"The thing I like about him was he was calm; he was cool," offensive coordinator Hue Jackson said. "Even in the midst of all the throwing up and all that, he never wavered. He just looked at me like, 'OK, coach, what's the next play?' And I gave it to him and he executed it."
Scott attributed his sick stomach to the combination of a sinus infection he had throughout the week, his lifelong asthma, humid conditions that night and being worn out after playing parts of the last two quarters at a high tempo. The Bengals were in a no-huddle pace as they were playing catch-up in those final minutes. Twice on the drive Scott scrambled, including once on a 19-yard run that picked up a first down.
Those are all plausible reasons for the vomiting.
In his senior season for the Arizona Wildcats, he threw up in three different games. Some thought those instances stemmed from concussions that came after hits he took while showcasing his wild, kind of reckless style of running. He exposed himself to hard tackles often and was known to take blows to the upper body even when he did slide.
Scott was only formally diagnosed with one concussion after those three games, in November 2012 against UCLA. The week before, he didn't receive a concussion diagnosis after he threw up on the sidelines in a game against conference-rival Southern Cal. That incident came during a timeout that followed an apparent double helmet-to-helmet hit at the end of a scramble. Three plays out of the timeout, he threw a touchdown pass. That score helped Arizona hold on for a big upset of the nationally-ranked Trojans.
Arizona's training staff was later criticized for not taking Scott out of the game. Some thought he was exhibiting concussion-like symptoms.
Scott still believes those criticisms were off base. Of exhibiting purported concussion-like symptoms, he said Saturday, "I didn't think [that] was the case."
Thursday's incident might not have been the product of a blow to the head, but it still could bear monitoring.
Take the concussion history out of the equation and the Bengals think the "Willie Beamen moment" taught them a valuable lesson about Scott: He's a relentless competitor, even if he ranks low on the depth chart.
"The guy has true guts," offensive coordinator Hue Jackson said. "It got a little rough, but he's a tough guy. I appreciate what he did. He played extremely well. Guy had a heck of a game."
Defensive end
Wallace Gilberry
took the praise a step further.
"He left it all out there -- literally," Gilberry said.