AFC North:

2014 NFL Round 1 Rapid Reaction
July, 31, 2014
Jul 31
4:59
PM ET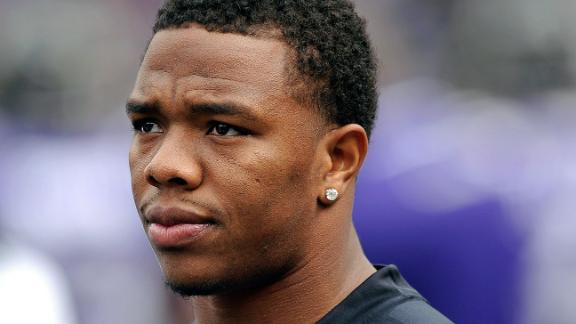 OWINGS MILLS, Md. -- In stark contrast to
Ray Rice
's awkward news conference in May, the
Baltimore Ravens
running back showed Thursday that he finally understood the weight of his actions from the alleged altercation with his then-fiancée in February.
He delivered the correct message, one the NFL failed to do last week with the two-game suspension, by not only apologizing to his wife, Janay Palmer, but also expressing a desire to become an advocate for domestic-violence causes.
Rice was compelling in his contrition, calling it the biggest mistake of his life. He stood in front of the microphone alone, without his wife standing by his side, and took full responsibility for the incident. Perhaps more importantly, Rice actually said the words "domestic violence," which weren't heard in his statement two months ago.
"My actions were inexcusable," Rice said. "That's something I have to live with the rest of my life."
Before anyone pats Rice on the back, this is what he should have said the first time when he broke his silence in May. Instead, Rice nervously fumbled through notes on his phone and apologized to team officials and his sponsors. That debacle of a news conference came across as damage control to his image.
His 17-minute news conference Thursday hit the right tones. He apologized to all women affected by domestic violence. He accepted the blame for losing the respect of fans. Rice came across as genuinely sorry.
"I let my wife down, I let my daughter down, I let my wife's parents down, I let the whole Baltimore community down," Rice said.
Rice's biggest misstep was not talking about what happened in the elevator. He was asked twice about it and declined to answer both times. His stance against domestic violence would have resonated stronger if he had explained his transgressions.
"I'll be honest: Like I said, I own my actions," Rice said. "I just don't want to keep reliving the incident. It doesn't bring any good to me. I'm just trying to move forward from it. I don't condone it. I take full responsibility for my actions. What happened that night is something that I'm going to pay for the rest of my life."
The only way Rice can move forward from this incident and show he's truly sincere is through his actions. It's not by his words. It's not by a hefty donation, which is merely a gesture. It's by proving this will remain a "one-time incident" and by supporting domestic-violence causes.
Thursday represented a small step forward for Rice. But it was an important one.
May, 8, 2014
May 8
11:14
PM ET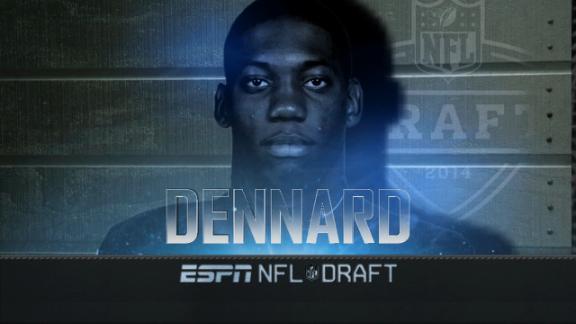 CINCINNATI --
The pick:
Darqueze Dennard
, CB, Michigan State.
My take:
This was the smart and safe pick for the Bengals to make once the run on defensive backs began several picks earlier. The Bengals are getting a cornerback who plays physically and has the size that could be used in the long term alongside
Dre Kirkpatrick
as the Bengals try to shore up their depth at corner behind aging veterans
Leon Hall
,
Adam Jones
and
Terence Newman
. Dennard had been regarded at one point as the top corner in the draft. At worst, most rated him second or third at the position. When
Kyle Fuller
was selected at No. 14 by the Bears, it made sense for the Bengals to make the move for Dennard.
Looking for a leader:
One of the traits Bengals coach Marvin Lewis said he was looking for in his first-round selection was leadership. He said he wanted to make sure his staff was bringing in players whose off-field characteristics fit in well with the rest of the locker room. While at Michigan State, Dennard started three seasons and was named the Thorpe Award winner for 2013 as the nation's best defensive back. He was the first Spartans player to win that award.
What's next?
The Bengals will look for ways to add to their offensive and defensive lines. The Bengals have made it clear they want to run more often and play more physically on offense. Added bodies up front can help that. There also are needs at outside linebacker and backup quarterback. Expect the Bengals to consider drafting a quarterback in the third round. The Bengals have two picks total in the second and third rounds that occur Friday.
May, 8, 2014
May 8
10:58
PM ET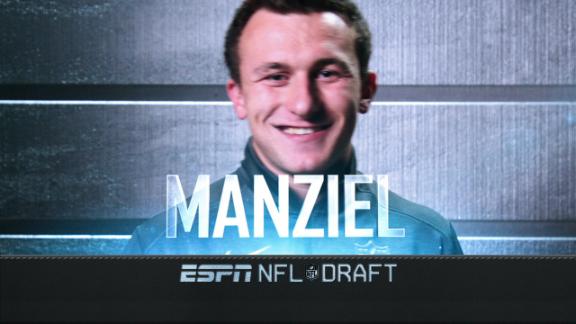 BEREA, Ohio -- The pick:
Quarterback
Johnny Manziel
.
My take:
The Browns have suddenly become the buzz of the NFL, and it's been a long time since that has been true. The Browns brought Johnny Football to Cleveland, and they did it with the 22nd pick of the first round -- and not the fourth. Now comes the circus, the attention and the potential. Because there has been no quarterback like Manziel coming out of the draft in the past few years. He is incredibly talented, incredibly gifted, but he also has much to learn about the NFL game.
So much for studies:
Former team president Joe Banner spent $100,000 on an analytical study of quarterbacks in this draft, and it showed that
Teddy Bridgewater
was best suited for the NFL. GM Ray Farmer traded up, and took Manziel. So much for analytics. Farmer has been bold, aggressive and true to himself in this draft. He went with a cornerback first when folks thought offense was best, and he let Manziel fall until he could trade up and draft him. The Browns have drafted two other quarterbacks 22nd overall:
Brady Quinn
and
Brandon Weeden
. Clearly they hope that the third time will be the charm.
What's next:
The Browns have a high second-round pick. It would be a shock if they didn't target a wide receiver there.
May, 8, 2014
May 8
10:07
PM ET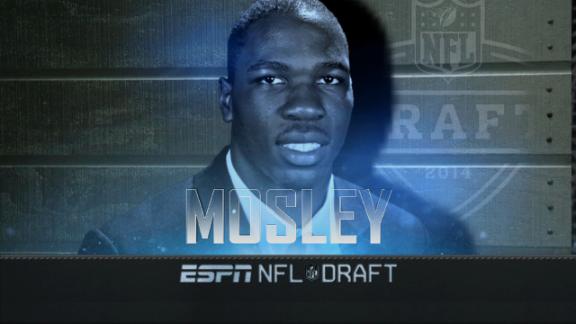 OWINGS MILLS, Md. --
The pick:
C.J. Mosley
, LB, Alabama

My take
: The
Baltimore Ravens
will take some criticism for taking an inside linebacker over
Ha Ha Clinton-Dix
, the top-rated safety in the draft. But this is a "best player available" pick more than a need one. Mosley is a future Pro Bowl player who can be the future face of this defense. Mosley's toughness, elite instincts and exceptional athleticism make him the best inside linebacker in this draft. He's an explosive tackler who plays sideline to sideline. Mosley has great football intelligence and rarely makes mental mistakes. He'll make a couple of plays a game because of his film study. He has good awareness in zone coverage and is quick enough to cover running backs man to man. A strong leader, Mosley will line up his teammates.
Following Ray Lewis
: There are going to be a lot of comparisons made between Mosley and Ray Lewis. Mosley is the first inside linebacker taken in the first round by the Ravens since Lewis in 1996. His first season comes at a time when the Ravens are erecting a statue of Lewis in front of M&T Bank Stadium.
What's next
: The Ravens didn't address their two biggest needs, offensive tackle and safety. Some tackles who could be available in the second round include Tennessee's
Ja'Wuan James
, Alabama's
Cyrus Kouandjio
and Nevada's
Joel Bitonio
. At safety, the Ravens could take someone like Washington State's
Deone Bucannon
, Northern Illinois'
Jimmie Ward
or Florida State's
Terrence Brooks
. The Ravens will start looking at running backs in the third round because starter
Ray Rice
is facing a possible suspension from the NFL and backup
Bernard Pierce
is out until training camp after undergoing shoulder surgery.
May, 8, 2014
May 8
10:06
PM ET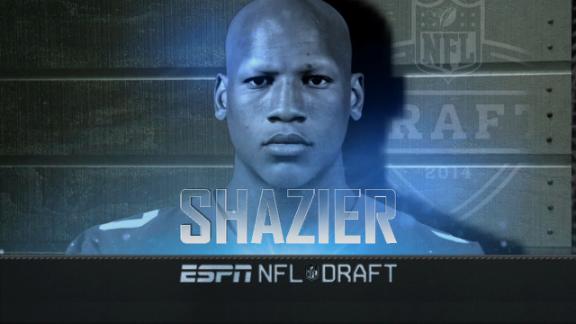 PITTSBURGH --
The pick:
The
Pittsburgh Steelers
threw a curveball in the middle of the first round when they picked
Ryan Shazier
No. 15 overall. Most mock drafts had the Steelers addressing cornerback or wide receiver with their first-round pick, and Michigan State cornerback
Darqueze Dennard
was on the board when the Steelers opted to bolster their linebacker corps. Shazier is an inside linebacker who can "flat out fly," general manager Kevin Colbert said. Shazier started 29 consecutive games at outside linebacker for Ohio State, but the 6-foot, 237-pounder will move inside in the Steelers' 3-4 defense. He recorded 315 career tackles, 14 sacks and 44½ tackles for losses. "Quite frankly, the young man's got no holes," Steelers coach Mike Tomlin said.
My take:
The Steelers didn't address one of their most pressing needs by passing over Dennard, but they turned inside linebacker into a strength and added speed to a defense that needs more of it. Shazier is fast enough and versatile enough for the Steelers to move around the field and Colbert said he has the capability to get after the quarterback. I like the pick if Shazier is the difference-maker Colbert and Tomlin are convinced he will be at the next level. And if they can find cornerbacks later in the draft who address their most glaring need.
What might have been:
Word is that the Steelers really liked North Carolina tight end
Eric Ebron
, and he may well have been their pick had the Lions not taken him at No. 10 overall. Ebron, who caught 62 passes for 973 yards and three touchdowns last season, would have provided Steelers quarterback
Ben Roethlisberger
with a tall, athletic target, as well as a future successor to
Heath Miller
. The Steelers have had the 15
th
overall pick three times since 1991, and all three times they have used it on a linebacker. They picked
Lawrence Timmons
No. 15 overall in 2007.
What's next:
The Steelers have the 46
th
and 97
th
picks in the second and third round, respectively, Friday night. They figure to take a cornerback with one of these picks and perhaps a wide receiver. There are enough good wide receivers in this draft that the Steelers can probably still get a good one after the third round if they want to wait.
May, 8, 2014
May 8
9:10
PM ET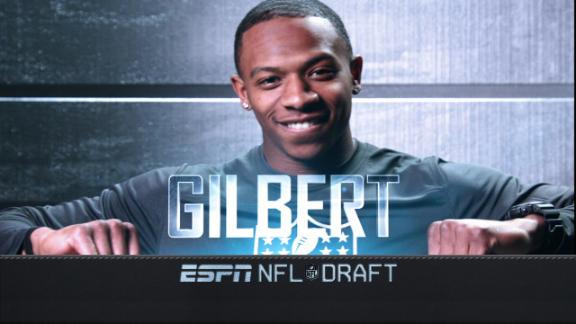 BEREA, Ohio --
The pick
: Cornerback
Justin Gilbert
of Oklahoma State.
My take:
It won't be the most popular pick, because the Browns gave up a chance to draft two playmakers in
Sammy Watkins
and
Mike Evans
. But it's a sound pick -- and by making two trades, the Browns wound up with the guy they clearly wanted, along with an extra first- and fourth-round pick in 2015. That's a good haul from the fourth pick, especially if the team believed Gilbert was the guy it wanted. As draft day approached, more and more murmurs started to filter out that the Browns liked Gilbert. Wednesday, ESPN's Sal Paolantonio reported he had heard from sources about a trade back and the drafting of Gilbert. Clearly, the Browns feel they need a strong press, man-to-man cover corner. Gilbert is considered one. So the Browns got two extra picks in 2015 to swap spots, traded back and still wound up with the cornerback they wanted. There is nothing to dislike about this pick -- or about the way the Browns got it done.
The deal
: The Browns keep showing that things have changed in their front office. For Ray Farmer to acquire a first-round pick from Buffalo in 2015, plus swap picks this year and move down to the only ninth spot is an excellent move. In 2011, the Browns moved from the sixth pick to 26 so Atlanta could get
Julio Jones
. That deal netted the Browns two first-rounders, a two and a five. Farmer got the same extra first-rounder to move down just five spots. It's tough not to like that deal.
What's next:
The Browns will have another first-round pick, the 26th overall. That pick was acquired last season in the deal that sent
Trent Richardson
to Indianapolis.