January, 15, 2015
Jan 15
1:25
PM ET
Baltimore Ravens
inside linebacker
C.J. Mosley
made 21 more tackles than any other rookie in the NFL. He was named the NFL's top defensive rookie in two of the four months this regular season.
So, Mosley has to be a slam dunk to win NFL Defensive Rookie of the Year, right? Not necessarily.
Mosley
Donald
The league won't announce its end-of-the-year awards during the NFL Honors show on Jan. 31, the night before the Super Bowl, but the Pro Football Writers of America named
St. Louis Rams
defensive tackle
Aaron Donald
its NFL Defensive Rookie of the Year.
Donald led all rookies with nine sacks in 2014, a total that ranked second amongst all defensive tackles -- trailing only Buffalo's
Marcell Dareus
-- and the sixth most by a rookie defensive tackle since sacks became an official statistic in 1982.
Mosley has a strong argument as well, because he was the only NFL defender to post at least 125 tackles , three sacks and two interceptions in 2014.
If Mosley wins NFL Defensive Rookie of the Year, he would become the third Ravens player to earn the award, and the first since linebacker
Terrell Suggs
in 2003.
Mosley isn't the only Ravens rookie to make an impact this season. Defensive tackle
Timmy Jernigan
, a second-round pick, was named to the PFWA all-rookie team along with Mosley. Jernigan finished with 23 tackles and four sacks in 12 games played, including three starts.
The Ravens were one of six teams to get two players named to the all-rookie team this season.
November, 19, 2014
11/19/14
3:00
PM ET
With six weeks left in the regular season,
Baltimore Ravens
inside linebacker
C.J. Mosley
continues to be the favorite for NFL defensive rookie of the year. He is the only NFL defender with at least 85 tackles, an interception, a fumble recovery and a forced fumble.
Mosley
The 17th overall pick in the draft, Mosley ranks first among rookies and No. 8 in the league with 87 tackles. He is tied for second among all linebackers with seven passes defensed.
Here is a look at Mosley's chief competition:
DT Aaron Donald, St. Louis Rams
: Even though he didn't start until the fifth game of the season, Donald has been most productive member of a disappointing defensive front. He leads all rookie defensive linemen in tackles (27) and sacks (four). The 13th overall pick, Donald is the third-highest graded defensive lineman by Pro Football Focus. He is behind Detroit's
Ndamukong Suh
and Buffalo's
Kyle Williams
.
OLB Khalil Mack, Oakland Raiders
: Known for his pass rush ability in college, Mack has been a playmaker against the run as well as the pass. The fifth overall pick, Mack has the fifth-most tackles among rookie linebackers with 56. He only has one sack this season, but he is fourth among all linebackers with 26 quarterback hurries. Mack is the second-highest graded outside linebacker by Pro Football Focus.
OLB Anthony Barr, Minnesota Vikings
: Barr gained attention when he won a game at Tampa Bay, forcing a fumble and returning it 27 yards for a touchdown in overtime. He became just the sixth rookie named NFC defensive player of the week in the past 10 seasons. The ninth overall pick in the draft, Barr has been disruptive with four sacks. But he's missed 19 tackles this season, the most of any linebacker in the NFL.
May, 9, 2014
5/09/14
6:25
PM ET
PITTSBURGH --
Ryan Shazier
posed with a No. 50 Steelers jersey presented to him by team president Art Rooney II Friday afternoon.
There was a potential problem and it had nothing to do with the shirt per se that Shazier and Rooney held up as photographers snapped pictures in the Steelers' media room.
The No. 50, however, previously belonged to former Steelers linebacker
Larry Foote
.
[+] Enlarge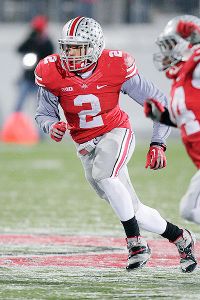 AP Photo/Jay LaPreteRyan Shazier started at Ohio State as a true freshman. Will he impress the Steelers enough this summer to start as a rookie?
Foote played his college ball at Michigan and Shazier is an Ohio State product.
The question, asked in a light vein, of whether he was OK taking a number that had been worn by a Michigan man left Shazier a tad flustered.
But what emerged from his latest stop in what has been a whirlwind since the Steelers made him the 15
th
overall pick of the draft is that Shazier has long been comfortable in whatever he is wearing.
That is especially true of his own skin.
Shazier overcame childhood taunts while growing up in South Florida, and he continues to have the last laugh over those who teased him when Alopecia, a condition in which the immune system attacks hair follicles, robbed him of his hair.
"I was probably the only little kid walking around with a bald head," Shazier said. "It was tough because kids are mean. I just embraced it. I feel like if you didn't like me for who I am, it's a problem with you. I feel like it's my signature now. I love having Alopecia. Having a bald head actually saves me a lot of money."
Shazier will cost the Steelers a few bucks, especially if he comes anywhere close to living up the effusive praise that general manager Kevin Colbert and coach Mike Tomlin lavished on him Thursday night.
Reaction to the Steelers picking Shazier has been mixed at best, and it has little to do with the player who piled up 143 tackles, including 22 ½ for losses, and six sacks in 2013 and is only 21 years old.
Many fans wanted the Steelers to take a cornerback or wide receiver in the first round. When they went in a different direction some wondered why the Steelers didn't try to trade down in the first round and still get Shazier.
There actually is a very good reason why the Steelers stayed where they were: the Cowboys were ready to pick Shazier if he made it past the Steelers.
Cowboys owner Jerry Jones said Shazier, UCLA outside linebacker
Anthony Barr
, Pitt defensive tackle
Aaron Donald
and Notre Dame offensive tackle
Zack Martin
had been targeted by Dallas for its first-round pick.
The Cowboys would have picked between Shazier and Martin but the Steelers did not provide them with that option, and they drafted Martin.
"My dad said that people were hinting to him that the Cowboys were going to draft me with the next pick," Shazier said. "I'm happy that the Steelers drafted me. I can't wait to go to Heinz Field and go out there and play in a Steelers jersey."
The real work for Shazier starts next week when the Steelers hold rookie minicamp.
It will be the first look the Steelers get at Shazier and the rest of the first-year players on the field. And Shazier will be among those who feel utterly lost at times because the 6-foot-1, 237-pounder is learning a new and complex system.
But if Shazier, who played as a true freshman at Ohio State, makes steady progress during offseason practices he will go to training camp with a good chance of winning a starting job.
Such progress will start after his feet touch down and are back firmly planted on the ground.
"It's just amazing to be in a great city like this with the greatest franchise," Shazier said of getting drafted by the Steelers. "The plan is to come here and get a seventh [Super Bowl] trophy."
March, 6, 2014
3/06/14
2:00
PM ET
The re-signings of
Troy Polamalu
and
Will Allen
have not made safety any less of a priority in the 2014 NFL draft. The
Pittsburgh Steelers
, who are not expected to re-sign starting free safety
Ryan Clark
, have to draft at least one safety in May in preparation for the post-Polamalu years.

The consensus is that Alabama's
Ha Ha Clinton-Dix
and Louisville's
Calvin Pryor
are the top two safety prospects in the draft, and ESPN's Todd McShay has the
Steelers taking Clinton-Dix

in his third mock draft, which was unveiled Thursday.
McShay had the Steelers taking Notre Dame defensive tackle
Louis Nix III
in his two previous mock drafts, including one right after the NFL scouting combine. He now has the Steelers addressing their secondary with the 15th overall pick, and here is what he wrote:
"I think Pittsburgh's priorities should be to get younger on defense and upgrade the offensive line, but in this scenario there isn't a tackle who really justifies a top-15 pick (although Zack Martin at least merits consideration). If they trade back, nose tackle Louis Nix III could be an option, but I have enough concerns about his 2013 performance that I don't think he'd go off the board this early. So I think this pick comes down to the best available secondary player, and Clinton-Dix is a playmaker at the safety position, with really good range."
What is interesting in regard to Nix is the one time the Steelers have traded down in the first round since Kevin Colbert joined the organization in 2000 happened in 2001. The Steelers moved from No. 16 to No. 19, swapping places with the Jets while also receiving fourth- and sixth-round picks from New York.
They used that pick on nose tackle and hit big, literally and figuratively, on
Casey Hampton
. Nix has been linked to the Steelers because of the perceived need for a successor to Hampton, who was not re-signed after the 2012 season.
Also noteworthy from McShay's latest mock draft is he has the Lions taking Texas A&M wide receiver
Mike Evans
10th overall and Pryor going to the Rams with the 13th pick in the draft.
McShay has the Bears, who pick one spot ahead of the Steelers taking Pitt defensive tackle
Aaron Donald
. He also has five cornerbacks going in the first round with Oklahoma State's
Justin Gilbert
coming off the board at No. 8 to the Vikings.
McShay has a run on cornerback starting with the Cardinals taking Michigan State's
Darqueze Dennard
at No. 20. The other cornerbacks going in the first round of McShay's mock draft are Ohio State's
Bradley Roby
(Eagles), Virginia Tech's
Kyle Fuller
(Bengals) and TCU's
Jason Verrett
(Chargers).
January, 24, 2014
1/24/14
12:00
PM ET
PITTSBURGH -- Aaron Donald has continued at the Senior Bowl what he did during a storied a career at Pitt.
[+] Enlarge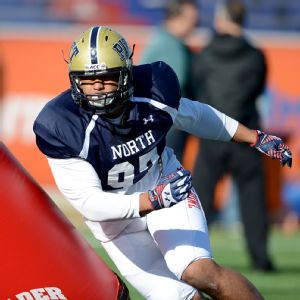 AP Photo/Johnny VyThe Steelers have the advantage of familiarity with Pitt's Aaron Donald but have to wonder whether he fits into their defensive scheme.
The Penn Hills High School graduate has been the hardest player to block during practices, according to anyone within three zip codes of Mobile, Ala. No less an NFL draft authority than the NFL Network's Mike Mayock has compared Donald to Bengals defensive tackle
Geno Atkins
.
Whoa.
ESPN's NFL draft experts on the ground are similarly impressed with Donald. Here is
one item from a story
that Todd McShay, Steve Muench and Kevin Weidl collaborated on after watching the Senior Bowl practices: "Donald showed the ability to beat offensive linemen with quickness, power and active hands, and his ability to do it so many different ways make it that much harder to keep him off the quarterback."
Sounds like a player who will really help a team.
And the Steelers should know as much if not more about Donald than any other team by the time the NFL draft rolls around in May.
Pitt shares a practice facility with the Steelers, and general manager Kevin Colbert has said the team does more homework on local prospects because proximity provides that advantage -- and because the Steelers don't want to let a potential great player get away.
The problem with Donald: He clearly is a better fit in 4-3 defense as an attacking tackle rather than a hold-the-point-of-attack end in a 3-4 scheme.
The 6-foot, 288-pound Donald is probably too small to play nose tackle in a 3-4 defense and would likely be miscast in that role, too.
But he also seems like a classic case of player who transcends measurables and can play regardless of scheme. The Steelers, I'm guessing, would love to keep Donald in Pittsburgh but their top picks will be used on players who are better fits for them and fill a need.
And since it is unlikely that Donald lasts beyond the second round of the draft, he will probably continue his football career outside of Pittsburgh.
January, 21, 2014
1/21/14
8:00
AM ET
Mike Tomlin's worst nightmare could accompany the Steelers to the serene setting of St. Vincent College in late July.
The Steelers are one of just eight teams that are, ahem,
eligible for HBO's "Hard Knocks"
this year, and imagine the ratings bonanza that the only team to win six Super Bowls would provide with an inside look at its training camp.
Tomlin surely does not want to find out just how many viewers the Steelers would attract by appearing on "Hard Knocks."
He is as closely guarded about his team's inner workings as any coach, and Tomlin loves training camp because it minimizes distractions with players living in dorm rooms and abiding by curfews at the small college that has hosted the Steelers every summer for almost 50 years.
TV cameras with the kind of access that "Hard Knocks" enjoys are the last thing Tomlin wants as he molds a team that has missed the playoffs in consecutive seasons for the first time on his watch.
The best-case scenario for Tomlin and the Steelers is that one of the other teams eligible for "Hard Knocks" is so desperate for the publicity that it lobbies the NFL to be the subject of the long-running series.
The Jaguars are among the eight teams eligible for "Hard Knocks," and no team has more trouble filling its stadium than Jacksonville. The Steelers, meanwhile, need "Hard Knocks" as much as they need another season of offensive linemen dropping like bowling pins.
The show would offer a compelling look at Tomlin and one of the NFL's flagship franchises behind closed doors. But you can bet the Steelers will do everything they can to keep HBO from documenting their training camp anytime soon.
In other Steelers/NFL news:
The Steelers are down to one representative in the Pro Bowl after strong safety Troy Polamalu opted out of the annual all-star game with an injury. Funny, that Polamalu played every snap this season. But it's hard to blame him for withdrawing from a game that should have been put out of its misery by now and replaced with some sort of showcase anchored by a skills competition. Browns safety T.J. Ward replaced Polamalu on the Pro Bowl roster, giving four-win Cleveland six Pro Bowlers.
The extra-point could be getting the boot, and I would have no problem if the NFL did away with it. Forget ways to make the play after a touchdown more meaningful. How about getting rid of a kick that has become automatic to shave a little time off games that are getting longer and longer?
Here are a few other links:
Steelers.com's Mike Prisuta looks at playing running back from the eyes of Le'Veon Bell. Speaking of Bell, I talked to former Steelers running back Jerome Bettis about a number of subjects and he is a big fan of Bell and plans on reaching out to him. I will have more on that, the Hall of Fame and Bettis' take on the Steelers in later posts.
ESPN.com Browns reporters Pat McManamon takes a look at the history Cleveland's next head coach will have to overcome.
CBS NFL draft analyst Dane Brugler provides an update from the Senior Bowl, and among the players who jumped out at him during the North team's first practice were Pitt defensive tackle Aaron Donald.