November, 27, 2013
Nov 27
10:00
AM ET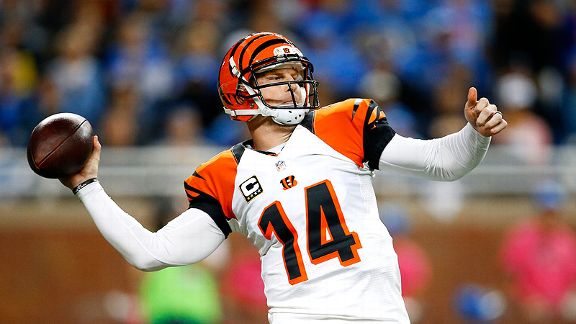 AP Photo/Rick OsentoskiThe Cincinnati Bengals are counting on Andy Dalton to return to the form that helped lead the team to a 4-1 record in October.
CINCINNATI -- Earlier this week,
Cincinnati Bengals
players like cornerback
Chris Crocker
were adamant in pointing out the urgency they need to play with throughout the
month of December
.
"It's all about winning in December," Crocker said. "Let's win out and see where the chips lay. Why can't we win out? I don't see why we can't."
If you ask some Bengals fans and most NFL analysts, they'll give you one big reason why they don't believe Cincinnati will be able to go 5-0 to close out the regular season: No. 14.
That's right. To some, the primary obstacle in the way of end-of-season perfection for the Bengals is
Andy Dalton
, the player who has quarterbacked the franchise into the playoffs each of the past two seasons, and who constantly is trying to prove himself to those who consider him just another member of a mostly failed 2011 quarterback draft class.
For that reason, as the Bengals gear up for a stretch run that could give them a first-round bye and home-field advantage in the playoffs, an important question has to be asked.
Can December Andy mimic October Andy?
As we've written countless times in the past month, October Andy was indeed a dandy. Through the first four games of that month, Dalton threw for 1,243 yards and 11 touchdowns. He also completed 67.9 percent of his passes, won four games, had a passer rating higher than 116.0 and a QBR above 83.0. He was, quite simply, brilliant. His play was so sharp back then that on the final day of the month, hours before the Bengals were set to take on the Dolphins in a road Thursday night game, he was named the AFC's Offensive Player of the Month.
And, yes, even though, comparatively speaking, he didn't look as good overall against the Dolphins and ended up taking the game-winning sack for a safety in overtime, Dalton still had a rather special performance in the 22-20 loss. Aside from not completing a touchdown pass and getting intercepted three times, he threw for 338 yards, marking the fourth straight game he had gone over the 300-yard passing mark.
Overall, October Andy was Good Andy.
But now here comes December with all of its postseason potency. If Cincinnati hopes to set itself up for the type of playoff seeding Crocker believes it deserves, then it will have to play its best ball across the next five weeks. That's especially the case for Dalton and a Bengals offense that has looked rather anemic in the past three games.
One look at Dalton's previous December stats and it doesn't appear the third-year star should have any problem showcasing even a sliver of the success that made him and his team so good about two months ago.
After a rocky December as a rookie in 2011, Dalton was among the difference-makers last season when the desperate Bengals were in need of a strong final month just to secure a playoff berth. One year after going 2-2 in the month, Dalton went 4-1 during December 2012. The lone loss came after the
Dallas Cowboys
made a field goal in the final seconds to win 20-19.
While the level of desperation may be different this December, the Bengals are looking for Dalton to thrive under similar pressure-packed moments during this one. This time around, the pressure on Dalton mainly stems from the fact that so many are fed up with his play from the past three games. In them, he's thrown eight interceptions and been sacked 10 times. Across the latter two of those games, he's completed fewer than 50 percent of his passes and hasn't posted a QBR higher than 18.0.
Weather factored heavily in Dalton's inability to move the ball in those two games. Windy conditions at Baltimore and windy and rainy conditions against the Browns sent some of his passes sailing and forced others into the hands of defensive backs.
Although weather shouldn't be a concern this weekend in San Diego (the forecast calls for partly cloudy skies and a delightful high of 71 degrees Sunday), it could be the rest of the season. Farmer's Almanac projects cold, damp conditions for all of December in the Ohio Valley. It should be noted that after Sunday's game, the Bengals are home three of the next four weeks. Their only remaining road game is at Pittsburgh.
Throughout his career, Dalton has performed better in warmer games. In games with temperatures 50 degrees or higher, he has a 20-14 record, an 85.1 passer rating and a 52.5 QBR. In games with temperatures at 49 and lower, he has a 5-5 record, a 75.4 passer rating and a 32.9 QBR. Dalton's last three sub-49-degree wins came last December, though; a sign that perhaps he's turning a corner in cold-weather contests.
Whatever the conditions and whomever their opponents are, when it comes to the next five weeks, the Bengals can only hope that Dalton turns into the same man who torched through this October.
June, 3, 2013
Jun 3
8:00
AM ET
Here's what is happening this week: the
Cleveland Browns
hold their mandatory minicamp, the
Pittsburgh Steelers
and
Cincinnati Bengals
wrap up their voluntary workouts and the Super Bowl champion
Baltimore Ravens
visit the White House to meet President Barack Obama. I will be attending one of them, if I pass the security clearance. Now, please let me see some IDs before we proceed to the wake-up call ...
RAVENS
: Outside linebacker Courtney Upshaw said he's up to 285 pounds, which is 13 more pounds than his listed playing weight. Upshaw explained why he hasn't been able to train regularly at Ravens headquarters this season. "My offseason has been kind of hectic," Upshaw told
The Baltimore Sun
. "I had a personal issue where I had to handle that. Right now, I'm trying to get back into football shape. I was back and forth between Alabama and Baltimore, just real personal issues that I had to handle. Just trying to drop a couple pounds and get ready for the season." This isn't the first time that weight has been a problem for Upshaw, who failed a conditioning test before his first training camp.
BENGALS
: According to the
Cincinnati Enquirer
, one of the biggest contributions made by first-year defensive assistant Adam Zimmer, the son of coordinator Mike Zimmer, was putting together a PowerPoint presentation before the start of offseason workouts on the coverages for each Bengals defensive back. It showed how they lined up and what they should be doing. "I didn't want to be that guy that was just there because my dad was there," Adam Zimmer said. "I've been on staffs where that was the case, and they had no credentials to be a coach, but they followed their dad around from here to here to here. I didn't want to be one of those guys. I kind of wanted to learn how to do things my way and not just the way he does it. Kind of get my own personality as a coach before I got on the same staff with him."
STEELERS
: The Steelers want the
Ziggy Hood
who made 24 tackles over a five-game span in December and not the defensive lineman who recorded four one-tackle games and was held without a tackle against the Titans despite playing 62 snaps. The emphasis is on improving Hood's technique. "You are always going to have things to work on; I am not going to deny that," Hood told
The Pittsburgh Tribune-Review
. "Last year was a good step for me. It wasn't the season that I would say was the best, but the positives outweighed the negatives." Hood, a first-round pick in 2009, is in the final year of his contract.
BROWNS
: Being a more hands-on owner was one reason why the Browns fan base was excited that Jimmy Haslam taking over for Randy Lerner. The
Plain Dealer
's Bud Shaw believes everyone should be skeptical of that after Haslam contends he didn't know about the rebate fraud at his family-run Pilot Flying J, where he is CEO. "All that 'due diligence' Haslam mentioned in building an organization -- from the hiring of Joe Banner, to the head coaching search, to the hiring of Mike Lombardi as GM -- all that is tossed under the microscope for closer review now that Haslam claims ignorance about his own company's dealings," Shaw wrote.
February, 6, 2013
Feb 6
8:00
AM ET
It's nice to be back at the palatial AFC North headquarters, and I've settled back in after spending a week in New Orleans. The weekly chat will begin at 2 p.m., so you're going to want to get your questions ready. We'll also start to look ahead to free agency today. For now, here's your wake-up call, which funny enough, begins with a call ...
RAVENS
: President Barack Obama called coach John Harbaugh and general manager Ozzie Newsome to congratulate them on their Super Bowl victory. Harbaugh thanked the president before adding that he knows as much as anybody that the greatest accomplishments stem from overcoming adversity. "Well you and me, we should try sometimes to do some things easy," Obama joked in response. "I'd like to know what it feels like. It's never happened to me." Click
right here
to watch the video of the phone conversation.
BENGALS
: Adam Zimmer, the son of defensive coordinator Mike Zimmer, has been named the team's assistant defensive-backs coach. He has coached previously with the Saints and Chiefs, serving as a defensive assistant and assistant linebackers coach for both teams. "I'm not going to be 'Dad' at the office," Mike Zimmer told the
team's official website
. "It's going to have to be 'Coach' or 'Zim' or 'Mike,' or whatever he wants. I told him over dinner last night. He'll be treated just like everyone else and I'll probably be harder on him. My dad was harder on me."
STEELERS
: The
Pittsburgh Post-Gazette
's Ron Cook believes the only silver lining for the Steelers is that Ravens quarterback
Joe Flacco
will command a big deal. "Flacco is up for a new contract, perhaps $20 million a year. The Ravens won't be able to keep a couple of good players under the salary cap after they re-sign him," Cook wrote. "That should help the Steelers. Hey, that's the best I've got for you after the hated Ravens hung on to beat the
San Francisco 49ers
."
BROWNS
: The
Plain Dealer
's Terry Pluto points out that the statistics show the West Coast offense was never the right fit for Browns quarterback
Brandon Weeden
. "Weeden's strength is standing in the pocket and throwing deep," Pluto wrote. "But the West Coast offense stresses snaps under center and quick throws. It's also very possible that Weeden's league-leading 25 passes batted down is partly due to being so often under center, where he's closer to the defensive linemen as he throws."