May, 10, 2011
5/10/11
4:00
PM ET
It's often said that it's unfair to grade a draft class in the NFL until you've had three full seasons to evaluate the body of work.

Therefore, this week in the AFC North blog we will take a look at the 2008 draft classes in the division and provide a letter grade. Tuesday we start with the
Cleveland Browns
.
Draft picks:
LB
Beau Bell
(fourth round), TE
Martin Rucker
(fourth), DT
Ahtyba Rubin
(sixth), WR
Paul Hubbard
(sixth), LB
Alex Hall
(seventh)
Analysis:
This was the final draft of former general manager Phil Savage's tenure in Cleveland, and it turned out to be a bad one. The Browns were coming off a successful 10-6 season in 2007 and had high expectations. Savage made a risky move by trading away all his top picks in 2008 in a draft-day deal for quarterback
Brady Quinn
the year prior and offseason trades to get defensive linemen
Shaun Rogers
and
Corey Williams
. To some degree, you must consider those players in this equation. But none worked out besides one productive season from Rogers. Of the five picks, only Rubin panned out and is still with the team. He is now Cleveland's best defensive lineman, which prevents this draft from being a complete disaster.
AFC North blog draft grade:
D+
On Wednesday we will take a look at the 2008 draft of the
Cincinnati Bengals
.
April, 2, 2010
4/02/10
12:44
PM ET
Unless the
Cleveland Browns
got extremely lucky, chances are they would not have landed two starters in this year's draft in the fourth and fifth rounds.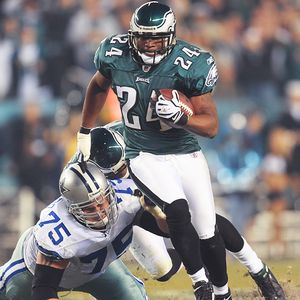 Drew Hallowell/Getty ImagesCornerback Sheldon Brown, acquired in a trade from the Eagles, fills an immediate need for the Browns.
For that reason, Cleveland made a
very smart trade Friday
with the
Philadelphia Eagles
to land veteran cornerback
Sheldon Brown
and outside linebacker
Chris Gocong
. Both players can be penciled in as starters in Cleveland's 3-4 defense.
The Browns shipped backup linebacker
Alex Hall
and a fourth- and fifth-round pick to the Eagles, according to ESPN's Adam Schefter.
Cleveland has plenty of draft picks to spare
, particularly in the middle rounds, and still has 10 selections in this month's draft.
Brown, who likely will get an extension with Cleveland, fills a major void at cornerback and moves the struggling
Brandon McDonald
out of the starting lineup. Gocong is a player Browns coach Eric Mangini liked coming out of college and has starting experience with Philadelphia, tying Gocong with current Browns general manager Tom Heckert.
The trade for Brown likely impacts Cleveland's draft plans in the first round.
The Browns are no longer desperate for a cornerback with the No. 7 overall pick, where Florida's
Joe Haden
was a potential target. Tennessee safety
Eric Berry
definitely makes more sense at this point if Cleveland has a choice between the two players.
July, 7, 2009
7/07/09
4:00
PM ET
Posted by ESPN.com's James Walker
Let's get to some AFC North mail on the Cleveland Browns.
Brandon from Kansas City, Mo., writes: Even if Jamal Lewis is healthy, will he have much impact this year for the Browns? I don't see them having a good running game this year. Your thoughts?
James Walker: Lewis didn't participate much this offseason because he is still recovering from ankle surgery. So I don't have an update on how well he's running. What I do know is the coaching staff likes what Lewis brings to the table and will give him plenty of opportunities in Cleveland's new offense. Browns coach Eric Mangini wants to control the clock with a power running game. The Browns are aiming to be physical and smart, two things they've lacked in prior years. That fits Lewis well if he gets healthy.
---
Rob from Piqua, Ohio, wants to know if second-year linebacker Alex Hall has potential to get double-digit sacks this year.
James Walker: Hall is a confident young player who showed some potential in limited playing time last year. I expect the Browns to increase his role, but I don't expect him to make that kind of significant leap to double-digit sacks. Cleveland hopes to get that kind of production out of teammate Kamerion Wimbley, who had 11 sacks as a rookie. The fact that Wimbley's done it before makes him a more viable candidate.
---
Justin Kowalczyk from Mesa, Ariz., is an optimistic Browns fan who is curious about the progress of starting safety Abram Elam.
James Walker: Elam is a player Mangini really liked and wanted to bring over from the New York Jets, where he was primarily a backup. The Browns tried to sign him as a restricted free agent this offseason and failed. Then Cleveland was able to get Elam from New York by trading the No. 5 overall pick. He doesn't appear as athletic as Sean Jones, the player Elam is replacing. But he seems to have a good understanding of the defense, which puts him ahead of his teammates. I'm interested to see how physical Elam is once the team puts pads on, because the Browns don't have many enforcers.
---
DJ Tommy Gunnz from Northern Cambria, Pa., wants an update on former Browns cornerback Gary Baxter.
James Walker: Baxter retired from football after a failed attempt to return from dual patellar tendon tears. He made a valiant effort but couldn't return to form. Last I heard, Baxter had shown some interest in pursuing sports broadcasting.
---
Shane from Cleveland writes: Hey, James, what is the current situation of the quarterback competition in Cleveland?
James Walker: Shane, welcome to the AFC North blog. You must be a new reader, because we've been writing updates on the Browns' quarterback competition for months. Mangini isn't saying much, but trusting my eyes and the team's actions it is pretty clear Brady Quinn still holds a slight lead over Derek Anderson. Quinn had a decent, albeit not spectacular, minicamp. Anderson struggled most of the way through and missed the final two practices with a calf injury. But the coaching staff will not make any premature decisions. They will wait until both quarterbacks perform in preseason games, so it is still very much an open competition. Until then, continue reading the blog for updates. We're going to be all over this story next month.
June, 5, 2009
6/05/09
10:00
AM ET
Posted by Scouts Inc.'s Matt Williamson
The Browns got to opposing quarterbacks only 17 times last year -- only the lowly Chiefs were worse. New coach Eric Mangini and new GM George Kokinis brought in a lot of new players this offseason, but the pass rush really doesn't look to be vastly improved.
Scouts Inc.: Weaknesses
• AFC: N | S | E | W
• NFC: N | S
On the defensive line, Shaun Rogers is a beast. As a pass-rusher, he can push the pocket, disrupt throwing lanes and occupy interior blockers. But his stamina is an issue and he often leaves the field on clear throwing downs. In his first season in a 3-4 scheme since coming to the Browns from Green Bay, Corey Williams registered only half a sack in 16 games. Learning a new scheme or not, that is unacceptable. Williams had seven sacks in each of his final two seasons with the Packers; expect his production to improve in 2009. Also struggling in 2008 were Sean Smith and Robaire Smith, neither of whom had a sack. Kenyon Coleman will factor in this year, but he had only two sacks in 32 games played for the Jets over the past two seasons.
| | |
| --- | --- |
| | |
| | Scott Cunningham/Getty Images |
| | Second-year linebacker Alex Hall (96) has the tools to be an effective pash-rusher. |
Cleveland also needs to generate a much better pass rush from their linebackers, particularly on the outside. The biggest culprit here is Kamerion Wimbley. Wimbley is proving that he cannot be the top pass-rusher; he's only equipped to be a secondary option. While his get-off and closing speed are very good, he relies too much on his speed rush and once stymied, doesn't adjust with counter moves. He also doesn't set up his opponent well throughout the game and becomes too predictable. Maybe the new coaching staff will get more out of Wimbley.
One player to watch is Alex Hall. Hall got to the quarterback three times in limited action in his rookie season. He has great body length and excellent natural pass-rushing tools. Hall, David Bowens and second-round selection David Veikune should compete for the starting spot opposite Wimbley.
Veikune is a tremendous hustle player -- another quality this defense has lacked at times -- but adjusting to the new scheme may not be a quick transition. Veikune still could factor in off the edge on passing downs, but expect his rookie year to be a learning process.
Bowens was a good pickup. He is not an upper-tier pass-rusher, but he is a veteran with strong intangibles and should help Hall and Veikune transition. Bowens has appeared in all 16 games in each of the past five seasons and in that span he has 24.5 sacks. That isn't elite production, but he has been consistent. Consistency is something the Browns need more of.
Still, no one on this defense presents a serious challenge to opposing pass-protection schemes and there isn't one guy who needs to be game-planned around on throwing downs. If they don't improve the pass rush dramatically, the Browns will be in for another rough year.
Scouts Inc. watches games, breaks down film and studies football from all angles for ESPN.com.
March, 11, 2009
3/11/09
4:00
PM ET
Posted by ESPN.com's James Walker
The Cleveland Browns are bringing a lot of players from the New York Jets over to join new head coach Eric Mangini.
But are they good enough to make a difference?
The names C.J. Mosley, Hank Poteat, David Bowens and Abram Elam don't strike a chord with many Browns fans. The four spent a majority of their careers as backups or role players.
Yet ironically all four players have a shot for much bigger roles in Cleveland, which provides a great opportunity to shine but also demonstrates how talent-deprived the Browns are.
Bowens and Elam, a restricted free agent, have a chance to make the biggest impact. Bowens has 32.5 career sacks and, despite starting just seven games the past two years, he should start for Cleveland right away. Bowens can play both inside and outside linebacker with the Browns, replacing players such as Leon Williams or Alex Hall.
Elam had 69 tackles and an interception in 2008 and could fill the safety spot left open by Sean Jones, who joined the Philadelphia Eagles. The Jets have one week to match Cleveland's offer for Elam.
Poteat would have to beat out one of Cleveland's young corners in Eric Wright and Brandon McDonald. But at the very least, Poteat, 31, can play the nickel and teach Wright and McDonald the nuances of Mangini's system. Mosley was signed to provide depth on the defensive line, which is also an area the Browns will address in the draft.
All four signings are not overwhelming but could turn out to be solid. And when you're trying to completely rebuild a roster, that's not a bad thing.
February, 10, 2009
2/10/09
4:00
PM ET
Posted by ESPN.com's James Walker
Let's dig into some questions for AFC North readers:
Austin from Palm Springs, Calif., writes: I've been reading a lot about T.J. Alphabet (Bengals) lately and he seems to be very unhappy where he's at. He also seems to have been sweet-talking the Steelers organization lately. Knowing that Nate Washington is a free agent, could T.J. be campaigning for a black and gold uniform? And do you see any chance of the Steelers sign him? Assuming the Bengals allow that to happen, of course.
James Walker: Austin, the Steelers will not spend a lot of money on a receiver this year. They do not need a starter as Hines Ward and Santonio Holmes will man those positions next season. If they pay Houshmandzadeh big bucks, who does Pittsburgh put on the bench? If anything, the Steelers will try to retain Nate Washington for the No. 3 spot or hope Limas Sweed develops into that role in his second year.
---
Matt from Lima, Ohio, writes: James, I enjoy reading all your material and insight. Being a longtime Browns fan I'm just wondering if they're going to finally get it right this year with the draft and with free agency? Maybe new LB's and a new RB? I hear Detroit may have to release Bodden for cap reasons. Any chance on resigning him?
James Walker: Thanks, Matt. The Browns need linebackers in the worst way. Two starters, Willie McGinest and Andra Davis, are free agents and probably won't return. So that's two big holes with no suitable replacements currently on the roster. Leon Williams and Alex Hall would be starting linebackers if the season started today. As far as Leigh Bodden, he probably wouldn't mind coming back. But he flourished under the old coaching staff. It's unknown how the new coaching staff, led by Eric Mangini, feels about Bodden.
---
Tate from Wis. writes: What are your thoughts on Jim Leonhard for 2009?
James Walker: As you know, Tate, this is a tough decision for the Ravens. Leonhard's reps will fight for starter money, but it's questionable that he would start in Baltimore next year with the pending return of Dawan Landry. With so many free agents, the Ravens will make a pitch. But I think Leonhard will get a bigger offer somewhere else and bolt.
---
Jerry from Pa. writes: Larry Foote? Staying or going? If he does go, trade or release?
James Walker: Foote stays put, Jerry. He may have to compete for a starting job in training camp with the hard-charging Lawrence Timmons next season. But Pittsburgh runs a 3-4 and always needs depth at linebacker.
---
Nick from Baltimore writes: Do you really think that the Ravens won't be able to resign Ray Lewis? And how upset would he be with the franchise tag?
James Walker: It's a possibility, Nick. But I think the Ravens will do everything they can to re-sign Lewis to an extension. The franchise tag would be pretty upsetting for Lewis, 33, who feels he deserves better. Lewis is a career Raven, he never made his contract an issue, and he went out and played great football in leading the Ravens to the AFC Championship Game. He hopes that goodwill will be returned.
September, 5, 2008
9/05/08
8:30
AM ET
Posted by ESPN.com's James Walker
Here are the most interesting stories in the AFC North:
Morning take: This is further proof that few pro sports teams are woven into the city's fabric quite like the Pittsburgh Steelers.
Morning take: We've liked Alex Hall since minicamp. Now "Kamerion Wimbley-lite" gets a chance to show what he can do.
Morning take: Guess which team just received additional insight on Cincinnati's offense for Sunday's game?
Morning take: Win and produce, and Mr. 8-5 can do whatever he wants. Lose and play poorly, and there will be some finger-pointing his way after drawing so much attention.
August, 28, 2008
8/28/08
3:00
PM ET
Posted by ESPN.com's James Walker
With the final week of preseason games starting Thursday night, it's a good time to keep close tabs on bubble players from each AFC North team. Rosters will be trimmed from 75 to 53 players by Saturday, which means there are a lot of big decisions to be made on players in the next 48 hours.
Here are some notable bubble players that could help their cause with big preseason games this week:

Pittsburgh Steelers
Players: Receivers Willie Reid and Dallas Baker
Skinny: Both young players have been around, know the system well and have shown flashes. But Pittsburgh is stacked with skill players and don't have to wait for both to develop. Receivers Hines Ward, Santonio Holmes, Nate Washington and Limas Sweed will be the top four in this group. Our guess is the Steelers only take five receivers into the regular season.
Prediction: Reid stays, Baker goes
Players:
Punters
Mitch Berger
and
Paul Ernster
Skinny: This competition was created by the season-ending knee injury to punter Daniel Sepulveda. Ernster has been around a little longer and has the edge, especially after last week's performance with three punts inside the 20. But he still could use a strong finish.
Prediction: Ernster stays, Berger goes
---

Cincinnati Bengals
Players: Fullbacks Daniel Coats and Jeremi Johnson
Skinny: Coats, a former tight end, has been impressive this summer making the move to fullback. He earned most of the reps, and most likely a roster spot, because Johnson's weight kept him out for most of camp. The Bengals are tired of dealing with Johnson coming into camp out of shape every year. But he's been too good a player for the Bengals to let go so far.
Prediction: Coats and Johnson (barely) stay
Players: Receivers Glenn Holt and Antonio Chatman
Skinny: There are a lot of young receivers on this roster behind starters Chad Johnson and T.J. Houshmandzadeh. So don't be surprised if one of the proven veterans is let go. Holt and Chatman are both on the bubble because they're undersized and don't fit the system -- Cincinnati prefers bigger, stronger pass catchers. Injuries to Johnson (shoulder) and rookie Andre Caldwell (toe) may scare the team into keeping both Chatman and Holt, but we doubt it.
Prediction: Chatman stays, Holt goes
---

Cleveland Browns
Players: Receivers Travis Wilson, Steve Sanders and Paul Hubbard
Skinny: The battle for the No. 3 receiver spot in Cleveland has been underwhelming, to say the least. Now all three of these players could use a big performance tonight against the Chicago Bears to solidify a roster spot. With Syndric Steptoe likely on the 53-man roster, at least two of these receivers, if not all three, will be cut by Saturday.
Prediction: Hubbard stays (or practice squad), Wilson and Sanders goes
Players: Linebackers Kris Griffin, David McMillan and Alex Hall
Skinny: This decision is more important than it appears on the surface. Hall, a rookie, has been a nice sleeper this summer, and Griffin and McMillan are important cogs on special teams. Luckily, they all play linebacker and Cleveland is a 3-4 team. But one still has to go.
Prediction: Hall and Griffin stay, McMillan goes
---

Baltimore Ravens
Player: Fullback Le'Ron McClain
Skinny: The banged-up Ravens have seven guys already on injured reserve, so there aren't as many significant bubble players. But McClain is one because the team recently signed Pro Bowler Lorenzo Neal. New offensive coordinator Cam Cameron wants more of his style of players to run his offense. The question is, with Neal's injury history, does Baltimore want to risk taking one fullback into the season? Probably not.
Prediction: McClain stays
July, 29, 2008
7/29/08
11:00
AM ET
Posted by ESPN.com's James Walker
With all four training camps officially underway in the AFC North, there is no better time to look into the crystal ball.
But these predictions are a little different because they don't state the obvious. Many are going out on a limb, which could draw responses such as, "Are you crazy?"
With that in mind, here are four fearless predictions from training camp representing each AFC North team:
1. Cleveland Browns: Rookie LB Alex Hall will make the 53-man roster.
This is the most talented team the Browns have had since returning to the NFL in 1999. Still, seventh-round pick Hall from tiny St. Augustine will make the initial 53-man roster. Keep in mind, just one seventh-rounder has made the Browns out of training camp in the Romeo Crennel-Phil Savage era. But Hall, although he's very raw, has just what the Browns need at outside linebacker with athleticism and the ability to rush the passer. Even if that's all Hall can do, it will make it tough for Cleveland to cut him. If Hall proves to be solid on special teams, he could be a lock.
2. Cincinnati Bengals: Marcus Maxwell will win the No. 3 receiver job.

I know what you're thinking. Who is Maxwell? My point exactly. Maxwell has been quietly on the lips of the Bengals' coaching staff all offseason for his playmaking and work ethic in practice. The question is can Maxwell translate that into actual games? Maxwell is big at 6-foot-3. He has nice quickness and great hands. It may be enough to replace Chris Henry in 2008. Check here for a profile on Maxwell from Bengals camp later today.
3. Baltimore Ravens: Joe Flacco will start in week one.

This will not be a shock to regular readers of this blog. I've held this prediction for months since I watched all three quarterbacks throw in minicamp. There are many unknowns with Flacco. First, he's a rookie. Second, he has yet to take a hit. Third, we don't know how well he can read defenses. But Flacco physically is superior to his two competitors, Troy Smith and Kyle Boller. Flacco is taller, throws the best ball and has the strongest arm. That gives him enough of a chance to win the job in week one.
4. Pittsburgh Steelers: LeCharles Bentley eventually will sign with Pittsburgh.

The Steelers and Bengals were two teams within the AFC North that showed preliminary interest in Bentley this summer. Bentley, if healthy, has a chance to make an impact at guard for Pittsburgh. He is a natural center but Justin Hartwig is expected to start there. Although Bentley is a Cleveland native, he was not a happy camper when he left the Browns because of the way his knee injury was handled. So what better way to get back at the Browns by playing for their biggest rival?
July, 22, 2008
7/22/08
9:25
PM ET
The Cleveland Browns successfully made a late push to sign all five of their 2008 draft picks Wednesday night to four-year deals.
Cleveland had zero picks in the first three rounds, but drafted linebacker Beau Bell and tight end Martin Rucker in the fourth round, defensive tackle Ahtyba Rubin and receiver Paul Hubbard in the sixth, and linebacker Alex Hall in the seventh round. They all struck deals before the deadline, as the Browns will begin training camp in Berea, Ohio, Wednesday afternoon.