December, 11, 2013
12/11/13
12:21
PM ET
The Browns will be without guard
John Greco
and running back
Willis McGahee
in practice today.
Greco sprained his right medial collateral ligament on the first play of the game in New England when his foot caught in the turf. He tried to stay in the game, but was not effective. The Browns will see how his week goes, but it does not seem likely he will face Chicago on Sunday
Jason Pinkston
replaced Greco in New England and would replace him against the Bears as well.
"We'll see as we go along what his (Greco's) status is," coach Rob Chudzinski said.
McGahee suffered a concussion on a goal-line run in the fourth quarter. He was sent home Wednesday and must pass the NFL concussion protocols before returning. His return for Sunday seems very doubtful. The Browns signed
Edwin Baker
off the Houston practice squad.
Quarterback
Brandon Weeden
, meanhwhile, has been cleared to practice. Weeden has been sidelined since he received a concussion nine days ago against Jacksonville.
Chudzinski would not say whether Weeden or
Alex Tanney
would be the backup quarterback against the Bears.
"There's some things that Brandon has to clear this week," Chudzinski said.
December, 5, 2013
12/05/13
2:54
PM ET
Norv Turner probably thought he had seen it all when his starting quarterback in Washington,
Gus Frerotte
, sprained his neck by head-butting a wall after a touchdown.
But in this, his first season as the
Cleveland Browns
offensive coordinator, Turner has dealt with a lot of unusual situations.
He's used a different word each week for some element of the Browns' offense.
He's discussed the run game as something that needs to be managed, and said the situation with the backs he has has been different.
Now he's talking about not knowing the Browns quarterback with a game three days away.
"It's a challenge," Turner said.
That's one word for it.
If
Jason Campbell
does not recover in time for Sunday's game, the Browns appear headed to starting either
Alex Tanney
or
Caleb Hanie
, neither of whom have been with the team two weeks.
Either way the Browns could be making their fifth quarterback change this season, and perhaps starting their fourth different quarterback.
"There's a lot of firsts for us this year," Turner said.
Which kind of sums up the season. The last time the Browns went through four quarterbacks in a season was 2008, when
Ken Dorsey
played the final three games and
Bruce Gradkowski
was brought in off the street to start the finale. Gradkowski's rating in that game: 2.8.
Now Turner works with the Tanney-Hanie combination.
"It's a challenge," Turner said. "But it's not as hard on the coaches as it is on the players."
Because players have to adjust to different throwing styles, different cadences, different feels from different passers.
If Campbell is back, there is at least some familiarity.
But if he isn't, well ...
December, 1, 2013
12/01/13
8:33
PM ET
The quarterback who would have started missed the loss because of a concussion.
The quarterback who did start was diagnosed after the loss with a concussion.
The wide receiver who became the first player in NFL history with more than 200 yards receiving in consecutive games lost both games.
[+] Enlarge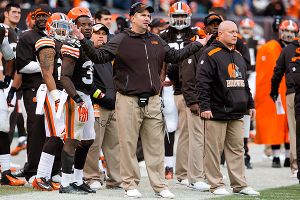 Jason Miller/Getty ImagesRob Chudzinski's Browns are left looking for answers after their sixth loss in seven games.
And the cornerback who has been the team's standout and stalwart was a bundle of emotions after the game.
Even coach Rob Chudzinski broke from his usual flat-lining self to show some emotion.
This is what happens when a team loses at home to a team ranked 32nd in the league in a large handful of offensive categories.
This is the
Cleveland Browns
, who have to wonder where they go next.
And the first place to wonder is at quarterback, where
Brandon Weeden
threw for 370 yards and then missed postgame interviews after being diagnosed with a concussion. Weeden was briefly at his locker after the game, but reported concussion symptoms to the trainers.
Jason Campbell
already is sidelined after a hit to the head (which wasn't flagged), and his prognosis is unknown. If Weeden is out, the Browns could well go to New England and face
Tom Brady
with
Alex Tanney
at quarterback. And if Weeden and Campbell can't play, they'll have to face the Patriots with two quarterbacks who have been on the team less than two weeks (assuming they sign another).
Good luck.
But just as big a concern is the Browns' emotional state after such a staggering defeat. The Browns got nearly 400 yards from their quarterback, a 261-yard game from receiver
Josh Gordon
and four times held the lead over the
Jacksonville Jaguars
.
Yet, they lost.
To a quarterback who before the game had four touchdown passes, but threw two in beating Cleveland.
Emotions were raw. Safety
Tashaun Gipson
called the loss a 10 on a 1-to-10 scale, and safety
T.J. Ward
said folks could blame anyone they wanted for this one. Indeed, there were so many gaffes.
Weeden accounted for three turnovers in the final 2:47 of the first half. Center
Alex Mack
had the first bad snap anyone could remember, giving the Jaguars a safety. The defense made
Chad Henne
look like Tom Brady. And
Joe Haden
, who has been so good and so responsible, got beat for the game-winning touchdown. The defense allowed 137 yards in the fourth quarter, and the offense's turnovers and a safety led to 15 Jacksonville points.
It's nearly incomprehensible to think that three weeks ago people actually considered the Browns a playoff contender. Now they resemble an old jalopy lurching down a rutted dirt road.
Three of their final four games are on the road.
Three of the four opponents have their playoff hopes alive.
The Browns built their playoff "hopes" on one win in the past seven games.
It borders on the incredulous.
After this loss, the Browns are an emotional wreck, and they're heading the wrong way in that beat-up old jalopy.
November, 27, 2013
11/27/13
3:27
PM ET
Brandon Weeden
was back in the interview circle today, explaining again how he tunes out criticism, he's still confident and he doesn't listen to external noise.
"I don't need 5-year-old kids telling me how to play the quarterback position," Weeden said after being named the starter for Sunday's game against Jacksonville.
That statement referred to getting off Twitter "and all that junk." It's not known if any 5-year-olds are on Twitter, but the point is clear: Weeden is trying not to listen to what people are saying about him.
Problem is once he steps on the field he can't help but hear it, because he's been greeted -- at home -- by loud and pointed booing.
[+] Enlarge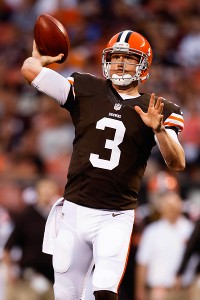 Rick Osentoski/USA TODAY SportsBrandon Weeden will get another chance to start at quarterback for the Browns.
Weeden has become the lightning rod for fan frustration of the past 14 years.
He is the guy who didn't expect to be a first-round draft pick but was taken there anyway, the guy who played fairly well as a rookie the first half of the season, but a guy who has regressed since.
He's lost his job once to injury and once to performance.
Sunday, for the third time this season, he gets another chance.
It's hard not to think it won't be like the first two times. Even Weeden seemed to imply he understands his ship is about to leave the Cleveland port.
"I'm a Cleveland Brown," he said. "I think for the next five weeks, I'm a Cleveland Brown. After that, whatever happens is out of my control. I'm excited. This is one of the best teams I've ever been on as far as just the group of guys in this locker room, the atmosphere we have going on, the friendships we have and the camaraderie. It's great. I'm going to enjoy every minute of it as long as I'm here, and then if they tell me to beat it, then we'll see."
Fan frustration comes because of performance. The Browns are 0-4 in his starts, and he ranks 34th in the league in yards per attempt, 33rd in passer rating, 31st in yards per game and 34th in completion percentage -- a woeful 51.5 percent.
The Browns figure to have Weeden and newly acquired
Alex Tanney
(off Dallas' practice squad) available on Sunday while
Jason Campbell
recovers from a concussion.
Which means the Browns have a guy who's barely completed more than 50 percent and a guy who hasn't been with the team until today.
The silver lining is the opponent -- Jacksonville is giving up 29.5 points per game, 30th in the league.
Which also makes the consequence of a third straight loss that much more significant.
If Weeden can't beat the Jaguars, what's happened to this point will seem like a trip to the zoo.
The switch from Campbell to Weeden is the fourth time this season the Browns have switched starting quarterbacks. They started with Weeden, went to
Brian Hoyer
, went back to Weeden, went to Jason Campbell and now out of necessity are going to Weeden.
If Tanney ever starts a game -- and the way this season is going, why wouldn't he? -- the Browns will match the four they used in 2008, another dismal season that ended with
Ken Dorsey
and
Bruce Gradkowski
under center.
"It's not easy," coach Rob Chudzinski said. "And it's not ideal. But it is what it is right now."
That the Browns have four wins with all this quarterback shuffle going on is downright amazing. But that they go into a game with a starter whom few seem to have confidence in is concerning.
This may be the first time fans hopes for a guy signed on Tuesday are higher than they are for a former first-round draft pick.