December, 16, 2013
12/16/13
9:00
AM ET
Reviewing four hot issues from the
Houston Texans
' 25-3
loss
to the
Indianapolis Colts
:
Brown
Brown vs. officials:
Texans left tackle
Duane Brown
didn't agree with two calls that went against him. On one, the official agreed. After calling him for a taunting penalty following
Robert Mathis
' strip/sack/safety, the official who did so apologized to Brown. "Another guy that came and jumped on me after the play, and then he came and slapped the ball out of my hand," Brown said. "He slapped the ball into my face. So I tossed it at him. I didn't cock back and beam it at him, I just tossed it at him. Flag." Brown disagreed with a holding call he was tabbed with, too. "Me and Wade (Smith) had a double-team. Wade got a pretty good shot on the guy. ... I tripped over a foot and fell. Actually disengaged a guy to catch myself. ... The guy fell to the ground on top of me. They said I pulled him to the ground. It happens. I wish it didn't happen. It's part of the game."
Keenum
Case Keenum will start the rest of the season:
It's not about right now anymore. The Texans want to see what Keenum has, even after his worst outing so far. They want to give him every opportunity to succeed or fail so they go into the offseason knowing exactly what's before them. Without examining the film, Texans interim head coach Wade Phillips couldn't offer a clear explanation of why Keenum struggled so mightily on Sunday. Asked if he believes in Keenum still, Phillips replied: "Well, certainly, we have so far. It's eight starts in a row." Phillips also said plainly that Keenum will continue to start.
Posey injured:
DeVier Posey
suffered a high ankle sprain on Sunday. Phillips termed that the most serious injury to come out of the game. Posey was never targeted in the game.
Johnson one shy:
It's been a season in which Texans receiver
Andre Johnson
has climbed through lists of receiving records. Johnson's long and illustrious career with the Texans hasn't included very many wins, but it has included a great many outstanding performances. Sunday wasn't one of Johnson's best, especially against the Colts. He caught four passes on 10 targets, two of them drops. He caught passes for a total of 18 yards and no touchdowns. Johnson entered the game with 95 catches. He left it one shy of reaching 100 catches in a season for the fifth time in his career.
October, 18, 2012
10/18/12
12:00
PM ET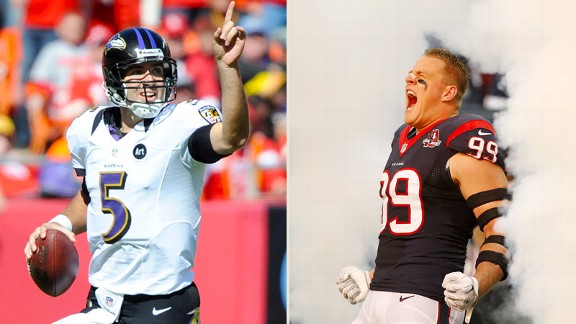 US Presswire, AP ImagesHow Baltimore's Joe Flacco, left, fares against Houston's explosive J.J. Watt could be key Sunday.
The last time we saw the Texans and Ravens square off, we were watching a divisional-round playoff game at M&T Bank Stadium in Baltimore.
Terrell Suggs
had six tackles and a pass defended as the Ravens' rush linebacker. Houston featured third-string rookie
T.J. Yates
at quarterback, and his three interceptions -- paired with multiple special-teams gaffes by Texans returner
Jacoby Jones
-- were big factors in a 20-13 Baltimore victory.
The Texans returned home to rave reviews for their first playoff season but also couldn't help wonder what might have been if they'd had injured starting quarterback
Matt Schaub
and played a cleaner game. Baltimore advanced to the AFC Championship Game in New England, where it lost to the Patriots, but a near-catch for a touchdown by
Lee Evans
could have won it with 27 seconds left and a missed 32-yard field goal by
Billy Cundiff
could have forced overtime.
This rematch doesn't carry the same stakes but could have big implications. The winner will have the AFC's best record at 6-1.
AFC North blogger Jamison Hensley and AFC South blogger Paul Kuharsky will be watching closely.
HENSLEY
: I think it's easy to say this is a battle of the two best teams in the AFC. Not really going out on a limb here because the Ravens and Texans are the only teams with winning records in this mediocre conference. I know there are going to be nine games after this one, but this is shaping up to be the Ravens' most important game of the regular season.
The result of this game could become a tiebreaker for home-field advantage or a first-round bye at the end of the season. The Ravens, who have won a league-best 14 consecutive games at home, don't want to go on the road in the playoffs. The Ravens' mindset is that they won't have to come back to Houston this year if they win there Sunday. What's the mindset of the Texans after what happened in Houston last Sunday night?
KUHARSKY
: Because the Texans are so young, they've played a lot of "biggest games in franchise history." This is certainly the newest one to top the list. Their critics look at the 5-1 record and see wins over mostly softies and a pasting by the Packers on Sunday night. A victory over the Ravens validates everything they've done and regains a firm hold on Best in the AFC. A loss would create some serious concerns. They do have the cushion of playing in a terrible division they simply can't lose. But Baltimore has been an obstacle and ended the Texans' last season in the playoffs. If they meet again with such high stakes, they don't want to be traveling.
It might be a good time to draw the Ravens, too, right? I know
Ray Lewis
wasn't what he has been, but their first game without a leader like that and without an underrated, great corner like
Lardarius Webb
may make them a bit more susceptible, no?
HENSLEY
: This is the most vulnerable I've seen the Ravens' defense in 13 seasons. Lewis wasn't playing like the Lewis from 10 years ago, but he was still an above-average linebacker in this league. The Ravens have given up more than 200 yards rushing in each of the past two games, and losing Lewis only makes that run defense shakier.
Dannell Ellerbe
, who has made seven starts since entering the league as an undrafted free agent in 2009, will take Lewis' spot.
Though the Ravens will miss Lewis' leadership, the bigger loss is Webb. He was emerging as one of the top cornerbacks in the league. His nine interceptions since the start of the 2011 season was tied for the league lead. So, the Ravens have taken shots to both their run and pass defenses this week. How do you see the Texans attacking the Ravens' defense Sunday?
KUHARSKY
: Although they might not run first chronologically Sunday, the Texans are a run-first team. Everything they do offensively is keyed on the one-cut-and-go running of
Arian Foster
, who did great work running for 132 yards in that playoff game on Jan. 15. They send him left most often now, because
Duane Brown
and
Wade Smith
are steadier blockers than the guys on the right side, where they have two new starters who aren't even full time.
Spinning off that run game, we'll see play-action heavy with bootlegs and rollouts. It's always remarkable to see
Owen Daniels
out in space awaiting a Matt Schaub pass.
Andre Johnson
is certainly dangerous too, though they've not been able to feed him the ball as much as usual. He hates the talk that he's getting older and slowing down, but he hasn't looked like the same player so far this season. Two weeks ago, Jets cornerback
Antonio Cromartie
really smothered Johnson. I figured Webb would be a guy who could do similar work. If AJ sees someone like
Cary Williams
instead, it could be a different story.
Speaking of Schaub, let's turn to quarterbacks. He has been quite efficient this year, doing what Houston needs and not getting caught up at all in his numbers. I came into the season not sold on
Joe Flacco
and thinking the Ravens didn't have the right guy under center to become an offensive team. But he has done some very good work in the games I've seen and started to change my opinion. Even minus
Brian Cushing
, the Texans' front throws a lot at a quarterback. Green Bay might have exposed some coverage deficiencies. How's Flacco at assessing such things on the fly and taking advantage?
HENSLEY
: Flacco's biggest improvement this season has been his ability to audible at the line. The Ravens are using the no-huddle more than any other time in Flacco's five seasons. It's not to the point of being
Peyton Manning
, but Flacco is constantly changing the play at the line. Flacco, who ran the no-huddle during his college days, is comfortable with this. He has wanted to have more control of the offense and he's now getting it.
A lot of credit goes to quarterbacks coach Jim Caldwell, who is familiar with this style from his days with the Colts. Flacco makes his mistakes when he gets pressured. His pocket awareness has improved and he can scramble for yards. But Flacco will rush and make poor throws when a defender is in his face. Left tackle
Michael Oher
(four sacks) and rookie right tackle
Kelechi Osemele
(three sacks) have struggled at times keeping rushers away from Flacco. Is there any chance the Ravens slow down
J.J. Watt
and Houston's pass rush?
KUHARSKY
: It sure seems like the key to the game for me. Watt is going to get his at some point, and it's not just sacks. Watch how he'll stop rushing when he knows he's not getting there and time his jump to bat down, or even pick off, a pass.
And although the numbers of the other guys aren't in his stratosphere,
Brooks Reed
,
Antonio Smith
and
Connor Barwin
are very effective rushers who will have a bearing on Flacco's pocket comfort. Force some mistakes with that rush, and I like Houston's chances. Get stonewalled and fall victim to the ball coming out super-fast, and I feel differently.
One note about the quicker Ravens offense: With Cushing out,
Brice McCain
, the nickelback, will have a bigger role in covering players such as
Ray Rice
and
Dennis Pitta
on routes. If the Ravens run hurry-up or no-huddle, they can potentially trap the Texans in base if they want McCain off the field. I am eager to see whether they try that. The Texans are obviously are familiar with Jim Caldwell's no-huddling.
How about special teams? Tell me how Jacoby Jones is now reliably explosive? The Texans have some serious special-teams issues.
HENSLEY
: Jacoby Jones has been one of the bigger surprises this season for Baltimore. The Ravens were looking to upgrade the return game this offseason and failed to sign
Eddie Royal
or
Ted Ginn
in free agency. That's why they jumped on Jones when he was cut by the Texans. He has been average as a punt returner (9 yards per return), but he really keyed the win over the Cowboys on Sunday. His 108-yard kickoff return for a touchdown, which tied an NFL record, was the big play in that game.
The only reason the Ravens turned to Jones on kickoffs was because rookie
Deonte Thompson
fumbled a kickoff the week before. If you think about it, it's kind of funny that Jones got his chance to be explosive because another player couldn't hold onto the ball, especially after Jones' problems fielding kicks in the past. But that really hasn't surfaced so far with the Ravens.
Baltimore's coverage teams are both ranked in the top half of the league, which is a big improvement from last year. In 2012, the Ravens allowed three touchdowns on returns. Another improvement is at kicker. Rookie
Justin Tucker
has made 12 of 13 field goals this season and has hit both attempts beyond 50 yards. If this game is close, the Ravens have a lot of confidence in Tucker to make a pressure kick. So, what are the issues with the Texans' special teams?
KUHARSKY
: Well,
Trindon Holliday
was absolutely electric as their returner in the preseason. But it didn't carry over and they gave up on him. You saw Holliday playing for the Broncos on Monday night.
Keshawn Martin
is the man now. The team averages only 9.8 yards a punt return and 18.5 yards a kick return.
Their average start after a kickoff is the league's worst -- the 17.7-yard line. Their coverage isn't that bad -- it's 31st in the league instead of 32nd. Opponents start at the 26.9-yard line.
Donnie Jones
is a middle-of-the-pack punter in net average.
Shayne Graham
has been good on field goals, hitting 11 of 12, but is tied for 24th in touchbacks playing at home in what amounts to a domed stadium.
It's gambler's logic that the Texans are due to break through against the Ravens. Maybe they will, maybe they won't. If they don't and Jacoby Jones has something to do with it, it'll hurt a little bit extra.
It's certainly no stretch to predict we'll see these teams facing off again in the playoffs. In what round and where is the question, and Sunday's winner will lead the race to be in position to host.
June, 20, 2012
6/20/12
7:30
AM ET
Every morning, grab a cup of coffee and get your AFC North wake-up call here:
Ravens offensive tackle Bryant McKinnie doesn't feel the scrutiny that followed him being held out of mandatory minicamp practices is deserved.
"I'm going to show up at the weight I'm supposed to be and handle my business and get everybody off my back," McKinnie told the
Carroll County (Md.) Times
. "I want to get this work done, come in at the right weight and shut everybody up. I'm only nine pounds away."
McKinnie added, "I'm getting in shape. I'm lower now in my weight than any time last year. I think people got the wrong idea about why I wasn't out there last week."
McKinnie said he currently weighs 354 pounds and wants to get down to 345 pounds. His focus has been cardiovascular workouts, not weight lifting.
"It's the type of cardio you do to keep the wind going," McKinnie said. "It's not doing as much banging on the knees. My whole goal is to slim down. It's about working smart based on losing weight."
Hensley's slant
: McKinnie played all 16 games last season around the 360-pound range, and this took its toll on him. He got off to a strong start for the Ravens, but his play tailed off late in the season. Maybe the Ravens are focusing on conditioning to avoid a repeat of last season.
BENGALS
: Cornerback Adam Jones still remembers getting burned by Texans receiver Andre Johnson on a 40-yard touchdown pass in the playoffs last season. "That game left a bad taste in our mouths, especially in mine," Jones told the
Dayton Daily News
. "I had a double-move put on and I haven't forgotten that play. And I knew that play was coming. I was tired, forgot my technique and that's the type of stuff that will happen. I'm doing everything in my power to make sure that doesn't happen again. That play is a mental note and at the top of my board."
Hensley's slant
: Jones has been working with the first-team defense all offseason because Leon Hall (Achilles) and Nate Clements (abdominal) have been sidelined with injuries. There is a chance he could be pushed back into the starting lineup if Hall isn't ready to start the season. Not counting that touchdown given up in the playoffs, Jones allowed 16 receptions in eight regular-season games, according to Pro Football Focus.
BROWNS
: The
Canton Repository
compared the 22nd overall picks in the 2007 draft (Brady Quinn) to the 2012 one (Brandon Weeden). One of the biggest disparities is the pedigree of the targets for each quarterback.
Quinn's top three targets were 2005 No. 3 overall pick Braylon Edwards, 2004 No. 6 overall pick Kellen Winslow and veteran Joe Jurevicius. Weeden's are 2011 No. 59 overall pick Greg Little, 2009 No. 50 overall pick Mohamed Massaquoi and veteran Ben Watson.
Hensley's slant
: Browns officials are banking that Weeden's strong arm will improve a pedestrian group of pass catchers. But there should be concern that this group of targets will hurt Weeden's productivity because no one has the speed to consistently get open. The Browns have to address the wide receiver position either in free agency or the draft next season. This team can't continue to ignore playmakers in the passing game.
STEELERS
: The returning wide receivers are trying to fill the leadership void left by Hines Ward, according to the
Pittsburgh Post-Gazette
. "In this business, the older guys fizzle out, and the younger guys have to step up," wide receiver Antonio Brown said. "We have to set the pace for the wideouts, let them know what we learned from Hines and lead the way."
Hensley's slant
: The player who needs to replace Ward as a leader on offense is quarterback Ben Roethlisberger. He's a two-time captain who has led the Steelers to last-minute victories. This is the time for Roethlisberger to assume control on the field, in the locker room and in the meeting rooms.
May, 8, 2012
5/08/12
7:11
PM ET
Jacoby Jones
' fumbled punt in last season's playoffs set up a touchdown for the
Baltimore Ravens
in their 20-13 win over the
Houston Texans
. Now, Jones is going to try to help Baltimore this time as a member of the Ravens.
Jones, 27, reached a two-year, $7 million deal with the Ravens on Tuesday, according to ESPN NFL Insider
Adam Schefter
.
While Jones failed to reach his potential in Houston, he is a great fit for the Ravens. He becomes the No. 3 target on an unproductive wide receiver group and takes over as the primary punt returner.
The Ravens have been looking at wide receivers who can also be the team's primary returner, but they didn't sign
Ted Ginn Jr.
or
Eddie Royal
in free agency. Baltimore has been wanting to take the punt return duties away from
Lardarius Webb
, who recently signed a six-year, $50 million deal. Jones ranked 14th in the NFL in punt returns last season with a 10.6-yard average, which was two spots higher than Webb.
A third-round pick in 2007, Jones never developed into a consistent receiver and only caught 31 passes last season when
Andre Johnson
was sidelined for a large part of the season with injuries. Jones was scheduled to make $3 million this season before the Texans cut him on May 1.
Jones frustrated the Texans because he showed flashes and then made costly mistakes. The Ravens are right to take the risk considering the state of their wide receiver group. Baltimore only had two wide receivers (
Anquan Boldin
and
Torrey Smith
) who caught more than four passes last season. Jones underachieved with the Texans by averaging 36 catches over the past three seasons, but the Ravens would gladly take that production from a backup receiver.
The Ravens have needed a No. 3 wide receiver since cutting
Lee Evans
, who failed to hold onto the winning touchdown catch in the AFC Championship Game. They can only hope Jones can hold onto the ball better, especially after what Baltimore saw first-hand from him in the playoffs.
March, 22, 2012
3/22/12
8:50
PM ET
The Bengals decided to keep
Adam "Pacman" Jones
and his baggage, reaching an agreement with often-troubled cornerback, according to
ESPN's John Clayton
.
This comes as a surprise, even though there were reports that the Bengals and Jones had been talking.
Jones
Off the field, Jones' latest run-in with the law --he pleaded guilty to a misdemeanor charge of disorderly conduct in January --
will be reviewed by the NFL
, which could impose a suspension now that he has signed with a team.
On the field, the lasting impression of Jones was getting beat on a double move by Texans wide receiver
Andre Johnson
for a 40-yard touchdown in last season's playoff loss.
So why are the Bengals re-signing Jones? In their mind, he is better than the other options available, like free agent
Terence Newman
from the Cowboys. Jones was actually solid in the regular season when he replaced injured
Leon Hall
for seven starts. According to Pro Football Focus, Jones allowed 16 receptions in eight games in 2011.
The Bengals have taken a proactive approach in addressing a cornerback group that has Hall coming off a season-ending Achilles injury and
Nate Clements
entering his 12th season. Cincinnati also signed Texans free agent
Jason Allen
and could draft another corner in the first round. The addition of Jones likely means the Bengals won't re-sign
Kelly Jennings
.
Jones, 28, has been repeatedly arrested during his NFL career. He missed the entire 2007 season with the first of two suspensions from the league.
The
Tennessee Titans
traded Jones to Dallas before the 2008 draft. An alcohol-related altercation with a bodyguard that the Cowboys assigned to him led to another six-game suspension.
He was out of the NFL for a year before the Bengals gave him the two-year deal in 2010.
January, 20, 2012
1/20/12
11:00
AM ET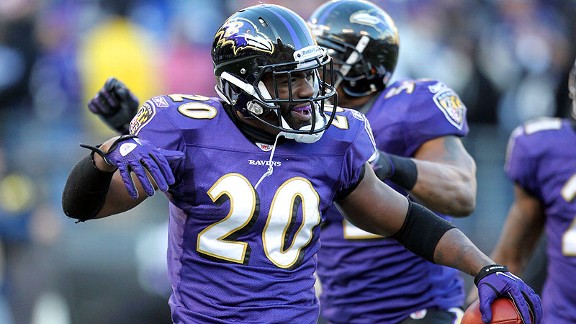 Mitch Stringer/US Presswire"I don't think there is a weakness that he has," Tom Brady says of Ed Reed.
OWINGS MILLS, Md. -- All the talk surrounding the Ravens this week has been about
Ed Reed
's critical comments regarding quarterback
Joe Flacco
and how they will affect the team heading into Sunday's AFC Championship Game.
In reality, Reed is a bigger problem for the Patriots than he'll ever be for the Ravens. No one draws more respect from the Patriots than Reed and no one gives them more reasons to worry than the eight-time Pro Bowl safety.
The Patriots know they can slow down
Terrell Suggs
by putting a couple of blockers on him. They know
Ray Lewis
is always going to be in the middle of the defense before they line up.
There's no certainty when it comes to Reed. He can be anywhere on the field. Reed can even make it look like he'll be on one side and end up on the other before the ball gets there.
When it comes to stopping the Patriots' passing game, the Ravens have to keep an eye on
Wes Welker
,
Rob Gronkowski
,
Aaron Hernandez
and
Deion Branch
. When it comes to having success against the Ravens' pass defense, all eyes are on Reed.
Having Reed playing center field in the secondary is the biggest reason that the Ravens allowed an NFL-low 11 passing touchdowns this season (four fewer than any other team). He's also the biggest reason that no quarterback has thrown more than one touchdown pass against the Ravens in any game this season.
The biggest compliment that Patriots quarterback
Tom Brady
can give Reed is that the free safety is always at the forefront of his mind.
"When you break the huddle, you find where he's at and you make sure you're not lobbing the ball up in his zones, because as you saw in the Houston game, he's going to go up there and make the plays," Brady said. "He's just an exceptional player. I don't think there is a weakness that he has."
Reed is coming off one of the worst regular seasons of his career, at least statistically. His three interceptions and eight passes defended are his lowest in a full 16-game season.
But the postseason has always been Reed's best season. His eight interceptions are one shy of tying Ronnie Lott, Bill Simpson and Charlie Waters for the most in NFL playoff history.
Reed's latest came last Sunday with 1:51 left in the game and the Ravens ahead by a touchdown. Knowing the Texans would look deep to wide receiver
Andre Johnson
, Reed held his ground in the middle of the field, even though quarterback
T.J. Yates
was trying to make the safety move left by staring in that direction.
When Yates cocked his arm back, Reed jumped to the right side toward Johnson before Yates even released the ball. Reed was there in time to intercept the pass in front of Johnson at the Baltimore 4-yard line.
Reed's instincts and awareness have led to 57 interceptions, the most among active players.
"I've just been playing football for a long time," Reed said of having a nose for the ball. "I've been playing football since I was a little kid, so it's just some natural blessings that God has blessed me with to get to the ball and understand what I've been doing over the years."
With 11 seconds left in last Sunday's playoff game, Reed made the play that allowed the Ravens to advance to the AFC Championship Game. On that play, Reed was playing over the top against Johnson on the left side, which forced the Texans to throw the Hail Mary to the right. Reed raced all the way across the field to knock down the pass, preserving a 20-13 victory.
"I'm not sure that if he hadn't made it, I don't know what would have happened there," Patriots coach Bill Belichick said. "Those are the kinds of plays he makes. He probably covers more field back there as a single safety than most teams can cover with two. He's got great instincts; he's a tremendous player."
Belichick's affection for Reed is well-known. He called Reed one of the greatest players ever to play the game. Last year, Brady joked that Belichick wanted to adopt Ed Reed and change his name to "Ed Belichick."
"He has said that to us before, and then constantly threw the ball back there at him," linebacker Suggs said. "I don't know how much that holds weight."
Suggs is right that the Patriots' adoration doesn't mean they fear Reed, who has broken up five passes in four career games against New England and intercepted Brady in the 2009 wild-card playoff game.
While the Patriots were praising Reed all week, the Ravens had to answer questions about his comments every day. Reed went on national radio this week to say Flacco was "rattled" in last Sunday's playoff game and "just didn't look like he had a hold on the offense." He doesn't believe those comments will distract the team leading up to Sunday's AFC Championship Game.
"It's about the Ravens and New England playing football," Reed said. "All that other stuff is to the side. That was about the last game. It's irrelevant to what we're doing right now, getting ready for the Patriots. What was said was something I said about the whole team, and it wasn't just about Joe. We were critical about ourselves in that game. That's every teammate of mine talking about the game we watched on film. We weren't satisfied with our effort."
Reed won't be satisfied until he wins a Super Bowl, and the years to capture one are starting to dwindle for him. He'll turn 34 less than a week into next season, and he's contemplated retirement before because of a nerve impingement between his neck and shoulder.
Does Reed sense the window of opportunity closing?
"We'll cross that bridge when that happens," Reed said. "Right now, we're focused on playing football and winning this game. That's what it's about at the end of the day. It's about us going out and trying to win this game to the best of our ability, and that's what we're going out there to do."
January, 13, 2012
1/13/12
10:30
AM ET
Three months ago, the Ravens limited Houston to 220 yards passing and one offensive score. Of course, wide receiver
Andre Johnson
didn't play because of a hamstring injury.
In Sunday's divisional playoff game, Baltimore has to contend with Johnson, one of the best big-play receivers in the NFL. The last time the Ravens faced Johnson was a year ago when he produced 140 yards receiving and two touchdowns.
"We have to have our eye on him, but he's a guy that usually makes some plays whether you keep your eye on him or not," Ravens coach John Harbaugh said. "He presents big matchup problems."
The Ravens have held their own on pass defense. Baltimore has given up an NFL-low 11 touchdowns through the air (no other team has fewer than 15) and has allowed has allowed 46 passes over 20 yards (which is tied for eighth-fewest in the league).
But the Ravens have had their problems with big receivers like Johnson, who is 6-foot-3, 226 pounds. Baltimore struggled to contain
Kenny Britt
(nine catches for 135 yards),
Larry Fitzgerald
(three for 98),
Malcom Floyd
(five for 96) and
Vincent Jackson
(three for 84).
"He's a complete wide receiver," cornerback
Lardarius Webb
said of Johnson. "He's physical, strong, good route-runner, blocker, he'll go get the ball. He's a game-changer."
January, 12, 2012
1/12/12
4:57
PM ET
There was a starter for each team added to the injury report with limited participation: inside linebacker
Jameel McClain
(knee) for the Ravens and cornerback
Johnathan Joseph
for the Texans. Joseph has been one of the better cornerbacks in the NFL in his first season with Houston.
For the second straight day, Houston wide receiver
Andre Johnson
(knee) was limited with a knee injury and Baltimore wide receiver
Anquan Boldin
had a full practice with a knee injury.
Here is Thursday's injury report:
BALTIMORE RAVENS
Limited
: ILB Jameel McClain (knee), LB
Brendon Ayanbadejo
(thigh)
Full
participation
: WR Anquan Boldin (knee), LB
Dannell Ellerbe
(head), CB
Jimmy Smith
(head), S
Tom Zbikowski
(head) and G
Marshal Yanda
(chest).
HOUSTON
TEXANS
Limited
: G
Mike Brisiel
(ankle), TE
Owen Daniels
(hand, knee), WR Andre Johnson (knee), S
Troy Nolan
(ankle) and CB Johnathan Joseph (hip).
Full
participation
: LB
Mister Alexander
(shoulder), CB
Jason Allen
(thumb), LB
Bryan Braman
(neck), RB
James Casey
(knee, foot), DT
Shaun Cody
(knee), TE
Joel Dreessen
(knee), CB
Sherrick McManis
(ankle), C
Chris Myers
(knee), LB
Brooks Reed
(knee), RB
Ben Tate
(shoulder), T
Eric Winston
(calf), DE
Tim Bulman
(calf) and QB
T.J. Yates
(left shoulder)
January, 11, 2012
1/11/12
5:40
PM ET
OWINGS MILLS, Md. -- The top wide receivers for both teams participated in practice Wednesday as the Ravens and Texans prepare for Sunday's divisional playoff game. The Ravens'
Anquan Boldin
(knee) had a full practice while the Texans'
Andre Johnson
was limited.
The only other injury of note is Houston tight end
Owen Daniels
, the Texans' leading receiver who has an injured hand. Texans coach Gary Kubiak said Monday that Daniels would play against the Ravens.
Here is Wednesday's injury report:
BALTIMORE RAVENS
Limited
: LB
Brendon Ayanbadejo
(thigh)
Full participation
: WR Anquan Boldin (knee), LB
Dannell Ellerbe
(head), CB
Jimmy Smith
(head), S
Tom Zbikowski
(head)
HOUSTON TEXANS
Limited
: G
Mike Brisiel
(ankle), TE Owen Daniels (hand, knee), WR Andre Johnson (knee), S
Troy Nolan
(ankle)
Full participation
: LB
Mister Alexander
(shoulder), CB
Jason Allen
(thumb), LB
Bryan Braman
(neck), RB
James Casey
(knee, foot), DT
Shaun Cody
(knee), TE
Joel Dreessen
(knee), CB
Sherrick McManis
(ankle), C
Chris Myers
(knee), LB
Brooks Reed
(knee), RB
Ben Tate
(shoulder), T
Eric Winston
(calf), QB
T.J. Yates
(left shoulder)
January, 7, 2012
1/07/12
7:38
PM ET
HOUSTON -- Here are my thoughts on the
Cincinnati Bengals
'
31-10 loss
at the
Houston Texans
:
What it means
: The Bengals extended the longest current streak in NFL playoff futility. Cincinnati now hasn't won a postseason game in 21 seasons. Careless mistakes led to the Bengals' third postseason loss in seven seasons. After allowing 24 straight points, Cincinnati fell to 1-7 against teams with winning records. It was a disappointing way to end a season in which the Bengals went from 4-12 in 2010 to a playoff team this season.


Turning point
: An
Andy Dalton
pass was intercepted at the line by Houston's
J.J. Watt
, who ran 29 yards for a touchdown late in the first half. This came three plays after the Texans had tied the game with a field goal. So, in a matter of 56 seconds, the Bengals went from being up by three points (10-7) to being down by seven (17-10). Cincinnati never recovered.
Costly drop
: Bengals safety
Chris Crocker
had a chance to tie the game in the third quarter, but an interception bounced off his hands. It would have likely been a touchdown because only quarterback
T.J. Yates
stood between Crocker and the end zone. Three plays later, Crocker failed to provide help for a faked-out
Adam Jones
on a 40-yard touchdown pass to
Andre Johnson
that put the Bengals behind 24-10. In the fourth quarter, Crocker didn't push
Arian Foster
out of bounds on a fourth-quarter touchdown run.
Seeing red
: Head coach Marvin Lewis made the head-scratcher of a decision to use both of his replay challenges in the first half. It was compounded by the fact that both challenges failed. That meant the Bengals couldn't contest a play after 4:33 in the second quarter.
Dalton's turnovers
: Dalton threw three interceptions after only one in his previous six games. Of course, he wasn't helped by the pressure generated by the Texans' front seven.
Can't stop the run
: It was another bad day for the Bengals' run defense, especially when it came to defending the outside. Foster ran for 153 yards and two touchdowns. This comes one game after the Ravens'
Ray Rice
ran for 191 yards and two touchdowns.
Wide right again
: Bengals kicker
Mike Nugent
missed wide right on his first field goal attempt, which was nine yards longer because of a third-down sack. He sliced it wide right just like he did last week against Baltimore. This was his fourth miss in the past three weeks.
What's next
: The Bengals head into what should still be a bright future. Cincinnati has two first-round picks as it looks to address the running back, guard and safety positions.
January, 6, 2012
1/06/12
7:38
PM ET
Here are the major injuries for the division teams in this weekend's wild-card games:
BENGALS
: Outside of key starters on injured reserve (cornerback
Leon Hall
and guard
Bobbie Williams
), the Bengals look like one of the healthiest teams in the playoffs. Two backups, S
Taylor Mays
(hamstring) and LB
Dontay Moch
(illness), are both doubtful and won't play. There are seven players who are probable. One of them is QB
Andy Dalton
(illness), who had his first full practice of the week today. ... As for the Texans, QB
T.J. Yates
(left shoulder) and WR
Andre Johnson
(hamstring) are both probable. Both had full practices all week.
STEELERS
: C
Maurkice Pouncey
(ankle) is officially listed as questionable after not practicing the past two days. But
The Pittsburgh Post-Gazette
is reporting that the Pro Bowl center is out after aggravating his left ankle last Sunday at Cleveland and again in practice. If Pouncey is sidelined,
Doug Legursky
(probable, shoulder) would move from left guard to center, and
Chris Kemoeatu
will start at left guard. QB
Ben Roethlisberger
(ankle), who said he had a setback with the injury in last Sunday's game, is probable after full practices on Thursday and Friday. Three defensive starters -- LB
James Harrison
(toe), S
Troy Polamalu
(calf) and DE
Brett Keisel
(groin) -- are all probable after missing practices Wednesday and Thursday but returning for a full one Friday. This could mean that Woodley and Harrison will both be playing Sunday. They have started just one game together since Week 4. ... For the Broncos, S
Brian Dawkins
(neck) is out as expected. This will be his third missed game in four weeks. Third-year safety
David Bruton
(questionable, Achilles) is expected to replace Dawkins.
December, 11, 2011
12/11/11
8:55
PM ET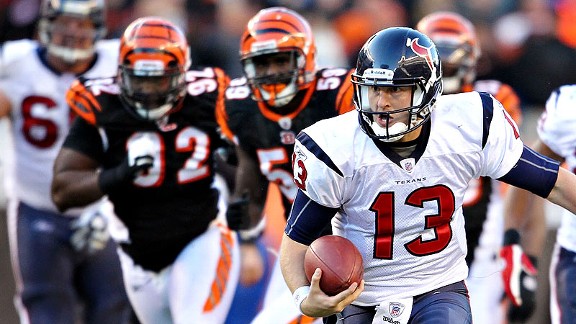 Andy Lyons/Getty ImagesWith the game on the line, Houston's rookie QB T.J. Yates made the clutch plays, not the Bengals.
CINCINNATI -- The
Cincinnati Bengals
aren't a playoff team this year.
That's not to say they're eliminated from the postseason. That's not to say the Bengals will fail to reach the playoffs next season and the next five years after that. But Sunday's
20-19
loss -- make that punch-in-the-gut collapse -- to the
Houston Texans
illustrates one point: The Bengals aren't ready.
Playoff teams come through in the clutch in December. They don't allow a rookie third-string quarterback to drive 80 yards in the final minutes to score the winning touchdown.
Playoff teams finish off teams on their home turf during a playoff run. They don't squander nine-point leads in the fourth quarter. They don't let a receiver go uncovered across the middle of the field on second-and-goal in the final seconds.
It would be easy to say the Bengals looked like the Bungles. Let's not go there. The Bengals simply looked like a young team that flinched when they needed to punch back.
"It's a defeated feeling today," safety
Chris Crocker
said. "I can't even put it into words how bad this hurts, especially being in it until eight seconds left. We just had so many opportunities. I can't even put a word on how much this hurts."
Crocker added, "It was just one of those games where there were missed opportunities time after time after time. It was our own fault. We put ourselves in bad positions. Offensively and defensively, we just made critical errors all day long. And that's why we lost this game."
Some might argue that this is putting too much into one game. But Marvin Lewis was the one who called this the "biggest" game of his nine-year Bengals coaching career. Instead, he suffered one of the biggest collapses. Lewis talked about a "rebirth." Instead, he watched a loss that might have killed his best coaching season.
Hey, what's that saying ... If a team falls and there is no one there to see it, does it make a sound? Ok, that's a low blow, but it's accurate. The second-smallest crowd (41,202) in Paul Brown history showed up, leaving 24,333 seats unfilled. Those empty seats matched the Bengals' empty feeling.
"As far as the team goes, they are very disappointed and I'm going to have to pump some air in them," Lewis said. "We have to make some corrections and get back on track. Before this game, we controlled our own destiny, and now I can't tell you what is going to happen. We have to move forward and see what happens."
The Bengals entered this game with a hold on the sixth and final playoff spot in the AFC. They left with a 7-6 record, one game back of the
New York Jets
(8-5), who grabbed the No. 6 seed away from them.
Even if Cincinnati is able to get that playoff spot back in the final three weeks, the Bengals will be a playoff team in name only. The Bengals are a team that will do damage in future seasons. They have the NFL's best rookie quarterback-receiver combination in the past two decades. They have a defense that will come back stronger with a healthy
Leon Hall
and
Carlos Dunlap
.
At this point, Cincinnati isn't on the same level as Baltimore and Pittsburgh. And the Bengals proved today that they can't beat a Texans team that is without its top two quarterbacks and star wide receiver
Andre Johnson
.
The Bengals are now 1-6 against teams that currently have winning records.
"It's not even about the playoffs anymore. It's about winning games," Crocker said. "We can't think about the postseason until we start winning games. It's a remote idea right now."
Everything that the Bengals did right -- a 97-yard touchdown drive, a 49-yard field goal in the final seconds of the first half and a season-high four turnovers forced -- gets lost in what the Bengals did wrong.
Cincinnati had first-and-goal at the Houston 1-yard line in the first quarter until right guard
Bobbie Williams
' false start (that led to a field goal instead of a touchdown). The Bengals were 1 of 3 in the red zone.
Cincinnati had a 13-point lead to open the second half until quarterback
Andy Dalton
was stripped from behind on the second play of the third quarter. Rookie tight end
Colin Cochart
couldn't block
Connor Barwin
, who caused the fumble inside the Bengals' 20-yard line (leading to a quick Texans touchdown).
And Cincinnati forced a fumble early in the fourth quarter, but defensive end
Frostee Rucker
coughed it up while trying to score. Then, Bengals safety
Reggie Nelson
and linebacker
Manny Lawson
fought over the ball, which allowed the Texans to regain control at their own 2-yard line.
Leading 19-10 at the time, the Bengals could have had the ball in the red zone and with a chance to put the game away. But three Bengals couldn't hold onto the fumble. The Texans marched 83 yards for a field goal to pull within 19-13 and set up the dramatic finish.
"That should have been one of the [turnovers] that would have helped us tremendously," Lawson said.
Their biggest downfall came on the final drive. On third-and-15, the Bengals allowed Yates to scramble for 17 yards. Then, after a 17-yard pass interference penalty on cornerback
Adam Jones
, they allowed the 152nd pick of the draft to throw the winning touchdown when linebacker Brandon Johnson followed tight end
Owen Daniels
and let Walter run free over the middle.
"A rookie quarterback beat us today," Crocker said. "I don't even know what to say. Wow. I don't even know what to say."
The Bengals are a good team. They are a promising one. But the Bengals have made it clear that they're not a playoff team.
"We knew if we came out there and outperformed them, it was a matter of time where we would get our chance to shine," Maualuga said. "But it sucks to look at that scoreboard and see that we lost by one point when we knew we had the whole game in the palm of our hands."
December, 9, 2011
12/09/11
11:00
AM ET
This is Friday Forecast, where we'll see how my predictions hold up against our readers. This week, I will go against notMattLythgoe (who correctly matched my total points for the Browns-Steelers game) and Sabbie5 (who was closest to the total points for last Sunday's Bengals-Steelers game).
Here are our predictions for Sunday's AFC North games in Week 14:
Jamison Hensley
Bengals 16, Texans 13
Ravens 38, Colts 10
notMattLythgoe
Bengals 14, Texans 7
Ravens 35, Colts 0
Sabbie5
Bengals 24, Texans 16
Ravens 31, Colts 13
PREDICTION BREAKDOWN
Bengals 16, Texans 13
: This matchup doesn't look great on paper when you see that a struggling Cincinnati run defense is coming off a season-worst effort and is facing one of the top running teams in the Texans. But unlike the previous games, the Bengals won't have to respect the other team's passing game. Cincinnati will stack the box to stop
Arian Foster
and pressure
T.J. Yates
, who will presumably be without wide receiver
Andre Johnson
(hamstring). It won't be easy. It won't be pretty. But like many Bengals' wins this year, it will come down to the fourth quarter and a clutch
Mike Nugent
field goal.
Ravens 38, Colts 10
: The Ravens have built a reputation of playing down to their competition. Will this be another letdown moment? Not this time. The Ravens are getting so close to the postseason that they can taste the top seed, and the Colts seem more motivated in getting the top pick in the draft than a victory. Look for the Ravens defense to force more turnovers and
Ray Rice
to score more touchdowns (Indianapolis has allowed a league-worst 17 rushing touchdowns).
November, 26, 2011
11/26/11
8:00
AM ET
If you have a question about the AFC North, send it to
my mailbag
. It's Saturday morning, so let's open up some mail ...
Devin from Ontario, Canada, writes:
Why haven't the Steelers been able to take the ball away this year?
Jamison Hensley from AFC North headquarters responds:
There are two reasons. The first one is obvious: the Steelers need to catch the ball. There have been several interceptions that have been dropped. That would add to the total. The other factor is the pass rush. Of the top eight teams in takeaways, five (Green Bay, San Francisco, Baltimore, Detroit and Houston) rank in the top half of the league in sacks. When you get pressure on the quarterback, you force rushed throws that lead to interceptions and you can strip the ball from the quarterback.
LaMarr Woodley
and
James Harrison
have had good stretches in rushing the passer, but the Steelers need to do a more consistent job as a defense.
------------------------------------------------
Gene from San Diego writes:
How would you grade Baltimore's defensive coordinator Chuck Pagano at this point in the season? They are still producing, but been a bit lapse the past few games. I like his mentality and that he infuses the young players.
Hensley responds
: Pagano gets an A, and it's tough to argue otherwise. He vowed to be aggressive when he took over for Greg Mattison and he's backed that up this season. The Ravens are among the best in sacks, takeaways and points allowed. This has been a high-impact defense.
------------------------------------------------
Kurk from Budapest, Hungary, writes: I'm not ready to give up on the Bengals' chances of winning the division, but I'm enough of a realist to be hoping for a Wild Card spot. Which 5-5 team should worry Bengals' fans the most?
Hensley responds
: The
New York Jets
. This might surprise you because the Jets wasted a prime opportunity when they lost at Denver. But New York should win its next three games: home against Buffalo, at Washington and home against Kansas City. Under that scenario, the Jets would get to 10 wins if they win two games in the final three weeks of the regular season: at Philadelphia, home against the Giants and at Miami. This is a team that knows what it takes to get to the postseason after advancing to the AFC championship game the past two years.
------------------------------------------------
Jared from Cleveland writes
: Do you think
Colt McCoy
has showed enough the last couple of games to get people off his case and give him a chance? He'll never be able to put up great numbers with our lack of receiving talent this season. Cleveland needs to focus on building a team around one guy instead of continuing to waste draft picks on quarterbacks that they are going to discard after a couple of seasons playing for a terrible team.
Hensley responds
: McCoy's stock has increased by completing over 70 percent of his passes the past two weeks. But he needs to start increasing points on the scoreboard. The Browns have scored over 17 points just once this season; Cleveland has yet to score a touchdown in the first and third quarters. As I've said repeatedly, you can put all the blame on McCoy because of the supporting cast around him. But the quarterback has to take responsibility for an offense struggling this much, no matter what the circumstances.
------------------------------------------------
David from La Verne, Calif., writes: I'm sure that using a Baltimore homer to report on the game wasn't your idea but it did seem there were two teams on the field which couldn't be discerned from the bulk of your story. Maybe if the Ravens had to cross the country on a short week the result might have be different.
Hensley responds
: I cover the AFC North, so the blogs and columns will focus more on those teams. So I don't consider myself a "Baltimore homer." I'm just doing my job as the AFC North blogger. I also didn't have anything to do with making the 49ers go cross-country on four days rest. You can direct your anger at the NFL schedule makers for that one. I think
Jim Harbaugh
already has.
------------------------------------------------
Jack from Cincinnati writes: Happy belated Thanksgiving Jamison, lovin what you have been doing with the blog. In the AFC North chat this week you talked about how you still see the bengals winning nine games this season. Does that change with the announcement of Schaub being out for the season? There are no given wins in the NFL, but with games against the Cardinals, Browns, and Rams remaining, that seems like three probable wins, and I would think that it would be probable for the Bengals to beat a Texans team lead by Leinart or either the Ravens/Steelers as they were so close to beating them. Only winning one of those last three games gives them 10 wins. Is that more probable than nine?
Hensley responds
: Thanks for being a part of the chat (shameless plug: it happens every Wednesday at 2 p.m.). I still feel that the Bengals will finish with nine wins. Your reasoning is sound. I agree that Cincinnati should beat the Browns, Cardinals and Rams. I think the rematches with the Steelers and Ravens will result in losses again (although it will be close again). And even though the Texans lost Schaub, they still have
Arian Foster
,
Andre Johnson
and the NFL's top-ranked defense. At this point, I predict the Bengals will lose that one. Of course, I will say that forecasting games is a week to week proposition. So, these picks are far from locked in.
------------------------------------------------
Dave from Westminster, Md., writes: Do you still think the Steelers are better than the Ravens now? Why the disrespect when you live near Baltimore?
Hensley responds
: I'm a blogger and an analyst. My views shouldn't be shaped by where I live. It's funny how Ravens fans feel I "disrespect" the Ravens and other fans feel I'm a "Ravens homer." As far as your first question, the Ravens have better wins than the Steelers (including a sweep of Pittsburgh) but they have more embarrassing losses than the Steelers. There wouldn't be an argument if Baltimore had beaten Seattle and Jacksonville. The Ravens would the undisputed best team in the AFC. Those losses hurt the resume. Pittsburgh has been the more consistent team overall.