January, 6, 2015
Jan 6
8:00
AM ET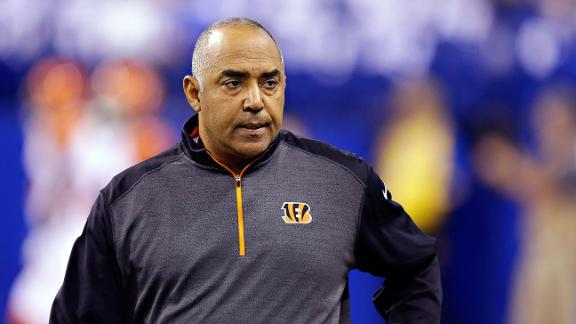 CINCINNATI -- Twice in his end-of-season news conference Monday -- once at the beginning, once more near the end -- Marvin Lewis offered remorse to the city of Cincinnati and the fans of his team who inhabit it.
The 12th-year
Cincinnati Bengals
head coach understood how desperate they have grown for a playoff win. After Sunday's
26-10 wild-card round loss
at Indianapolis, they still haven't seen a Bengals postseason victory since January 1991.
"I'm disappointed for the team. I'm disappointed for our fans. I'm disappointed for the city," Lewis said during his near 30-minute media session. "The city needs to win on a big scale. Big time. They deserve it. And that's what I'm disappointed in. It's not about me, it's about them.
"One day when I walk out of [the news conference room], hopefully I leave that trophy in here, and I just keep on stepping. That's all I want to do. I'm telling you, that's all I want to do. And you'll never hear from me again."
[+] Enlarge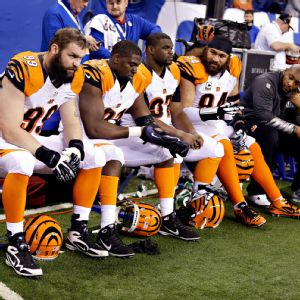 AP Photo/Michael ConroyCoach Marvin Lewis says his team's goal isn't just to be in the playoffs, but to be "world champions."
With Sunday's loss, Lewis became the second coach in NFL history to have lost six consecutive playoff games while associated with the same team. Steve Owen was the only other coach to accomplish the ominous feat, doing so in 1939-50. He had two NFL championships before the playoff drought began, and ended up coaching three more seasons after the sixth playoff loss. His 22-year career -- all spent with the
New York Giants
-- ended following a 3-9 campaign in 1953.
Like Owen, even after playoff loss No. 6, Lewis doesn't appear to be heading anywhere.
In order to better put his team in position to win a playoff game, Lewis said Monday his entire staff needed to coach better.
"I told our coaches [Monday] that moving forward, we're going to find a way to do better," Lewis said. "We've got to do better. We've got to find a way to get our guys through the little things, the critical moments of the game, to get those things done in a game that has the importance of a playoff game."
The Bengals didn't have any memorable plays on offense, and they couldn't take advantage of cornerback
Darqueze Dennard
's forced fumble in the second half. Big, momentum-turning plays like Colts quarterback
Andrew Luck
's well-placed third-quarter, 36-yard touchdown pass to
Donte Moncrief
while being tackled, didn't happen for the Bengals.
Lewis said he hadn't yet reached the point in the offseason where he and the front office have discussed making changes to the coaching staff.
At least one change could come whether he wants it to or not. Offensive coordinator Hue Jackson could land a head-coaching job for the first time since the Raiders fired him in 2011.
Whether that happens, the bottom line is Lewis believes it's on all his coaches to get the team better prepared to achieve more.
"You're fortunate to have earned your way into the playoffs again, but we're not here just to go to the playoffs," Lewis said. "In fact, that's not even a goal. Our goals are to be undefeated at home, win the AFC North and be world champions.
"So we're not satisfied with just being in the playoffs. There's a lot to be proud of for our players, the things they've accomplished, but there's more to it than just getting there. That's why we do this."