June, 5, 2013
6/05/13
12:00
PM ET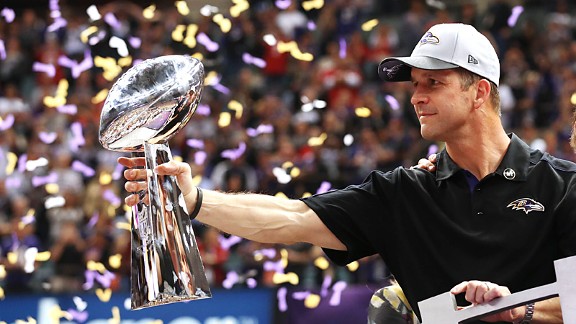 Matthew Emmons/USA TODAY SportsNo coach in NFL history has won more playoff games than the Baltimore Ravens' John Harbaugh in the first five seasons of a career.
When John Harbaugh was introduced as the
Baltimore Ravens
' head coach, a reporter brought up the fact that owner Steve Bisciotti mentioned he was searching for the next Hall of Fame coach.
"By the way, did you know I said that?" Bisciotti said with a smile, patting Harbaugh on the back.
Five years and one Super Bowl championship later, no one is laughing anymore. While it's too early to start talking about making a bust of Harbaugh for Canton, his ability to consistently win -- and win at a high level -- in a league that prides itself on parity underscores an unprecedented path of success.
No NFL coach has won more games (including playoffs) than Harbaugh since he became the Ravens' coach in 2008. No coach in NFL history has won more playoff games than Harbaugh in the first five seasons of a career. He is the only coach to win a playoff game in each of his first five seasons, and he is the only coach to advance to three conference title games in his first five years.
Harbaugh, 50, didn't make the cut in ESPN.com's
countdown of the 20 greatest coaches
of all time. He would, however, rank at the top of the list for the NFL's next great coach.
Some may dispute that by saying he's a good coach with great players. It's true that the Ravens have had at least five players make the Pro Bowl each season under Harbaugh, including six in 2012. What often goes overlooked is Harbaugh's knack for overcoming challenge after challenge. His teams have always survived serious injuries to star players, unpopular divorces with fan favorites, offensive inconsistency and a near-annual turnover at defensive coordinator (four in five seasons).
In 2008, his first season, Harbaugh went with a rookie starting quarterback (
Joe Flacco
) and guided the Ravens to the AFC Championship Game. In 2011, the Ravens parted ways with the top two receivers in franchise history (
Derrick Mason
and
Todd Heap
) before the start of training camp, but Harbaugh got Baltimore to within one failed catch of the Super Bowl. And last season, reigning defensive player of the year
Terrell Suggs
and linebacker
Ray Lewis
missed a combined 18 games, yet Harbaugh captured another division title and won the Super Bowl.
While many documented what winning the Vince Lombardi Trophy meant for Flacco, it represented validation for Harbaugh, as well. It was only six years ago that Harbaugh, an accomplished special-teams coach in the NFL, couldn't get an interview for the head-coaching job at Boston College (the job went to Jeff Jagodzinski). Today, he is shaking hands with President Barack Obama as part of the Super Bowl champions' visit to the White House.
"For me, there was no question in my mind that I could do it or would do it," Harbaugh said. "There wasn't any doubt personally about that. It was just a matter of where is it going to happen."
What you'll read now about Harbaugh is how this is his team since Lewis has retired. That's the perception on the outside. Those at Ravens headquarters know this has always been Harbaugh's team.
His attention to detail was key in turning the Ravens from underachievers to a perennial playoff team. His commitment to discipline changed the bad-boy culture in Baltimore. Last season's Super Bowl team featured just six players (Lewis, Suggs,
Ed Reed
,
Haloti Ngata
,
Marshal Yanda
and
Sam Koch
) who were on the team before Harbaugh. For the most part, these were
his
guys.
[+] Enlarge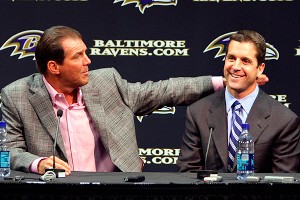 AP Photo/Rob CarrExpectations for John Harbaugh have always been high, starting when Ravens owner Steve Bisciotti, left, hired him in 2008.
When you sign up for Harbaugh's program, you're required to follow the rules at practice. Run full speed. Tuck in your shirts. Buckle your chinstrap. And don't ever think of sitting down. The signs posted throughout Ravens headquarters -- like W.I.N. (What's Important Now) and Team, Team, Team -- seem more suited for a college setting, but Harbaugh is all about professionalism. If you're not playing the best at that position, Harbaugh won't put you on the field, and it doesn't matter if you're a former Pro Bowl player.
Chris McAlister
and
Bryant McKinnie
learned that the hard way.
Harbaugh's tough love isn't for everyone.
Bart Scott
sounded off on him a few years ago, and
Bernard Pollard
said he wouldn't join the Ravens at the White House today or for the ring ceremony after insinuating there was a problem with Harbaugh. The Ravens released Pollard in March.
Harbaugh emphasized that he doesn't hold grudges and has respected every player who has been with the Ravens. In fact, Harbaugh believes one of the biggest factors in being a great coach is building relationships.
"The word I would use is you got to love your players," Harbaugh said, "and I believe Vince Lombardi loved his players. He was tough on them. He pushed them. They probably didn't love him back at the time. But they sure love him now."
Those who've remained have grown with Harbaugh.
"It was a lot different his first year," Yanda told The Baltimore Sun before the Super Bowl. "He didn't have his guys here, and some guys gave him fits and ticked him off. He didn't have his relationships built. But some of us have been together for five years now and we're more comfortable with him. We've had some great wins and tough losses together. We know him. We trust him, and he knows when it is time to work, we will work."
Harbaugh doesn't generate memorable quotes like Rex Ryan. He doesn't attract the same attention as his brother Jim. What Harbaugh stands for is a sum of the coaches that he learned under. From his father Jack, a longtime college coach, he understood the importance of connecting with players. From Bo Schembechler, he picked up the importance of physicality and the team concept. From Andy Reid, he developed the same meticulous nature.
Another fair comparison is Bill Belichick, who is considered the best head coach of this generation. Belichick and Harbaugh both got their start in the NFL coaching special teams, and each grew up with a father who was a football coach. And, in some respect, Harbaugh has Belichick to thank for where he is today. When the Ravens were looking at coaching candidates in 2008, Belichick called Bisciotti to suggest Harbaugh for the job.
"Take personalities completely out of it, they're both attention to detail, they're both schematically strong, and they're both great evaluators of talent," said Ravens defensive coordinator Dean Pees, who also coached under Belichick. "They know how to handle players and they know how to hire coaching staffs."
Since 2008, Harbaugh has won 63 games, tied for the most in the NFL with Belichick. His .692 winning percentage in the playoffs is tied for fifth-best in NFL history with Belichick. Now, Harbaugh is looking to become the first coach to repeat as Super Bowl champion since Belichick.
But Harbaugh will have to win this one without Lewis and Reed, two future Hall of Fame players. If Harbaugh has proved anything in his five seasons with the Ravens, it's how he attacks challenges.
"The greatest opportunity is in the biggest adversity. That's what it always is," Harbaugh said. "Every year, you can look at what was said before the season about what kind of team we were going to have and then you saw what we were able to accomplish. I'm really excited about the challenges we get to face."
August, 8, 2012
8/08/12
11:30
AM ET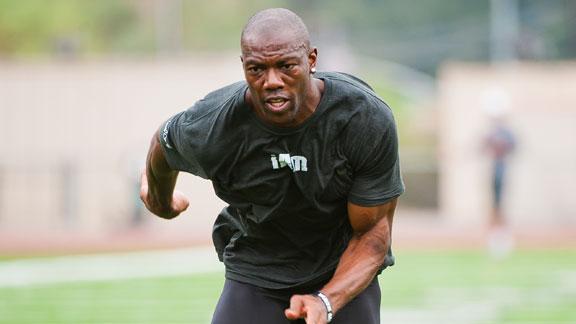 If you're looking for more video of your favorite AFC North blogger, this has turned into a good day for you. I was part of ESPN.com's new feature called "Three and out" where the topics were Andy Reid,
Terrell Owens
and
Joe Flacco
. This will be a weekly feature on the site where the bloggers discuss the hot topics around the league. I won't be involved every week, but I will let you know when I make an appearance.
Take a look at this week's video where Ashley Fox, Dan Graziano and myself chat from our various locations around the country.
January, 30, 2012
1/30/12
9:30
AM ET
While
I'm not sold
on the
Cleveland Browns
' hiring of Brad Childress as their offensive coordinator,
Philadelphia Eagles
head coach Andy Reid certainly is.

Reid, who had Childress and Browns coach Pat Shurmur on his staff in Philadelphia, told the
Cleveland Plain Dealer
that it's a "great fit" and a "win-win all the way around."
"Pat's a heck of a play-caller, and Brad's a heck of a play-caller, and I think that's a heck of a combination," Reid told the Plain Dealer. "Both of them can bounce things off of each other. That's what Brad did here with me, and that's what Pat did here with me. So, whether I was calling the plays or they were calling the plays, we had an open communication where we could talk and make the best of whatever situation there was."
Whether you endorse the addition of Childress or not, this only addresses a very small part of the Browns' problems offensively. In reality, it wouldn't make much of a difference if the Browns had hired Mike Sherman or the NFL's top offensive genius because of the talent level on the field. There are more questions than answers when it comes to Cleveland's offense.
Who is the starting quarterback? Who is the featured running back? Who is the No. 1 receiver?
Colt McCoy
has to win a quarterback competition to remain the starter,
Peyton Hillis
is expected to leave in free agency and
Greg Little
and
Mohamed Massaquoi
look more like No. 2 receivers. The Browns are the only team in the AFC North that isn't set at quarterback, which puts them in a big hole.
A league source told the
Plain Dealer
that Shurmur is the playcaller for now, although that is not a final decision. But a league source told the
Akron Beacon Journal
that it hasn't been determined whether Shurmur will call the plays with the hiring of Childress.
The trouble is, the plays will only succeed once the Browns have the players in place to execute them. Until that point, it will continue to be a struggle for Cleveland to score over 17 points per game like last season.
January, 27, 2012
1/27/12
9:30
AM ET
The Browns made the right call when they decided to add an offensive coordinator, and they needed to hire someone with experience.
Childress
But hiring Brad Childress -- who was
named offensive coordinator
, according to a league source -- is not the answer. The Browns really needed to push to get Mike Sherman, who appears to be headed to the
Miami Dolphins
to be their offensive coordinator.
The problem with Childress is his track record with offenses. In the eight years Childress has been a head coach or offensive coordinator in the NFL, his offenses have ranked in the bottom half of the league five times.
The disturbing part is he's been an NFL playcaller for only one season. The result? The Vikings finished 23rd in yards and 26th in points (17.6 per game) in 2006 before Childress passed those duties over to offensive coordinator Darrell Bevell the next season. Childress didn't call the plays in his three seasons as the Eagles' offensive coordinator (Andy Reid held that role), and he didn't call the plays in his final four seasons with the Vikings.
That résumé doesn't inspire confidence that he will turn around a Browns offense that scored more than 17 points twice last season. Then again, it's hard to imagine any coordinator could really affect an offense that has major question marks at quarterback and running back as well as a void of playmakers at wide receiver.
Hiring Childress isn't the worst move. The team could have simply promoted quarterbacks coach Mark Whipple, but that wouldn't have accomplished anything.
Pat Shurmur was overwhelmed in his first season as the Browns' head coach, and he needed to have the responsibility of running the offense taken away. The only way an inexperienced head coach will succeed is if he has experienced coordinators supporting him. The Browns will have veteran voices with Childress and defensive coordinator Dick Jauron.
If I were Shurmur, I would rely on Childress' advice but not his play-calling ability.
April, 22, 2011
4/22/11
3:34
PM ET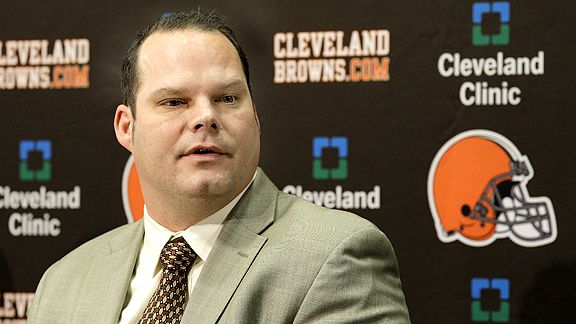 AP Photo/Amy SancettaBrowns GM Tom Heckert has built his reputation on doing solid work in the draft.
BEREA, Ohio -- When you think of the face of the 2011
Cleveland Browns
, high-profile president Mike Holmgren is the first person who comes to mind.
After Holmgren, quarterback
Colt McCoy
, receiver/kick returner
Josh Cribbs
and tailback
Peyton Hillis
might be next. They're among the few Browns players known on a national level. McCoy made his name at the University of Texas, Cribbs is a former Pro Bowler, and Hillis has a chance to become the
"Madden NFL 12" cover boy
next week following a breakout 2010 season in which he rushed for 1,177 yards and scored 13 touchdowns.
But as you continue down the list, eventually you will come across arguably the most important person in the organization: general manager Tom Heckert.
Holmgren has final say in Cleveland. But he is not the person laying the groundwork for the team behind the scenes.
Quietly, Heckert and his staff have worked hard to add talent to what was once a very thin roster. Last year, the Browns signed key veteran free agents such as tight end
Benjamin Watson
and linebacker
Scott Fujita
, in addition to completing a cunning trade with the
Denver Broncos
for Hillis in exchange for former Browns quarterback
Brady Quinn
.
But the draft is where Heckert has built his reputation.
Heckert joined the
Philadelphia Eagles
in 2001 as director of player personnel and worked his way up to general manager five years later. During his stint, Philadelphia went to four consecutive NFC championship games and made the playoffs in seven of Heckert's nine seasons in the front office. He had a major hand in the Eagles' acquisition of recent draft picks such as tailback
LeSean McCoy
, tight end
Brent Celek
, quarterback
Kevin Kolb
and receivers
DeSean Jackson
and
Jeremy Maclin
.
Heckert continued his draft success in Cleveland last season. The Browns acquired three starters in the first three rounds -- first-round corner
Joe Haden
, second-round safety
T.J. Ward
and McCoy in the third round.
Now the Browns have a young nucleus to build around as Heckert tries to work his magic in Year 2.
"I think last year we did a pretty good job," Heckert said in his pre-draft news conference Thursday. "Media-wise there were questions whether T.J. was worth the pick, and we said 'this guy is a good football player. He is going to come in here and start for us and he is worth that pick.' You can try to get cute and say maybe he'll be there later in the second round, so you try to trade down and you lose him. How stupid is that? If you like the guy, take him. Don't try to get too cute."
Getting cute is not what Heckert is about, and he definitely hasn't put himself out there to receive all the credit.
This week the Browns notified the local media that Heckert would hold a solo news conference, and people noticed that the charismatic Holmgren wasn't on the schedule. It was one of the few times since joining the Browns that Heckert addressed the media without the shadow of Holmgren looming over him, presumably to help raise Heckert's low profile.
Working in the shadows is nothing new for Heckert. Eagles head coach Andy Reid commanded the spotlight in Philadelphia while Heckert worked diligently behind the scenes to help find great players year after year.
Heckert's current boss has made it a point to express his appreciation.
[+] Enlarge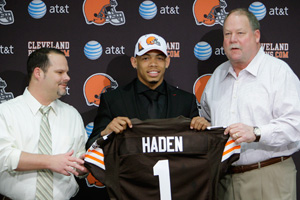 AP Photo/Mark DuncanTom Heckert, left, and Mike Holmgren, right, spent their first-round pick last year on corner Joe Haden, center, who had six picks as a rookie.
"Tom Heckert is the real deal," Holmgren said recently. "The people that work with him, our personnel department, they do their jobs and they do them very well. If I put on my coach hat for a moment, that's a real encouragement to Pat [Shurmur] and the coaches."
This year's draft may go down as one of the most important of the Holmgren-Heckert regime. Cleveland holds eight draft selections, including the No. 6 overall pick in the first round.
The Browns are coming off back-to-back 5-11 seasons, but there is optimism that Cleveland is finally heading in the right direction. If things go as planned for the Browns, this may be the highest draft pick for Heckert and Holmgren in the next several years. In what's considered a deep and talented draft, the Browns cannot afford to miss with their top pick.
"If we end up staying at where we're picking, we are going to get a good football player," Heckert said confidently. "There are six guys, and we are going to get a good football player. Obviously you don't want to be picking up there all the time, but that's the nice thing about it."
The mountain the Browns are trying to climb is steep.
The rival
Pittsburgh Steelers
and
Baltimore Ravens
are unrelenting within the division. They are well-run organizations, perennial contenders in the AFC, and they don't make many mistakes in personnel. That raises the bar for Cleveland to do the same when finding players.
After several front-office failures over the past dozen years, Heckert's track record and experience as general manager give the Browns their best chance. But to make up ground in the AFC North, Cleveland must have another solid draft for the second year in a row, which is not an easy task.
Any big mistakes next week could keep the Browns at the bottom of the pack. So the pressure is on.
"Just try to not force anything," Heckert said of his draft philosophy. "It's easier said than done. ... Once the board is set, I don't think anyone is going to sit there and start jumping guys off their draft board. It happens in the whole process where you may say 'whatever the position is we need this,' so you maybe make the guy better than he is. You just have to be careful of doing that. It happens. I've been guilty of it, just like everyone else. It's a tough thing to do, but you have to be smart about it."
February, 23, 2011
2/23/11
7:22
AM ET
With the offseason in full swing, let's take a look at one major question facing each AFC North team as it begins preparations for the 2011 season:
CINCINNATI BENGALS
Should the Cincinnati Bengals give into Carson Palmer's trade demands?

After eight underachieving seasons in Cincinnati,
Palmer wants out
and everyone from his agent
to teammates
to his realtor believe Palmer is absolutely serious. So how should the Bengals handle this situation?
Cincinnati is consistently one of the NFL's more downtrodden franchises and has been through this before. In the past, players such as
Takeo Spikes
,
Corey Dillon
and
Chad Ochocinco
have expressed the desire to get out of Cincinnati and couldn't leave on their terms.
But Palmer's situation is different for two reasons. First, he's the franchise quarterback, the most important player on the team. Second, he's threatened to retire if he's not traded, which is something Spikes, Dillon and Ochocinco never did. These two factors up the ante tremendously in terms of putting pressure on the Bengals.
If Palmer, 31, holds firm on his demands, that leaves
Dan LeFevour
and
Jordan Palmer
as the other quarterbacks on Cincinnati's roster. The Bengals cannot start the 2011 season with either of those players under center. As more time goes by with uncertainty, it becomes more likely the Bengals must
do something to get quarterback help
in the draft or free agency.
In my opinion
, the Bengals should trade Palmer while they can still get decent value for him. Cincinnati will be rebuilding for the next two years anyway -- with or without Palmer -- and there are plenty of teams in need of a good quarterback.
But the
Bengals are standing their ground
, hoping Palmer will have a change of heart. That's a dangerous assumption with free agency potentially starting next month and the NFL draft coming in April.
BALTIMORE RAVENS

Are concerns about Baltimore Ravens quarterback Joe Flacco legit?
As we continue the subject of quarterbacks, we move over to Baltimore. Flacco is getting drilled this offseason by media and fans for not leading the Ravens past the divisional round. Baltimore entered last season as a Super Bowl favorite and by those standards the team -- and particularly the offense -- underachieved.
Now people are starting to doubt Flacco. He has struggled in the playoffs, recording just one passer rating above 90.0 in seven career postseason games. It's no secret an organization is tied into the success and development of its quarterback. But are the expectations of Flacco, in his third season, too high too soon? The answer is, yes.
Flacco has become a victim of his own early success. He advanced to the AFC title game as a rookie and has had expectations of getting to the Super Bowl thrust upon him since.
Last season, Flacco set career-highs in passing yards (3,622), touchdowns (25) and passer rating (93.6) for the Ravens (12-4). But it's the second-round loss to the
Pittsburgh Steelers
that stands out in most people's mind.
Flacco likely must
get past rival
quarterback
Ben Roethlisberger
of Pittsburgh for the Ravens to take that next step. But there is no shame in losing to the eventual AFC champions in the postseason.
Young quarterbacks such as
Matt Ryan
,
Mark Sanchez
and
Josh Freeman
are viewed in a much more favorable light in their cities. Flacco has had as much career success and put up equal or better numbers than all of them. He deserves a break.
PITTSBURGH STEELERS
What will the Steelers do at cornerback?

As their Super Bowl XLV loss to the
Green Bay Packers
proved, the Steelers must add quality depth in the secondary. The Packers,
New England Patriots
and
New Orleans Saints
provide the blueprint of how to beat Pittsburgh's vaunted defense: spread the Steelers out with multiple receivers.
The Steelers simply don't have enough good cornerbacks to defend three- and four-receiver sets. This also takes Pittsburgh's strongest players-- its linebackers -- off the field in favor of players such as
William Gay
and
Anthony Madison
.
Now that linebacker
LaMarr Woodley
received
the franchise tag
, veteran cornerback and pending free agent
Ike Taylor
is Pittsburgh's No. 1 priority. Taylor is Pittsburgh's best corner, but he's also 31 and the Steelers must gauge how much money and how many years to give to him.
The draft will also be important. Previous draft picks at corner such as
Keenan Lewis
,
Joe Burnett
and
Crezdon Butler
have not panned out for the Steelers, who typically address this position in the middle rounds. It's time Pittsburgh invests a high draft pick at this position to increase the probability of finding a future starter.
Do not be surprised if Pittsburgh retains Taylor in free agency and spends its first- or second-round pick on a cornerback in April to fix this issue.
CLEVELAND BROWNS
Are the Cleveland Browns fine without an offensive coordinator?

Pat Shurmur of the Browns has a lot on his plate this year. Not only is he a first-time head coach, but Shurmur is also taking over the role as offensive coordinator in his first season with Cleveland.
Is this a good idea?
After a brief search, the Browns decided to leave the position vacant. Shurmur is a former offensive coordinator for the
St. Louis Rams
and didn't want to give up those responsibilities after becoming a head coach.
A head coach's first responsibility is to manage all 53 players. But Shurmur clearly will give more special attention to his players on offense. That's a major reason the Browns hired experienced defensive coaches such as Dick Jauron and Ray Rhodes to manage the other side of the football.
President Mike Holmgren and general manager Tom Heckert have both done a good job so far in Cleveland. But I have reservations about creating this type of setup with a rookie head coach on a rebuilding team.
January, 13, 2011
1/13/11
6:30
PM ET
The
Cleveland Browns
received reaction from around the NFL this evening on
the hire of new
head coach Pat Shurmur.

Brown
Browns CB Sheldon Brown
"As a rookie coming into the National Football League (in 2002), he was our quarterbacks coach in Philadelphia. I knew he demanded a lot of respect, for one,
Donovan McNabb
was the guy that was already established there and Donovan had the utmost respect for Coach Shurmur. He is a sharp guy. He always took notes in meetings and he was one of those guys that (Eagles head coach) Andy (Reid) could depend on to get the guys ready to play, motivate and do well on game days. That's what you are looking for when you are looking for a coach."

Reid
Eagles head coach Andy Reid
"I'm extremely proud of and happy for Pat Shurmur and his family. He is a proven commodity in the NFL and has paid his dues as a successful assistant coach. Pat is smart, very well organized and has a great command and great feel for the ins and outs of the business of pro football. I believe, to a man, all of the players and coaches that have worked with and for Pat Shurmur have the utmost respect for him as a person and as a coach. And I'm right at the top of that list. He'll do a great job for the city of Cleveland as their head football coach."

McNabb
Redskins quarterback Donovan McNabb
"I think it is a great choice for the Cleveland Browns. Pat Shurmur is a hard-working, dedicated and determined individual who demands perfection from all his players. The team will love playing for him."
January, 12, 2010
1/12/10
6:30
PM ET
Here is what
Philadelphia Eagles
head coach Andy Reid had to say about new
Cleveland Browns
general manager Tom Heckert, who held the same post with the Eagles:
"Tom is one of my favorite people and I think he's great at what he does, phenomenal. The things that he's helped us do here are phenomenal. He'll do a great job in Cleveland. I know he's working with one of my best friends [Browns president Mike Holmgren] and somebody that will allow him to do even more than he was doing here."
December, 16, 2008
12/16/08
2:08
AM ET
| | |
| --- | --- |
| | |
| | Jim McIsaac/Getty Images |
| | Donovan McNabb and the Eagles have won three straight. |
Posted by ESPN.com's James Walker
PHILADELPHIA -- Tease or contender?
Playoff bound or delaying the inevitable?
These questions still remain unanswered following the Philadelphia Eagles' easy 30-10 romp over the Cleveland Browns on "Monday Night Football." The Eagles (8-5-1) are playing their best football of the season, outscoring their last three opponents 98-44, but they remain on the outside of the NFC playoff race.
Over the past four years, the postseason has begun in December for the Eagles. This has been both a blessing and a curse during the Andy Reid-Donovan McNabb era in Philadelphia.
For whatever reason, the Eagles in recent seasons have slumped at midseason but found a way to finish strong. Sometimes it leads to a postseason berth. Other times, such as last season, the team falls short.
Philadelphia is trying desperately to avoid back-to-back non-playoff seasons for the first time under Reid. In addition to Monday's win over Cleveland, the Eagles will need to sweep a pair of NFC East rivals -- the Washington Redskins (7-7) and Dallas Cowboys (9-5) -- to have a chance.
"The players understand what's at stake," Reid said of the final two weeks. "You saw that by their effort tonight. They played a very aggressive game on both sides of the ball and special teams."
But don't read too much into Monday's victory.
Cleveland, losers of four straight, was the perfect prey for the surging Eagles. The Browns (4-10) have a coach in the hot seat, two injured quarterbacks, and they haven't scored an offensive touchdown since Nov. 17.
The Eagles were sloppy at times with three turnovers. But Philadelphia took care of business by jumping out to a 17-3 lead and never looked back. The 20-point win could have been more lopsided had the Eagles not thrown two interceptions in the end zone and pulled their starters early in the fourth quarter.
"Our guys tried," Browns head coach Romeo Crennel said. "But I don't think we have enough ammunition to match up with them."
The Eagles have been among the most schizophrenic teams in the NFL this season. The same team that blew out the Arizona Cardinals by four touchdowns on Thanksgiving lost to the Baltimore Ravens by 29 points and benched McNabb five days prior.
Now McNabb is back. He looks far removed from the lowest point of his career and put up another stellar game Monday, completing 26 of 35 passes for 290 yards, two touchdowns, one interception and a 105.7 passer rating.
"He's playing like he does," Reid said. "This is what Donovan McNabb is all about."
McNabb and the Eagles need to maintain this level of play. McNabb is once again playing confident football and the vintage smile is back on the face of the veteran quarterback.
"I'm always happy. I'm happy to be out here just playing football and that's the most important thing," McNabb said. "That's something I told myself no matter what situation I'm in, I'm going to have a ball out here and the people around me are going to enjoy it, too."
The Eagles will need to upend two teams that beat them earlier in the year in Washington and Dallas. Philadelphia believes it's a different team now, but a pair of wins still could leave the team sitting at home.
The Eagles also need help in the form of a loss by either the Atlanta Falcons (9-5) or Tampa Bay Buccaneers (9-5) in the final two weeks.
But this is usually the type of situation that brings the best out of the Eagles. Whether it works this year or it's too late remains to be seen.