January, 3, 2014
Jan 3
11:25
AM ET
The last time the
San Diego Chargers
and
Cincinnati Bengals
met, both teams were missing key players, they played in a local TV blackout, and they could comfortably compete on a 60-degree, postcard-perfect Southern California afternoon.
Those were the conditions just one month ago Wednesday.
At least one of them could be the same. With ticket uncertainty rolling over into Thursday, Bengals officials have been working hard to avoid the NFL's first postseason blackout since 2002. On the field, the Bengals and Chargers have been working to get back key members of their teams, and are anticipating playing in conditions much less favorable than what they had on the West Coast.
Sunday's playoff game isn't only a rematch of the regular-season game won 17-10 by the Bengals. It also marks the first time the teams have met in the postseason since 1981, when Cincinnati beat San Diego for the AFC championship at old Riverfront Stadium. Because of a minus-59 wind chill, that game was dubbed the "Freezer Bowl." While it shouldn't feel that cold Sunday, conditions will be tough. Snow, freezing rain and rapidly dipping temperatures are in the forecast. The weather could make passing difficult for two teams that rely heavily on their quarterbacks.
To break down Sunday's game, we turn to ESPN.com NFL reporters Eric D. Williams (Chargers) and Coley Harvey (Bengals).
Harvey:
One of the Bengals' biggest keys in the first meeting was running the ball. They rushed for 164 yards, having success even late in the game when San Diego clearly knew a run was coming. How can the Chargers prevent Cincinnati from having another prolific ground game?
Williams:
First, the Chargers will have two players available who did not play in the first game -- outside linebackers
Jarret Johnson
and
Melvin Ingram
. Both are pretty good run defenders who should help San Diego play more physical up front. Second, the Chargers have to do a better job of maintaining their gaps and not allowing Cincinnati's talented offensive line to create space for the running backs. Last, the Chargers have to do a better job of wrapping up
BenJarvus Green-Ellis
and
Giovani Bernard
. Both running backs finished with a lot of yards after contact, as San Diego had trouble bringing down the hard runners in the back end of the defense.
One thing I'm curious about is the Bengals' defense. The Bengals are tied for third in the league in turnovers forced with 31, and have six defensive touchdowns this season, all at Paul Brown Stadium. Why has Cincinnati's defense been so successful at creating turnovers?
Harvey:
If you ask defensive coordinator Mike Zimmer -- which we did Monday -- he'll say it's because his players just know they have to do whatever is necessary to pick the offense up and to put the ball back in its hands. There have been several instances when a turnover put the Bengals' defense on the wrong side of the 50, needing to come up with a stop. Defensive players say they relish those opportunities, and believe in their ability to not only hold for a field goal, but get the ball back. Cincinnati's defensive line plays a major role in helping create a lot of the fumbles and interceptions. Even after losing Pro Bowl tackle
Geno Atkins
, the defensive line has still pressured opposing quarterbacks, forcing poorly thrown balls. The line and linebackers also do a great job of stripping balls and forcing timely fumbles.
I'll add that there is something slightly different about the defense at home. When it comes to turnovers, for example, 21 of the 31 forced by the defense have come at Paul Brown Stadium. As you mentioned, six have resulted in scores. Each of those scores either changed momentum or helped ice the game.
How much do you think playing the Bengals just 35 days ago will benefit the Chargers? They clearly learned something from that loss, and haven't lost since.
Williams:
That is correct -- the Chargers are on a four-game winning streak since losing to the Bengals on Dec. 1. Defensively the Chargers have been stingy, holding teams to just 18 points a contest in the past four games. San Diego has played more consistently on offense, particularly in the red zone, scoring touchdowns instead of field goals. And the Chargers are playing with more confidence now than earlier in the season. Chargers coach Mike McCoy has figured out a blueprint for his team to win on both offense and defense -- a prolific, ball-control offense paired with a bend-but-don't-break defense that keeps teams out of the end zone.
Philip Rivers
finished the regular season tops in the NFL in completion percentage (69.5), fourth in touchdown passes (32) and fifth in passing yards (4,478). The Bengals did a nice job containing Rivers in the first matchup. What will it take for a repeat performance?
Harvey:
It's going to take a lot of pressure, and some tight coverage both downfield and near the line of scrimmage. Bengals cornerback
Terence Newman
was telling reporters this week about what he felt made Rivers special -- his intelligence. As an 11-year veteran, Newman has seen it all. According to Newman, what is most impressive is Rivers' ability to use his eyes to steer linebackers or safeties one way, only to pass another because he knows he has a tight end or running back open in a soft spot the defense isn't covering. Newman stopped short of comparing Rivers to
Peyton Manning
, but he believes the two have much in common. Members of the Bengals' secondary know they can't just key on his eyes, they have to know where his playmakers are at all times. Members of the Bengals' line know they have to keep hounding Rivers like they have hounded quarterbacks all season.
Rivers is San Diego's household name, but how important have running back
Ryan Mathews
and receiver
Keenan Allen
been to the offense?
Williams:
The Chargers leaned heavily on Mathews during the second half of the season, with good results. San Diego is 7-1 this season when Mathews has at least 19 carries. He has carried the ball at least 24 times in the past four games, all wins for San Diego. Allen finished the season with 71 receptions for a team-leading 1,046 yards, becoming the first rookie since Cincinnati's
A.J. Green
to finish with 1,000 receiving yards. Green had 1,057 in 2011. Mathews keeps defenses honest with his bruising running style, and Allen emerged as Rivers' go-to receiver when San Diego gets near the red zone. Allen is tied for the team lead in touchdown receptions with eight.
We've seen the good (33 touchdowns) and the bad (20 interceptions) from
Andy Dalton
this season. What type of performance do you expect from Dalton on Sunday? And will it matter if he does not play well?
Harvey:
Because of how good this defense is, especially at home, I'm not sure it will matter if he plays well Sunday. Last week against the Ravens, Dalton threw four interceptions -- the first came 1 yard outside Baltimore's red zone -- and the defense ended up acting as an eraser and pretending the turnovers never happened. The one interception that came on Cincinnati's 21 resulted in a field goal. An interception on the following drive also resulted in a field goal. Instead of being down 14-0 early, the Bengals trailed 6-0, giving Dalton enough confidence to calm down and make plays when he needed to as the comeback began. I'm expecting another mixed bag from Dalton. Just like last week, he has shown this season that he can pass for 270 yards, three touchdowns and still have three interceptions. I wouldn't be surprised if his nerves are elevated a little at the start of the game, but as long as the defense keeps playing the way it has been and his receivers are not dropping passes, I believe Dalton will come out OK on Sunday.
.
January, 17, 2012
1/17/12
12:30
PM ET
Unlike the NFC, the AFC playoff bracket went according to form and has the top two seeds meeting in the conference title game Sunday. The
New England Patriots
(14-3) and
Baltimore Ravens
(13-4) have been the best two teams in the conference from start to finish.
But only one team can advance to Indianapolis to play in Super Bowl XLVI. That is where AFC East blogger James Walker and AFC North blogger Jamison Hensley come in to examine the matchups and pressing issues with the Patriots and Ravens.
James Walker:
Let's start with the quarterbacks, Jamison, because I think this is where the Patriots have the biggest advantage.
Tom Brady
is playing at an unbelievable level. He tied an NFL postseason record with six touchdown passes against a pretty good
Denver Broncos
defense. I'm not sure Baltimore -- or any defense -- has an answer for the Patriots' passing game right now. Behind Brady, the Patriots are averaging 40.5 points in their past four games. New England's offense is peaking at the right time. If New England scores early, that puts an enormous amount of pressure on Ravens quarterback
Joe Flacco
to respond. I doubt a Brady vs. Flacco shootout is a game Baltimore wants to play.
[+] Enlarge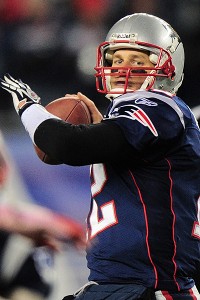 Michael Ivins/US PresswireTom Brady was masterful in the Patriots' playoff rout of Denver.
Jamison Hensley
: You're definitely right about that James. Flacco has thrown for fewer than 175 yards in his past three games. That's like one half for Brady. Flacco gets a lot of criticism because he isn't consistent -- and that's true. He has flashes where he looks like he's a top-10 quarterback, guiding a last-minute touchdown drive at Pittsburgh and leading the Ravens back from a 21-point deficit against Arizona. Then, there are times when he looks like he is among the league's worst, like when he doesn't complete a pass in two quarters against the Jets. But the Ravens have never had to rely on Flacco in the playoffs. That's the time of the season when the Baltimore defense thrives. There's a huge disparity between Brady and Flacco. But there is an even bigger one between the defenses of the Patriots and Ravens, who are ranked No. 3 in the NFL in fewest yards and points allowed.
James Walker:
We've both watched Baltimore's defense up close for years, and I've always marveled at its consistency. The biggest thing is you know what you're going to get from Baltimore's defense on Sunday. I really have no idea what to expect from the Patriots' defense. I did see with my own eyes last week a group that is capable of playing well. The Patriots actually have the top-rated defense in the playoffs, although it's just for one game. I won't go overboard with the Patriots stopping
Tim Tebow
. Any playoff team not named the
Pittsburgh Steelers
could do that. (I had to jab your AFC North brethren.) But I've seen too many weeks where New England looked awful defensively and gave up tons of yards. The Ravens' offense should have the advantage as long as they stick with tailback
Ray Rice
, who has killed New England in the past. Speaking of the past, Jamison, how much stock do you put in Baltimore's previous playoff victory against the Patriots in Jan. 2010?
Jamison Hensley
: Just like you can't go overboard on one game for the New England defense, you can't do the same with that playoff game. Both teams are different from that game two years ago. The Patriots didn't even have
Wes Welker
for that one. The biggest lingering effect is that the Ravens have confidence that they can win in New England. Few teams have ever beaten Brady on his home turf in the playoffs, and
Ray Lewis
and the gang know they can do it, because they did it before. Of course, that game turned on the first offensive play from scrimmage when Rice ran 83 yards for a touchdown. And that's something that hasn't changed for the Ravens. Rice is key to the Ravens winning. Baltimore is 9-0 when Rice carries the ball at least 20 times. He has to be on the mind of every New England defender.
James Walker:
There's no denying Rice is to Baltimore what Brady is to New England. The performance of both players will probably determine the outcome of this game. You astutely pointed out Welker's absence from the January 2010 playoff game. Two additional players not in that game were tight ends
Rob Gronkowski
and
Aaron Hernandez
, who were drafted the following April. Two seasons later, the pair completely change the dynamics of New England's offense. The Ravens' defense is great. But I'm looking down their roster and I'm having a lot of trouble finding linebackers who are fast enough and defensive backs who are strong enough to stop New England's star tight ends. The Ravens might opt to double one -- usually Gronkowski -- but I don't think they have an answer for both. After watching the Ravens' defense all season, Jamison, what strategy do you think they will employ?
Jamison Hensley
: The Ravens played mostly zone against Texans rookie quarterback
T.J. Yates
, but they can't do that against Brady. He would pick them apart. Baltimore has to go man coverage to be successful. The defender to watch is linebacker
Brendon Ayanbadejo
. He's known as the team's special teams ace, but he plays an important role in the nickel defense. The Ravens have contained some of the top tight ends they've gone against in San Diego's
Antonio Gates
(two catches for 31 yards) and San Francisco's
Vernon Davis
(four for 38 yards). The problem is, the Ravens haven't faced a team with two quality tight ends like Gronkowski and Hernandez. Baltimore's best bet is to get pressure on Brady. That starts with
Terrell Suggs
, who will test both of the Patriots' offensive tackles.
James Walker:
Suggs has been a monster this season. I also think Brady might be Suggs' least-favorite quarterback. So there won't be any lack of motivation there. But I noticed something important in both AFC divisional games that should be mentioned. Baltimore didn't get a single sack against Yates and Houston, and New England held Denver without a sack, despite facing a defense with two of the league's top pass-rushers in
Von Miller
and
Elvis Dumervil
. Maybe that was more scheme last week on Baltimore's part, because defensive coordinator Chuck Pagano usually gets after it. But New England legitimately stuffed Denver's pass rush for four quarters with an up-tempo offense that used a lot of half-huddle/no-huddle and quick throws to Gronkowski, Hernandez and Welker. I think you're going to see the Patriots speed up the tempo again against Baltimore, especially at home where the crowd is quiet and communication on offense is easier.
[+] Enlarge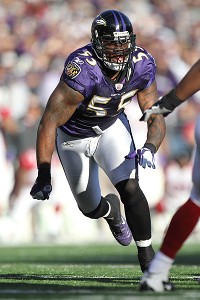 Mitch Stringer/US PresswireKeeping Terrell Suggs away from QB Tom Brady will be a priority for New England on Sunday.
Jamison Hensley
: As we've seen so far in the playoffs, home field has really been an advantage. Only one home team (Green Bay) has lost so far this postseason. The Ravens have had their trouble on the road this season, losing at Seattle and Jacksonville -- teams they should've beaten. But Baltimore has a great track record of winning on the road in the playoffs. The Ravens have won at Miami, Tennessee, Kansas City, and, of course, New England under coach John Harbaugh in the postseason. How the Ravens handle the atmosphere on the road will be one of many keys in this matchup.
James Walker:
The Patriots and Ravens played all season for this gigantic opportunity. New England just won one more game to force the road to Indianapolis to go through Gillette Stadium. But I think either club would represent the conference well and has a great chance to win the Super Bowl. Either way, Jamison, just make sure one of us brings that Lombardi Trophy back to the AFC side, where it belongs. I was kind of tired of that "Discount Double-check" thing NFC North blogger Kevin Seifert kept doing in front of us for the past year.
Jamison Hensley
: I hear you. We'll just have to wait until Sunday to see whether Belichick's hoodie or Flacco's Fu Manchu mustache will be advancing. History says this will be a close game. Three of the past four meetings between the Ravens and Patriots have been decided by six points or less. For coverage leading up to the AFC championship game, everyone can check back to the AFC East and AFC North blogs all week. And, James, it will be just a little colder in New England than Miami, so remember to pack a jacket.
March, 29, 2011
3/29/11
1:10
PM ET
Pittsburgh Steelers
quarterback
Ben Roethlisberger
often calls teammate
Heath Miller
the best tight end in football. But according to ESPN.com's positional Power Rankings, Miller is not even in the top 12 at his position.
Miller came in at No. 13 in this week's ranking of the NFL's best tight ends. ESPN.com senior writer John Clayton and I were the only two voters who had Miller on their ballots. Clayton voted Miller ninth and I ranked Miller seventh.
This confirms what most of us in the AFC North blog already suspected: Miller remains one of the league's most underrated players. Injuries hurt his numbers in 2010 (42 receptions for 512 yards). But Miller was recently an AFC representative in the Pro Bowl two seasons ago with 76 receptions for 789 yards and six touchdowns.
Miller is not flashy and will never catch 100 passes per season playing in Pittsburgh's offense. But in my opinion, Miller is one of the NFL's most complete tight ends and worthy of being on this list.
Miller makes the most of his limited opportunities. He's sure-handed and great at running downhill after the catch. He's also a phenomenal run- and pass-blocker, and essentially serves as Pittsburgh's third offensive tackle.
The Steelers know how important Miller is to their offense. His contributions cannot be measured strictly by numbers because Miller adds much more with his toughness, blocking ability and being a safety valve over the middle for Roethlisberger.
Miller may not be tops at his position. But I would not select 12 tight ends for my team before taking Miller.
ESPN.com's Tight End Power Rankings
1.
Jason Witten
,
Dallas Cowboys
2.
Antonio Gates
,
San Diego Chargers
3.
Dallas Clark
,
Indianapolis Colts
4.
Vernon Davis
,
San Francisco 49ers
5.
Chris Cooley
,
Washington Redskins
6.
Tony Gonzalez
,
Atlanta Falcons
7.
Kellen Winslow
Jr.,
Tampa Bay Buccaneers
8.
Marcedes Lewis
,
Jacksonville Jaguars
9.
Brandon Pettigrew
,
Detroit Lions
10.
Jermichael Finley
,
Green Bay Packers
Walker's Tight End Power Rankings
1. Jason Witten, Dallas
2. Antonio Gates, San Diego
3. Dallas Clark, Indianapolis
4. Kellen Winslow Jr., Tampa Bay
5. Vernon Davis, San Francisco
6. Tony Gonzalez, Atlanta
7. Heath Miller, Pittsburgh
8. Chris Cooley, Washington
9.
Zach Miller
,
Oakland Raiders
10.
Dustin Keller
,
New York Jets
December, 30, 2009
12/30/09
2:00
PM ET
As the
Pittsburgh Steelers
continue to morph into a pass-first offense, one of the biggest beneficiaries this season has been starting tight end
Heath Miller
.
Miller
The five-year veteran has already set new career-highs for receptions (71) and yards (733) in a season. Pittsburgh (8-7) will finish its regular season Sunday against the
Miami Dolphins
(7-8).
Miller has also been one of the most dependable targets in the league, catching 71 of 91 passes (78 percent) thrown in his direction.
Here are the NFL's most-targeted tight ends heading into Week 17, courtesy of ESPN Stats & Information:
October, 5, 2009
10/05/09
3:00
PM ET

Posted by ESPN.com's James Walker
Here are seven observations from Week 4 in the AFC North:
The skill players get all the publicity, but you have to give the offensive line of the Pittsburgh Steelers a lot of credit for Sunday's performance in a 38-28 victory over the San Diego Chargers. This is the first time in a long time that Pittsburgh's offensive line manhandled the front seven of another unit. The Chargers are not very good defensively, but you also had the sense Pittsburgh could do whatever it wanted offensively. According to ESPN's Next Level research, Mendenhall gained 105 of his 165 yards when San Diego stacked the box with at least one extra defender.

| | |
| --- | --- |
| | |
| | Elsa/Getty Images |
| | Ravens quarterback Joe Flacco stood tall in the pocket Sunday despite taking some big shots from the Patriots. |

The Steelers are having a lot of problems defensively when teams go up-tempo in the fourth quarter, and it's definitely something to monitor the rest of the season. Opponents are finding some major holes in Pittsburgh's defense passing the football late in games. The Chargers caught fire with back-to-back scoring drives that took less than two minutes apiece and nearly led the team from behind. San Diego quarterback Philip Rivers (254 yards, three touchdowns) torched the middle of the defense with tight end Antonio Gates, who recorded nine catches for 124 yards and two touchdowns. Eight of Gates' catches came in the second half.
The Baltimore Ravens' pass-to-run ratio was a bit out of whack in Sunday's loss to the New England Patriots. It's clear the game plan was to beat New England through the air, which nearly worked as Baltimore had a shot to win the game on its final drive. But to pass the football 47 times and run it 17 times was too uneven, especially when the Ravens were running the football well against the Patriots. Baltimore tailback Ray Rice had it going with 103 yards rushing, but he only had 11 carries. His average of 9.4 yards per rush means the Ravens should have fed him more.
Ravens quarterback Joe Flacco showed a lot of poise not to get rattled despite taking some hard shots from New England's defense. Flacco, who threw for 264 yards, two touchdowns and an interception, was sacked twice and hit 10 times. But he still kept his eyes downfield and never looked skittish in the pocket down to the final play. Many young quarterbacks, such as Kyle Boller, have taken hard shots as a young quarterback and it impacted their confidence and development. That doesn't appear to be the case for Flacco.
One thing that's surprised me so far about the Cincinnati Bengals is that the deep ball has yet to return to the offense this season. Starting quarterback Carson Palmer's longest completion this year is for 44 yards. He also is averaging 6.2 yards per attempt, which is at least a yard less than his pace in 2007 (7.2) and 2006 (7.8) when he wasn't hurt and played a full season. The Bengals are 3-1 after beating the Cleveland Browns and are doing well running the ball and passing in the short and intermediate range. But Cincinnati also has long-ball potential that hasn't been tapped into.
The Bengals needed a fast start, because the next five games are going to be brutal. Cincinnati faces the Baltimore Ravens (3-1) twice, the Houston Texans (2-2), Chicago Bears (3-1) and Pittsburgh Steelers (2-2) during that span. The Bengals also have a bye Nov. 1 before facing Baltimore and Pittsburgh in back-to-back weeks. So it was a good move for the Bengals to win three of their first four games.
The move to quarterback Derek Anderson turned out to be a good one, as Cleveland had its best yardage output of the season with 395 yards. Anderson threw for 269 yards, one touchdown and one interception. But perhaps his biggest contribution to the offense was his threat of going vertical helping the running game. The Bengals were forced to stay honest and that allowed Browns tailback Jerome Harrison to rush for 121 yards. This kind of balance will make Cleveland (0-4) a lot more competitive moving forward.
October, 4, 2009
10/04/09
9:27
PM ET

Posted by ESPN.com's James Walker
PITTSBURGH -- One of the big questions coming into Sunday night's game between the Steelers and
San Diego Chargers
would be how well Pittsburgh could defend Pro Bowl tight end
Antonio Gates
.
Without Steelers Pro Bowl safety
Troy Polamalu
, Gates has a mismatch against most Pittsburgh defenders one-on-one but hasn't done much in the first half. San Diego has been held scoreless, and Gates has just one catch for 15 yards midway through the second quarter.
Pittsburgh is getting good pressure on Chargers quarterback
Philip Rivers
and forcing him to make quick decisions. Rivers has completed just 4 of 11 passes to this point.
October, 1, 2009
10/01/09
2:00
PM ET

Posted by ESPN.com's James Walker
PITTSBURGH -- One reason the Steelers were able to beat the
San Diego Chargers
twice last season was because Pittsburgh's X factor often canceled out the Chargers' X factor.
| | |
| --- | --- |
| | |
| | Donald Miralle/Getty Images |
| | Chargers tight end Antonio Gates is a matchup problem for virtually every defense. |
But Steelers Pro Bowl safety
Troy Polamalu
likely will be out when they host the Chargers Sunday. Polamalu began running for the first time this week, but he probably needs another week or two to recover from a knee injury.
Yet, San Diego will definitely have its star tight end,
Antonio Gates
. The big-bodied, sure-handed Gates looks to control the middle of the field where Polamalu usually roams.
"Antonio Gates is probably one of the best tight ends in the world," Steelers coach Mike Tomlin said. "He is a matchup problem when you have a guy like Troy. So needless to say, when you don't have a guy like Troy, in weeks like this we have to get in the lab a little bit in terms of how to slow this man down."
Replacing Polamalu is
Tyrone Carter
, who is undersized and has little chance of having one-on-one success with Gates. In addition to a lot of zones and bracket coverage, it's possible athletic linebacker
Lawrence Timmons
could draw the tough assignment of guarding Gates. Timmons is one of Pittsburgh's top athletes and has both the size and quickness to keep up with the Pro Bowl tight end.
Overall, this is definitely something to keep an eye on in a big game for both teams.