February, 12, 2015
Feb 12
9:00
AM ET
A year after joining the
Baltimore Ravens
, safety
Will Hill
wants a close friend to do the same.
Hill
Rolle
On his
Instagram account
, Hill is openly campaigning for
New York Giants
free-agent safety
Antrel Rolle
to join him in Baltimore.
Hill started 10 games alongside Rolle when they were teammates in New York in 2013. The Ravens need a starting safety because
Darian Stewart
is a free agent and young players such as
Matt Elam
and
Terrence Brooks
have struggled.
"If things go the way I want me and big bro will be reunited," Hill wrote on a post that includes four photos of Rolle and himself while both played for the Giants.
Based on how Rolle played last season, it's debatable whether he would represent an upgrade. Rolle is on the downside of his career at the age of 32 and is coming off one of his worst seasons. He was ranked as the NFL's 81st-ranked safety by Pro Football Focus after missing 17 tackles and committing seven penalties.
It was a quick decline from 2013, when Rolle finished second in the NFL with six interceptions. He ranked No. 9 among safeties that season by Pro Football Focus.
Even if the Ravens were as interested as Hill is, it doesn't sound like Rolle wants to leave New York.
"I want to go back to the Giants for the fact I feel like I still have work to do," Rolle told
Sirius XM NFL Radio
this week. "No matter how good or bad the season may have been for myself, you know, we've got one championship and I feel like that's not enough. I feel like there's more, obviously there's more in the tank and more I need to provide as far as my services with that organization to try and help them win another title."
Free agency begins March 10.
While it's unknown who will ultimately start at strong safety for the Ravens, Hill is likely to remain their free safety. He is expected to be tendered by the Ravens as a restricted free agent.
November, 9, 2012
11/09/12
8:00
AM ET
It seems like there is a lot of talking going on in the division. Steelers rookie
Alameda Ta'amu
is apologizing. Bengals receiver
A.J. Green
is doing some mild trash-talking. And new Browns CEO Joe Banner is acknowledging publicly that the team has to decide whether quarterback
Brandon Weeden
is "the man" in Cleveland going forward.
I don't have much to say outside of my travel plans. I will cover the Ravens-Raiders game Sunday before heading to Pittsburgh to watch the Steelers-Chiefs game Monday night. With that out of the way, here's your wake-up call:
RAVENS
: The injuries to
Haloti Ngata
's right shoulder and right knee are affecting the Pro Bowl defensive tackle, who failed to record a tackle last Sunday. That's only the second time this has happened in Ngata's 102-game career. "Now, it's limiting me," Ngata told
The Baltimore Sun
. "I just can't do what I want to do most of the time." Ngata plans to play with the injuries, saying taking a week off wouldn't allow him to get back to full strength. He has yet to practice this week.
STEELERS
: Rookie nose tackle Alameda Ta'amu apologized after waiving his right to a preliminary hearing on charges stemming from an alleged drunken-driving rampage, according to the
Associated Press
. He was arrested last month after police said he crashed into several other cars, then ran away from officers. Ta'amu, who was suspended two games by the Steelers, told reporters Thursday, "If there was any other word I would say it, but 'sorry' is the only word I can say right now." This isn't Ta'amu's first run-in with the police. He was arrested for a December 2009 driving-under-the-influence incident while attending the University of Washington, but pleaded guilty to negligent driving.
BENGALS
: Bengals wide receiver A.J. Green riled up the Giants on Thursday when he said he saw "a lot of holes" in the defense. "I'll talk with my pads come Sunday. That's how I approach the game. That's how we always approach the game," safety
Antrel Rolle
said, via
ESPNNewYork.com
. "If he sees me, he better duck. That's it." Green's comment is really nothing when you compare it to Giants coach Tom Coughlin, who described the defensive effort as "soft" after the loss to the Steelers. Green also isn't alone in thinking that the NFL's 25th-ranked defense has a lot of holes.
BROWNS
: New CEO Joe Banner told
The Plain Dealer
that he and owner Jimmy Haslam have to decide whether rookie Brandon Weeden is a franchise quarterback over the next seven games. "The only reason I'm leaving the door open is, you could think he's the right answer and a year from now go, "Oh, gee, I thought he was but he isn't,'" Banner said. "So it's not like you're etching it in stone, but you certainly have to at least for your next off-season plan, make a determination as to whether in two years from now, when we're trying to be a championship-caliber team, is he good enough to lead us there?" If the Browns are drafting in the top five in April, they would have an opportunity to take a quarterback like USC's
Matt Barkley
or West Virginia's
Geno Smith
.
May, 3, 2011
5/03/11
1:00
PM ET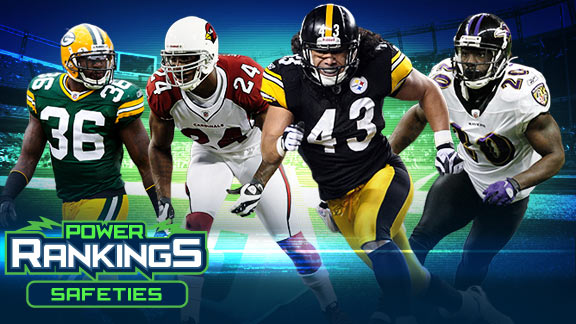 ESPN.com IllustrationPittsburgh's Troy Polamalu (43) and Baltimore's Ed Reed (20) were the consensus top picks in the ESPN.com safety Power Rankings.
ESPN.com's NFL writers rank the top 10 safeties in the league today. Next week: top 10 owners.
When it comes to rating NFL safeties, there's
Troy Polamalu
and
Ed Reed
followed by a huge gap before everyone else.
As expected, the star safeties for the
Pittsburgh Steelers
and
Baltimore Ravens
dominated ESPN.com's positional Power Rankings this week. No other safety received a vote higher than third place.
But what is surprising is that Polamalu -- the reigning NFL Defensive Player of the Year -- became the first player in this year's series to sweep all eight first-place votes. Bill Belichick of the
New England Patriots
did the same
among head coaches
.
This should finally put to rest the
"Troy Reed" debate
that has been raging for years between these two great safeties. According to our panel, there is a clear separation between the two. Reed received all second-place votes to finish with 72 points.
"Polamalu and Reed are the secondary's version of
Tom Brady
and
Peyton Manning
. They are the gold standard of safety play," AFC West blogger Bill Williamson said. "While Reed is great, Polamalu is stunning. I've never seen him play and not make a jaw-dropping play."
Both safeties have different styles. But our panel preferred Polamalu's versatility to play closer to the line of scrimmage. Steelers defensive coordinator Dick LeBeau uses Polamalu all over the field to help defend both the run and the pass.
Reed is more of a ballhawking safety who defends the deep portion of the field. He led the NFL with eight interceptions last season despite missing six games because of offseason hip surgery.
"Taking nothing away from Ed Reed, who is a great player in his own right, but Troy Polamalu is the first guy I think of when I think of safeties," NFC South blogger Pat Yasinskas said. "He's been a huge force in Pittsburgh's recent championships. He's just a great all-around player and still in the prime of a career that's going to land him in the Hall of Fame on the first ballot."
Don't fret, Reed supporters. Someone is in your corner.
Earlier this year I interviewed
former five-time Pro Bowl safety and current ESPN analyst
Darren Woodson
, who said he would choose Reed over Polamalu.
"As far as changing the game, I would probably start my defense with Ed Reed, to be honest with you," Woodson explained. "I know I can put him in any situation. I know I can put him on any team, and he will be the free safety in the middle of the field who makes plays on the ball. Now, Troy, it will be a little different. If you put him in a conventional defense, he's probably not going to be the same guy."
The best of the rest:
There wasn't much of a consensus after Polamalu and Reed.
Fresh off a big interception return for a touchdown in Super Bowl XLV,
Nick Collins
of the
Green Bay Packers
finished third with 56 points. But Collins received votes as high as third and as low as seventh. He was a distant 24 points behind Polamalu and 16 points behind Reed.
Adrian Wilson
of the
Arizona Cardinals
finished fourth, but he drew the widest range of votes among safeties in the top 10. ESPN.com senior writer John Clayton and Bill Williamson ranked Wilson No. 3, and NFC North blogger Kevin Seifert ranked Wilson No. 10.
In the final tally,
Kansas City Chiefs
upstart
Eric Berry
was fifth,
Michael Griffin
of the
Tennessee Titans
placed sixth and
Donte Whitner
of the
Buffalo Bills
finished seventh. New England Patriots safety
Brandon Meriweather
was eighth,
Antrel Rolle
of the
New York Giants
was ninth and the
Indianapolis Colts
'
Antoine Bethea
and
LaRon Landry
of the
Washington Redskins
tied for 10th.
"There is a pretty wide gap for sure after the top two," said Matt Williamson of Scouts Inc. "Nick Collins would be my third safety, but the gap is pretty large. I think it is because Troy and Reed are just so good."
Seventeen safeties received votes, which was the second-highest total to date in our Power Rankings. Last month, 23 cornerbacks received votes for our top 10.
In addition, every voter had at least one player on his ballot who failed to make the cut. For example, NFC West blogger Mike Sando and I both voted for longtime
St. Louis Rams
safety and current Redskin
Oshiomogho Atogwe
, who finished 14th.
"I really struggled putting together the list after Polamalu and Reed," Sando said. "I kept shuffling around names and eliminating various guys, only to revive them out of necessity. This wasn't a list to feel good about."
What about Bob?
It was not long ago when
Bob Sanders
was mentioned in the same sentence as Reed and Polamalu. When healthy, Sanders was a game-changing safety and helped lead the Indianapolis Colts to a Super Bowl title after the 2006 season.
But for the past three seasons, Sanders has been injured and spent more time off the field than on it. The Colts cut Sanders, and he was picked up this offseason by the
San Diego Chargers
.
It's dramatic how fast and how far Sanders has fallen out of the conversation. He didn't receive a single vote from our panel.
"Sanders just hasn't played," AFC South blogger Paul Kuharsky explained. "In his prime and healthy, he's fantastic. But who knows if we will see that again. He's played nine games in the last three years. There is no reason to even consider him for a list like this at this point."
The next generation:
Polamalu (30) and Reed (32) will not play forever. Therefore, someone needs to step up as the next great safety to carry the torch Polamalu and Reed will leave behind.
Berry, 22, is the most likely candidate. The 2010 first-round pick was voted in the top five after helping lead the Chiefs to the postseason. Berry recorded 92 tackles, two sacks and four interceptions his rookie season.
"I think it's safe to project that Berry will be the premier safety in the NFL in the second half of this decade," Bill Williamson said. "He became the signature player on a surprise playoff team as a rookie. Soon, he will be the face of a rising organization."
Other up-and-coming candidates include Whitner (25), Bethea (26) and Landry (26).
Seattle Seahawks
safety
Earl Thomas
, 21, also garnered votes from two panelists.
"Eric Berry and Earl Thomas should lead the next wave of top safeties," Sando said. "Berry's peers voted him among the top 100 players in the game for 2011, but I think it's premature to say Berry or any other second-year player is going to become the next Polamalu or Reed. Those guys have set such a high standard."