November, 27, 2013
Nov 27
10:00
AM ET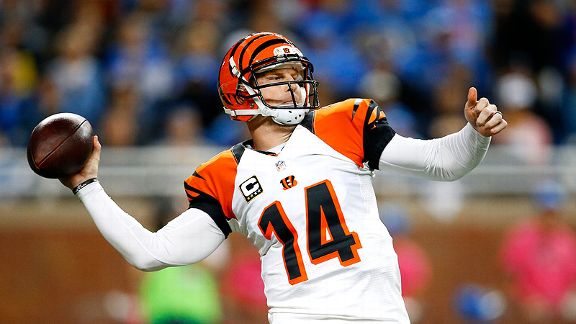 AP Photo/Rick OsentoskiThe Cincinnati Bengals are counting on Andy Dalton to return to the form that helped lead the team to a 4-1 record in October.
CINCINNATI -- Earlier this week,
Cincinnati Bengals
players like cornerback
Chris Crocker
were adamant in pointing out the urgency they need to play with throughout the
month of December
.
"It's all about winning in December," Crocker said. "Let's win out and see where the chips lay. Why can't we win out? I don't see why we can't."
If you ask some Bengals fans and most NFL analysts, they'll give you one big reason why they don't believe Cincinnati will be able to go 5-0 to close out the regular season: No. 14.
That's right. To some, the primary obstacle in the way of end-of-season perfection for the Bengals is
Andy Dalton
, the player who has quarterbacked the franchise into the playoffs each of the past two seasons, and who constantly is trying to prove himself to those who consider him just another member of a mostly failed 2011 quarterback draft class.
For that reason, as the Bengals gear up for a stretch run that could give them a first-round bye and home-field advantage in the playoffs, an important question has to be asked.
Can December Andy mimic October Andy?
As we've written countless times in the past month, October Andy was indeed a dandy. Through the first four games of that month, Dalton threw for 1,243 yards and 11 touchdowns. He also completed 67.9 percent of his passes, won four games, had a passer rating higher than 116.0 and a QBR above 83.0. He was, quite simply, brilliant. His play was so sharp back then that on the final day of the month, hours before the Bengals were set to take on the Dolphins in a road Thursday night game, he was named the AFC's Offensive Player of the Month.
And, yes, even though, comparatively speaking, he didn't look as good overall against the Dolphins and ended up taking the game-winning sack for a safety in overtime, Dalton still had a rather special performance in the 22-20 loss. Aside from not completing a touchdown pass and getting intercepted three times, he threw for 338 yards, marking the fourth straight game he had gone over the 300-yard passing mark.
Overall, October Andy was Good Andy.
But now here comes December with all of its postseason potency. If Cincinnati hopes to set itself up for the type of playoff seeding Crocker believes it deserves, then it will have to play its best ball across the next five weeks. That's especially the case for Dalton and a Bengals offense that has looked rather anemic in the past three games.
One look at Dalton's previous December stats and it doesn't appear the third-year star should have any problem showcasing even a sliver of the success that made him and his team so good about two months ago.
After a rocky December as a rookie in 2011, Dalton was among the difference-makers last season when the desperate Bengals were in need of a strong final month just to secure a playoff berth. One year after going 2-2 in the month, Dalton went 4-1 during December 2012. The lone loss came after the
Dallas Cowboys
made a field goal in the final seconds to win 20-19.
While the level of desperation may be different this December, the Bengals are looking for Dalton to thrive under similar pressure-packed moments during this one. This time around, the pressure on Dalton mainly stems from the fact that so many are fed up with his play from the past three games. In them, he's thrown eight interceptions and been sacked 10 times. Across the latter two of those games, he's completed fewer than 50 percent of his passes and hasn't posted a QBR higher than 18.0.
Weather factored heavily in Dalton's inability to move the ball in those two games. Windy conditions at Baltimore and windy and rainy conditions against the Browns sent some of his passes sailing and forced others into the hands of defensive backs.
Although weather shouldn't be a concern this weekend in San Diego (the forecast calls for partly cloudy skies and a delightful high of 71 degrees Sunday), it could be the rest of the season. Farmer's Almanac projects cold, damp conditions for all of December in the Ohio Valley. It should be noted that after Sunday's game, the Bengals are home three of the next four weeks. Their only remaining road game is at Pittsburgh.
Throughout his career, Dalton has performed better in warmer games. In games with temperatures 50 degrees or higher, he has a 20-14 record, an 85.1 passer rating and a 52.5 QBR. In games with temperatures at 49 and lower, he has a 5-5 record, a 75.4 passer rating and a 32.9 QBR. Dalton's last three sub-49-degree wins came last December, though; a sign that perhaps he's turning a corner in cold-weather contests.
Whatever the conditions and whomever their opponents are, when it comes to the next five weeks, the Bengals can only hope that Dalton turns into the same man who torched through this October.
December, 19, 2011
12/19/11
1:33
PM ET
With the travel in covering back-to-back night games, Under Further Review will be combined for all teams today:
BENGALS

Thumbs up
: The Bengals' run defense stopped a streak of five straight games of allowing more than 100 yards when it limited St. Louis to 95 yards on 24 carries. Cincinnati is 7-1 when keeping teams under 100 yards rushing.
Thumbs down
: The Bengals committed a season-high 11 penalties, seven of which were on offense. There were four false starts (tight end
Jermaine Gresham
jumped three times), holding penalties by two backups starting on the right side (guard
Mike McGlynn
and tackle
Anthony Collins
) and a hands-to-the-face flag on McGlynn.
Overheard
: "The only thing we can control is us. That is all we have to keep worrying about now. It is good to win and it keeps us going and doing what we need to do; the other things will take care of themselves. We can't control that." Bengals coach Marvin Lewis on his team's playoff outlook.
BROWNS

Thumbs up
:
Greg Little
's up-and-down rookie season is back on the rise. He caught five passes for a career-best 131 yards, including his second touchdown of the season. His 76-yard touchdown catch was the longest offensive play for the Browns since
Braylon Edwards
' 78-yarder from Derek Anderson on Sept. 30, 2007.
Thumbs down
: The offensive shutdown after Little's touchdown. The Browns netted 52 yards and two first downs after three quarters, which is a major reason why the Cardinals had a chance to rally from 10 points down in the fourth quarter. It marked the 12th time in 14 games this season that Cleveland failed to score more than 17 points.
Overheard
: "It's too early to tell. That decision is made when you've got both guys healthy." Browns coach Pat Shurmur on whether
Seneca Wallace
will start against the Ravens regardless of
Colt McCoy
's health status.
RAVENS

Thumbs up
: Those who used to be in the Ravens' doghouse -- San Diego's
Antwan Barnes
and offensive tackle
Jared Gaither
. Yes, this is a stretch but no one currently on the Ravens really deserves any accolades after that dismal performance against the Chargers. Barnes had a career-high four sacks against his former team, and Gaither played a big part in not allowing a sack to Baltimore.
Thumbs down
: Decision to suit up
Ray Lewis
. The Ravens linebacker said his toe was 95 percent after the game but you could tell he wasn't the same on the field. Lewis seemed a step slow and missed tackles that normally are routine. The Ravens either need to limit his snaps the rest of the way or think about sitting him until the toe is actually better (but time is running out).
Overheard
: "I've been beaten before. It happens. It's football. These guys do get paid. I'm out there facing Pro Bowlers, and that stuff's going to happen." Rookie first-round pick
Jimmy Smith
on repeatedly getting picked on by the Chargers.
September, 4, 2010
9/04/10
4:57
PM ET
Check
here
for a full list of Baltimore's roster moves.

Biggest surprise:
The biggest name on this list, and perhaps in the AFC North, is backup quarterback
Troy Smith
. He nearly had Baltimore's starting job two years ago but an illness knocked him out of the running and opened the door for starter
Joe Flacco
. The Ravens were open to trading Smith but couldn't find a suitor.
Shayne Graham
was the preseason favorite to win Baltimore's kicking job after signing as a free agent. But after a stiff competition in training camp and the preseason, incumbent
Billy Cundiff
edged Graham, who statistically is one of the NFL's most accurate active kickers. Receiver
Demetrius Williams
was another surprise.
No-brainers:
Tight end
Davon Drew
's fate was sealed early when the Ravens drafted two rookies at his position high in the draft.
Todd Heap
,
Ed Dickson
and
Dennis Pitta
all looked solid this preseason, making Drew expendable. Cornerback
Travis Fisher
was another player who had an opportunity to show what he can do. Because of injuries, Fisher spent a brief time with the starters this summer but played poorly and didn't take advantage. Baltimore also pulled off a trade for backup linebacker
Antwan Barnes
with the
Philadelphia Eagles
for a conditional draft pick. The Ravens were deep at linebacker and gained back a pick for next year that they lost to the
Seattle Seahawks
recently in the
Josh Wilson
trade.
What's next:
Baltimore may scan the waiver wires to see if there's any hidden gems available in the secondary. Cornerback depth is always welcomed on the Ravens and safety
Ed Reed
going on the physically unable to perform list makes adding another safety an option. Otherwise, Baltimore's roster is stacked and ready to go. It's time for the Ravens to prepare for their Week 1 showdown with the
New York Jets
on "Monday Night Football."
June, 14, 2010
6/14/10
8:00
AM ET
Here are the most interesting stories Monday in the AFC North:
Morning take: Every pro athlete should feel this way. But it will be interesting to see how productive Pittsburgh's offense is without Ben Roethlisberger for an extended period.
Morning take: Barnes is athletic and has shown flashes in the past. But he also has the potential to get lost in the mix this year with Baltimore's numerous linebackers.
Morning take: It looks like Lewis is having a good time in the photo. We will have much more on Bengals' minicamp Monday and throughout the week in the AFC North blog (hint, hint).
Morning take: I've been impressed with rookie Montario Hardesty so far. If Jerome Harrison stays hot and Peyton Hillis and James Davis also chips in, Cleveland should be solid at this position.
July, 17, 2008
7/17/08
10:00
AM ET
Posted by ESPN.com's James Walker
This is the final installment of a three-day series examining drafts for each AFC North team over the past three years. Grades are based on performance, where players were picked (too high, too low) and whether they remain with their original team.
Thursday we move onto the 2007 draft and start with the Baltimore Ravens. Here were their selections:
Analysis: The Ravens addressed their offensive line by taking three linemen who contributed right away. Ben Grubbs, Marshal Yanda and Jared Gaither are all good, young linemen whom the Ravens will rely upon. Fifth-round pick Troy Smith saw action in four games as a rookie and has a chance to win the starting quarterback job in his second season. Yamon Figurs is exciting in the return game and Antwan Barnes has shown some flashes of ability as a rookie.
Grade: B
Next we look at the Cincinnati Bengals.