April, 6, 2012
4/06/12
10:00
AM ET
I've given my grades out to all the AFC North teams after the first wave of free agency was complete. Now, it's your turn.

Give me your grade and a two-line assessment (good, bad or indifferent) of how the Steelers have fared so far this offseason. You can also send your grade and comment to the
AFC North mailbag
.
This is our final installment of the week-long series, and I will post a fans' report card on Monday.
Here's a recap of the Steelers' offseason:
KEY PLAYERS RE-SIGNED
None
KEY PLAYERS ACQUIRED
None
KEY PLAYERS LOST
WR
Hines Ward
, LB
James Farrior
, DE
Aaron Smith
, CB
William Gay
, NT
Chris Hoke
, G
Chris Kemoeatu
, CB
Bryant McFadden
, WR
Arnaz Battle
, P
Daniel Sepulveda
.
February, 9, 2012
2/09/12
7:30
AM ET
Every morning, grab a cup of coffee and get your AFC North wake-up call here:
The Steelers released cornerback
Bryant McFadden
and special teams player
Arnaz Battle
, according to the
Pittsburgh Post-Gazette
.
These moves freed up $3.5 million in salary-cap room. McFadden played six of his seven NFL seasons for the Steelers, and Battle joined Pittsburgh in 2010.
Pittsburgh officially announced the signing of safety Myron Rolle, who was a 2008 Rhodes Scholar. He had been on the
Tennessee Titans
practice squad in 2010 and in their training camp last summer.
Meanwhile, the
St. Louis Rams
requested permission to speak to Steelers director of administration Omar Khan for their general manager position, sources told the
Pittsburgh Tribune-Review
. Khan, the team's salary-cap manager and chief contract negotiator, has been with the Steelers since 2000. He was a finalist in the
Seattle Seahawks
' general manager search two years ago.
Hensley's slant
: The only significance with these cuts is that it's the beginning of what should be a long list of them. McFadden started the season opener but lost his starting job to
William Gay
. He played sparingly on defense much of the season and fell behind rookie cornerbacks
Cortez Allen
and
Curtis Brown
on the depth chart. Battle contributed on special teams but the veteran wide receiver didn't make a catch in his two seasons with the Steelers.
BENGALS
: The Bengals dropped to 10th in the AFC this season with 22 takeaways. Their 10 interceptions were the fewest in coach Marvin Lewis' nine seasons in Cincinnati. "If there's one thing we have to get … figure out a way to create more. Teams that create the most turnovers play in this game," Lewis told the
team's website
while at the Super Bowl. "More recently we have declined [in interceptions] and we have to find out why. We play more man concepts. That is part of it. We started very good and then we hit a lull. You have to look at that but conceptually that's the difference."
Hensley's slant
: That was the biggest season-long weakness for a defense that consistently overachieved. How important are turnovers? Like Lewis said, you just need to look at the two teams who played in the Super Bowl. New England led the AFC with 34 takeaways, and the
New York Giants
were fourth in the NFC with 31.
BROWNS
: Quarterback
Colt McCoy
was medically cleared from a head injury that sidelined him for the final three games last year, team president Mike Holmgren told ESPN 850 WKNR-AM in Cleveland (via the
Akron Beacon Journal
). "He passed all his tests and he's feeling fine," Holmgren said. "He has no residual effects from the play. I know no one will work harder this off season than Colt McCoy. So I'm happy we got through all that and he's fine and he appears to be."
Hensley's slant
: Now, the only question that remains at quarterback is who will be competing against McCoy for the starting job. At this point, it would be a letdown if the Browns failed to draft Baylor's
Robert Griffin III
or sign
Matt Flynn
in free agency.
RAVENS
: The team's website speculated that offensive tackle
Jah Reid
might shift to left guard if
Ben Grubbs
leaves in free agency. Reid, a third-round pick from a year ago, was drafted to be the team's future right tackle. "The thing that Steve [Bisciotti, team owner] pushed John [Harbaugh] and I the last couple of years is, 'Don't be afraid to play young players,'" general manager Ozzie Newsome said when asked about the potential position change. "We've had Jah now for a year, and now we've got him for a full offseason ... so John and I are not afraid."
Hensley's slant
: The Ravens need to make contingency plans because it appears that the odds are against Grubbs returning. Replacing a Pro Bowl guard with a converted tackle seems like a major step backward to me. Baltimore would be better off adding a stop-gap veteran guard if it can't draft a quality one in the first three rounds.
May, 2, 2010
5/02/10
5:43
PM ET

The
Pittsburgh Steelers
nearly got out of their 2010 mandatory minicamp without incident. But on the final practice of the weekend, the team potentially suffered a significant setback to its receiving corps.
Such is life during the Steelers' wild and crazy offseason.
On Sunday, Pittsburgh third-year receiver
Limas Sweed
suffered an Achilles injury
that could be serious
, according to head coach Mike Tomlin. Sweed recently
overcame family issues
and was looking forward to this season. He also
changed his jersey this week to No. 80
to symbolize a fresh start.
Depending on the severity, an Achilles injury could sideline Sweed for part or all of this upcoming season. It would be the latest setback for a receiver who's struggled during his tenure in Pittsburgh.
But the offseason trade for starter
Santonio Holmes
opened the door for Sweed to possibly earn playing time again. He was in competition with
Antwaan Randle El
,
Arnaz Battle
and rookie
Emmanuel Sanders
to be the No. 3 receiver, which plays an important role in Pittsburgh's offense.
If Sweed cannot return, the Steelers' depth is drastically hurt behind starters
Hines Ward
and second-year standout
Mike Wallace
. It's yet another blow to a passing game that's already severely hindered without star quarterback
Ben Roethlisberger
, who is serving a conditional six-game suspension.
April, 29, 2010
4/29/10
9:00
AM ET
It appears
Pittsburgh Steelers
receiver
Limas Sweed
is looking for a fresh start.

Sweed
Sweed is changing his uniform number from No. 14 to No. 80 this upcoming season, according to the
team's updated roster
. The former second-round pick has struggled with dropped balls and concentration during his first two NFL seasons.
The Steelers will host their veteran minicamp this weekend and the entire team will be present.
Following the recent trade of former Super Bowl MVP
Santonio Holmes
, the Steelers are not very deep at receiver behind starters
Hines Ward
and
Mike Wallace
. That opens up another opportunity, and perhaps a final chance, for Sweed to earn his way back into the rotation. He will compete with veterans
Antwaan Randle El
,
Arnaz Battle
and rookie
Emmanuel Sanders
for playing time.
Rookie receiver
Antonio Brown
will wear Sweed's old No. 14 jersey this offseason.
April, 12, 2010
4/12/10
11:00
AM ET
The
Pittsburgh Steelers
sent
shockwaves throughout the AFC by trading
former Super Bowl MVP
Santonio Holmes
to the
New York Jets
for a fifth-round pick.
Holmes was in Pittsburgh's doghouse after various off-the-field incidents, so much so that Steelers assisted another AFC contender.
So where does this leave Pittsburgh's receiver corps? The AFC North blog checked in with Scouts Inc.'s Matt Williamson for answers.
[+] Enlarge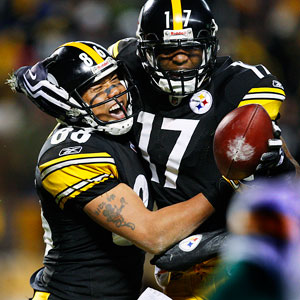 AP Photo/Gene PuskarWith Santonio Holmes out of the picture, Hines Ward (86) and Mike Wallace (17) look to be the top two receivers in Pittsburgh.
For starters, what did Pittsburgh's offense lose when it traded Holmes?
Williamson:
They lose a potentially great player -- I don't know how else you can say it. He was especially great when
Ben Roethlisberger
was buying time and extending the play. Holmes would get you deep and Ben would find him often, and I think Roethlisberger trusted him. Holmes was effective off play-action, and I don't see a massive weakness with him. He had to share a lot of catches with [Hines] Ward, and earlier in his career Pittsburgh was a run-heavy team. So his numbers aren't quite where you think they would be. I don't know if that will ever be the case with the Jets, either, but that doesn't mean Holmes isn't incredibly effective.
Where do you feel Mike Wallace is in his development, and is he ready to be a starter in Year 2?
Williamson:
I think Wallace is very ready to be a starter. He's only getting better and his ability to take the top off a defense [get deep] is tremendous. He's very fast and he plays very fast. Wallace is going to abuse single coverage, and I do like him as a starter.
Hines Ward isn't getting any younger. Can Pittsburgh still be successful with Ward, 34, as the team's No. 1 receiver?
Williamson:
I worry more about Ward now. If I'm defending the Steelers last year, I'm more afraid of Holmes than Ward. The thing is Ward is still playing very well, but he's only going to get slower. He's never been the fastest guy around. So when coverage is rolled in his direction or Ward's facing the No. 1 corner on the opposing team, is he able to be as productive? I don't know that he is, so that worries me.
How do you evaluate the Steelers' depth at WR with backups Antwaan Randle El, Arnaz Battle and Limas Sweed?
Williamson:
I think the Steelers really need to add a guy. They need a big body. They have Sweed. But I don't think they can trust him at all, although it would be great if he could live up to that second-round billing and plays like he did at Texas with more of an opportunity now. Randle El could be a competent slot guy. I wouldn't want him starting, and I think Battle might be a No. 4. He could play some and get his jersey dirty on special teams, but the Steelers don't want him out there an awful lot.
Any good options in the draft?
Williamson:
They have a ton of picks (11), and they can't get that many guys on the roster. They're going to really be primed to move up once or twice in this draft. I don't think the Steelers can use a first-round pick on a receiver. But there are some receivers out there who are interesting. A guy like
Eric Decker
comes to mind from Minnesota in the second or third round. But it would also be nice for them to use a second- or third-round pick right now on a running back or a guard or a cornerback.
April, 12, 2010
4/12/10
12:29
AM ET
[+] Enlarge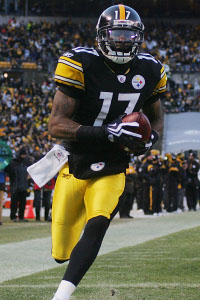 Jared Wickerham/Getty ImagesSecond-year receiver Mike Wallace will likely step into a starting role alongside Hines Ward.
The
Pittsburgh Steelers
' trade for
Santonio Holmes
means the team has a lot of confidence in second-year receiver
Mike Wallace
.
And why not?
Wallace took advantage of every opportunity last season as a rookie, recording 39 receptions for 756 yards and six touchdowns. He added deep speed and reliable hands to Pittsburgh's offense as the No. 3 receiver, and Wallace could be an early fantasy sleeper for 2010 now that he's projected in the starting lineup.
Although the Steelers
didn't get much
in return for Holmes -- only a fifth-round pick -- they do have depth at the position. Wallace will step into Holmes' starting slot alongside
Hines Ward
, while the recently signed
Antwaan Randle El
likely will be the team's third receiver.
Arnaz Battle
and former 2008 second-round pick
Limas Sweed
are among the backups.
Not coincidentally, the Steelers are looking at receivers in this year's NFL draft. Receivers
Golden Tate
and
Arrelious Benn
were among the prospects to visit Pittsburgh last week.
March, 18, 2010
3/18/10
1:00
PM ET
»
NFC Stock Watch
:
East
|
West
|
North
|
South
»
AFC
:
East
|
West
|
North
|
South

Falling
Baltimore Ravens defensive line:
Two key free-agent losses in the past week have drastically hurt depth on Baltimore's defensive line.
Justin Bannan
and
Dwan Edwards
signed deals recently with the
Denver Broncos
and
Buffalo Bills
, respectively. The two were key reserves in the rotation with Baltimore's stout unit. Without them, the Ravens are currently looking very thin behind starters
Trevor Pryce
,
Kelly Gregg
and
Haloti Ngata
. Look for Baltimore to replenish its depth via the NFL draft, where there are a lot of quality prospects on the defensive line who can fill the roles Bannan and Edwards left.

Rising
Pittsburgh Steelers special teams:
Pittsburgh went on an unusual signing spree last week in free agency and most of it was aimed at improving special teams. The Steelers' return and coverage teams were below average last season, and it was an under-the-radar reason the team fell to 9-7. Enter receiver
Arnaz Battle
, safety
Will Allen
and receiver
Antwaan Randle El
. This trio should help Pittsburgh's special teams in 2010. Battle and Allen were solid in coverage and Randle El, a former Steeler, may help with punt returns. With a top-five defense and an explosive offense, improving special teams would patch one of Pittsburgh's few glaring weaknesses.
March, 9, 2010
3/09/10
11:30
AM ET

There are years when the
Pittsburgh Steelers
may go an entire offseason without signing four free agents.
This week they decided to sign four players in one day.
So what happened?
In addition to retaining veteran safety
Ryan Clark
, the Steelers also added safety
Will Allen
and receivers
Antwaan Randle El
and
Arnaz Battle
. Pittsburgh reportedly dished out at least $25 million worth of contracts Monday, although the amount for Randle El's three-year deal isn't known.
Retaining Clark was a goal for the Steelers, despite some rough patches in negotiations. He was visiting with the
Miami Dolphins
Monday, but a four-year deal was reached with Pittsburgh. Clark will return to his natural spot as the starting safety opposite
Troy Polamalu
.
The other three signings all have a significant theme: Improving special teams.
Pittsburgh's return and coverage teams were an underlying weakness that contributed to last season's 9-7 finish. Allen can be a backup safety and a core player on coverage teams, while both Battle and Randle El have experience returning kicks. Battle can play in kick coverage, as well.
The Steelers recently hired Al Everest to coach special teams this upcoming season. Everest now has some new toys to play with thanks to Pittsburgh's rare, but busy, day in free agency.
March, 7, 2010
3/07/10
9:30
AM ET
Here are the most interesting stories Sunday in the AFC North:
Morning take: Receiver suddenly isn't as big a need for Baltimore. But getting Mason, or another solid No. 2, would help complete the offense.
Morning take: Rogers is the only dominant defensive player on Cleveland's roster. So the Browns should be very careful unless it's an offer they can't refuse.
Morning take: This is a look to improve depth in case Limas Sweed doesn't overcome his struggles.
Morning take: I agree that Bengals fans shouldn't be shocked. When was the last time Cincinnati went crazy with free-agent spending?
AFC NORTH SCOREBOARD
Sunday, 11/23
Monday, 11/24