AFC North:

Arrelious Benn
April, 23, 2010
4/23/10
2:00
PM ET
The NFL draft is just getting started after an interesting first round concluded Thursday.
But the next several rounds are where the good teams make their mark by finding quality players. The AFC North is expected to be a close, multi-team race this season, and every team still has needs to fill.
With that said, here are seven potential prospects to watch Friday:
Tate
Golden Tate, WR, Notre Dame
Possible fits:
Pittsburgh Steelers
,
Baltimore Ravens
Skinny:
Tate would be off the board if he had prototypical size. He's a very productive player who is physical after the catch. He should fit well in the AFC North.

Mays
Taylor Mays, S, USC
Possible fits:
Cincinnati Bengals
,
Cleveland Browns
Skinny:
Mays has great physical skills but didn't produce to those abilities. The Bengals and Browns are both looking at safeties at this point in the draft, and Mays is the top prospect at the position on the board.
Arrelious Benn, WR, Illinois
Possible fits:
Ravens, Bengals, Browns
Skinny:
Benn is another player who doesn't have prototypical size but could fit well in the division. He could be a great addition to just about any AFC North offense.

Cody
Terrence Cody, DT, Alabama
Possible fits:
Ravens, Steelers
Skinny:
In this division, you need as many good defensive linemen as possible. Cody is a quality talent with weight concerns. But in the second round he may be worth the risk.

Price
Brian Price, DT, UCLA
Possible fits:
Ravens, Bengals, Browns
Skinny:
Similar to Cody, getting as many big players in the trenches is always a good idea. Every AFC North team could use depth on the defensive line, and Price could be a solid addition for anyone's rotation.
Bruce Campbell, OT, Maryland
Possible fits:
Steelers, Browns
Skinny:
Campbell was a projected first-round pick but he's a bit raw. If coached up properly, he could turn out to be one of the steals of this draft.
Gronkowski
Rob Gronkowski
Possible fits:
Ravens, Browns
Skinny:
"Big Gronk" is one of the few tight ends in the draft that is physical at the point of attack and a solid threat in the passing game. But he does have injury concerns.
Also keep in mind that quarterbacks
Colt McCoy
and
Jimmy Clausen
are
two targets for the Browns
, as well. We left the pair off the list, because
we covered a lot of ground
with them earlier on Friday.
April, 12, 2010
4/12/10
12:29
AM ET
[+] Enlarge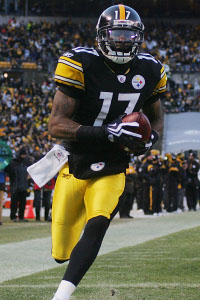 Jared Wickerham/Getty ImagesSecond-year receiver Mike Wallace will likely step into a starting role alongside Hines Ward.
The
Pittsburgh Steelers
' trade for
Santonio Holmes
means the team has a lot of confidence in second-year receiver
Mike Wallace
.
And why not?
Wallace took advantage of every opportunity last season as a rookie, recording 39 receptions for 756 yards and six touchdowns. He added deep speed and reliable hands to Pittsburgh's offense as the No. 3 receiver, and Wallace could be an early fantasy sleeper for 2010 now that he's projected in the starting lineup.
Although the Steelers
didn't get much
in return for Holmes -- only a fifth-round pick -- they do have depth at the position. Wallace will step into Holmes' starting slot alongside
Hines Ward
, while the recently signed
Antwaan Randle El
likely will be the team's third receiver.
Arnaz Battle
and former 2008 second-round pick
Limas Sweed
are among the backups.
Not coincidentally, the Steelers are looking at receivers in this year's NFL draft. Receivers
Golden Tate
and
Arrelious Benn
were among the prospects to visit Pittsburgh last week.
April, 9, 2010
4/09/10
11:00
AM ET

With less than two weeks before the NFL draft, the
Pittsburgh Steelers
continue to visit with big-name college prospects.
On
Friday the Steelers announced
they are meeting with Texas safety
Earl Thomas
, Illinois receiver
Arrelious Benn
and Southern Methodist receiver
Emmanuel Sanders
.
Each team can visit with up to 30 players before the draft. So far the Steelers have met with 28 draft-eligible players.
Pittsburgh holds the No. 18 overall pick in the first round and has
10 total selections
.
March, 12, 2010
3/12/10
1:30
PM ET
Scouting can be harsh.
Instead of looking at what prospects do well, the process often puts a heavy emphasis on where players struggle.
I spent some time this week going through my 2010 draft guide from
Pro Football Weekly
, which is a highly respected publication with in-depth scouting reports. (The AFC North blog recommends it for draftniks.)
With that said, here are the negatives of 10 quality prospects being considered in the draft for the AFC North:
Jermaine Gresham, TE, Oklahoma
Interested teams:
Cincinnati Bengals
,
Baltimore Ravens
PFW negatives:
"Makes some concentration drops. Is not explosive or sudden out of his breaks and tends to drift at the top of his stems. Shows some lower-body tightness and has difficulty adjusting to the low ball."
Aaron Hernandez, TE, Florida
Interested teams:
Bengals, Ravens
PFW negatives:
"Not physical and brings little value as a blocker. Has not run a full route tree. Struggles to sink his hips and separate against tight man coverage. Not strong or powerful after the catch."
Joe Haden, CB, Florida
Interested team:
Cleveland Browns
PFW negatives:
"Shows hesitation deciphering combination routes and too easily can be sucked up by underneath action. Jumps routes prematurely and leaves voids in coverage behind him. Inconsistent. Tackling is a work in progress."
Eric Berry, S, Tennessee
Interested team:
Browns
PFW negatives:
"Has some tightness in his hips and could stand to bulk up in order to better handle the constant pounding of the pro game. Leads with his shoulders seeking blow-up shots instead of wrapping up, and can do a better job of breaking down."
Dez Bryant, WR, Oklahoma State
Interested team:
Browns
PFW negatives:
"Will drop some easily catchable balls. Not a crafty route runner. Mistimes some jumps. Could require some time to absorb a NFL playbook."
Arrelious Benn, WR, Illinois
Interested teams:
Ravens, Bengals
PFW negatives:
"Is not a blazer and was not asked to run a lot of vertical routes in college. Lacks elite agility and shows some rigidity in his movement. Does not have great leaping ability."
Golden Tate, WR, Notre Dame
Interested teams:
Ravens, Bengals
PFW negatives:
"Still developing as a route runner, rounds out some breaks. Will let balls into his body and drop some catchable passes. Can be tracked down from behind, lacks elite vertical speed."
Mike Iupati, OG, Idaho
Interested team:
Pittsburgh Steelers
PFW negatives:
"Too often reaches and grabs when trying to block on the second level. Footwork can use refinement, crosses his feet and cannot always recover from missteps. Can show better timing."
Dan Williams, DT, Tennessee
Interested team:
Steelers
PFW negatives:
"Lacks upper-body strength and needs to do a better job using his hands to play off blocks -- too often stays tied up. Not an inside rusher and cannot win with quickness.'
Sean Weatherspoon, LB, Missouri
Interested team:
Steelers
PFW negatives:
"Stays hung up on blocks and can be engulfed. Will dip his head and miss some tackles. Struggles to navigate through traffic. Can be bounced around between the tackles."
Ouch!
I'm not sure I'd want any of these projected first-round picks after this beatdown.
Can we just skip to the second round (wink, wink)?
March, 9, 2010
3/09/10
4:00
PM ET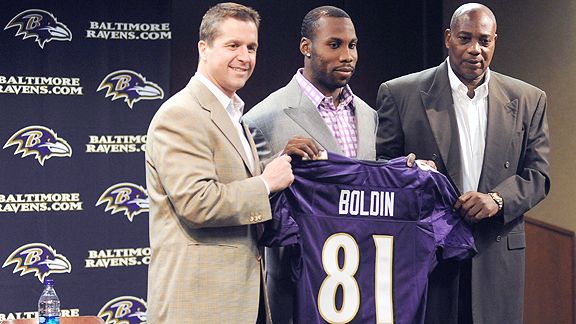 AP Photo/Steve RuarkThe Baltimore Ravens added Anquan Boldin (center) in a trade with the Arizona Cardinals and managed to keep their two highest picks in this year's draft.
»
NFC Big Question
:
East
|
West
|
North
|
South
»
AFC
:
East
|
West
|
North
|
South
A new Tuesday feature on the ESPN.com NFL blog network.
Will the trade for three-time Pro Bowl receiver Anquan Boldin make the Baltimore Ravens an elite offense next season?
Boldin brought up an interesting point this week during his introductory news conference with the Ravens.
Despite leaving former
Arizona Cardinals
teammate
Larry Fitzgerald
, Boldin believes he could see
less
coverage in Baltimore.
"The way they run the ball here is unbelievable. They're just the opposite here of what we were in Arizona," Boldin explained. "[The Ravens], they will see eight-and-nine-man fronts, and [the Cardinals] see six, seven, eight guys in the secondary. So, hopefully when guys try to stack the box, that's when I will come into play."
Boldin is the missing link that should take a decent Baltimore offense and make it great next season.
For the past year, Boldin to the Ravens was often talked about but never came to fruition. Last weekend that scary thought became a reality when Baltimore traded its third- and fourth-round picks in 2010 to Arizona for Boldin and a fifth-round pick.
Offensively, the Ravens have a versatile offensive line, a strong running game with Pro Bowl tailback
Ray Rice
, and a budding quarterback in
Joe Flacco
who is eager to reach his potential. After failed attempts in the past, the Ravens finally landed the guy who could tie everything together.
"We had some dialogue with Arizona, but nothing as extensive as it got to be on Friday starting at about noon our time," Ravens general manager Ozzie Newsome said. "We actually started to discuss different ways of making a trade. The other time was just a courtesy call, and every time I would make that call, 'We love Anquan, we want to keep Anquan, he is a big part of what we are getting done,' and I respected that. But this time the call was made there was a different answer to me, which started the dialogue."
For Newsome, this was a rare opportunity to cover up a past mistake.
Baltimore has one of the NFL's best front offices and doesn't miss often. But Newsome admits not taking Boldin, a second-round pick in the 2003 draft, was one of his biggest gaffes.
According to Newsome, Boldin didn't fit the team's "measurables." Boldin was previously injured in college, wasn't the tallest receiver available and ran a slow 40 time. To this day, Boldin is not considered a blazer.
Therefore, the Ravens traded out of the second round that year to move up and take quarterback
Kyle Boller
with the No. 19 overall pick. Boldin was taken by the Cardinals in the second round and the rest is history.
"I think in this situation I got blinded a little bit, and didn't appreciate the football player as much as I should have," Newsome said. "It took me seven years, but I finally got it right."
[+] Enlarge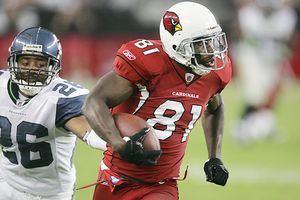 Gene Lower/Getty ImagesAnquan Boldin should be the dangerous receiving threat the Ravens have lacked in the past.
Boldin now comes to Baltimore with high expectations and a four-year, $28 million contract. The Ravens were one of the final eight teams in the NFL last season and lost in the divisional round to the AFC champion
Indianapolis Colts
.
With a stout running game and top-five defense already in tow, Baltimore's goal this offseason is to build an offense that can also win shootouts, if necessary. Boldin, with five career 1,000-yard seasons, is a major step in that direction. But there is still work to be done.
One of the underlying advantages of the Boldin trade was the fact Baltimore retained its first- and second-round draft picks this year. That offers the Ravens flexibility to continue to add to their offense.
With the No. 25 overall pick, there should be good options at receiver and tight end. Several potential offensive targets include Oklahoma tight end
Jermaine Gresham
, Notre Dame receiver
Golden Tate
and Illinois receiver
Arrelious Benn
.
Baltimore also remains open to re-signing veteran receiver
Derrick Mason
, who could fit as the team's No. 2 receiver opposite Boldin. Both players recorded 1,000-yard seasons in 2009.
Mark Clayton
and
Donte' Stallworth
, who is returning from a year-long suspension, also are options in the passing game.
With one more receiver and perhaps another tight end added to the mix, there is not much Baltimore's offense shouldn't be able to accomplish in 2010. But the addition of Boldin takes the unit to a new level.
"I just feel like I add a piece to this offense," Boldin said. "I know one thing that I was really looking at when looking at a team is ... I wanted to go somewhere where one, I had an opportunity to win a championship -- and I feel like I have that here. Two, a place that plays defense, runs the ball well, and has a great young quarterback.
"And I think Baltimore fits that to the 'T.'"
March, 3, 2010
3/03/10
12:00
PM ET
»
NFC Schemes/Themes
:
East
|
West
|
North
|
South
»
AFC
:
East
|
West
|
North
|
South
»
Draft Watch
:
Biggest needs
(2/17) |
Busts/gems
(2/24) |
Schemes, themes
(3/3) |
Recent history
(3/10) |
Needs revisited
(3/17) |
Under-the-radar needs
(3/26) |
History in that spot
(3/31) |
Draft approach
(4/7) |
Decision-makers
(4/14) |
Dream scenario/Plan B
(4/21)
Each Wednesday leading up to the NFL draft (April 22-24), the ESPN.com blog network will take a division-by-division look at key aspects of the draft. Today's topic: schemes and themes.

Baltimore Ravens
Theme: Getting vertical.
The Ravens are dedicated to helping third-year quarterback
Joe Flacco
as much as possible. This will not be limited to the NFL draft. Baltimore also will explore free agency and the trade market in an effort to find receivers and tight ends who can stretch the field. Flacco has a very strong arm, but the Ravens were not able to throw deep enough last year. There is speculation that Baltimore could be in the market for veteran receivers such as
Brandon Marshall
(trade),
Anquan Boldin
(trade) and
Terrell Owens
(free agency). Baltimore holds the No. 25 overall pick. So options in the draft include speedy Notre Dame receiver
Golden Tate
,
Arrelious Benn
of Illinois and Oklahoma tight end
Jermaine Gresham
.

Cincinnati Bengals
Theme: Getting vertical.
Cincinnati, like Baltimore, wants to improve the deep passing game. Was the problem in 2009 quarterback
Carson Palmer
or his supporting cast? For the first time in his career, Palmer struggled with deep accuracy. The struggle was highlighted down the stretch when Cincinnati lost four of its last five games. But other than receiver
Chad Ochocinco
, no one else was able to get behind the defense consistently. Look for the Bengals with the No. 21 pick to have similar targets with Baltimore, such as Gresham, Benn and Tate. Cincinnati also is rumored to be interested in Owens. Usually, the Bengals are not major players in free agency.

Cleveland Browns
Scheme:
Adding West Coast principles.
For Cleveland, it's all about scheme and philosophy this offseason. Although the Browns are being vague about the topic, there are a lot of internal discussions going on about the offensive side of the ball. Cleveland president Mike Holmgren and general manager Tom Heckert both believe in the West Coast offense. Head coach Eric Mangini and offensive coordinator Brian Daboll do not. At some point their schemes and principles will have to mesh to come up with Cleveland's new offense for 2010. But what does this mean for the quarterback? Do
Brady Quinn
's strengths match the West Coast system or the old offense under Mangini? Should the Browns find another quarterback? Will they draft West Coast-type receivers and tight ends? There are a lot of questions that need to be settled before Cleveland takes the field in September.

Pittsburgh Steelers
Theme:
Plugging holes.
For a team that missed the playoffs last season, the Steelers do not have a lot of glaring weaknesses. Pittsburgh is still a veteran-laden team that is in position to compete for a title if everyone stays healthy. Last year's absence of safety
Troy Polamalu
helped keep the Steelers out of the playoffs. This year's draft is about adding depth and plugging holes. Pittsburgh could use help at cornerback and depth on the offensive line, either at guard or tackle. The Steelers struggled in the red zone, so getting a physical presence on the offensive line could cure those ills. Idaho guard
Mike Iupati
would be a good fit. There are not a lot of top-flight cornerbacks available at No. 18, but Boise State's
Kyle Wilson
has impressed a lot of scouts and might be an option. Also, despite Pro Bowl nose tackle
Casey Hampton
's three-year extension, do not rule out Pittsburgh finding his heir apparent in this year's draft, which is rich with defensive linemen.
February, 27, 2010
2/27/10
9:00
AM ET
Here are the most interesting stories Saturday in the AFC North:
Morning take: Benn's stats do not stand out, but I like his ability and athleticism. A good showing at the combine should erase some doubts and improve his stock.
Morning take: One thing I learned early covering the NFL is to follow the money trail. And this trail points to Anderson's release in March.
Morning take: Starting offensive guard Bobbie Williams is probably their best free agent, and he should generate interest if he hits the open market.
Morning take: The franchise tag gives both sides plenty of time. Plus, how hard can it really be to hammer out a deal for a kicker?
February, 25, 2010
2/25/10
11:30
AM ET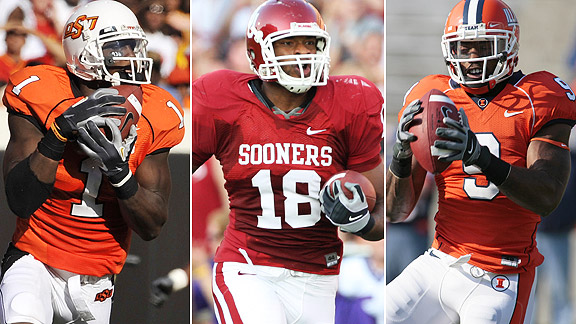 US Presswire/Icon SMIOffensive weapons like Oklahoma State's Dez Bryant, Oklahoma's Jermaine Gresham and Illinois' Arrelious Benn could help spice things up in the AFC North.
INDIANAPOLIS -- Three of the NFL's top five defenses were from the AFC North last season. Therefore, don't expect any major turnover defensively from the
Baltimore Ravens
,
Cincinnati Bengals
and
Pittsburgh Steelers
.
But when it comes to offenses in the division, it's a totally different story.
The AFC North was filled with inconsistencies, weaknesses and limitations on that side of the ball in 2009. Whether it was the offensive line in Pittsburgh, the passing games in Baltimore and Cincinnati or the rotating quarterbacks with the
Cleveland Browns
, offensive deficiencies prevented each team from getting to the next level.
So look for this usually defense-oriented division to search for the best offensive talent it can find at this week's NFL combine. The AFC North blog teamed up with Scouts Inc.'s Matt Williamson to examine every team's offensive weakness and preview which college players your favorite teams could be looking at to fill those needs.

Baltimore Ravens
Offensive needs:
Wide receiver, tight end
2009 recap:
As the season went on, it became obvious that Baltimore's lack of big-play receivers would prevent the team from competing for a championship. There was no way the Ravens could keep up with the likes of
Peyton Manning
and
Drew Brees
by running the ball 52 times, which is what Baltimore did to win its opening playoff game. Ravens GM Ozzie Newsome admitted that his goal moving forward is to build a team that can win offensive shootouts as well as defensive struggles. So this offseason is mostly about surrounding quarterback
Joe Flacco
with the proper weapons to make sure he reaches his full potential.
Potential offensive targets:
Oklahoma tight end
Jermaine Gresham
, Illinois receiver
Arrelious Benn
, Florida tight end
Aaron Hernandez
, Notre Dame receiver
Golden Tate
Scouts Inc. analysis:
"Baltimore needs pass-catchers. I want to see someone who can really get deep, because Flacco has a huge arm. Not only do they need an over-the-middle, move-the-sticks, red zone guy, but they also need somebody who's really going to threaten you deep outside the numbers. Maybe there's a chance that
Donte' Stallworth
is that guy. That signing could be helpful, but it's not nearly enough.
Derrick Mason
is not a No. 1 [receiver] anymore. Even if he comes back and everything is gravy with him, he's your move-the-sticks guy. But they need pass-catchers bad. There are a couple of tight ends that are interesting and could be [available] at the end of the first round like Gresham. Aaron Hernandez, he's not really their style. But they can get creative, detach him and use him like a
Dallas Clark
-type. I also think Arrelious Benn's stock is really going to grow over the next few days at the combine. But I don't know if Baltimore sits in a really good spot to fill their [offensive] needs in terms of value." -- Matt Williamson

Cincinnati Bengals
Offensive needs:
Wide receiver, tight end, offensive guard
2009 recap:
Last season's division champs were much different offensively from the Bengals in 2005, which was the last time they made the playoffs. Cincinnati ran the football extremely well and finally looked like a true AFC North team. The problem was, when the Bengals had to throw the football, they couldn't do it with any consistency. Receiver
Chad Ochocinco
had a solid season with 72 receptions for 1,047 yards, but there was a tremendous drop-off after that. No. 2 receiver
Laveranues Coles
didn't live up to his hefty contract, and the team didn't get much production from its tight ends.
Potential offensive targets:
Gresham, Benn, Hernandez, Tate
Scouts Inc. analysis:
"I would say the Bengals' biggest need is wideout, because historically they don't use the tight end. They used a high pick on
Chase Coffman
last year. So maybe their big-picture plan is to incorporate the tight end into their passing game, but they just didn't get the opportunity because their top three guys got hurt. If they can get Gresham and they dedicate themselves to throwing the football to him, that could be great. But considering Ochocinco's age, the uncertainty around
Matt Jones
and
Jerome Simpson
hasn't panned out at all, wide receiver would be a great first-round pick for them. Or, they can make a free-agent acquisition." -- Williamson

Cleveland Browns
Offensive needs:
Wide receiver, quarterback, tight end, right tackle, right guard
2009 recap:
When you're ranked last in the NFL in total offense, there is nowhere to go but up. Besides the left side of the offensive line and fullback, a case can be made that Cleveland needs an upgrade at every offensive position. The Browns couldn't pass all year and struggled running until the second half of the season. That's where new team president Mike Holmgren comes in. He has a tremendous offensive pedigree and led two teams to Super Bowls, the
Green Bay Packers
and
Seattle Seahawks
. Offensive options with the No. 7 overall pick are somewhat limited. But with 11 total picks, the Browns have an opportunity to plug a lot of offensive holes.
Potential offensive targets:
Oklahoma State receiver
Dez Bryant
, Oklahoma quarterback
Sam Bradford
Scouts Inc. analysis:
"They've got nothing at tight end, and they might have the worst wide receivers in the whole league. I like
Mohamed Massaquoi
, but I think at best he's going to be a very good No. 2 [receiver]. It would be great for the Browns to get Dez Bryant -- someone who is a stud, someone who is a potential
Andre Johnson
and someone who can really change the game for them. But that doesn't matter if you don't have a quarterback. That's the biggest issue: What do you do at quarterback and what offense are you going to install? Are you running a West Coast offense? Do you give
Brady Quinn
a shot for another year? Will you pick up a vet? Those questions are hard to answer from where we sit right now." -- Williamson

Pittsburgh Steelers
Offensive needs:
Offensive tackle, guard, center
2009 recap:
Pittsburgh's offense was very good in 2009. They had a 1,000-yard rusher (
Rashard Mendenhall
), two 1,000-yard receivers (
Hines Ward
,
Santonio Holmes
) and a 4,000-yard quarterback (
Ben Roethlisberger
). But despite the gaudy numbers, the Steelers sputtered in the red zone and averaged only 23 points per game. Pittsburgh needs to get much tougher near the goal line, and it starts up front. The Steelers struggled to get the tough yards because their offensive line is below average and they have no dominant force to run behind when it's time to punch it into the end zone. Although cornerback help is probably the team's biggest need, a dominant offensive tackle or guard wouldn't hurt.
Potential offensive targets:
Idaho guard
Mike Iupati
, Oklahoma tackle
Trent Williams
, Florida center
Maurkice Pouncey
Scouts Inc. analysis:
"If you look at their offensive line, there isn't one position that I would say, 'Wow, they are brutal there. Boy, do they need a center, or boy, do they need a tackle.' But if they could get one stud, if they can get one Alan Faneca or Dermontti Dawson and live with the other four, I think their O-line would go from below average to above average. Guys like
Willie Colon
,
Max Starks
and
Chris Kemoeatu
would all of a sudden be a little better. I don't want to see them use a third-round pick on a guard or a center. Either go get the lineman that is a potential Pro Bowler or don't even bother, because I don't think it's going to make that big a difference. There are so many great interior defensive linemen in this division that you can't be average up the middle. You need to be really, really good. Use the first-round pick on a guy like Iupati from Idaho or don't even bother. Just go back with what you have and use your resources somewhere else." -- Williamson
January, 19, 2010
1/19/10
12:00
PM ET
Since we didn't
get to the
Baltimore Ravens
last week, let's see how Mel Kiper's latest draft board matches up with Baltimore's No. 25 overall pick.
Keep in mind, Kiper only ranks his top 25 players.

Ravens
Pick
: No. 25
Kiper's ranking:
No. 21 USC S
Taylor Mays
, No. 22 Oklahoma OL
Trent Williams
, No. 23 Michigan DE
Brandon Graham
, No. 24 Texas LB
Sergio Kindle
, No. 25 Oklahoma TE
Jermaine Gresham
Early thoughts:
None of these players really catch my eye for Baltimore, mostly because there is no receiver in this group. Safety depth could be an issue depending on what the team does with pending free agent
Dawan Landry
and
Ed Reed
thinking
about retirement
. With that said, Mays could be a good value late in the first round. But I don't see anyone else from this group filling a major need for Baltimore. Although this year is not considered a top-heavy draft for receivers, two to watch are
Golden Tate
of Notre Dame and Illinois'
Arrelious Benn
. But I don't have a firm grasp on where either junior would rate at this point.