AFC North:

Arrowhead Stadium
January, 9, 2011
1/09/11
8:26
PM ET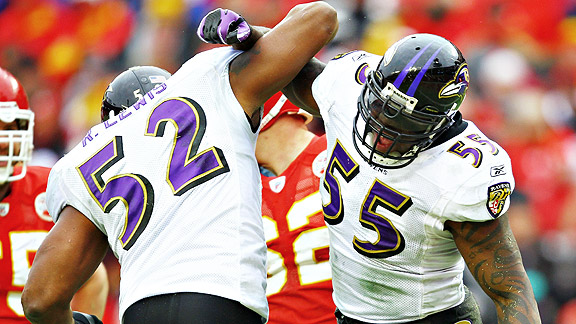 Dilip Vishwanat/Getty ImagesAfter dispatching the Chiefs, Ray Lewis, Terrell Suggs and the Ravens will take on division rival Pittsburgh.
KANSAS CITY, Mo. -- Nothing against the AFC West champion
Kansas City Chiefs
, but the only team that got a rise out of the
Baltimore Ravens
on Sunday was the AFC North champion
Pittsburgh Steelers
.
Moments after
Baltimore crushed and humiliated the Chiefs
30-7 at Arrowhead Stadium, you had the sense the Ravens were well prepared to field questions about their most-hated rival. Baltimore knew ahead of time that a wild-card win would set up another classic trilogy between the Ravens and Steelers, which will be the second time it has happened in the past three seasons.
"Here we go again," Ravens linebacker
Ray Lewis
said with a smile on his face. "I told you guys earlier in the year, man, that it's something [special] about the journey."
"It seems like poetic justice," Ravens coach John Harbaugh said.
As Harbaugh alluded, it's only fitting that these rivals settle their differences in the playoffs with both of their seasons on the line. There has been a lot of debate all season about which division team is truly better. The teams split two regular-season meetings and each finished 12-4. Pittsburgh won the tiebreaker and a coveted bye because it had a better division record.
But Saturday at Heinz Field there will be no excuses. The top division team will advance to the AFC title game and a shot at Super Bowl XLV.
"This is the NFL at its best," Ravens Pro Bowl defensive end
Terrell Suggs
said. "This is what the world wants to see. They want to see Baltimore and Pittsburgh."
On Sunday, Baltimore continued its stellar run the past three seasons in the wild-card round. According to ESPN Stats & Information, Harbaugh is the second NFL coach to win a playoff game in each of his first three seasons, joining former
Dallas Cowboys
coach Barry Switzer. The Ravens own convincing wild-card wins over the
Miami Dolphins
,
New England Patriots
and Kansas City in three consecutive seasons.
Baltimore also improved to 7-3 all time on the road in the playoffs and is arguably this year's most dangerous wild-card team, especially when the defense is playing at a Super Bowl level. The Ravens' defense the past two weeks forced 10 turnovers and allowed only 14 points. Kansas City had no answers for Baltimore after committing three interceptions, fumbling twice and allowing three sacks of quarterback
Matt Cassel
, who was battered and confused. He passed for only 70 yards,
one of the worst passing performances in playoff history.
The Ravens said they were inspired by Pro Bowl safety
Ed Reed
, who played with a heavy heart Sunday. His younger brother, Brian, was reported missing this weekend and police called off the search in Louisiana. Brian Reed apparently jumped into the Mississippi River
after being confronted by a deputy sheriff in response to a stolen car report
.
"What the Reed family is going through is a big part of this victory. That's what will be remembered by our players," Harbaugh said. "The Reed family is part of the Raven family, and the Raven family is part of the Reed family. That's the way it works with our team, our organization."
[+] Enlarge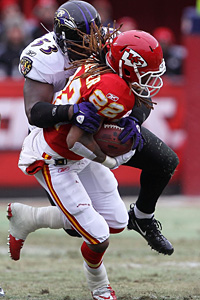 Doug Pensinger/Getty ImagesLinebacker Jameel McClain, 53, and the Ravens physically dominated Dexter McCluster and the Chiefs on Sunday.
Reed had four tackles, including a big hit on Chiefs receiver
Dexter McCluster
, and received a game ball afterward.
"Who is a better teammate than Ed Reed?" Suggs said. "He didn't have to play today, but he played. And it was the simple fact that we wanted to give him three hours of peace to just go out there and have fun with your football brothers, and we did that."
The Ravens must be at their best again next week. The Steelers are well rested and franchise quarterback
Ben Roethlisberger
is
8-2 in his career against Baltimore
, including six straight victories. Baltimore pulled off a rare win at Heinz Field in October, but that was during the final game of Roethlisberger's four-game suspension.
But there could be good karma for the AFC North. The last time these teams met in the playoffs was in the 2008 AFC Championship Game, and Pittsburgh advanced to win Super Bowl XLIII over the
Arizona Cardinals
.
The winner of this year's rivalry game will face the winner of the
New York Jets
and Patriots from the AFC East. Both divisional-round games involve teams that split the first two meetings in the regular season.
"It's Armageddon for all four teams, and there can only be one winner at the end," Suggs said. "What better teams than these four?"
Without a doubt, next weekend is going to be brutal in the AFC.
Perhaps the biggest question is, will any of these teams have anything left for the AFC Championship Game?
January, 8, 2011
1/08/11
1:30
PM ET
With the playoffs set to begin Saturday, let's dig into the weekend mailbag.

Mike from Baltimore
writes:
Are the
Pittsburgh Steelers
and
Baltimore Ravens
are capable of beating the
New England Patriots
in the postseason?
Walker:
No playoff team is unbeatable, Mike, but the Patriots deserve to be the favorites. They were the best team in the regular season. I think the Ravens would have a better chance of beating New England than Pittsburgh, because of the matchups. But anything can happen in a one-game scenario.
---
Mike from Ewa Beach, Hawaii,
writes:
Is it me or has
Ben Roethlisberger
really improved as a pocket passer?
Walker:
Roethlisberger has made strides in that area, Mike. That is a good observation. It's never going to be the biggest part of Roethlisberger's game. But I think his foot injury forced him to focus more on throwing from the pocket instead of running around the line of scrimmage to create big plays. It's also helped with pass protection. The offensive line has a better feel for where Roethlisberger will be, and the group has played better in the past month.
---

Charles Catalano via Facebook
writes:
Nobody thinks the
Kansas City Chiefs
can win, and that's how we like it. No pressure at Arrowhead Stadium.
Walker:
Charles, we did a
"Take your pick"
on this game, and a majority picked the Ravens to win. I agree the Ravens should be the favorites. They had the better season and have more overall talent. But no road playoff game is easy. It should be a good game either way.
---
Jack from Baltimore
writes:
Do you think it will be hard for the Ravens to re-sign
Haloti Ngata
?
Walker:
Both sides are very committed to getting a deal done, Jack. So I don't see it being an issue. The lack of a CBA might push things back. But all indications are Baltimore will make Ngata one of the highest-paid defensive linemen in the NFL, if not
the
highest-paid at his position.
---

Tim B. from Columbus, Ohio,
writes:
What is the biggest draft need for the
Cincinnati Bengals
?
Walker:
Cincinnati is about to make some changes to its roster, Tim. So it remains to be seen by the time April rolls around. But right now, in January, I would identify another pass-rushing defensive end as the Bengals' most immediate need.
---
Will from Nashville, Tenn.,
writes:
Should the Bengals or any AFC North team sign quarterback
Vince Young
?
Walker
: Nope. There are questions about Young's leadership, and the quarterback situations are pretty settled throughout the division, Will. But someone will pick Young up.
---
Jonathan from Cincinnati
writes:
I was wondering why Bengals cornerback
Leon Hall
didn't make the
All-AFC North Team?
Walker:
Hall is a good player, Jonathan. But I didn't think he had as good a season as last year. He was beat for too many touchdowns, and I think the injuries to teammate
Johnathan Joseph
hurt Hall's production. So I gave the nod to Steelers cornerback
Ike Taylor
and
Cleveland Browns
cornerback
Joe Haden
. Both players had better seasons.
---

Jim D. from Sarasota, Fla.,
writes:
Why won't the Browns hire a quarterbacks coach as head coach to help
Colt McCoy
?
Walker:
There is really no rhyme or reason to hiring first-time head coaches, Jim. There are good and bad examples from all assistant positions. John Harbaugh, for example, was a longtime special teams coach and briefly coached defensive backs. He worked out very well for Baltimore. Yet, plenty of offensive and defensive coordinators have failed. But Browns president Mike Holmgren, of all people, should know what a good head coach looks like. He just needs to find the person with the right qualities.
---
Doug_Berger via Twitter
writes:
Did Jim Harbaugh's lack of interest in the Browns have much to do with facing the Ravens and John Harbaugh twice a year?
Walker:
While the Harbaughs are happy
to be in separate conferences, Doug, that wasn't a big factor. Jim Harbaugh was simply too hot a name and had interest from better organizations in Miami and San Francisco, where Jim
signed a five-year deal
. The reality is Cleveland's opening is not all that attractive for highly sought-after coaches. It's a tough sell considering the location, lack of talent, history of instability, quarterback questions and having to beat Baltimore and Pittsburgh four times a year. Holmgren helps bring credibility. But it's pretty easy to see in league circles that Cleveland's turnaround will not happen overnight.
---
Joel from Bowling Green, Ohio,
writes:
Will the Browns switch to a 4-3 defense next year?
Walker:
Good question, Joel. But it's too early to answer. Holmgren has always coached a 4-3 defense. But since he wants to
stay in the front office
, I don't think Holmgren is against hiring a staff that still believes in the 3-4. Either scheme can work if run properly. The Browns are built with 3-4 personnel. So there would be an adjustment period if Cleveland makes the switch. We will know more once a head coach is hired and that person establishes their philosophy.
---
Comment and complaint department
George A. Brownfield from Houston
writes:
James, I disagree with you on the All-AFC North QBs. As a Steeler fan I know I wouldn't trade Ben Roethlisberger for
Joe Flacco
. So that tells me you chose wrong.
Walker:
We received tons of complaints about our All-AFC North pick of Flacco over Roethlisberger this year. I think people misconstrued it as saying Flacco is the better quarterback.
That's not the case
. My reasoning is Roethlisberger missed a quarter of the season because of a four-game suspension, while Flacco played the full year at a pretty high level. Flacco has better numbers in terms of touchdowns, yards and completion percentage. Had Roethlisberger played the full season, his numbers would have been better and he would have been the pick.
---
Noah from Baltimore
writes:
First of all, T.O. over
Anquan Boldin
?
Peyton Hillis
over
Ray Rice
? Ray Rice is the most complete back in the NFL, while Peyton Hillis is just a surprise. He will fall off just like surprise
Cedric Benson
did. Ike Taylor over
Josh Wilson
?
LaMarr Woodley
over
Paul Kruger
? Haha. But, really, can you tell I'm a Ravens fan?
Walker:
Noah, you were almost our AFC North "Homer of the Week" with that last comment. But it turns out you were just joking.
---
Ben from Pensacola, Fla,
writes:
As a Steelers fan, I have two holiday wishes: the Patriots getting miraculously knocked out of the playoffs very quickly, and getting the honor of sending Joe Flacco and the Ravens home with a whipping. I'd "settle" for the Patriots getting knocked out. Not being able to trash the Ravens would be disappointing, but getting annihilated in the AFC Championship Game would be brutal to watch.
Walker:
Let's see how the playoffs turn out this weekend. Saturday night's game between the
New York Jets
and
Indianapolis Colts
will help determine Pittsburgh's next opponent. If New York wins, we could have a third bloodbath between the Steelers and Ravens, if they advance. If the Colts win, New England would await the winner of the Ravens-Chiefs game.
---
Paul Taylor from Fairfield, Ohio,
writes:
I've been a Browns fan for a long time and I'd love to see Cleveland get a good coach instead of having to settle for unproven coaches. They need someone who will be good enough to stay 5-10 years.
Walker:
Paul, I wrote this week that this could be the most important decision that Holmgren makes in his tenure with Cleveland. It was clear the Holmgren-Eric Mangini marriage was no longer going to work. But at the same time, the Browns cannot continue changing head coaches every 2-3 years. Cleveland needs to start developing continuity to compete with Baltimore and Pittsburgh, which is why Holmgren has to get this hire right.
---
Mike from Stow, Ohio
,
writes:
I want to understand the logic of running the Wildcat and Cyclone so much in a 41-9 loss against the Steelers. At that point it was unnecessary. The point was to try and see how Colt McCoy would do. But they continually took him out and threw away any chance of him getting in rhythm.
Walker:
Mike, I stopped trying to figure out the rhyme or reason behind Cleveland's offense about a month ago. Few things the Browns did on offense this year made sense. Holmgren could easily see that, which is why major changes are coming in Cleveland.
---
Brandon Crawford from Sykesville, Md.,
writes:
Hey James, any chance you could stop talking about the boring Bengals and Browns, and start talking about the EXCITING playoffs. Thanks.
Jason from Cocoa, Fla.,
writes:
I'm glad the Steelers got the BYE. Why? Because I wouldn't have to sift through the coaching sagas in Cleveland and Cincinnati in order to find something worthy of print. In the end, whoever coaches the Browns and Bengals doesn't matter. They're both bottom feeder teams who have to get through Pittsburgh and Baltimore on a yearly basis.
Walker:
Brandon and Jason, I knew coming in that last week was going to be chaotic in the AFC North blog. Half of the division was in the playoffs, the other half had coaching issues, and there was no perfect way to balance everything. I know Steelers and Ravens fans rarely experience it, but coach firings and signings are major, national stories. They impact the entire direction of an organization. I tried to focus on that early in the week with Cleveland and Cincinnati, then shift to the Ravens and Steelers later in the week. But it was one of those situations where I couldn't please everyone.
---
Brett Kostoff from Cincinnati
writes:
James, I thought you might be interested in this story. I am selling my Bengals allegiance to the highest bidder on Ebay. I can't take it anymore!
Walker:
Wow, Brett. I'm not sure what to say about that, other than I always encourage fans to stick by their teams. Check back next week to let me know how much money you made off your Bengals fandom and who you will root for next season.
Reality has set in -- good or bad -- for fans of all four teams. So we do not have a "Homer of the Week." Good job, everyone.
If you have any addition questions, comments or complaints, please send them to our
division inbox
or
AFC North Twitter
page.
January, 6, 2011
1/06/11
1:30
PM ET
Our latest
"Take your pick"
in the AFC North blog involved this weekend's wild-card game between the
Baltimore Ravens
(12-4) and
Kansas City Chiefs
(10-6).
Who will win this big matchup? Here are some predictions from our
division inbox
and
AFC North Twitter
:

Ravens advance!
Tom Cheek from Baltimore
writes: Baltimore is going to win this one despite being on the road at K.C., which is a tough place to play. However, look at what Baltimore did to New England last year, which is a tough place to play. Even though Kansas City leads the league in rushing, the Ravens are fifth in rush defense, which should be able to hold
Jamaal Charles
under 100 yards on the day.
Jason from Pasadena, MD,
writes: The Ravens defense will come up big with multiple turnovers and the offense will make the Chiefs pay. I smell a nice game from
Ray Rice
and
Willis McGahee
, 31-17, Ravens.
TheNFLChick via Twitter
writes: Charlie Weis hiring is a distraction. Ravens know how to win playoffs on the road...I'm taking my boys! Tell Pitt we're gunning for them!
BlacknGoldGlen via Twitter
writes: Ravens will beat the Chiefs. Then it's a trip to Pittsburgh before going home to watch the Big Game on TV.
Tyson from Newark, OH,
writes: I think the Ravens will win this game with ease. Not taking away from the great season the Chiefs have had. But the Ravens are a veteran team who has been down this path before; much like when the played in Miami in 2008.

Chiefs protect home!
Bryce from Tucson, AZ,
writes: I am actually going to take Kansas City at home over the Ravens. The New Arrowhead has been rocking like the Arrowhead of old, which makes life extremely difficult for opponents. While I think Baltimore can handle it, Kansas City is going to be extremely excited about playing in their first playoff game (for most of them) and will just feed off the crowd's energy.
Meyers2305 via Twitter
writes: Chiefs are a great team. They need to play Charles the majority of the game.
Thomas Jones
doesn't have it anymore! Chiefs, 27-21.
BrockDulco via Twitter
writes: I'm taking the Chiefs, 14-10. Chiefs' defense is good and Arrowhead can never be discounted.
BigPaych via Twitter
writes: I like the Chiefs. Dual-threat running game could wear on the older Ravens' D and win in the fourth quarter.
Ben from Pensacola, FL,
writes: I'll take the Chiefs over the Ravens in a close game. The Ravens have been good on the road, but the Chiefs are just as good at home, and you have to think Arrowhead will be even louder than usual given how long it's been since K.C. has hosted a playoff game. I'll take a blazing hot hand in
Matt Cassel
over
Joe Flacco
, too.
AFC North final say
After finishing the
regular season 32-20
, the AFC North blog is no longer predicting games now that the playoffs are underway. So we check in with Scouts Inc.'s Matt Williamson to get his take.
Williamson:
I predict a close one, 21-20 in favor of Baltimore. I just think the Ravens are so much further along as an organization. With Kansas City, no matter what happens, if the team loses 51-0 this weekend the season has been a success. I don't think the Chiefs have true Super Bowl aspirations. They're content that they had a great year, all is well, and K.C. fans are going to be talking about the Chiefs all offseason. I don't think Baltimore is a really good matchup for K.C., either. The big key to me is if you can stop the Chiefs' running game, they don't know what to do with themselves. Matt Cassel can't put the team on his shoulders and air it out all day, and think the Ravens will stop their running game.