July, 7, 2014
7/07/14
10:00
AM ET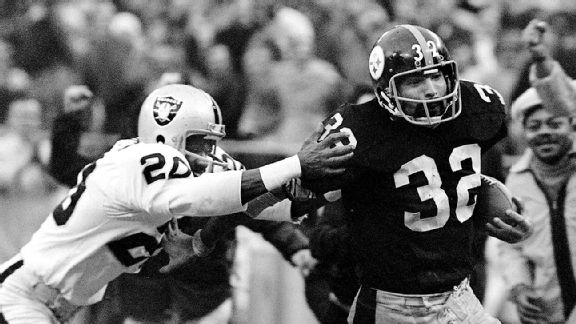 AP Photo/Harry Cabluck
»
VOTE HERE
»
NFC Plays:
East
|
West
|
North
|
South
»
AFC:
East
|
West
|
North
|
South
This is the first of three plays nominated as the most memorable play in team history. Please vote for your choice as the Steelers' most memorable play.
Score:
Steelers 13, Raiders 7
Date:
Dec. 23, 1972
Site:
Three Rivers Stadium
Steelers founder Art Rooney was already headed to the elevator by the time Terry Bradshaw unleashed the last-gasp pass that started perhaps the most memorable play in NFL history.
The gregarious, stogie-chomping owner wanted to get to the field to congratulate his coaches and players on a successful season.

There was a reason the man affectionately known as "The Chief" and the Steelers fans who streamed toward the exits had already conceded defeat in an AFC Divisional Playoff Game.
The Steelers were facing a fourth-and-10 from their own 40-yard line with no timeouts and a dying clock working against them when Bradshaw dropped back to pass.
Bradshaw escaped a heavy rush before firing a pass down the middle of the field.
Raiders safety Jack Tatum and Steelers running back Frenchy Fuqua arrived at the same time as Bradshaw's throw, and the ball shot back from the Raiders' 35-yard line.
Rookie running back Franco Harris had been trailing the play, and, in one of the seminal moments in Steelers history, heard the voice of the man who, ironically, had turned down Pittsburgh's head-coaching job in 1969, which later went to Chuck Noll.
Penn State's Joe Paterno had always exhorted his players to run to the ball, and in that moment, Harris followed his college coach's voice to the ball. He scooped it up just before it hit the rock-hard turf at Three Rivers Stadium and, with mere seconds left on the clock, started galloping down the left sideline.
Harris outraced several Raiders to the end zone and stiff-armed defensive back Jimmy Warren before scoring the touchdown that produced the first playoff victory in Steelers history.
Had instant replay reversal rules been in place then, Harris' score might not have stood since it would have been an illegal pass if Fuqua had touched the ball first.
But the officials ruled it a legal catch on the field after confusion and hysteria had initially ensued, imbuing the dramatic play with controversy and fueling a Steelers-Raiders rivalry that came to define the NFL in the 1970s.
The Steelers lost to the Dolphins the following week in the AFC Championship Game, but "The Immaculate Reception," as it was dubbed by legendary Pittsburgh sportscaster Myron Cope, is widely credited with putting the Steelers on a track to win four Super Bowls from 1974 to 1979.
"I rank it as high as it could be for giving the Steelers the feeling they could be a great team," Steelers chairman emeritus Dan Rooney has said, "that there might be divine intervention, because that play was so remarkable that is hard to believe."
@ScottBrown_ESPN The changing of the direction of the ball changed the direction of a franchise from that moment on.

— Mark S. (@MarkMizzouSteel) June 12, 2014
May, 7, 2014
5/07/14
5:10
PM ET
PITTSBURGH -- The first day of the NFL draft usually has the feel of Christmas Eve at the
Pittsburgh Steelers
' headquarters because of the anticipation.
It figures to be a little more somber this year following
the death of longtime scout Bill Nunn
, who passed away Tuesday night of complications from a stroke.
Nunn worked until the end of a life that spanned nearly nine decades -- and probably provided enough stories to fill nine books. He left an indelible imprint on the Steelers, and he is one of the most significant figures in the franchise's storied history.
The Steelers' success in the 1970s probably doesn't happen without Bill Nunn.
Think about that for a second.
Also consider that Nunn did much more than put the Steelers on a path to greatness by opening doors for them at historically black colleges. Nunn created opportunities for African-American players when he worked as a newspaper man.
As the sports editor of The Pittsburgh Courier, a newspaper that could claim a national following and a social conscience, Nunn put together an annual Black College All-America football team.
Some teams used this as a draft guide back when there wasn't exhaustive coverage of the annual selection process. And when Mel Kiper Jr.'s hair didn't have multiple Twitter accounts.
As Steelers.com's Bob Labriola
wrote in a retrospective
, Nunn discovered players such as Deacon Jones before he joined the Steelers in 1967 and helped change the course of a staggering franchise.
He is more well-known for the latter, and in the almost 50 years Nunn spent with the Steelers, he came to embody the spirit of Art Rooney, the Steelers' founder who was affectionately known as "The Chief."
There certainly were similarities between the two.
Both lived fascinating lives and seemed to know everybody in Pittsburgh. Those who were around both on a regular basis spoke in reverential terms about them in part because of their ability to connect with people.
The social change that Nunn helped bring about in the NFL no doubt influenced Steelers owner Dan Rooney, who hired Nunn and successfully pushed for more diversity in the league after he became one of the power brokers in it.
The so-called Rooney Rule, enacted in 2003, requires teams to interview at least one minority when hiring a head coach or general manager.
Art and Dan Rooney are in the Pro Football Hall of Fame for their contributions to the NFL, and hopefully Nunn will one day join them there.
When you look at how he shaped the NFL's greatest dynasty to the opportunities he created for African-American players and those in NFL front offices and scouting departments, it's pretty easy to see that there has to be some place in Canton for Nunn.
October, 16, 2012
10/16/12
7:28
AM ET
Stop me if you've heard this already, but there's a middle linebacker who is out for the season. Don't worry, I
don't think he's going to retire
anytime soon. Since he is one of the best players to ever suit up in the NFL, there might be a few blogs about him this morning. I know, multiple blogs about the hottest topic in this division and, quite frankly, the entire league. So bear with me. We'll turn our attention to the rest of the division in the afternoon. Let's start off the morning by hitting some headlines for the rest of the division teams in something I call the wake-up call:
RAVENS
: It's unknown whether linebacker linebacker Terrell Suggs will begin practicing this week. This is the first week he's eligible to do so under the Physically Unable to Perform list (PUP) rules. "We haven't decided that yet," coach John Harbaugh said. "So, we'll make that decision, obviously, by Wednesday, and we'll just have to see where we're at then and see how he is doing." According to the
team's official website
, Harbaugh left the door open for Suggs to possibly make a return in time to play Houston on Sunday because he "looks pretty good right now." When Suggs gets back, I'm not sure if he'll recognize all the new starters lining up next to him.
BENGALS
: Backup running back Brian Leonard aggravated a rib injury Sunday, but said the X-rays were negative. "It's a pretty good one," Leonard told
The Cincinnati Enquirer
. "I'm just going to take it day by day and see what happens. It stinks … Hopefully I get back as soon as possible, do my role and help this team out." With Bernard Scott out for the season, the Bengals are down to two healthy running backs: BenJarvus Green-Ellis and Cedric Peerman. On Sunday, Peerman led the Bengals with eight receptions, and gained seven yards on his only carry.
STEELERS
: Left tackle Max Starks isn't happy with the Steelers' offense ranking 17th in the NFL in scoring (23.2 points per game). The Steelers scored 23 against a Tennessee team that had allowed an average of 36.2 points per game. "I think, for us, it's time to realize as an offense the potential we do have," Starks told
The Pittsburgh Post-Gazette
. "We can talk about it, you guys can speculate about it, we can break it down individually, but, for us, we just need to come together as one cohesive unit and realize our true potential. We can score a lot of points if we're all on the same page and we do our job." Time to fire offensive coordinator Bruce Arians. Wait, he's with the Colts now.
BROWNS
: Steelers owner Art Rooney II expects Jimmy Haslam to get unanimously approved to be the Browns' owner on Tuesday. The only issue might be the fact that Haslam, who is a minority owner in the Steelers, will hold dual ownership in two teams for a few months. Haslam is trying to sell his Steelers stock to existing owners. "There will be [overlap] but we've sort of worked it out with the finance committee and the commissioner [Roger Goodell], where Jimmy won't have access to Steelers information during this time," Rooney told
The Plain Dealer
. "It won't be a problem, but will it take a few months." In what might be a telling sign, team president Mike Holmgren decided not to attend the owners' meetings after previously planning to do so.
July, 18, 2012
7/18/12
10:25
AM ET
By
ESPN.com staff
| ESPN.com
Baltimore Ravens
After spending the 2011 season on the practice squad,
Bryan Hall hopes to crack the 53-man roster
and earn a role in the defensive line rotation starting next week, when training camp opens.
Joe Flacco's agent, Joe Linta, tells the Carroll County Times that: "
He's really adamant about getting the Ravens to the next step
. The contract at this point is secondary to that goal. Joe has the attitude that he'll earn it."
Former Raven
Ricky Williams says he doesn't miss football
just yet. "My first thought each day is, 'What'll be fun for me to do today?'" Williams said, according to Dave Hyde of the Florida Sun-Sentinel.
Cincinnati Bengals
A.J. Green was the first rookie since Marques Colston to make the Pro Bowl, and the expectations are just as high in Year 2.
Joe Reedy examines the Bengals' receivers
heading into the season.
Despite finishing third in the AFC North last season, the
Bengals are projected to be a top-15 team
overall by Pro Football Talk.
Bengals.com editor Geoff Hobson takes a look at
what players do during the "dead period" before training camp
begins.
Cleveland Browns
The
Browns are one of several teams opting to not take advantage
of the NFL's new blackout policy.
Tight end
Benjamin Watson enlists the help of teammates
, including Greg Little and Reggie Hodges, for a Cleveland-area football camp for 255 kids.
Pittsburgh Steelers
The Steelers
re-signed veteran tackle Max Starks to a one-year contract
Monday, the Pittsburgh Post-Gazette reports. Starks, who had ACL surgery in January, posted on Twitter: "It's a great day, doc gave me a great report! On my way to being game ready."
Saint Vincent College, home of the Steelers' training camp,
will present an on-campus play featuring Steelers owner
, Art Rooney, Sr.
May, 3, 2011
5/03/11
11:00
AM ET
Pittsburgh Steelers
president Art Rooney II released a statement Tuesday regarding
Rashard Mendenhall
's controversial
Twitter comments
recently made about the death of Osama bin Laden.
Here is the statement
, courtesy of the Pittsburgh Post-Gazette.
Mendenhall
"I have not spoken with Rashard so it is hard to explain or even comprehend what he meant with his recent Twitter comments," Rooney said. "The entire Steelers organization is very proud of the job our military personnel have done and we can only hope this leads to our troops coming home soon."
This is the second time Mendenhall has put himself into hot water via Twitter.
In March he also defended
controversial comments made by
Minnesota Vikings
tailback
Adrian Peterson
, who compare the NFL to "modern-day slavery."
The Steelers did not feel the need to issue a statement the first time. But Tuesday's statement is perhaps a sign the team would prefer Mendenhall not to share all of his views in such a public forum.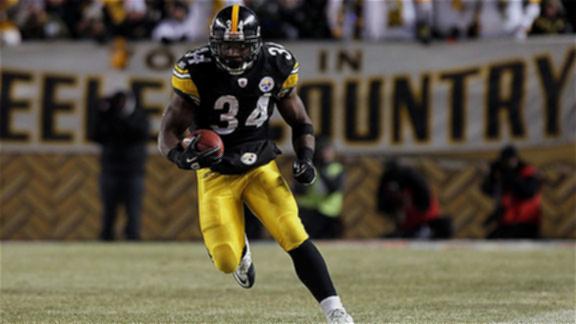 March, 22, 2011
3/22/11
9:54
AM ET
By
ESPN.com staff
| ESPN.com