March, 10, 2014
Mar 10
2:00
PM ET
INDIANAPOLIS -- The
Indianapolis Colts
want to improve on being 26th in the league in stopping the run last season.
There's no better place to start than at nose tackle.
Aubrayo Franklin
is a free agent after starting there last season.
The Colts are still high on
Josh Chapman
, but that's a position where you need multiple bodies.
A name to keep an eye on once free agency starts Tuesday at 4 p.m. ET is
Baltimore Ravens
defensive tackle
Arthur Jones
. Colts coach Chuck Pagano is familiar with Jones from when he was defensive coordinator of the Ravens.
Jones had a career-high 53 tackles to go with four sacks last season. Franklin and Chapman combined for 44 tackles and zero sacks last season.
The Colts have the salary-cap space to pay Jones, who is only 27 years old.
"He has definitely put himself in a position that teams could definitely bid on him very high because if you put the tape on, they're going to like him a lot," Ravens coach John Harbaugh told reporters during the NFL scouting combine last month. "… It's probably the one contract that he'll have a chance to sign, a real big one. Guys that sign two big contracts, that's very unusual. Three almost never happens, so you never feel bad about a guy getting an opportunity."
Here's a look at some other defensive tackles who will be on the market:
February, 15, 2014
Feb 15
12:00
PM ET
Here is the latest Steelers' mailbag. Questions I received but didn't answer top the list for next week's mailbag. I appreciate the great questions and, as always, keep them coming. And away we go ...


February, 4, 2011
2/04/11
5:01
PM ET
FORT WORTH, Texas -- There are no more guessing games this week.
Pittsburgh Steelers
head coach Mike Tomlin
ruled out
Pro Bowl center
Maurkice Pouncey
and defensive end
Aaron Smith
Friday for Super Bowl XL.
Pouncey said during the week there was a
"75-percent chance"
of him playing against the
Green Bay Packers
. Either that was Super Bowl gamesmanship from the Steelers or youthful exuberance on Pouncey's part. Smith tried to return following triceps surgery but couldn't do it. He now has the entire offseason to work his way back.
Backup center
Doug Legursky
will fill in for Pouncey, and
Ziggy Hood
will play defensive end for the Steelers. Legursky will have a tough time trying to contain Packers defensive tackle
B.J. Raji
.
January, 30, 2011
1/30/11
1:45
PM ET

Pouncey
FORT WORTH, Texas -- The
Pittsburgh Steelers
will
be without Pro Bowl
center
Maurkice Pouncey
(ankle) for Super Bowl XLV against the
Green Bay Packers
, ESPN's Adam Schefter reports. Earlier this week the
Pittsburgh Post-Gazette
also deemed Pouncey "highly doubtful" to play.
We covered a lot of bases already on Pouncey's absence with
Matt Williamson of Scouts Inc
. But here are some additional thoughts now that we have a definitive word:
This obviously hurts the Steelers in terms of strategy. Pouncey was by far Pittsburgh's best offensive lineman. Since he was key to the middle of the line, I don't expect much from the Steelers' interior running game. Green Bay has a huge advantage with rising star B.J. Raji against Steelers backup center Doug Legursky. So expect a lot of double-teams against Raji and Pittsburgh tailback Rashard Mendenhall to see more carries on the perimeter. Pouncey's injury could also hurt Pittsburgh's running game inside the red zone.
I find it curious that the Steelers listed Pouncey as "questionable" on Friday's injury report. Schefter writes Pouncey and his teammates knew last week that he wasn't going to play. Guard Chris Kemoeatu even spilled the beans, before trying to backtrack on his comments. This likely means there was some gamesmanship involved by Pittsburgh. By not ruling out Pouncey right away, Green Bay had to spend a week of preparation in the event Pouncey returned to the offensive line. My guess is Pittsburgh would have preferred to ride this all the way through and made Pouncey appear to be a game-time decision. But the media got wind of it first.
In addition to the physical challenge, this also will be a big mental test for Legursky, who is now responsible for making all the calls and adjustments on the offensive line. The Packers and defensive coordinator Dom Capers bring a lot of blitzes from all over, including the cornerbacks, and Legursky's job will be to recognize where the pressures are coming from, which is not an easy task.
January, 28, 2011
1/28/11
1:30
PM ET
It looks more and more like the
Pittsburgh Steelers
will be without
Maurkice Pouncey
in Super Bowl XLV.

Pouncey
The Pro Bowl center suffered a high ankle sprain in last Sunday's AFC title game and, according to the Pittsburgh Post-Gazette, Pouncey also has a broken bone in the ankle, making it "highly doubtful" he will play against the
Green Bay Packers
.
How will this impact the Steelers? ESPN.com's AFC North blog checked in with Matt Williamson of Scouts Inc. to get his thoughts on what Pittsburgh has to do to be successful without Pouncey on offense.
Matt, give us your scouting report on Pittsburgh backup center Doug Legursky. What does he bring to the table, and how does he compare to Pouncey?
Williamson:
He's nowhere near the physical specimen that Pouncey is. If you look at Legursky, he's very undersized, he has short arms, but he's tough and he's gritty. The Steelers will actually use him once in a while as a fullback in short yardage. So he can run and he can move pretty well. But Pouncey still plays lower, is always in tremendous balance and football position, and he's fluid. Pouncey is the total specimen in terms of pulling and doing all the athletic things a center can do. Legursky is not as strong and doesn't do anything as well. It's not even close.
The Steelers lost Pouncey on the first drive and still had success running against the Jets. What led to their success?

Legursky
Williamson:
I went back and watched the game, and I really didn't think Legursky played that well. It was masked early on. When he came in there, they were running the ball and the Steelers had a lot of momentum. Legursky didn't play poorly initially when he went into the game. But if you look at his performance from when he stepped into the game to the final whistle, he played a bad game. I don't think it was an accident that the Steelers' running game fell apart in the second half and got all of their yards early. I also tend to the blame the Jets, because they came in and looked like a tired defense. They played really high and they didn't tackle well. Don't get me wrong, I think the Steelers did a good job. But overall grading that strong running day, I blame the Jets as much as I blame the Steelers.
For those in the AFC North who don't get to see Packers defensive tackle B.J. Raji on a weekly basis, what kind of player is he?

Raji
Williamson:
He's a lot more like
Haloti Ngata
than he is
Casey Hampton
. Hampton right now is a pure nose tackle, one-dimensional run stuffer who needs double teams to move. Where Ngata can line up at defensive end, the Ravens can drop him into coverage, and he can play the nose. That's where Raji is now. Raji moves very, very well. He's very explosive. What's amazing about Raji is he plays every snap and doesn't get tired even though he's 40 pounds overweight or whatever it is. He can shoot gaps and eat up space. He really has it all. The difference between Raji and Ngata to me is Ngata is a bigger looking human being and he's not nearly as fat. I think Ngata also knows the game better. But Raji isn't far off. He's a really disruptive player.
Pouncey had to make all the calls for Pittsburgh, and now the responsibility could be Legursky's. How will that impact the Steelers with pass protection, blitz recognition, etc.?
Williamson:
That's one thing we don't know. But by all accounts, especially for a rookie, Pouncey was tremendous at making all of those line calls and protection adjustments. I don't know how much it's going to change from a mental standpoint with Legursky, but it probably is a drop-off just from experience. You would think interior pressure, particularly with Raji, is going to be more of a problem now for sure. The three people Pittsburgh really have to worry about from a pass-rushing standpoint are
Clay Matthews
,
Cullen Jenkins
and Raji, who's going to be right in the middle. So in a way, it's not like the Steelers where you're going to get two really good edge rushers. You're going to get one guy on the outside and two coming from the interior. But there is an advantage there for the Packers.
January, 27, 2011
1/27/11
1:17
PM ET
PITTSBURGH -- By the end of last Sunday's AFC Championship Game, the Steelers were attempting to punch a ticket to Super Bowl XLV with four offensive linemen who were backups at the beginning of the season.
Trai Essex
,
Ramon Foster
,
Jonathan Scott
and
Doug Legursky
all entered training camp without much fanfare or high expectations. But as offensive linemen continued to go down at different points of the season, this foursome was key to leading Pittsburgh to a 24-19 victory over the
New York Jets
.
On Sunday, the backups joined starting guard
Chris Kemoeatu
, who stayed healthy virtually from start to finish and started in 17 of Pittsburgh's 18 games, including the postseason. This patchwork group will be key against the
Green Bay Packers
' tough defense, which ranked No. 5 in the NFL this season.
[+] Enlarge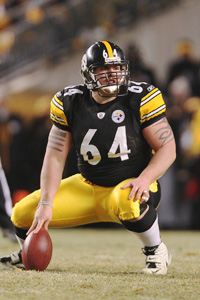 Matthew Emmons/US PresswireIf Maurkice Pouncey is unable to play, Doug Legursky (64) will start at center for Pittsburgh.
Blocking Packers defenders such as
Clay Matthews
and
B.J. Raji
will not be an easy task. But despite various injuries, the Steelers feel they are up for the challenge.
"I have all the faith in the world in those guys," said Steelers quarterback
Ben Roethlisberger
, who has always been supportive of his offensive line. "The last time we were in Tampa [for Super Bowl XLIII] we had a 'makeshift line' and guys filled in. The standard, as coach [Mike Tomlin] says, doesn't change. Guys know that."
Pittsburgh's MASH unit has battled through injuries well this season. Here is a breakdown:
The Steelers suffered their first big loss on the offensive line in the spring when starting right tackle Willie Colon went down with a season-ending Achilles injury while working out. That led to the team signing 13-year veteran Flozell Adams, who will be playing in his first Super Bowl in the home stadium of his former team: the Dallas Cowboys.

Pittsburgh starting left tackle Max Starks suffered a season-ending neck injury in Week 9 against the Cincinnati Bengals and was put on injured reserve. He was replaced by Scott at left tackle for the past nine games.

And the most recent injury was to Pro Bowl center Maurkice Pouncey, who suffered a high ankle sprain on the opening drive against the Jets. Legursky did a solid job filling in for almost the entire game and helped pave the way for tailback Rashard Mendenhall to rush for 121 yards and a touchdown against New York. Pouncey's status for the Super Bowl is in question, as players who suffer high ankle sprains typically sit out four to six weeks.
Legursky could play a key role for the Steelers in Super Bowl XLV. Despite being a rookie, Pouncey is Pittsburgh's best offensive lineman. If he cannot play, it would be a big loss in the middle of the offensive line.
Legursky would have the tough assignment blocking Raji, who is becoming one of the
NFL's fastest rising stars
and is having a breakout run through the playoffs.
"He's a playmaker. You've seen that through the playoffs alone," Legursky said of Raji. "He's a big, old guy, stout there in the middle and we're going to have our hands full."
If Legursky doesn't start, he will remain one of the first subs off the bench. As Pittsburgh's most versatile lineman, Legursky has the ability to play center, guard, tackle and has played tight end this season in goal-line situations.
Legursky's blue-collar work ethic earned him a spot with the Steelers. Already cut once by Pittsburgh, Legursky entered training camp as a long shot behind Pouncey, a first-round draft pick, and last year's starter,
Justin Hartwig
.
But Pouncey's rapid development made Hartwig expendable and he was released, while Pittsburgh preferred Legursky's ability to play various positions. The AFC North blog asked Legursky this week if someone told him a few months ago he could start in a Super Bowl, what would be his reaction?
"I would have said you were crazy," Legursky responded.
Legursky isn't the only versatile player. Both Essex and Foster have the capability of playing both guard and tackle positions. Pouncey, when healthy, is a Pro Bowl center but also is a very good guard, as well. There have been times this season, due to injury, where players have been shifted around during games and it's hard to keep up with who's playing where.
"Looking at this group, to see what they've done with the multitude of positions and guys' versatility, I think it's one of the deepest in the NFL," said Starks, who will watch his teammates from the sideline this year.
Offensive skill players such as Roethlisberger, Mendenhall and receivers
Mike Wallace
and
Hines Ward
will get most of the acclaim leading up to the game. But the play of a versatile and battle-tested offensive line helped get Pittsburgh this far, and the Steelers need another solid effort for this group in Arlington, Texas, to win an NFL-best seventh Super Bowl title.
April, 22, 2009
4/22/09
12:30
PM ET
Posted by ESPN.com's James Walker
The NFL draft is where major decisions are made to either build a team into a contender or lead down a path of destruction.
The AFC North provides a mix of teams with good track records in the draft (Baltimore Ravens, Pittsburgh Steelers), poor draft histories (Cincinnati Bengals) and a new regime trying to make its mark for the first time (Cleveland Browns).
With the draft just a few days away, let's look at the riskiest moves each team will consider.
Cleveland Browns
Needs: WR, LB, C
Biggest risk: Drafting a receiver with the No. 5 pick
| | |
| --- | --- |
| | |
| | Peter G. Aiken/Getty Images |
| | The Browns could consider Texas tech receiver Michael Crabtree with their pick at No. 5. |
Why: Taking a receiver in the top 10 is one of the riskiest moves a franchise could make. Teams at the top of the draft usually have multiple needs, and receivers can only make a significant impact once everything else -- quarterback, offensive line, running game -- is in place. For example, look no further than the Detroit Lions, who bypassed a ton of talent at other positions to take receivers in the top 10 in 2003 (Charles Rogers), 2004 (Roy Williams), 2005 (Mike Williams) and 2007 (Calvin Johnson). The Lions got absolutely nowhere and eventually hit rock bottom in 2008 by becoming the first 0-16 team in NFL history.
The reward: Cleveland would fill a big need by taking a receiver with the fifth pick. The Browns have backed themselves into a corner with a recent run of roster moves and bad luck this offseason. Since the start of free agency, the Browns released veteran receiver Joe Jurevicius, ran into legal trouble with starter Donte' Stallworth, and currently are involved in trade talks about former Pro Bowl receiver Braylon Edwards. If Edwards is moved by the end of the week, as many expect, the Browns would be down to David Patten and Josh Cribbs as their starting receivers. If the Browns overlook other needs such as linebacker and defensive linemen, the target could be Texas Tech receiver Michael Crabtree, whom some feel is the best pure athlete in the draft.
Chances of risk: Decent
Cincinnati Bengals
Needs: OT, C, RB
Biggest risk: Not getting a left tackle
| | |
| --- | --- |
| | |
| | G. Newman Lowrance/Getty Images |
| | Protecting Carson Palmer is something the Bengals need to consider heading into the draft. |
Why: Bengals franchise quarterback Carson Palmer needs better protection if Cincinnati is to have any success in 2009. Palmer's 2008 campaign ended after only four games with a season-ending elbow injury. He was pretty much battered from the beginning, as evident by the broken nose he also suffered in the preseason. This isn't to put all the blame on current left tackle Levi Jones. But when your entire offensive line struggles and you're picking sixth overall, left tackle and protecting the quarterback's blindside is the biggest priority. Luckily for the Bengals there are plenty of good tackles in this draft, including Baylor's Jason Smith, Virginia's Eugene Monroe and Alabama's Andre Smith. So not only would it be risky, it would be surprising if Cincinnati bypasses all of them in the first round.
Reward: Although the risk far outweighs the reward, the Bengals also have a chance to land a very good defensive player at No. 6. Cincinnati drafted defense in the first round for four consecutive years, and that unit finally is playing solidly. The Bengals finished last season ranked 12th in total defense. But some holes remain in terms of rushing the passer and getting stronger in the middle of the defensive line. Cincinnati signed Tank Johnson, who could be a short-term solution. But Boston College defensive tackle B.J. Raji has the potential to dominate the middle for years to come. The Bengals' lack of pass rush also brings up the possibility of choosing Texas defensive end Brian Orakpo over the most pressing need of offensive tackle.
Chances: Below average
Baltimore Ravens
Needs: OL, CB, DL
Biggest risk: Not taking a receiver

Why: It is Baltimore's only glaring need entering the draft. The Ravens were a few plays away from participating in last season's Super Bowl. Even with the loss of several key free agents, Baltimore general manager Ozzie Newsome plugged enough holes at center and cornerback where this team should be back in contention in 2009. What Newsome and the Ravens didn't address is the receiver position. Behind starters Mark Clayton and Derrick Mason, there isn't much depth or proven talent. And the team would like to utilize the deep-ball capability of second-year quarterback Joe Flacco more often in 2009. Not giving him another weapon in the first round could hold back the growth of the offense.
Reward: By passing over a receiver, the Ravens could simply go with the top player on their draft board. At No. 26, Baltimore should have a choice of good prospects at several positions. There could be some good cornerbacks, linebackers and possibly the top tight end prospect, Brandon Pettigrew. The Ravens aren't in a similar situation to last year when they had to draft a quarterback. There may be other good receivers for Baltimore to target in the second round or later if another position player happens to catch Newsome's eye early.
Chances of risk: Average
Pittsburgh Steelers
Needs: OL, CB, WR
Biggest risk: Ignoring offensive line

Why: It's no secret that the Steelers also have a track record of taking the best available players. But that practice has put them in a current bind where they need quality depth at offensive line. For years, the Steelers ignored taking offensive linemen high in the draft. The last player taken at that position in the first two rounds was former guard Kendall Simmons in 2002. By 2008, Pittsburgh was struggling to consistently run the football. Despite winning a Super Bowl, the need cannot be ignored any longer. Expect the Steelers to bring in help early this weekend in order to get back to the team's physical, smashmouth style of offense.
Reward: Similar to the Ravens, Pittsburgh is not a team with many needs, so it has the luxury of going elsewhere in the first round. For instance, cornerback depth also is important for the Steelers. Therefore if the right corner falls to Pittsburgh with the final pick of the first round, it would be understandable to go in that direction as long as the offensive line isn't completely ignored on the first day of the draft.
Chances of risk: Average
April, 15, 2009
4/15/09
9:00
AM ET
Posted by ESPN.com's James Walker
Boston College defensive tackle B.J. Raji will visit with the Cleveland Browns on Friday, the AFC North blog has learned.
Raji is considered the best defensive tackle in the draft and a possible target for the Browns with the No. 5 overall pick. He is the No. 4-rated prospect on Scouts Inc.'s big board.
There were recent reports of a failed drug test that Raji has disputed. As long as the reports are inaccurate, Raji should remain a top-10 pick and a strong candidate for Cleveland in the first round.
April, 7, 2009
4/07/09
12:00
PM ET
Posted by ESPN.com's James Walker
As the NFL draft nears, AFC North teams are narrowing their list of prospects to take with the first-round pick. This week we look at those players and how each would fit with their respective division teams in 2009.
Tuesday we continue our series with potential prospects for the Cincinnati Bengals, who own the No. 6 overall pick:

1. Eugene Monroe, OT, Virginia
The Bengals would be very happy if Monroe is available with the No. 6. He is widely-considered the second best offensive tackle in the draft and not too far behind potential No. 1 overall candidate Jason Smith of Baylor. Quarterback Carson Palmer is coming off a season-ending elbow injury and needs the protection in the worst way. A healthy blue-chip prospect like Monroe would be a significant upgrade over an oft-injured Levi Jones at this point of his career.
2. Michael Oher, OT, Mississippi
Many criticized the Bengals when they took Jones with the No. 10 pick in 2002, because many felt it was a reach. Cincinnati instead went for need and could find itself in a similar position this year with Mississippi tackle Oher, who is projected to be a top 15-20 pick. But if tackles Eugene Monroe and Jason Smith are both off the board, as many expect, Cincinnati has to consider taking the third-rated tackle in the draft with the No. 6 pick. Oher has the physical tools but is still considered somewhat of a work in progress compared to Monroe and Smith.
3. B.J. Raji, DT, Boston College
Every AFC North team has a huge plug in the middle, whether it's Casey Hampton in Pittsburgh, Shaun Rogers in Cleveland, or Haloti Ngata in Baltimore. Raji could be Cincinnati's version. He would be a more natural fit for Cincinnati under defensive coordinator Mike Zimmer's 4-3 defense. Raji could be placed into his natural position of defensive tackle to combine with Domata Peko and make for a nice up-and-coming duo. There was a report last week of Raji failing a drug test and, if true, that could put him out of the running in Cincinnati.
Next up Wednesday: The Baltimore Ravens
April, 6, 2009
4/06/09
12:00
PM ET
Posted by ESPN.com's James Walker
As the NFL draft nears, AFC North teams are narrowing their list of prospects to take with the first-round pick. This week we look at those select players and how each would fit with their respective division teams in 2009.
On Monday we start with potential prospects for the Cleveland Browns, who own the No. 5 overall pick:

1. Brian Orakpo, DE/OLB, Texas
Assuming Wake Forest linebacker Aaron Curry, the best-case scenario, is taken off the board, Texas hybrid Brian Orakpo could be the next best option on Cleveland's radar. He has a mean streak and the ability to rush the passer from the defensive end or outside linebacker position. The Browns desperately need those assets added to their defense. If Orakpo fulfills his projection to become a No. 1 pass rusher, he would take a lot of pressure off outside linebacker Kamerion Wimbley, who would get fewer double teams and develop into a better player in his own right. The pair of Orakpo and an energized Wimbley in 2009 would be a significant upgrade from last season.
2. Michael Crabtree, WR, Texas Tech
Although a lot of NFL people are against taking a wide receiver in the top five, the Browns just might do it. The recent release of Joe Jurevicius and serious legal trouble for starter Donte Stallworth have suddenly added to the urgency to getting another playmaker at the position. Crabtree would give Cleveland a big-time playmaker opposite starter Braylon Edwards, which would help the quarterback to be named later and open up the running game. Plus Edwards set to become a free agent in 2010 and, barring a franchise tag, he likely will not return. Crabtree could step into the top receiver role in Cleveland for years to come.
3. B.J. Raji, DT, Boston College
Cleveland has very little depth on the defensive line and needs to add players to the rotation. The Browns haven't stopped the run in a very long time and could use Raji's ability to do so. But Raji has to prove he could play defensive end in a 3-4 defense, because there is very little playing time available behind Pro Bowl nose tackle Shaun Rogers. Pairing Rogers with Raji and a third d-lineman (Shaun or Robaire Smith?) would be a significant upgrade and a very physical unit, which is necessary in the AFC North. There was a report last week of Raji failing a drug test which, if confirmed, would likely take him out of the running.
Next up Tuesday: A look at the Cincinnati Bengals
March, 27, 2009
3/27/09
11:00
AM ET
Posted by ESPN.com's James Walker
The draft board has been altered since we last looked at prospects before last month's NFL combine.
So with a month left before the NFL draft, let's check in once again with ESPN draft experts Mel Kiper Jr. and Todd McShay to get their latest picks for AFC North teams.

Pick: No. 5
Mel Kiper Jr.: B.J. Raji, DT, Boston College
Todd McShay: Brian Orakpo, DE/OLB, Texas
Analysis: Both of these picks would bring toughness and a mean streak to the Browns. But in a 3-4 defense, the versatile Orakpo may be the more valuable of the two players. New Cleveland coach Eric Mangini likes defenders who can rush the passer from both the outside linebacker spot and in a three-point stance at defensive end. It doesn't mean Orakpo will be the better pro, but he gives the coaching staff more options, which could be the deciding factor if choosing between these two players.

Pick: No. 6
Kiper: Michael Crabtree, WR, Texas Tech
McShay: Eugene Monroe, OT, Virginia
Analysis: The Bengals would be elated if Monroe fell into their lap at No. 6. Cincinnati needs protection for quarterback Carson Palmer from the tackle position and Monroe looks NFL ready. The Crabtree pick by Kiper is surprising considering the signing of receiver Laveranues Coles to replace T.J. Houshmandzadeh. Perhaps the Bengals will look to trade No. 1 receiver Chad Ocho Cinco in the next month, which Kiper may be anticipating with this pick.

Pick: No. 26
Kiper: Rey Maualuga, ILB, USC
McShay: Vontae Davis, CB, Illinois
Analysis: Kiper presents an interesting pick with Maualuga. If the USC linebacker falls to the end of the first round, he could be the best player on Baltimore's board, while also having the potential to fill a void left by linebacker Bart Scott's departure to the New York Jets in free agency. With the signings of Domonique Foxworth and Chris Carr, cornerbacks such as Davis are no longer a pressing need. A big-play receiver could be a better option.

Pick: No. 32
Kiper: Darius Butler, CB, Connecticut
McShay: Alphonso Smith, CB, Wake Forest
Analysis: Both experts agree that cornerback is the way to go for Pittsburgh. Kiper likes the small-school prospect in Butler, while McShay feels Smith from Wake Forest and the ACC is the better pick. I tend to like Cal center Alex Mack in this spot. He could play guard or center for the Steelers and may project to be a leader of the team's weakest unit for years to come. But cornerback insurance wouldn't be a bad option either, considering the departure of starter Bryant McFadden to the Arizona Cardinals.