AFC North:

Baltimore Colts
March, 28, 2014
Mar 28
10:00
AM ET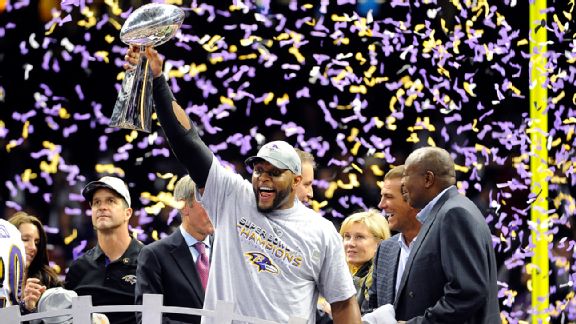 Robert Deutsch/USA TODAY SportsBaltimore has enjoyed two Super Bowl titles with the Ravens since the team was established in 1996.
BALTIMORE -- Saturday marks the 30th anniversary of the most infamous day in Baltimore sports history.
On March 29, 1984, the Colts sneaked out of Baltimore on a snowy night and left a football town in mourning. Grown men and women cried. People drove around the city the next morning with their headlights on as if somebody died.
"It's one of those few moments in life that you vividly remember," said John Moag, who later lured the
Cleveland Browns
to Baltimore as chairman of the Maryland Stadium Authority. "You hate to put it up with the assassination of John Kennedy, but it had that type of import here."
No one is suggesting Baltimore football fans should forgive. There is still a likeness of the late Colts owner Robert Irsay's head in a casket at a downtown Mexican restaurant.
No one is saying they should forget. An older generation of fans considers the old Colts complex, where the Mayflower moving vans drove away with Baltimore's football heritage, as sacred ground even though it's now a stadium for a Division III college.
It's just time to put this date in perspective. Three decades later, Baltimore is better off without the Colts. This is no longer blasphemy to say. This is simply reality.
Baltimore has sold out every game in a state-of-the-art stadium in one of the finest sports complexes in the country, something that was expedited by the Colts' hasty departure. The city has celebrated two Super Bowl titles with the Ravens, one more than the
Indianapolis Colts
have. The football team is owned by Steve Bisciotti, the anti-Robert Irsay in many respects. He's a local businessman who spends money to put a perennial winner on the field.
"On game days, I look around, and it sounds dumb, but I just get a big smile on my face. We did it," said John Ziemann, the longtime president of the Baltimore Colts marching band, who served as one of the main torchbearers for getting football back to the city. "The fans, the Colts Corral, the band, the Baltimore Colts alumni and [former mayor] William Donald Schaefer, we all did it."
The only pain that exists is the sting from losing tradition. Those who carried years of anger and bitterness toward the blue horseshoe were missing the Colts from the 1950s and 1960s. There's not much nostalgia for the Irsay years. He got rid of Johnny Unitas in his second year as owner and traded away John Elway before the owner's final season in Baltimore.
The Baltimore Colts had losing seasons in nine of Irsay's 12 seasons as owner, and Memorial Stadium soon became more than half empty. The announced crowd at the Colts' last home game was 20,418.
Once a model franchise, the Colts became a laughingstock under Irsay, who stormed into the locker room during a game in 1980 to demand a quarterback change at halftime and then called plays from the coaching box a year later.
"When I see that horseshoe helmet, I think of the great memories, the pride, the tradition and the love I had for that team," Ziemann said. "But my heart belongs to the black and purple helmet."
Under the cover of darkness
[+] Enlarge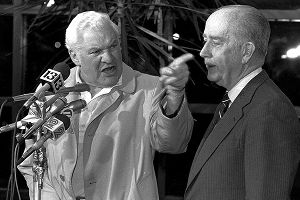 AP Photo/Bill SmithRumors swirled about the Colts moving in early 1984. Here, then-owner Robert Irsay had a heated exchange with reporters, denying a rumor he'd made a deal to move the team to Phoenix.
It had been rumored for weeks in March 1984 that Irsay was going to move the Colts. No one believed him. Many thought Irsay's erratic behavior and odd demands would keep the Colts in Baltimore.
That perception changed when The Baltimore Evening Sun reporter Ken Murray received a call at 7 p.m. from a man who saw a Mayflower van heading toward the Colts' complex. Murray called Colts coach Frank Kush, who acknowledged the team was in the process of moving.
"It was a surreal scene," said Murray, the first reporter to arrive on the scene. "I remember feeling a numbness, not from the cold, but from the realization it was actually happening. I was standing in on history, watching the physical dismantling of one of the NFL's greatest franchises. A handful of people had gathered, as much in curiosity as anything else. It was solemn and funeral-like."
Steve LaPlanche, who hasn't missed a professional football game in Baltimore since 1956, drove out to the Colts' complex that night when he received word of the move and watched men load 15,000 pounds of Colts items in 15 Mayflower vans. The Colts were in a rush to get out of town because the Maryland Senate had just passed a bill saying the state had the right to seize the Colts under eminent domain.
"They always reminded me of thieves in the night," said LaPlanche, who stayed there the entire night. "They were literally throwing things in vans."
For 12 years, Baltimore didn't have an NFL team. The city, though, found a new team to support.
"Fans here generally rooted for whichever team played the Colts on any given Sunday," Murray said. "The emotion was almost tangible. There was also real anger directed at the league and its owners, because they had allowed Bob Irsay to get away with his dastardly deed. Those owners didn't appear to have any remorse about it, either."
Keeping the Baltimore Colts memory alive
When children walk through the Sports Legends museum, some ask why there is an Indianapolis Colts exhibit.
"We explain the whole situation to them," said Ziemann, who is also the deputy director of the museum, "and the last thing you see is the back end of a Mayflower moving van."
There are some young football fans who don't know the Baltimore Colts ever existed or that one of the greatest quarterbacks in NFL history threw passes here. Memorial Stadium, once known as "The World's Largest Outdoor Insane Asylum," has been demolished and replaced with senior housing.
This is what happens when the Colts have been gone for 30 years, which is as long as they played in Baltimore (1953-1983). Even Super Bowl-winning quarterback
Joe Flacco
was born 10 months after the Colts moved.
"We're essentially losing a generation of Colts fans," Moag said. "There are residents in their 30s and 40s, and all they know is the Ravens."
The Baltimore Colts' living history is deteriorating, too. Hall of Fame players such as Unitas, Art Donovan and Jim Parker have all passed away after being fixtures in the community.
When the former Baltimore Colts players met once a month, it used to be a gathering of 25 guys. Time has taken a toll on their fraternity.
"Now, unfortunately, through death of some of our brothers, we're down to three to five who come to a meeting," said Bruce Laird, a safety for the Colts from 1972 to 1981.
So many years have passed that there is even a Unitas living in Indianapolis. The granddaughter of the Golden Arm was hired by Andretti Sports Marketing, and the relocation didn't initially go over well with the family.
"I was dumbfounded," said John Unitas Jr., the son of the great quarterback. "I told her, 'Oh my God, they took the Colts, they took your grandfather's records, and now they're taking his granddaughter.' "
Don't worry Baltimore, she's not a fan of the Indianapolis Colts.
Moving forward with the Ravens
Baltimore tried to get an NFL team through expansion in 1995, but the league put franchises in Carolina and Jacksonville. NFL commissioner Paul Tagliabue suggested Baltimore use its money to build a museum or a plant instead.
If the city wanted football again, it was going to have to do exactly what Indianapolis did with the Colts. In 1996, Art Modell relocated the Cleveland Browns to Baltimore, leaving the name and history behind. On March 29, 1996 -- exactly 12 years after the Colts moved -- Baltimore's new football team was officially named Ravens.
Wary of the feelings that Modell had just "Irsayed" Cleveland, the Ravens embraced the Baltimore Colts. A Unitas statue was built outside M&T Bank Stadium. Former Colts players Tom Matte and Stan White have been part of the radio broadcast team. Popular Colts running back Lenny Moore is a frequent visitor to Ravens practices. The team also adopted the Baltimore Colts marching band.
"The Modells came in and said, 'We're not here to erase your history; we're here to add to it,' " Ziemann said.
The Ravens now have a history of their own after completing their 17th season in Baltimore. Jonathan Ogden recently became the first player drafted by the Ravens to reach the Hall of Fame, and Ray Lewis and
Ed Reed
are expected to join him. The Ravens have reached the playoffs in five of the past six seasons, including three AFC Championship Games and one Super Bowl victory.
It's a new tradition of success for a new generation of fans. The average age for Ravens personal seat license owners is 53, which means many Ravens fans were in their early 20s when the Colts left.
"We've got one of youngest demographics in the league for a reason," Bisciotti said. "The Ravens came in and a lot of 60-year-olds were not prepared to support us. Well, they're pushing 80 now. I think we won over half of them because of winning and half of them are dead."
Some believe the hatred for the horseshoe diminished when Irsay died in 1997. Others believe closure occurred when the Ravens won the Super Bowl in 2000.
The true test that Baltimore was over the Colts came during the 2012 playoffs. This game wasn't about the Ravens beating Indianapolis for the first time in the postseason. It will be remembered as the final home game for Ray Lewis, the best player in Ravens history.
The Ravens went on to hoist their second Lombardi Trophy that season, giving Baltimore another chance to celebrate making history and not commiserate about it.
July, 7, 2011
7/07/11
12:05
PM ET
Former Baltimore Colts tight end and Hall of Famer John Mackey died Wednesday
at the age of 69
. Here are statements on Mackey from
Baltimore Ravens
owner Steve Bisciotti and general manager and fellow Hall of Fame tight end Ozzie Newsome:
Bisciotti
"We are tremendously saddened to hear about the passing of John Mackey, and our thoughts and prayers go out to his wife Sylvia and the entire Mackey family. I was fortunate to get to know John and Sylvia personally, and I was struck by her love and loyalty throughout the difficult times of his illness. John set the standard by which tight ends are measured on the field, and he will be sorely missed not only by his family, but also by the entire Baltimore community."
Newsome
"I am mourning the loss of John Mackey, and my deepest condolences go out to his wife Sylvia and the Mackey family. John revolutionized the tight end position during his Hall of Fame career, and he laid the foundation on and off the field for modern NFL players."
June, 23, 2010
6/23/10
12:30
PM ET
Notable players:
RB Jim Brown, WR Paul Warfield, K Lou Groza, G Gene Hickerson, RB Leroy Kelly, QB Frank Ryan, LB Jim Houston.
Analysis:
Jim Brown and Paul Warfield in the same offense.
Does any more need to be said?
[+] Enlarge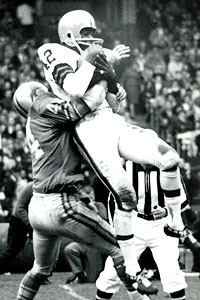 Malcolm Emmons/ US PresswirePaul Warfield averaged 17.7 yards per catch during his rookie season in 1964.
Often you hear Cleveland fans longing for the glory days, and this group led by Brown and Warfield -- perhaps the two best to play their respective positions -- tops the list.
This team was ahead of its time. Cleveland, which finished 10-3-1 in 1964, scored more than 400 points in an era when that was extremely difficult. For perspective, only eight teams scored more than 400 points in 2009 with two more regular-season games (16) and numerous advancements in the NFL game.
Brown, 28 and in his prime, rushed for 1,446 yards and averaged 5.2 yards per carry. He averaged more than 100 yards rushing per game. Warfield, then a 22-year-old rookie, had 920 receiving yards and nine touchdowns, as he was a key figure who helped revolutionize the vertical passing game. He averaged 17.7 yards per catch in '64, a stat that would still be impressive today.
To further prove Cleveland's dominance, they won the NFL Championship, 27-0, over the Baltimore Colts. The high-powered offense with Brown, Warfield and Ryan (25 touchdown passes) at quarterback was too advanced. Cleveland scored 30 points or more in half of its games that season.
Brown, Warfield, Groza, Hickerson and Kelly -- who was a rookie kick returner in '64 -- are all Hall of Famers from this group.
Most impressive win:
As mentioned earlier, Cleveland's 27-0 rout of the Baltimore Colts was the exclamation point of the '64 season.
Both teams had an amazing collection of talent. But Baltimore Hall of Famers such as quarterback Johnny Unitas, running back Lenny Moore and tight end John Mackey were stifled by Cleveland's defense, which forced four turnovers. Brown rushed for 114 yards for Cleveland and Ryan threw three touchdown passes in the blowout win.
Research room:
Groza had one of the most interesting careers in football history. He played 22 years in Cleveland and arrived as an offensive lineman. He made the Pro Bowl nine times as a left tackle and also played some right tackle, center, defensive tackle and kicker during his career. Groza was the kicker for the '64 team at age 40. He made 22 field goals and all 49 extra-point attempts.
Sudden retirement:
Following the championship in '64, Brown would play one more season before suddenly retiring to pursue a movie career.
Brown rushed for an astounding 1,544 yards and 17 touchdowns in his final season. Most of Brown's rushing records have been broken. But he's widely considered the best running back of all time.
Honorable mentions:
1950:
Another elite, championship team stacked with talented players such as Otto Graham and Marion Motley. This Browns team would give the '64 group a run for its money. But not having Warfield or Brown on this squad makes the difference.
1953:
The Browns, again led by Graham at quarterback, ran off 11 consecutive wins before losing a meaningless final regular-season game. But Cleveland lost to the Detroit Lions, 17-16, in the NFL Championship for a disappointing end to an otherwise dominant season.
1986:
This team is best known for falling victim to "The Drive" led by quarterback John Elway of the Denver Broncos. Elway orchestrated a 15-play, 98-yard drive in Cleveland to force overtime and Denver eventually won the game, costing a talented Browns team a shot at the Super Bowl. One year later, a chance at revenge against Denver in the AFC title game was thwarted by "The Fumble."
AFC NORTH SCOREBOARD
Sunday, 10/19
Monday, 10/20