July, 31, 2014
Jul 31
4:59
PM ET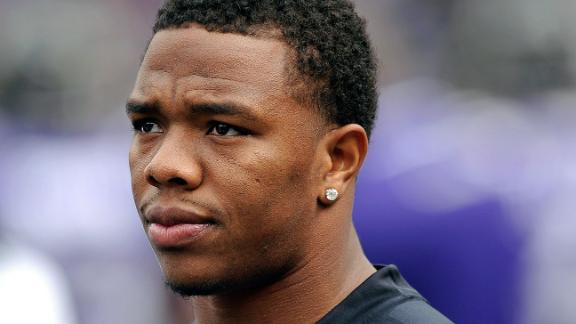 OWINGS MILLS, Md. -- In stark contrast to
Ray Rice
's awkward news conference in May, the
Baltimore Ravens
running back showed Thursday that he finally understood the weight of his actions from the alleged altercation with his then-fiancée in February.
He delivered the correct message, one the NFL failed to do last week with the two-game suspension, by not only apologizing to his wife, Janay Palmer, but also expressing a desire to become an advocate for domestic-violence causes.
Rice was compelling in his contrition, calling it the biggest mistake of his life. He stood in front of the microphone alone, without his wife standing by his side, and took full responsibility for the incident. Perhaps more importantly, Rice actually said the words "domestic violence," which weren't heard in his statement two months ago.
"My actions were inexcusable," Rice said. "That's something I have to live with the rest of my life."
Before anyone pats Rice on the back, this is what he should have said the first time when he broke his silence in May. Instead, Rice nervously fumbled through notes on his phone and apologized to team officials and his sponsors. That debacle of a news conference came across as damage control to his image.
His 17-minute news conference Thursday hit the right tones. He apologized to all women affected by domestic violence. He accepted the blame for losing the respect of fans. Rice came across as genuinely sorry.
"I let my wife down, I let my daughter down, I let my wife's parents down, I let the whole Baltimore community down," Rice said.
Rice's biggest misstep was not talking about what happened in the elevator. He was asked twice about it and declined to answer both times. His stance against domestic violence would have resonated stronger if he had explained his transgressions.
"I'll be honest: Like I said, I own my actions," Rice said. "I just don't want to keep reliving the incident. It doesn't bring any good to me. I'm just trying to move forward from it. I don't condone it. I take full responsibility for my actions. What happened that night is something that I'm going to pay for the rest of my life."
The only way Rice can move forward from this incident and show he's truly sincere is through his actions. It's not by his words. It's not by a hefty donation, which is merely a gesture. It's by proving this will remain a "one-time incident" and by supporting domestic-violence causes.
Thursday represented a small step forward for Rice. But it was an important one.
June, 5, 2013
6/05/13
2:52
PM ET
WASHINGTON -- Before the
Baltimore Ravens
handed a purple No. 44 jersey to President Barack Obama, the 44th president, coach John Harbaugh delivered a celebratory message on the South Lawn of the White House.
"I want you to know, we have plans to be back next year," Harbaugh said.
This was one of the few times Wednesday that the defending Super Bowl champions looked ahead to the future. This week is about reminiscing for a team that went on an unlikely championship run and got ripped apart like no other Super Bowl team. Three months after parting ways with seven starters, the Ravens came together for a visit to the White House on Wednesday and the ring ceremony Friday.
While five former players didn't attend the White House event (
Anquan Boldin
,
Bernard Pollard
,
Matt Birk
,
Cary Williams
and
Paul Kruger
),
Ray Lewis
and
Ed Reed
fittingly stood side by side just a few steps to the right of Obama. This marks the first time in 12 years the two future Hall of Fame players won't be teammates. Lewis announced his retirement during the season, and Reed signed with the
Houston Texans
in free agency.
"You can't think about Baltimore without thinking of Ray Lewis and Ed Reed, two of the greatest defenders who ever played the game," Obama said. "Now, these two won't be wearing purple next year. Everybody is going to have to get used to that. It's welcome news for quarterbacks."
Wearing a purple tie and gray suit, Obama gave the Ravens a tour of the White House before delivering some playful jabs at the players:
On Ray Lewis
: "Ray retired on top, coming back from a triceps injury, which I believe was caused by that dance he does."
On Ed Reed
: "I will point out, by the way, that Ed is getting some gray hair, though. You're like an old man."
On Joe Flacco, who was standing in the back row
: "Good timing with that contract up. That was some good timing. Capped off one of the greatest post-seasons ever by a quarterback -- 11 touchdowns, no interceptions. I don't know about you, Joe, but I would say that qualifies as elite. And I'd say that if you keep on playing like that, you're going to challenge (Vice President Joe) Biden for the most popular person from Delaware."
February, 6, 2013
2/06/13
8:00
AM ET
It's nice to be back at the palatial AFC North headquarters, and I've settled back in after spending a week in New Orleans. The weekly chat will begin at 2 p.m., so you're going to want to get your questions ready. We'll also start to look ahead to free agency today. For now, here's your wake-up call, which funny enough, begins with a call ...
RAVENS
: President Barack Obama called coach John Harbaugh and general manager Ozzie Newsome to congratulate them on their Super Bowl victory. Harbaugh thanked the president before adding that he knows as much as anybody that the greatest accomplishments stem from overcoming adversity. "Well you and me, we should try sometimes to do some things easy," Obama joked in response. "I'd like to know what it feels like. It's never happened to me." Click
right here
to watch the video of the phone conversation.
BENGALS
: Adam Zimmer, the son of defensive coordinator Mike Zimmer, has been named the team's assistant defensive-backs coach. He has coached previously with the Saints and Chiefs, serving as a defensive assistant and assistant linebackers coach for both teams. "I'm not going to be 'Dad' at the office," Mike Zimmer told the
team's official website
. "It's going to have to be 'Coach' or 'Zim' or 'Mike,' or whatever he wants. I told him over dinner last night. He'll be treated just like everyone else and I'll probably be harder on him. My dad was harder on me."
STEELERS
: The
Pittsburgh Post-Gazette
's Ron Cook believes the only silver lining for the Steelers is that Ravens quarterback
Joe Flacco
will command a big deal. "Flacco is up for a new contract, perhaps $20 million a year. The Ravens won't be able to keep a couple of good players under the salary cap after they re-sign him," Cook wrote. "That should help the Steelers. Hey, that's the best I've got for you after the hated Ravens hung on to beat the
San Francisco 49ers
."
BROWNS
: The
Plain Dealer
's Terry Pluto points out that the statistics show the West Coast offense was never the right fit for Browns quarterback
Brandon Weeden
. "Weeden's strength is standing in the pocket and throwing deep," Pluto wrote. "But the West Coast offense stresses snaps under center and quick throws. It's also very possible that Weeden's league-leading 25 passes batted down is partly due to being so often under center, where he's closer to the defensive linemen as he throws."
May, 21, 2009
5/21/09
4:40
PM ET
The Super Bowl champion Pittsburgh Steelers meet President Barack Obama.