July, 31, 2014
Jul 31
4:59
PM ET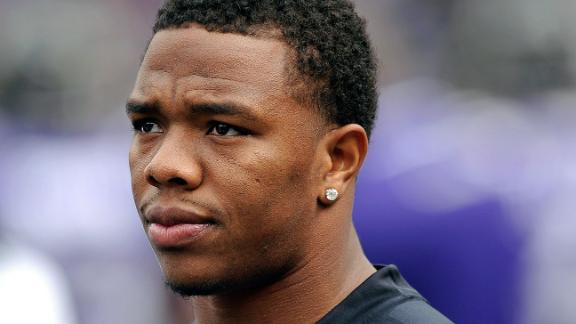 OWINGS MILLS, Md. -- In stark contrast to
Ray Rice
's awkward news conference in May, the
Baltimore Ravens
running back showed Thursday that he finally understood the weight of his actions from the alleged altercation with his then-fiancée in February.
He delivered the correct message, one the NFL failed to do last week with the two-game suspension, by not only apologizing to his wife, Janay Palmer, but also expressing a desire to become an advocate for domestic-violence causes.
Rice was compelling in his contrition, calling it the biggest mistake of his life. He stood in front of the microphone alone, without his wife standing by his side, and took full responsibility for the incident. Perhaps more importantly, Rice actually said the words "domestic violence," which weren't heard in his statement two months ago.
"My actions were inexcusable," Rice said. "That's something I have to live with the rest of my life."
Before anyone pats Rice on the back, this is what he should have said the first time when he broke his silence in May. Instead, Rice nervously fumbled through notes on his phone and apologized to team officials and his sponsors. That debacle of a news conference came across as damage control to his image.
His 17-minute news conference Thursday hit the right tones. He apologized to all women affected by domestic violence. He accepted the blame for losing the respect of fans. Rice came across as genuinely sorry.
"I let my wife down, I let my daughter down, I let my wife's parents down, I let the whole Baltimore community down," Rice said.
Rice's biggest misstep was not talking about what happened in the elevator. He was asked twice about it and declined to answer both times. His stance against domestic violence would have resonated stronger if he had explained his transgressions.
"I'll be honest: Like I said, I own my actions," Rice said. "I just don't want to keep reliving the incident. It doesn't bring any good to me. I'm just trying to move forward from it. I don't condone it. I take full responsibility for my actions. What happened that night is something that I'm going to pay for the rest of my life."
The only way Rice can move forward from this incident and show he's truly sincere is through his actions. It's not by his words. It's not by a hefty donation, which is merely a gesture. It's by proving this will remain a "one-time incident" and by supporting domestic-violence causes.
Thursday represented a small step forward for Rice. But it was an important one.
January, 7, 2011
1/07/11
9:00
PM ET
Baltimore Ravens
head coach John Harbaugh said he's excited that his younger brother, Jim Harbaugh, has joined the NFL head- coaching fraternity. The
San Francisco 49ers
signed Jim Harbaugh to a
five-year contract
Friday.

Jim Harbaugh

John Harbaugh
Both brothers are extremely competitive. John Harbaugh said he shared the same bedroom with his brother when they were kids, so they have been "wrestling around for quite some time." Now their sibling rivalry will be revisited in the NFL as opposing head coaches.
The Ravens are scheduled to play the 49ers in Baltimore next season in a game with plenty of interesting storylines.
"I am very happy that he's not in the AFC," John Harbaugh said on a conference call Friday evening. "We will see him once every four [years], plus Super Bowls, right, if we find a way to get a couple of those. But my mom is very relieved that's the case. They're going to have a really tough time next year when they schedule that game. ... My dad said he's just going to go take a walk during the game and not watch any of it."
The Harbaughs have had great success the past few seasons. John Harbaugh has led Baltimore to three playoff appearances in three seasons with the Ravens (12-4), who will play the
Kansas City Chiefs
(10-6) Sunday in the wild-card round. Jim Harbaugh turned the Stanford program around and just completed a BCS victory in the Orange Bowl.
Perhaps partly due to John Harbaugh's success, Jim Harbaugh was the hottest coaching commodity at the college level. Recent history has shown collegiate coaches struggle making the jump to the NFL.
In the past week, Jim Harbaugh was heavily pursued by the 49ers,
Miami Dolphins
and
Denver Broncos
.
"I know some guys haven't made the transition from college, but I know Jim," John Harbaugh said. "I know that he's got a wide spectrum of talent and ability, especially relationship ability. I have no doubt in my mind that he will be successful."