AFC North:

Ben Roethlisberger suspension 2010
April, 22, 2010
4/22/10
1:30
PM ET
April, 21, 2010
4/21/10
7:49
PM ET
By
ESPN.com staff
| ESPN.com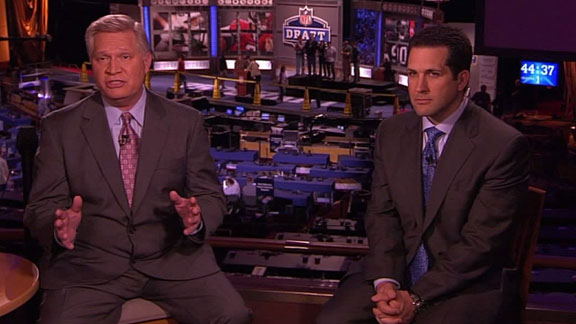 Chris Mortensen and Adam Schefter discusses
Ben Roethlisberger
's six-game suspension and future with the
Pittsburgh Steelers
.
April, 21, 2010
4/21/10
5:30
PM ET
Could you imagine
Ben Roethlisberger
in a
Cleveland Browns
uniform?
[+] Enlarge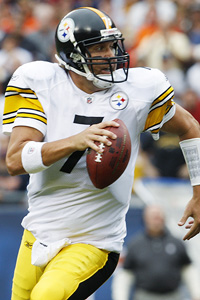 AP Photo/Nam Y. HuhA team would have to give up a high draft pick to trade for Roethlisberger.
How about the
St. Louis Rams
, Jacksonville Jaguars,
Seattle Seahawks
or
Oakland Raiders
?
The
Buffalo Bills
and
San Francisco 49ers
need quarterbacks, too. What about them?
According to ESPN's Adam Schefter, the
Pittsburgh Steelers
have
shopped Roethlisberger to all of the above
.
The idea of trading Roethlisberger has gained a lot of steam with the NFL draft just one day away. When asked about it on a
conference call Wednesday
, Steelers president Art Rooney II avoided the topic.
"We really can't answer any questions about trades, particularly this time of year," Rooney said. "We go into every draft with the idea we're going to do anything we can to make our team a better football team. So we just have to stick with that and not discuss trades in advance."
How realistic the possibility of shipping Roethlisberger out of Pittsburgh remains a subject of debate. Some teams like Buffalo and St. Louis have reportedly dropped out of the running.
ESPN.com NFC West blogger Mike Sando
doesn't feel the 49ers or Seahawks are good fits, either.
For a vast majority of teams, there is too much baggage that comes with acquiring Roethlisberger. For starters, he's about to serve a suspension for up to six games. Second, Roethlisberger is still under contract for the $102 million deal he signed in 2008. And third, he has yet to prove he can stay out of trouble.
On top of that, we haven't even discussed the public relations hit for any team willing to make a quarterback with two sexual assault allegations in less than a year the new face of its franchise.
It's not likely Pittsburgh can get a top-10 pick under those circumstances. That's an extremely tough sell unless the Steelers are willing to significantly lower their expectations. In that case
AFC West blogger Bill Williamson
believes Oakland might be an option.
Tim Graham in the AFC East
also feels Buffalo is a possibility if the team is willing to base a trade strictly on football ability. Bills GM Buddy Nix
denies talking to the Steelers.
But the chances of any team ignoring Roethlisberger's off-the-field problems to trade a high draft pick are slim. That's the only reason Pittsburgh reportedly is shopping him in the first place.
If the Steelers were completely fed up with Roethlisberger's antics, they could sell him at all cost -- pennies on the dollar --
like they did
with former receiver
Santonio Holmes
. Pittsburgh acquired just a fifth-round pick from the
New York Jets
for Holmes in an effort to get the wide receiver out of town as quickly as possible.
Yet it's doubtful the Steelers will take the same approach with Roethlisberger. Elite quarterbacks don't grow on trees, especially ones with two Super Bowl rings, and Pittsburgh wouldn't part with that unless it feels it can get equal value.
April, 21, 2010
4/21/10
4:23
PM ET


Todd McShay discusses how Ben Roethlisberger's suspension impacts Pittsburgh's draft.
April, 21, 2010
4/21/10
3:18
PM ET

Pittsburgh Steelers president Art Rooney II held a conference call with the media
following the six-game suspension
of quarterback
Ben Roethlisberger
.
[+] Enlarge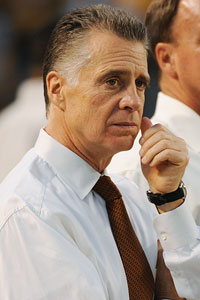 George Gojkovich/Getty ImagesRooney II did not speculate on trade rumors but said the team agrees with the NFL's punishment for Roethlisberger.
Many wanted to know about the possibility of a trade, which is gaining steam in NFL circles. But Rooney avoided the topic.
"We really can't answer any questions about trades, particularly this time of year," Rooney said. "We go into every draft with the idea we're going to do anything we can to make our team a better football team. So we just have to stick with that and not discuss trades in advance."
Here are some other highlights from Wednesday's media session:
Rooney said he agrees with and supports the punishment of six games that the NFL handed down. It can later be reduced to four games based on Roethlisberger's behavior."The discipline was appropriate in this case," Rooney said. "And we were prepared to impose discipline if the commissioner felt it was appropriate to go that way."
The NFL will take over the selection of the evaluation center where Roethlisberger will go through his behavioral program. An approximate location was not provided, but Rooney said it's a facility that the league has used before and feels comfortable with.

Rooney said the Steelers are confident players can step up and be competitive without Roethlisberger. The team has a trio of quarterbacks in Byron Leftwich, Charlie Batch and Dennis Dixon who will look to play in Roethlisberger's absence.

Currently, Rooney doesn't anticipate the NFLPA stepping in and attempting to appeal Roethlisberger's suspension.
"My understanding is the commissioner has discussed this with [NFLPA director DeMaurice] Smith," Rooney said. "I really would hesitate to speak for either one of them. But it's my understanding that the Players' Association does not plan to appeal it. But obviously they need to review it and discuss it with Ben, and again, I cannot speak for what they'll decide to do."
April, 21, 2010
4/21/10
1:39
PM ET
By
ESPN.com Staff
| ESPN.com
The statement put out by the NFL on Ben Roethlisberger's suspension:
BEN ROETHLISBERGER TO RECEIVE COMPREHENSIVE EVALUATION; SUSPENDED FOR SIX GAMES FOR VIOLATING NFL PERSONAL CONDUCT POLICY
Suspension Could be Extended or Reduced Based on Roethlisberger's Progress
COMMISSIONER ROGER GOODELL notified Pittsburgh Steelers quarterback BEN ROETHLISBERGER today that he 1) must undergo a comprehensive behavioral evaluation by medical professionals and 2) will be suspended without pay for the first six games of the regular season for conduct detrimental to the NFL in violation of the league's Personal Conduct Policy.
After consultation with Commissioner Goodell, Steelers President ART ROONEY and the commissioner informed Roethlisberger by telephone today of the two-step approach that is designed to hold Roethlisberger accountable for his conduct and provide him an opportunity to change his behavior and establish himself as a responsible individual.
In a letter to Roethlisberger, Commissioner Goodell said that Roethlisberger must adhere to any counseling or treatment that is recommended by the professional evaluators to help him make better decisions and avoid situations that can cause legal or other problems. A professional behavioral evaluation is mandatory for anyone that has violated the NFL Personal Conduct Policy. Roethlisberger may not attend any team off-season activity after today until he has completed the evaluation and the evaluating professionals confirm with the commissioner that Roethlisberger may resume football activities. If so cleared, Roethlisberger will be able to participate in training camp and preseason games this summer.
The commissioner said he would review Roethlisberger's progress under the plan prior to the start of the regular season and consider whether to reduce the suspension to four games. Failure to cooperate and follow the plan could result in a longer suspension, the commissioner added.
"The Personal Conduct Policy makes clear that I may impose discipline 'even where the conduct does not result in conviction of a crime' as, for example, where the conduct 'imposes inherent danger to the safety and well being of another person'," Commissioner Goodell stated in his letter to Roethlisberger. "As the District Attorney concluded, the extensive investigatory record shows that you contributed to the irresponsible consumption of alcohol by purchasing (or facilitating the purchase of) alcoholic beverages for underage college students, at least some of whom were likely already intoxicated. There is no question that the excessive consumption of alcohol that evening put the students and yourself at risk. The Personal Conduct Policy also states that discipline is appropriate for conduct that 'undermines or puts at risk the integrity and reputation of the NFL, NFL clubs, or NFL players.' By any measure, your conduct satisfies that standard."
Commissioner Goodell said his review of the matter included the extensive volume of material released by the Georgia Bureau of Investigation and the Milledgeville Police Department; public comments by and a private conversation with Georgia District Attorney Fred Bright; comments and recommendations of Roethlisberger's representatives; a personal interview with Roethlisberger on April 13; dialogue with current players, former players, the NFL Players Association, and others; and information learned by the NFL office in the course of examining the Milledgeville matter.
Other excerpts from Commissioner Goodell's letter:
"I recognize that the allegations in Georgia were disputed and that they did not result in criminal charges being filed against you. My decision today is not based on a finding that you violated Georgia law, or on a conclusion that differs from that of the local prosecutor. That said, you are held to a higher standard as an NFL player, and there is nothing about your conduct in Milledgeville that can remotely be described as admirable, responsible, or consistent with either the values of the league or the expectations of our fans."
"Your conduct raises sufficient concerns that I believe effective intervention now is the best step for your personal and professional welfare."
"I believe it is essential that you take full advantage of the resources available to you. My ultimate disposition in this matter will be influenced by the extent to which you do so, what you learn as a result, and a demonstrated commitment to making positive change in your life."
"In your six years in the NFL, you have first thrilled and now disappointed a great many people. I urge you to take full advantage of this opportunity to get your life and career back on track."
In addition to the discipline imposed on Roethlisberger, league policy requires that NFL teams remit to the league a portion of a suspended player's salary starting with the second suspension in a year for violations of the personal conduct or drug policies. The second such suspension in a year results in the club being assessed 25 percent of the suspended player's forfeited salary to a maximum of $200,000. Prior to the Steelers trading him to the New York Jets, wide receiver Santonio Holmes was suspended for four games for violating the substance abuse program.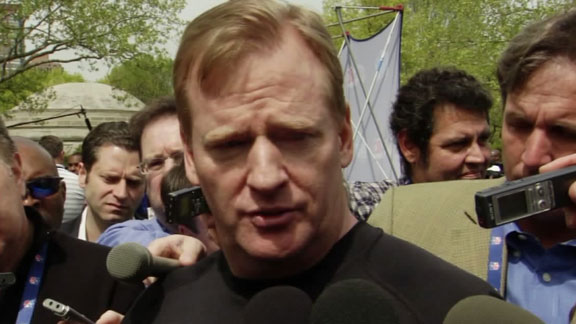 April, 21, 2010
4/21/10
12:17
PM ET
Do not expect many complaints from the
Pittsburgh Steelers
over
Ben Roethlisberger
's suspension, which is
expected to be four to six games
.
NFL commissioner Roger Goodell made the right call in suspending Roethlisberger, who was accused of sexual assault twice in the past year and violated the
league's personal conduct policy
. But the Steelers are fortunate to still have a chance to salvage their 2010 season.
[+] Enlarge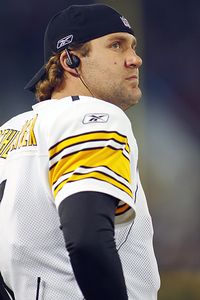 Geoff Burke/US PresswireThe Steelers should have a good chance to make the playoffs if Ben Roethlisberger plays well when he returns.
A suspension of eight games would have all but ended Pittsburgh's season before it ever began. If you thought the team looked average last year without safety
Troy Polamalu
, imagine how below average the Steelers would be without their $100 million quarterback for half the season.
Roethlisberger is at fault, and he got the brunt of the punishment. Here is a
breakdown of how much money
Roethlisberger is set to lose depending on the length of his suspension.
Backup quarterbacks
Byron Leftwich
,
Charlie Batch
and
Dennis Dixon
will be
fine for the short term
. Pittsburgh will be less formidable offensively. But with a top-five defense and expected improvements in the running game, the Steelers should be able to compete minus Roethlisberger against the Atlanta Falcons, Tennessee Titans, Tampa Bay Buccaneers, Baltimore Ravens, and possibly the Cleveland Browns and Miami Dolphins in mid-October. (
Here's the Steelers' complete schedule
.)
A split for Pittsburgh in the first four or six games would be considered a huge success. But even at 1-3 or 2-4, the season wouldn't be over when Roethlisberger returns.
With Roethlisberger under center, the Steelers are a Super Bowl contender this season. Without him for a significant period, they can't make the playoffs.
The suspension could land Pittsburgh somewhere in between, and Roethlisberger's play late in the season will determine how far this team can go.
April, 21, 2010
4/21/10
11:22
AM ET
By
Scouts Inc.'s Matt Williamson
| ESPN.com
With
Ben Roethlisberger
expected to be
suspended for the first four to six games of the 2010 season
, the quarterback job will likely belong to
Dennis Dixon
. However, the re-signing of
Charlie Batch
does provide further insurance in case the youngster is not up to the task. And, most recently, the Steelers traded a late pick to bring
Byron Leftwich
back to Pittsburgh.
What does Dixon bring to the table? If Dixon had not injured his knee during his senior year at Oregon, he probably would have been drafted in the second or third round and viewed as a potential starter in this league. But because of the injury, the Steelers were able to acquire him later, in the fifth round, and more or less redshirt him as he learned. This will be his third NFL season and he should have a pretty strong feel for his teammates and the offensive system that Pittsburgh runs.
[+] Enlarge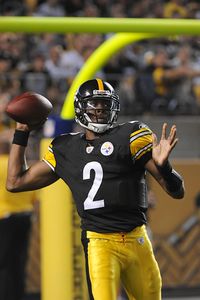 George Gojkovich/Getty ImagesThe Steelers are likely to lean on Dennis Dixon at quarterback while Ben Roethlisberger is out.
What you notice right away is Dixon's exceptional athletic ability. He is a true threat as a runner and can make a lot of plays -- designed or not -- with the ball in his hands. He is an effective passer on the run in rollout-type situations and has a strong enough arm that he can make most throws asked of him even when his feet are not set. In limited views, Dixon also has shown that he is not haphazard in his decision-making and understands that forcing a throw is rarely the correct decision.
Another thing that stands out with Dixon is his poise. Going back to his college days, he plays the game at a nice pace, is tough to rattle and it never seemed as though the game was too big for him. Many young quarterbacks are unable to slow down the game as Dixon does.
In Batch, Pittsburgh has a declining player who was never overwhelming from a passing standpoint to begin with. But he is a veteran who understands the offensive system, the speed of the NFL and protection schemes, and he values the football. In short, Batch wouldn't dazzle if put into the game, but he probably wouldn't embarrass himself either.
But Leftwich is also very interesting and had success with the Steelers in 2008. Obviously he has experience as a starter, which is invaluable, but Leftwich also is very tough, well liked by his teammates and has a cannon for a right arm. He also values the football and doesn't take too many unnecessary risks. But his negative qualities are nearly as prominent as what he does well. He is heavy footed and doesn't move well within the confines of the pocket while bringing next to nothing to the table as a runner. Leftwich also has an extremely long release that really telegraphs where he is going to deliver the football. These problems are not going away -- but that doesn't mean this wasn't a sound acquisition.
When analyzing the backup quarterback situations around the league, you quickly realize that many teams would be in far worse shape than Pittsburgh if their starting quarterback were unable to play. Dixon, Batch and Leftwich are more or less game managers at this point, but that can be a successful recipe with a typically strong Steelers defense and what is expected to be an improved rushing attack. Still, none of these quarterbacks are close to Roethlisberger.
While Batch is descending, Dixon is ascending and offers much more playmaking ability. It probably will be Dixon's job, but Leftwich just might have something to say about that.
April, 21, 2010
4/21/10
10:40
AM ET
As the
Pittsburgh Steelers
await official word from the NFL on quarterback
Ben Roethlisberger
, ESPN's Chris Mortensen and Adam Schefter are reporting the suspension
will be four to six games
.
The suspension will contain conditions that will allow it to be reduced based on Roethlisberger's behavior and compliance with clinical evaluators.
Mortensen on "SportsCenter" Wednesday morning addressed the possibility the Steelers would look to trade Roethlisberger. "I would say highly, highly unlikely," Mortensen said.
A look at the
Steelers' schedule
:
Steelers Regular Season Schedule (All times Eastern)
Week 1:
Sunday, Sep. 12, Atlanta, 1:00 PM
Week 2:
Sunday, Sep. 19, at Tennessee, 1:00 PM
Week 3:
Sunday, Sep. 26, at Tampa Bay, 1:00 PM
Week 4:
Sunday, Oct. 3, Baltimore, 1:00 PM
Week 5:
BYE
Week 6:
Sunday, Oct. 17, Cleveland, 1:00 PM
Week 7:
Sunday, Oct. 24, at Miami, 1:00 PM
Week 8:
Sunday, Oct. 31, at New Orleans, 8:20 PM
Week 9:
Monday, Nov. 8, at Cincinnati, 8:30 PM
Week 10:
Sunday, Nov. 14, New England, 8:20 PM
Week 11:
Sunday, Nov. 21, Oakland, 1:00 PM
Week 12:
Sunday, Nov. 28, at Buffalo, 1:00 PM
Week 13:
Sunday, Dec. 5, at Baltimore, 8:20 PM
Week 14:
Sunday, Dec. 12, Cincinnati, 1:00 PM
Week 15:
Sunday, Dec. 19, NY Jets, 4:15 PM
Week 16:
Thursday, Dec. 23, Carolina, 8:20 PM
Week 17:
Sunday, Jan. 2, at Cleveland, 1:00 PM