April, 24, 2014
Apr 24
5:00
PM ET
Bernie Kosar hit all the high notes with the community in a statement he released saying he wanted back on the
Cleveland Browns
' preseason broadcast team.
He also took the decision to another level by saying he was taken off the preseason broadcasts because of his slurred speech impairment, which is "a direct result of the many concussions I received while playing in the NFL."
That simple sentence fragment on the decision by the Browns and WKYC-Channel 3 had to raise the eyebrows of many, including concussion attorneys, the NFL and the team. Because Kosar is now saying that concussions led to problems that are keeping him from staying in a job.
Serious stuff.
And well beyond the decision to remove Kosar, though that alone caused some ripples in Cleveland and among fans -- a reaction that should surprise absolutely no one.
The decision no doubt can be attributed in part to the combination of Kosar making some harmless but critical statements of the Rams in 2013 -- which angered coach Jeff Fisher and the outrage police -- and a DUI that Kosar received in October of 2013. (He pled not guilty.)
The team could be thinking if there is an issue, then perhaps the next mistake Kosar makes on the air could be more serious.
But in sacking Kosar and bringing in Solomon Wilcots, the team did not really recognize the local audience. Instead of adding an ex-Brown who connects to the community, the team went the "national" route when another ex-player might have eased the sting.
Browns fans enjoyed having Kosar on the broadcast, for his acumen and his insight into the game. Kosar was adept at breaking down a play before the play, and explaining what went right and what went wrong. Fans also liked him because of who he is; Kosar's popularity in Cleveland remains strong.
Kosar played right into that popularity with his statement, which in part read:
"I believe that this decision stems from my slurred speech impairment, which is a direct result of the many concussions I received while playing in the NFL. This is very unfortunate, as I believe my football acumen and ability to describe what is happening on the field, has been well received by Cleveland Browns fans. I love to put the personal touch, the pride in the Browns, and the pride in our Cleveland community into the broadcast."
He added that "I still bleed Brown and Orange."
Call it Kosar's version of a two-handed backhand down the line.
The response from the TV station was that there was no going back, the decision was made, and it was made because as the Browns change the broadcast should change.
In most cases a change like this would draw a yawn.
But not when it comes to Kosar. Not in Cleveland.
Which is why it doesn't seem like a change was really necessary. The Browns had a guy who connected with the community, who was insightful and football savvy, and they replaced him with a guy with no connection other than he's connected to the league.
Bottom line: For whatever reason, the Browns and the station clearly decided the risk-reward ratio with Kosar was no longer in their favor.
August, 12, 2013
8/12/13
8:30
AM ET
This is technically your wake-up call. But, by the looks of the reports coming out of AFC North camps, this is really your mid-August injury report ...
RAVENS
: Why did the Ravens decide to sign tight end Dallas Clark on Sunday? Perhaps it's because of the uncertain status of Ed Dickson (hamstring), who was noncommittal on whether he'll be ready for the Sept. 5 season opener. "I can't make any predictions but I'm working hard to do that," Dickson said, via
The Baltimore Sun
. "It's one of those things where it was really sore and I tried to prevent it by doing other things. The doctor said it went all the way through, so it's not lingering through the season so I can get all the way healthy and make me back to 100 percent." Wide receiver Deonte Thompson (foot) won't play in Thursday's preseason game and backup running back Bernard Pierce (knee) hasn't been ruled out.
BENGALS
: Wide receiver Marvin Jones returned to practice after missing two weeks with a hamstring injury. Jones, who is battling Mohamed Sanu for the No. 2 receiver job, believes the injury has re-energized him. "Whenever you are out and have to sit on the sidelines, that is the boringest thing ever," Jones told
The Cincinnati Enquirer
. "You have to sit there when you want to be out there with your brothers competing and playing. When you are on the sideline it's no fun. When I got back it was a big old boost of energy."
STEELERS
: Safety Troy Polamalu looked like his old self in the preseason opener, roaming all over the field and being disruptive near the line of scrimmage. But his one crucial mistake -- failing to have deep coverage on a deep pass to Victor Cruz -- resulted in a 57-yard touchdown. "I made a mistake that I know I have to correct and that's huge," Polamalu told
The Pittsburgh Post-Gazette
. "It's better than making it in Week 1. But there's also part of the preseason where you have to get a feel for what you can get away with and what you can't get away with. So we learned a lot, speaking for the first-team defense, for sure."
BROWNS
: Running back Trent Richardson told
The Akron Beacon Journal
that he's fully recovered from a shin injury and wants to play in Thursday's preseason game. But Richardson understands the Browns' big-picture approach. "The ultimate goal is to make it to Miami, but it's one day at a time," Richardson said. "You don't want to do nothing too crazy to get hurt. At the same time, you want to be on time with everything, with your timing, the game conditioning and everything like that." ... CEO Joe Banner reprimanded former Browns quarterback Bernie Kosar for his "
personal and unprofessional approach
" during Thursday's broadcast of the preseason game against the St. Louis Rams, but he decided to keep Kosar as a commentator for the remaining three preseason games.
February, 25, 2012
2/25/12
8:00
AM ET
A quick look at what's happening around the AFC North as the NFL combine continues in Indianapolis. I will provide my take on many of these issues and topics in the days to come, but I wanted to pass along the information.
CINCINNATI BENGALS
Coach Marvin Lewis did seem troubled over the latest off-the-field incident involving middle linebacker Rey Maualuga, who has pleaded not guilty to a misdemeanor assault charge at a Cincinnati bar. Maualuga is the fourth Bengals player since July to have a legal issue, joining wide receiver Jerome Simpson, cornerback Adam Jones and running back Cedric Benson. "There's a concern," Lewis told reporters at the NFL combine, via the Cincinnati Enquirer. "What [Maualuga] does away from football is important. He has to make good choices and decisions."
Benson is not expected to be re-signed by the Bengals, and Lewis' comments about the running back didn't change that perception. As the team website points out, it sounded like Lewis was giving Benson a lifetime achievement award instead of a new contract. "I think we want to improve our running game and if it includes Ced, it includes Ced," Lewis said. "We need to have more explosive running plays. Ced has had a fine career. He's a physical player and been a big part of our success."
Lewis provided encouraging news on two players who are coming off season-ending injuries. Cornerback Leon Hall (Achilles) is ahead of schedule, and wide receiver Jordan Shipley (knee) continues to make "significant progress," Lewis said.
CLEVELAND BROWNS
Coach Pat Shurmur reiterated the Browns want to re-sign starting middle linebacker D'Qwell Jackson, who's scheduled to become an unrestricted free agent next month. Shurmur said the team hasn't made a decision whether it will place a franchise tag on Jackson, although the Plain Dealer of Cleveland reported last week that the Browns plan to do so. "We're going to be willing to use [the franchise tag]," Shurmur said. "As you go through signing our free agents, then we'll see what's the best place to use that tag."
In injury updates, Shurmur said left guard Eric Steinbach is progressing from a season-ending back injury but he didn't commit to the left guard as a starter, according to the Akron Beacon Journal. Jason Pinkston, who replaced Steinbach at left guard, will not move to tackle and will continue to develop at the guard position, according to Shurmur.
Former Browns quarterback Bernie Kosar attended the combine, but not in an official capacity, a team spokesman told the Akron Beacon Journal.
BALTIMORE RAVENS
PITTSBURGH STEELERS
Major changes are unlikely to occur to the Steelers' offense under new coordinator Todd Haley, according to general manager Kevin Colbert. The biggest reason is it's tough to do so when the team has been successful and is bringing most of the same personnel back. "So, it's hard to come in and drastically change your philosophy because of the group of players that you have," Colbert said, via the Pittsburgh Post-Gazette. "You can't overhaul a whole roster. Nor are we looking to because this group of players has been very successful."
The hope is that the high-ankle sprains that have hampered Pro Bowl center Maurkice Pouncey the past two years are in the past. "The reports we got and the last time we saw him, he was progressing just fine," Colbert said, via the Pittsburgh Tribune-Review. "High-ankle sprains, they're a different injury and then when you re-injure it sometimes you've got to do some procedures to shore that joint up."
A Cleveland-based reporter asked Colbert if the team had reached a "breaking point" with linebacker James Harrison, who was suspended last season after he knocked out Browns quarterback Colt McCoy. "No. Absolutely not," Colbert said. "James Harrison is a great player. He tries to play within the rules. Sometimes, the penalty is unavoidable, and he ends up getting a suspension out of it. He served his time. We've all moved on. We know James Harrison plays the game very hard. He plays it within the rules the best he can. Sometimes, circumstances happen in the course of a game, and you have to live with the consequences. But in no way are we ever going to be disappointed with that player."
March, 8, 2011
3/08/11
11:30
AM ET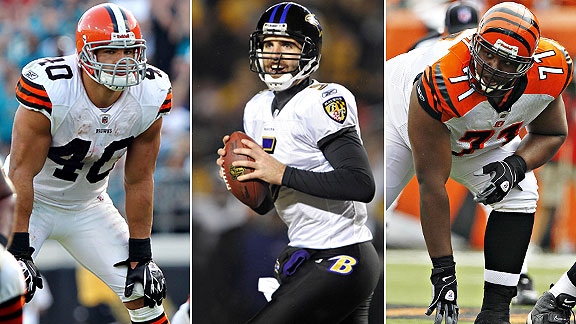 US PresswirePeyton Hillis, Joe Flacco and Andre Smith are among the AFC North players with the most to prove.
The offseason is a time to reflect and evaluate. The NFL remains a constant proving ground. These seven AFC North players -- who face questions ranging from consistency to becoming a franchise quarterback -- have the most to prove this upcoming season:
No. 7:
Joe Flacco
, QB,
Baltimore Ravens
2010 stats:
3,622 yards, 25 touchdowns, 10 interceptions, 93.6 passer rating
Proving point:
Flacco is a unique case, because he doesn't have much to prove in the regular season. The third-year quarterback has improved every year and won an average of 10.7 games per season in Baltimore. But Flacco's proving ground
starts in the playoffs
, and that is the next step in his maturation process. Fans in Baltimore expected better postseason play right away from Flacco and now are voicing their displeasure. Despite his putting up career highs in yards, touchdowns and passer rating last season, Baltimore's second-round loss to the
Pittsburgh Steelers
still stings for a Ravens team many expected to get to the Super Bowl. Flacco has a 4-3 postseason record, which isn't bad. But he's only played great football in one of his seven career playoff games. Is Flacco going through the normal growing pains of a young quarterback? Or is he simply not clutch? Next season will go a long way toward answering that question.
No. 6:
Ziggy Hood
, DE, Steelers
2010 stats:
20 tackles, three sacks
Proving point:
Hood took advantage of a luxury not many first-round picks have in the NFL. He was a backup for about a year and a half and was allowed to learn in Pittsburgh before being forced into the starting lineup. Hood became a starter after Pittsburgh veteran defensive end
Aaron Smith
was lost for the season with a triceps injury. The 2009 first-round pick stepped in admirably, and the Steelers finished with the NFL's No. 2 defense and top-rated run defense. Can Hood be a full-time starter? With Smith returning, it will be interesting to see how the Steelers handle this. Smith, 34, is the prototypical 3-4 defensive end and is still a good player when healthy. But Hood also is a budding talent who looks ready to step up.
No. 5:
Michael Oher
, LT, Ravens
2010 stats:
16 starts
Proving point:
Is Oher a left tackle or right tackle? After two seasons, the Ravens are still trying to figure that out. Oher followed up a stellar rookie campaign on the right side with a so-so 2010 season at left tackle. Baltimore had contract and health issues last offseason with
Jared Gaither
and decided to make the switch, which is often challenging. Oher had issues protecting Flacco's blind side (no pun intended) at times and suffered too many pre-snap penalties. But Oher remains Baltimore's best offensive lineman. So there is potential to improve on the left side in his third year. Chances are, Oher will get another shot to prove that in 2011 if the Ravens cannot find a better option via the draft or free agency.
No. 4:
Jerome Simpson
, WR,
Cincinnati Bengals
[+] Enlarge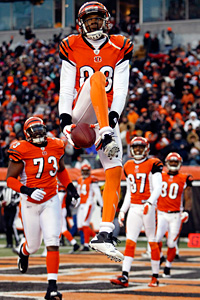 AP Photo/Ed ReinkeCan Jerome Simpson keep the momentum going from the end of last season?
2010 stats:
20 receptions, 277 yards, three touchdowns
Proving point:
After three mostly uneventful seasons, Simpson ended the final two weeks with a bang by posting back-to-back 100-yard games and three total touchdowns. Was the late surge a fluke or a sign that Simpson has finally turned the corner? Injuries to veterans
Chad Ochocinco
and
Terrell Owens
gave Simpson an opportunity to play. Now the Bengals have to figure out if Simpson is worthy of a larger role -- perhaps as a starter -- in 2011. Outsiders have their doubts. Most mock drafts have Cincinnati taking Georgia receiver A.J. Green with the No. 4 overall pick. If the Bengals take Green, that would show a lack of confidence in Simpson and their current group of receivers. Ochocinco also could become trade bait this offseason.
No. 3:
Peyton Hillis
, RB,
Cleveland Browns
2010 stats:
1,177 rushing yards, 61 receptions, 13 total touchdowns
Proving point:
Is Hillis a one-year wonder? Following a breakout 2010 season, that is the question Browns fans want answered. Hillis exploded on the scene by leading the Browns in rushing and receiving last year. He was by far the team's MVP. But Hillis needs another great season for the Browns to have a chance in the AFC North. His numbers dipped toward the end of the season, as teams keyed on Hillis and he suffered through some nagging injuries. Expect defenses to be more aware of Hillis from the start next season. It will be interesting to see whether Hillis gets the same number of opportunities. Browns rookie head coach Pat Shurmur is changing to a West Coast offense. So Cleveland is expected to pass the ball a lot more than it did under former coach Eric Mangini. Hillis has good hands and could fit in the system. He's always been productive when given the opportunity, and posting back-to-back 1,000-yard seasons for the first time would be a solid achievement for Hillis.
No. 2:
Andre Smith
, RT, Bengals
2010 stats:
Four starts
Proving point:
After two years, many have already written Smith off as a draft bust. Cincinnati took Smith No. 6 overall, despite many red flags and have gotten little out of its investment thus far. The Bengals had high hopes for Smith in his second season but injuries and inconsistent play led to just four starts. Now Cincinnati is considering moving Smith to guard to see if his play improves. The Bengals also have to
decide on Smith's contract
later this offseason. Cincinnati has to decide whether to keep his contract at four years or pay him for two additional years, which included a $4.75 million option bonus. Based on the first two seasons, it would be surprising if the Bengals paid Smith the additional money.
No. 1:
Colt McCoy
, QB, Browns
2010 stats:
1,576 yards, six touchdowns, nine interceptions, 74.5 passer rating
Proving point:
There is no player in the AFC North with more to prove next season than McCoy, who received a surprising amount of playing time as a rookie. Cleveland intended for McCoy to learn from the sidelines last season. But injuries to veterans
Jake Delhomme
and
Seneca Wallace
led to early playing time. McCoy then performed better than expected and secured the job after eight starts. The quarterback of the future is now the quarterback of the present. The Browns' front office and coaching staff are 100 percent behind McCoy as he tries to become Cleveland's first legitimate franchise quarterback since
Bernie Kosar
. There is a long list of failures at the position over the past dozen years. If the Browns have any chance of turning the franchise around and competing in the AFC North, McCoy has to be the answer.
January, 28, 2011
1/28/11
8:00
AM ET
Here are the most interesting stories Friday in the AFC North:
Morning take: Pouncey didn't look good after the game, despite the team not officially ruling him out. Backup Doug Legursky appears to be the next man up.
Morning take: Lewis signed a two-year extension, which means he likely will reach a full decade in Cincinnati.
Morning take: Baltimore needs help for Pro Bowler Terrell Suggs. If the Ravens can get another terror on the opposite end, that could spell trouble for opponents.
Morning take: Kosar spent time in the Browns organization but now is looking elsewhere. There's even speculation he could land in Cincinnati in some capacity.
March, 2, 2010
3/02/10
7:30
AM ET
Here are the most interesting stories Tuesday in the AFC North: Morning take: Well, chances are Ochocinco won't show up for the start of Cincinnati's offseason program on March 29. "Dancing With The Stars" begins about a week earlier.
Morning take: I've gotten to know Whaley some over the past two years and he definitely knows his stuff. This was a smart hire for Buffalo.
Morning take: Holmgren knows quarterbacks, which is key because Cleveland has lacked stability at that position since the days of Bernie Kosar.
Morning take: Expect left tackle Jared Gaither, fullback Le'Ron McClain and backup quarterback Troy Smith to get tendered. From there, Baltimore has some decisions to make.
November, 9, 2009
11/09/09
8:30
AM ET
Posted by ESPN.com's James Walker
Here are the most interesting stories Monday in the AFC North:
Morning take: Looking back at recent seasons, Baltimore has struggled to put great seasons together in back-to-back years. We may have to look into that phenomenon later this week.
Morning take: Benson had 117 yards rushing Sunday in what's going to be a career year. The Bengals also proved they have the right formula to be successful against Baltimore.
Morning take: There's been bigger games between these two teams in the past. But the Steelers (5-2) still need this win to keep up with the first-place Bengals and get a two-game lead over the Ravens in the standings.
Morning take: I agree with the article that Kosar doesn't fit the description of an experienced, proven talent evaluator. Mike Holmgren is a great place to start if the Browns can land him.
June, 25, 2009
6/25/09
8:45
AM ET
Posted by ESPN.com's James Walker
Here are the most interesting stories Thursday in the AFC North:
Morning take: Although Anderson makes a point that the pick for right tackle (Jonathan Ogden) should've been a natural right tackle, I have no problem with ESPN.com's panel choosing the top two players, regardless of the side.
Morning take: On the surface, this sounds like a decent idea. But I doubt Cleveland's new regime, led by coach Eric Mangini, welcomes additional assistance.
Morning take: Toward the end of last season, the Ravens were running out of healthy players at this position, which is why it made sense for them to add quality players there such as Domonique Foxworth and Chris Carr in free agency.
Morning take: Hood compares his playing style to Tommie Harris, which would be a great addition if Hood reaches that level.
June, 20, 2009
6/20/09
10:00
AM ET
Posted by ESPN.com's James Walker
Here are the most interesting stories Saturday in the AFC North:
Morning take: Although it's a little baffling why the Titans are resorting to these tactics so early, this game will be a great way to kick off the 2009 season. It involves two very good teams, a lot of trash-talking and interesting storylines.
Morning take: According to Baltimore Sun columnist Mike Preston, no. We will have a little more on Marshall's situation later in this weekend's mailbag.
Morning take: This would be good if Cook lives up to that comparison. Based on his scrums in minicamp, Cook is showing a mean streak and perhaps that will give him an edge in the race to be the starting center.
Morning take: Every so often we see former NFL stars hurting for money, especially since the salary structure for the NFL 20 years ago was nowhere near where it is today for former players like Kosar.
July, 9, 2008
7/09/08
4:38
PM ET
Posted by ESPN.com's James Walker
| | |
| --- | --- |
| | |
| | AP Photo/Tony Dejak |
| | Bernie Kosar hopes to bring a championship to Cleveland. |
As fans of the Cleveland Browns can attest, conference championship games have never brought much luck to Bernie Kosar. Despite how well Kosar would play, quarterback counterpart John Elway and the Denver Broncos always found a way to one-up Cleveland and punch a ticket to the Super Bowl.
But 20 and 21 years after "The Fumble" and "The Drive," respectively, Kosar is back in the conference championship game once again -- this time as president of the Cleveland Gladiators of the Arena Football League.
Cleveland will face the Philadelphia Soul Saturday, July 12, for a chance to play in the Arena Bowl.
Many football people believe conference title games can be just as difficult -- and sometimes more difficult -- to win than championship games. Kosar agreed with that assessment based on personal experience.
"Most people think that if you don't win it all, it's not a success," Kosar said Wednesday via conference call. "But basically you're playing the cream of the crop, the best-type teams [in conference championships]. It's not an accident that I believe us and Philadelphia are still playing. And when you're playing at the highest level, somebody has to lose."
Kosar aims to not come up on the short end in the conference championship again this weekend.
The matchup pits two championship-deprived cities. Philadelphia hasn't won a pro sports title since the 76ers were NBA champions in 1983. Cleveland hasn't won a pro championship since the Browns did it in 1964, before the merger.
Although Elway owns an arena team, he is not standing in Kosar's way this weekend. But former NFL quarterback and current ESPN analyst Ron Jaworski is.
Jaworski is president of the Soul and, like Kosar, also is trying to bring another title to the city he once played in.
"We really have two cities that are starving for a championship," Jaworski said. "I can speak for Philly, and I know the Cleveland organization feels the same way. We're very proud to represent our cities."