AFC North:

Best of the NFL summer 2011
June, 30, 2011
6/30/11
1:00
PM ET
»
Best of NFC
:
East
|
West
|
North
|
South
»
AFC
:
East
|
West
|
North
|
South
As part of Best of the NFL Week on ESPN.com, here are five bests for the AFC North:
[+] Enlarge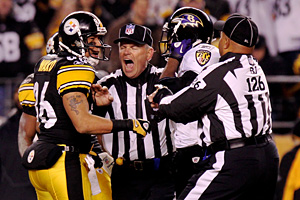 Nick Laham/Getty ImagesThe Ravens and Steelers have the best rivalry in the division and one of the best in the NFL.
Best rivalry:
The
Pittsburgh Steelers
and
Baltimore Ravens
are finally getting their due following a series of classic games the past three years. The rivalry recently included a pair of great playoff matchups following the 2008 and 2010 seasons -- both won by Pittsburgh. The Steelers have had the upper hand in this rivalry recently. Pittsburgh starting quarterback
Ben Roethlisberger
hasn't lost to the Ravens since 2006. But that
hasn't stopped
both teams from
trash-talking
this offseason. The Steelers and Ravens will play in Baltimore in Week 1.
Best QB controversy:
Few teams have a bigger quarterback controversy on their hands than the
Cincinnati Bengals
. Franchise player
Carson Palmer
refuses to play for the team and says he
wants to be traded or will retire.
On the other end, Bengals owner Mike Brown is calling Palmer's bluff and insists he
won't trade the quarterback
. This has been a major league stare down this offseason, and so far neither side has blinked. I don't expect either to back down anytime soon. But we will have a lot more clarity on the situation once a new collective bargaining agreement is reached.
Best team facility:
"The Castle" in Owings Mills, Md., is impressive. It's the best team facility in the division and one of the best in the league. The Ravens have beautiful outdoor practice fields and a huge fieldhouse that is top-notch. The team spared no expense. Pittsburgh's complex is second and the
Cleveland Browns
' training facility in Berea, Ohio, is third. Last is the training facility of the Bengals, who practice at their stadium and are behind the times compared with most NFL teams. Cincinnati doesn't have an indoor practice facility, which has been a point of contention between ownership and Bengals head coach Marvin Lewis.
Best tailgating:
Although I don't tailgate, I do walk and drive by all the AFC North tailgates multiple times during the season. From the looks of it, I would rate Baltimore as the best pregame tailgate. The atmosphere is always energetic and the food smells great. I would be lying if I didn't say I thought about stopping by a few times and grabbing a bite to eat before the game.
Best fan base:
Steeler Nation is everywhere and is one of the top fan bases in the country in any sport. They pack Heinz Field every week during football season, and there's a long waiting list for tickets. Steelers fans also travel extremely well and often take over opposing stadiums. The team has rewarded these loyal fans with an NFL-high six Super Bowl championships. It's a two-way lovefest between the team and its fan base that few pro teams can match.
June, 29, 2011
6/29/11
2:00
PM ET
»
Best of NFC
:
East
|
West
|
North
|
South
»
AFC
:
East
|
West
|
North
|
South
As part of Best of the NFL Week on ESPN.com, here are five bests for the AFC North:
Best ego manager:
Pittsburgh Steelers
head coach Mike Tomlin runs away with this category. Managing people and egos are among Tomlin's greatest strengths. The Steelers are not a team with many locker room problems, but the few times it's been an issue -- such as
Willie Parker
demanding more carries in 2008 -- Tomlin was masterful in handling the situation. Every Steeler knows his role and there is great chemistry in the locker room. It's part of the reason Pittsburgh has been to two Super Bowls the past three years under Tomlin.
[+] Enlarge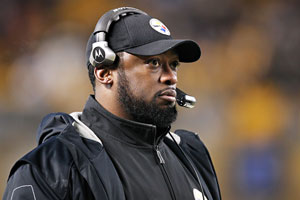 Matthew Emmons/US PresswireSteelers coach Mike Tomlin has proven to be skilled at handling the egos of his players among other things.
Best grinder:
Cincinnati Bengals
fans have been hot and cold on head coach Marvin Lewis, but one thing you can't deny is his work ethic. Because of the way the Bengals are set up as an organization, Lewis has to grind and deal with more than most head coaches. He has to combat heavy-handed ownership. Cincinnati's scouting staff also is very thin, which puts extra pressure on the coaching staff to examine college players. The Bengals also do not sign big-name free agents or devote the same resources to other areas -- such as hiring a general manager or building an indoor practice facility -- as many other teams. Despite several things being stacked against him, Lewis has produced two playoff teams in his eight seasons in Cincinnati. Before Lewis arrived in 2003, the Bengals went 12 consecutive years without making the postseason.
Best hair:
Considering the stress and long hours, coaching is a profession where you can quickly lose your hair. But
Baltimore Ravens
head coach John Harbaugh has found a way to avoid that. Harbaugh, 48, still has an impressive full head of hair that most coaches would be envious of. He's coached playoff teams in each of his three seasons, which probably helps keep the stress level down.
Best coach-GM tandem:
Although Harbaugh and Ravens general manager Ozzie Newsome are very good, the slight edge goes to Tomlin and Pittsburgh general manager Kevin Colbert. Both teams do a tremendous job, but the Steelers have had Baltimore's number lately. Tomlin and Colbert have a healthy respect for one another and don't overstep each other's boundaries. Colbert rarely does interviews during the season, leaving that up to Tomlin. The coach avoids the spotlight in the offseason and gives way to his general manager. Both are among the best in the business.
Best postgame interview:
Tomlin has the edge here, as well. He has the charisma and swagger to carry a news conference, and his are usually refreshing, energetic and honest. Tomlin calls it how he sees it, which isn't always the case with head coaches. The few times I can recall Tomlin dodging a question have come when the subject veers to officiating, because he doesn't enjoy getting fined by the NFL.
June, 28, 2011
6/28/11
2:00
PM ET
»
Best of NFC
:
East
|
West
|
North
|
South
»
AFC
:
East
|
West
|
North
|
South
As part of Best of the NFL Week on ESPN.com, here are five bests for the AFC North:
Best QB arm:
This may surprise you, but
Baltimore Ravens
quarterback
Joe Flacco
has the strongest arm in the division -- and one of the strongest in the NFL. Flacco is lean, but the ball flies out of his hand and he throws one of the prettiest deep balls you will ever see. The problem is Baltimore hasn't taken advantage of "Bazooka" Joe's cannon arm much since his rookie year.
Pittsburgh Steelers
quarterback
Ben Roethlisberger
also has a strong arm and is a close second.
Cincinnati Bengals
quarterback
Carson Palmer
hasn't been the same since his severe elbow injury in 2008, and
Colt McCoy
of the
Cleveland Browns
has the
weakest arm in the division.
Best QB in the clutch:
Roethlisberger
takes this award
in the AFC North running away. He is strong in the clutch, and other quarterbacks in the division remain unproven in that area. Roethlisberger is 10-3 in the playoffs, including a 2-1 mark in Super Bowls. Many in Steeler Nation were surprised when Roethlisberger couldn't come up with the game-winning drive in Super Bowl XLV against the
Green Bay Packers
, because he'd done it so many times before in crucial moments.
[+] Enlarge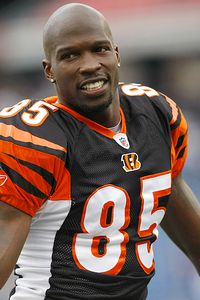 David Butler II/US PresswireBengals wide receiver Chad Ochocinco's unique world view often manifests itself on Twitter.
Best tweeter:
Is there really any debate? Cincinnati Bengals wide receiver
Chad Ochocinco
is not only the best tweeter in the division, but he's the best tweeter in the NFL and possibly among all pro athletes. Ochocinco, who always enjoyed the spotlight and attention, was one of the first players to use social media as a tool to increase his profile. He has
more than 2 million Twitter followers
and doesn't hold back. His tweets range from sports to relationships to bashing his head coach. Most of his views are entertaining.
Best pregame orator:
Ravens middle linebacker
Ray Lewis
isn't just famous for consistently playing at a Pro Bowl level during the game. Lewis also gained fame for his speeches to motivate his teammates before the game. Lewis is a natural leader and is as focused and intense as they come. There is no doubt the Ravens are Lewis' team, and his pregame entrances at M&T Bank Stadium have become a staple in Baltimore.
Best special-teams wrecking ball:
Although last year wasn't a good indication, Cleveland Browns receiver and special-teams ace
Josh Cribbs
is a terror in the third phase of the game. He's one of the NFL's top kick returners and also very tough to block on coverage teams. Cribbs had a toe injury that neutralized many of his strengths last year, but in previous seasons he was Cleveland's best overall football player. There was speculation at one point that Cribbs could play some safety in spot duty, because he's one of the team's surest tacklers despite being a receiver.