AFC North:

Best teams ever 2010
June, 23, 2010
6/23/10
12:30
PM ET
Notable players:
RB Jim Brown, WR Paul Warfield, K Lou Groza, G Gene Hickerson, RB Leroy Kelly, QB Frank Ryan, LB Jim Houston.
Analysis:
Jim Brown and Paul Warfield in the same offense.
Does any more need to be said?
[+] Enlarge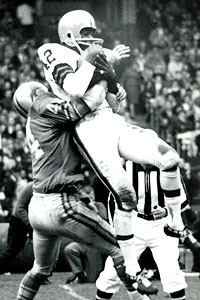 Malcolm Emmons/ US PresswirePaul Warfield averaged 17.7 yards per catch during his rookie season in 1964.
Often you hear Cleveland fans longing for the glory days, and this group led by Brown and Warfield -- perhaps the two best to play their respective positions -- tops the list.
This team was ahead of its time. Cleveland, which finished 10-3-1 in 1964, scored more than 400 points in an era when that was extremely difficult. For perspective, only eight teams scored more than 400 points in 2009 with two more regular-season games (16) and numerous advancements in the NFL game.
Brown, 28 and in his prime, rushed for 1,446 yards and averaged 5.2 yards per carry. He averaged more than 100 yards rushing per game. Warfield, then a 22-year-old rookie, had 920 receiving yards and nine touchdowns, as he was a key figure who helped revolutionize the vertical passing game. He averaged 17.7 yards per catch in '64, a stat that would still be impressive today.
To further prove Cleveland's dominance, they won the NFL Championship, 27-0, over the Baltimore Colts. The high-powered offense with Brown, Warfield and Ryan (25 touchdown passes) at quarterback was too advanced. Cleveland scored 30 points or more in half of its games that season.
Brown, Warfield, Groza, Hickerson and Kelly -- who was a rookie kick returner in '64 -- are all Hall of Famers from this group.
Most impressive win:
As mentioned earlier, Cleveland's 27-0 rout of the Baltimore Colts was the exclamation point of the '64 season.
Both teams had an amazing collection of talent. But Baltimore Hall of Famers such as quarterback Johnny Unitas, running back Lenny Moore and tight end John Mackey were stifled by Cleveland's defense, which forced four turnovers. Brown rushed for 114 yards for Cleveland and Ryan threw three touchdown passes in the blowout win.
Research room:
Groza had one of the most interesting careers in football history. He played 22 years in Cleveland and arrived as an offensive lineman. He made the Pro Bowl nine times as a left tackle and also played some right tackle, center, defensive tackle and kicker during his career. Groza was the kicker for the '64 team at age 40. He made 22 field goals and all 49 extra-point attempts.
Sudden retirement:
Following the championship in '64, Brown would play one more season before suddenly retiring to pursue a movie career.
Brown rushed for an astounding 1,544 yards and 17 touchdowns in his final season. Most of Brown's rushing records have been broken. But he's widely considered the best running back of all time.
Honorable mentions:
1950:
Another elite, championship team stacked with talented players such as Otto Graham and Marion Motley. This Browns team would give the '64 group a run for its money. But not having Warfield or Brown on this squad makes the difference.
1953:
The Browns, again led by Graham at quarterback, ran off 11 consecutive wins before losing a meaningless final regular-season game. But Cleveland lost to the Detroit Lions, 17-16, in the NFL Championship for a disappointing end to an otherwise dominant season.
1986:
This team is best known for falling victim to "The Drive" led by quarterback John Elway of the Denver Broncos. Elway orchestrated a 15-play, 98-yard drive in Cleveland to force overtime and Denver eventually won the game, costing a talented Browns team a shot at the Super Bowl. One year later, a chance at revenge against Denver in the AFC title game was thwarted by "The Fumble."
June, 23, 2010
6/23/10
12:00
PM ET
Notable players:
OT Anthony Munoz, QB
Boomer Esiason
, RB James Brooks, RB Ickey Woods, DL
Tim Krumrie
, WR Eddie Brown, S
David Fulcher
[+] Enlarge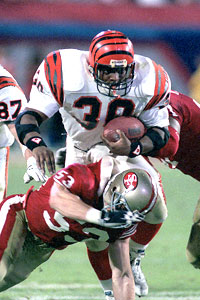 Manny Rubio/US PresswireIckey Woods led the Bengals with 1,066 yards rushing and 15 TDs.
Analysis:
If not for the late-game heroics from
San Francisco 49ers
Hall of Fame quarterback
Joe Montana
, the 1988
Cincinnati Bengals
would have earned the franchise's first and only Super Bowl title. Instead, they join a long list of great teams that are often forgotten after losing in the big game.
With the Bengals leading by three points, Montana drove San Francisco 92 yards for a touchdown late in the fourth quarter to seal a 20-16 victory in Super Bowl XXIII. Montana's game-winning touchdown throw to receiver
John Taylor
with 34 seconds remaining has been replayed constantly and is a reminder of how close the Bengals were to winning the Super Bowl.
But being that close to a title is what makes the '88 Bengals the best team in franchise history.
Cincinnati's explosive offense led the NFL in scoring with 448 points and in total yards in '88. Esiason threw for 3,572 yards and 28 touchdowns, and the Bengals nearly had two 1,000-yard rushers in Ickey Woods (1,066 yards) and James Brooks (931 yards).
The '81 Bengals also won the AFC and are a close second. Coincidentally, Cincinnati lost to San Francisco in the Super Bowl that year as well.
Most impressive win:
Despite Cincinnati lighting up the scoreboard all season, the AFC Championship Game was a defensive battle against the
Buffalo Bills
.
The Bengals had to win with toughness, holding the
Jim Kelly
-led Bills to 181 total yards in a 21-10 victory. Cincinnati held Buffalo to 45 yards rushing and forced three turnovers. The Bengals also ran the ball 50 times for 175 yards in the win to set up their Super Bowl showdown with San Francisco.
Research room:
The Bengals had seven Pro Bowlers in '88. Esiason, Munoz, Brooks, Brown and tight end
Rodney Holman
represented the AFC on offense. On Cincinnati's defense, Fulcher and Krumrie also earned Pro Bowl nods.
The Ickey Shuffle:
To the casual football fan, probably the most memorable aspect of the run made by the '88 Bengals was the invention of the "The Ickey Shuffle."
Woods came up with a famous (infamous?) touchdown dance that consisted of a stutter-step to each side, then a spike of the football. Artistically, "The Ickey Shuffle" wasn't all that great. But it became one of the most well-known touchdown celebrations in NFL history.
Honorable mentions:
1981:
This remains the only other Bengals team to play in a Super Bowl. Quarterback Ken Anderson had a career year, throwing for 3,754 yards, 29 touchdowns and a 98.4 passer rating.
2005:
The best team of the Marvin Lewis era, Cincinnati went 11-5 and won the AFC North. But a first-quarter knee injury to quarterback
Carson Palmer
led to a quick playoff exit against the
Pittsburgh Steelers
.
1975:
Another first-round playoff exit makes this a quality but forgotten team. The Bengals were very well-balanced in '75 and ranked in the top seven in total offense (No. 2) and total defense (No. 7).
June, 23, 2010
6/23/10
11:30
AM ET
Notable players:
LB
Ray Lewis
, OT
Jonathan Ogden
, S
Rod Woodson
, TE
Shannon Sharpe
, RB
Jamal Lewis
, LB
Peter Boulware
, CB
Chris McAlister
, DT
Sam Adams
[+] Enlarge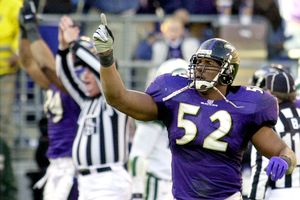 AP Photo/Nick WassRay Lewis and the Ravens' defense helped the young franchise win its first, and so far only, Super Bowl.
Analysis:
The 2000 Ravens are the clear choice for a franchise that's only been in existence for 14 years. It was the only team to win a Super Bowl and also had arguably the most dominant defense of all time.
Baltimore was far from a perfect Super Bowl team in 2000. Most notably, the team had issues at quarterback. The Ravens started with
Tony Banks
under center but finished with
Trent Dilfer
, who played efficiently enough for Baltimore to make an incredible run to end the season.
At one point, the Ravens were a middle-of-the-pack, 5-4 team. Then Baltimore got hot, winning seven straight to end the regular season and four more postseason games, including a victory over the
New York Giants
in Super Bowl XXXV.
Led by middle linebacker Ray Lewis, the Ravens set several defensive records in 2000, including fewest points (165) and fewest rushing yards (970) allowed in a 16-game season. Baltimore also pitched four shutouts.
There were seemingly no weaknesses on defense. Baltimore's defensive line was stout with Adams and
Tony Siragusa
, the linebackers were elite, and the secondary had stud playmakers at safety (Woodson) and cornerback (McAlister).
Then-rookie tailback Jamal Lewis anchored the offense with 1,364 rushing yards. Tight end Sharpe was the team's most dependable receiver, recording 67 receptions for 810 yards.
Most impressive win:
Although the Super Bowl win over the Giants will go down as the biggest game of the season, the most impressive was Baltimore's dominance in the AFC Championship Game, a 16-3 road win over the
Oakland Raiders
. The Ravens' defense smothered Oakland's high-powered offense led by quarterback
Rich Gannon
. Baltimore forced five Oakland turnovers.
Research Room:
Longtime Ravens kicker
Matt Stover
made the only Pro Bowl of his 19-year career in 2000. With an inconsistent offense, Stover was clutch in connecting on 35 of 39 field goals. He led the NFL in both field goals made and field-goal attempts that season. Stover also converted all 30 extra-point attempts.
Lone ranger:
Ray Lewis remains the only player currently with the Ravens from their Super Bowl team in '00. Now 35, the future Hall of Famer is still playing at a Pro Bowl level. Lewis signed a multi-year deal in '09 to make certain that he retires a Raven.
Several key members from Baltimore's Super Bowl team left the organization in the past several seasons. Jamal Lewis last played for the Ravens in '06, Ogden retired after the '07 season, and McAlister and Stover last played for Baltimore in '08.
Honorable mentions (in order):
2006 (tie):
Baltimore finally got solid quarterback play from former NFL MVP
Steve McNair
, and the Ravens won 13 regular-season games. But in the postseason they ran into nemesis
Peyton Manning
and the
Indianapolis Colts
, who eventually won the Super Bowl.
2008 (tie):
The Ravens became the first NFL team to win two road playoff games with a rookie quarterback (
Joe Flacco
). But their run was stifled in fourth quarter of the AFC title game to another eventual Super Bowl champion: The
Pittsburgh Steelers
.
2001:
Baltimore's attempt to defend a Super Bowl title ended with a second-round playoff exit. The
Elvis Grbac
experiment was a disaster. After signing a big free-agent deal with Baltimore, he had more interceptions (18) than touchdowns (15).
June, 23, 2010
6/23/10
11:00
AM ET
Notable players:
QB Terry Bradshaw, LB Jack Lambert, RB Franco Harris, DB Mel Blount, LB Jack Ham, WR Lynn Swann, DT Joe Greene, WR John Stallworth.
[+] Enlarge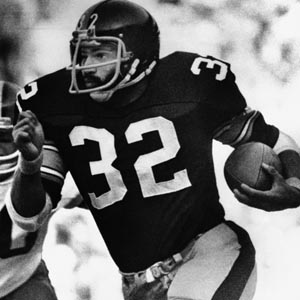 AP Photo/JJWFranco Harris posted career-high numbers during the 1975 season.
Analysis:
The '75 Steelers were the first Pittsburgh team to win back-to-back Super Bowls. It was also the best team from the famed Pittsburgh dynasty of the '70s, which included a bevy of Hall of Famers.
Led by the Bradshaw -- aka the "Blonde Bomber" -- Pittsburgh was able to win through the air and on the ground in an era when most teams were one-dimensional offensively and thrived on ground-and-pound football.
Pittsburgh's famed "Steel Curtain" defense was one of the best of all time and held seven opponents to single-digit scoring during the '75 season. In three playoff games, including the Super Bowl, offenses averaged only 12.3 points per game.
The '78 and '79 Pittsburgh title teams were also tremendous. But the '75 group had several key advantages.
For starters, every key member in '75 was in, or approaching, his prime. Hall of Famers Bradshaw (27), Blount (27), Ham (27), Lambert (23), Harris (25), Swann (23) and Stallworth (23) came into their own during this first run of back-to-back titles. By the time the second run of championships came at the end of the decade, this core group was four years older and some were approaching the end of their storied careers.
Further displaying their dominance, the '75 Steelers won by an astounding average of 15.1 points per game in the regular season, which led the NFL. It was also the highest margin of victory for any of Pittsburgh's championship teams. The '78 team won by an average of 10.1 points per game, while the '79 team won by 9.6 points per game.
Most impressive win:
The Steelers' 21-17 victory over the Dallas Cowboys in Super Bowl X was the team's crowning achievement. The Steelers won the turnover battle 3-0 to pull out a historic and close game. It completed the first of Pittsburgh's two back-to-back championships in the decade.
Research Room:
The Steelers allowed 17 touchdowns in 14 regular-season games in '75. In contrast, Pittsburgh scored 46 touchdowns, including two fumble returns for scores and one kickoff return.
Big Franco:
Harris is best known for the "Immaculate Reception" in '72 during a playoff win over the Oakland Raiders. But his best season rushing the football came three years later.
Harris recorded a career-high 1,246 yards rushing and 11 touchdowns during Pittsburgh's title run in '75. He averaged 4.8 yards per carry and also caught 28 passes out of the backfield. The nine-time Pro Bowler and Hall of Famer had eight 1,000-yard seasons.
Honorable mentions (in order):
1978:
A dominant group that won 14 games in the regular season and a Super Bowl. They scored at least 33 points in all three playoff victories.
1979:
The last championship team of the Steelers dynasty of the '70s. This group was No. 1 in total offense and No. 2 in total defense.
1974:
This team started the run of four championships in the '70s. But it wasn't until a year later that the core group of Hall Famers all blossomed and came into their own.