July, 8, 2014
Jul 8
10:00
AM ET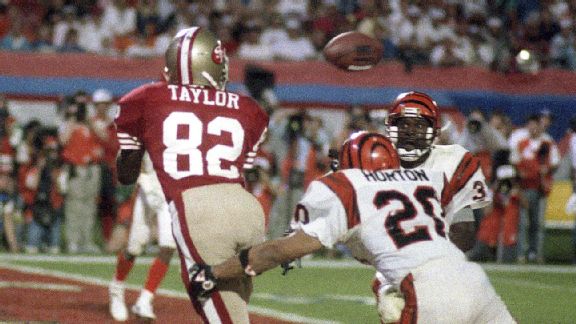 USA TODAY Sports
»
VOTE HERE
»
NFC Plays:
East
|
West
|
North
|
South
»
AFC:
East
|
West
|
North
|
South
This is one of three finalists for the most memorable plays in
Cincinnati Bengals
history. The others are Corey Dillon's 41-yard touchdown run that broke the single-game rushing record and the
San Francisco 49ers
John Taylor's game-winning touchdown catch to beat the Bengals in Super Bowl XXIII. This entry is a play from the same game; vote below for your favorite.
Score:
49ers 20, Bengals 16
Date:
Jan. 22, 1989.
Site:
Joe Robbie Stadium

Description:
In order to be eligible for consideration on the Bengals' top plays list, a play did not have to be one that caused Who Dey Nation to erupt in raucous cheer. It could have been the direct source of heartache, too.
Exactly 15 minutes, 16 seconds after Stanford Jennings pushed the Bengals out front by seven in Super Bowl XXIII with a kick return touchdown, 49ers quarterback Joe Montana punctuated a fourth-quarter comeback drive with a 10-yard touchdown pass in the back of the end zone to John Taylor. It was a catch that effectively ended the game and gave the 49ers their third Lombardi Trophy under former Bengals assistant, coach Bill Walsh.
Taylor's catch off a slant into the end zone also ended an 11-play drive that saw Montana complete eight of the nine passes he attempted. Aside from Taylor's game-winning grab, Hall of Famer Jerry Rice had three key receptions on the drive, including a 27-yard haul that put the 49ers in the red zone two plays ahead of Taylor's catch. The drive covered 92 yards and lasted barely two minutes.
Had Cincinnati's defense been able to stand as tall on that drive as it had earlier in the game, the Bengals likely would have kept the 49ers out of the end zone and held on just enough to win. Before that series, the Bengals had allowed 358 yards and just one touchdown. They also had allowed the 49ers to convert only two third downs on 10 tries. During the drive, San Francisco saw only one third down. It converted when Roger Craig plowed ahead for a 4-yard run after needing only 2 yards.
As much as Taylor's catch will forever be remembered as the iconic play that sealed the 49ers victory, it's important to note that the 10 plays before helped set it up.
@ColeyHarvey Too easy. Most memorable play was Montana to John Taylor in SB XXIII

— Mike Mobley (@JoePong1) June 9, 2014
July, 7, 2014
Jul 7
10:00
AM ET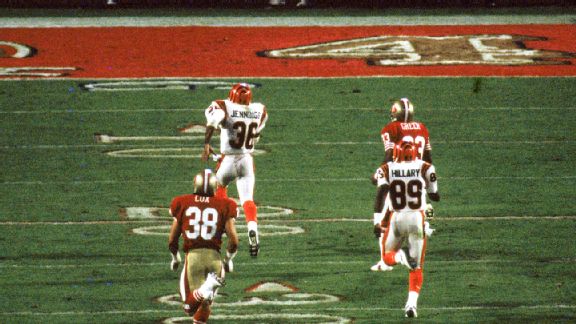 Gin Ellis/Getty Images
»
VOTE HERE
»
NFC Plays:
East
|
West
|
North
|
South
»
AFC:
East
|
West
|
North
|
South
This is one of three finalists for the most memorable plays in
Bengals
history. The others are Corey Dillon's 41-yard touchdown run that broke the single-game rushing record and John Taylor's game-winning touchdown catch that allowed the
San Francisco 49ers
to beat the Bengals in Super Bowl XXIII. This entry is a play from the same game; vote below for your favorite.
Score:
49ers 20, Bengals 16
Date:
Jan. 22, 1989
Site:
Joe Robbie Stadium
Description:
For 43 minutes, place kicking dominated Super Bowl XXIII. In the 44th minute, a kickoff return changed all that, giving the game an electrifying touchdown that put the Bengals in the lead with a quarter left in the defensive slugfest.

Stanford Jennings, a 26-year-old returner/running back at the apex of his NFL career, scored the first touchdown with 50 seconds left in the third quarter when he sprinted 93 yards on a kickoff return that pushed the Bengals to a 13-6 lead. Finally, after trading field goals with the 49ers, the Bengals had the game's momentum. As the Bengals prepared for the final quarter, the odds of them winning the franchise's first Super Bowl started looking quite favorable.
As we whittled down -- with your help -- the many plays that have taken place in Bengals history, it seemed clear that at least one play from one of Cincinnati's two Super Bowl appearances needed to make the list. Unfortunately for the Bengals, compared to other older and more successful teams, their 46-year history has a somewhat limited pool of cheer-worthy moments if we're discussing plays that could compete with the NFL's all-time best. Let's make it clear, though: That doesn't mean the team hasn't had any. From the "Freezer Bowl" to the franchise's founding to Chad Ochocinco's "Riverdance" to
Jerome Simpson
's flip and
Giovani Bernard
's zig-zag run at Miami last season, there have been some awe-inspiring moments.
None of those, however, made it in our top three.
Jennings' play deserves consideration as the most memorable play in Bengals history because, at the time, it was a pivotal play in one of the two biggest games the team has ever played. When Jennings was tripped up as he crossed the goal line, the Bengals sideline erupted. The entire group knew the Bengals were now in control of the game and stood a good chance to emerge from South Florida having denied one of its former sons his third Lombardi Trophy. 49ers coach Bill Walsh served as an assistant in Cincinnati under the late Paul Brown during the franchise's early years.
While then-Bengals coach Sam Wyche tried to keep his sideline calm, it was noted during the game's broadcast that he and Jennings were graduates of the same small South Carolina college, Furman. The two Paladins seemed poised to share a post-graduate honor so few who've played and coached in the NFL ever get to realize.
But two Joe Montana touchdown passes later, the Bengals lost the lead and, eventually, the game. They haven't returned to the Super Bowl since.
@ColeyHarvey #NFLNBengalsTopPlays Stanford Jennings Kick-off return TD in the Super Bowl.

— Jake Arthur (@REDSHulk) June 9, 2014
June, 14, 2014
Jun 14
4:10
PM ET
PITTSBURGH – Adroit drafting and the nurturing of supreme talent gave rise to the defense that had the nickname "Steel Curtain" bestowed on it as the
Pittsburgh Steelers
were claiming ownership of the 1970s.
But Chuck Noll's acumen as a coach also shaped the defense that tormented opposing offenses and led the Steelers to four Super Bowl titles in a span of six seasons.
"We had some of the most amazingly complicated defenses I have ever seen," said linebacker Andy Russell, who made seven Pro Bowls during a 12-year career and played on the Steelers' first two Super Bowl-winning teams. "I remember telling [former
San Francisco 49ers
coach] Bill Walsh about some of the things we did and he couldn't believe it. He said, 'You couldn't possibly do that.' Well, we did."
The play the Steelers called in the huddle, Russell said, was almost irrelevant, because the linebackers and defensive backs would switch to a different defense based on the offense's formation or what it did before the snap.
What made the Steelers unique is that the back seven players all had to recognize the same thing and switch to the same defense without anyone calling it out.
The discipline Noll instilled in his players and his fixation on details made it work most of the time.
"We might change a defense three or four times before the ball was snapped," Russell said. "All seven guys had to know what it was because you couldn't yell it out. Not that we never made mistakes. Sometimes we did. It didn't always work, but it was a pretty impressive defensive setup."
Russell will be among the many Steelers who will pay tribute to Noll, who passed away Friday night at the age of 82, by remembering his greatness.
And by telling stories like the one Russell recounted from Noll's first training camp with the Steelers in 1969.
The Steelers had gone 18-49-3 in the five seasons before Noll's arrival in Pittsburgh, and Russell said the players couldn't figure out why winning had proved to be so elusive for them.
"So Coach Noll's first meeting, I'll never forget the speech he gave," said Russell, who became a highly successful businessman after retiring from football in 1976. "He gets up and says, 'I've been watching the game film since I took the job, and I can tell you guys why you've been losing.' You could have heard a pin drop in that room. He says, 'The reason you have been losing is you're not any good.'"
Russell then laughed.
"Those aren't the words he used," Russell said, "but that's what he meant, and he said, 'I'm going to get rid of most of you.' Five of us made it from that room to the Super Bowl in '74."
December, 27, 2010
12/27/10
11:00
AM ET
Here are seven notes and observations from Week 16 in the AFC North:
[+] Enlarge

AP Photo/Mark DuncanRavens cornerback Ed Reed intercepts a pass intended for Cleveland receiver Mohamed Massaquoi in the second quarter Sunday.
February, 9, 2010
2/09/10
8:00
AM ET
Here are the most interesting stories Tuesday in the AFC North:
Morning take: The Bengals need a receiver but Gilyard would be too high to take with the No. 21 overall pick. Unless he falls late in the second or third round, this probably won't be a match.
Morning take: Someone will take a chance on Stallworth, but I'm not sure the Ravens are the right fit. Baltimore needs receivers who are guaranteed to make an immediate impact next season.
Morning take: It doesn't get much better than learning offense under Bill Walsh. Holmgren now brings his variety of experiences and knowledge to Cleveland.
Morning take: This shows confidence that 2010 could be a bounce-back year for Pittsburgh. Let's see what the Steelers do with the draft and free agency.
AFC NORTH SCOREBOARD
Sunday, 12/21
Monday, 12/22